Need help preparing for an emergency? Let me help with My Darling Vegan's official Survival Food List. Find out the essential vegan staples, pantry items, and non-food items everyone should have during a crisis.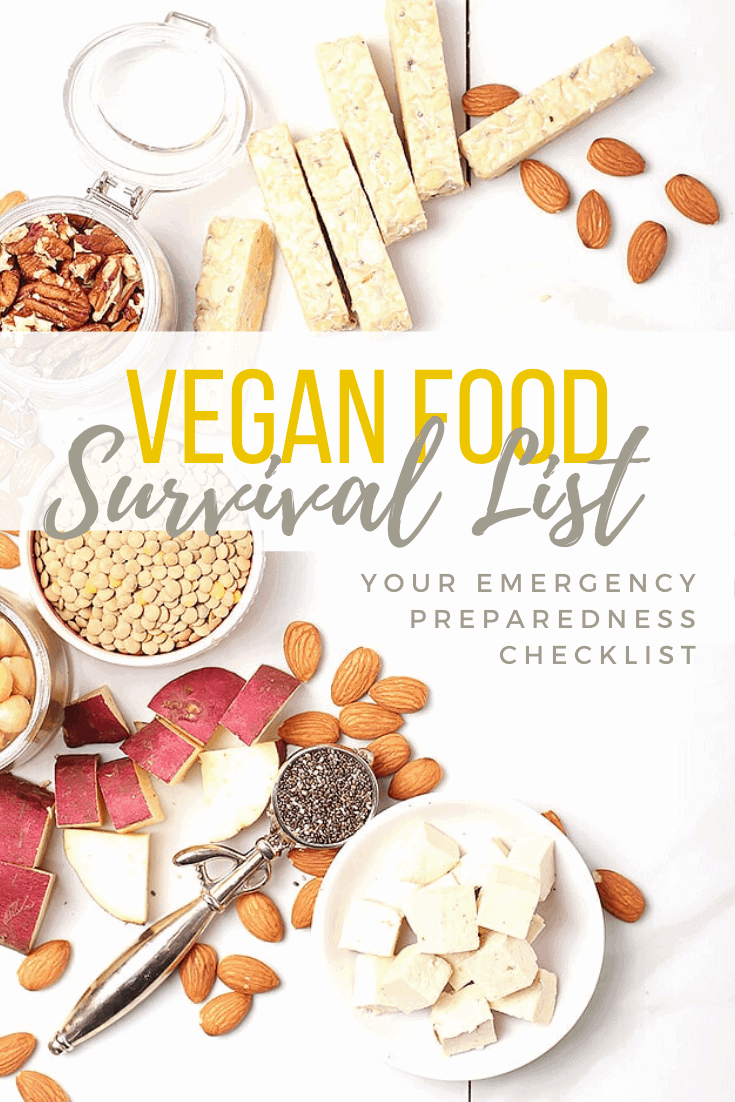 The news is, undoubtedly, quite unnerving right now. With an uncertain future, a shaky economy, and the fear of what this pandemic might actually look like in the weeks and months to come, it's with good reason that many of us feel a bit scared. While I tend to be an over-worrier, this time I have reason to believe we really should be taking extreme measures to take care of ourselves and the ones we love.
Being an over-worrier also makes me an over-preparer which is an excellent thing right now. Since late February, I have been slowly stocking up to prepare us for weeks of what we are calling an isolation staycation. If you are still trying to figure out how to stock the vegan household right now, hopefully, I can help.
Here is the ultimate guide on stocking an emergency vegan kitchen. It's got shopping lists, survival food list, preserving tips, and some of my favorite freezer-friendly and pantry staple recipes.
---
Where Do I Get My Groceries?
Because people are avoiding crowds (as they should be) and grocery stores are struggling to keep up with the demand for common non-perishable items, now is a better time than ever to start shopping online. When it comes to online grocery shopping I recommend two places:
Thrive Market
For most of my non-perishable items, I shop at Thrive Market. Thrive Market is an online marketplace that is on a mission to make healthy living easy and affordable for everyone. Thrive Market has thousands of best-selling organic foods and natural products and they are priced 25-50% lower than traditional retail prices!
How do they do that? By getting their food at wholesale prices, Thrive Market is able to cut out the middleman and provide awesome goods at a HUGE discount! Cheaper prices, better foods, and the convenience of it being shipped right to your door! And the best part? When shopping, you can filter your search to "vegan" items only and you've got your own online vegan grocery store! Thrive Market has saved me a ton of money and time and I HIGHLY recommend checking it out.
Get a free gift of your choice (up to $24 in value) with your order and a FREE 30-Day Trial to Thrive Market. (<<affiliate links)
iHerb
Before Thrive Market, iHerb was my go-to one-stop-shop for all of my health foods. Not only do they have everything I want, but also their shipping is fast and their prices are also great. This is a great place to buy quality and organic staples.
If you don't want to go the membership route of Thrive Market, iHerb is a great choice for all your non-perishable groceries. iHerb offers customer service 24 hours a day/7 days a week in 10 different languages, making it an easy and convenient online shopping experience.
Wanna try iHerb for yourself? New customers can get 10% off their first order. (<<affiliate links)
---
How Much Food Should I Prep?
This is a great question and, of course, it depends on the emergency your facing. I feel best when I have roughly 4 weeks of food in my pantry. That means my Survival Food List looks like this:
1-2 weeks of perishable produce and refrigerated goods
2 weeks of semi-perishable groceries (bread, crackers, and long-lasting produce - apples, potatoes, onions, etc.)
2-4 weeks of frozen foods such as vegetables, fruits, and a few convenience meals.
4 weeks of long-lasting bulk items such as dried beans, rice, and canned/jarred things like (tomatoes, marinara sauce, and peanut butter as well as non-grocery items such as medicine and toilet paper.
I don't suggest getting more than this and if you have limited space, try to aim for at least 2 weeks of groceries and supplies.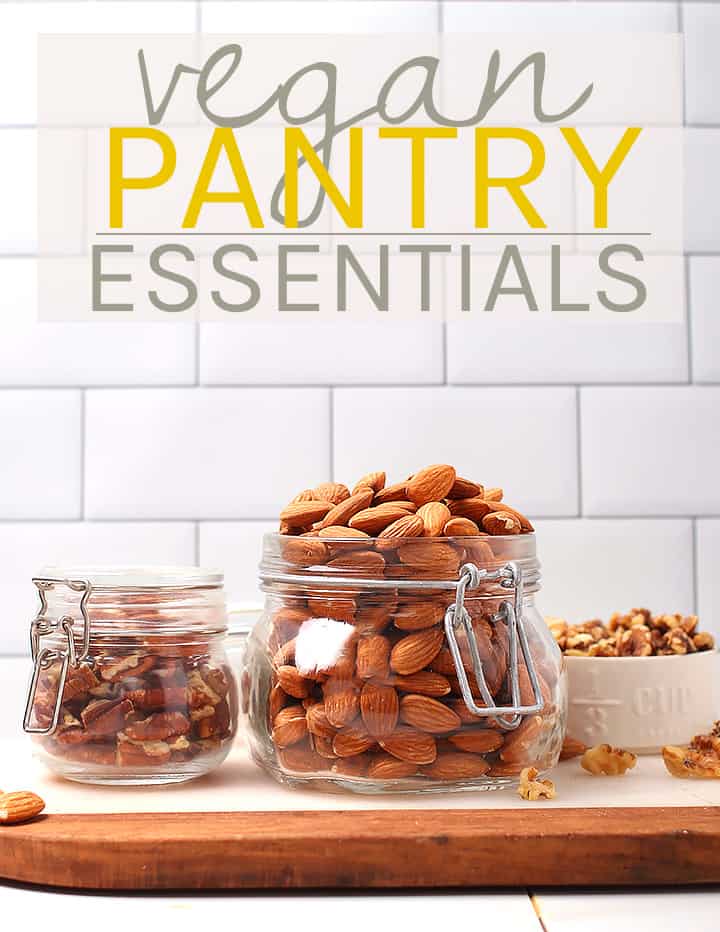 Survival Food List
The following links contain affiliate links. That means I get a small commission if you purchase through my link at no extra cost to you. For more information please see my privacy policy.
Grains & Pasta
Grains and pasta provide a ton of protein and fiber while filling you up. They last a long time and make the perfect base food many of my go-to meals such as stir-fry, curry, and classic pasta dishes. These meals can be made with frozen vegetables and shelf-stable sauces that will keep a long time. I have a rotating variety of grains and pasta in my vegan pantry. These are the ones I recommend having on hand for your Food Survival List.
brown and white rice*
whole wheat pasta
*I picked up this 15lb bag of rice from Amazon and I recommend you do the same. Rice is affordable, lasts a long time, is very versatile, and adds protein, fiber, and calories to any meals.
Beans & Legumes
Beans and legumes are an important part of a healthy plant-based diet. They are a great source of protein and fiber and add so much flavor to any meal. Lentils offer a great whole-food, plant-based alternative to meat (like in this Vegan Meatloaf) and when mixed with rice make a complete protein.
chickpeas
black beans
pinto beans
red and green lentils
For the most part, I buy my beans canned but recently I bought large bags of dried chickpeas, kidney beans, and black beans from Amazon. They will last forever and give me a ton of confidence that I can feed my family through anything.
Jarred & Canned Goods
In addition to beans, I recommend having a variety of jarred and canned goods in your pantry. I like to have a handful of canned goods on hand so that I can easily create any pasta or curry dish.. Canned goods don't take up a lot of space and they will stay good for a long time.
Here are the canned goods I recommend having in your pantry.
tomatoes - crushed, diced, and paste
marinara sauce
pizza sauce
jackfruit
olives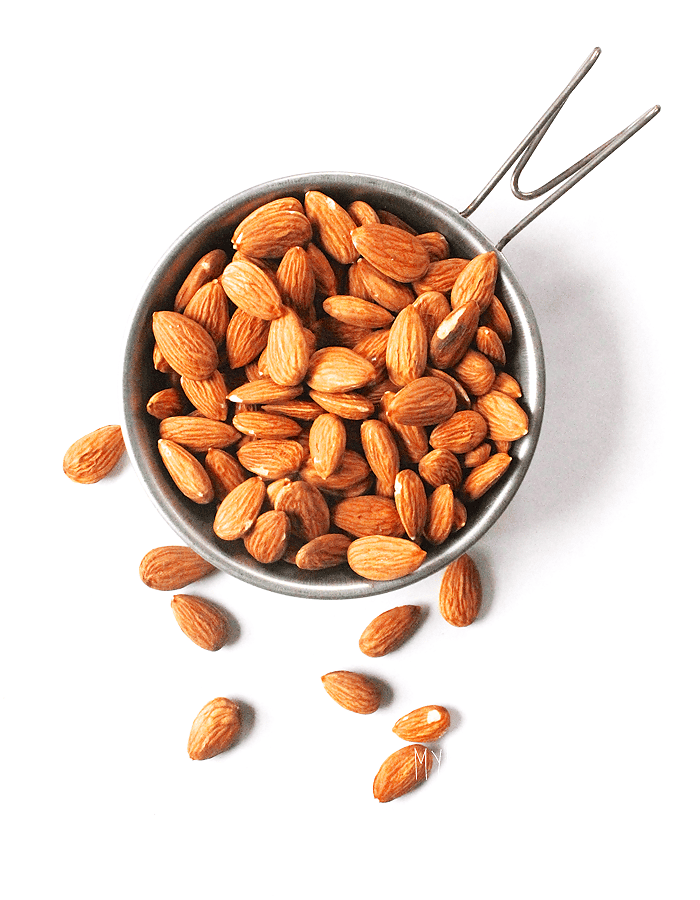 Nuts, Seeds, & Nut Butters
Nuts and seeds are an important part of my kitchen, especially during an emergency. They are some of the most nutrient-dense foods available and are so incredibly versatile. I add them to salads, dinner, use them in desserts. Not to mention they are the perfect fuel-me-up snack! Nuts and seeds provide a healthy dose of protein, good fats, and tons of nutrients. The nuts, seeds, and nut butters I suggest having on hand are:
almonds and almond butter
peanuts and peanut butter
cashews
pecans
Nuts and seeds can be pricy. Check out iHerbs selection of nuts and seeds to find them at great prices.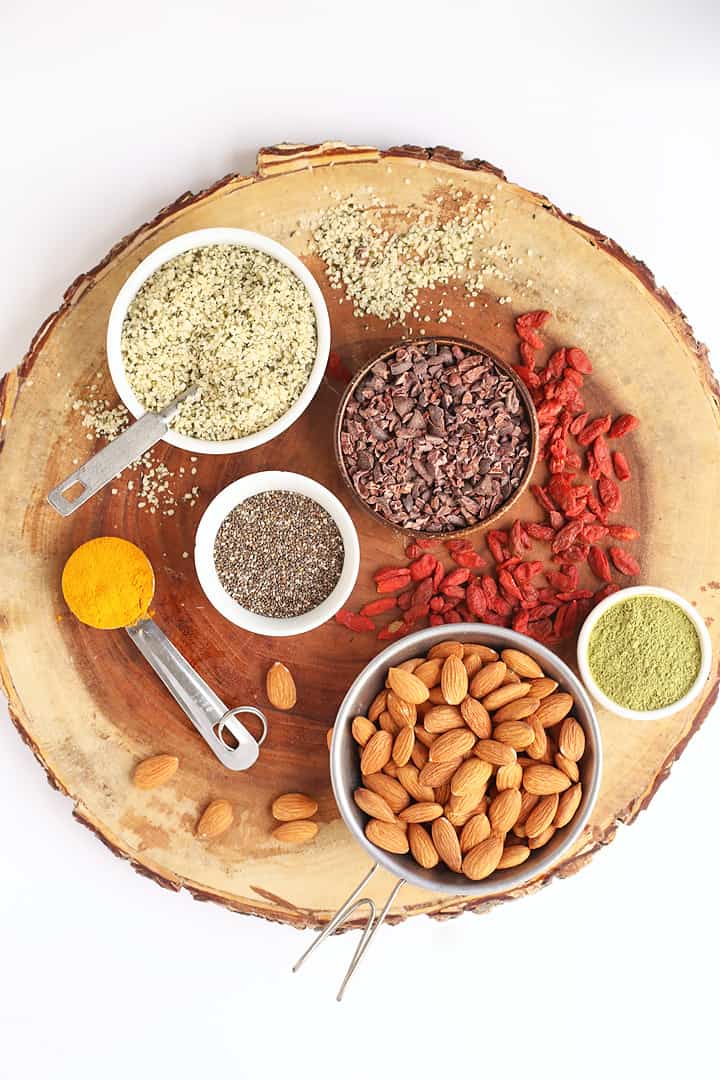 Superfoods & Protein Powders
I am a HUGE fan of stocking a kitchen full of superfoods and protein powders. I go into detail about my favorite superfoods, how to use them, and where to buy them here. In short, they are a delicious way to pack on the nutrients by adding them to smoothies, oats, cookies, and more! And they offer a huge boost of nutrients when you're on a limited diet.
*My two favorite protein powders are Vega (an all-vegan company with some of the BEST protein powders available) and Naked Nutrition. While Naked Nutrition is not fully vegan, their Naked PB is AMAZING! I use it in my protein shakes, protein balls, and even cookies.
Flour & Baking
If you're going to be at home with the kids, baking is a great activity to keep everyone busy and happy. While I use all-purpose flour or whole wheat flour for most of my baking, there are times when I want a gluten-free option (hello, GF breakfast cookies) and something like almond meal or GF flour does the trick! Here are the flours, sweeteners, and other baking ingredients that are nice (not necessary) to have on your Food Survival List.
all-purpose flour
whole wheat flour
sugar (brown and white)
powdered sugar
maple syrup
baking powder and soda
applesauce
cocoa powder
Fruits & Vegetables
For the most part, I don't recommend stocking up on extra produce, as most of it won't last long. Typically, only buy what you can eat in the 7-10 days before it goes bad. However, there are a few long-lasting produce items I recommend stocking up on. Potatoes, onions, and garlic add heartiness and flavor to any meal and they can last for 1-2 months. Other recommendations are:
potatoes
sweet potatoes
red and white onions
garlic
eggplant
carrots
parsnips
apples
citrus fruit (oranges, grapefruit, limes)
Keep your potatoes, onions, garlic, and apples in a cool dark place and they will last up to 4 weeks. Citrus fruits, carrots, and eggplant will last 3-4 weeks in the refrigerator.
Frozen Foods
I recently bought a chest freezer and because of that, I have the ability to stock up on frozen foods. I like to have a combination of frozen vegetables to add to basic stir fries and curries, as well as a variety of vegan proteins, such as Meatless Meatballs, Beyond Burgers, and Beefless Crumbles to make protein-heavy, hearty meals.
mixed berries
mango and bananas
mixed vegetable medley
peas
green beans
broccoli
plant-based protein substitutes
Refrigerated Essentials
My refrigerator is typically full of vegetables, a few important condiments, and some non-dairy alternatives such as milk, yogurt, butter, and cheese. However, when it comes to stocking for an emergency, you don't want to buy too many refrigerated essentials as they don't tend to last as long. Here are some long-lasting refrigerated essentials I do recommend having on hand.
tofu
vegan butter
salsa
hummus
miso
non-dairy milk
Pantry Essentials
Aside from all the other foods in my pantry, here are a few odds and ends that help me in baking (gotta have those classic chocolate chip cookies), cooking (what's a tofu scramble without nutritional yeast?) and snacking.
popcorn
non-dairy milk
crackers
bread
condiments (soy sauce, ketchup, mustard, vegan mayo)
variety of oil (coconut, olive, avocado)
variety of vinegar (apple cider, balsamic, rice)
spices
Drinks (Wine/Beer/Liquor)
Lastly, if you are like me, consider stocking up on something to drink.
I love buying my wine online and I've recently been buying it through Winc. They have an entire vegan wine selection and right now if you buy 4 bottles, you get them for 50% off! It's a ridiculously good deal and I think you're gonna need it.
Thrive Market also has a line of vegan wines at a huge discount to all members. Click HERE for immediate access and 25% off your order!(<<affiliate link)
Check out my complete Clean Vegan Wine Guide.
---
Non-Food Items to Have
In addition to food, it's important to remember to stock up on some of the essential household items. These are items that tend to disappear quickly when faced with an emergency. If you can't find these items at your local grocery store, check out Amazon or iHerb for these commonly needed items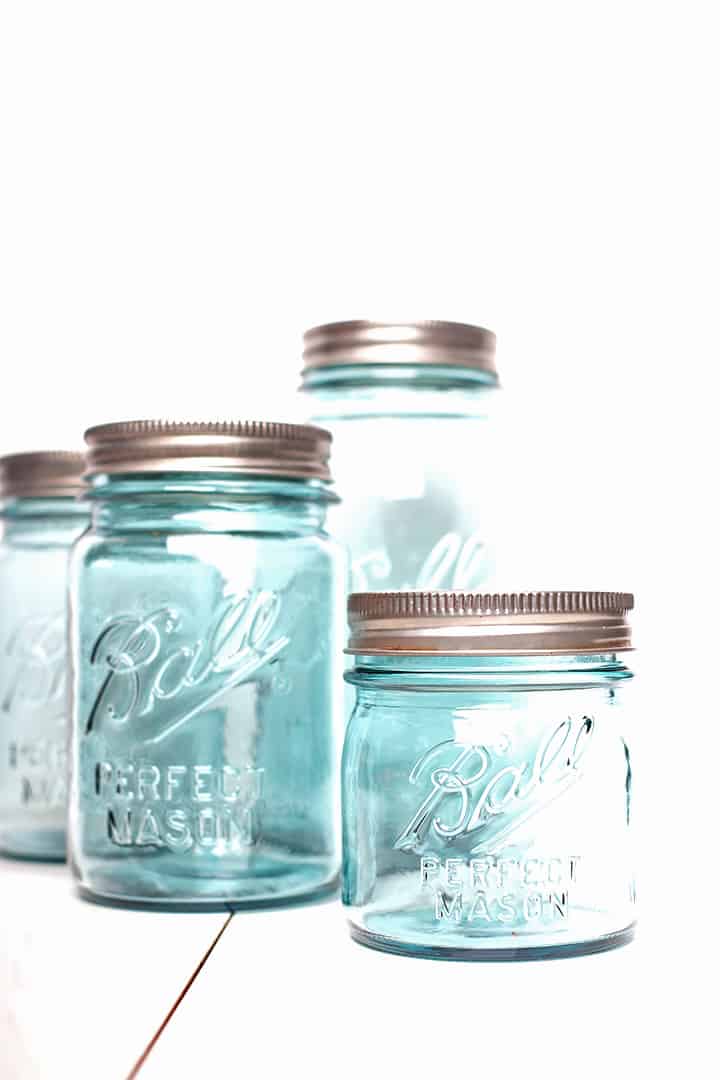 Preserving Tips for Survival Food List
There are two main ways to preserve food. These are especially useful if you have space to store pantry items and frozen foods. In addition to canning and freezer-friendly meals, you can freeze nearly any vegetable. Follow this guide on properly blanching and freezing vegetables.
Canning Meal
If you have extra produce that you won't be able to use up immediately, consider canning your produce. When canned properly, canned produce can last up to 12 months. Tomatoes, beans, soups, and fruit can all be canned. Here are some handing canning recipes + tips on how to can:
Freezer-Friendly Meals
Prep meals with your fresh produce for easy weeknight meals that will last up to 2 months in the freezer. Here are some of my favorite freezer friendly meals.
---
Recipes to Try
Now, we need some recipes! Here are some of my favorite recipes that rely on pantry goods while providing a ton of hearty protein and wholesome calories. In some of these meals, you will see the suggestion is fresh vegetables. You can easily swap out fresh for frozen or canned.
Breakfast
Lunch
Dinner
---
Meal Delivery Services
Lastly, if cooking or getting groceries is too difficult, I suggest trying out a meal delivery service. This supports small businesses in a safe way while offering you fresh and healthy meals delivered right to your door. Here are three meal delivery services that I recommend trying.
Purple Carrot
Purple Carrot is an ENTIRELY VEGAN Meal Delivery Service that offers fresh, pre-measured ingredients to some of the most flavorful meals. You can pick out meal plans for either 2 or 4 people for breakfast, lunch, and dinner. You know exactly what you're getting in each meal, including nutritional information and prep time. And friends, the food at Purple Carrot is AMAZING. I've used Purple Carrot on and off for years and I can't say enough good things about it. Check them out here and get $30 off your first box! (<<affliate links)
Veestro
Veestro is another one of my go-to Meal Delivery Services. It is also ENTIRELY PLANT-BASED (gotta love that!). Veestro offers frozen meals and specific meal plans to meet your needs. You can order a meal plan geared towards Weight Loss, Chef's Choice, or order your meals A la Carte. Veestro offers Breakfast, Lunch, and Dinner and the biggest bonus with Veestro is there is zero meal prep required. Their food is delicious, convenient, and affordable. Read my full review of Veestro. Or go straight to their website and check them out for yourself. Get 30% off your first order with the Coupon Code: MYDARLINGVEGAN (<<affliate links)
Stay safe out there, my friends! Reach out if you have any questions. We will get through this.
xo,
If you give one of these recipes recipe a try, snap a photo and share it on Instagram. Make sure to tag
@mydarlingvegan
so I can see your creations!