3 Ingredient Chocolate Protein Shake
A delicious and refreshing chocolate peanut butter protein shake made with just 3 simple, plant-based, protein-rich ingredients. Made in just 5 minutes for a wholesome and hearty breakfast.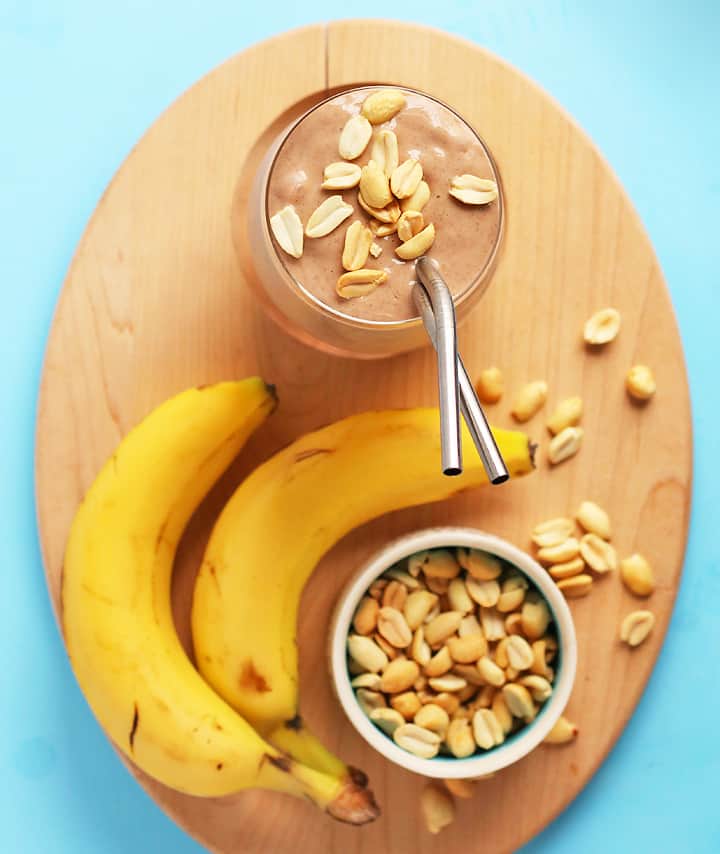 This post contains affiliate links. For more information please see my privacy policy.
A few months back I made some Peanut Butter Protein Bites with my favorite protein supplement, peanut flour. You know, that great tasting, high protein, low-calorie alternative to protein powders?
As I mentioned then, I LOVE peanut flour; it tastes incredible with no lingering aftertastes and has 16 grams of protein in just one serving. It's hard to find anything that quite compares. For that reason, I put peanut flour in and on everything (well, that might be an exaggeration) but my favorite way to use this superfood is protein shakes.
If I'm not having a Tropical Green Smoothie in the morning, I'm most likely having this Chocolate Peanut Butter Protein Shake. Chocolate AND peanut butter for breakfast? Why not?!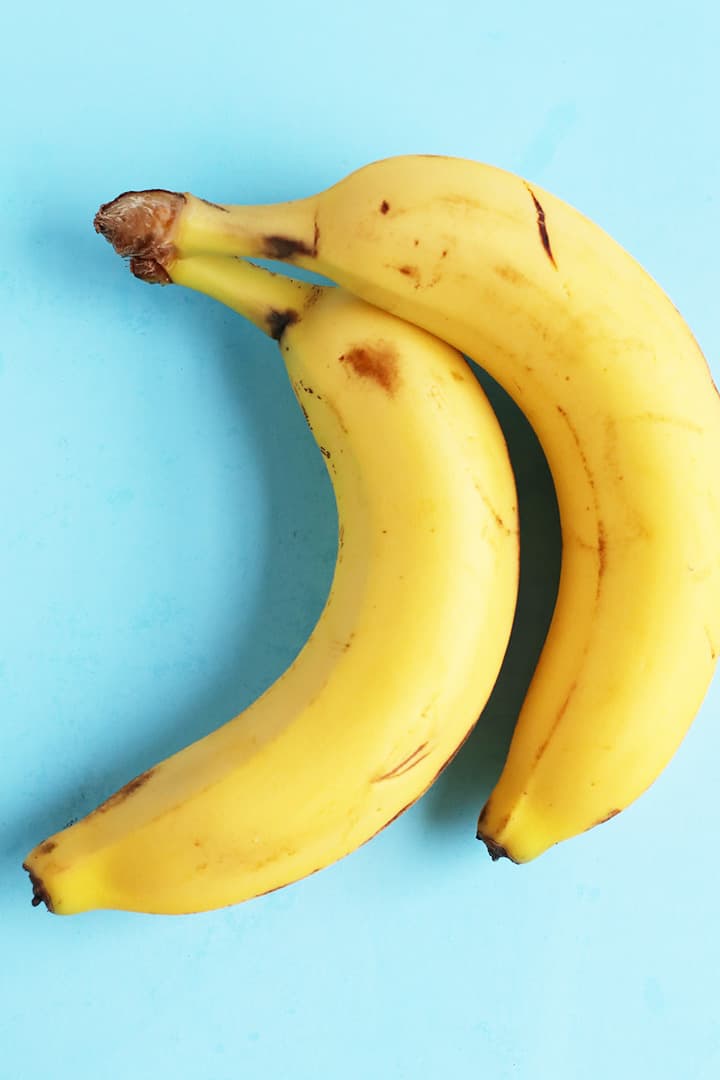 ---
INGREDIENTS FOR 3-INGREDIENT VEGAN SMOOTHIES
The ingredients for this chocolate peanut butter smoothie are so simple. All you need is:
Chocolate Almond Milk
Frozen Banana
Three ingredients for a delicious and wonderful way to get 20 grams of protein!
---
WHAT IS PEANUT FLOUR?
Every once in a while I get a reader who is unfamiliar peanut flour. Peanut flour is my go-to protein powder of choice and it is made with one simple ingredient:
Roasted Peanuts.
That's it! Peanut flour uses peanuts that are slowly pressed – a process that removes all fats and oils – and creates a powder that is over 40% protein! For each cup of peanut flour, you'll get 20 grams of protein! And because it's made solely from peanuts, peanut flour doesn't have that weird aftertaste you'll find with many other protein powders.
---
WHERE TO PEANUT FLOUR
You can often find peanut flour stocked in the gluten-free section of your local grocery stores. If you can't find it at your grocery store, you can always pick some up online. This is my go-to brand.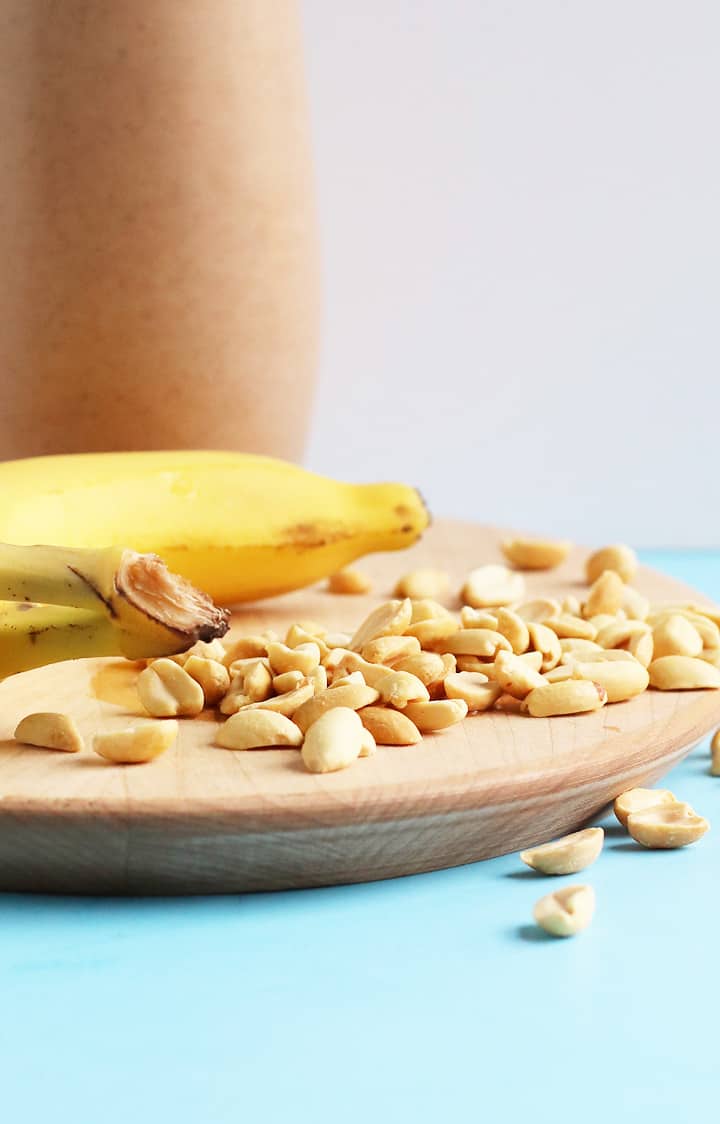 OPTIONAL SUPERFOOD ADD-INS
To make this Chocolate Peanut Butter smoothie even better for you, feel free to add some of my favorite mixins:
These all have incredible benefits for your mood, energy, heart, and overall health. And they take this vegan chocolate smoothie to the next level!
---
TIPS FOR MAKING THE BEST CHOCOLATE SMOOTHIE
Make sure your bananas and blueberries are completely frozen to ensure the right ice cream-like consistency. To freeze the bananas, peel and chop ripe bananas into 1″ pieces. Freeze in a single layer on a baking sheet. When frozen all the way through transfer the banana pieces to a ziplock bag. Return to the freezer and store for up to three months. When ready to use, just toss them in your blender with the rest of your smoothie ingredients.
Make sure to blend your ingredients until they are completely smooth. If your smoothie is too thick, add additional almond milk, 2 tablespoons at a time, until you have a pourable consistency.
This blueberry smoothie bowl should be eaten immediately!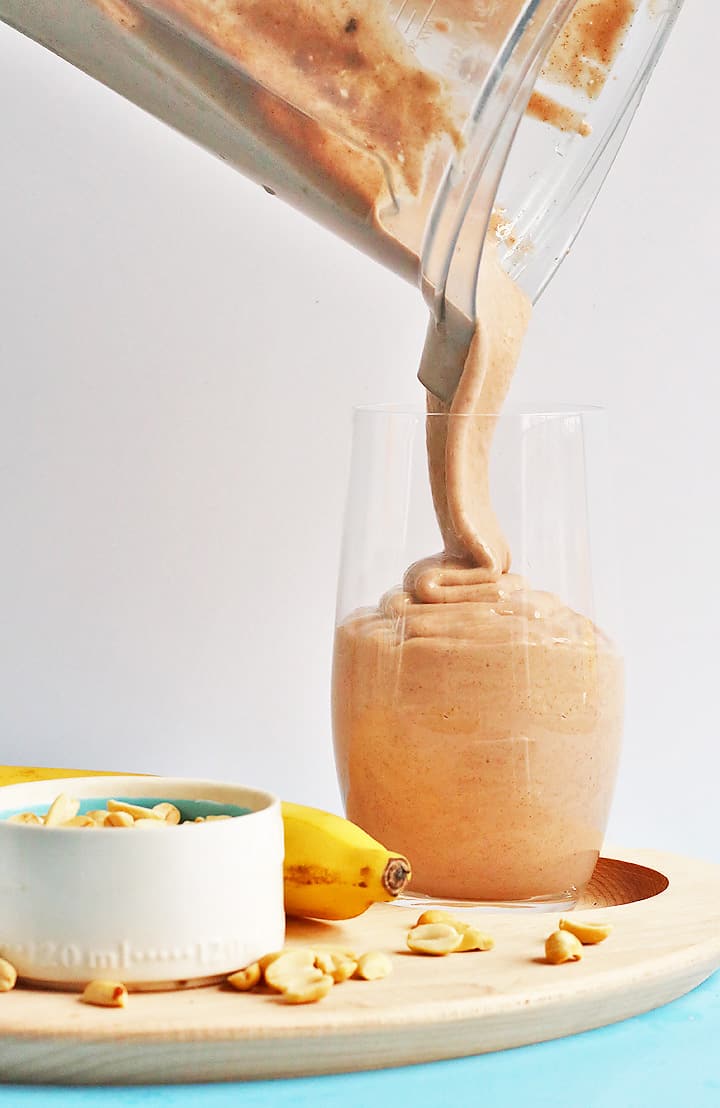 VARIATIONS AND FREQUENTLY ASKED QUESTIONS
This smoothie allows for a lot of variation. For more protein, add your favorite protein powder, chia seeds, or nut butter. Almond butter works well! You can also consider adding Maca Powder and Ashwagandha Powder for mood and energy-boosting properties.
CAN I USE SOMETHING OTHER THAN BANANAS?
Yes! If you want a banana-free option, substitute 1/2 cup silken tofu.
DOES THIS STORE WELL?
Unfortunately, no. This vegan smoothie should be eaten enjoyed immediately.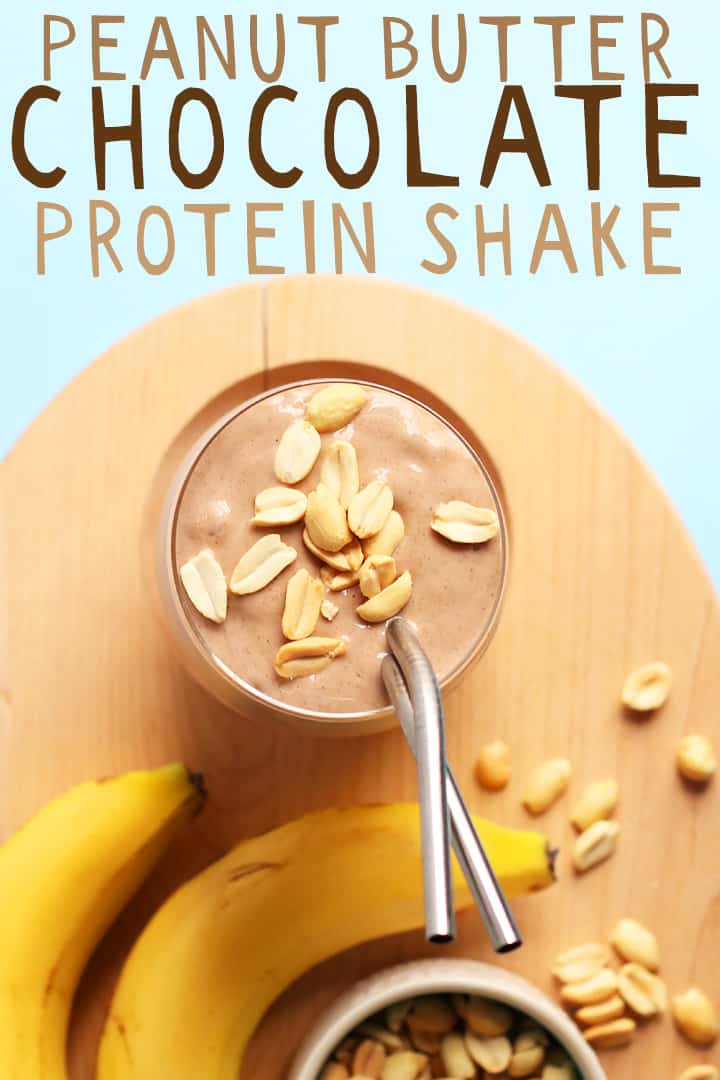 Chocolate Peanut Butter Protein Shake
A delicious and refreshing chocolate peanut butter protein shake made with just 3 simple, plant-based, protein-rich ingredients. Made in just 5 minutes for a wholesome and hearty breakfast.
Did you make this recipe? Leave a comment and rate it below.
If you made any substitutions, let us know how it turned out!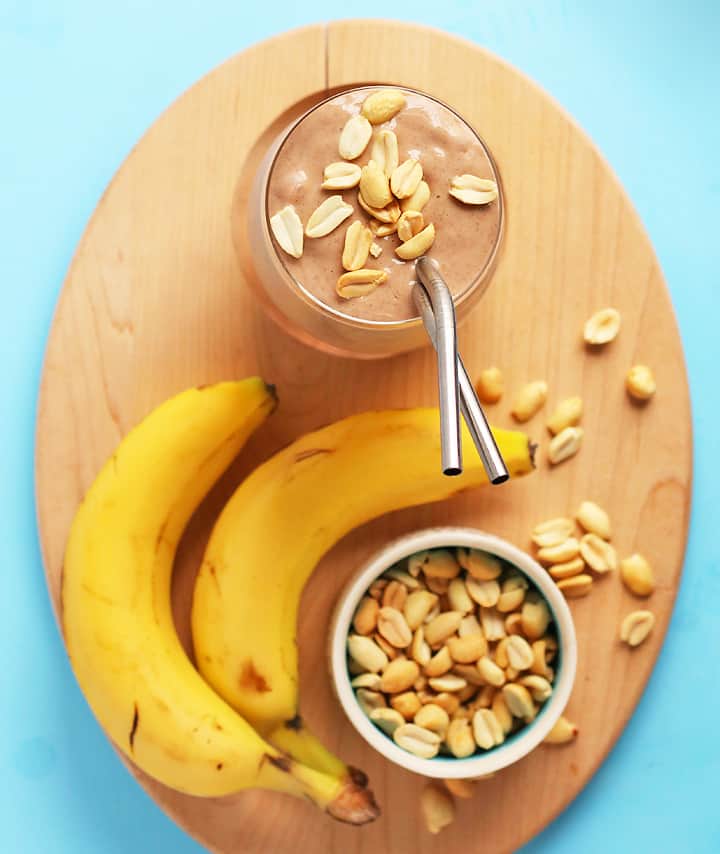 Course:
Breakfast, Snack
Cuisine:
American
Keyword:
Chocolate Peanut Butter Protein Shake
Servings
:
1
smoothie
Calories
: 396 kcal
Author
:
Sarah McMinn
Ingredients
Instructions
Place all ingredients in a blender and blend until completely smooth. Serve immediately.
Nutrition Facts
Calories Per Serving:
396
% Daily Value
If you give this recipe recipe a try, snap a photo and share it on Instagram. Make sure to tag
@mydarlingvegan
so I can see your creations!