11 DELICIOUS Vegan Cauliflower Recipes
Do you know all the AMAZING things you can do with cauliflower? From rice to wings and everything in between, you're going to love these vegan cauliflower recipes. 100% Vegan.
Let's get one thing straight.
Cauliflower is a miracle food.
You can do just about anything with cauliflower. You can use it as a low-carb alternative to rice or potatoes, dairy-free alternative to cream sauces, and an AMAZING vegetarian option for chicken wings. Cauliflower can even be an egg replacer in baked goods and be the base for your grain-free pizza crusts.
So, we are all in agreement then that cauliflower is incredible?
I frequently see people asking for vegan cauliflower recipes and so I decided to round up my favorites in one place and share it with you. Let's take a look.
---
11 Vegan Cauliflower Recipes
Let's take a look at all the AMAZING things you can do with cauliflower and 11 of my favorite vegan cauliflower recipes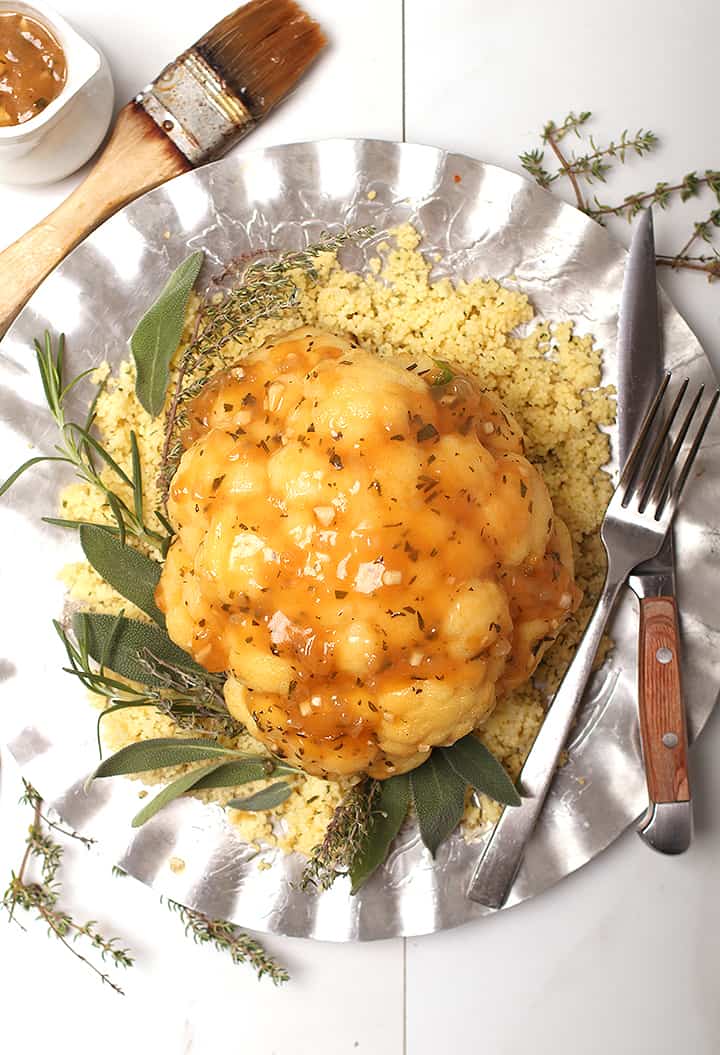 Have you tried whole roasted cauliflower yet? It makes a beautiful entrée for a holiday meal or Sunday supper. This cauliflower roast is slathered in a sage and oregano spiced gravy and roasted to perfection. Serve it on a bed of grains or roasted vegetables for the perfect vegan and gluten-free meal.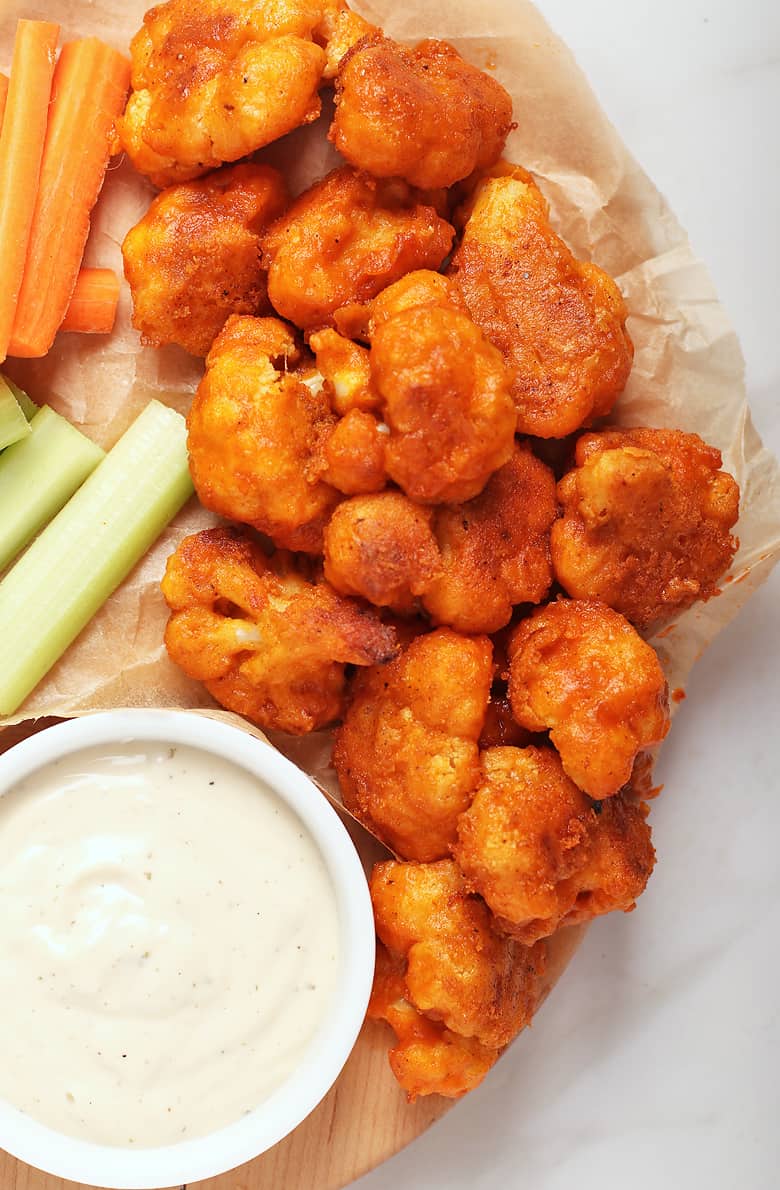 Did you know that cauliflower is the perfect vegan replacement for chicken wings? If you haven't tried it yet, start experimenting with these spicy buffalo cauliflower wings. Coated, breaded and baked, these cauliflower wings are then dipped in spicy homemade buffalo sauce and served with vegan ranch dressing for an incredible plant-based snack.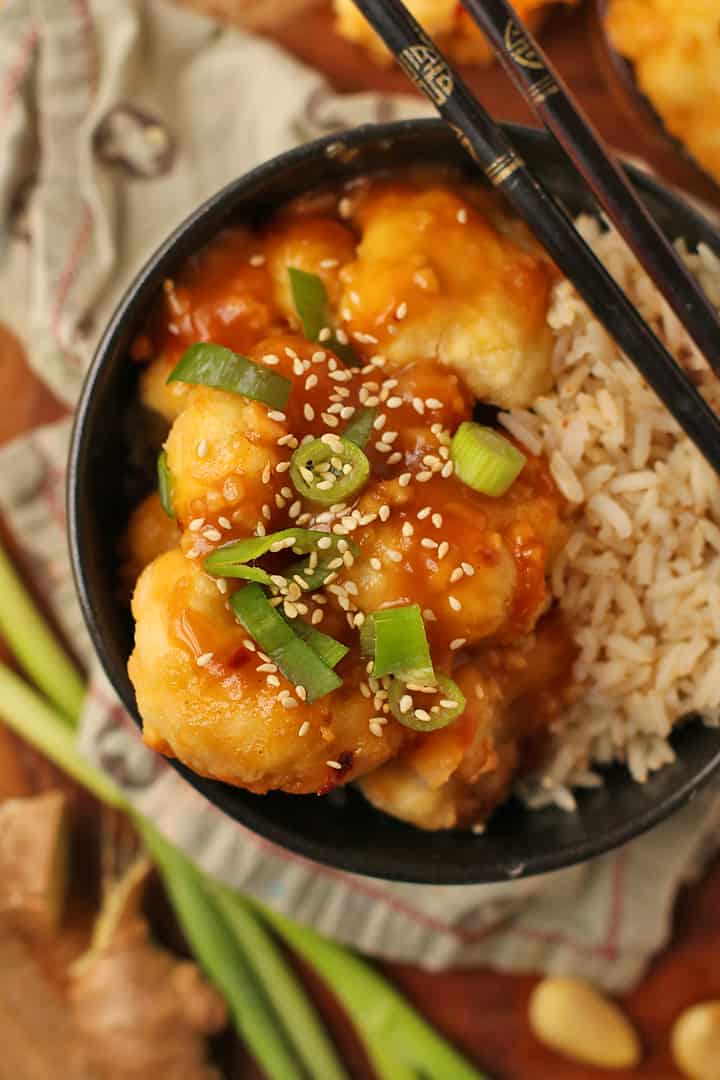 Similarly, cauliflower is the perfect Chinese chicken replacement. They are covered in sticky sesame sauce and baked until they are melt-in-your-mouth buttery. You can make this classic Chinese take-out dish at home. Baked, not fried, and made with no refined sugar, it's a healthy twist on a family favorite. Also, make sure to check out my Orange Cauliflower "Chicken" recipe.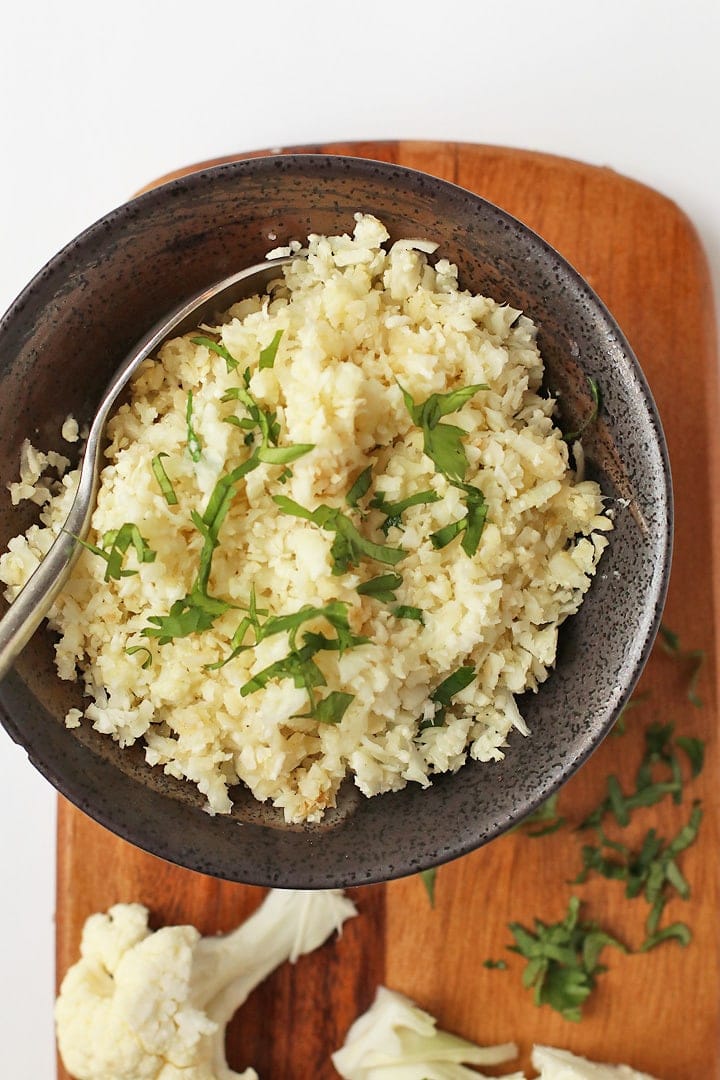 Need a low carb alternative to rice? Learn how to make Cauliflower Rice with this easy step-by-step guide. With just 2 ingredients and less than 5 minutes, you could be eating a delicious and wholesome rice alternative immediately. I love using this as a keto-friendly option for the base of my stir-fries, curries, and buddha bowls.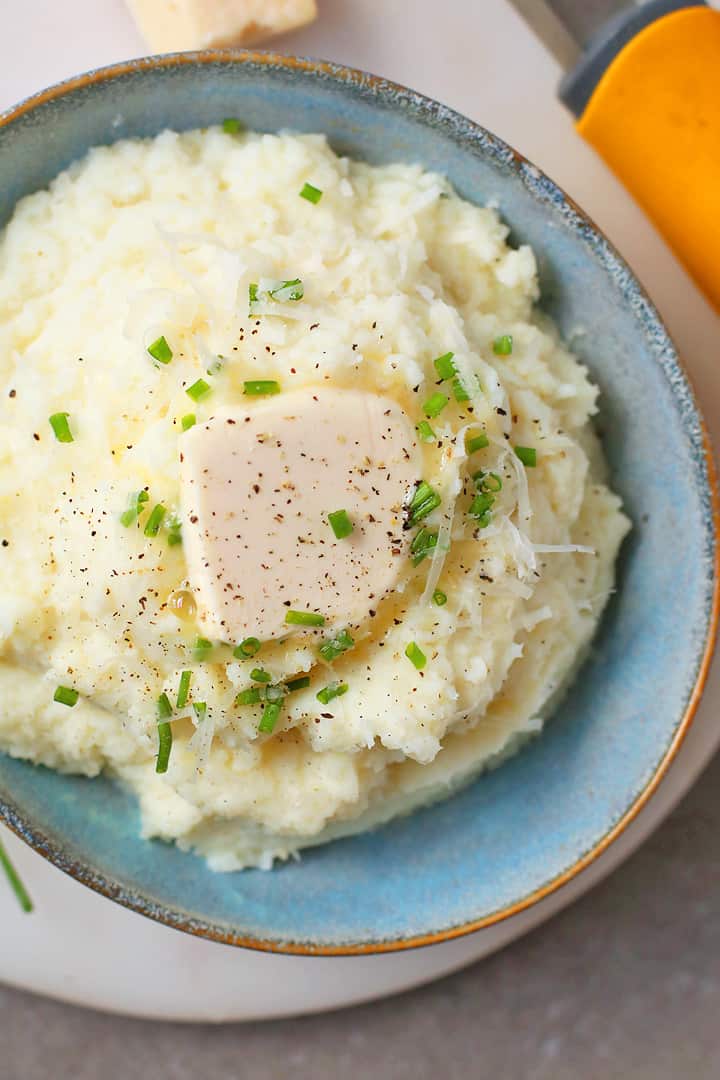 Cauliflower also makes a wonderful low-carb mash. These Keto-Friendly Cauliflower Mashed "Potatoes" are made with a few simple and wholesome ingredients for a delicious side dish at your next big meal. And there's a good chance no one will be able to tell the difference!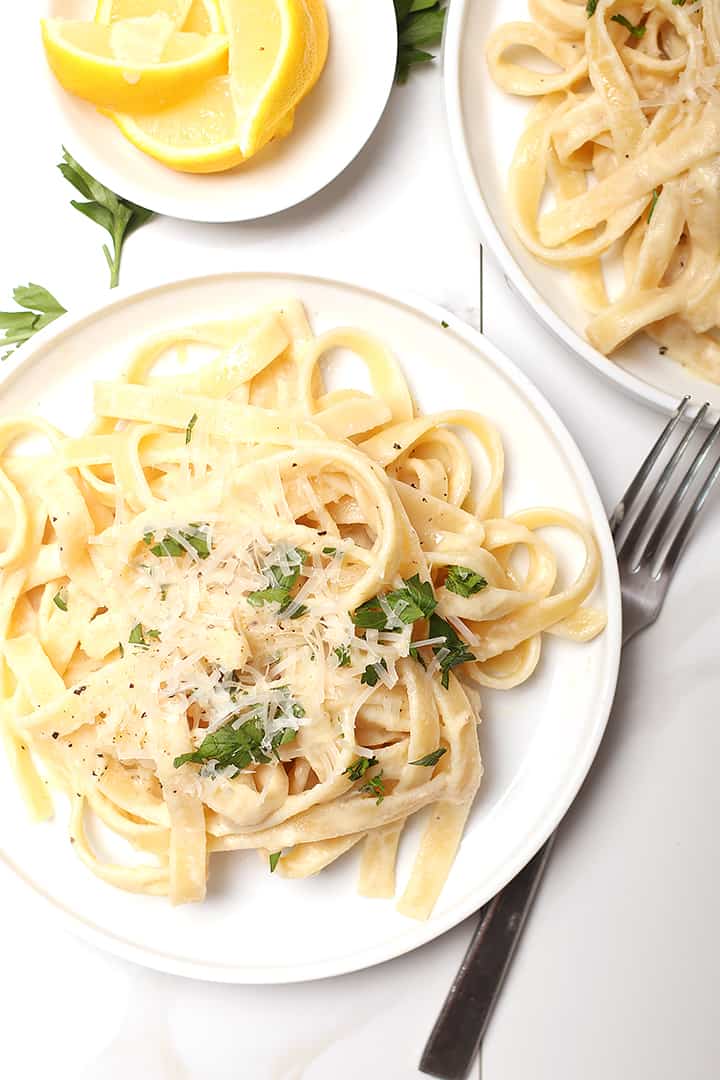 Creamy and decadent, you won't believe that this vegan Fettuccine Alfredo is made with cauliflower! Cooked, seasoned, and purée, this wholesome meal is one that the whole family will love. It's been said that it tastes exactly like classic Alfredo sauce but with all the healthy dairy-free, low-fat benefits of cauliflower.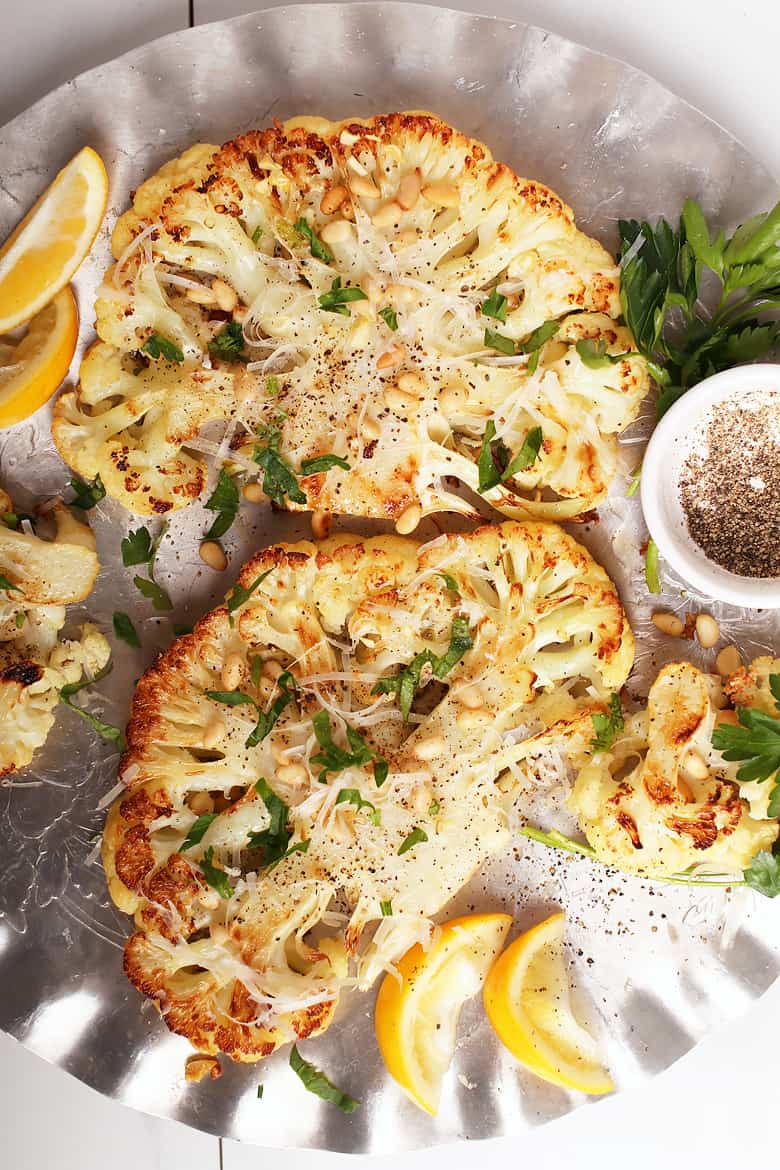 Impress all your friends with this vegan baked Lemon Pepper Cauliflower Steaks. It's a tender and buttery steak topped with fresh parsley, toasted pine nuts, and non-dairy parmesan cheese. These cauliflower steaks are decadent and delicious! Serve it with pasta or a giant salad for a meal to have over and over again.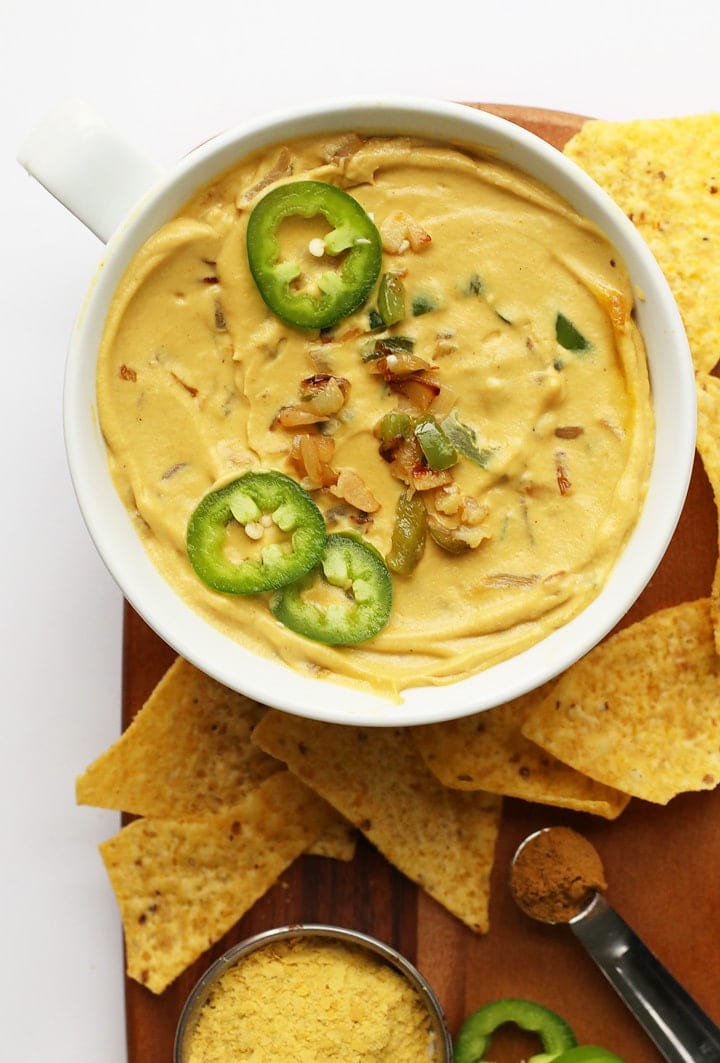 Did you know you can even make cheesy, stretchy queso with cauliflower? Just blend together sautéed cauliflower, spices, cashews, and, of course, nutritional yeast. It makes a delicious game day appetizer. Serve with your raw vegetables or tortilla chips for a healthy spin on everyone's favorite dip.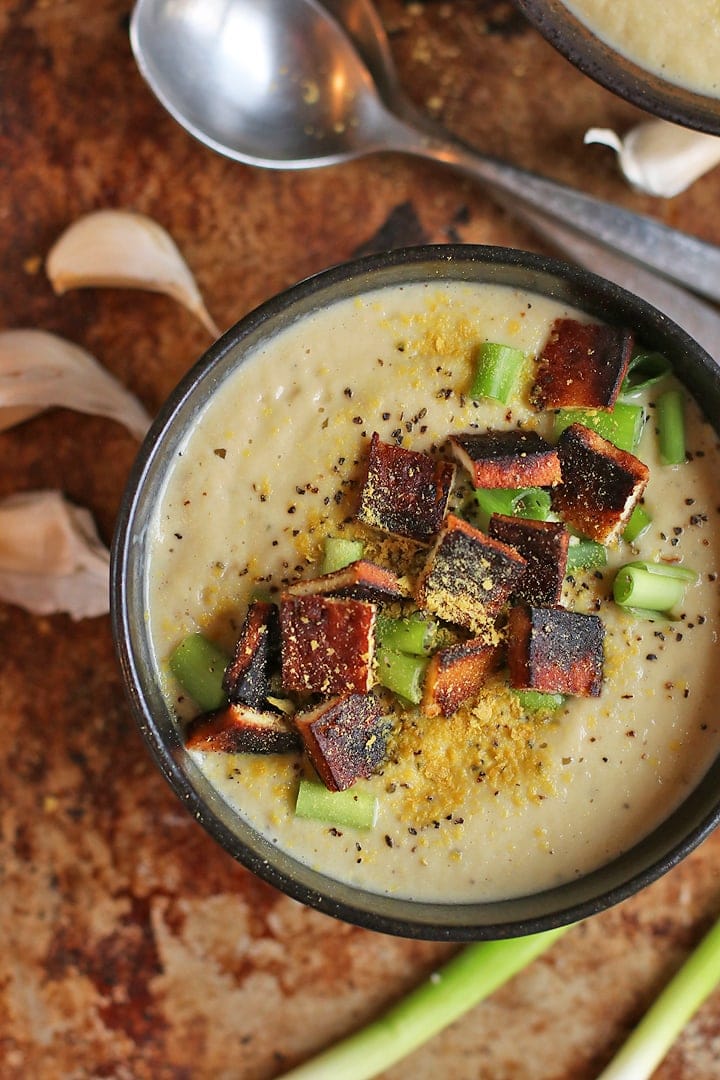 With cauliflower, any soup will become naturally creamy. This Vegan Cream of Cauliflower Soup is made even richer with cashew cream and nutritional yeast. To take it to the next level, you can top this decadent soup with tofu bacon and fresh chives. It's a delicious gluten-free, soy-free vegan soup.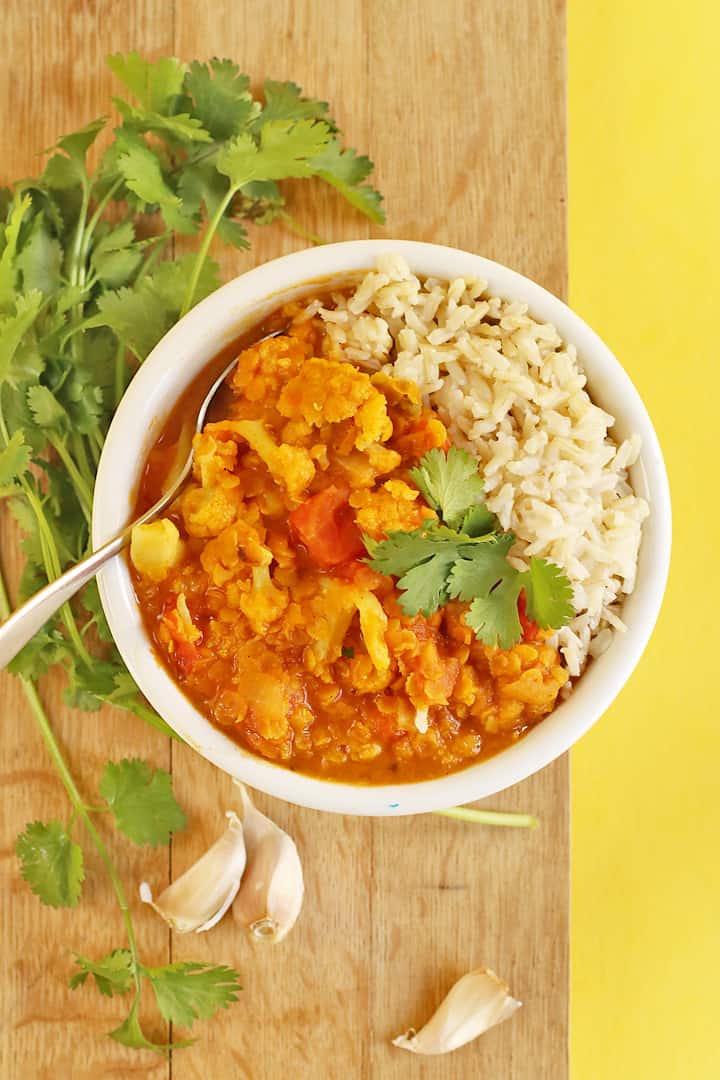 Everyone knows I love a good curry.This Red Lentil Cauliflower Curry is one of the best! It is a perfectly spiced Indian Curry that relies on whole, natural ingredients and provides a delicious gluten-free and plant-based meal. Serve it with cauliflower rice for a low-carb option!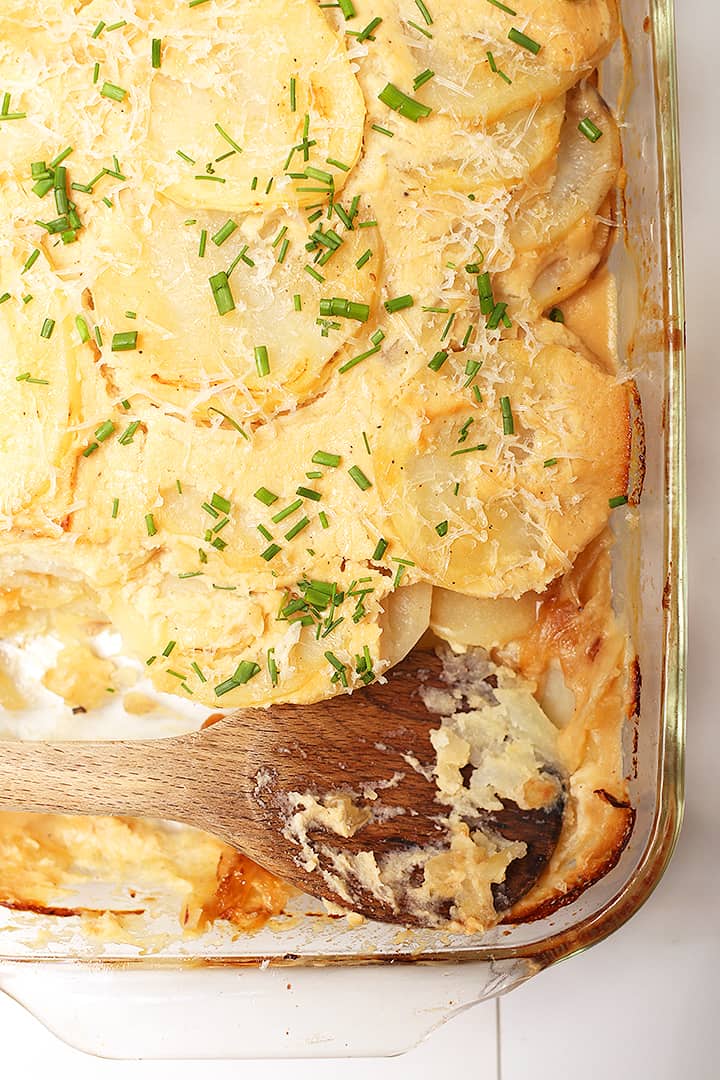 You can even make a skinny version of vegan scalloped potatoes with cauliflower! It's a healthy spin on a classic family favorite. These vegan scalloped potatoes are made with layers of Russet potatoes and cheesy cauliflower sauce that's topped with vegan parmesan cheese and fresh chives. So good!
---
More Vegetable Roundups
Vegetables are amazing. They are versatile, delicious, and good for you! Do you need help with some of them? Here are a few of my other popular vegetable round-up articles.
That's it! 11 DELICIOUS ways to use cauliflower. What is your favorite way to use cauliflower? Tell me in the comments below.
Written by Sarah McMinn
If you give one of these recipes recipe a try, snap a photo and share it on Instagram. Make sure to tag
@mydarlingvegan
so I can see your creations!