Sweet, savory, and tart, this Basil Garlic Tomato Sauce recipe is seasoned to perfection. Canned tomato sauce will last you all year long for the perfect easy weeknight meal. Let's get canning!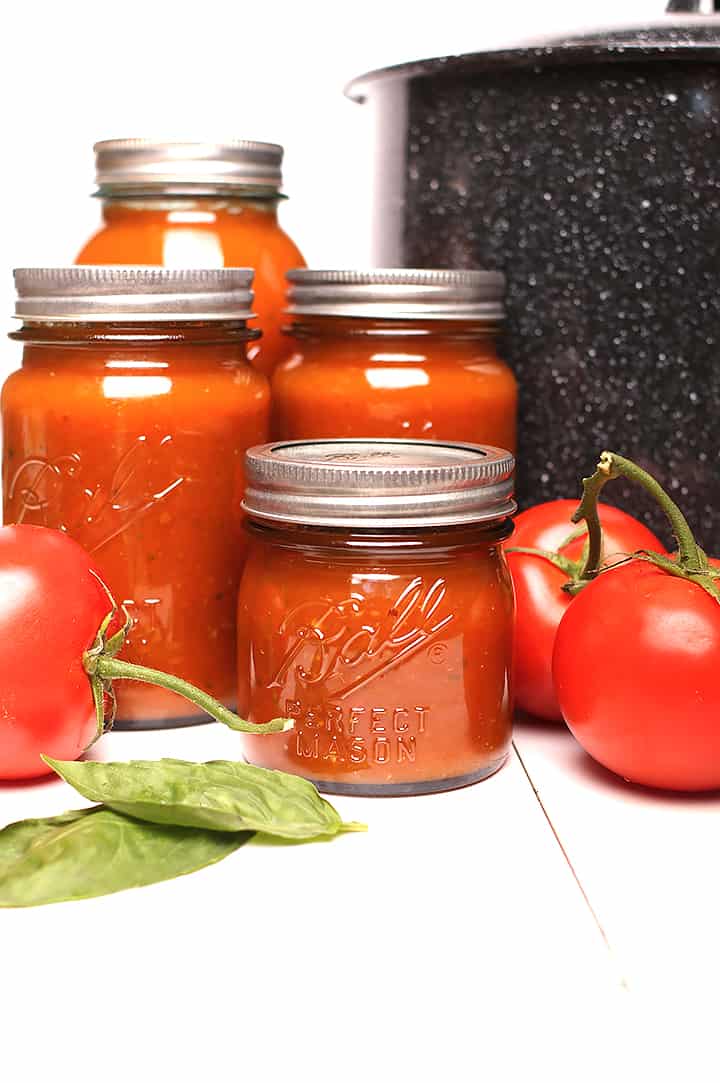 Disclosure: This post may contain affiliate links.
All summer long I have been loving the process of canning my fruits and vegetables. It started with this strawberry jam recipe, followed by this Tomato Bruschetta which, by the way, is so good over a toasted baguette and melty vegan cheese. Yum!
Now that tomato season is in full force, it's time to preserve as many of those ultra-ripe tomatoes as possible. I have so many plans for my tomatoes but one of the first foods I can every year is tomato sauce. Picking tomatoes at their ripest and canning them for later means all year long I get delicious and flavor-packed tomato sauce.
I think you're going to love this Basil Garlic Tomato Sauce. The recipe is simple, straight-forward, and makes a ton! Why buy when you can can fresh tomatoes and have them year-round? Not only is homemade fresher, lasts longer, and more versatile, it simply feels good to have something that is proudly homemade.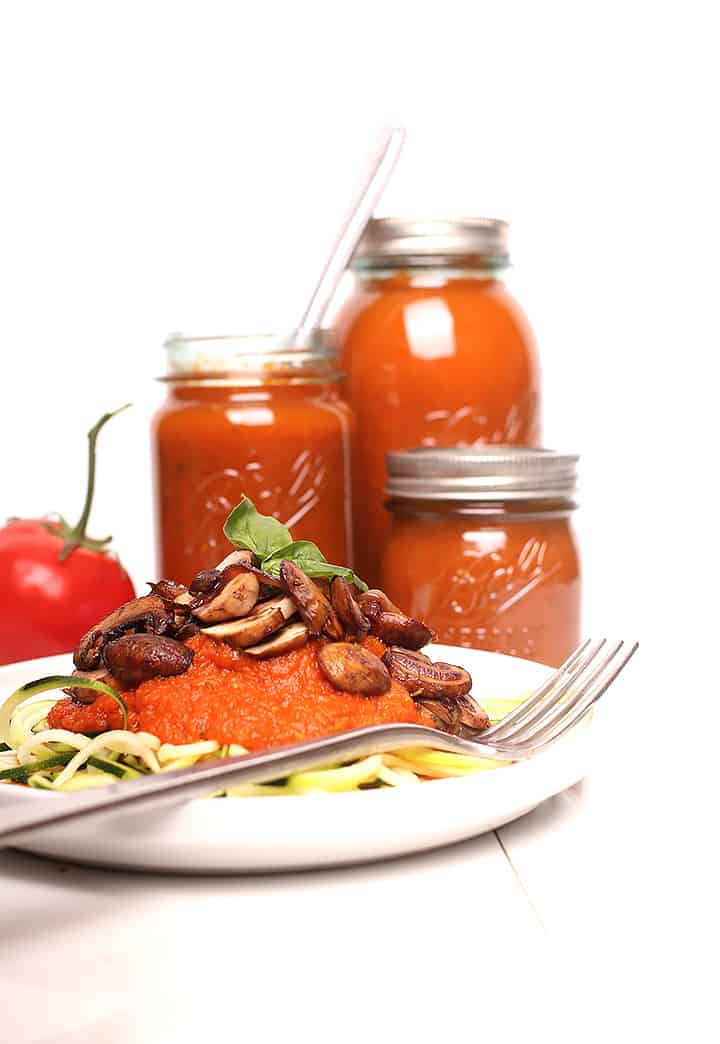 As I've mentioned earlier this summer, this year Ball® Fresh Preserving is celebrating the 135th anniversary of the Ball® jar! To celebrate they came out with some super cool new items that make canning easier and more fun, no matter your skill level.
Among the new products, you'll find the Ball® Preserving Starter Kit. This kit is perfect for new/aspiring canners. It includes all of the necessary tools for canning (4 Ball Half-Pint Jars, 1 Jar Lifter, 1 Canning Funnel, 1 Bubble Remover/Headspace Tool, 1 Flexible Canning Rack, and 1 Pectin Pouch) and it also comes with a recipe card with step-by-step instructions that make learning the canning process easy and fun.
For seasoned canners looking for replacement utensils, Ball® canning also came out with the Ball® Utensil Set. This set contains a Jar Lifter, a Canning Funnel, and a Bubble Remover/Headspace Tool.
But, of all their new products, these Ball® Aqua Vintage Jars are my favorite. I love them!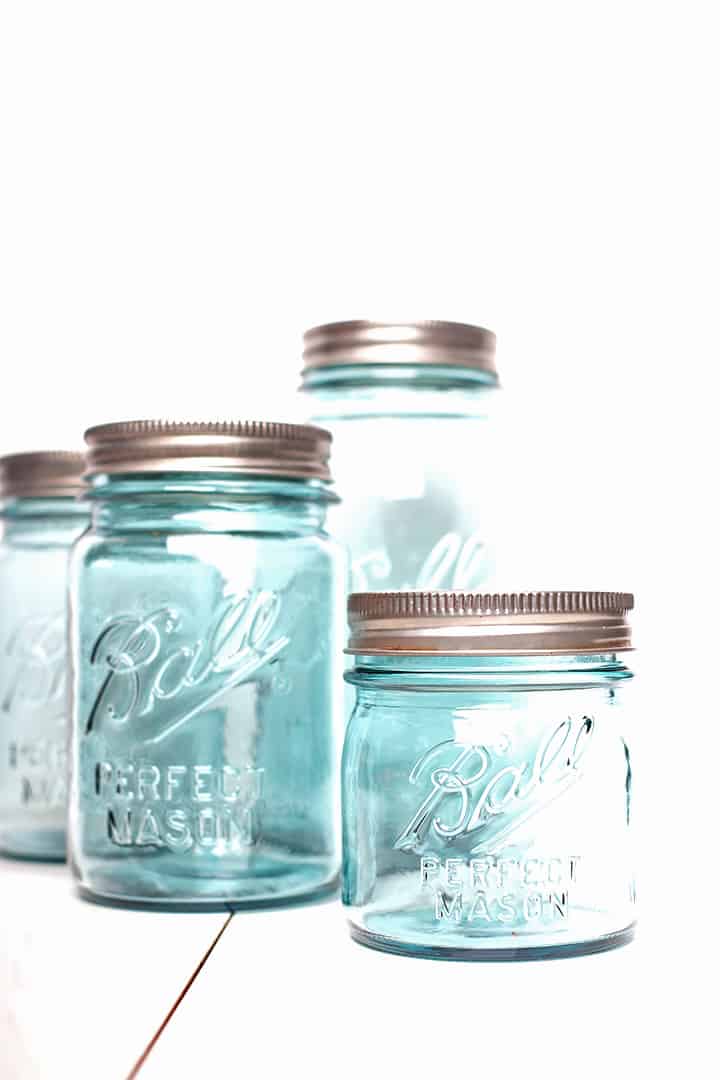 How to Make Canned Tomato Sauce
This recipe does take a bit of time but very little of that time is actually active. Here are the things you must pay attention to when you make homemade tomato sauce:
Prep your equipment
The key to canning is keeping everything CLEAN. So before you get started with the recipe, make sure your lids and bands are washed in warm soapy water. Once they are washed, set them aside to dry while you prepare the recipe.
To prepare your jars, place them in the canner, on a rack, and bring the water to a simmer at 180 degrees. Let them sit in the simmering water until ready to fill. To fill the jars, ensure that your Ball® canning funnel is cleaned in warm soapy water and only remove jars from canner with canning tongs.
Keep your workspace clean and use clean towels for wiping the rims and lids.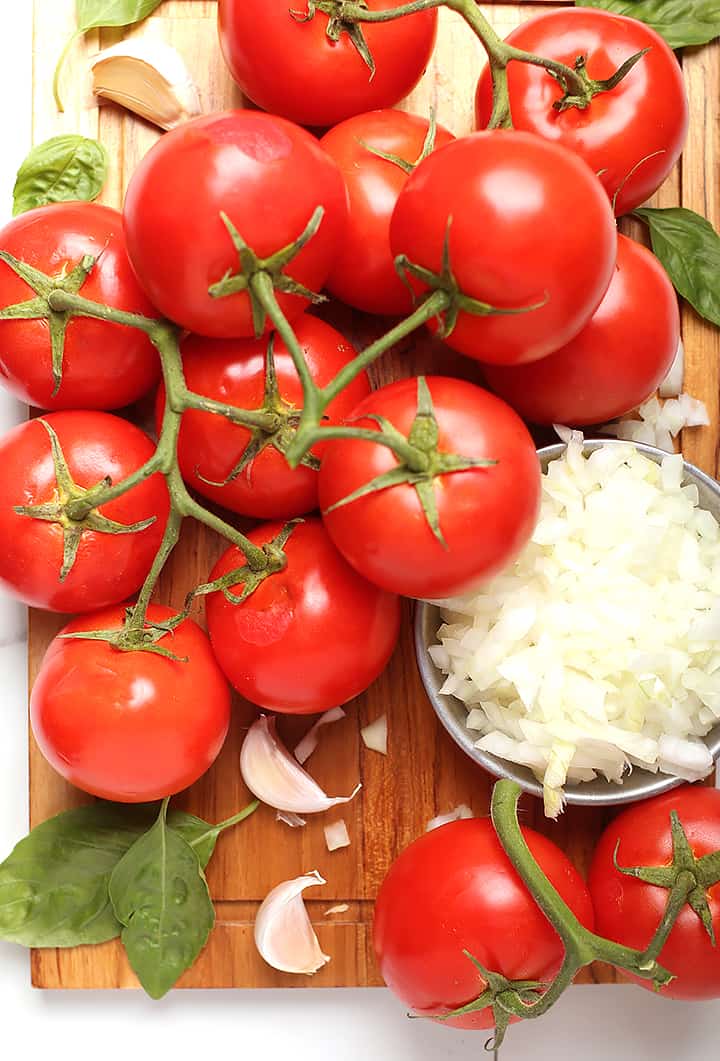 Prepare the Ingredients
Keep in mind, when canning, you must always remember to follow the instructions exactly as they are written. These recipes are tested and approved for safety. Do not alter the recipe ingredients, processing method, or processing time except when it comes to adjusting time for altitude.
Now it's time to make the canned tomato sauce. This recipe requires a lot of tomatoes so it is important to start with clear workspaces. You can either make 7 pints or 3 quarts. For that you will need about 20lbs of tomatoes (about 60 large tomatoes).
First, wash and core all the tomatoes. Quarter them and set them aside. Next, in a large stockpot, sauté your onions and garlic. Once the onions are translucent, stir in the quartered tomatoes, and cover.
The tomatoes will start to get tender as they stew. Once they are tender and boiling, blend the tomato sauce in a food processor. You will have to do this in several batches. Strain out the peels and seeds and return the tomato sauce to the stockpot. Add the minced basil, bring to a boil, and then reduce heat to a simmer. Simmer until the tomato sauce has thickened and volume is reduced by about half.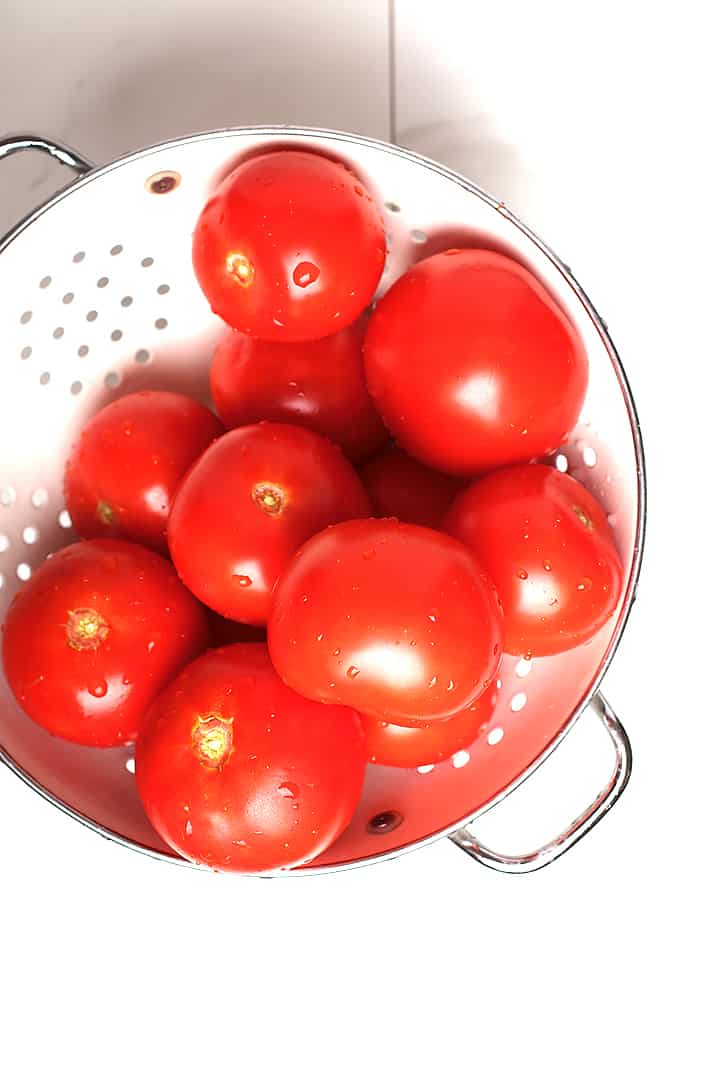 Process Tomato Sauce in Canner
Gently remove one hot Ball® Canning Jar from the canner and place it on a towel or wooden cutting board. If you are using pints, add 1 tablespoon of lemon juice to the bottom of each jar. For quart jars, add 2 tablespoons. Place the canning funnel over the top and fill each jar with tomato sauce, leaving ½″ headspace at the top. This is an important step to ensure a vacuum seal on the jar. Otherwise, the tomato sauce inside might expand and the jar may not properly seal. Repeat until all the cans are filled.
Remove air bubbles with the Bubble Remover/Headspace Tool, wipe the rim, and place lid and band securely on the jar. The band should be finger-tip tight but do not overtighten. Place the jar back in the simmering water and repeat until all the jars are filled.
Process the tomato sauce for 35 minutes for pint-sized jars and 40 minutes for quart-sized jars. Remove from heat and let the jars cool for 5 minutes before removing the tomato sauce with your Ball® canning tongs. Place hot jars on a towel to let them cool completely. Check to ensure they are properly sealed 24 hours after cooling. The lid should not spring up and down when pressed with your finger. If it does, it hasn't properly sealed.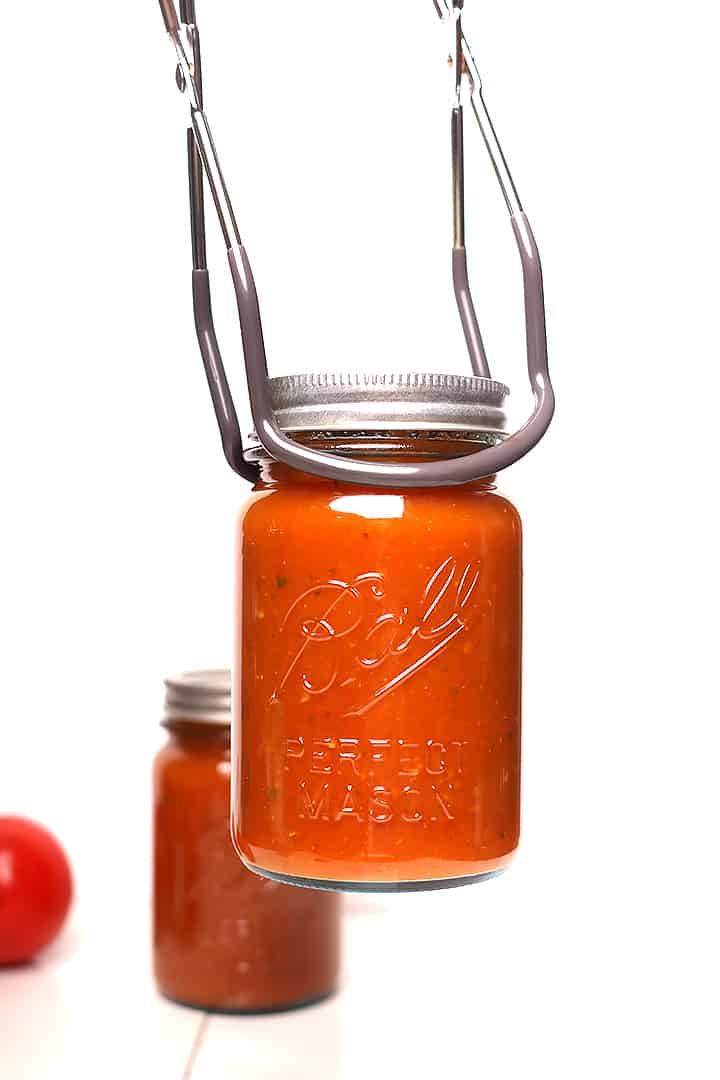 Canning dos and don't
Here are a few things to keep in mind when you are home canning:
Canning dos
Do

follow a tested/approved recipe for home canning.

Do

clean jars prior to use.

Do

wipe the rim of the jar with a damp cloth or paper towel to remove food particles.

Do

start the processing time when the water begins to boil or pressure achieved.

Do

store jars in a cool/dry/dark location between 50-70 degrees.
Canning don'ts
Don't

alter recipe ingredients, processing methods, or processing times.

Don't

place jars directly on the bottom of the pot/canner.

Don't

guess on headspace.

Don't

check for a seal while the jars are still hot/warm.

Don't

forget to check your seal.
If you are new to canning, get more information at Ball® Canning's website FAQ.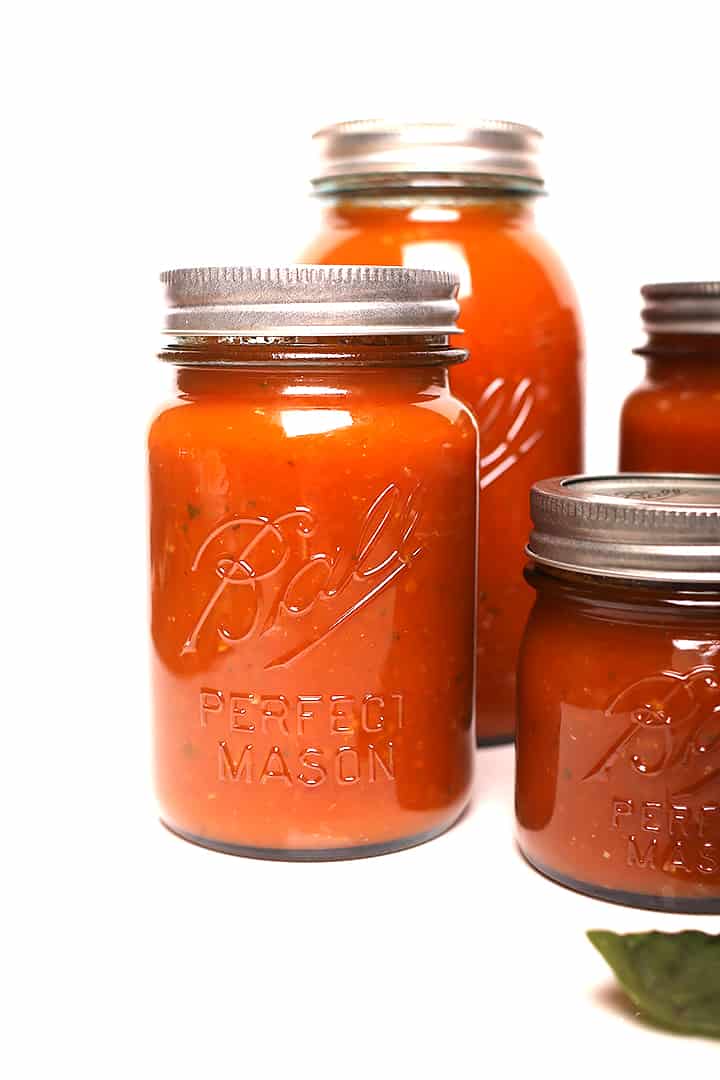 What to do with canned tomato sauce
Tomato sauce is one of my favorite ways to preserve summer tomatoes. Pick summer tomatoes at their ripest and enjoy fresh tomato sauce all year long!
My favorite recipes using homemade tomato sauce:
---
Serving and Storing Tomato Sauce
Use for pasta, meatballs, lasagna, and more. One of my favorite ways to serve tomato sauce is over zucchini noodles along with sautéed onions and mushrooms and vegan parmesan cheese (see recipe below). It's fresh, light, and delicious!
Store unopened tomato sauce in a dark, cool area for up to 18 months. Once a jar is opened, it will keep in your refrigerator for 7 days.
Sound delicious? Let's take a look at the recipe below!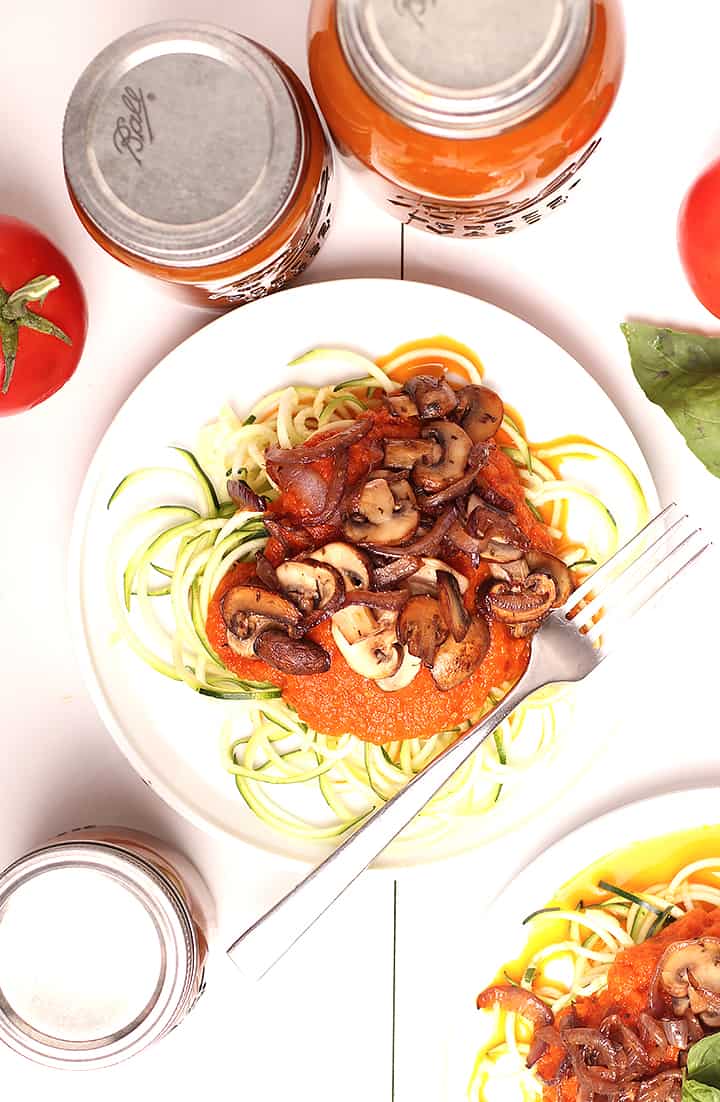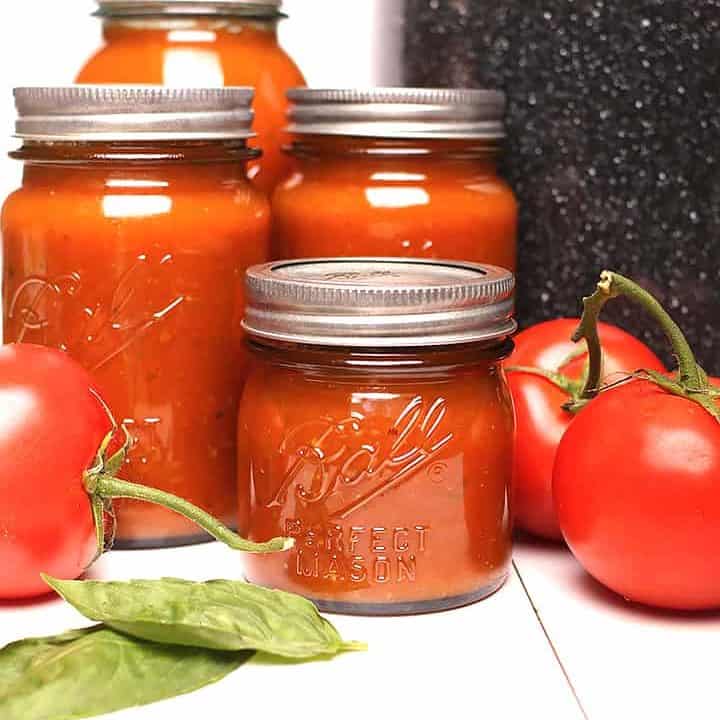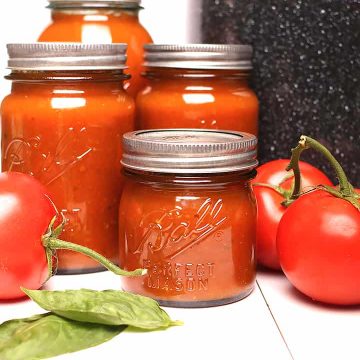 Basil-Garlic Tomato Sauce
Sweet, savory, and tart, this canned Basil Garlic Tomato Sauce recipe is seasoned to perfection. Canned tomato sauce will last you all year long for the perfect easy weeknight pasta meal.
Print
Pin
Rate
Equipment
7 (16 oz) pint glass preserving jars with lids and bands or 3 (32 oz) quart glass preserving jars

Water Bath Canner
Ingredients
Canned Garlic Basil Tomato Sauce
20

lbs

tomatoes

(about 60 medium)

1

cup

chopped onion

(about 1 large onion)

8

cloves

garlic,

minced

1

tbsp.

olive oil

¼

cup

fresh basil,

finely minced

¼

tsp.

¼ tsp Ball® Citric Acid or 1 tablespoon bottled lemon juice,

per pint
Zucchini Noodle Veggie Pasta (serves 4)
2

medium

zucchini,

spiralized

2

tbsp

olive oil,

divided

½

medium

red onion,

thinly sliced

1

heaping cup

button mushrooms,

thinly sliced

¼

cup

vegan parmesan cheese

1

pint

Garlic Basil Tomato Sauce
Instructions
Tomato Sauce
PREPARE boiling water canner. Heat jars and lids in simmering water until ready for use. Do not boil. Set bands aside.

WASH tomatoes; drain. Remove core and blossom ends. Cut into quarters. Set aside.

SAUTE onion and garlic in olive oil until transparent. Add tomatoes. Bring to a boil. Reduce heat and simmer 20 minutes, stirring occasionally.

PUREE tomato mixture in a food processor or blender, working in batches. Strain puree to remove seeds and peel.

COMBINE tomato puree and basil in a large saucepot. Bring to a boil. Reduce heat and simmer until volume is reduced by half, stirring to prevent sticking.

ADD ¼ teaspoon Ball® Citric Acid or 1 tablespoon bottled lemon juice to each hot pint jar; Add ½ tsp.Ball®Citric Acid or 2 Tbsp. bottled lemon juice to each hot quart jar. Ladle hot sauce into hot jars leaving ½ inch headspace. Remove air bubbles. Wipe rim. Center hot lid on jar. Apply band and adjust until fit is fingertip tight. Place jar in boiling water canner. Repeat until all jars are filled.

PROCESS pint jars for 35 minutes and quart jars for 40 minutes. Remove the canner lid. Wait 5 minutes, then remove jars and cool. check lids for seal after 24 hours; they should not flex up and down when the center is pressed.
Zucchini Noodle Veggie Pasta
Cut ½-1 inch off the end of each zucchini. With your vegetable spiralizer, spiralize the zucchini into noodles. In a large skillet, heat 1 tablespoon of olive oil over medium heat. Once hot, add zucchini noodles and sauté for 1-2 minutes until noodles are slightly tender. Remove from heat and set aside.

Add the remaining tablespoon of olive oil. Once hot, add onions and sauté for 5 minutes until onions are translucent and fragrant. Add mushrooms and continue to cook, stirring occasionally, until mushrooms are browned. Pour the tomato sauce over the mushroom/onion mixture and heat all the way through.

Remove from heat and toss with zucchini noodles. Top with vegan parmesan cheese and serve immediately.
Notes
To serve with zoodles, spiralize one zucchini. Lightly sauté onions and mushrooms and combine with tomato sauce. Serve over spiralized noodles with vegan parmesan.
Nutrition
Calories:
266
kcal
|
Carbohydrates:
54
g
|
Protein:
12
g
|
Fat:
5
g
|
Saturated Fat:
1
g
|
Sodium:
66
mg
|
Potassium:
3119
mg
|
Fiber:
16
g
|
Sugar:
35
g
|
Vitamin A:
10841
IU
|
Vitamin C:
180
mg
|
Calcium:
143
mg
|
Iron:
4
mg
Visit BallHomeCanning.com for new, seasonal recipes from Ball® Fresh Preserving, as well as to find new promotional offers throughout the summer (from Aug 6th - Sept 2nd you can get a free container of Ball® Fruit-Fresh® Produce Protector when you buy a 12 pack of Ball ® or Kerr® Jars and upload your receipt). See full details on BallHomeCanning.com.
If you give this recipe recipe a try, snap a photo and share it on Instagram. Make sure to tag
@mydarlingvegan
so I can see your creations!