Learn all about natural and organic wines with the Ulitmate Clean Vegan Wine Guide - a guide to help you enjoy the benefits of wine without the harmful additives found in many of your drinks.
I don't know about you, but I certainly enjoy a glass of wine at the end of a long day.
One of my favorite ways to transition from work to family is by pouring myself a glass of wine, turning on some music, and slowly preparing dinner. I'm a slow sipper, and so that glass of wine usually lasts through dinner which encourages me to slow down and savor not only the food but also the time with my family.
Over the past year, I've learned a lot about wine. As I got older, even a single glass of wine can sometimes leave me feeling sluggish and heavy. Without much helpful information about what was in wine I was drinking, I got curious and started to do some investigating. Turns out traditional wine is filled with harmful pesticides, added sugar, and all kinds of additives that help make the wine look clearer and taste better. In other words, ingredients to mask the fact that, in many cases, low-quality grapes are being used to make cheap wine.
No wonder I was feeling like crap!
In this guide, I break down the difference between conventional wine vs. clean wine. We take a look at what's really in modern wine and the HUGE difference saying "no" to additives makes. Then I share with you my favorite places to buy clean wine and a few of my favorites I've tried in the last year.
---
Is your Wine Vegan?
The first question you should be asking yourself is, "Is my wine vegan-friend?" It surprises many people to learn that the wines they are drinking might not, in fact, be vegan.
What makes your wine not vegan?
In almost all cases, it all comes down to how the wine is clarified and processed. Young wine tends to be hazy, filled with natural tiny molecules such as proteins, tannins, and phenolics. While most wines, if left long enough, will self-refine, winemakers use a variety of fining agents to help speed the process along so that consumers can enjoy clear and bright wine. Sadly, by clarifying that young wine into the clear bright wine we expect, our drinks just got a whole lot dirtier.
Commonly fining agents include (but are not limited to):
Casein - a milk protein
Albumin - egg whites
Gelatin - animal protein
Isinglass - fish bladder proteins
While this practice is going out of style, there are still many winemakers who use animal-based fining agents, which is why it's a good idea to always read up on the wine you are buying.
Do you know about Barnivore? It's an incredible website that allows you to plug in your favorite wine, beer, or liquor of choice to determine if what you're drinking is vegan-friendly.

---
What Else In Your Wine?
And, it turns out, fish bladder isn't the only thing you should be worried about. Unfortunately, most wines (especially wines made in the United States) are highly processed and filled with additives, toxins, and harmful pesticides. I don't know about you, but that is not something I want to be drinking! Sure, we all know that alcohol itself is a toxin and should be drunk in moderation, but when it comes to wine, it's not just about how much you drink but also what you're drinking.
As the demand for wine grew, the industry searched for new ways to make it cheaper, easier to produce, and quicker to get on shelves. Rather than using high-quality grapes with small batch processing, many winemakers now mask their low-quality grapes with an assortment of refining agents, sugar, and even harmful chemicals all made to improve texture, clarity, color, and flavor.
And, to make matters worse, consumers don't know necessarily what's in their wine. The U.S. has no regulations on what nutritional information must be included on the back of wine bottles. That means you might be buying and drinking wine with all kinds of toxic chemicals, animal by-products, added sugar, and more. Yuck!
Common Wine Additives
Want to know exactly what's in your wine? Here are some of the most common wine additives you'll find in modern wine.
Acid Controls & Color Stabilizers
Commercial Yeasts
Excess Sulphur
Added Sugar
Fining & Clarifying Agents
Pesticides and Herbicides
And, of course, these wines are often refined with gelatine, fish bladder, and casein. Read all about these harmful additives.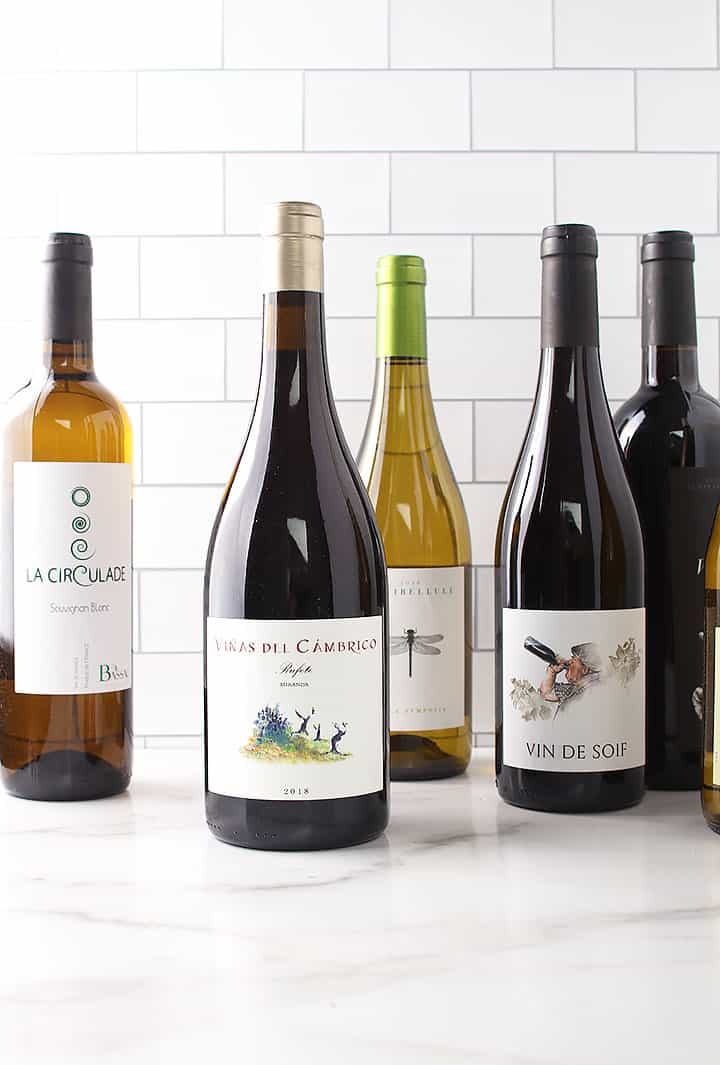 What are Clean Vegan Wines?
Now that we know a little more about what's in traditional wine, I imagine that clean wine is starting to sound better than ever. But what makes wine clean and how do you know that it's clean?
Clean wine is a wine that is free from excessive sulfur, harmful additives, pesticides and herbicides, and added sugar. When you are looking for clean wine, there are a few words that will help you know what's in your wine. Words like "organic", "natural", and "biodynamic" all indicate that your wine is clean, vegan, and free of extra additives. While you can find clean wine at your local grocery stores and wine shops, I prefer buying my wine online where I know it's been tested and approved.
When it comes to buying clean, organic, wines I recommend three places.
---

Dry Farm Wines
I love Dry Farm Wines not only because their wine is great (it is!) but because they are committed to finding and sharing the finest natural, sustainable, and biodynamic wines. The philosophy of Dry Farm Wines is that life should be lived well and full in a whole and natural way. And clean wine enjoyment should be part of that.
Dry Farm Wines travels the world to find the BEST pure, whole, and natural family farmed wines that are naturally low in alcohol (13% or lower), made with no added sugar or carbs, and avoid harmful additives and pesticides.
They want you to try their product so much, they will give you your first bottle for just a penny! (<<affiliate link)
Dry Farm Wines is a clean and healthy wine club offering the top quality wine that tastes great and leaves you feeling your best. They call their wine no-hangover wine because it offers a clean and joyful buzz and you still wake up fresh.
As a member, you can select either 6 or 12 bottles to be shipped to you every 1-2 months. You can cancel at any time so you can try Dry Farm Wines risk-free! They guarantee that all of their wines are safe, natural, and free of additives. In fact, all of the wines they curate are personally lab-tested by Dry Farm Wines and are guaranteed to be:
Natural, sustainable, or Biodynamic viticulture/farming
No commercial yeast for flavor alteration
No or minimal filtering/fining
Minimal intervention in the vinification and aging
No or minimal use of new oak
No or minimal addition of SO2 (sulfites)
Handcrafted/Small Batch
No chaptalization (adding sugar to the grape must in fermentation)
No chemical additives for aroma, color, flavor or texture enhancement
Try it now and get your first bottle for just a penny! (<<affiliate link)
And friends, you can taste the difference! Treat yourself right and spend a little extra on clean wine that leaves you feeling great.
---
Winc Wines
If you are looking AMAZING certified vegan wine, look no further! I love Winc Wines not only because their wine is great but because they are committed to finding the finest natural vegan wines.
Winc has an entire vegan wine selection and right now if you buy 4 bottles, you get them for 50% off! (<<affiliate links). It's a ridiculously good deal and I think you're gonna need it. You can either purchase one time orders through Winc or open up even more discounts by being part of their wine club.
Winc believes that the experience of getting a great bottle of wine should be simple. The team at Winc creates and curates over a hundred wines, and makes the experience of exploring wine easy and pleasurable—So you can spend more time enjoying the wine in your glass rather than reading the labels and stressing over what's inside your wine.
---
Thrive Market
The other place I buy my clean wines is at Thrive Market. For those of you who don't know, Thrive Market is my go-to online organic grocery store. Their products are top-quality, organic, and natural AND priced 25-50% lower than traditional retail prices.
Last year Thrive Market started a new line of clean wines that are organic, biodynamic, and sustainable. These wines are handpicked and must meet certain guidelines (no added sugar, minimal filtration, and no harmful additives) in order to be added to their starter packs.
Like everything on Thrive Market, they are able to offer its clean wines a bit cheaper than Dry Farm Wines. You can try their Clean Wine Starter Pack for just over $89. That breaks down to only $14.99 a bottle which is an AMAZING deal for these high-quality clean wines. Believe me, I've tried a handful of these wines and they are some of the best wines I've ever tasted!
Want to try them for yourself?
Use my link and you'll get to choose a FREE GIFT (up to $24 in value) with your order and get a free 30-day trial to Thrive Market! (<<affiliate links)
Clean, affordable wine delivered right to your door. What's not to love about that?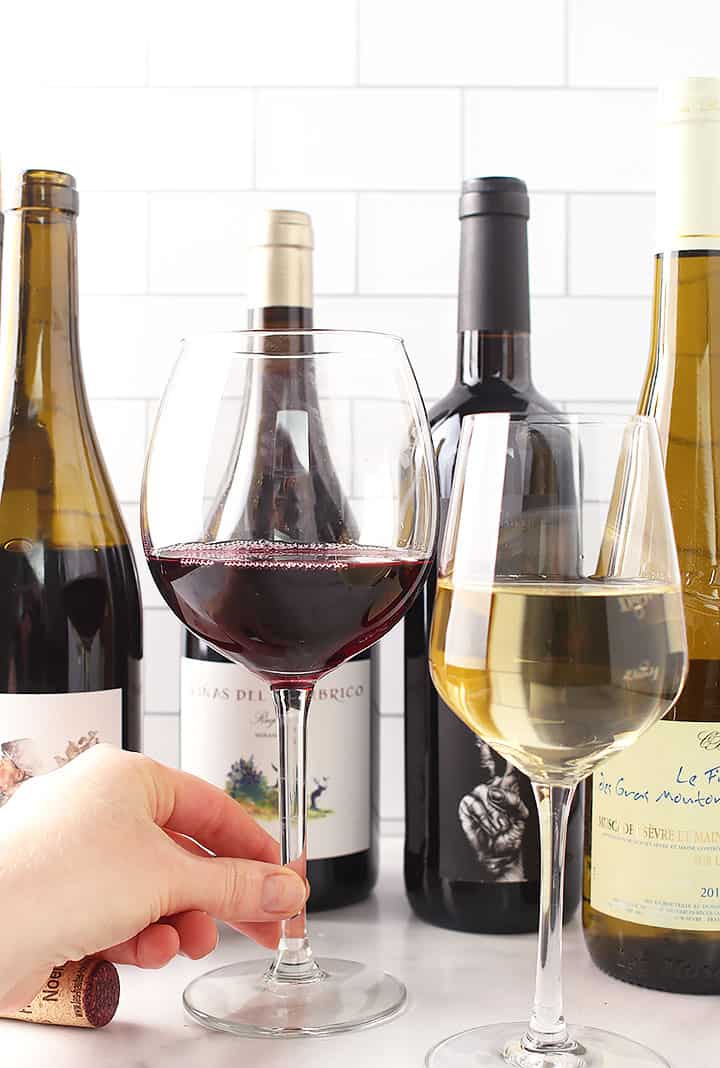 Healthy Wines I Personally Love
Since I've started drinking clean wines, I truly have noticed a major difference. Both in how it tastes and also how I feel the next day. When I stick to clean wine (and drink in moderation), I wake up feeling energized and well-rested. Here are a few of the wines I have tried from both Dry Farm Wines and Thrive Market that I highly recommend.
Dry Farm Wines
A few months ago I became a member of Dry Farm Wines. I get 12 bottles of wine delivered every other month and I love it! Since then, I've gotten the chance to sample many different clean vegan wines and I can taste and feel the difference.
Among my favorite were:
La Circulade, 2018
Type: White
Varietal: Sauvignon Blanc
Country: France
ABV: 12.26%
Vin De Soif 2018
Type: Red
Varietal: Red Blend
Country: France
ABV: 12%
Viñas Del Cambrico Rufete Miranda, 2018
Type: Red
Varietal: Rufete
Country: Spain
ABV: 12.06%
Thrive Market
I have also purchased two different clean wine starter kits from Thrive Market. The Clean Whites Starter Pack and the Clean Red Starter Pack. I loved both of them. Among my favorite were:
Casar de Burbia Godello Bierzo 2018
Type: White
Varietal: Godello and Viognier
Country: Spain
ABV: 13.5%
Las Cepas Rioja Costalarbol 2017
Type: Red
Varietal: Red Blend
Country: Spain
ABV: 14%
When it comes to drinking, there is a healthy way to do it, allowing you to enjoy the antioxidant benefits as well as the flavors and joyful buzz without exposing yourself to harmful toxins. Check out Dry Farm Wines and Thrive Markets Clean Wine Starter Kit and start tasting the difference today. (<<affiliate links)
Your mind and body will thank you.
xo, Sarah
If you give one of these recipes recipe a try, snap a photo and share it on Instagram. Make sure to tag
@mydarlingvegan
so I can see your creations!