Super Chunky Homemade Granola
The perfect, sweet and crunchy, super chunky, homemade granola filled with cherries, almonds, coconut, and spices for a hearty and healthy quick breakfast. Easy and delicious!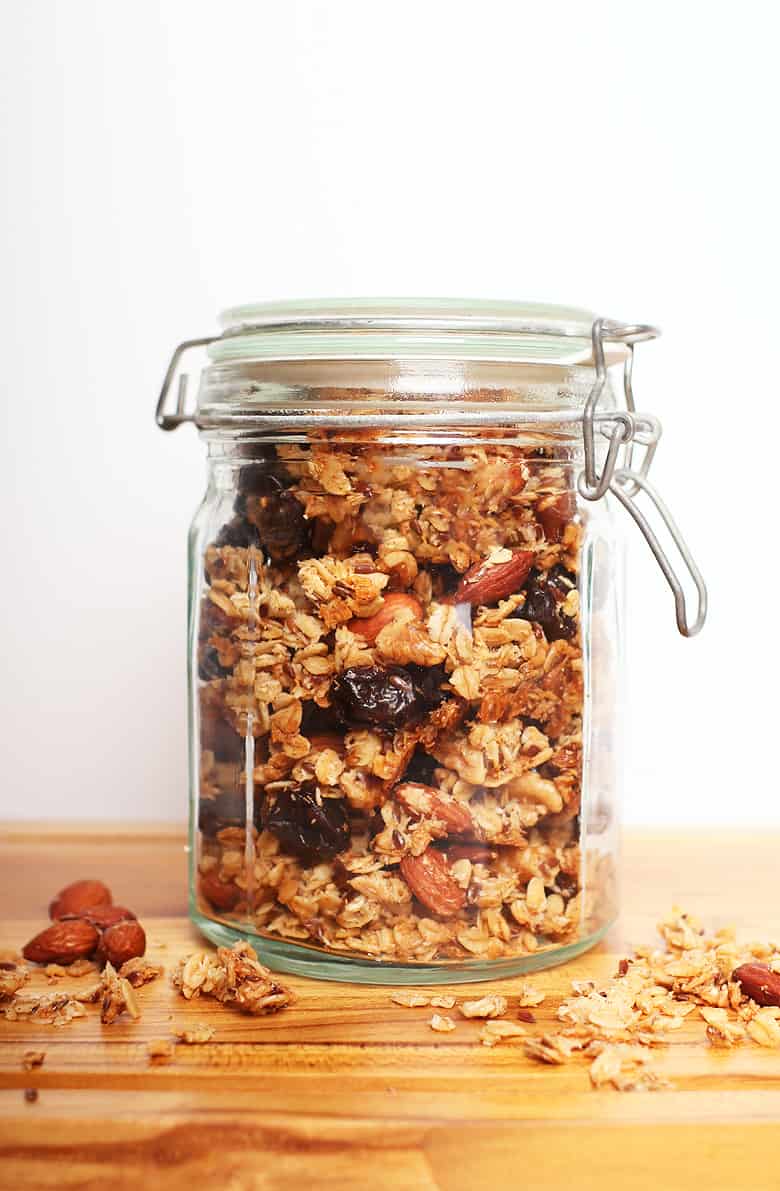 This post contains affiliate links. For more information, see my privacy policy.
Originally published 4/12/2012. Last updated 3/1/2019
I'm going to let you in on a little secret.  This vegan granola recipe actually comes from the first blog I started, Line Drawings, which quickly morphed into what is now My Darling Vegan. Here is the original post. Take a look at it and see where this little blog originated – you might be quite surprised!
This homemade granola recipe was, in fact, the very first recipe I ever wrote, photographed, and shared online. It marks the birth of my food blogging career and so, for that, this recipe is my baby. This granola has been adapted through the years and re-photographed twice because the best things always need a lot of TLC.
Even though it was my first recipes, it's still one of my go-to vegan granola recipes. I think you're going to love it.
Let's take a look at how to make this super chunky homemade granola.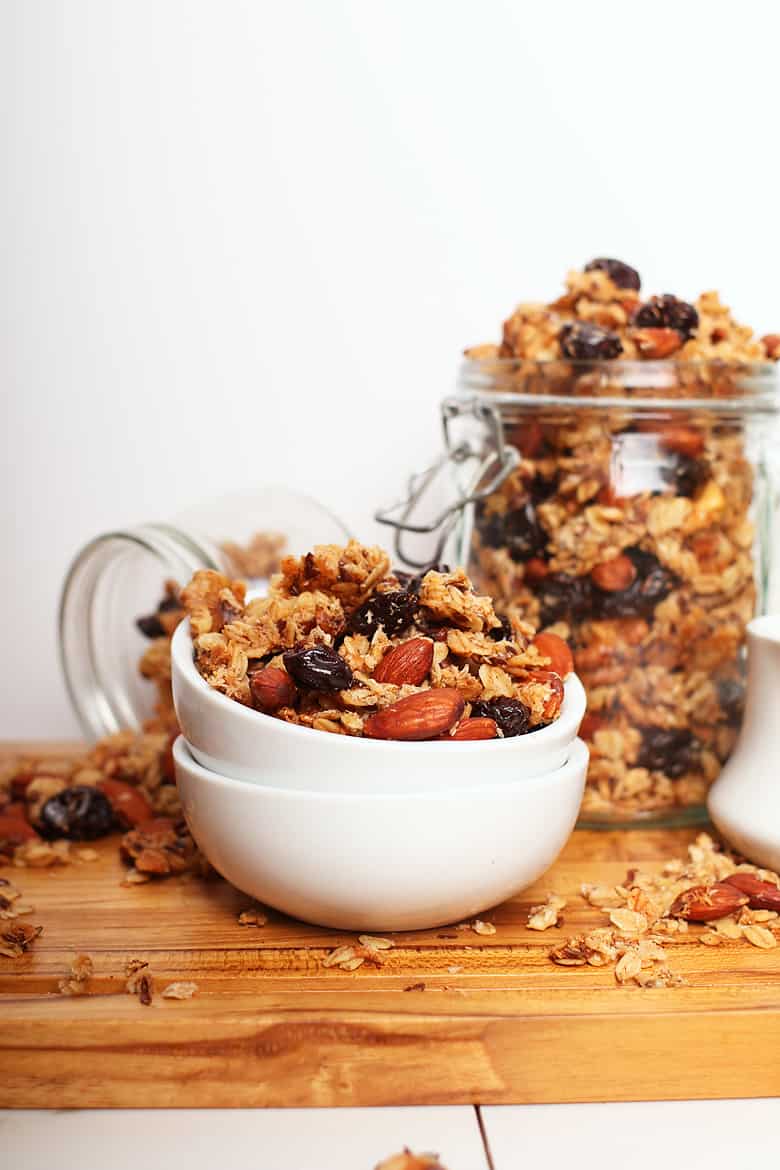 How to make homemade granola
Homemade granola may sound intimidating, but it is quite simple to make. And the best part is that you can make a different variation of granola every single day. With so many options, homemade granola is one of the most versatile recipes you will ever learn how to make and one of the easiest recipes for new bakers to master.
Best oats for homemade granola
When I make my vegan granola, I choose extra thick old fashioned oats. You want oats that will keep their shape during a slow bake so that you can have that perfect crunchy texture. Old fashioned oats will also work, although, for super chunky granola, I do recommend an extra thick cut.
If you are gluten-free, make sure to look for gluten-free thick cut.  This is the brand that I recommend.
Wait, aren't all oats gluten free?
Unfortunately not. Most oats are rolled in flour during the process or are cross-contaminated by sharing the same equipment as wheat products. If you are strictly gluten-free, make sure to find the oats that are labeled as such.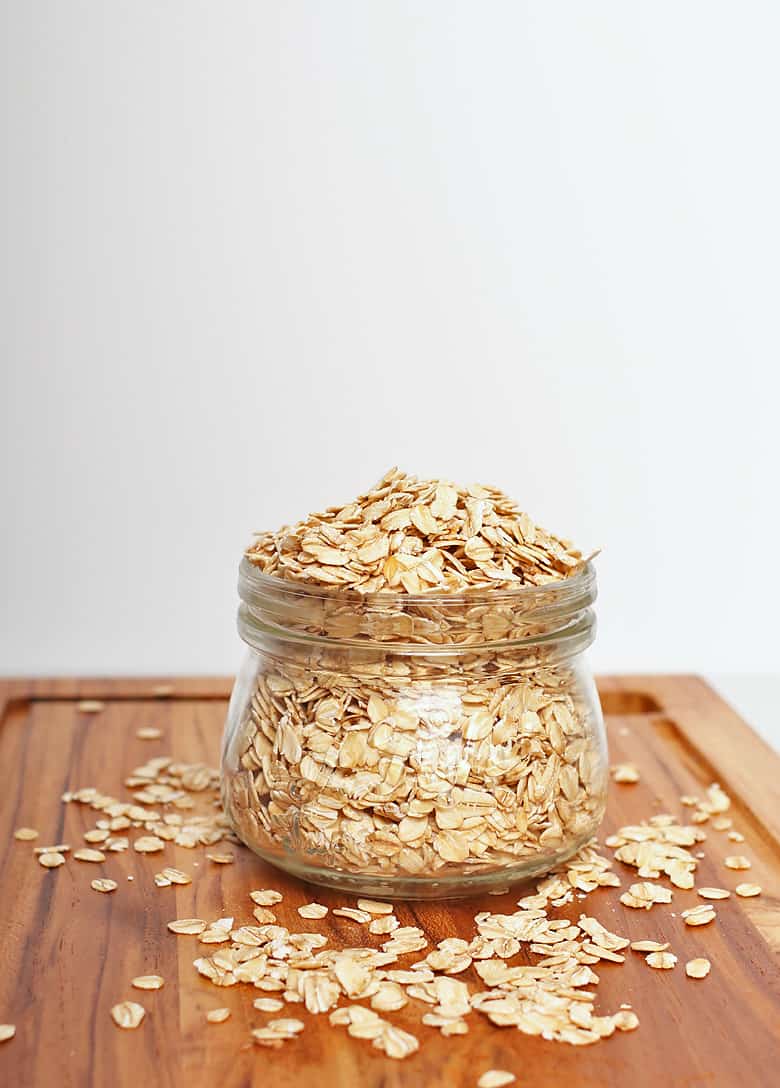 Step one- combine the dry ingredients
The first step in making homemade granola is tossing together your dry ingredients. That's the oats, spices, and other mix-ins such as flax or chia seeds, desiccated coconut, and wheat germ. This recipe calls for flax seeds and shredded coconut, however, feel free to swap them out with other seeds or omit them altogether.
Step two – combine wet ingredients
In a separate bowl, combine the wet ingredients. That's your liquid sweetener (I always use maple syrup but other liquid sweeteners will do), oils, and extracts. As far as oils go, I prefer using coconut oil which adds a nice flavor to this almond cherry granola while providing an unrefined, healthy fat. Other oils I recommend are olive or avocado oil.
Step three – combine and bake
At this point the wet ingredients can be added to the dry ingredients, mixing with a wooden spoon or by hand, until the oats are evenly hydrated. Add the nuts and mix thoroughly. Spread the oats evenly onto two baking sheets.
For extra chunky granola, you want to pack the granola together on the baking sheet. Rather than spreading it out over the entire sheet, pour it onto the baking sheet and pack it together. It should be about 1/4″ thick (see picture below).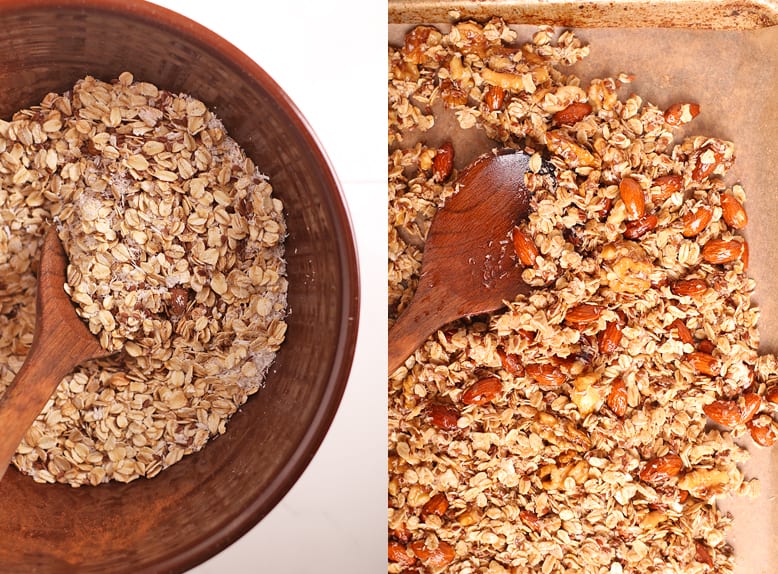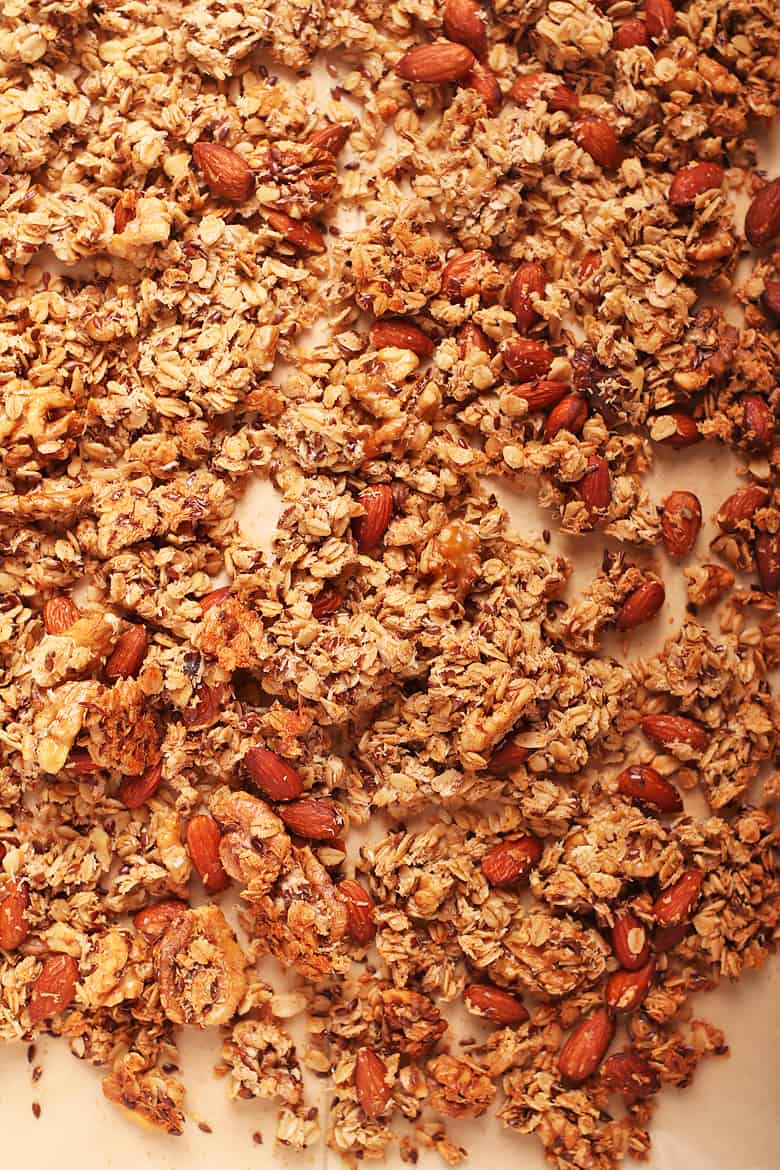 Step four – cool granola and add mix-ins
Once the granola has baked, remove it from the oven and let it cool at least 30 minutes (60 is better) before breaking it into large chunks. At this point, you can add any additional mix-ins such as dried fruit or chocolate chunks.
How to make Super Chunky Granola
Here are a few tips for making super chunky granola.
Make sure the wet and dry ingredients are well mixed. The oats should be evenly and fully hydrated.
Pack the granola tightly on the baking sheet. It's okay if the granola doesn't fill the baking sheet but try and prevent empty spaces between the oats.
Don't over-handle the granola when baking. Turn the tray halfway through the baking so that the granola evenly bakes but do not mix.
Let the granola cool at least 30 minutes (60 is better) before gently breaking into large chunks.
Take care not to over-mix the granola when adding the mix-ins.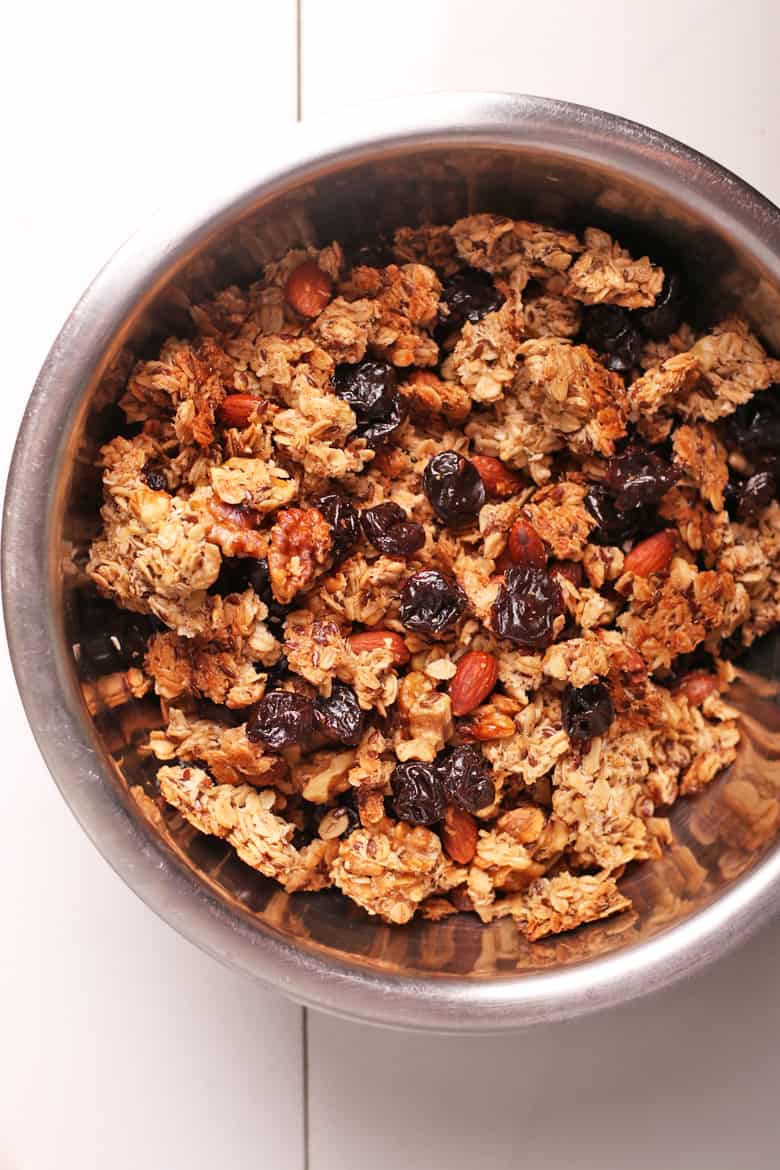 Variations of homemade granola
There are endless variations of homemade granola. Nearly anything can be added for a different granola recipe every time. Here are a few of my favorite combinations. Add:
chocolate chunks for a Chocolate Cherry Granola
sunflower seeds, pumpkin seeds, or chia seeds. Omit the cherries for a Seedy Nut Granola
ginger and nutmeg. Swap out cherries for dried pear for a Ginger Pear Granola
ginger and cinnamon as well as 2 tablespoons of molasses. Swap cherries for cranberries for a festive Gingerbread Granola
Serving and storing your vegan granola
Once your granola has cooled, you can enjoy it immediately. Uneaten granola can be stored in an airtight container at room temperature for up to 1 month. Enjoy your granola in cookies, on top of muffins, baked in bread, in a vegan parfait, or simply with milk for an easy and hearty breakfast.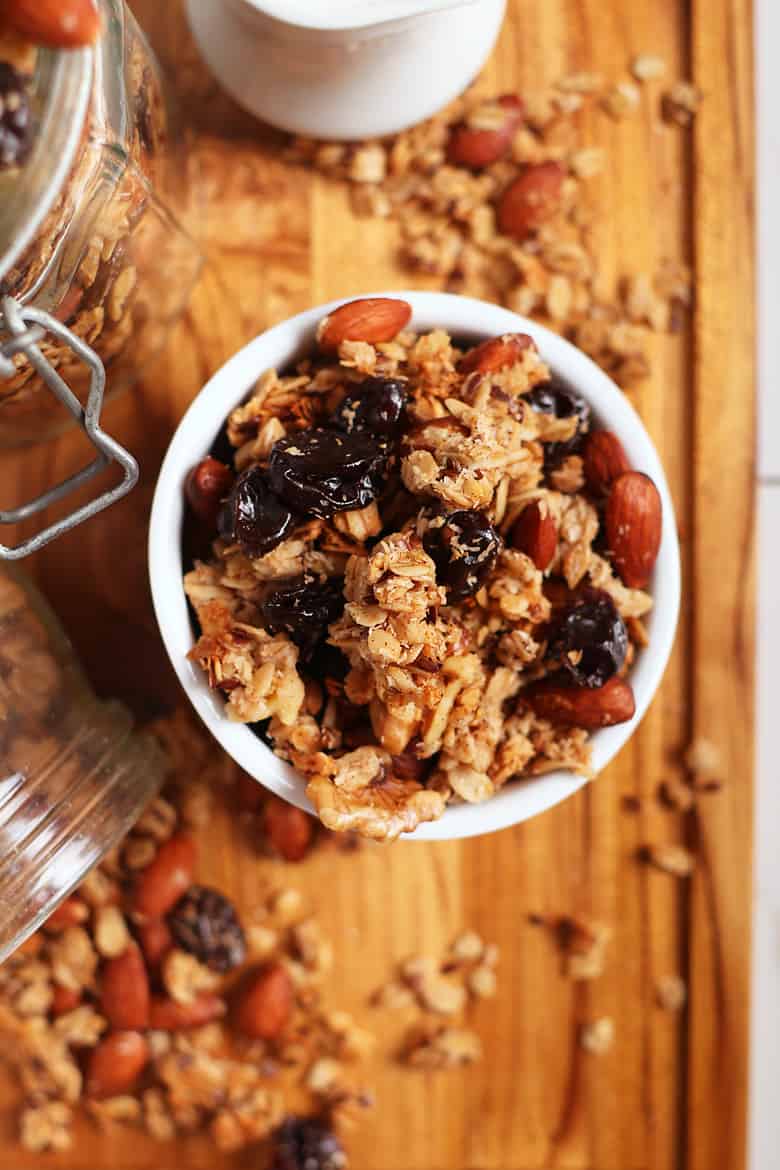 Homemade Granola with Cherries and Almonds
The perfect sweet and crunchy super chunky homemade granola filled with cherries, almonds, coconut, and spices for a hearty and healthy quick and easy breakfast. Easy and delicious!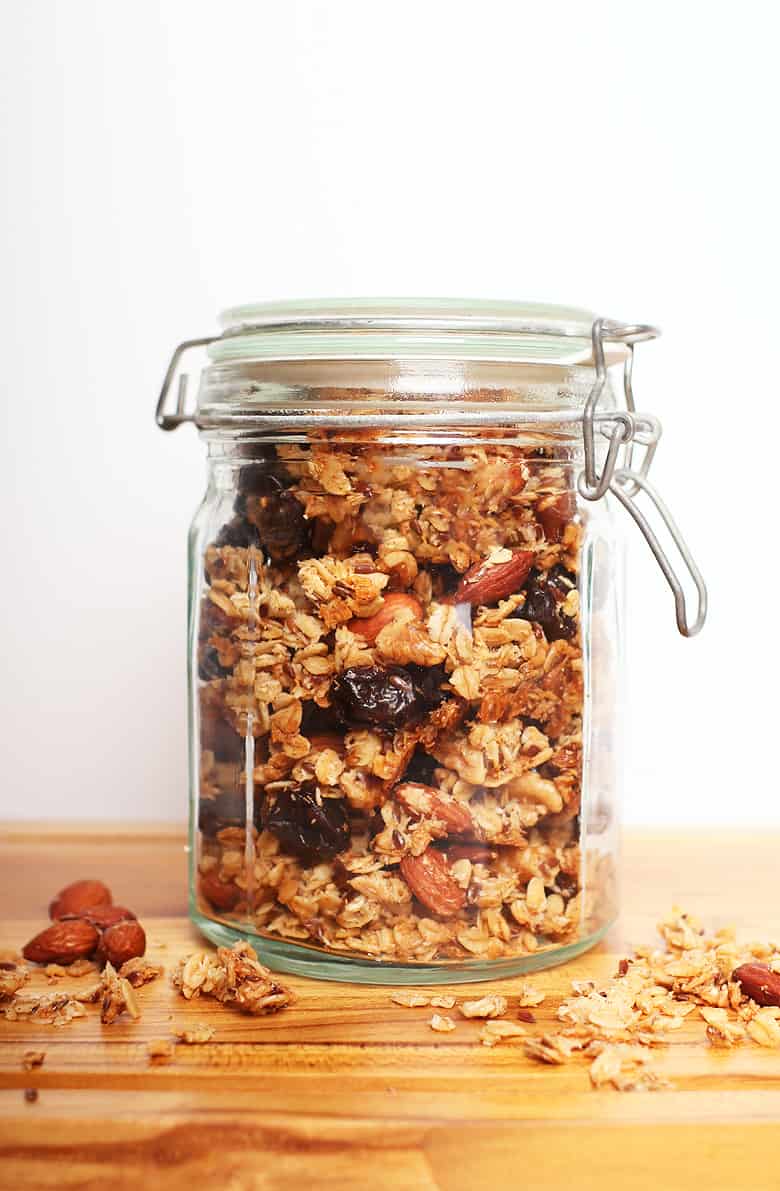 Course:
Breakfast
Cuisine:
Vegan
Keyword:
Almond Granola
Servings
:
16
people
Calories
: 380 kcal
Author
:
Sarah McMinn
Ingredients
Instructions
Preheat the oven to 300F. Line two baking sheets with parchment paper and set aside.

In a bowl combine oats, coconut, ground flaxseeds, and salt. In a separate bowl combine melted coconut oil, maple syrup, and vanilla extra.

Slowly pour wet ingredients over the oat mixture, mixing while adding, until the dry and wet ingredients are fully mixed together. You may need to use your hands to ensure the oats are evenly hydrated. Mix in almonds and walnuts and spread evenly over both baking trays, pressing the granola tightly together.

Bake for about 40 minutes, rotating halfway through. Do not mix the granola! Remove from oven and let sit for at least 30 minutes.

Gently break apart the granola into large chunks. Once it's cool completely, stir in the cherries (or fruit of choice)

Eat immediately or store in an airtight container for up to 1 month.
Nutrition Facts
Homemade Granola with Cherries and Almonds
Amount Per Serving
Calories 380
Calories from Fat 189
% Daily Value*
Fat 21g32%
Sodium 94mg4%
Potassium 264mg8%
Carbohydrates 42g14%
Protein 7g14%
Vitamin A 540IU11%
Vitamin C 0.1mg0%
Calcium 86mg9%
Iron 2.1mg12%
* Percent Daily Values are based on a 2000 calorie diet.
If you give this recipe recipe a try, snap a photo and share it on Instagram. Make sure to tag
@mydarlingvegan
so I can see your creations!