Udon Noodle Stir Fry with Tofu
Delicious Udon Noodle Stir Fry made with crispy tofu, broccoli, peppers, and carrots. It's covered in a sweet ginger sauce for a hearty vegan and gluten-free meal that the whole family will love.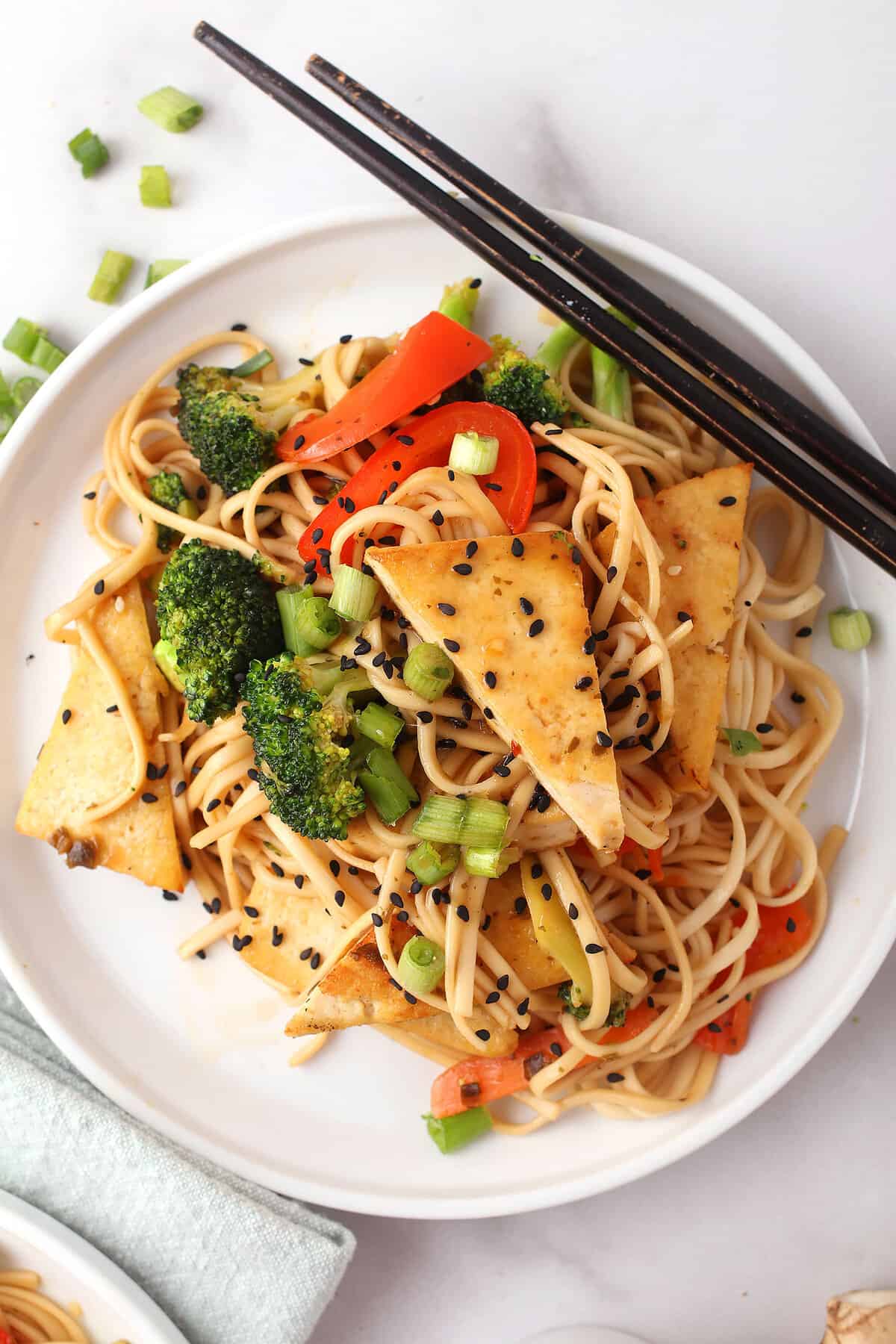 This post contains affiliate links. For more information see my privacy policy.
Originally published 9/24/2014. 
As a vegan, we end up eating a lot of tofu stir fry meals at my house. Currently, our three go-to meals are tacos, Mediterranean bowls, and stir fry. While I love tacos (they may be my favorite food ever) and anything Mediterranean, stir fry is probably my favorite go-to meal these days.
Why? I'm glad you asked!
WHY I LOVE Udon Noodle Stir Fry
They are easy to make. Most stir-fries can be made in under 30 minutes with just a handful of ingredients
They are wildly versatile. Vegetables, sauces, and proteins can be swapped out to make a different meal every time.
Stir fries are good for you. They are typically packed with veggies, protein, and healthy fats and are easily made vegan and gluten-free
They are a meal even the most novice of cooks can master and make 100% delicious!
Because of their versatility, stir fries end up being a great way to use up leftover vegetables at the end of the week. Add a new sauce, and you've got a new and exciting meal every time.
This Udon Noodle Stir Fry is an early recipe, one I created back in 2014, but variations of it continue to be in our weekly rotation.
I love it and I think you will too. Let's take a closer look.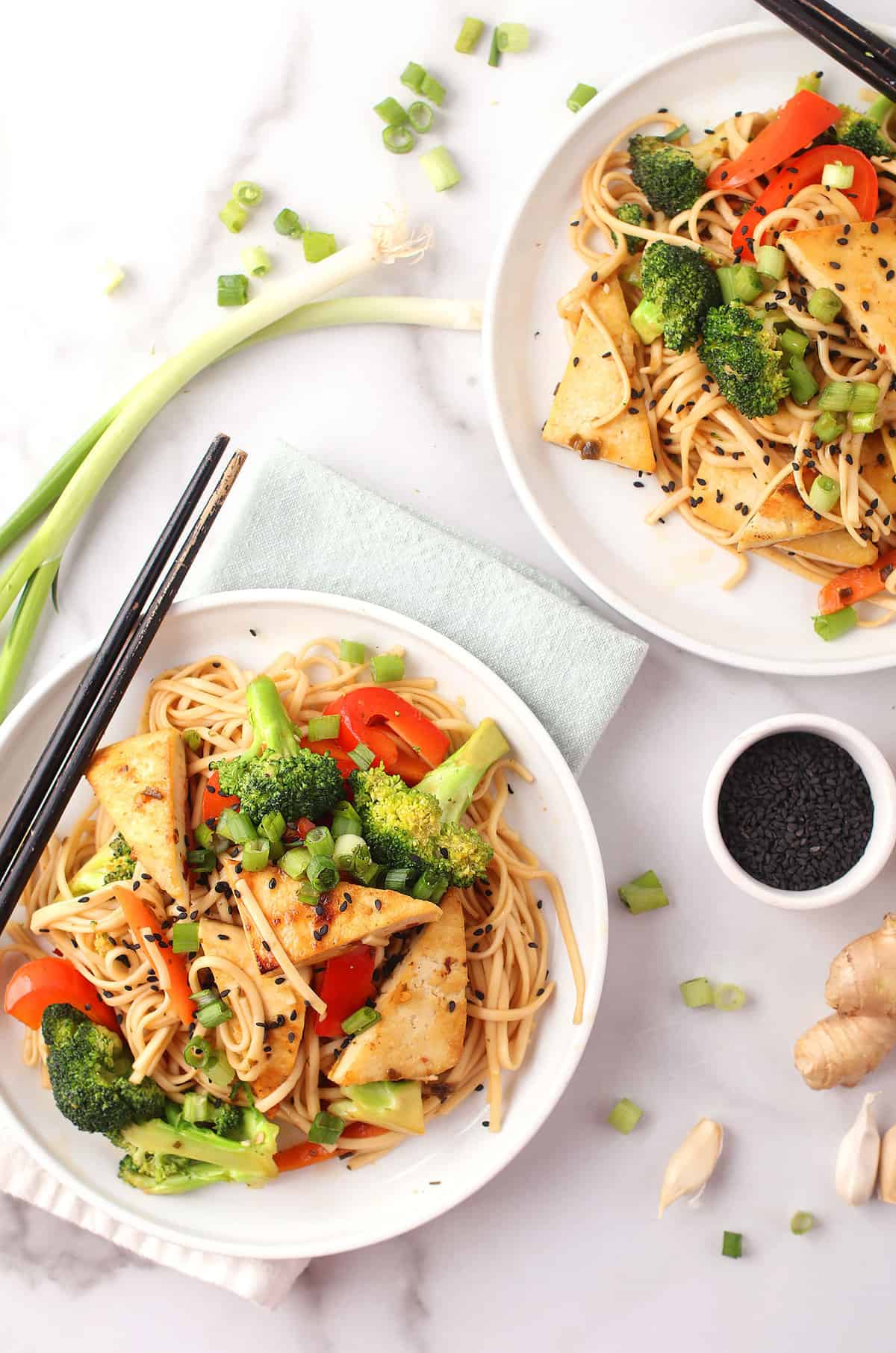 Ingredients for Udon Noodle Stir Fry
Like most stir fries, the ingredients for this udon noodle recipe are simple, straight forward, and highly versatile. For this recipe you will need:
HOW TO MAKE TOFU STIR FRY
As I said, making a vegetable stir fry recipe is very straight forward. It's a matter of cooking your noodles, sautéing your vegetables, and slathering it all in a sweet and savory sauce.
Let's break this down.
STEP ONE – COOKE THE UDON NOODLES
There is a variety of different udon noodles. You can either buy them dry (like pasta) or fresh, which you'll find in the refrigerated section of large grocery stores and Asian markets. While fresh udon noodles can be hard to find, I definitely recommend trying this recipe with them if you get the chance. In that case, follow the directions on the back of the package for cooking.
Dry udon noodles are cooked like pasta. Heat up a large pot of water and cook the udon noodles until they are al dente. Strain the noodles through a colander and set aside.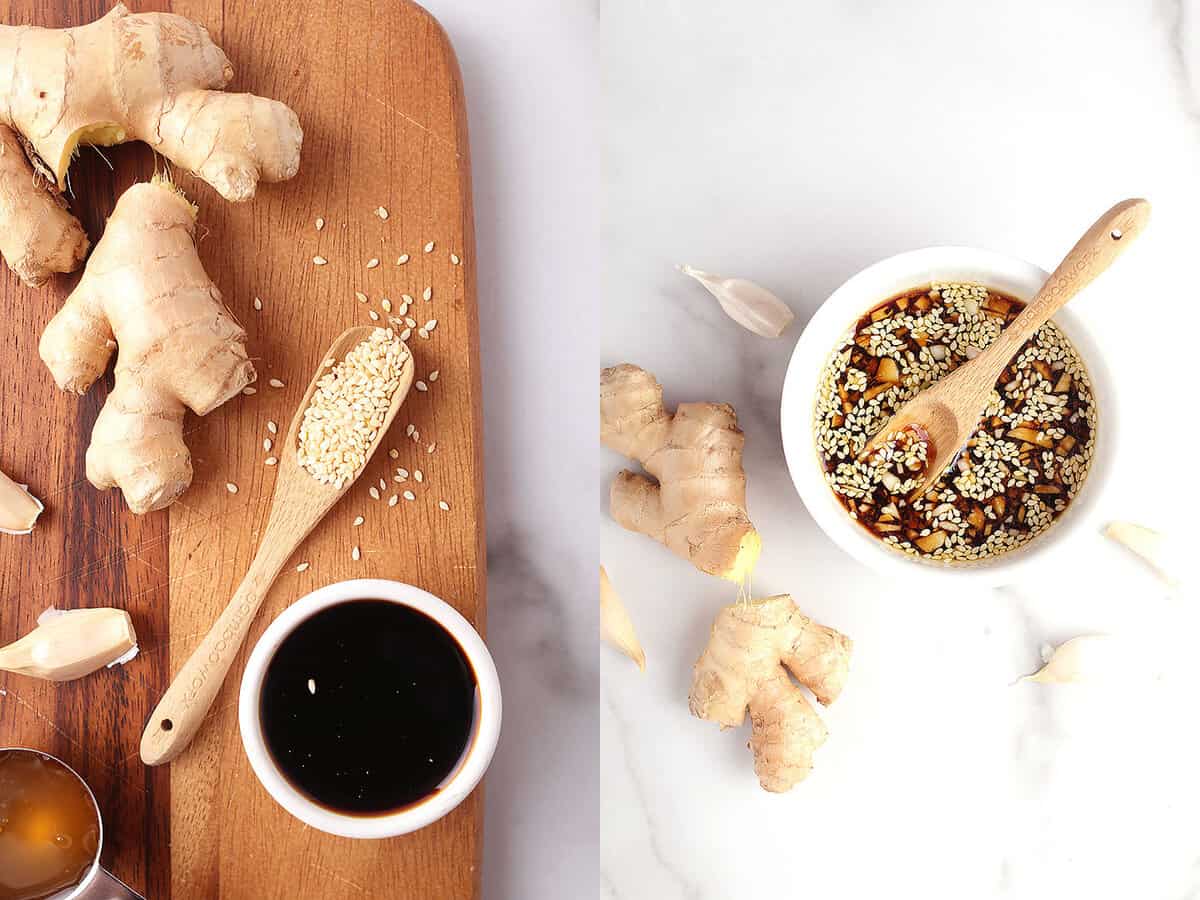 STEP TWO – Sauté the TOFU
Add oil to a large skillet placed over medium heat. Once the oil is hot, add the tofu (it should sizzle when it hits the pan) and cook on both sides until brown, 4-5 minutes per side. Place the tofu on a paper towel to soak up excess oil.
BEST TOFU FOR TOFU STIR FRY
For tofu stir fry, high quality, extra firm tofu is a must. Look for tofu that is not water packed, such as Trader Joe's High-Protein Tofu or Super Firm or Sprouted Tofu. These types of tofu do not have excess water and do not need to be pressed.
If you have to use water-packed tofu make sure to press as much water as you can out of it first by using a tofu press or a weighted, towel-lined cutting board. Press the tofu for at least 1 hour.
STEP THREE – SAUTÉ THE VEGETABLES
In the same skillet, heat an additional tablespoon of oil. Add the carrots, broccoli, and bell peppers and sauté for 5 minutes, until the vegetables are tender and reduced in size by about 50%.
While the vegetables are cooking, whisk together all the ingredients for the sauce. Add the noodles, spinach, and sauce to the sautéed vegetables and stir together. Remove the stir fry from heat and cover until the spinach is wilted.
Serve onto four plates. Top with green onions and sesame seeds and serve.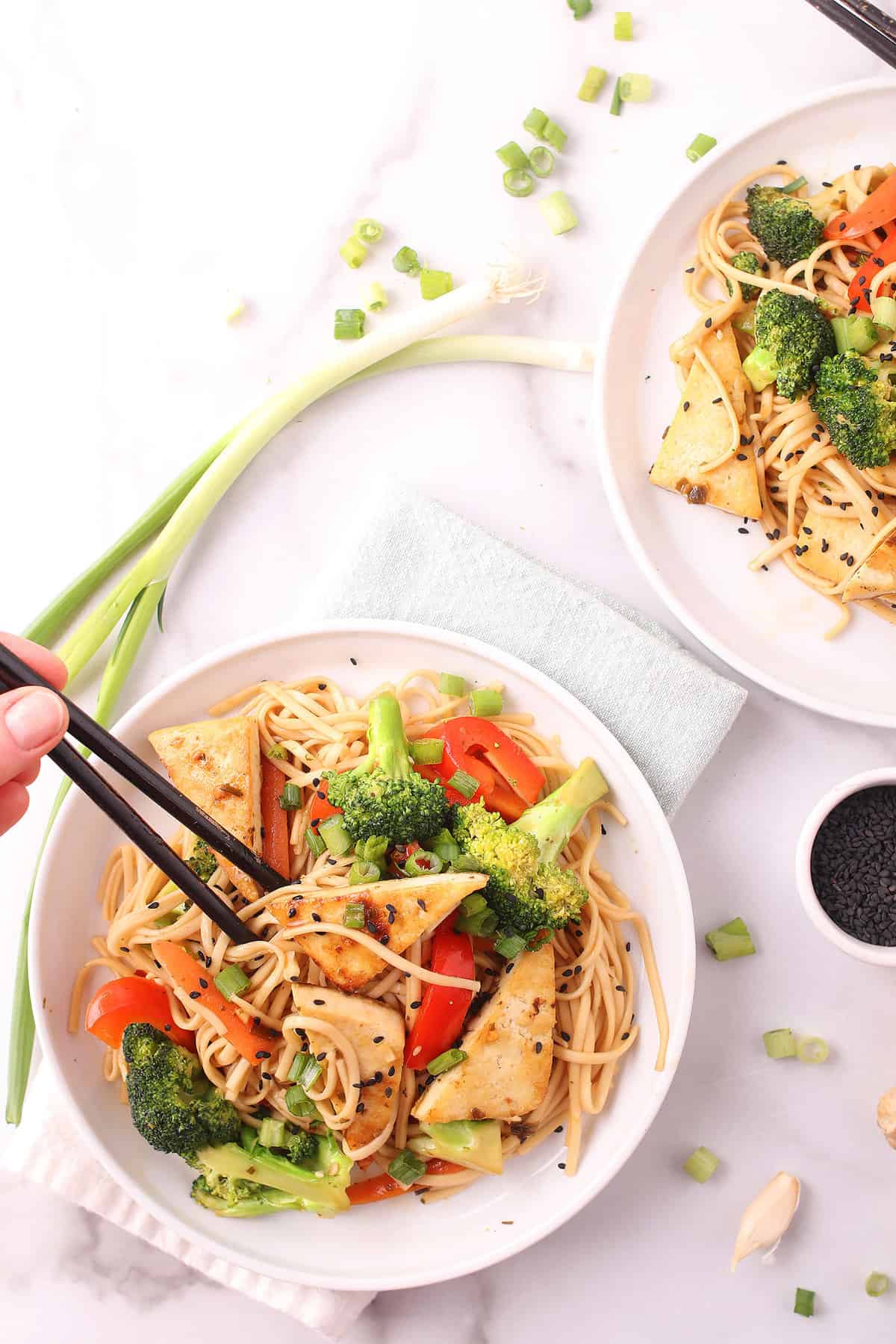 Gluten-free Alternatives
As this udon noodle stir fry is written, this recipe is not gluten-free. Udon noodles and soy sauce both contain gluten.
For a gluten-free option, you can easily swap out the soy sauce for  Tamari and consider using brown rice noodles or rice in place of udon noodles.
For a grain-free option, consider swapping out the noodles with cauliflower rice.
SERVING AND STORING Udon Noodle Stir Fry
For best results, eat this stir fry shortly after it's made. However, if you have leftovers you can store them in an airtight container in the refrigerator for up to 3 days. To eat leftovers, gently reheat the stir fry over the stove or in the microwave.
More Vegan Stir Fry Recipes
Do you love stir fry as much as I do? Then you'll definitely want to check out these recipes below.
But before you go, let's take a look at this Udon Noodle Stir Fry below.