These vegan blueberry muffins are soft and sweet with a hint of lemon and fresh blueberries in every bite for the perfect morning or midday snack.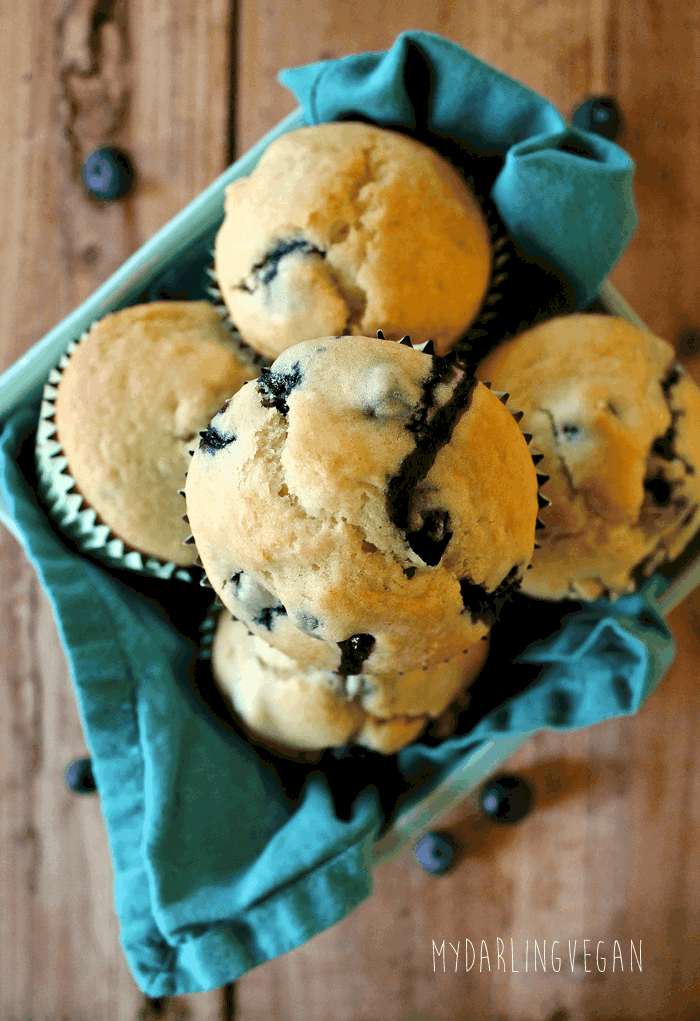 You might already know that for many years between college and staying at home to raise the kids I held various positions as a baker and/or pastry chef in a handful of commercial kitchens. You might also know that somewhere in the middle of my kitchen jobs, I graduated from culinary school and at some point earlier I grabbed a bachelors in photography. What you don't know – because I have never talked about it here and very rarely in my real life – is that my first job out of college was neither in photography or food. My first position in the working world was as a receptionist at a downtown Chicago law firm.
What do you do when you graduate college with an art degree and a professor telling you that you "probably don't have a career in photography", which is very unlucky for you because you have little (to no) practical training in, well, anything? Oh, and did I mention this was 2006 right before everything came crashing down?
You become a receptionist.
It was going to be great, though. In the short summer between graduating college and moving to Chicago I had come to the very certain decision that my future was in law (you know, to do the good stuff) and it was only logical to start working at a law firm while studying for the LSATs.
Was I worried that my ten hours days (including commute) might be a rough transition from the college life?
No. I was going to be a lawyer. 
Was I worried that I would be uncomfortable in this new business professional attire after 6 years of hippie skirts and Goodwill sweaters?
No. I was going to be a lawyer.
Was I worried that I was taking a job as a receptionist despite my irrational fear of answering phones?
No. I was going to be a lawyer.
…
I should have been worried. 
I can say with a fair amount of certainty that those were some of the worst months of my life.
I hated everything about the job – the office environment, the "professionalism", the way that time moved slower than I thought humanly possible, the horribly rude clients that I dealt with on a daily basis. Countless hours of minesweeper and solitaire later (this was also before wifi and smart phones) I left declaring, "I want nothing to do with law, an office, or a nine to five job. Ever again."
And so I became a bread baker.
My first baking job was the best job I've had to this day. Perhaps I remember it so fondly because of the stark difference from the life I had left behind – but regardless of why I fell absolutely in love with the process, the environment, and the practice of baking and patisserie.
When I return to the basics – those things I learned how to make in my first year of baking – like a classic vegan blueberry muffin, I feel immediately transported back into that time of life – back into that wonderful job as a bread baker where I had the honor of working for some of the greatest people, including the women who taught me so much of what I know now. 
And so these deliciously soft and sweet vegan blueberry muffins represent so much more than just a simple pastry – they represent the lifestyle that I chose and wholeheartedly love.
Wanna see the recipe in action? Check out the video below!
Vegan Blueberry Muffins
These vegan blueberry muffins are soft and sweet with a hint of lemon and fresh blueberries in every bite for the perfect morning or midday snack.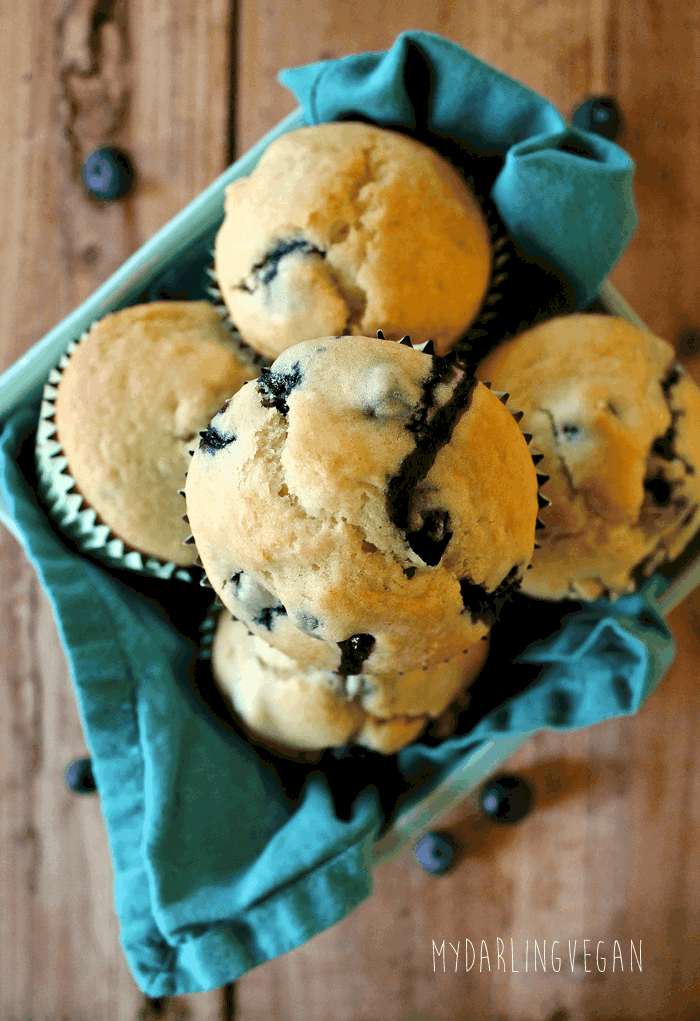 Course:
Breakfast, bread
Cuisine:
American
Keyword:
Vegan Blueberry Muffins
Servings
:
12
Calories
: 160 kcal
Author
:
Sarah McMinn
Ingredients
Instructions
Preheat the oven to 375F. Line a muffin tin with baking cups and set aside.
In a small bowl combine soy milk and apple cider vinegar. Set aside to allow milk to curdle.
In a larger bowl combine flour, baking powder, baking soda and salt. Set aside.
Mix together sugar, canola oil, lemon zest, and vanilla extract. Add soymilk/vinegar mixture and stir to combine. Stir in the dry ingredients until well incorporated. Be careful not to overmix - a few lumps are okay. Fold in blueberries.
Spoon into muffin tins, filling each cup about ¾ full. Bake for 20-25 minutes until a knife inserted in the middle comes out clean.
Remove from heat and allow muffins to cool before removing from pan.
Nutrition Facts
Vegan Blueberry Muffins
Amount Per Serving
Calories 160
Calories from Fat 45
% Daily Value*
Fat 5g8%
Sodium 131mg6%
Potassium 135mg4%
Carbohydrates 25g8%
Protein 2g4%
Vitamin A 80IU2%
Vitamin C 1.5mg2%
Calcium 68mg7%
Iron 1.1mg6%
* Percent Daily Values are based on a 2000 calorie diet.
This post contains affiliate links.
If you give this recipe recipe a try, snap a photo and share it on Instagram. Make sure to tag
@mydarlingvegan
so I can see your creations!