A fall twist on a classic dish, this Vegan Butternut Squash Lasagna with bechamel sauce is the perfect dish for omnivores and vegans alike.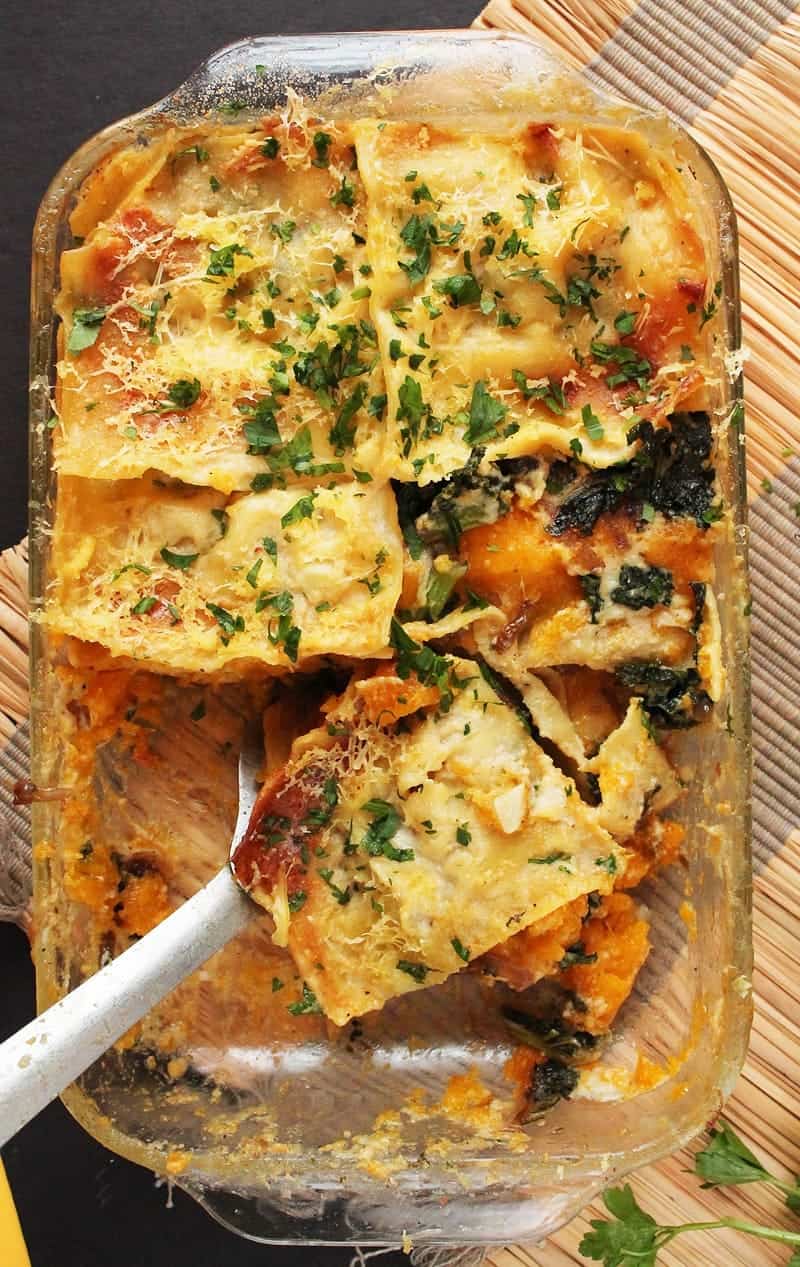 Disclosure: This post may contain affiliate links.
Have you ever bought a beautiful butternut squash at the grocery store with the best intentions only to let it sit on the kitchen counter for weeks and eventually letting it get tossed it in the compost because it was attracting more fruit flies than inspiration? If you have, you are not alone. I used to have this problem so often I had to just stop buying squash all together. I know, I know, there are a hundred recipes to make with squash: soup, pasta, even cakes, and brownies. But despite that, sometimes I feel that the butternut squash is simply too intimidating.
Is there a recipe worth it's sweet and tender splendor?
Last week at the grocery store, when walking past the large displace of perfect butternut squashes, I caved and bought myself the biggest, most beautiful one I could find. Well, I had no choice but to face my fear (there I go again with that) and come up with a recipe worthy of this butternut squash.
And folks, I think I did just that with this Vegan Butternut Squash Lasagna.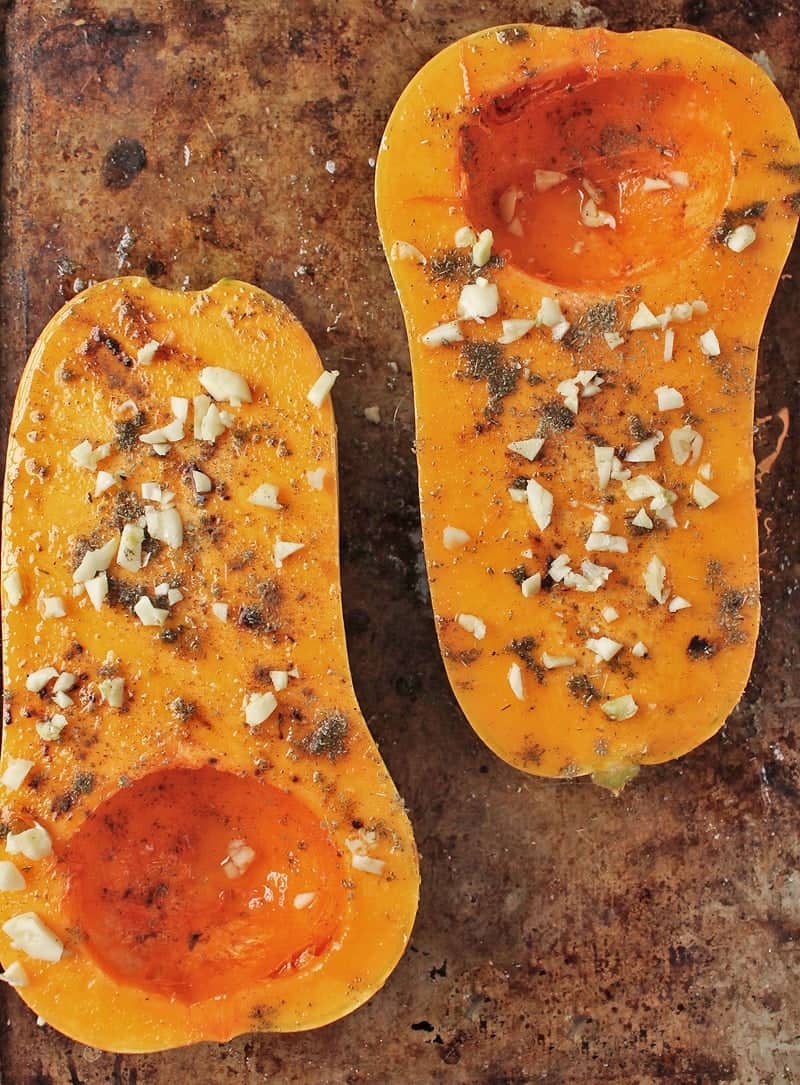 How to make Vegan Butternut Squash Lasagna
While this vegan Butternut Squash Lasagna recipe is fantastic, it does take a bit of multi-tasking to make it happen. So before you get started make sure you're kitchen is clean with your mise en place. Okay ready? Let's go.
Step One: Roast the Butternut Squash
To begin, we've got to get those beautiful butternut squash roasting. They get rubbed with garlic and spices and then baked to tender perfection. While they are doing that, you've got about 40 minutes to get everything else prepped.
Step Two - Make the Bechamel Sauce
The next step is making the Bechamel Sauce. I've you've never made Bechamel Sauce before, you're in for a nice surprise. It's super easy! A little bit of stirring and whisking and stirring and done!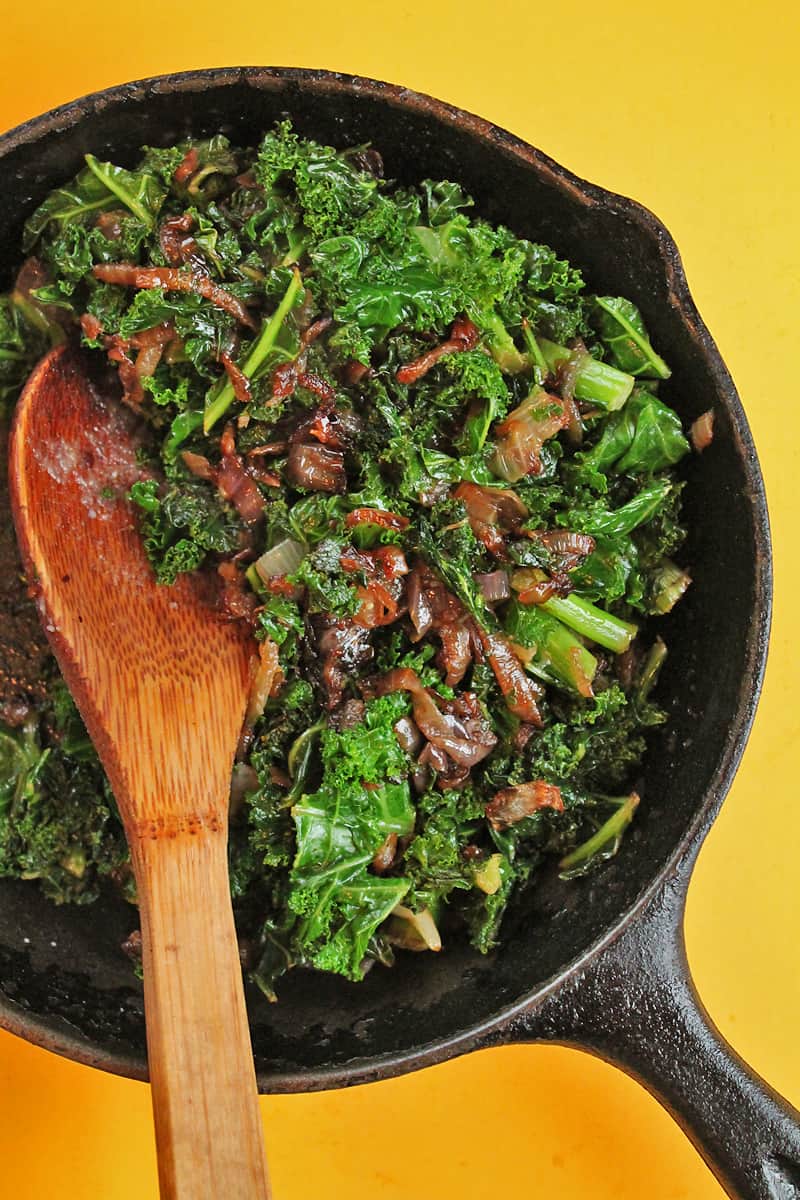 Step Three: Sauté the Kale
Just a simple sautéd with the onions for a few minutes should do it. While those are cooking you can start that water boiling for your noodles (unless you bought those super cool, no-boil needed lasagna noodles).
---
HOW TO ASSEMBLE A VEGAN LASAGNA
Now, with everything ready, it's time to assemble the vegan lasagna. When assembling a lasagna, you want to find a pattern. This is how I do it
Layer 1 – Noodles. Add a layer of freshly boiled (or no boil) lasagna noodles so that they are slightly overlapping.
Layer 2 – Sauce. Top with a quarter of your Bechamel sauce and spread evenly.
Layer 3 – Veggies. Top with half the butternut squash and kale.
Layer 4 – Sauce. Top with MORE Bechamel sauce.
Now repeat layers 1-4! Top with One more layer of noodles and the remaining sauce and you're ready to bake!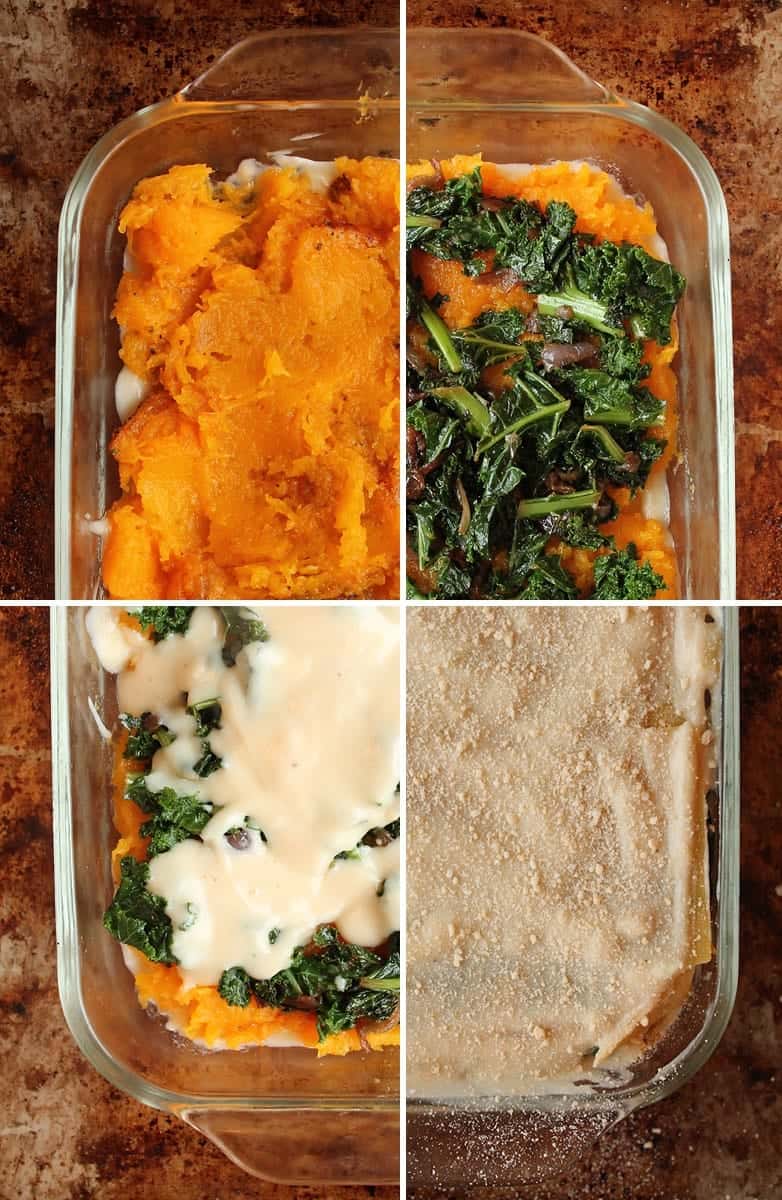 Step Five: Bake the Lasagna
Cover in foil and bake for 40 minutes. Remove from heat and let cool 15 minutes before slicing. Top with vegan parmesan cheese and/or parsley and serve.
Whew.
Okay, so your kitchen is a mess and you've used nearly every pot and pan BUT now you can put that baby in the oven and start cleaning up. By the time the lasagna is out of the oven, you'll be sipping on a glass of Cabernet Sauvignon in a clean kitchen with a fancy, fabulous, and totally delicious dinner ready to eat.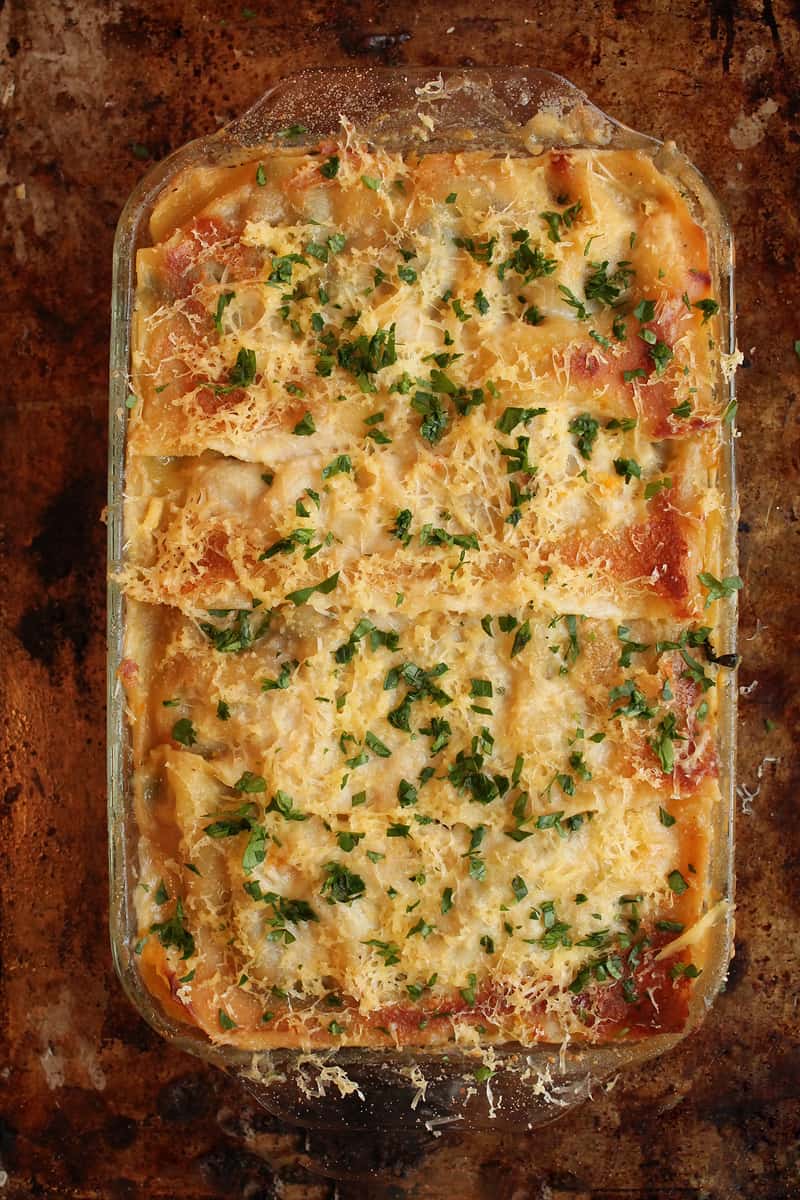 CAN VEGAN LASAGNA BE MADE IN ADVANCE?
Yes! You can make this recipe and then, rather than baking the lasagna, wrap it in plastic wrap and place it in the freezer. For best results, chill the lasagna first in the refrigerator for a couple of hours so that when you are ready to place it in the freezer, it will freeze quicker. This reduces the chance of freezer burn.
Frozen lasagna can be stored in the freezer for up to 3 months. When you are ready to eat it, let it thaw completely in the refrigerator overnight. Then cook it according to the instructions below.
SERVING AND STORING THE VEGAN LASAGNA
Once out of the oven, let the lasagna cool 15 minutes before serving.
Serve it with fresh herbs and vegan parmesan alongside artisan bread and a big salad
Uneaten lasagna can be stored in an airtight container in the refrigerator for up to 3 days or frozen for up to 3 months.
I think you're going to love this creamy vegan butternut lasagna. But don't take my word for it. Give this recipe a try for yourself!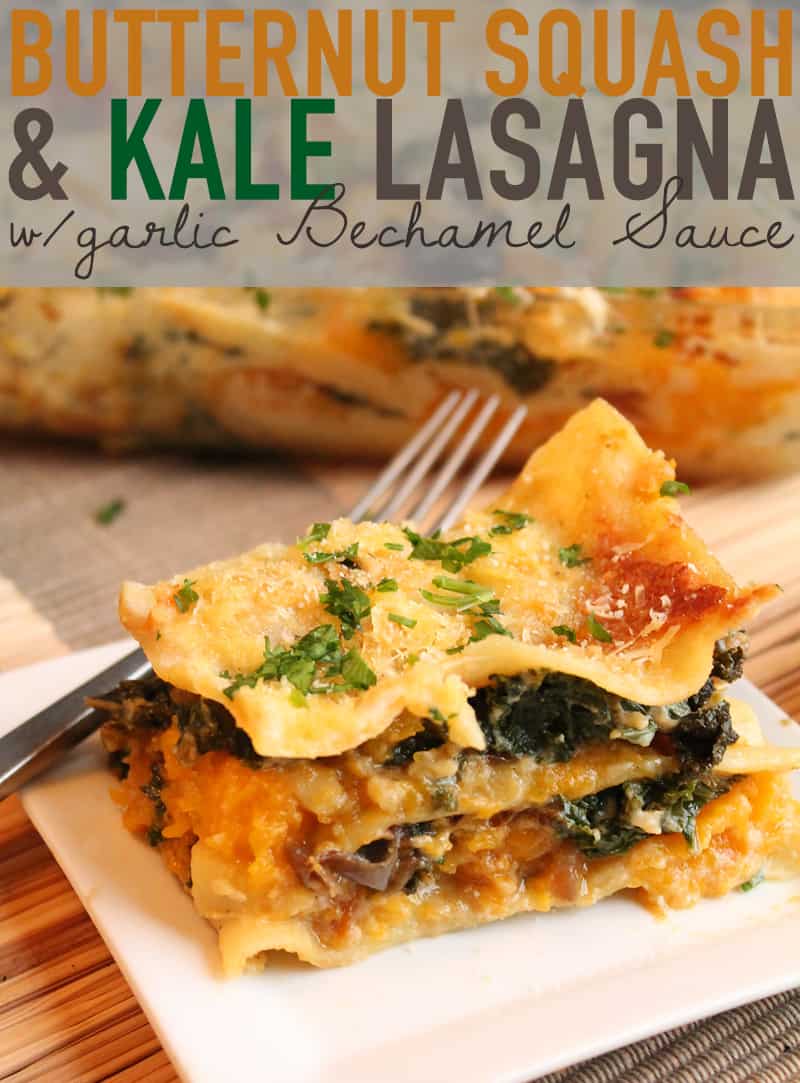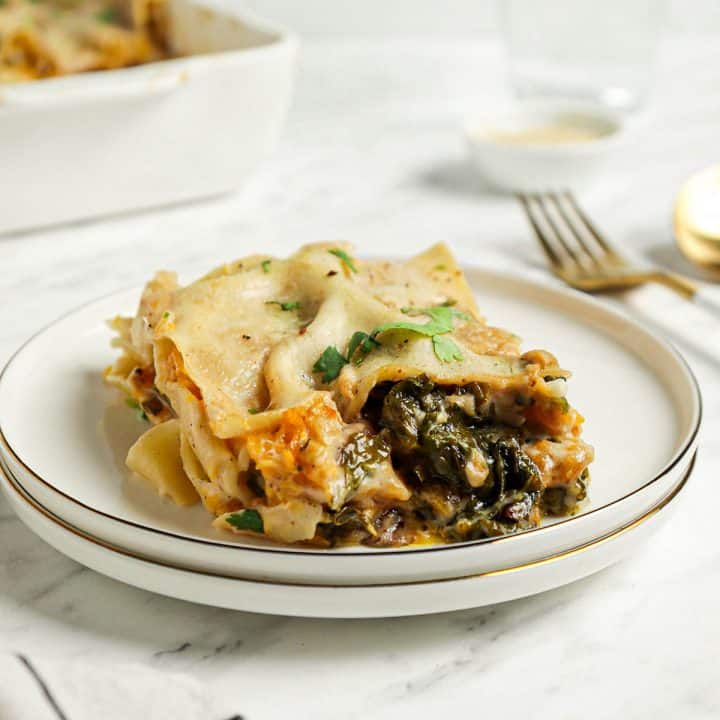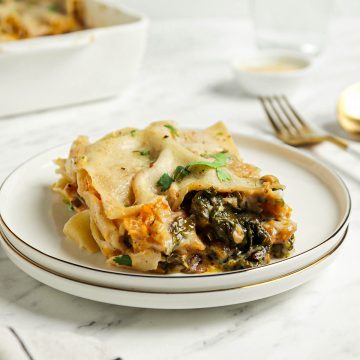 Ingredients
Instructions
Prepping the Lasagna
To prepare the butternut squash: Preheat the oven to 425. Slice the butternut squash in half, lengthwise. Drizzle with 1 tablespoon of olive oil, sprinkle with garlic, sage, allspice, and salt. Flip the squash over so that the inside is face-down on the baking sheet and bake for 40 minutes, until very tender.

To make the bechamel sauce, heat vegan butter in a medium saucepan over medium-high heat. Once butter is melted, add flour and stir over heat for 3-4 minutes, until the mixture is smooth and golden-brown.

In another pot, bring milk, minced garlic, nutmeg, and salt to a boil. Add hot milk to butter/flour mixture in 3 batches. Bring to a boil, whisking often, then reduce heat to a simmer. Cook for 10 minutes, whisking constantly. Once thick and creamy, remove from heat and set aside. The sauce will continue to thicken as it cools.

In a skillet, heat the additional 1 tablespoon of olive oil over medium-low heat. Add sliced onions and sauté slowly, stirring occasionally, for about 15 minutes. Once onions are soft and lightly browned, stir in chopped kale. Sauté for another 5 minutes until kale is cooked.

When the butternut squash is done, remove from heat and reduce oven to 375 degrees. With a spoon scoop out squash from the skin and place in a large bow. Mash it the back of a wooden spoon or potato masher until it's smooth and creamy. A few lumps are okay.

Once everything is ready, it's time to assemble. In a 9x13 baking dish, pour a small amount of Bechamel Sauce on the bottom and spread evenly. Lay down a layer of noodles followed by Bechamel Sauce, mashed butternut squash, and then sautéd kale. Top this with more Bechamel Sauce and repeat the process. Top with the 3rd layer of noodles and the final layer of Bechamel.

Cover in foil and bake for 40 minutes. Remove from heat and let cool 15 minutes before slicing. Top with vegan parmesan cheese and/or parsley and serve.
Nutrition
Calories:
310
kcal
|
Carbohydrates:
42
g
|
Protein:
10
g
|
Fat:
12
g
|
Saturated Fat:
2
g
|
Sodium:
120
mg
|
Potassium:
734
mg
|
Fiber:
3
g
|
Sugar:
3
g
|
Vitamin A:
13900
IU
|
Vitamin C:
61.7
mg
|
Calcium:
260
mg
|
Iron:
2.3
mg
If you give this recipe recipe a try, snap a photo and share it on Instagram. Make sure to tag
@mydarlingvegan
so I can see your creations!