Vegan Grilled Cheese – 3 Ways
Get ready for back to school with these 3 vegan grilled cheese sandwich recipes. Delicious gourmet sandwiches to delight the whole family. Made in 10-15 minutes!

This post contains affiliate links. For more information, please see my privacy policy.
This post is sponsored by Daiya. All thoughts and opinions are, as always, my own.
Can you believe that it's time to start thinking about back to school? I mean, summer just started!
This year, more than ever, I've really been hit with how fast life goes. With my youngest starting kinder this year, I have to sit back and ask myself what just happened to the last 5 years? I mean, I suppose the answer is a lot. I raised two babies on my own until a year ago when I've found the most amazing partner who wanted to do that with me. Then I moved away from my first home and became a landlord, dropped out of grad school, became a full-time blogger, and have been able to travel more in the past few years than I had for the 10 years prior.
So yes, a lot has happened in the past 5 years. But still, I cannot believe that my baby goes off to school in just a couple of weeks.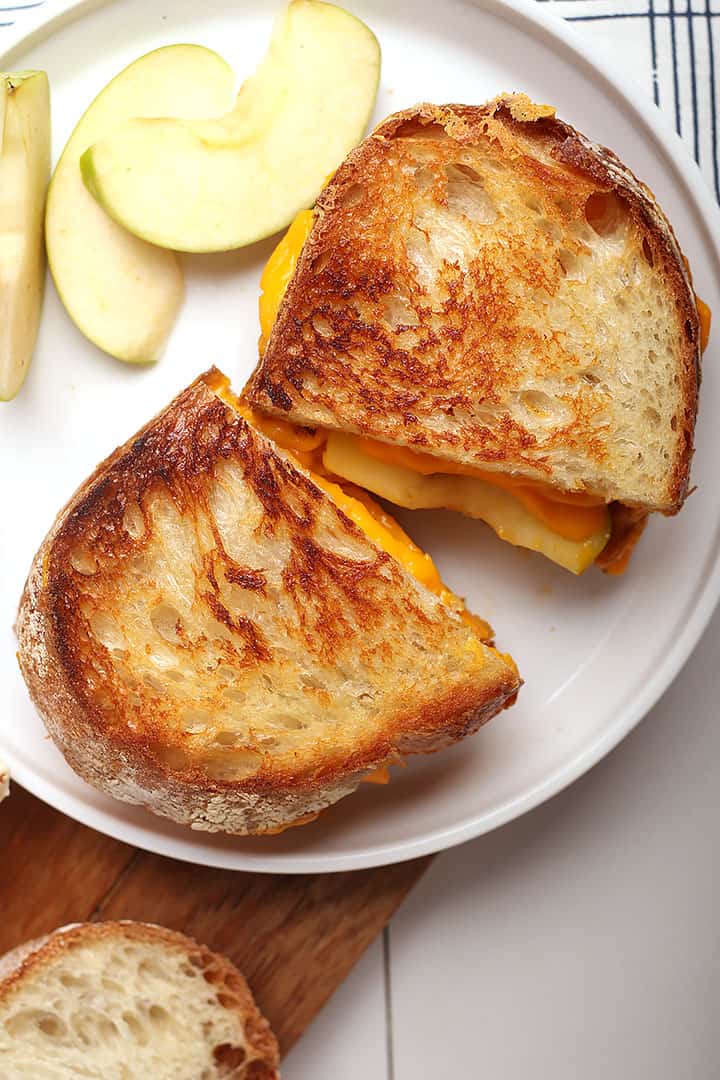 Back to school season means that life is about to get a little more hectic. Morning routines are filled with waking up kids, packing lunches, and getting everyone ready for the days ahead. At my house, far too often, lunches become an afterthought. For that reason, I decided to start this school year off with some inspiration. Yes, I'm bringing you THREE vegan grilled cheese recipes. With these three recipes, you can make a delicious lunch or after school snack for everyone in the family.
Three Vegan Grilled Cheese Recipes:
The three grilled cheese recipes are:
Grilled (vegan) Ham and Cheese
Grill Apple and Cheese
Caramelized Onion and Thyme Grilled Cheese
Each one is rich, creamy, buttery, filled with flavor, and made with a variety of delicious and melty plant-based cheeses.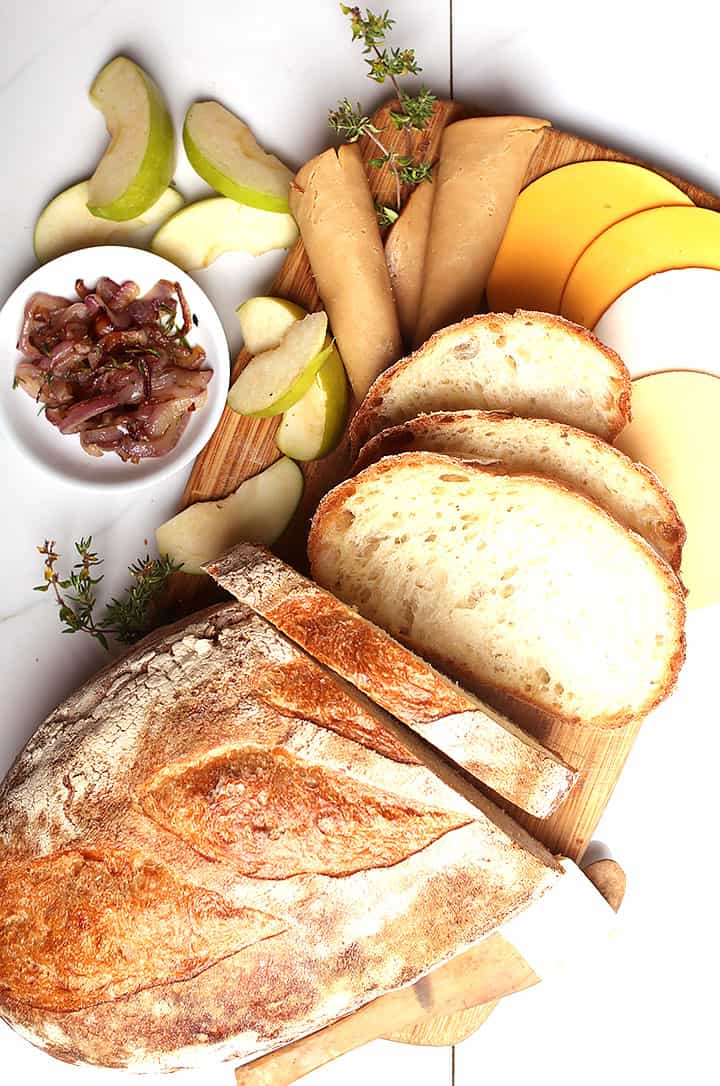 Best Cheese Alternative to Vegan Grilled Cheese
Obviously, since we are making vegan grilled cheese, we won't be using traditional cheese. So what is the best plant-based cheese alternative?
The answer is easy. Daiya! If you've been a plant-based eater for a while, then I'm sure you're familiar with Daiya's products. They make some of the best non-dairy cheeses, dressings, sauces, and yogurt alternatives, and more. When they came on the market about 10 years ago, their products were revolutionary.
One of the things I love most about Daiya is that they continue to improve their products. Last year they launched a Cutting Board Collection with new and improved Shreds that feature an ultra cheezy texture that complements any meal – especially classic comfort foods like pizza and pasta. But for these recipes, I opted for Daiya's Slices. These Slices offer the same incredible melt and stretch as dairy-based cheese in addition to being a great source of calcium. Available in Mozzarella, Gouda, American, Cheddar, Swiss, and Provolone.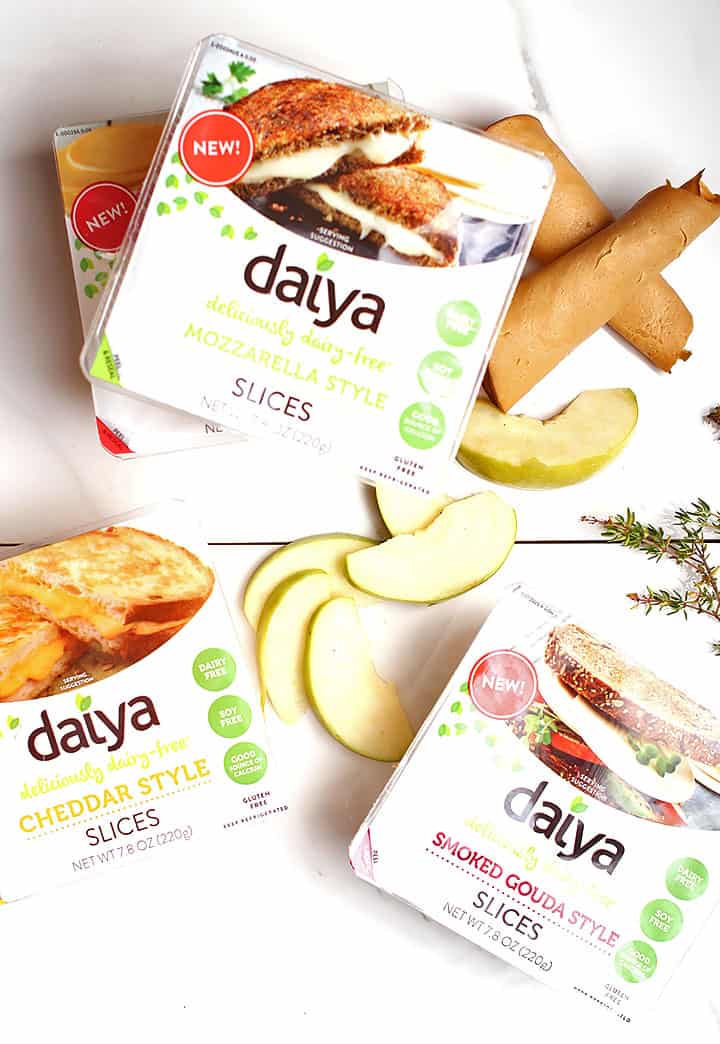 How to make vegan grilled cheese
Now that we have our plant-based cheese alternative sorted, let's take a look at how to make these vegan grilled cheese sandwiches.
All of the recipes are super simple to follow. They each require just 3-4 ingredients and, with the exception of caramelizing the onions, can be done in a few minutes. To make vegan grilled cheese just follow these steps:
Butter the bread. You can use any non-dairy butter for these recipes. If you prefer a healthier option, brush each slice of toast with olive oil instead.
Layer the sandwiches. Place two Daiya Slices on each slice of bread. For the gourmet grilled cheese, you will be placing two each of Cheddar and Smoked Gouda. Top with apples, ham, or caramelized onions (or a mixture of all three!!) and the other slice of bread.
Cook the sandwich. Cook the sandwich in a large skillet over low heat. This cheese takes a bit longer to melt than traditional cheese, so keep the temperature low and place a lid over the sauté pan to keep in the heat.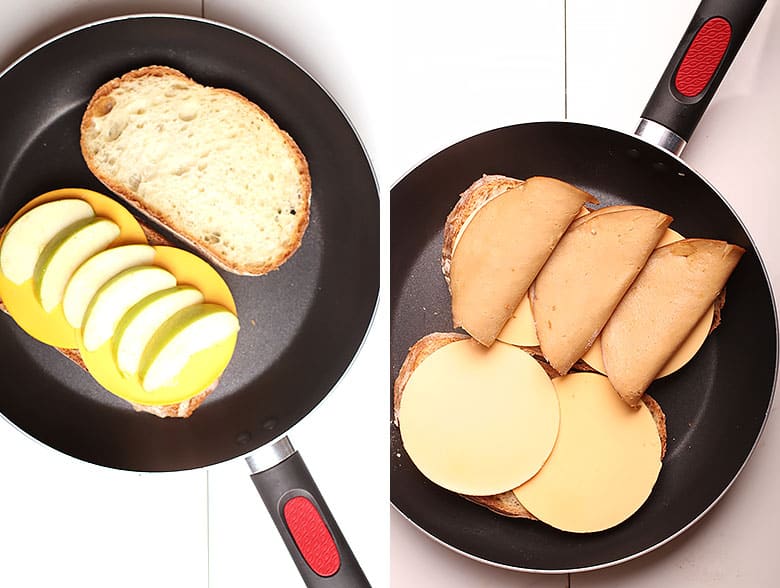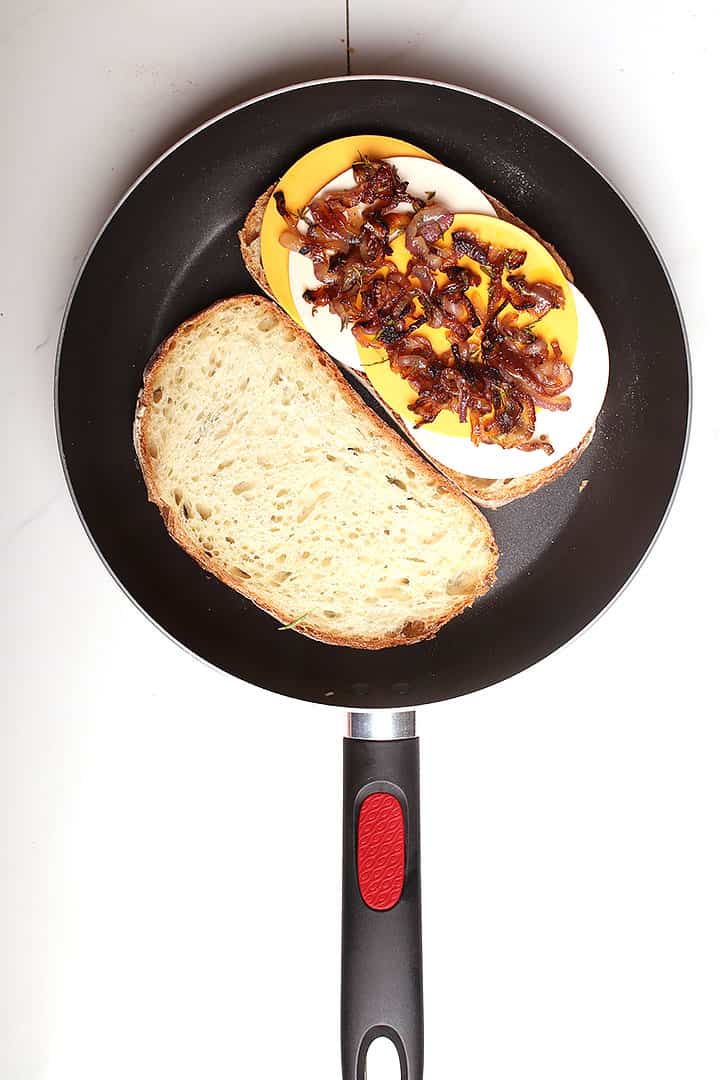 Making Grilled Cheese in Advance
Did you know that you can pack grilled cheese for work and school lunches? My daughter loves grilled cheese and for many years, I didn't think about packing it up in her lunch. Last year, however, I gave it a try and with some trial and error, learned a few tips about keeping the grilled cheese crispy and delicious until lunchtime.
Make the grilled cheese following the instructions above.
After it's made, let the sandwich cool on a cutting board or countertop until it is room temperature.
Once it is cool, wrap the sandwich tightly in tin foil and pack.
When you let the sandwich cool all the way, it won't "sweat" in the tin foil which is what causes soggy sandwiches. Instead, you'll have a crisp and delicious grilled cheese sandwich! And don't forget to pack it with a thermos of vegan tomato soup.
More variations of vegan grilled cheese:
The variations of vegan grilled cheese are endless! Here are a few other flavors I enjoy:
And always, make sure to serve it with a bowl of creamy vegan tomato soup.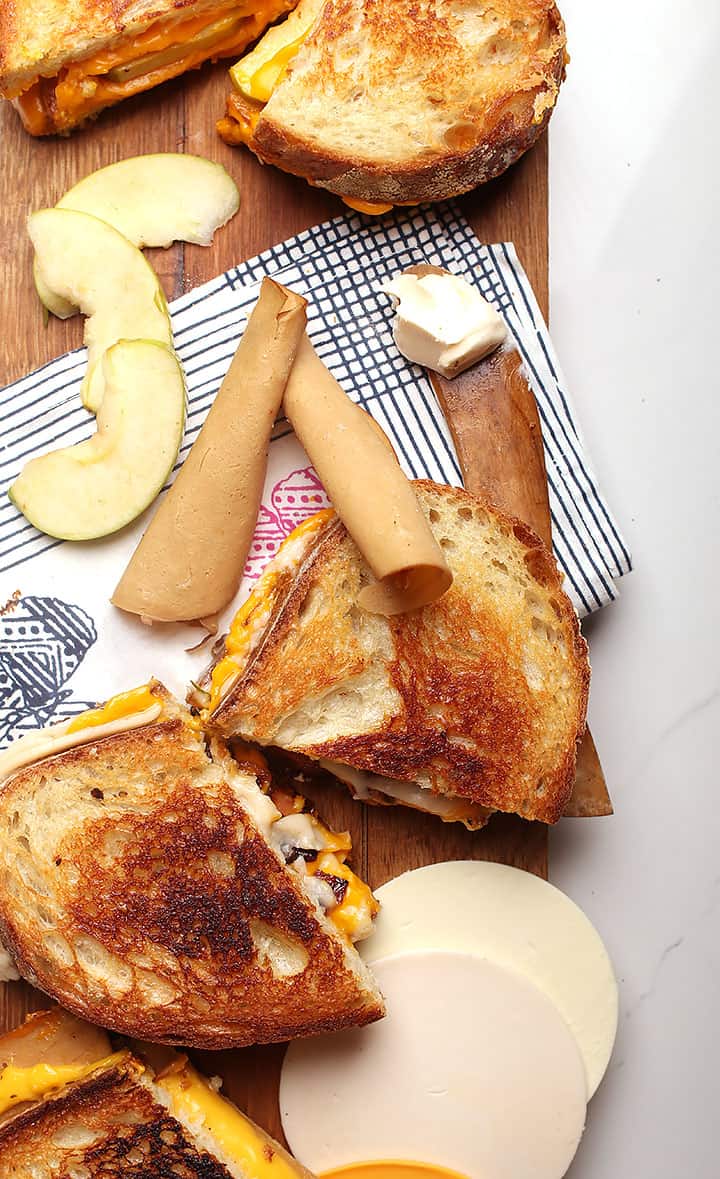 Vegan Grilled Cheese - 3 ways
Get ready for back to school with these 3 vegan grilled cheese sandwich recipes. Delicious gourmet sandwiches to delight the whole family. Made in 10-15 minutes! 
Make sure to try out these dairy-free Slices and all Daiya products by picking some up at a store near you. You won't regret it!
If you give this recipe recipe a try, snap a photo and share it on Instagram. Make sure to tag
@mydarlingvegan
so I can see your creations!