Enjoy this creamy Thai-style Sweet Potato Curry with Kale tonight! Made in just one pot in under 30 minutes, everyone will love this vegan and gluten-free dinner; a healthy and delicious weeknight meal.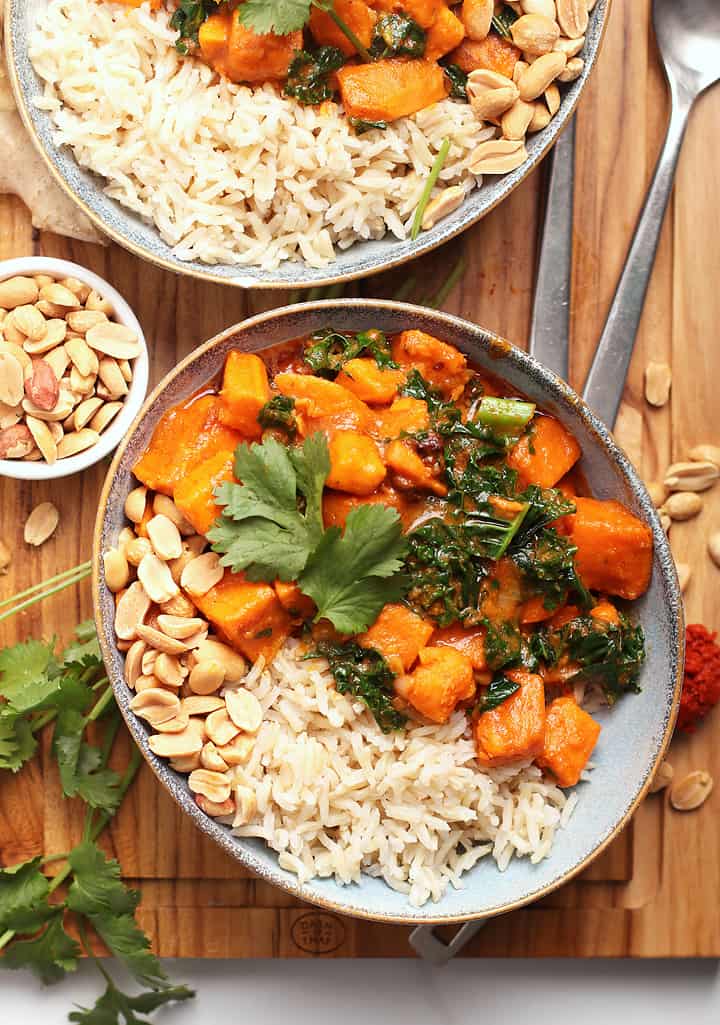 This post contains affiliate links. For more information please see my privacy policy.
Hey friends! It's day 7 of our 30-day cleanse.
I have been loving the way I feel since getting rid of processed foods, drinking all the water, and practicing daily yoga. Why does it take me an annual 30-day cleanse to remember this?? If you're cleansing along, I would LOVE to hear how it's going for you.
Last week, I kicked off the cleanse with my Ultimate Detox Salad. This week I've got a delicious cleanse-approved dinner that I think you're going to love, followed by one of my favorite raw dessert recipes that I KNOW you're going to love.
But before we get too ahead of ourselves, let's first, take a look at what I have for you today: Thai Sweet Potato Curry with Kale.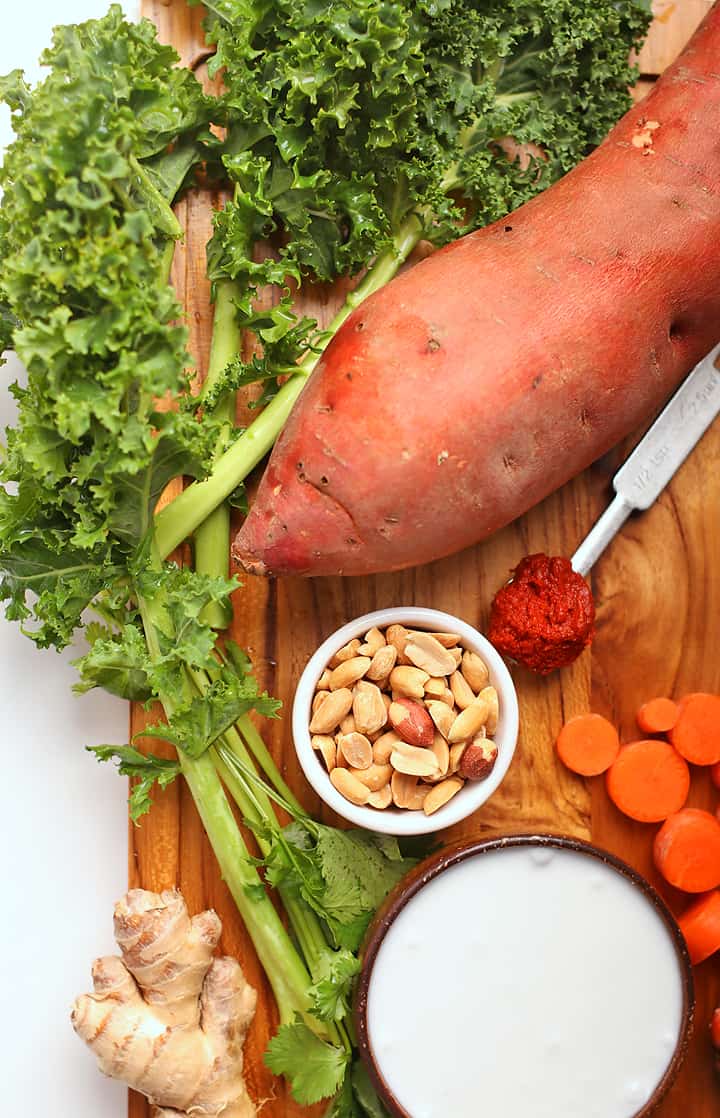 This Sweet Potato Curry combines some of the best foods into a warm and wholesome meal that I just can't stop eating. I mean, this recipe has it all:
The ingredients for this sweet potato curry are:
Sweet Potatoes
Kale
Coconut
Ginger
Peanuts
Curry Paste
Cilantro
Are you licking your lips yet? I don't blame you. And not only is the combination of these simple ingredients purely divine, individually they are packed with all kinds of health benefits that make this curry the perfect cleansing food.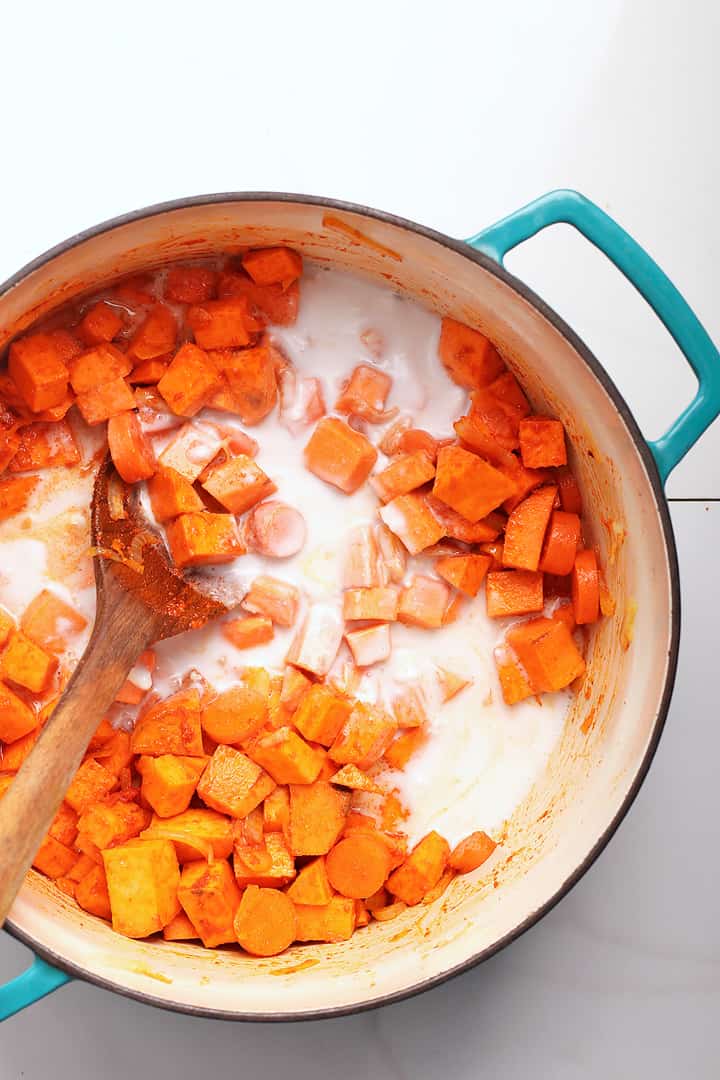 Benefits of Sweet Potatoes
Sweet potatoes are not only sweet and delicious, they are also a food that is packed full of all the good things. Sweet potatoes are:
High in Vitamins A and C which are good for immunity boosting as well as healthy skin, eyes, and organs
Filled with antioxidants that protect cells against aging and disease
Anti-inflammatory which reduces the risk for type 2 diabetes, cancer, and heart disease
Are a low-glycemic food which means it can help regulate blood sugar spikes
That's just to name a few; find more benefits of Sweet Potatoes here.
Benefits of Kale
And kale is seriously one of the BEST food for you. Kale is:
One of the most nutrient-dense plants on the planet filled with all sorts of necessary vitamins and minerals
Like sweet potatoes, it's also filled with powerful antioxidants
Can help reduce cholesterol and the risk of heart disease.
Has many cancer fighting properties
One of the best sources of Vitamin K, Vitamin A, and Vitamin C available.
And that's just the tip of the iceberg. Find more benefits of kale here.

And of course, we already discussed how incredible ginger is for detoxing and cleansing.
So now that we understand the powerhouse of foods going into this curry, let's figure out how to make this delicious meal.
How to make Sweet Potato Curry
Sweet potato curry is super simple to make. It can be made in just one pot in about 30 minutes!
Step One – Grab your best soup pot
I love my Dutch Oven from Le Creuset for soups. For this sweet potato soup, it is especially nice because it retains the heat and cooks the sweet potatoes much faster. Made from cast iron, they are perfect for slow cooking and simmering soups and stews. My Dutch Oven is one of the most useful and versatile kitchen tools I have and although it's a bit pricey, you will use this one over and over again (for soups, stews, sides, breads, and even desserts!) and it will last you a life time.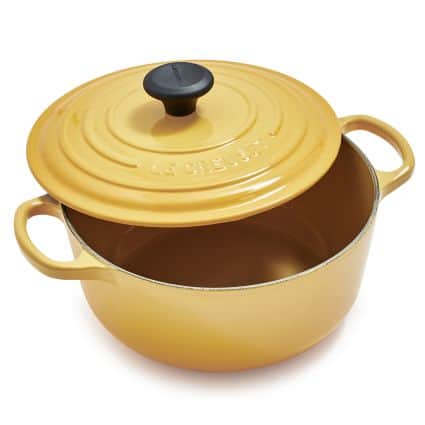 Plus they come in all different colors! Check them out here.
While any soup pot will do, when I have loved and trusted kitchen items, I like to share them with you. As a minimalist, I prefer few, high-quality, multi-functional products and I know many of you share that value.
Step Two: Sauté the vegetables
Heat oil in the bottom of the soup pot and add onions. Sauté them until they are fragrant. Add ginger and garlic and sauté for another minute until the aroma of the ginger and garlic fill your kitchen.
Add sweet potatoes and carrots along with the red curry paste and sauté for 2-3 more minutes until the vegetables are fully coated in curry paste.
What kind of curry paste should I use?
For this recipe I choose red curry paste. Red curry paste is a firey blend of red chilis, garlic, ginger, green onions and lots of spices; it's amazing! You can find it at your local grocery stores in the International aisle or on Amazon. This is the brand that I use.
The heat of red curry will vary from brand to brand, so I recommend adjusting the red curry paste as you go.

Step three: Simmer and Stew
Once the sweet potatoes and carrots are nicely coated, add the coconut milk and vegetable broth. Bring to a boil then reduce heat to a simmer. Cover and let simmer for 15-20 minutes. Cooking time will depend on your soup pot. Like I said earlier, cast iron soup pots heat up much quicker and keep all the heat in, meaning the sweet potatoes can cook in about 10 minutes. Whereas light-weight soup pots might require closer to 20 minute to fully cook the sweet potatoes.
Once your sweet potatoes are tender, remove from heat. Add kale and cilantro, stirring it together until the kale is wilted.

Serving and Storing Sweet Potato Curry
Let sweet potato curry cool 10 minutes before serving
Serve the sweet potato curry with brown rice. Top it with fresh cilantro, peanuts, and fresh lime juice.
Serve it alone or with Thai Spring Rolls or Lettuce Wraps
Store uneaten curry in an airtight container in the refrigerator for 3 days. It can also be stored in the freezer for up to 1 month.
Tips and tricks for the perfect sweet potato curry
To avoid sweet potatoes getting mushy, keep temperature to a simmer and stir often.
Make sure to test your red curry paste. Some are hotter than others so you many need to reduce or increase the amount accordingly.
If you don't like kale you can swap it out for a couple handfuls of spinach.
Make sure to cut your sweet potatoes as evenly as possible so that they cook evenly.
A few other Thai-inspired Entrees from the blog



Sweet Potato Curry with Kale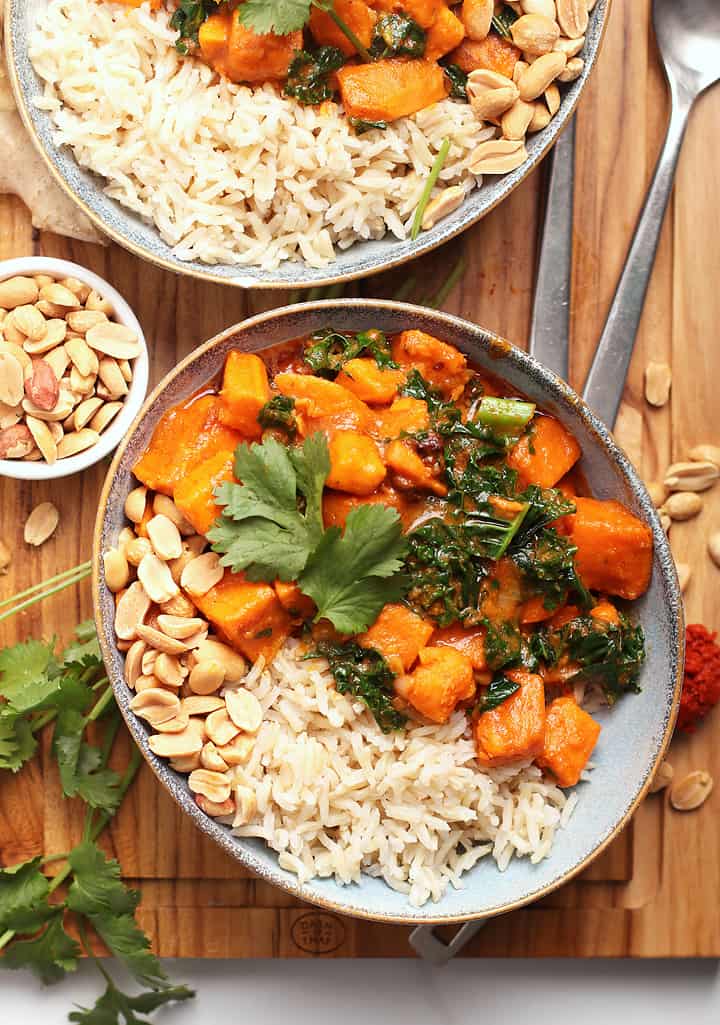 Enjoy this creamy Thai-style Sweet Potato Curry with Kale tonight! Made in just one pot in under 30 minutes, everyone will love this vegan and gluten-free dinner; a healthy and delicious weeknight meal.
Keyword:
Sweet Potato Curry
Ingredients
1

cup

brown rice,

uncooked

2

tbsp.

coconut oil

1

small

white onion,

thinly siced

2

cloves

garlic,

minced

1"

fresh ginger,

grated or minced

2

small

sweet potatoes,

peeled and cubed into 1/2" cubes

1

large

carrot,

chopped

3

tbsp.

red curry paste

1

(14 oz) can

full fat coconut milk

1

cup

vegetable broth

6

large leaves

of curly kale,

de-stemmed and chopped

1/4

cup

chopped cilantro

1/4-1/2

tsp.

salt
Toppings
a

few springs

of cilantro

1/2

cup

dry-roasted peanuts

fresh lime juice
Instructions
Cook rice according to package instructions. Prepare the curry while the rice cooks.

In a large soup pot, heat oil over medium heat. Add onions and sauté for 5 minutes until fragrant and translucent. Add garlic and ginger and sauté for another minute.

While onions are sautéing, peel and chop the sweet potatoes and carrots. Add chopped vegetables to the onion and garlic mixture along with the red curry paste. Stir to coat the vegetables for another 2-3 minutes until sweet potatoes and carrots are fully coated.

Add coconut milk and vegetable broth. Bring to a boil then reduce heat to a simmer. Cover and simmer for 15 minutes or until sweet potatoes are easily pierced with a fork. Cooking time will depend on the size of your sweet potatoes and your soup pot.

Remove from heat and add chopped kale and cilantro. Stir until kale has wilted.

Serve immediately over rice with fresh cilantro, peanuts, and lime wedges. Left over curry can be stored in an airtight container in the refrigerator for 3-4 days.
Nutrition Facts
Sweet Potato Curry with Kale
Amount Per Serving
Calories 380
Calories from Fat 162
% Daily Value*
Total Fat 18g 28%
Sodium 498mg 21%
Potassium 333mg 10%
Total Carbohydrates 46g 15%
Protein 8g 16%
* Percent Daily Values are based on a 2000 calorie diet.
If you give this recipe a try, let us know what you think in the comments below. Or snap a photo and share it on Instagram. Make sure to tag

@mydarlingvegan

so I can see your creations!