This 5-Minute Chia Pudding is packed with protein and filled with superfoods for a quick and satisfying breakfast that will keep you fueled all morning long.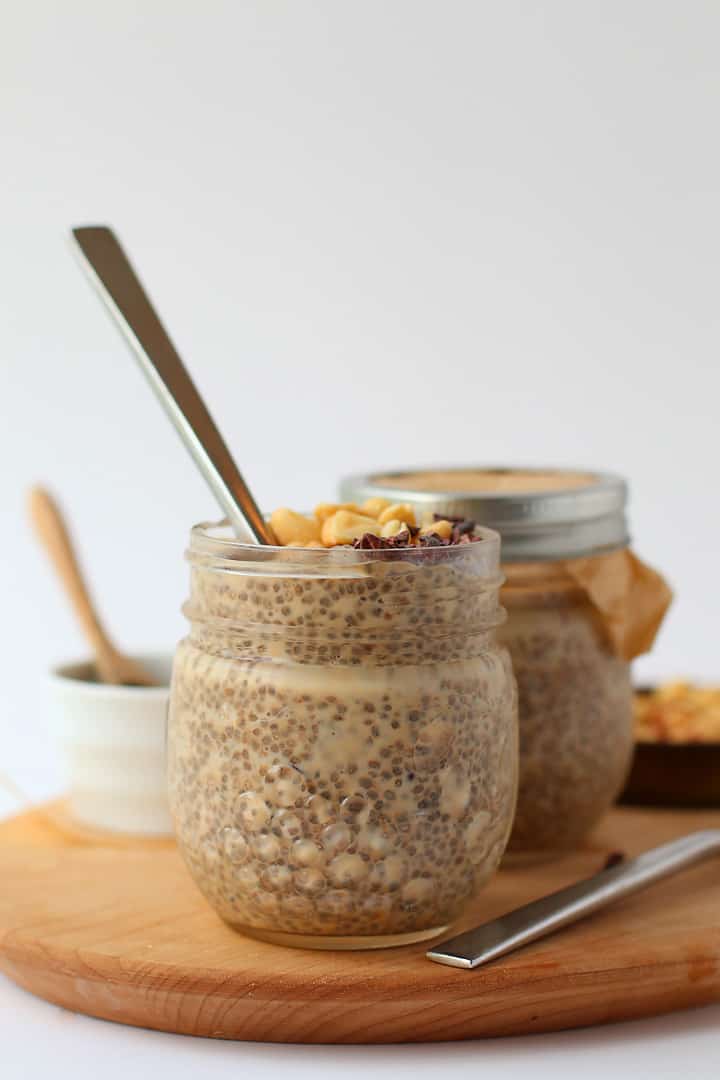 This post contains affiliate links. For more information, please see my privacy policy.
Eating breakfast can be a challenge.
It's a combination of the stress of getting kids up and ready for school and my general lack of appetite in the morning that makes it far too easy for me to go 4 or 5 hours before I put anything in my stomach. Recently, however, I learned that I need to start watching my blood sugar and one of the easiest and most important ways to keep my blood sugar levels healthy is – you guessed it – eating breakfast.
Since learning this, I have been vigilant about eating when I first wake up. And, from the recommendation of my naturopath, I have made this happen by consistently keeping a batch or two of chia pudding in the refrigerator for an easy wake-me-up meal.
This protein-packed chia pudding has become my new go-to breakfast.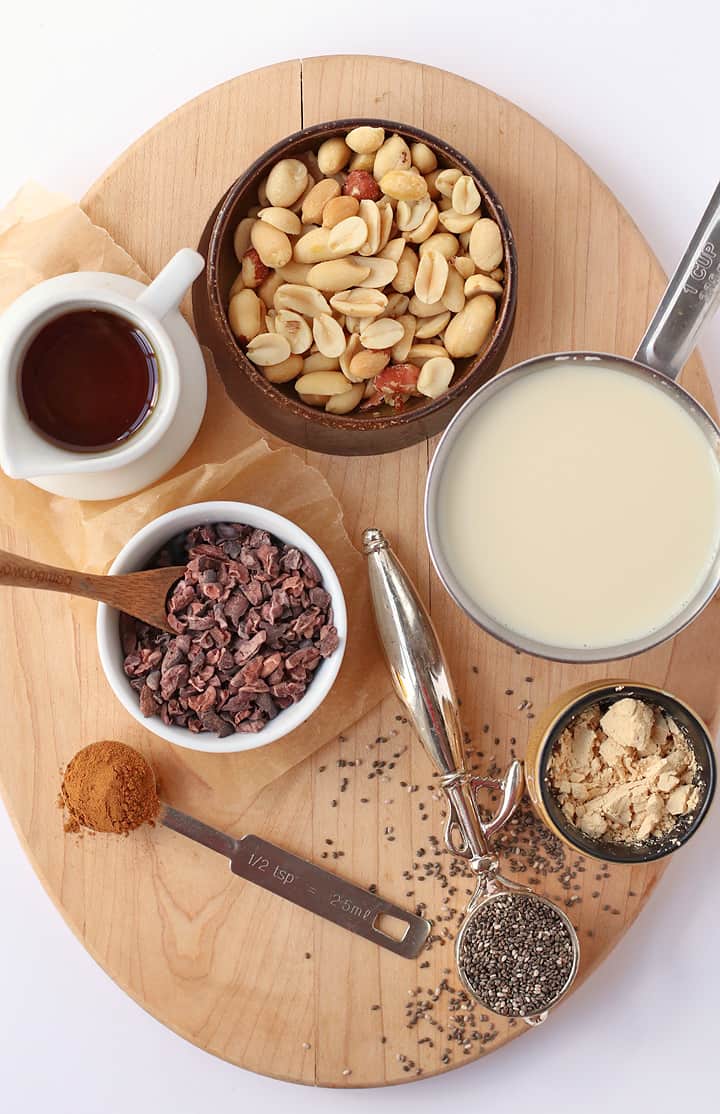 This chia pudding is made with a handful of highly beneficial ingredients.
The ingredients include:
Non-dairy milk – I recommend Macadamia Nut Milk.
Peanut Flour –my favorite protein powder (more on that in a moment).
Chia Seeds – because it's not chia pudding without them.
Cinnamon – which I love for it's anti-inflammatory and blood sugar lowering effects.
Cacao Nibs – because they are my favorite superfood of all time!
Maple syrup – for a little sweetness (optional)
Most of these ingredients add incredible health benefits, which you can read about here and here but today we're going to focus on chia seeds and peanut flour.
Some of the benefits of Chia seeds include:
Healthy skin and anti-aging properties
Supports digestive and heart health
Boosts energy and metabolism
Great source of Omega-3
Regulates diabetes
Plus one serving contains almost 5 grams of protein and over 10 grams of fiber. That's the base of a good breakfast!
For this protein-packed chia pudding, I also add my favorite protein powder – peanut flour.
Why do I love peanut flour so much?
Great question! Peanut flour contains one ingredient. Peanuts. The peanuts are slow pressed – a process which removes all fats and oils and creates a powder that is over 40% protein. For each serving of peanut flour, you'll get 16 grams of protein at just 110 calories! It's hard to beat that ratio. And because it's made solely from peanuts, peanut flour doesn't have that weird aftertaste you'll find with many other brand of protein powder; it just creamy, peanut-y goodness.
If you haven't tried peanut flour, I highly recommend this brand.
Beyond chia pudding, it's a great thing to add to cookies, smoothies, muffins, and more for a ton of protein without any unnatural ingredients or strange aftertastes.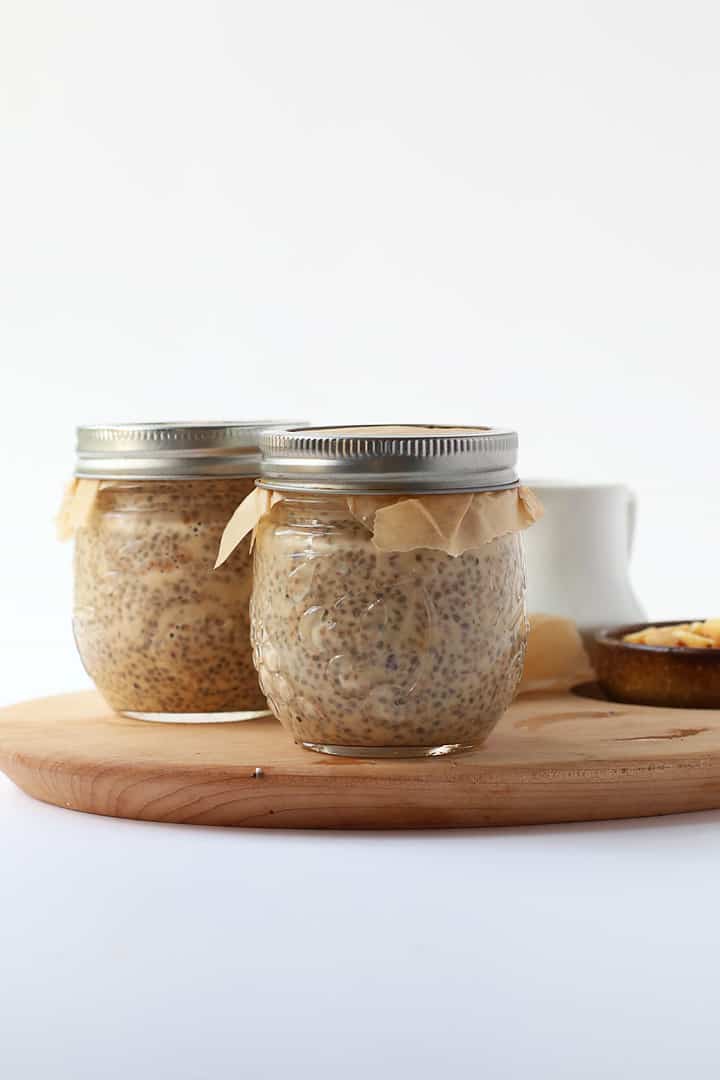 Now that you have the ingredients, let's talk about making chia pudding.
Fortunately for all of us it's super simple to make.
Combine all the ingredients in a small bowl or liquid measuring cup.
Whisk them together until they are good and combined (see images above).
Pour into 6 oz mason jars or similar sized jars.
Cover and chill for at least 2 hours until pudding is thick
Dig in for a protein-packed superfood-filled chia pudding breakfast.
So easy!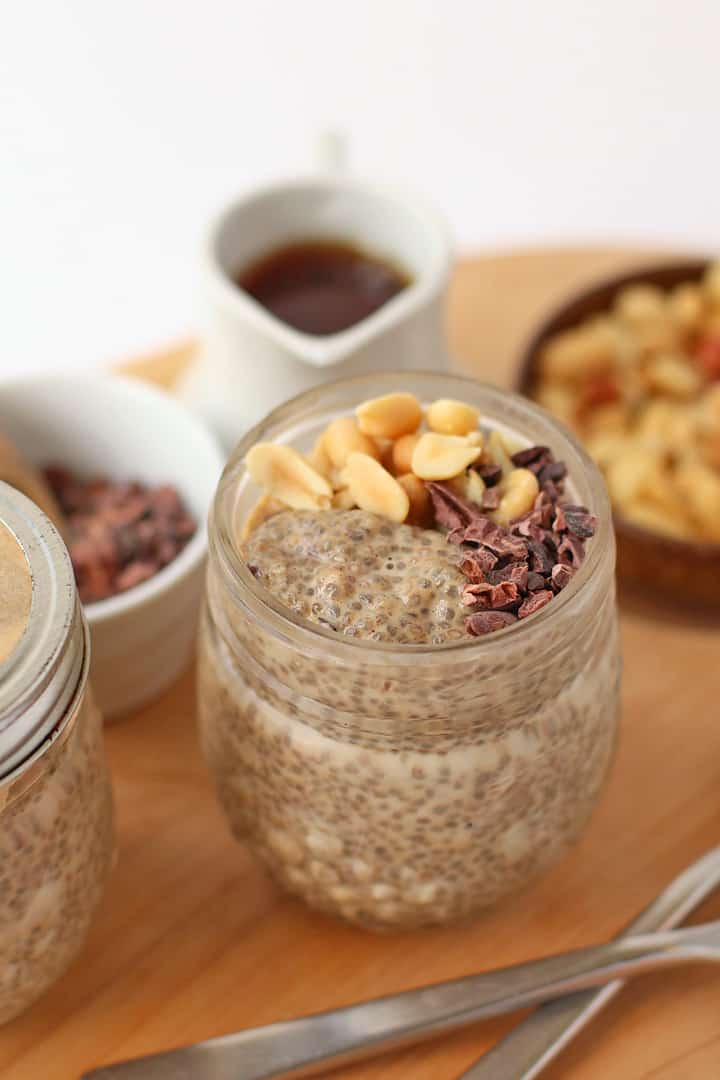 With all it's simplicity and incredible health benefits, neither you nor I have any excuse to skip breakfast again. Wanna give it a try for yourself?
Let's take a look at the recipe below.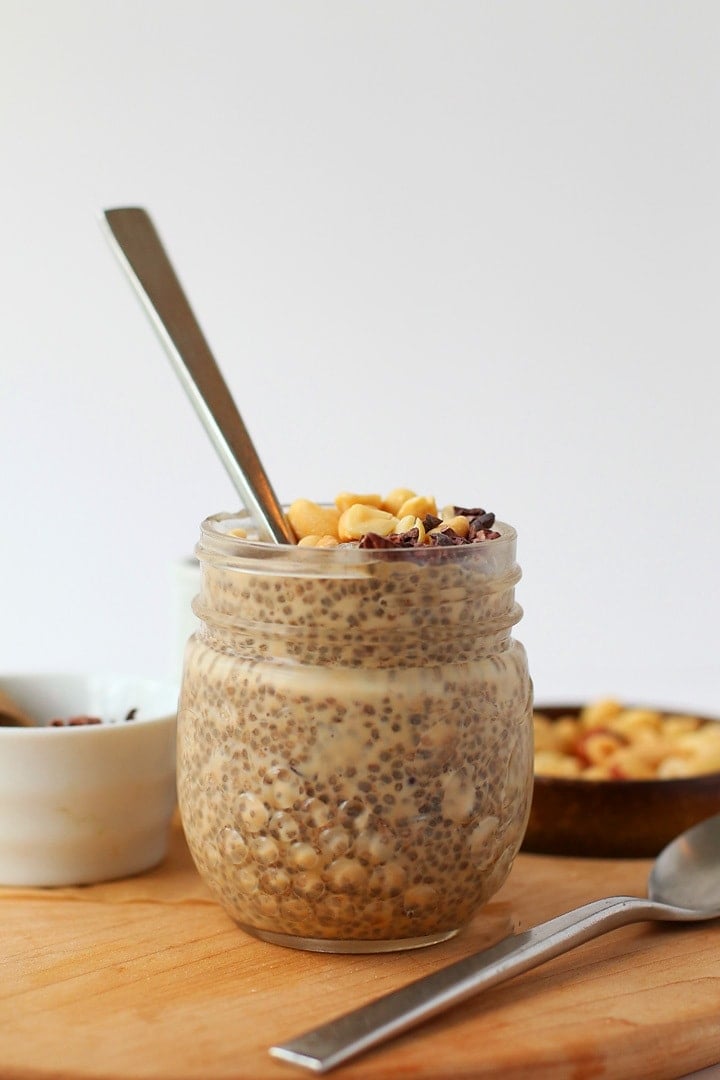 Protein-Packed Chia Pudding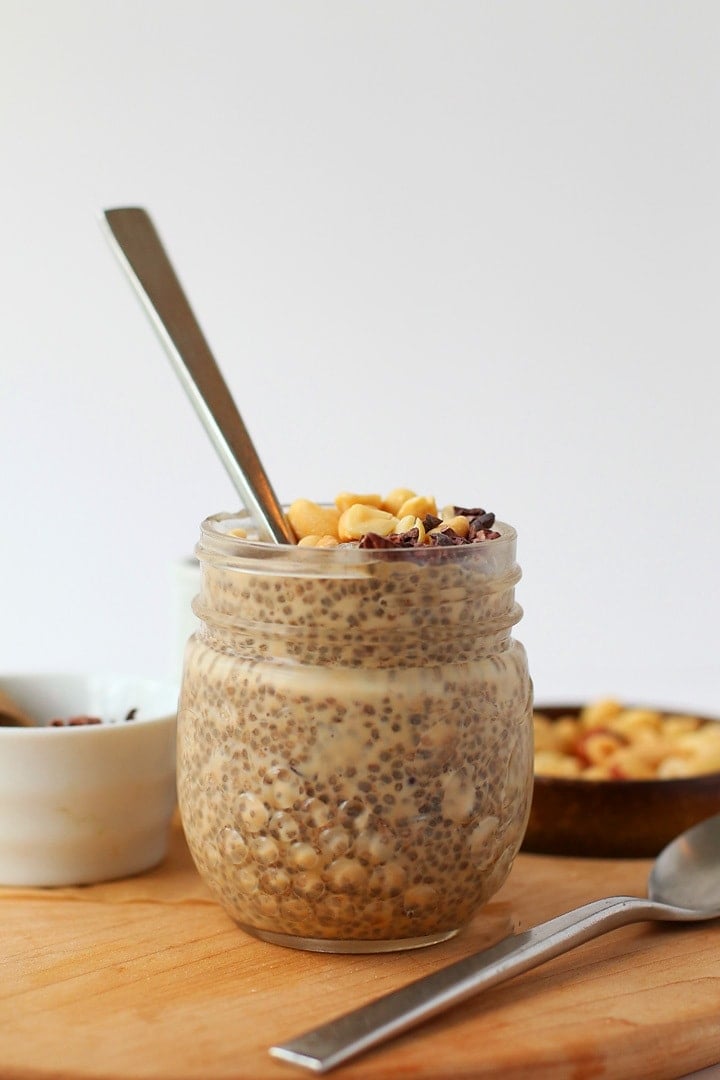 This 5-Minute Chia Pudding is packed with protein and filled with superfoods for a quick and satisfying breakfast that will keep you fueled all morning long.
Instructions
Pour chia pudding into (2) 6 oz mason jars. They should be about half full. Cover and place in the refrigerator for 2 hours to let the pudding set up.

Once pudding is thick, you can serve immediately. Store any uneaten chia pudding in the refrigerator for up to 3 days.
Nutrition Facts
Protein-Packed Chia Pudding
Amount Per Serving
Calories 330
Calories from Fat 171
% Daily Value*
Total Fat 19g 29%
Sodium 65mg 3%
Potassium 458mg 13%
Total Carbohydrates 25g 8%
Protein 14g 28%
* Percent Daily Values are based on a 2000 calorie diet.
If you give this recipe a try, let us know what you think in the comments below. Or snap a photo and share it on Instagram. Make sure to tag @mydarlingvegan so I can see your creations!