Tofu Stir Fry with Broccoli and Peppers
This Vegetable Stir Fry is made with sautéed broccoli and peppers and mixed with a Ginger Peanut Sauce for a delicious, hearty, and healthy tofu dinner recipe.
This post contains affiliate links. For more information see my privacy policy.
Originally published 9/2/2014. Last updated on 4/10/2014
This Tofu Stir Fry was originally published for Vegan Mofo in 2014. For the entire month of September, I went through the alphabet creating recipes that highlighted an ingredient for each letter. It was 26 recipes in 30 days. I have no idea how I managed that.
This particular recipe was the second one I posted that month – B for Broccoli. Six years later it continues to be a go-to vegetable stir fry recipe.
And I think you'll see why. This vegetable stir fry is awesome. It's made with Ginger Peanut Baked Tofu and sautéed broccoli and peppers, all covered in my Thai Peanut Sauce for a wholesome and delicious vegan and gluten-free meal.  Better yet, it's made with just 10 ingredients.
Let's take a closer look at my go-to tofu stir fry.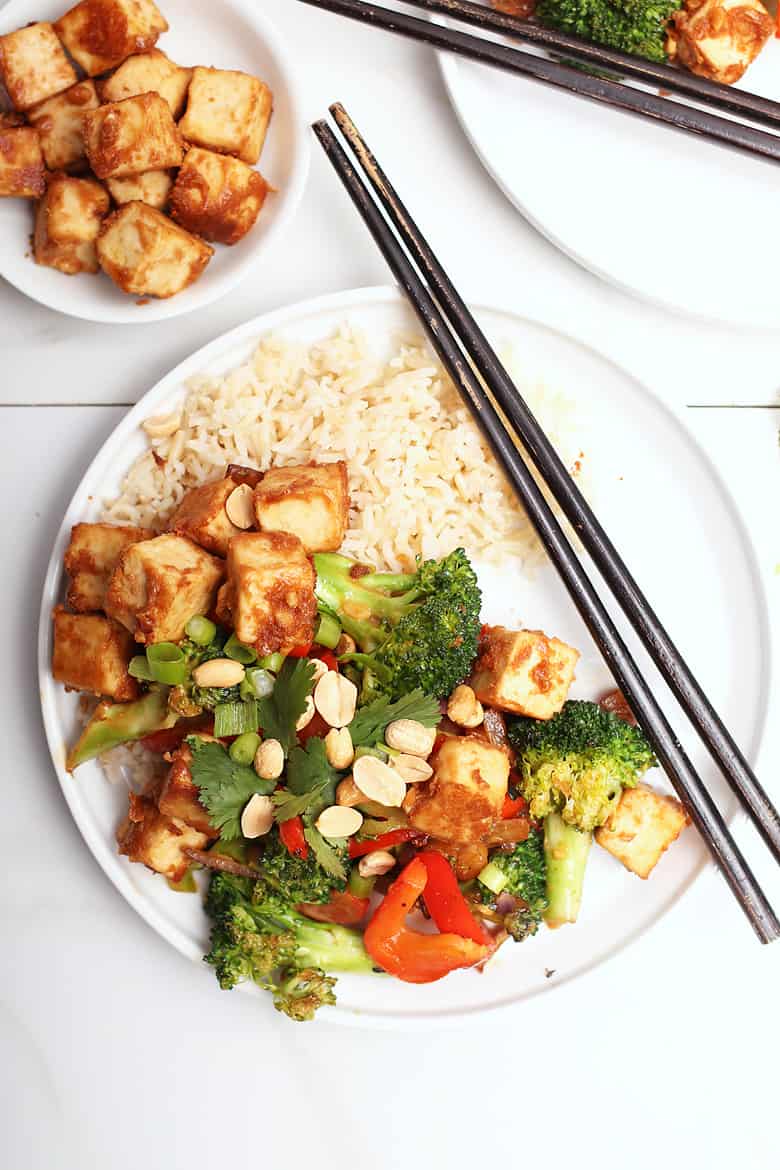 As a vegan, we end up eating a lot of tofu stir fry meals at my house. When in doubt, it's veggie stir fry night.
Why I love Vegetable Stir Fry
They are easy to make. Most stir-fries can be made in under 30 minutes with just a handful of ingredients
They are wildly versatile. Vegetables, sauces, and proteins can be swapped out to make a different meal every time.
Stir fry is good for you. They are typically packed with veggies, protein, and healthy fats and are easily made vegan and gluten-free
They are a meal even the most novice of cooks can master and make 100% delicious!
How to make Tofu Stir Fry
As I said, making a vegetable stir fry recipe is very straight forward. It's a matter of cooking your rice, sautéing your vegetables, and slathering it all in a rich and creamy sauce.
Let's break this down.
Step one – Get the rice cooking
I recommend brown rice because it has more protein and is much lower on the glycemic index than white rice. Brown rice also has great benefits such as being anti-inflammatory and high in important minerals such as magnesium and manganese. For these reasons (and more), I almost always choose brown rice.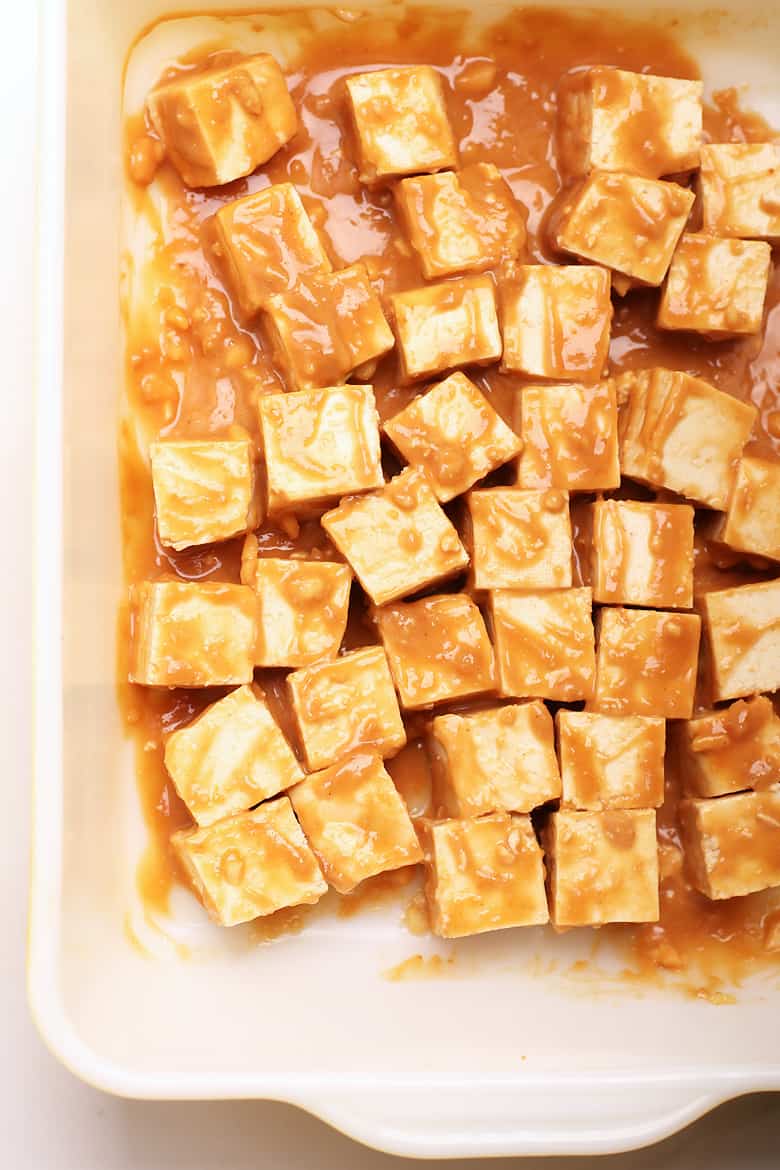 Step two – Bake the tofu
To start, make a 2x batch of the Thai Peanut Sauce. If you would rather use store bought sauce, that's no problem. You want about 1 cup of peanut sauce total for this vegan stir fry recipe.
Now, we can cut the tofu into 1/2″ cubes. Place the cubed tofu in a bowl and toss with about 1/4 cup of the peanut sauce. Once the tofu is fully coated, place it in a single layer on a baking sheet and bake for about 20 minutes, flipping once, until the tofu has a nice and crispy outside.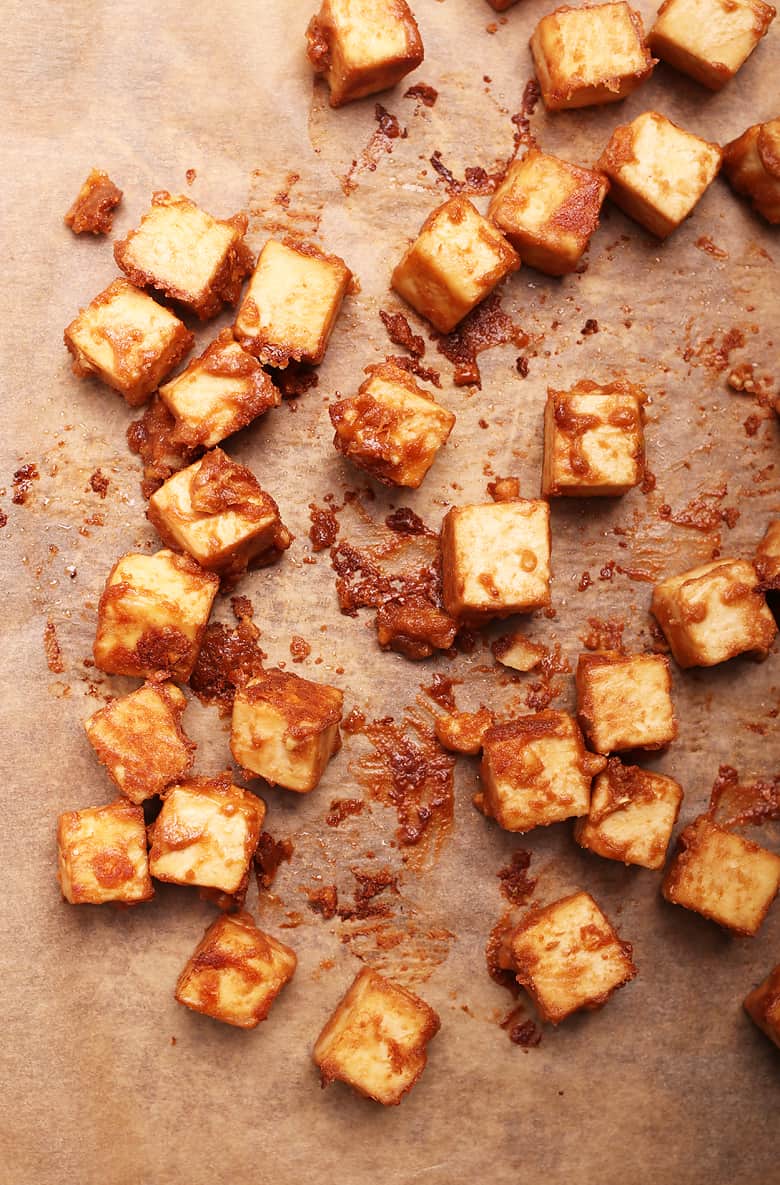 BEST TOFU FOR TOFU STIR FRY
For tofu stir fry, high quality, extra firm tofu is a must. Look for tofu that is not water packed, such as Trader Joe's High-Protein Tofu or Super Firm or Sprouted Tofu. These types of tofu do not have excess water and do not need to be pressed.
If you have to use water-packed tofu make sure to press as much water as you can out of it first by using a tofu press or a weighted, towel-lined cutting board. Press the tofu for at least 1 hour.
Step three – Sauté the vegetables
With the tofu in the oven, it's time to take sauté the vegetables.
Add peanut oil or sesame oil to a large skillet and place over medium heat. Once the oil is hot, add the onions and sauté them until they are translucent and fragrant. This takes about 5 minutes. Once they have filled your house with the sweet aroma of onions, add the broccoli and bell peppers and sauté for another 5 minutes, until the vegetables are tender.
Pour the remaining peanut sauce over the vegetables and remove from heat.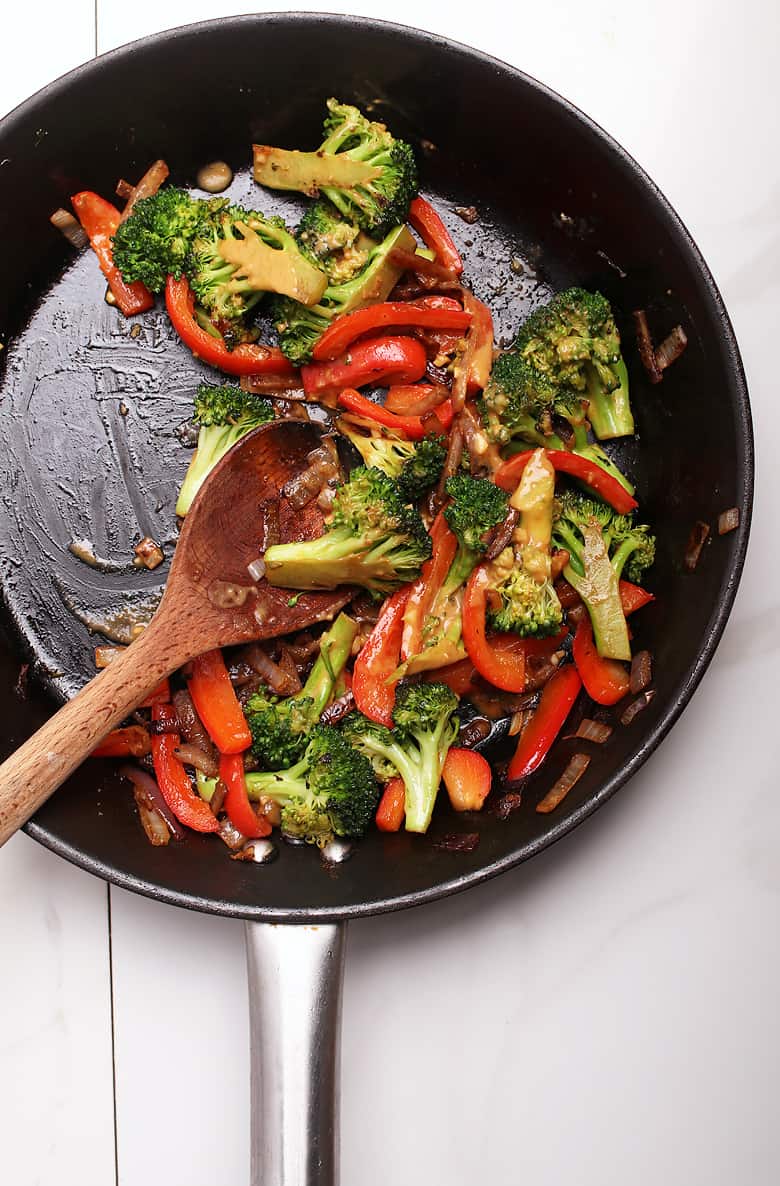 Step four – assemble the tofu stir fry
Now it's time to put our vegetable stir fry together. Evenly divide the rice between four plates. Add sautéed veggies and baked peanut tofu. Top with peanuts, green onions, and fresh cilantro and serve!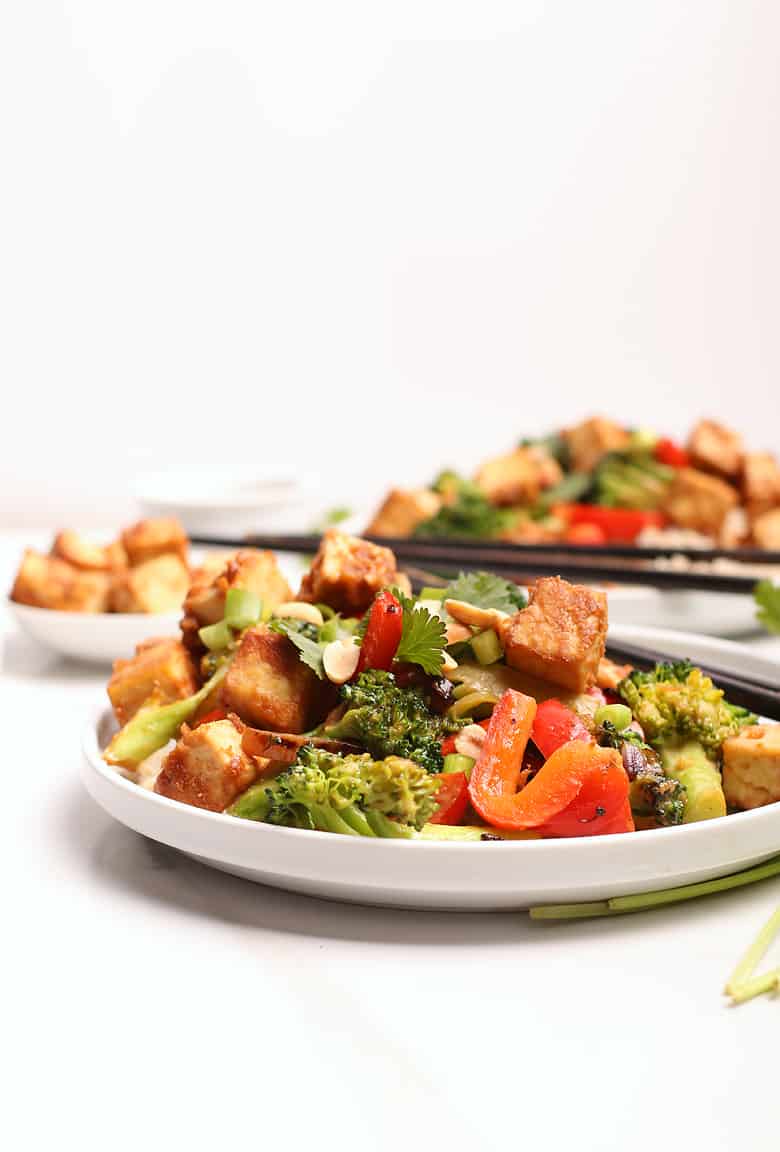 Is this Tofu Stir Fry recipe gluten-Free?
The recipe is not gluten-free because it contains soy sauce. However, you can easily make this recipe gluten-free by using Tamari – a wheat-free alternative to soy sauce.
For a grain-free option, consider swapping out the rice with cauliflower rice.
Serving and Storing Tofu Stir Fry
For best results, eat this stir fry shortly after it's made. However, if you have leftovers you can store them in an airtight container in the refrigerator for up to 3 days. To eat leftovers, gently reheat the stir fry over the stove or in the microwave.
Serve this tofu stir fry over rice, noodles, quinoa, cauliflower rice, or omit the grain all together for a low-carb vegan meal.
MORE VEGAN STIR FRY RECIPES
Do you love stir fry as much as I do? Then you'll definitely want to check out these recipes below.
But before you go, let's take a look at this Tofu Vegetable Stir Fry below.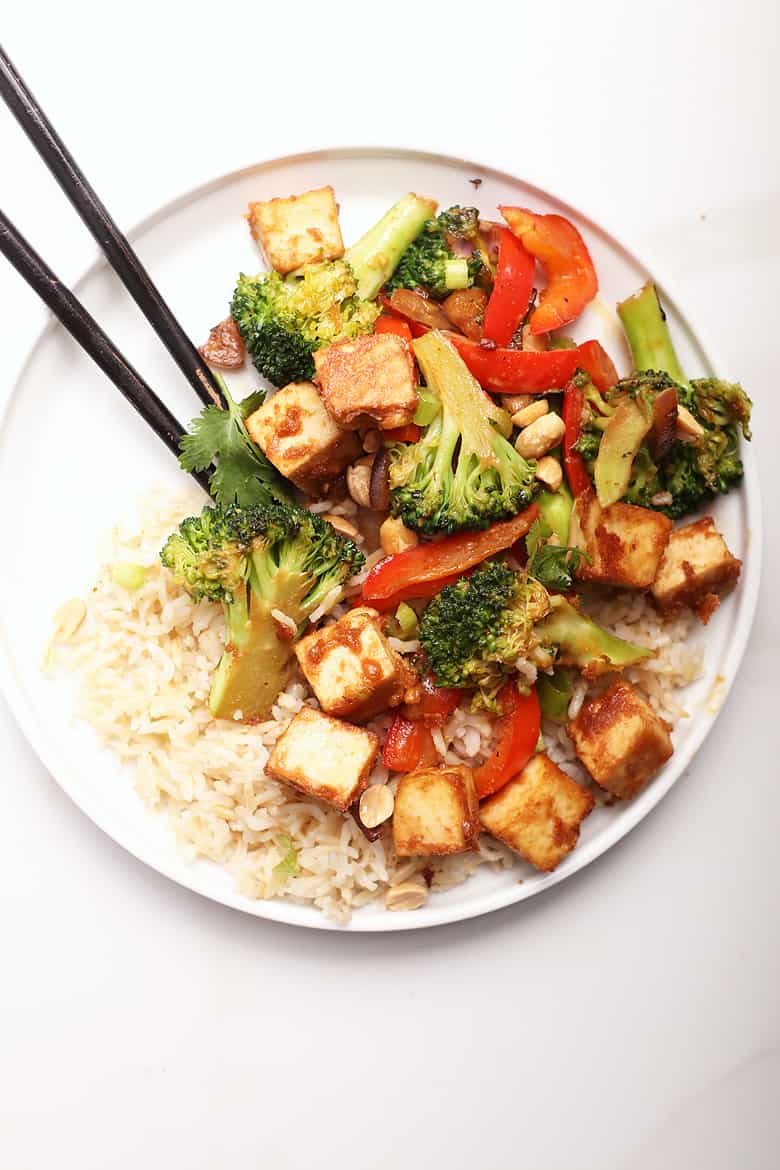 Tofu Stir Fry with Broccoli and Bell Peppers
This vegan Tofu Stir Fry is made with sautéd broccoli and peppers and mixed with a Ginger Peanut Sauce for a delicious, hearty, and healthy weeknight meal.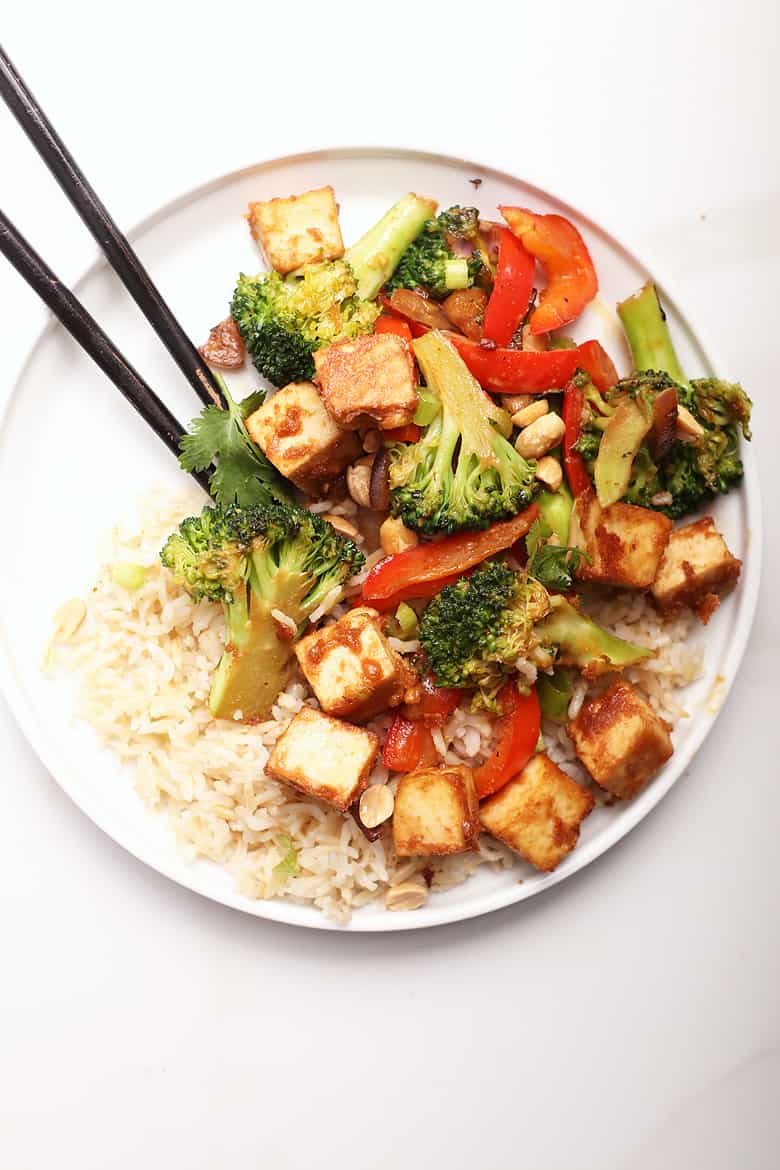 Course:
Main Course
Cuisine:
Vegan
Keyword:
Tofu Stir Fry
Servings
:
4
people
Calories
: 329 kcal
Author
:
Sarah McMinn
Ingredients
1

cup

uncooked rice

1

tbsp. peanut or sesame oil

1/2

red onion, thinly sliced

1

red bell pepper, seeded and chopped

1

medium head of broccoli, chopped

8

ounces extra-firm tofu, pressed

2

batches Thai Peanut Sauce

2

green onions

a

few sprigs of cilantro

1/4

cup

dry-roasted peanuts
Instructions
Cook the rice according to package instructions. While the rice is cooking, prepare the rest of the stir-fry.

Preheat the oven to 400F. Line a  baking sheet with parchment paper and set aside.  

Make the Thai Peanut Sauce and set aside. Cut the tofu into 1/2" cubes and place in a shallow dish. Pour 1/4 cup of the Thai Peanut Sauce over tofu, stirring to coat.

Transfer the tofu to the prepared baking sheet and bake for 20 minutes, flipping after 10 minutes.

Heat peanut oil in a cast iron skillet over medium heat. Add onions and saute for 5 minutes, until translucent. Add bell peppers and broccoli and continue cooking for an additional 5 minutes, until vegetables are tender. Stir in the remaining peanut sauce and remove from heat

To serve, evenly divide the rice onto 4 plates. Add stir-fried broccoli and peppers and baked tofu. Top with green onions, cilantro, and peanuts. Serve immediately. 
Nutrition Facts
Tofu Stir Fry with Broccoli and Bell Peppers
Amount Per Serving
Calories 329
Calories from Fat 90
% Daily Value*
Fat 10g15%
Sodium 125mg5%
Potassium 768mg22%
Carbohydrates 51g17%
Protein 10g20%
Vitamin A 1940IU39%
Vitamin C 175.7mg213%
Calcium 100mg10%
Iron 2.4mg13%
* Percent Daily Values are based on a 2000 calorie diet.
If you give this recipe recipe a try, snap a photo and share it on Instagram. Make sure to tag
@mydarlingvegan
so I can see your creations!