How to Make Vegan Scrambled Eggs
Vegan scrambled eggs at least! These easy vegan scrambled eggs are made with crumbled tofu and flavored with nutritional yeast garlic, and onions for a simple, hearty and healthy 5-minute breakfast.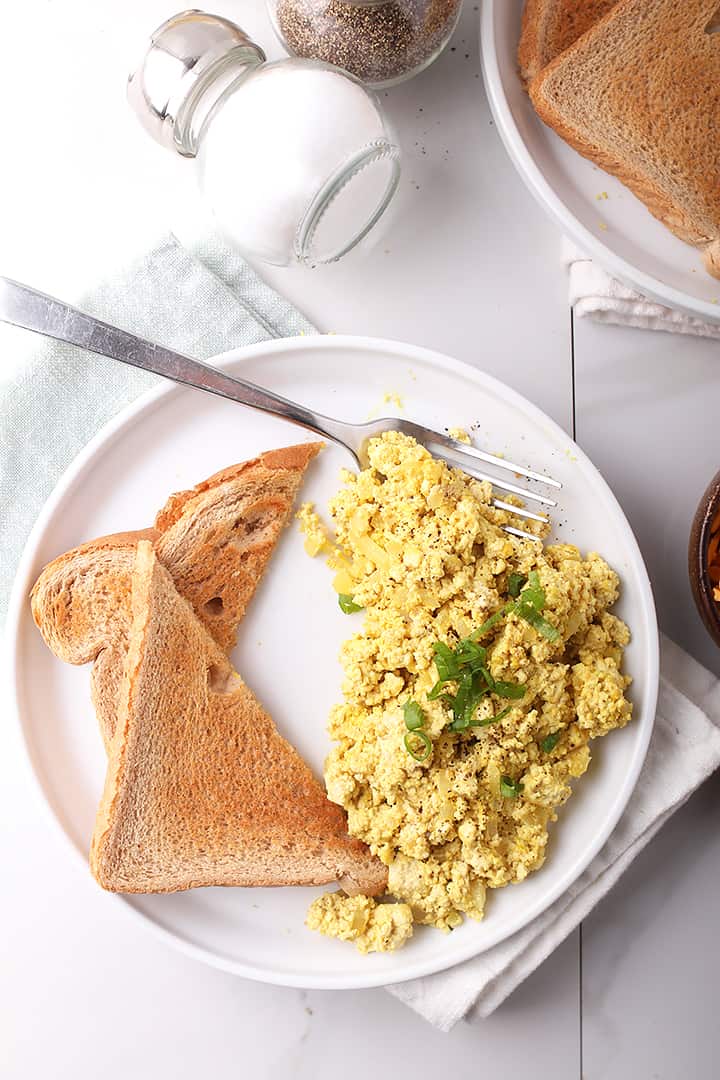 This post contains affiliate links. For more information read my privacy policy.
This post was originally published on 9/13/2016.
When I first went vegan 10 years ago there was only one thing I was afraid I would miss: scrambled eggs.
At that point I had overcome my slight cheese obsession, I hardly ever ate meat (and when I did I was reminded why I tended to avoid it), and the creamer I put in my coffee had started making me sick to my stomach. All in all, it was pretty easy to make the transition away from most non-vegan foods.
But eggs, that was a different story.  I had only just become interested in baking and was under the impression that eggs were necessary for almost everything that went into the oven. But even more than that, I thought that I would be giving up my go-to breakfast of scrambled eggs because I could think of no conceivable way to veganize them.
It didn't take me long to realize that eggs can be easily replaced. Cookies, custards, breads…there was a solution for everything. Even scrambled eggs, it turned out, could be veganized.
Let's take a step-by-step look at how to make vegan scrambled eggs.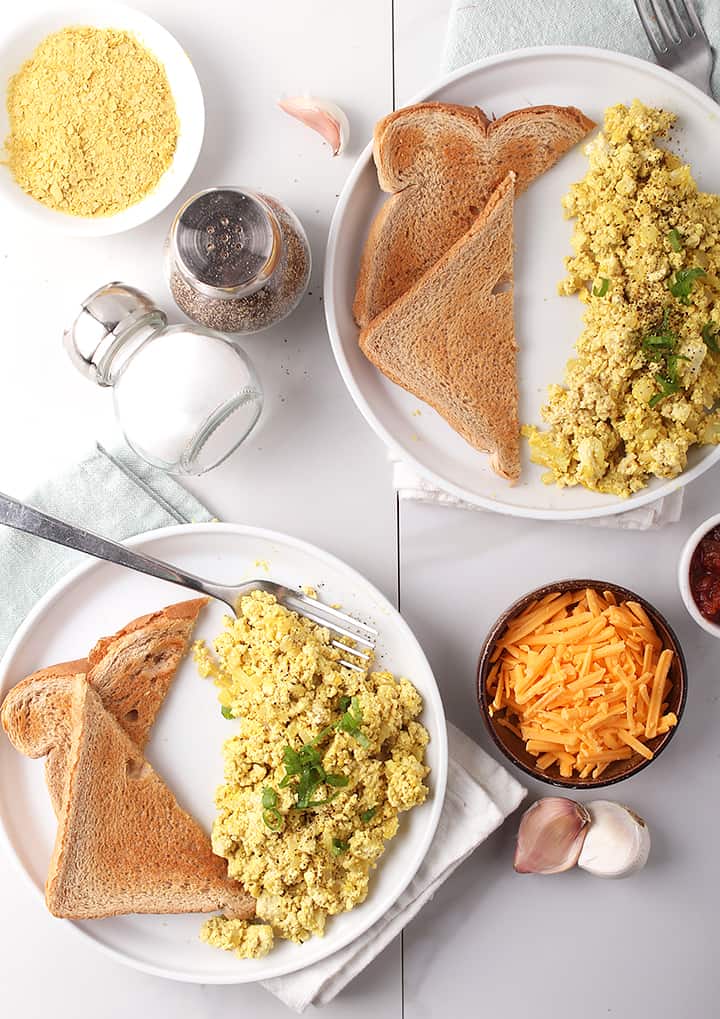 I LOVE tofu scrambled eggs because:
They are incredibly easy to make. Yep, a delicious and hearty breakfast in only 5 minutes.
My kids love them! A huge bonus.
They are filling and hearty.
Ingredients for Vegan Scrambled Eggs
For the most part, the ingredients for these tofu scrambled eggs are super simple. However, there are a few that might be unknown to you. We will take a closer look at each of those.
For vegan scrambled eggs you will need:
white onion
garlic
extra firm tofu
lemon
Now, let's look at frequently asked questions regarding these ingredients.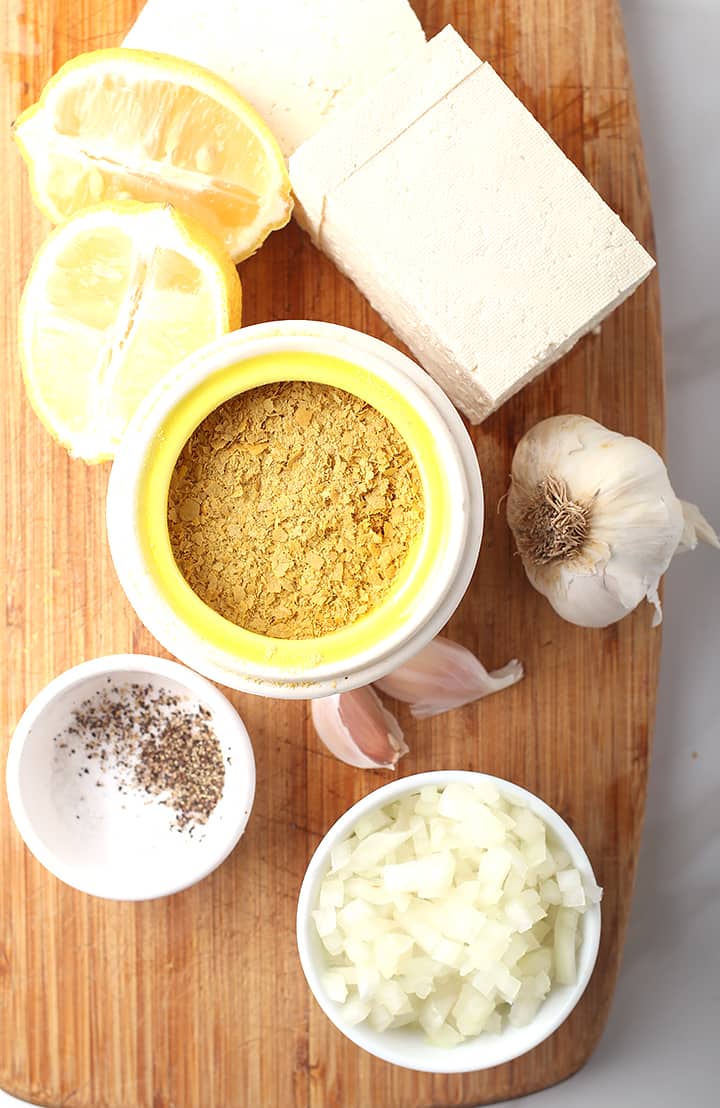 BEST TOFU FOR TOFU SCRAMBLED EGGS
I recommend using a firm or extra firm tofu for these scrambled eggs; you need tofu that will keep it's structure when crumbles. Avoid silken tofu and look for tofu that is water-packed (found in the refrigerated section of your local grocery store). Also, avoid high-protein super firm tofu (like this one). They are so firm that you will not get the desired egg-like texture.
This is one of my favorite brands for tofu scrambles.
WHAT IS NUTRITIONAL YEAST?
Nutritional yeast is a food additive that is made from deactivated yeast. It's only yeast in that it comes from the same fungi family; it does not taste, look, or work like baker's or brewer's yeast. Rather, it is bold in color and flavor. It comes in yellow flakes (see picture above) and has a DELICIOUS nutty cheesy taste. But that's not all. It is also highly nutritious as it is full of B-vitamins, including the hard-to-get B12 vitamin.
Nutritional yeast is commonly added to foods to give it that nutty cheesy flavor such as popcorn, tofu pasta, cheese sauces, and nut-based cheeses. You can often find nutritional yeast in the bulk section of well-stocked grocery stores or you can pick some up online.
WHAT IS BLACK SALT?
Black salt, or Kala Namak, is a salt that is a type of rock salt from South Asia that is high in sulfur. It has a strong smell, due to its sulfur content and provides tofu with an extra eggy flavor. It's popular with vegan cooking for this reason.
Black salt can be hard to find in person, so I buy mine online. This is the brand I use.

How to Make Vegan Scrambled Eggs
Did I tell you that this recipe can be made in just 5 minutes? Yep, it's super easy to make but let's take a look at it step-by-step.
Step one – Sauté the onions and garlic
Heat up a small amount of coconut oil or olive oil in a sauté pan over medium heat. I typically use olive oil but technically olive oil is not a high-heat oil and coconut oil may be better for your health.
Add the onions and garlic and sauté for 2-3 minutes until the onions are translucent and fragrant.
Step two – Prepare the Tofu
While the onions are cooking, prepare the tofu by draining it first and then crumbling it between your fingers. Once you have a scrambled egg-like consistency, add the nutritional yeast, lemon juice, and spices.
Mix them together until the flavors are well blended into the tofu.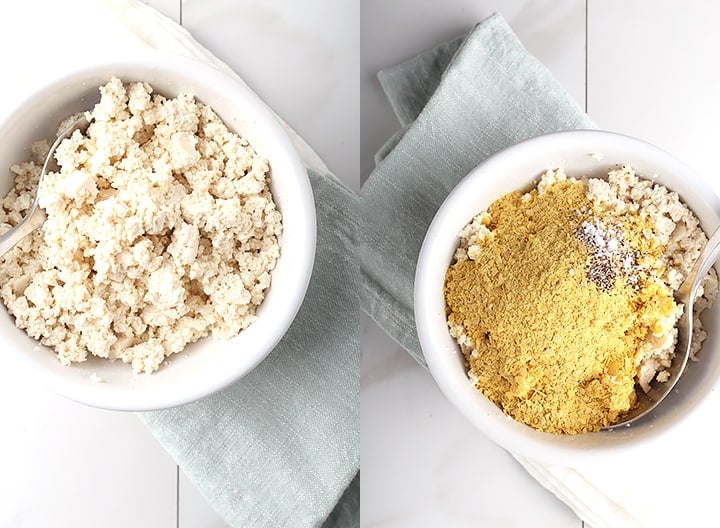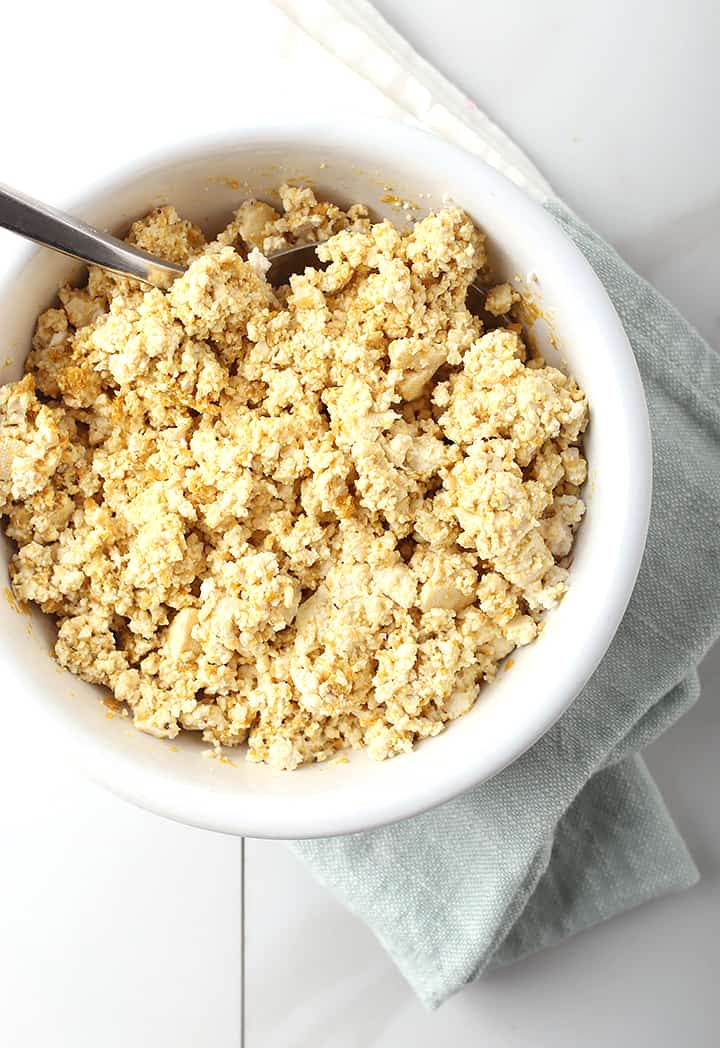 Step three – Cook the tofu
Add the crumbled tofu to the onion/garlic mixture and sauté for an additional 2-3 minutes, until the tofu has cooked all the way through and any excess water has cooked out.
Serve immediately with fresh chives, vegan cheese, or homemade salsa.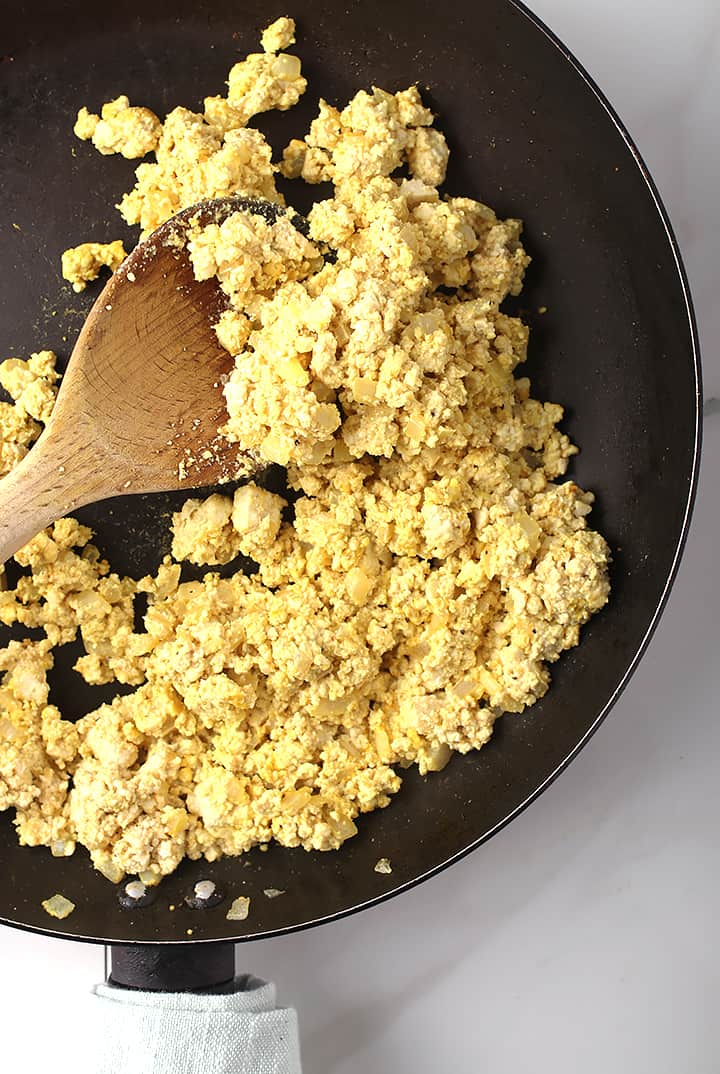 Wanna see the recipe in action?
TIPS AND TRICKS FOR THE PERFECT TOFU SCRAMBLED EGGS
Friends, I have been making tofu scrambled eggs for a long time and here are a few of the tips I've picked up from the years.
Dice your onions small. The onions add flavor but it should be subtle.
Mix the tofu and nutritional yeast by hand. This helps incorporate the flavors more deeply into the tofu.
For a more eggy flavor, add a pinch of black salt to the tofu.
Use water-packed firm or extra-firm tofu. Avoid silken and high-protein tofus as they will not give you the desired texture.
Mix it up with different vegetables! I love adding red bell pepper, zucchini, and tomatoes to my scrambled eggs.
Serving and Storing Vegan Scrambled Eggs
Serve scrambled eggs with toast, roasted potatoes, or a breakfast salad. Top with fresh chives, vegan cheese (I LOVE Violife cheddar shreds), or homemade salsa.
Leftover tofu scramble can be stored in the refrigerator for up to 2 days. To reheat, gently reheat over the stovetop at medium-low heat.
OTHER TOFU SCRAMBLE RECIPES
Love tofu scrambles as much as I do? Here are some of my favorite variations of tofu scrambled eggs:
Are you ready to give my go-to tofu scrambled eggs a try? Let's take a look at the recipe below.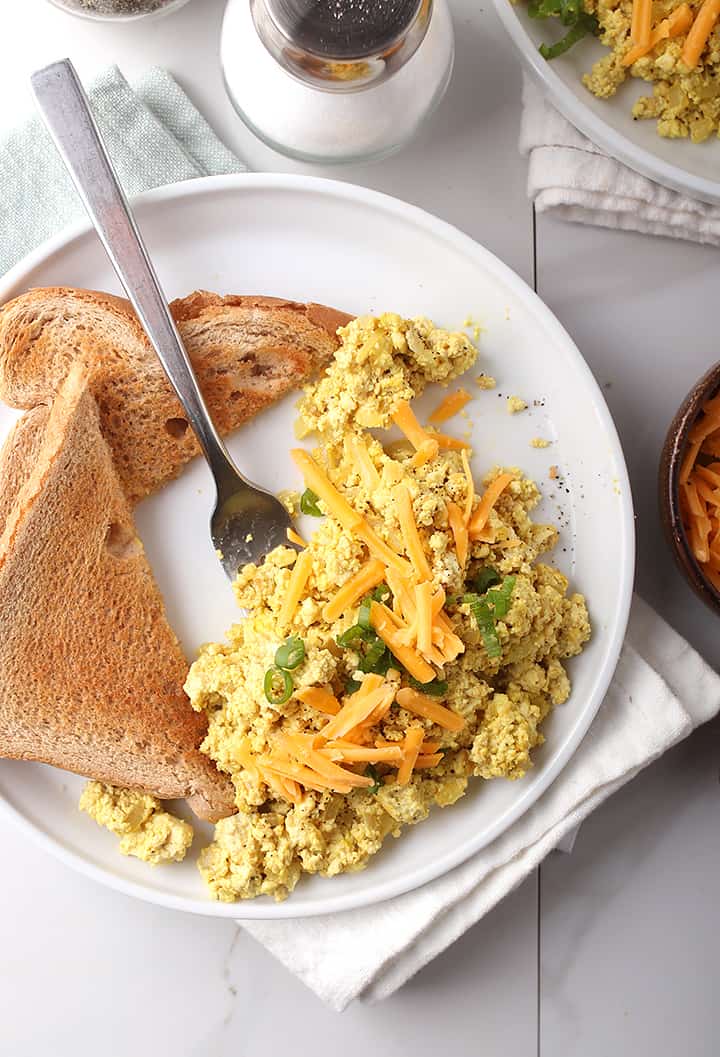 5-Minute Vegan Scrambled Eggs
Vegan scrambled eggs at least! These easy vegan scrambled eggs are made with crumbled tofu and flavored with nutritional yeast garlic, and onions for a simple, hearty and healthy 5-minute breakfast.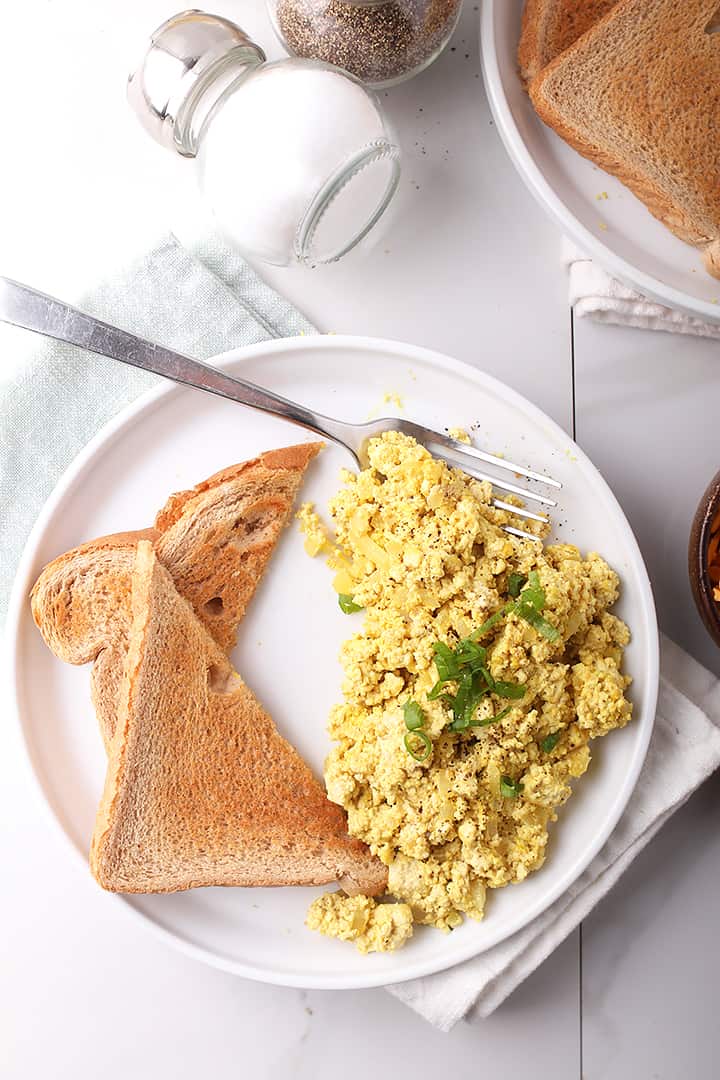 Course:
Breakfast
Cuisine:
American
Keyword:
Vegan Scrambled Eggs
Servings
:
2
servings
Calories
: 95 kcal
Author
:
Sarah McMinn
Ingredients
Instructions
Heat the coconut oil in a small skillet over medium-high heat. Add diced onion and garlic and sauté until golden and fragrant, 2-3 minutes.

While onions are sautéing, crumble the tofu in a small bowl with your fingers. Stir in the nutritional yeast, lemon juice, spices. Add tofu mixture to onions and cook for 2-3 more minutes, until tofu is heated all the way through. Taste and adjust seasonings.

Serve immediately with fresh chives, vegan cheese, or homemade salsa.
Recipe Notes
While the black salt is optional, I highly recommend it as it gives the tofu a bit of an egg-like flavor. You can pick some up here. 
Nutrition Facts
5-Minute Vegan Scrambled Eggs
Amount Per Serving
Calories 95
Calories from Fat 63
% Daily Value*
Fat 7g11%
Sodium 292mg13%
Potassium 139mg4%
Carbohydrates 5g2%
Protein 3g6%
Vitamin C 2mg2%
Calcium 5mg1%
Iron 1mg6%
* Percent Daily Values are based on a 2000 calorie diet.
If you give one of these recipes recipe a try, snap a photo and share it on Instagram. Make sure to tag
@mydarlingvegan
so I can see your creations!