Creamy Vegan Tomato Soup (Soy-Free!)
Warm up with this rich and creamy vegan tomato soup. A thick tomato base mixed with cashew cream and topped with homemade croutons for a satisfying fall soup. Made in under 20 minutes!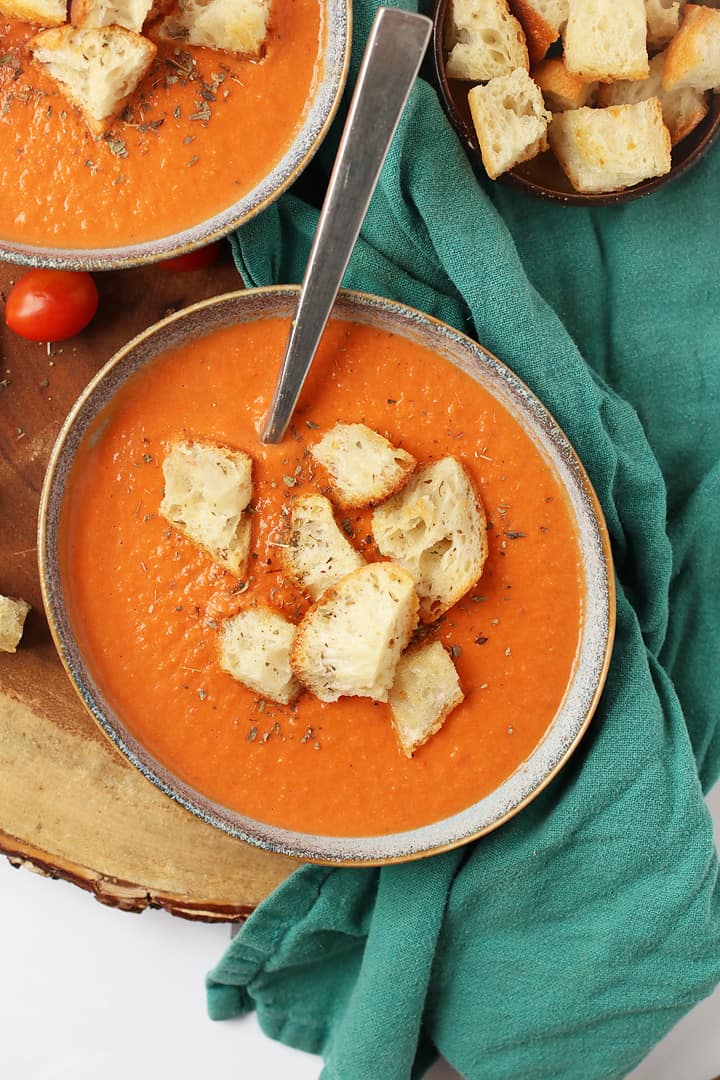 This post contains affiliate links. For more information read my privacy policy.
What? WHAT?! Is September seriously almost over?
But what a great month it was! Later this week I will be recapping September's highlights by bringing together some of the top recipes of the month as well as sharing a few of the products I'm totally loving right now. You'll have to come back on Friday to check it out!
But now, I've got a brand new recipe for you:
Creamy Vegan Tomato Soup.
This tomato soup is my go-to fall soup. It is thick and rich and creamy and comforting and warm and nostalgic and everything you want in a vegan soup.
Wanna see for yourself? Let's dig in!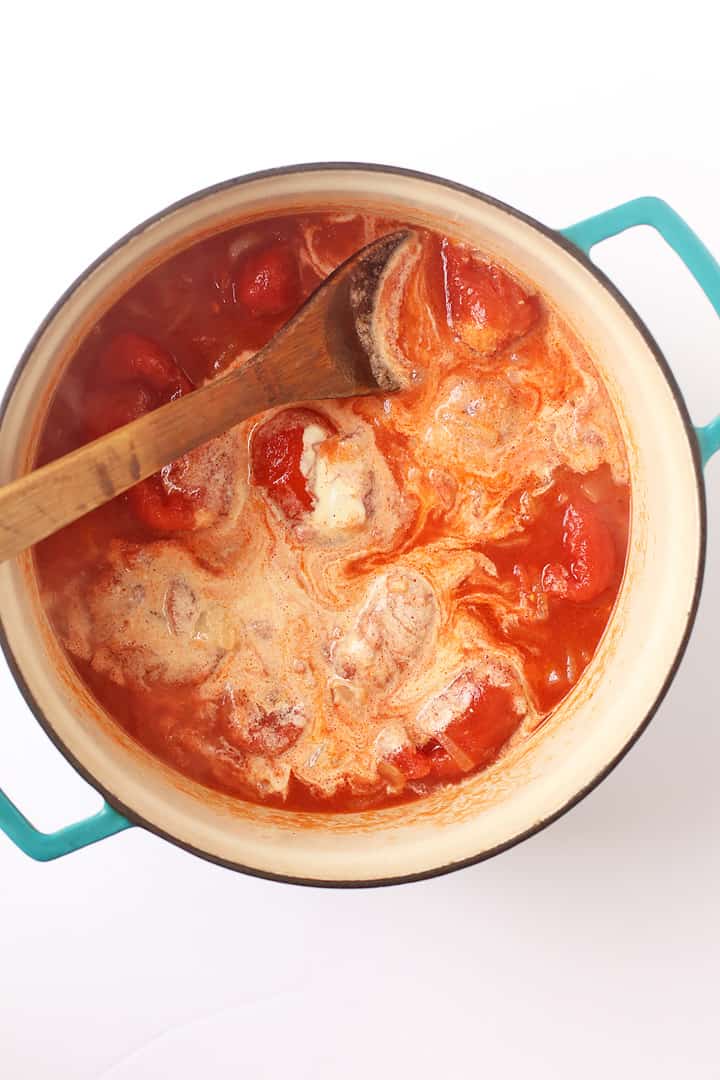 The ingredients for this tomato soup are unbelievably simple.
This vegan tomato soup is made with:
Tomatoes
Onions and garlic
Vegetable Broth
and Spices
That's it! I'm willing to bet you probably have most of these ingredients on hand. Well, except the secret ingredient that makes this soup rich and creamy while keeping it vegan and soy-free.
A secret ingredient! What makes this tomato soup so creamy?
I'm glad you asked! Most creamy tomato soups are made with heavy cream. I considered going the soy creamer route but I decided I wanted to keep this soup soy free. Then I thought about adding coconut milk but coconut milk has a distinct flavor. So what adds richness and creaminess without changing the flavor?
Cashew cream, my friends!
I got the idea from this Creamy Pumpkin Curry Soup recipe. Not only is cashew cream rich, creamy, and delicious. It can be made with just 3 ingredients (cashews, lemon juice, and salt + water) and in less than 2 minutes!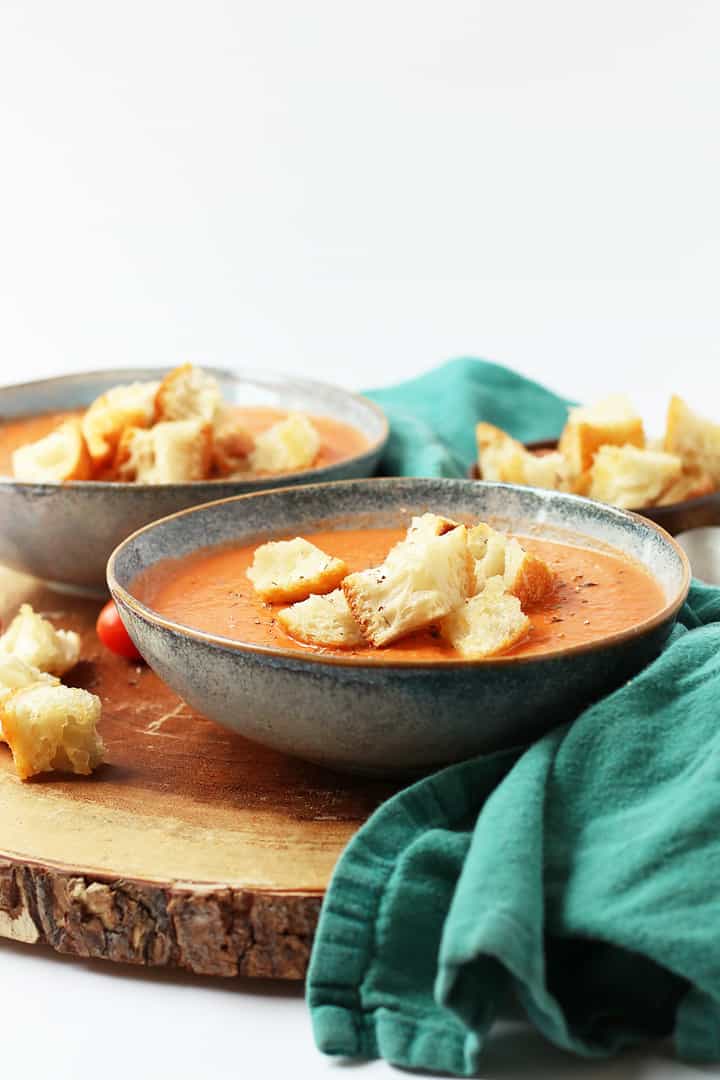 How to make cashew cream:
When it comes to cashew cream, you really should use a high-powered blender. I recommend a Vitamix, which is what I use.
These blenders can be pricy, but my Vitamix is, by far, the most used gadget in my kitchen. Most other blenders are simply not powerful enough to create a cream out of cashews and you'll end up with gritty cashew cream. However, if you don't have a high-powered blender, you can soak the cashews for about 6 hours ahead of time and they will blend up fairly well.
With a Vitamix, you can just throw your ingredients into the blender and blend for about 30 seconds until you have a smooth, delicious cream. So easy! This cashew cream can be used immediately or stored in your refrigerator for up to 5 days.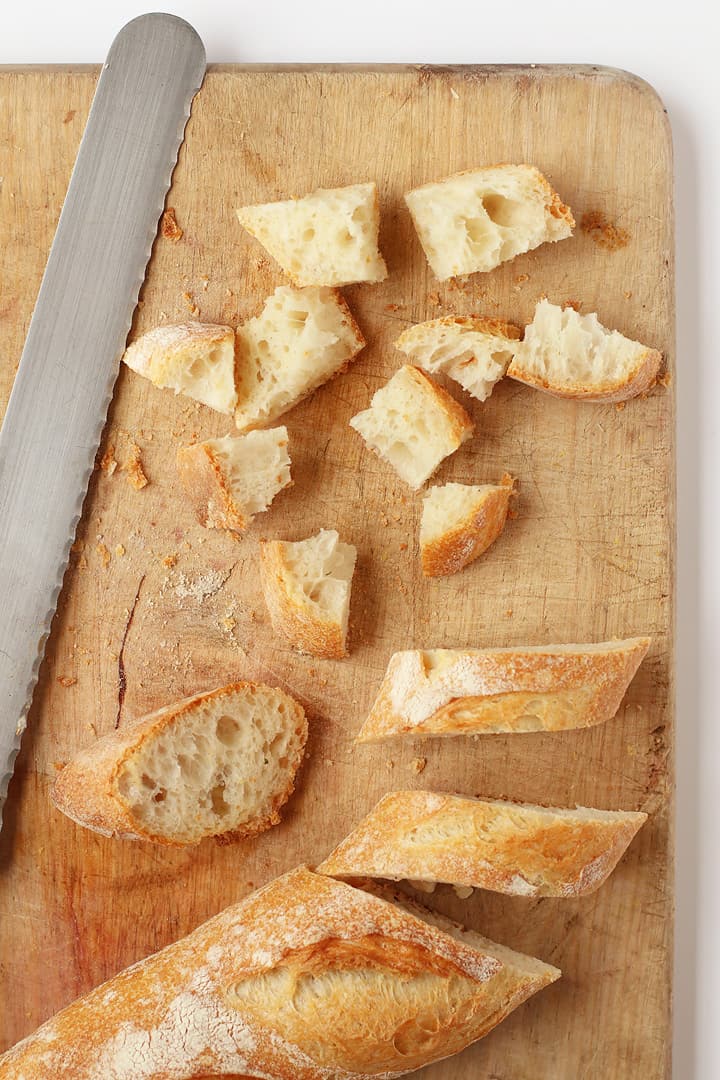 To complete this creamy vegan tomato soup, I added homemade croutons.
These croutons are made with a rustic baguette that is chopped into 1″ pieces and tossed in olive oil and salt. They are then baked at a high temperature until the croutons are golden and crunchy.
Storing the croutons:
This recipe calls for 1 1/2 cup of croutons. However, why not just turn your whole loaf into homemade croutons?
If you do that and want to store them, they should cool completely before putting them in an airtight container. Keep them at room temperature and they will stay crunchy for 4-5 days.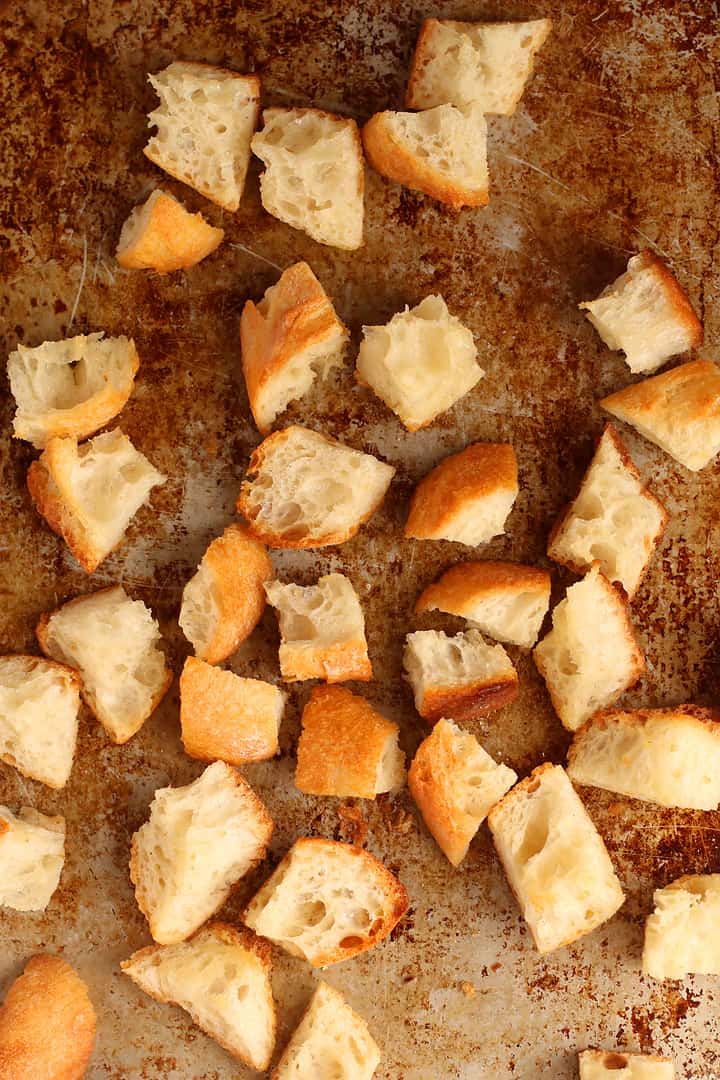 Putting it all together.
Once your cashew cream and homemade croutons are made, this soup whips up in about 10 minutes. You just need to sauté those onions and garlic and add the rest of the ingredients. Because canned tomatoes are already cooked, they just need to be reheated.
A delicious and filling fall soup that can be made in 20 minutes for just 250 calories – what's not to love?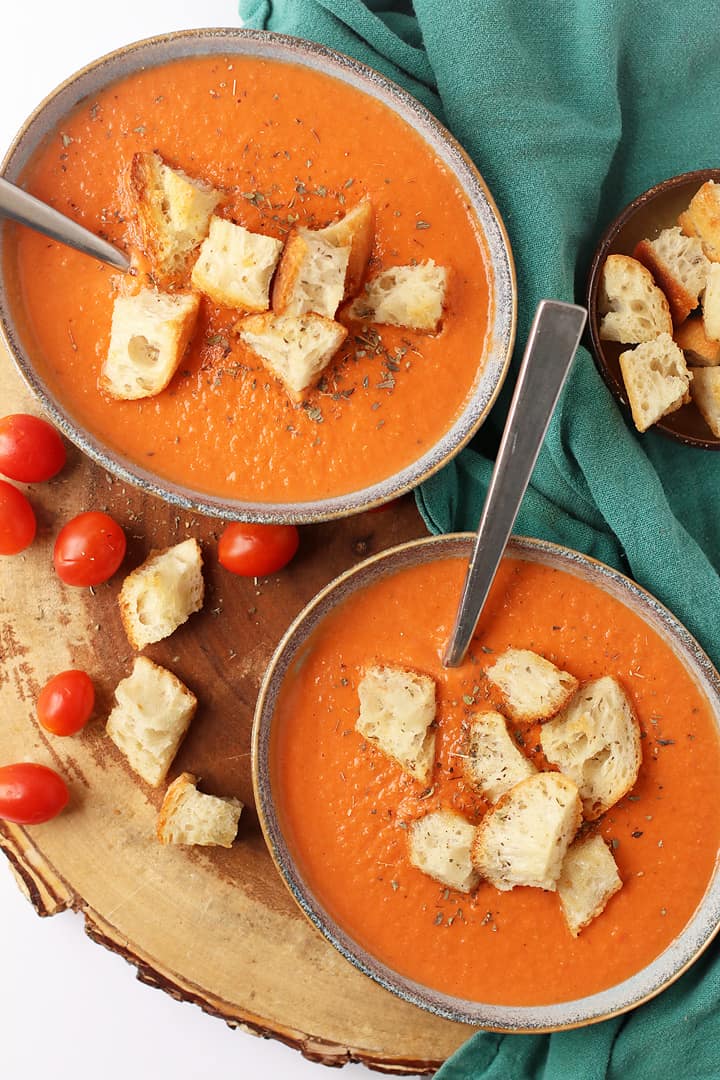 Vegan Tomato Soup with Cashew Cream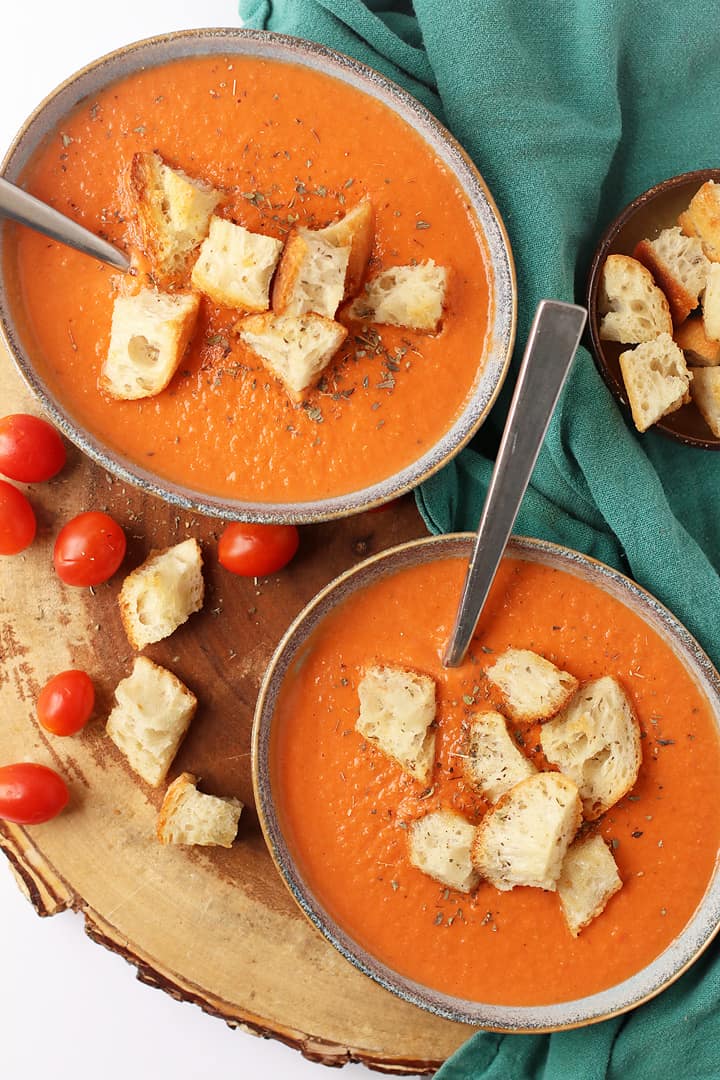 Warm up with this rich and creamy vegan tomato soup. A thick tomato base mixed with cashew cream for a satisfying fall soup. Made in 20 minutes.
Keyword:
Vegan Tomato Soup
Instructions
Preheat oven to 425. Line a baking sheet with parchment paper and set aside.

Begin by making the cashew cream. In a high-powered blender, such as a Vitamix, combine all the ingredients for the cashew cream, placing the water at the bottom. Blend on high until completely smooth. Set aside.

In a medium soup pot, heat up 2 tablespoons of oil over medium heat. Add onions and garlic and sauté, stirring frequently, for 5 minutes until onions are translucent and fragrant.

Add tomatoes in their juices, vegetable broth, cashew cream, sugar, and spices. With the back of a wooden spoon, break down the tomatoes as best as you can. Bring to a boil and simmer for 10 minutes. Remove from heat.

While soup is simmering, place the cubed bread in a big bowl with 1 tablespoon of olive oil and salt, tossing to combine. Spread the bread in a single layer onto prepared baking sheets. Bake for 10 minutes until golden and crispy.

Pour your soup into a blender (you may need to do this in batches) and blend until your soup is completely smooth.

Enjoy immediately or store in an airtight container and gently reheat before serving. Serve with homemade croutons.
Recipe Notes
Don't want to make cashew cream? You can substitute canned coconut milk! 
Nutrition Facts
Vegan Tomato Soup with Cashew Cream
Amount Per Serving
Calories 236
Calories from Fat 162
% Daily Value*
Total Fat 18g 28%
Sodium 551mg 23%
Potassium 153mg 4%
Total Carbohydrates 15g 5%
Protein 4g 8%
* Percent Daily Values are based on a 2000 calorie diet.
If you give this recipe recipe a try, snap a photo and share it on Instagram. Make sure to tag
@mydarlingvegan
so I can see your creations!