These vegan Vanilla Cupcakes are unbelievably delicate and moist with a touch of sweetness for an easy and delicious cupcake that everyone will love.
This post contains affiliate links. For more information, please see my privacy policy.
Hey friends!
It's been awhile since I've posted a new recipe on the blog. Last week I was sharing my favorite vegan/gluten-free recipes from the archives and before that I was driving down highway 101 enjoying a mini vacation. I had originally planned on sharing this vegan vanilla cupcake recipe the week of my vacation (also the week of my birthday), but made a last minute decision to take some much needed time off the blog.
And so, my birthday cupcakes have become the My Darling Vegan 6 Year Anniversary Celebration cupcakes.
Who wants to celebrate with me?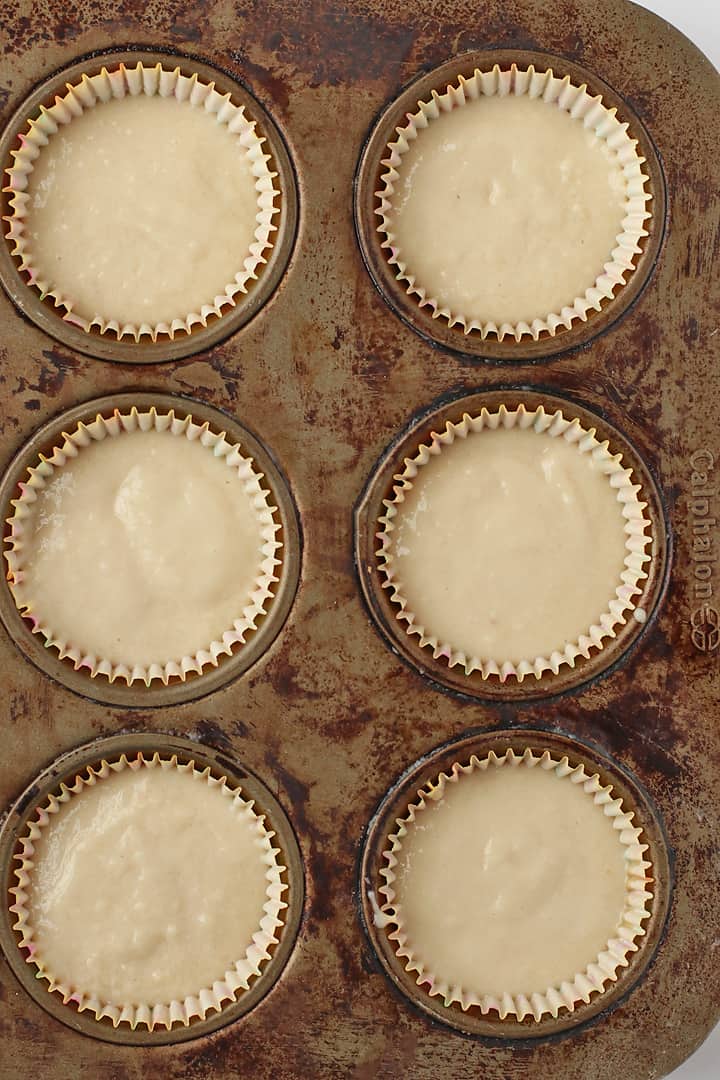 6 years ago, I gave birth to my daughter. A the time I was working at a grocery store and it made no sense for me to keep working while paying more money than my hourly wage for her to be in childcare. My then-husband and I made the joint decision that I should stay at home and raise her – a career I had never planned on and the first unexpected twist to my story.
Since I am a do-er and maker, I found myself aching for projects to keep my hands busy during the hours that my newborn slept (which is many, btw). The constant need to keep busy is what led me to start my first blog. Within a couple months that lifestyle blog (if that's what you call it) morphed into My Darling Vegan (or, The Sweet Life as it was originally called). At the time I stared My Darling Vegan I knew nothing about blogging, much less food blogging, and very little about computers. But I had a culinary degree and a photography degree that I wanted to put to use.
I blogged as a hobby for several years as I raised my daughter and then my son. Then in 2015 I had to quit blogging completely to survive an incredibly painful divorce; the second unexpected twist of this story. The blogging gig was up.
Or so I thought.
But then, a third (and my favorite) unexpected twist happened. After 3 years of blogging as a hobby followed by a year and a half of silence, I picked My Darling Vegan back up and within 8 month I was making a full-time wage! My friends, I couldn't be more grateful for what has become of this blog over the past 6 years.
Among the things I am most grateful for are:
It has given me an outlet for my creativity.
I get to help people in their transition to veganism.
It comes with incredible freedom which allows me to single parent well.
Through it I've met many wonderful people, readers and fellow bloggers, alike.
And you, yes YOU, have helped me make it all possible. Thank you for helping My Darling Vegan grow by sharing this blog with your friends, offering me kind words and encouragement, and helping me see ways that I can keep improving. You are my favorite.
And so, we celebrate!
Ever since sharing my vegan chocolate cupcakes, I've been getting requests to make vegan vanilla cupcakes. I haven't made you wait a full year intentionally. I've tried many times to perfect this recipe and I think I finally got it. These easy, fool-proof vanilla cupcakes are made with simple, straight-forward ingredients for a fluffy and delicate cupcake that is lightly sweetened and filled with delicious vanilla flavor.Top them with vanilla buttercream or my favorite chocolate buttercream for a treat that no one will believe is vegan.
So to you and to dreams coming true, let's grab our whisks and whip up some vegan vanilla cupcakes!
Vegan Vanilla Cupcakes with Vanilla Buttercream
These vegan Vanilla Cupcakes are unbelievably delicate and moist with a touch of sweetness for an easy and delicious cupcake that everyone will love.
Keyword:
Vegan Vanilla Cupcakes
Ingredients
Vanilla Cupcakes
1 3/4

cup

all-purpose flour

1

cup

granulated sugar

1

tbsp

baking powder

1/2

tsp

salt

3/4

cup

non-dairy milk,

I use almond

1/4 cup + 1

tbsp

vegetable oil

1/4

cup

apple sauce

1/4

cup

water

2

tsp

vanilla extract
Instructions
To make the vanilla cupcakes
Preheat the oven to 350º F. Line a muffin tin with 12 baking cups and spray with cooking oil. Set aside.

In a medium bowl, stir together the flour, sugar, baking powder, and salt. In a separate bowl combine the non-dairy milk, oil, apple sauce, water, and vanilla extract.

Add the wet ingredients to the dry and gently whisk together until batter is evenly hydrated and fairly smooth. A few lumps are okay.

Scoop the batter into the prepared muffin tin so that they are 2/3rds of the way full, filling all 12 muffin molds evenly.

Bake for 20 minutes or until a toothpick inserted in the middle comes out clean. Remove from oven and let cool in the pan for 5 minutes before transferring to a wire cooling rack to cool completely.
To make vanilla buttercream
In a stand up mixer, using your paddle attachment, cream the vegan butter on high for 3 minutes, scraping down the sides as necessary. Turn mixer to low and slowly add powdered sugar with motor running, again scraping down the sides as necessary. Once powdered sugar is incorporated, turn the mixer back up to high and beat for another 3-5 minutes until thick and creamy.

Turn down mixer, add non-dairy milk and vanilla extract and beat until combined.
To assemble
Once cupcakes are COMPLETELY cool, pipe buttercream onto the cupcakes. Serve immediately or store in an airtight container at room temperature for up to 3 days.
Nutrition Facts
Vegan Vanilla Cupcakes with Vanilla Buttercream
Amount Per Serving
Calories 370
Calories from Fat 108
% Daily Value*
Total Fat 12g 18%
Sodium 229mg 10%
Potassium 150mg 4%
Total Carbohydrates 62g 21%
Protein 2g 4%
* Percent Daily Values are based on a 2000 calorie diet.
If you give this recipe a try, let us know what you think in the comments below. Or snap a photo and share it on Instagram. Make sure to tag @mydarlingvegan so I can see your creations!