Tomato bruschetta in a jar! Served over soft vegan mozzarella cheese and a toasted baguette for a sweet and tangy baked appetizer. Can it for the perfect spread, filling, or homemade gift.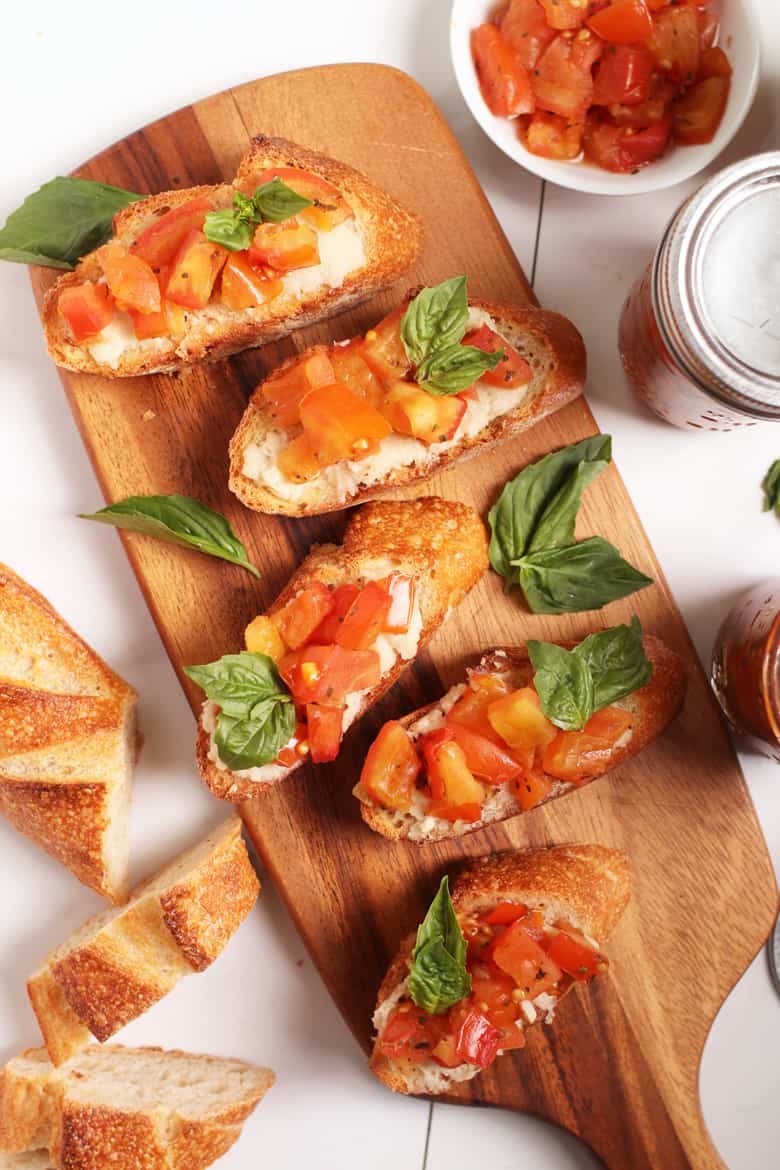 Disclosure: This post may contain affiliate links.
Last month I started the canning season with this strawberry jam recipe. I have been loving it served over my strawberry ice cream, spread over a slice of vegan banana bread, or as a topping to these perfect pancakes. I hope you give it a try!
Now that we are headed towards the middle of summer, it's time to turn our attention to one of my favorite foods to can: tomatoes! I think you're going to love this Tomato Bruschetta in a Jar. Canning Tomato Bruschetta means that you can have quick, easy, AND fresh appetizers all year long. All you have to do is grab a baguette, slice, scoop, and serve!
Beyond its freshness, this Tomato Bruschetta makes a wonderful simple gift. As someone who loves to create, I find that homemade gifts are my favorite way to say, "I'm thinking about you." If you have extra tomatoes this summer, I highly recommend you give this Canned Tomato Bruschetta recipe a try.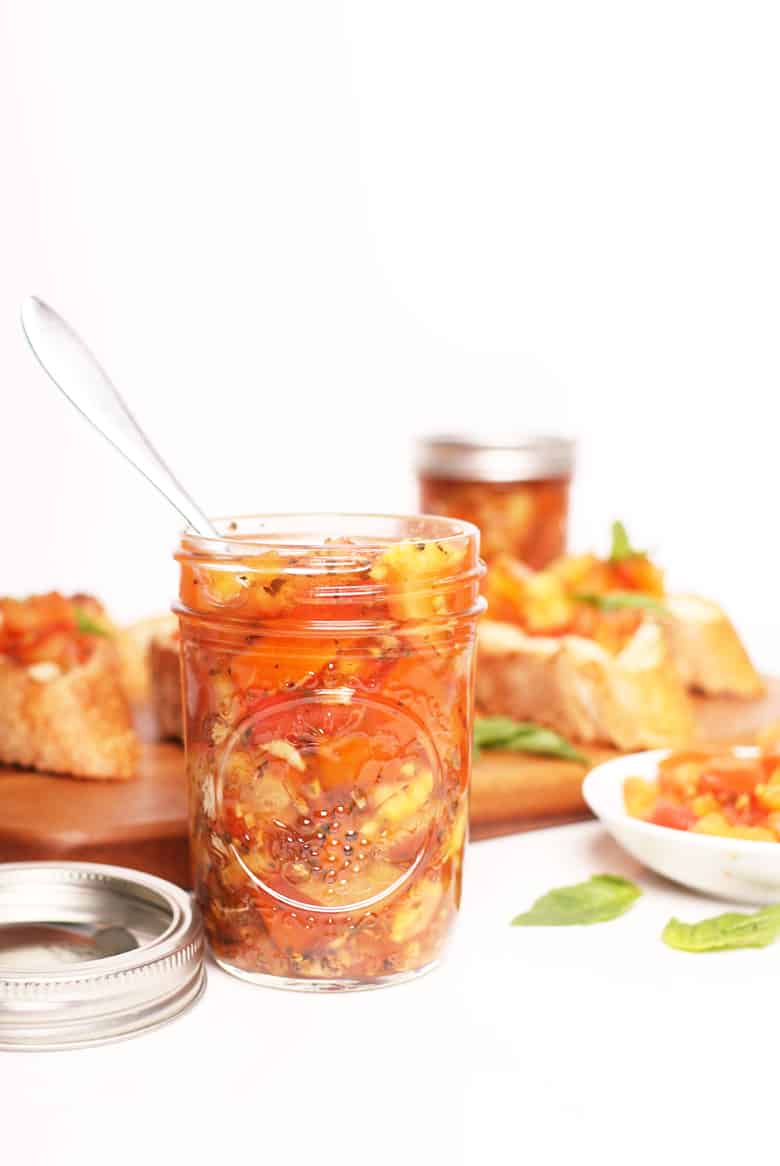 This year Ball® Fresh Preserving is celebrating the 135th anniversary of the Ball® jar(!) and to celebrate they came out with a few more innovative items to make canning easier and more fun. One of my favorite new products is these Ball® Aqua Vintage Jars, which I featured last month. I love them!
They are also celebrating with the new Ball® Preserving Starter Kit. This kit is perfect for aspiring canner. It includes all of the necessary tools for canning (4 Ball Half-Pint Jars, 1 Jar Lifter, 1 Canning Funnel, 1 Bubble Remover/Headspace Tool, 1 Flexible Canning Rack, and 1 Pectin Pouch). It also comes with a recipe card with step-by-step instructions that make learning the canning process easy and fun. I love my starter kit. You can pick one up here at Target.
For seasoned canners looking for replacement utensils, Ball® canning also came out with the Ball® Utensil Set. This set contains a Jar Lifter, a Canning Funnel, and a Bubble Remover/Headspace Tool.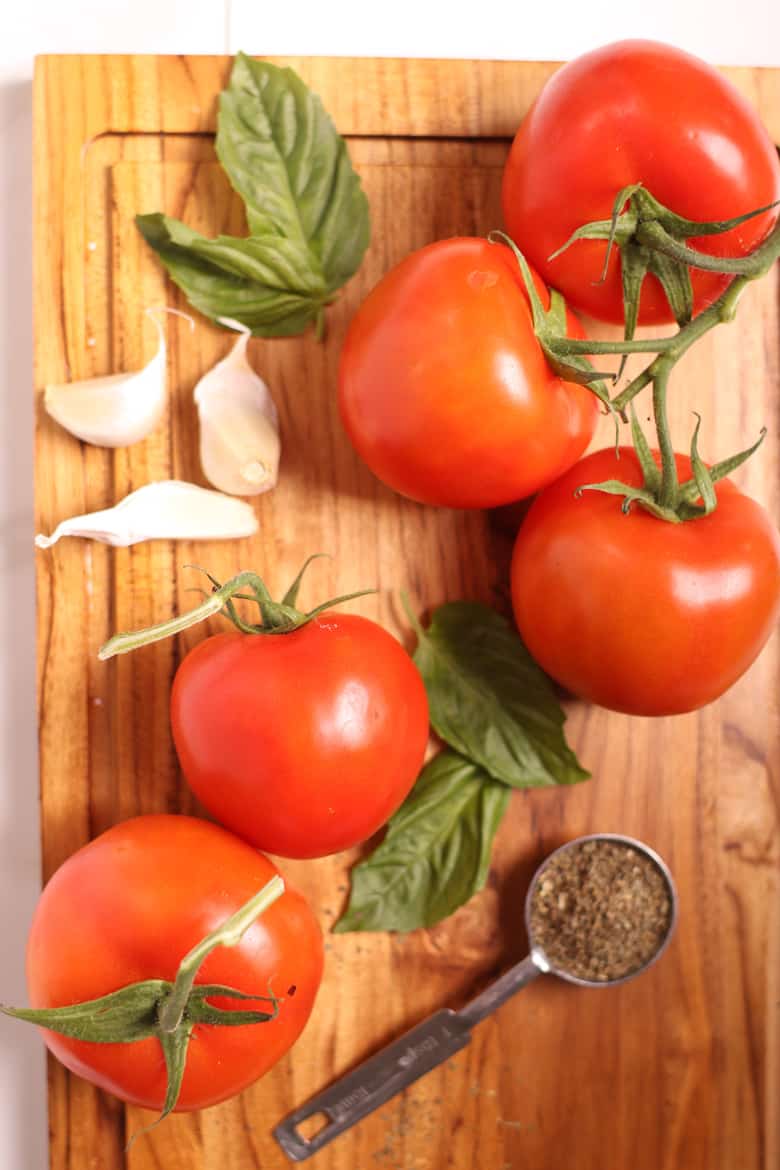 How to Make Tomato Bruschetta in a Jar.
Canning is a lot easier than you may think. This recipe can be made in about 40 minutes with just a handful of ingredients. Here are the things you must pay attention to when you make tomato bruschetta:
Prep your equipment
The key to canning is keeping everything CLEAN. So before you get started with the recipe, make sure your lids and bands are washed in warm soapy water. Once they are washed, set them aside to dry while you prepare the recipe.
To prepare your jars, place them in the canner, on a rack, and bring the water to a simmer at 180 degrees. Let them sit in the simmering water until ready to fill. To fill the jars, ensure that your Ball® canning funnel is cleaned in warm soapy water and only remove jars from canner with canning tongs.
Keep your workspace clean and use clean towels for wiping the rims and lids.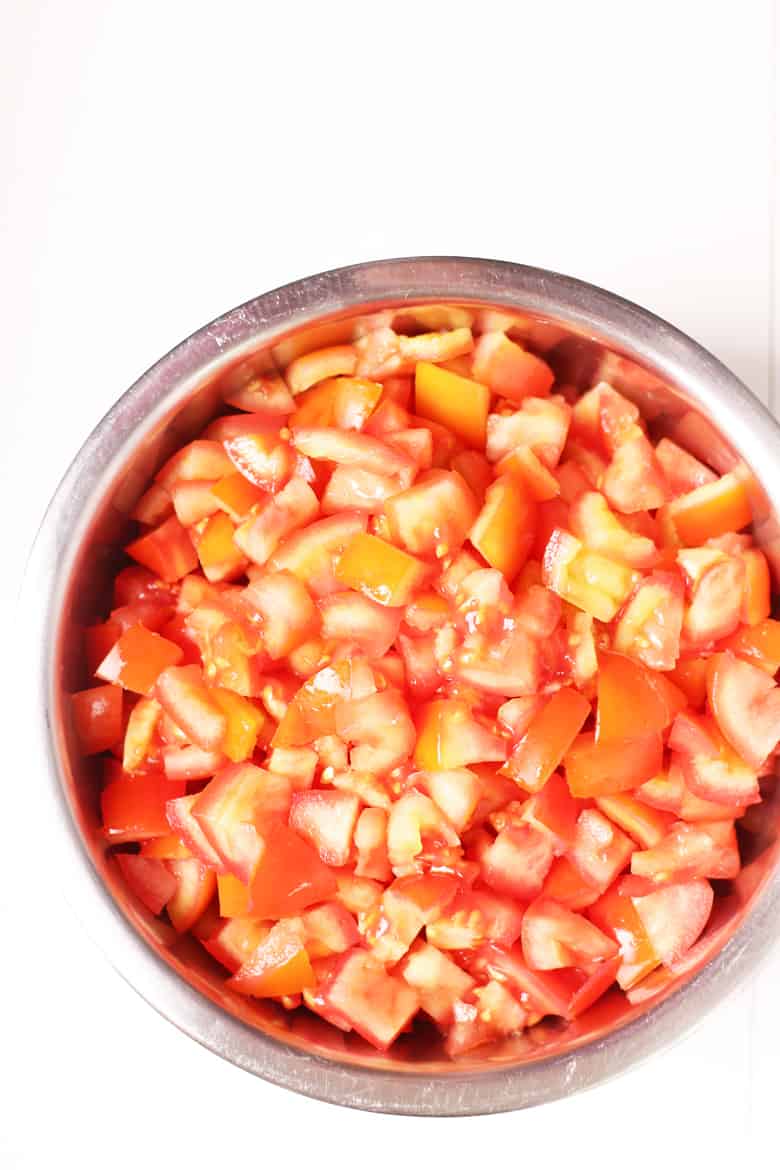 Prepare the ingredients
Keep in mind, when canning, you must always remember to follow the instructions exactly as they are written. These recipes are tested and approved for safety. Do not alter the recipe ingredients, processing method, or processing time.
Now it's time to make the Tomato Bruschetta. Start by combining all the ingredients except the tomatoes in a saucepot. Bring them to a rolling boil, whisking occasionally, for 5 full minutes. Remove from heat and set aside while preparing the tomatoes.
Core and dice the tomatoes. This recipe calls for 9 cups of tomatoes. This is about 4 pounds or 12 medium plum tomatoes.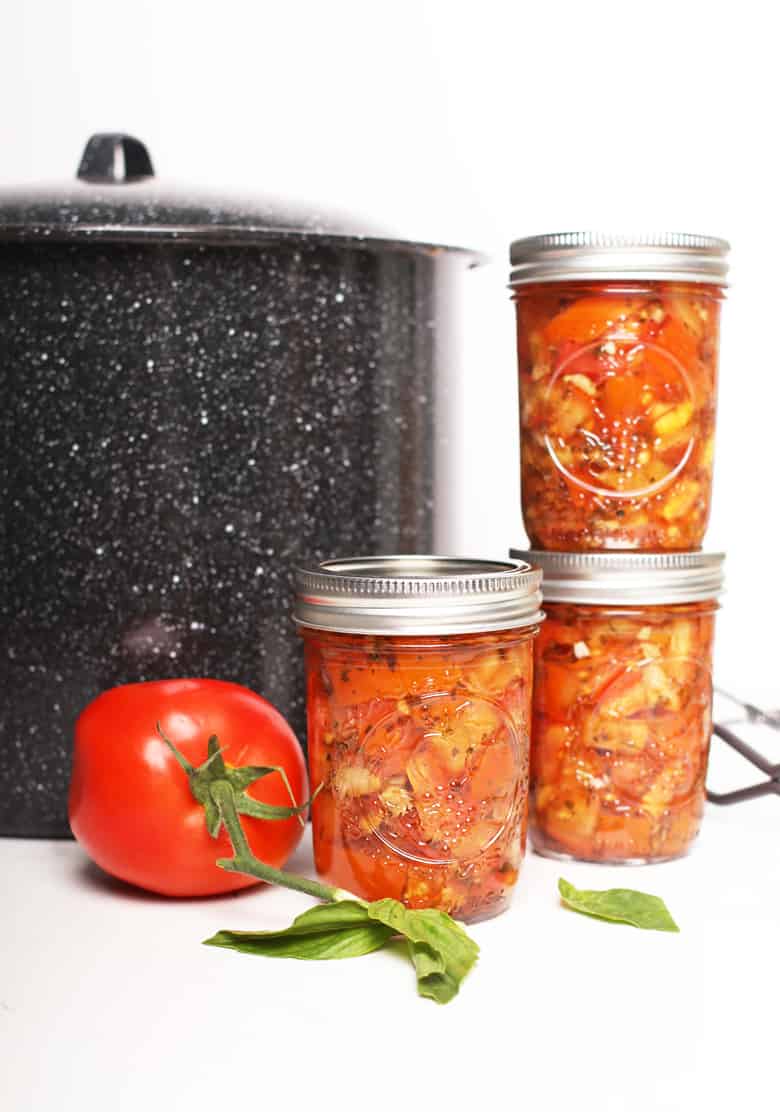 Process Tomato Bruschetta in Canner
Gently remove one hot Ball® Canning Half-Pint Jar from the canner and place it on a towel or wooden cutting board. Place the canning Funnel over the top and fill each jar with tomatoes, packing them down as you go, leaving ½" headspace at the top. This is an important step to ensure a vacuum seal on the jar. Otherwise, the bruschetta inside might expand and the jar may not properly seal. Repeat until all the tomatoes are filled.
Pour the hot liquid over the top of each jar, again leaving ½" headspace. Remove air bubbles with the Bubble Remover/Headspace Tool, wipe the rim, and place lid and band securely on the jar. The band should be finger-tip tight but do not over tighten. Place the jar back in the simmering water and repeat until all the jars are filled. This recipe should fill 7 half-pint jars.
Process the Tomato Bruschetta for 20 minutes. Remove from heat and let the jars cool for 5 minutes before removing the tomato bruschetta with your Ball® canning tongs. Place hot jars on a towel to let them cool completely.
Check to make sure they are properly sealed 24 hours after cooling. The lid should not spring up and down when pressed with your finger. If it does, it hasn't properly sealed.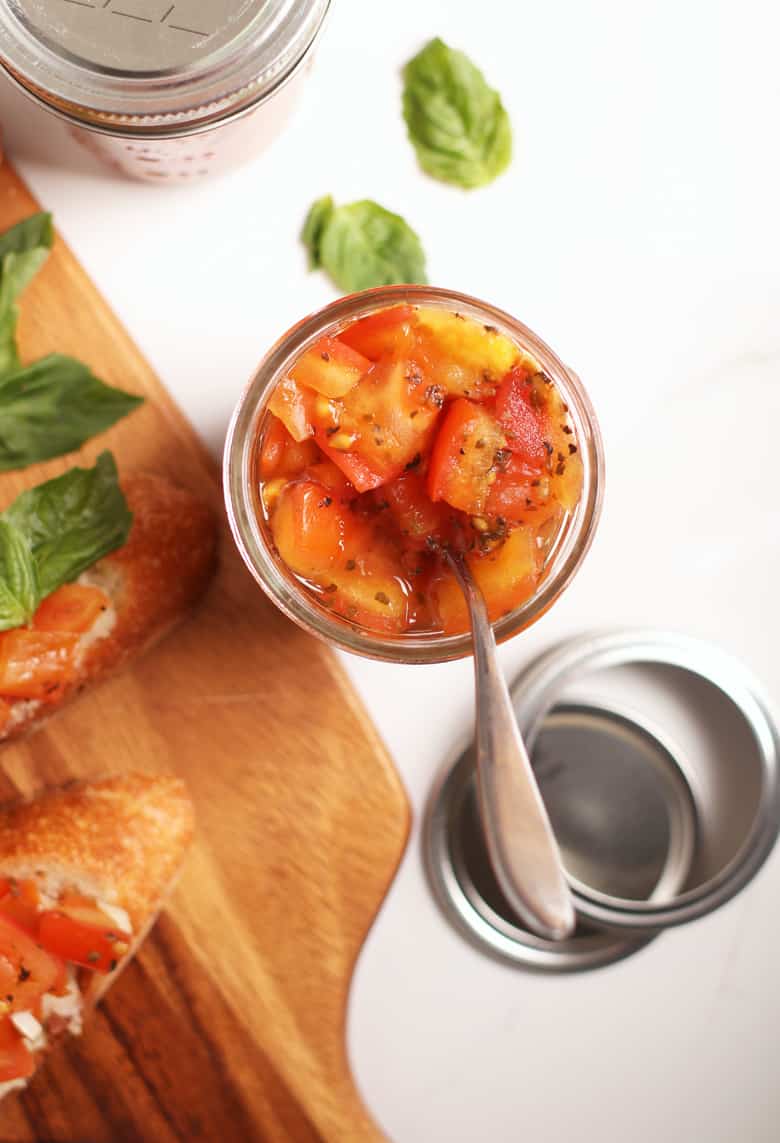 Canning dos and don't
Here are a few things to keep in mind when you are home canning:
Canning dos
Follow a tested/approved recipe for home canning.
Clean jars prior to use.
Wipe the rim of the jar with a damp cloth or paper towel to remove food particles.
Start the processing time when the water begins to boil or pressure achieved.
Do store jars in a cool/dry/dark location between 50-70 degrees.
Canning don'ts
Alter recipe ingredients, processing methods, or processing times.
Place jars directly on the bottom of the pot/canner.
Guess on headspace.
Check for a seal while the jars are still hot/warm.
Forget to check your seal.
If you are new to canning, get more information at Ball® Canning's website FAQ.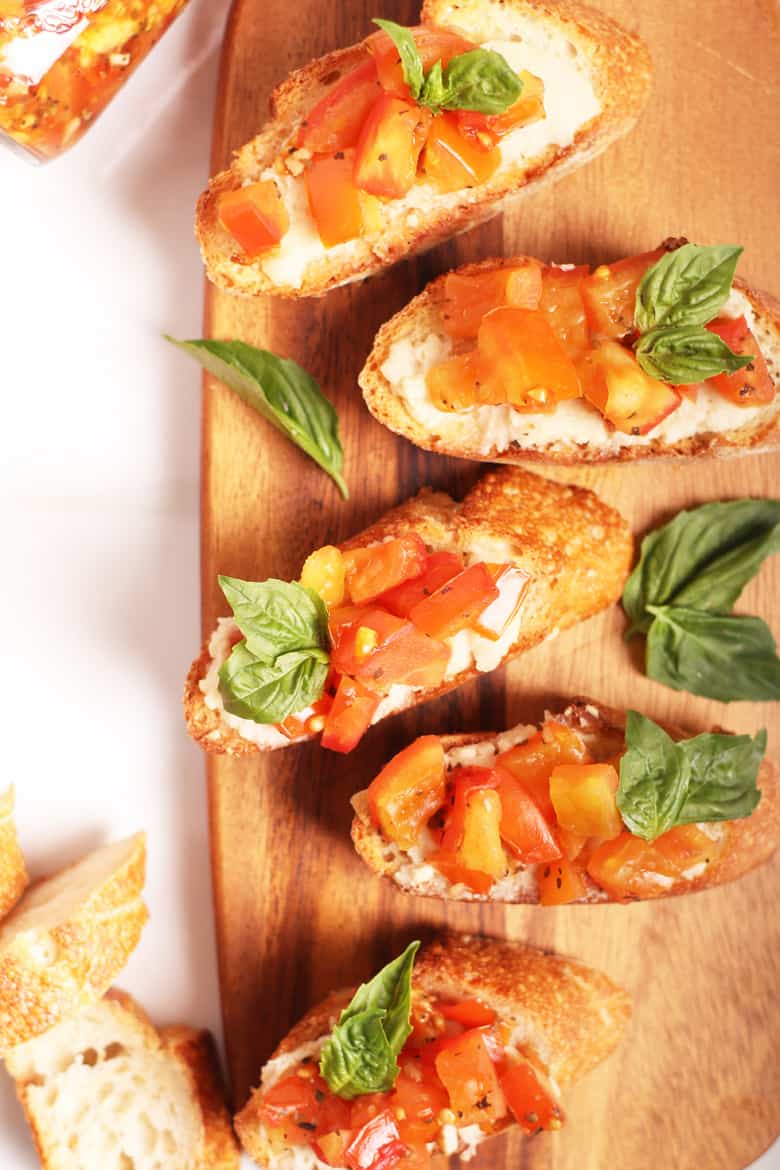 What to do with Tomato Bruschetta
Tomato Bruschetta in a jar is one of my favorite ways to preserve summer tomatoes.
Homemade Tomato Bruschetta also makes a wonderful food gift. Taking a little more effort and making your gifts from your own kitchen can go a long way in showing someone you care. Not only that, but home canning also gives you control in what's in every jar. It has better flavor without any preservatives or unnecessary additives and you can create new flavors that you wouldn't find in the store. It's proudly homemade.
---
Serving and Storing
When you are ready to turn these delicious canned tomatoes into an appetizer, simply cut a baguette into 1" slices. Brush with olive oil and bake for about 5 minutes until slightly toasted. Place two tablespoons of your canned tomato bruschetta on each slice and serve with fresh basil.
If you want to make it a little fancier, add some fresh vegan mozzarella or other spreadable white cheese to the bottom of the toasted bread. Return it to the oven for another 5 minutes until the cheese is warm and melted and then top with tomato bruschetta and fresh basil. So good! So easy!
Store unopened Tomato Bruschetta in a dark, cool area for up to 18 months.
Sound delicious? Let's take a look at the recipe below!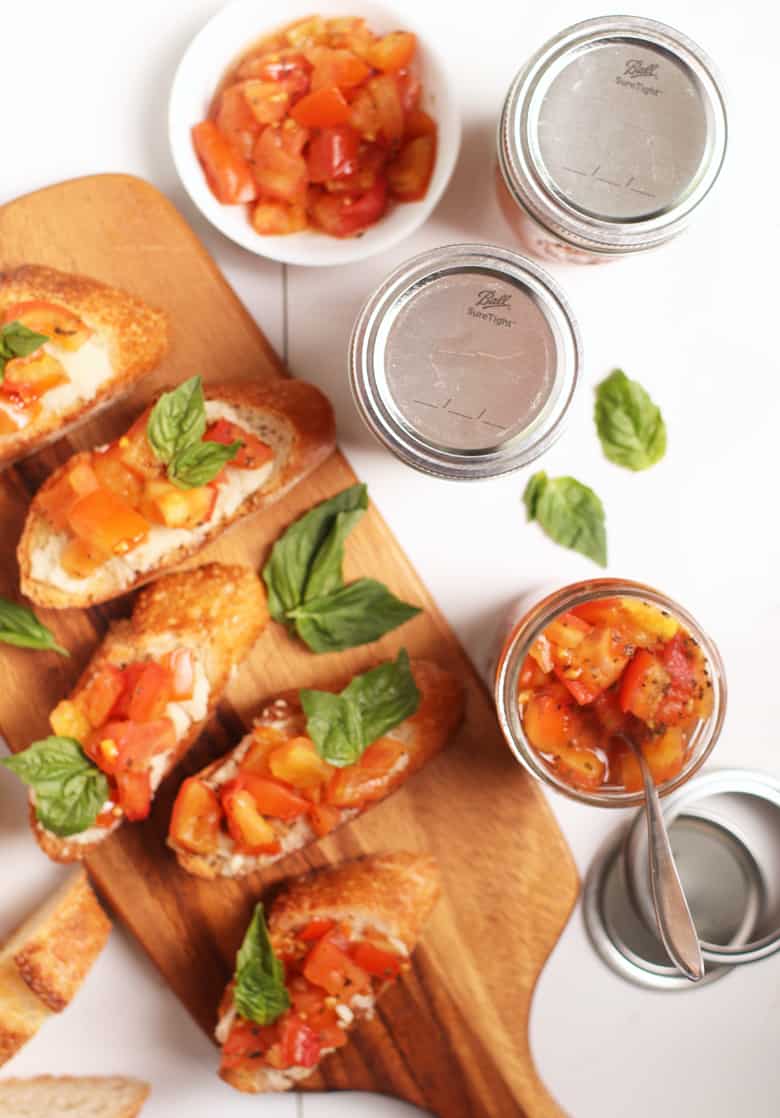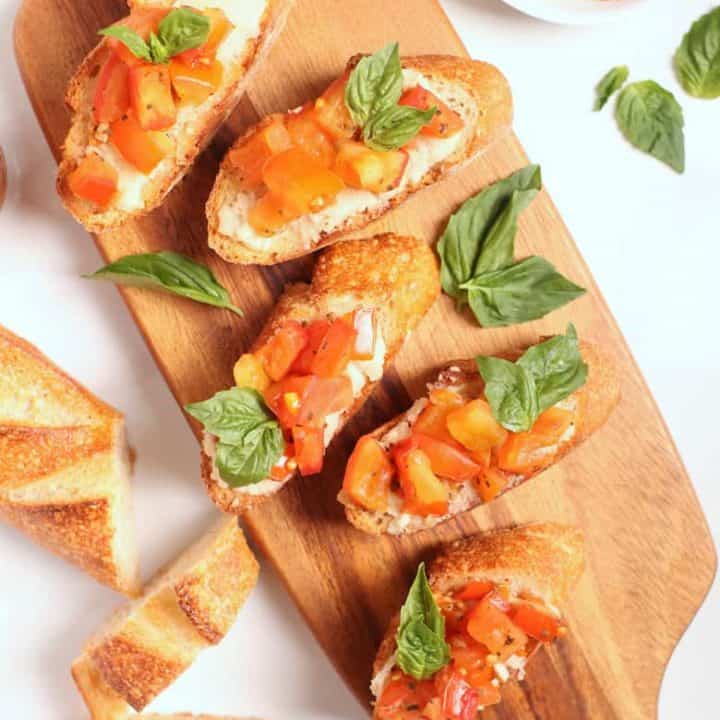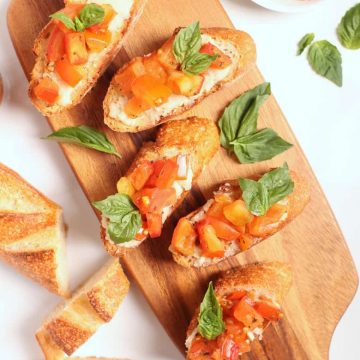 Baked Tomato Bruschetta
Tomato bruschetta in a jar! Served over soft vegan mozzarella cheese and a warm baguette for a sweet and tangy baked appetizer. Makes the perfect spread, filling, or homemade gift.
Print
Pin
Rate
Ingredients
Tomato Bruschetta in a Jar
5

cloves

garlic,

minced

1

cup

dry white wine

1

cup

white wine vinegar

½

cup

water

2

tbsp.

sugar

2

tbsp.

dried basil

2

tbsp.

dried oregano

2

tbsp.

balsamic vinegar

9

cups

chopped cored plum tomatoes

(about 4 lb or 12 medium)
Everything Else
1

baguette,

cut into 1" pieces

2

tbsp.

olive oil

4

oz.

soft vegan mozzarella or similar spreadable cheese

fresh basil
Instructions
Tomato Bruschetta in a Jar
Prepare a boiling water canner. Heat jars in simmering water until ready for use. Do not boil. Wash lids in warm soapy water and set bands aside.

Combine garlic, wine, wine vinegar, water, sugar, basil, oregano, and balsamic vinegar. Bring to a full rolling boil over high heat, stirring occasionally. Reduce heat, cover and simmer 5 minutes or until garlic is heated through. Remove from heat.

Pack tomatoes into hot jars leaving ½-inch headspace. Ladle hot vinegar mixture over tomatoes leaving ½-inch headspace. Remove air bubbles. Wipe rim. Center hot lid on jar. Apply band and adjust until fit is fingertip tight.

Process filled jars in a boiling water canner for 20 minutes, adjusting for altitude. Remove jars and cool. Check lids for seal after 24 hours. The lid should not flex up and down when the center is pressed.
Baked Tomato Bruschetta
Preheat the oven to 375 F. Place baguette slices in a single layer on a baking sheet and brush oil on one side of the baguette. Bake for 5 minutes.

Remove from the oven and spread a thin layer of vegan cheese over the baguette. Return to the oven for an additional 5 minutes.

Remove from the oven and spoon two tablespoons of canned tomatoes over the cheese. Top with fresh basil and serve immediately.
Notes
Store unopened Tomato Bruschetta in a dark, cool area for up to 18 months.
Nutrition
Calories:
66
kcal
|
Carbohydrates:
9
g
|
Protein:
2
g
|
Fat:
2
g
|
Saturated Fat:
1
g
|
Sodium:
68
mg
|
Potassium:
128
mg
|
Fiber:
2
g
|
Sugar:
2
g
|
Vitamin A:
225
IU
|
Vitamin C:
3.5
mg
|
Calcium:
60
mg
|
Iron:
2
mg
Visit BallHomeCanning.com for new, seasonal recipes from Ball® Fresh Preserving, as well as to find new promotional offers throughout the summer (from July 9th- Aug 5th you can get a free pack of Ball® Regular Mouth Plastic Storage Caps when you buy a Ball® Preserving Starter Kit and upload your receipt)! Ball® Fresh Preserving is also hosting a sweepstakes through July 31, where you can make one of their new recipes yourself for a chance to win $1,000 to makeover your dream garden! See full details on BallHomeCanning.com. Also, make sure to check out their other new innovations such as there Canning Starter Kit and Utensil Kit!
If you give this recipe recipe a try, snap a photo and share it on Instagram. Make sure to tag
@mydarlingvegan
so I can see your creations!