Vegan Chunky Monkey Ice Cream
Everyone's favorite ice cream turned vegan! This vegan Chunky Monkey Ice Cream is made from a banana base and filled with raw chocolate pieces and walnuts for a delicious and wholesome plant-based dessert.

This post was sponsored by iHerb. All thoughts and opinions are 100% mine.
This post contains affiliate links. For more information, please see my privacy policy.
It's been an ice cream kinda summer!
First, I shared my recipe for my Oregon Strawberry Ice Cream, then I had a Butter Pecan Ice Cream and now I am sharing with you my wholesome take on Chunky Monkey Ice Cream. And I think you're going to love it!

Not only is this vegan Chunky Monkey Ice Cream DELICIOUS, but it is also made with whole, natural ingredients. In fact, this recipe can be made 100% raw, meaning it's vegan, gluten-free, refined sugar-free and made with ingredients that are completely unprocessed. And best of all, they were delivered right to my door!
That's right. I got almost all my ingredients for this vegan ice cream online at iHerb. For those of you who aren't familiar, iHerb is an online store filled with over 30,000 natural and organic products ranging from home, beauty, food, pets, supplements, personal care, and more. iHerb carries top-quality brands – ones that you probably recognize – and ships from climate-controlled distribution centers to ensure quality products to over 150 countries around the world!

I first learned of iHerb about 6 years ago. When I found them, they were my go-to one-stop-shop for all of my health foods. Not only do they have everything I want, but also their shipping is fast and their prices are also great. This is the place to buy quality and organic staples like vanilla extract, raw nuts raw cacao, and maple syrup
iHerb is convenient, affordable, and I am certain to get top-quality ingredients. Among the ingredients, I got from iHerb were:
Everything else I already had at home. Picking out my items at iHerb was super easy. Because they only carry the best brands, you don't have to look through a lot of products to find the best one. Simply type in what you're looking for in the search bar and review your selections.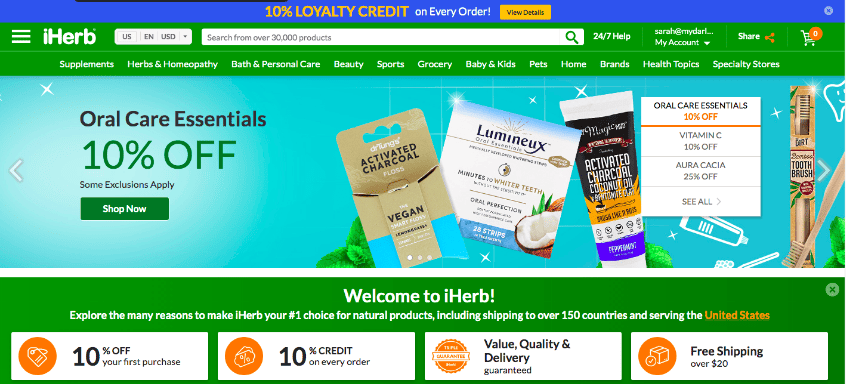 Once you fill up your cart, review it, select shipping and payment methods, and you're good to go.  iHerb offers customer service 24 hours a day/7 days a week in 10 different languages, making it an easy and convenient online shopping experience.
Wanna try iHerb for yourself? New customers can get 10% off their first iHerb order with no minimum purchase by clicking here.

Now that we've talked about our ingredients, let's take a look at this Chunky Monkey Ice Cream.
How to Make Chunky Monkey Ice Cream
Because Chunky Monkey Ice Cream traditionally has bananas in it, I decided to keep this recipe simple and make it with a base of bananas. When making vegan banana ice cream it's important to remember to buy the ripest bananas you can find. The riper the banana, the sweeter it will be. Ripe bananas also have a preferred creamy texture.
How to Use an Ice Cream Maker
Making homemade vegan ice cream with an ice cream maker is a super simple process but it takes some planning ahead. Before you can begin, you must place the bowl of your ice cream maker in the freezer overnight. This ensures that the ice cream bowl is chilled enough to churn your custard into ice cream. Once your ice cream maker bowl is properly frozen, follow these step-by-step instructions on making the best vegan ice cream.
Step One – Make the banana ice cream base
In a blender or food processor, combine your bananas, almond milk, agave nectar, and vanilla extract. If you want to keep this recipe completely raw, follow these instructions to make your own almond milk. Otherwise, you can also use store bought almond milk or non-dairy milk of choice.
Blend the banana-based custard until it is completely smooth then transfer it into a shallow dish, cover it in plastic wrap, and place it in the refrigerator to chill for at least 2 hours.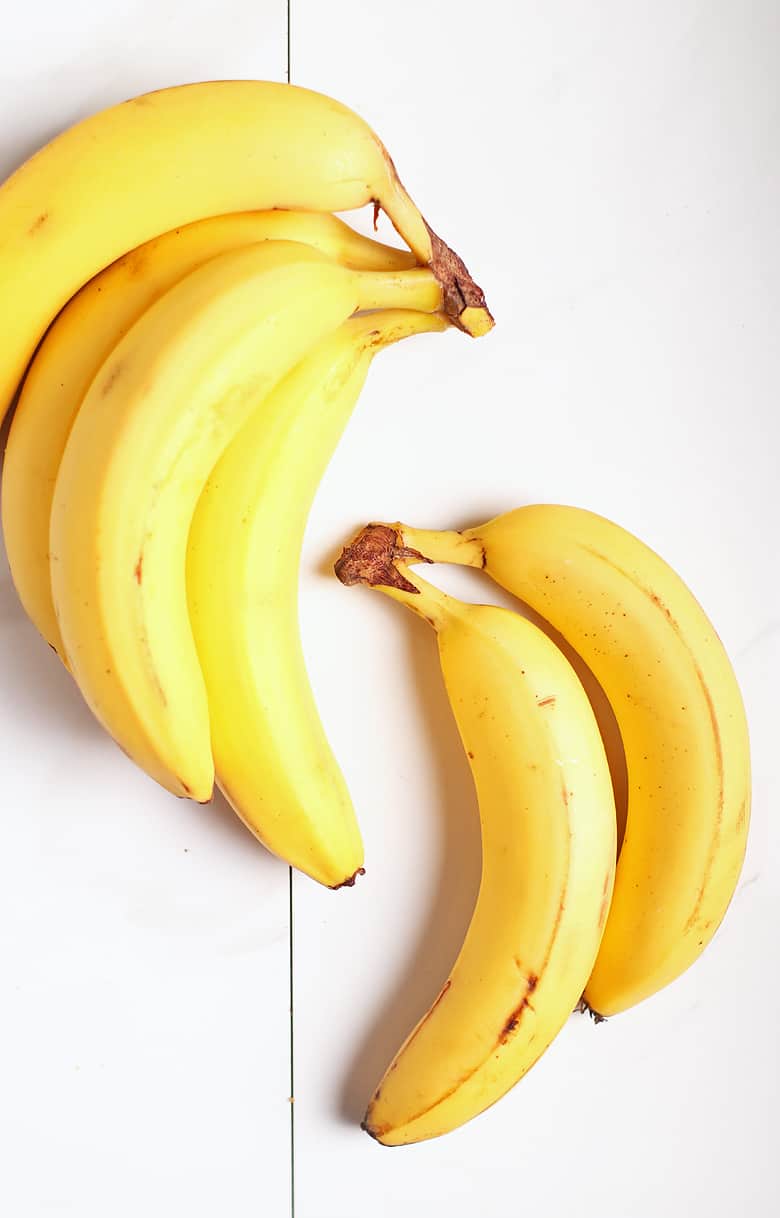 Step Two – Make the raw chocolate
While the ice cream base chills, you can make the raw chocolate. Raw chocolate requires four ingredients:
Note: it is important that these ingredients are measured out exactly to get the right consistency. 
To make raw chocolate, combine all the ingredients together until you have smooth, shiny chocolate. It should look like melted chocolate. Pour the melted chocolate onto a parchment-lined baking sheet and place in the freezer for 1 hour. Once the chocolate is frozen, cut it into 1/4″ pieces. Return to freezer until ready to use.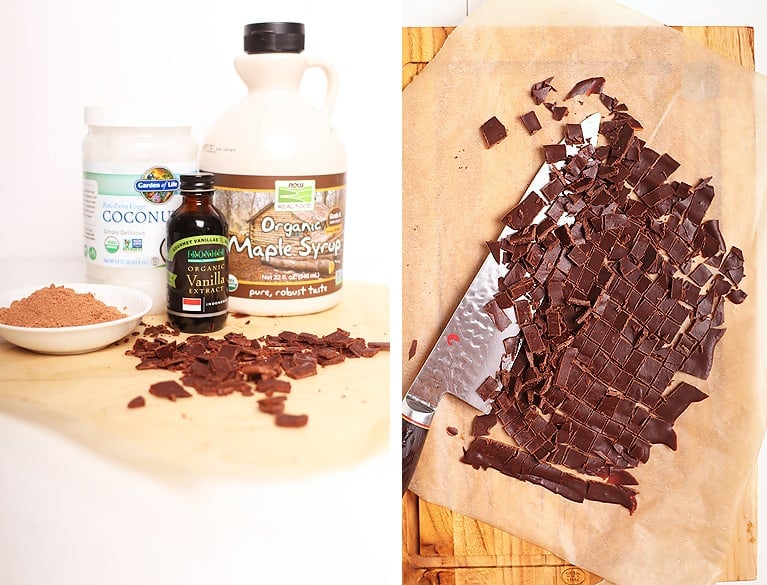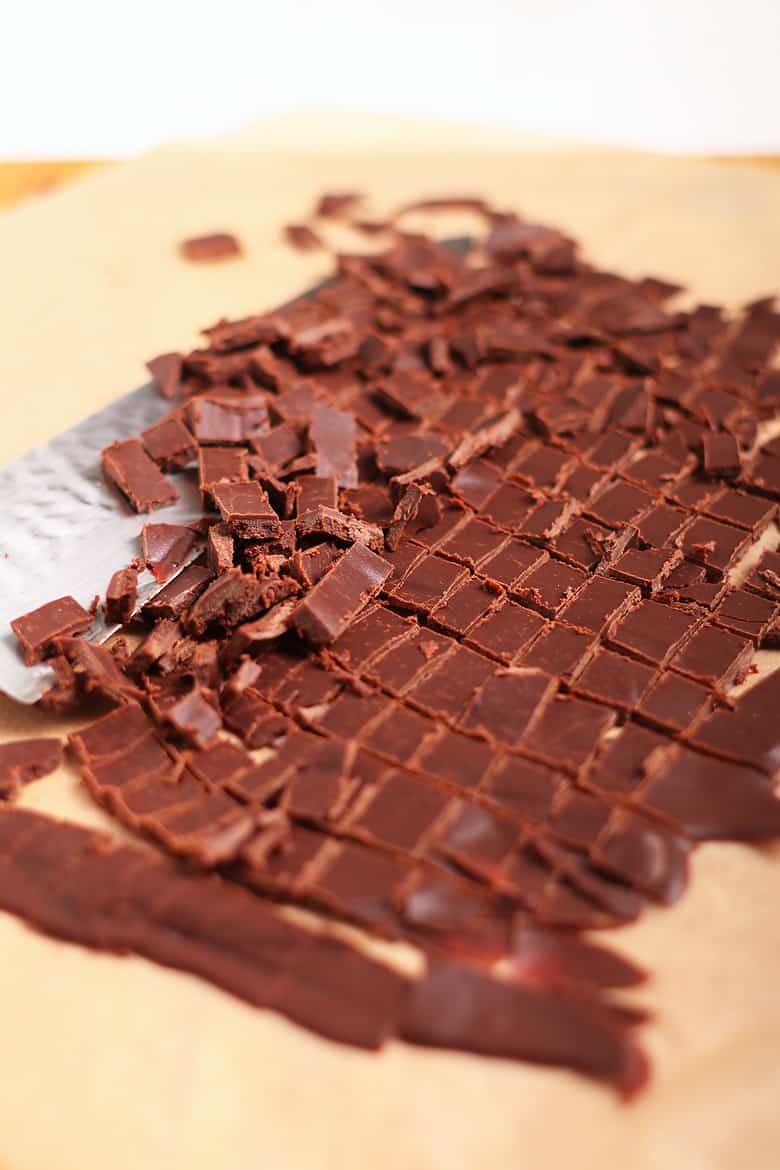 Step Four – Churn into delicious Chunky Monkey Ice Cream
Add the chilled banana ice cream base to the frozen ice cream bowl and churn according to manufacturer's instructions. Churn until it becomes thick and resembles soft serve. This will take about 20 minutes. Add the walnuts and chocolate pieces at the very end and churn the ice cream until they are incorporated.

Serving and storing vegan chunky monkey ice cream
You can serve this ice cream straight from churning it for a soft-serve texture.
For harder ice cream, transfer it to loaf pan and store in the freezer until ready to serve.
Store in an airtight container in the freezer for up to 1 month.
Allow 5-10 minutes to thaw when removing from freezer.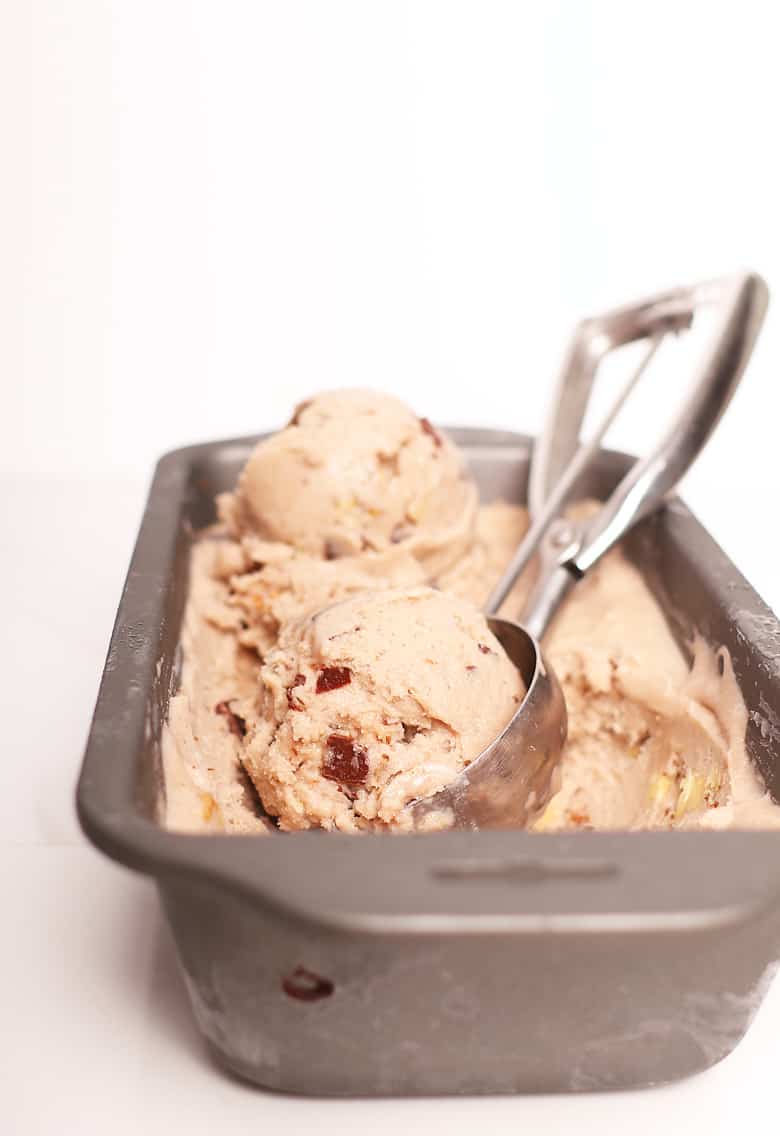 Can I make banana ice cream without an ice cream maker?
While I totally recommend getting an ice cream maker ASAP, you can make a creamy custard without the machine. To do this, make your ice cream base as outlined above. Once it's ready, transfer it to a baking sheet and place in the freezer. When the ice cream is frozen, break it into chunks and blend it in a food processor until it becomes smooth and creamy. This may take up to 10 minutes. Transfer to a loaf pan refreeze. You won't get quite the same creaminess, but it works in a pinch!
I think that's all you need to know. It's time to do some shopping at iHerb and start making this vegan banana ice cream today!

Raw Chunky Monkey Ice Cream
Everyone's favorite ice cream turned vegan! This Raw Chunky Monkey Ice Cream is made from a banana base and filled with raw chocolate pieces and walnuts for a delicious and wholesome plant-based dessert.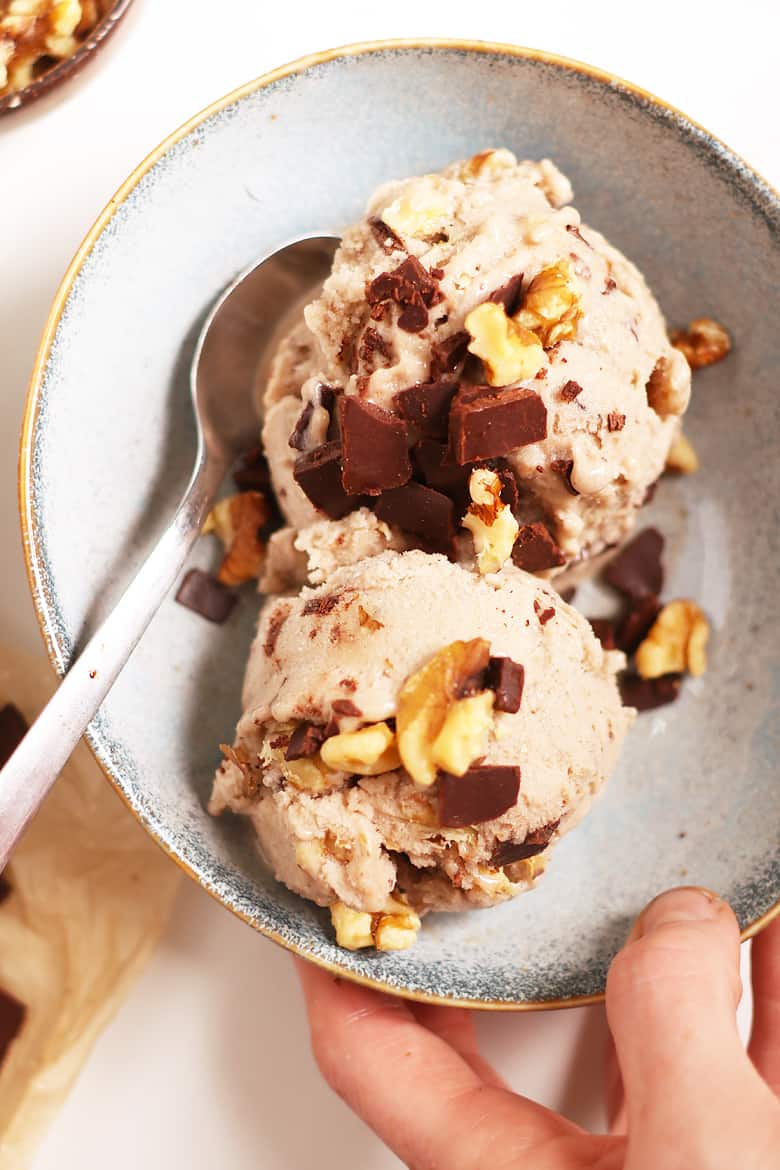 Course:
Dessert
Cuisine:
Raw, Vegan
Keyword:
Chunky Monkey Ice Cream
Servings
:
6
servings
Calories
: 361 kcal
Author
:
Sarah McMinn
Ingredients
Instructions
In a blender combine bananas, almond milk, vanilla extract, and sweetener of choice mixing until very smooth. Transfer to shallow container and place in freezer for 20-30 minutes until chilled and icy around the edges.

Meanwhile, make the chocolate by combining all the ingredients in a small bowl. Transfer to a shallow container and freeze. Once frozen remove chocolate and cut into small chunks.

Add the chilled ice cream base into your ice cream maker and process according to manufacturer's instructions. Once done place ice cream in a bowl and stir in walnuts and chocolate chunks by hand. Transfer to an airtight container and return to freezer. Allow ice cream 4-5 hours to harden completely.

Remove from freezer and let thaw ten minutes before serving.
Recipe Notes
If your bananas are ripe enough, you probably won't need to add sweetener. Adjust according to taste.
Nutrition Facts
Raw Chunky Monkey Ice Cream
Amount Per Serving
Calories 361
Calories from Fat 162
% Daily Value*
Fat 18g28%
Sodium 85mg4%
Potassium 781mg22%
Carbohydrates 52g17%
Protein 4g8%
Vitamin A 115IU2%
Vitamin C 15.4mg19%
Calcium 111mg11%
Iron 1.5mg8%
* Percent Daily Values are based on a 2000 calorie diet.
If you give this recipe recipe a try, snap a photo and share it on Instagram. Make sure to tag
@mydarlingvegan
so I can see your creations!