Flourless Peanut Butter Cookies
Enjoy these Flourless Peanut Butter Cookies for a vegan and gluten-free snack that is packed with proteins, healthy fats, and unbelievably good flavor.
This post is sponsored by Naked Nutrition. All opinions are 100% mine.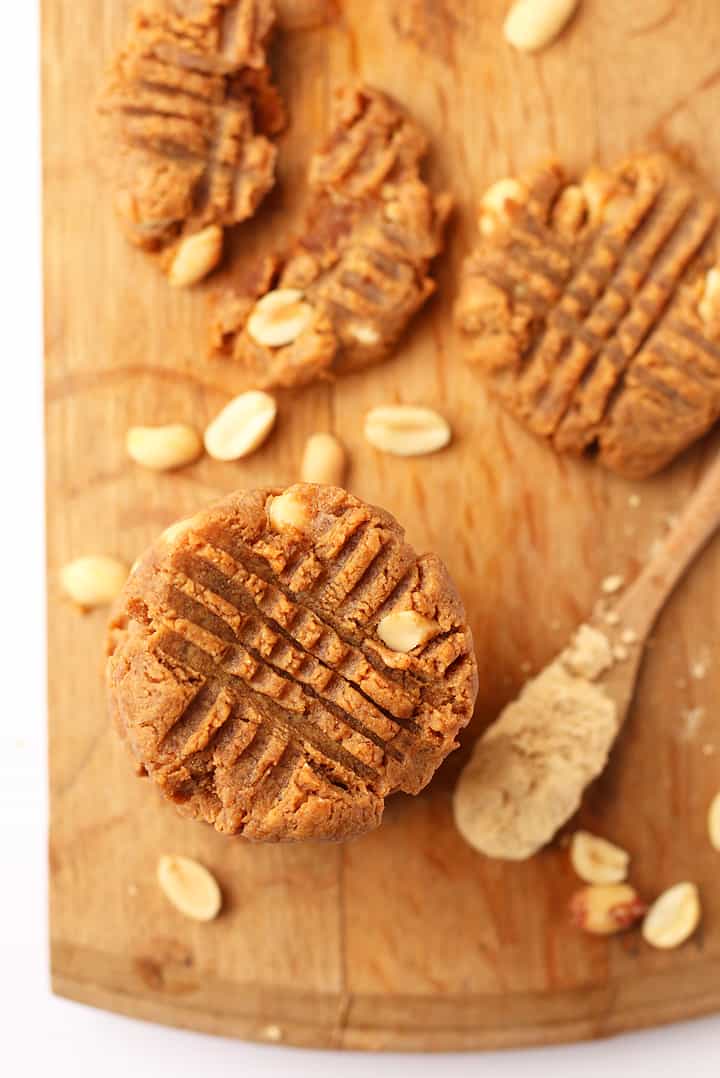 This post contains affiliate links. For more information, please see my privacy policy.
It's cookie time on My Darling Vegan!
Since the new year, I've only shared one cookie recipe on the blog – these Classic Chocolate Chip Cookies – and while they are one of my favorites, one cookie recipe is not nearly enough. But as my eating habits have changed (less gluten, specifically) I have noticed that the recipes on My Darling Vegan have followed suit. Sure, you will still find delicious glutenous recipes such as my Sticky Sesame Cauliflower and Eggplant Parmesan but dessert recipes have become sparse.
We need more cookies!
So to make every part of my happy (the cookie-loving-me and the limited-gluten-eating-me), I made these flourless Peanut Butter Cookies – a deliciously soft and chewy cookie that is packed with peanut buttery flavor and made with NO FLOUR OR GRAINS OF ANY TYPE. Woohoo!
Let's take a closer look, shall we?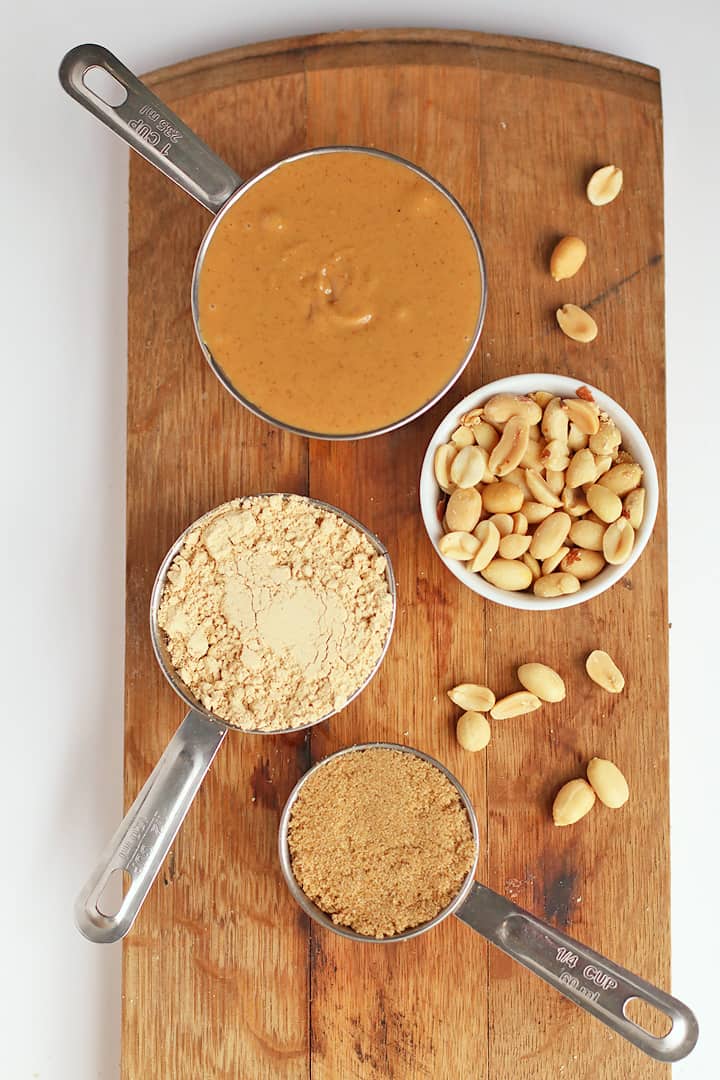 In lieu of flour, and to bulk up the protein of these cookies, I used one of my absolute favorite protein powders: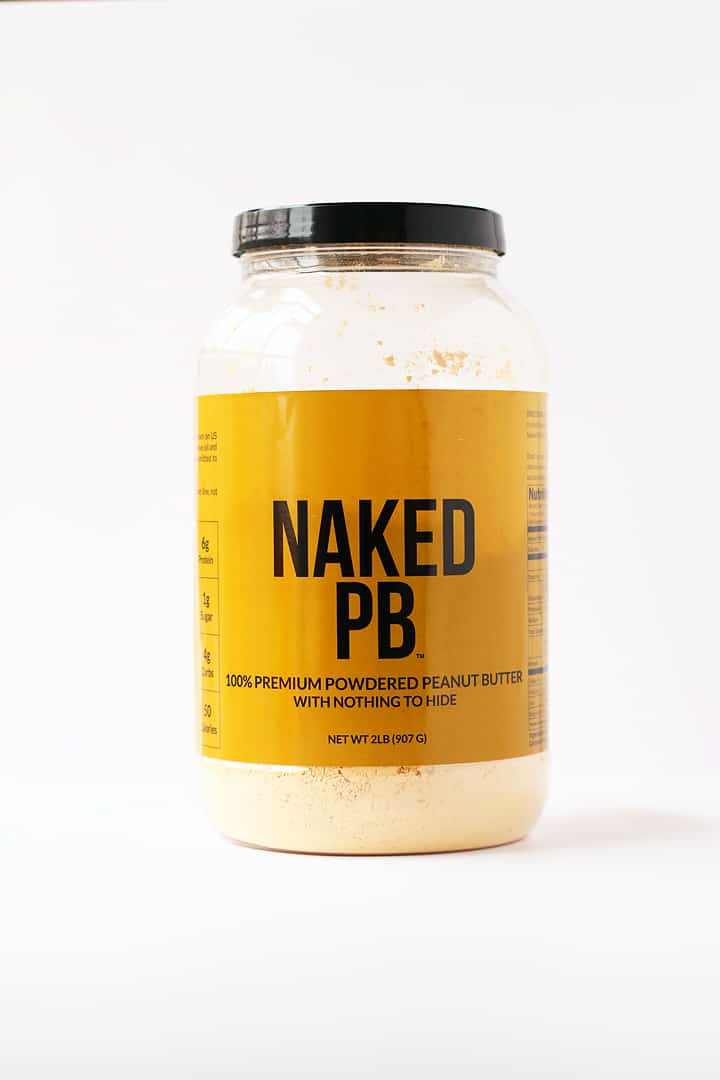 Naked Nutrition is a company dedicated to providing you with the best protein powders and supplements using only whole food ingredients. They strip away everything but pure, protein-packed, whole food ingredients such as pea, peanut, and brown rice. What you won't find with Naked Nutrition's proteins are additives and artificial sweeteners, colors, or flavors of any kind.
Get it, Naked Nutrition.
While not all of their products are vegan, you can find their full vegan line here. At this point they carry 6 different flavors including my favorite, Naked PB.
Do you want to know what's in the Naked PB?
Roasted Peanuts.
That's it! Naked Nutrition uses non-GMO peanuts that are slow pressed – a process which removes all fats and oils and creates a powder that is over 40% protein! For each serving of Naked PB, you'll get 6 grams of protein at just 50 calories! It's hard to beat that ratio. And because it's made solely from peanuts, Naked PB doesn't have that weird aftertaste you'll find with many other brand of protein powder.That is why Naked PB is the perfect protein powder for shakes, smoothies, bars, and these flourless Peanut Butter Cookies.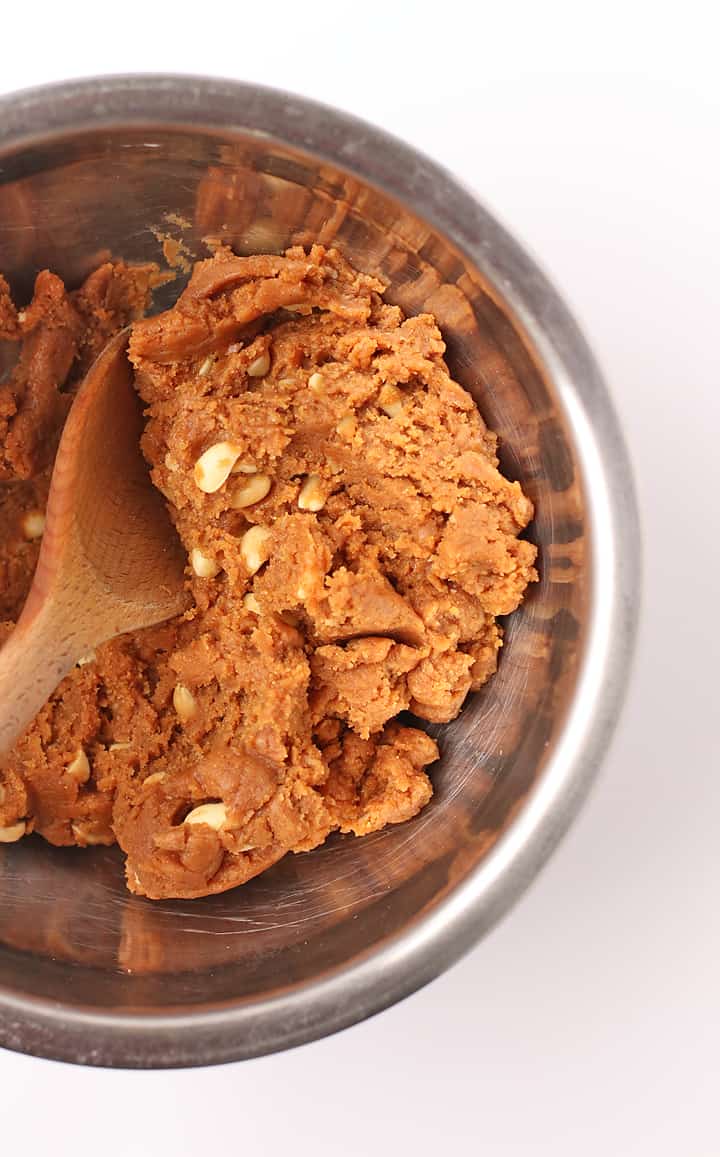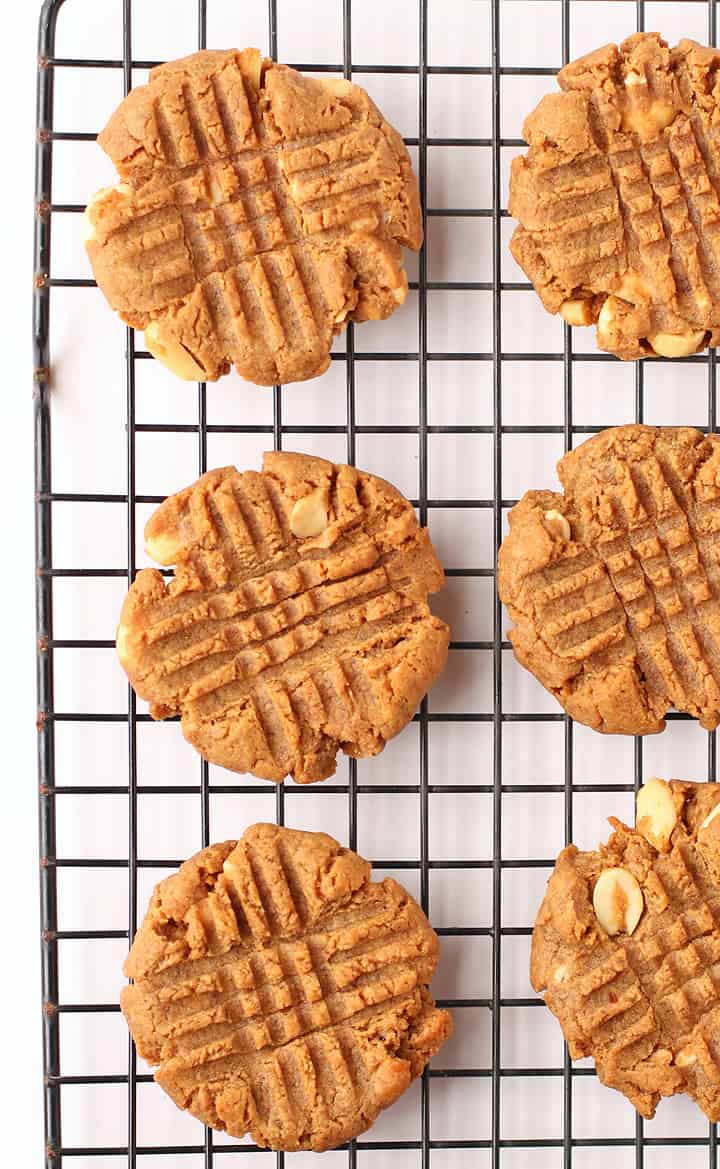 What I love about these cookies –
They are packed with protein
Filled with peanut buttery taste in every bite
Soft and chewy
So easy to make (6 ingredients, 1 bowl, 20 minutes!)
Grain, gluten, dairy, and egg free for a cookie that everyone can enjoy.
Sounds delicious? I suggest you grab some Naked PB and make these cookies today!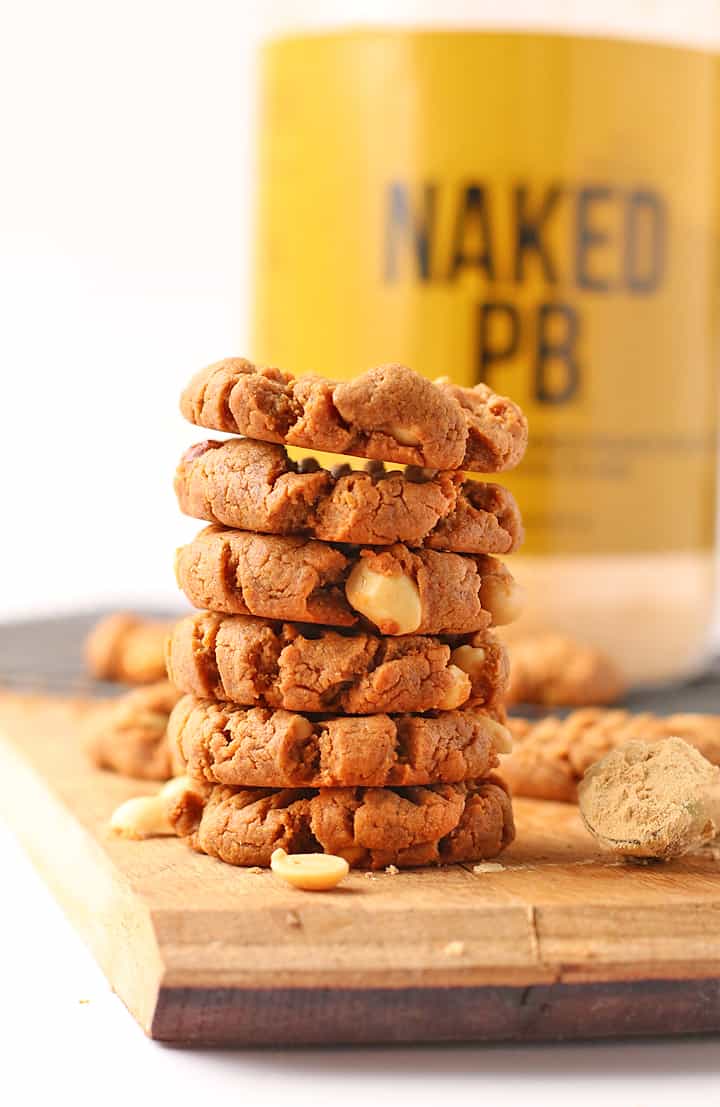 Flourless Peanut Butter Cookies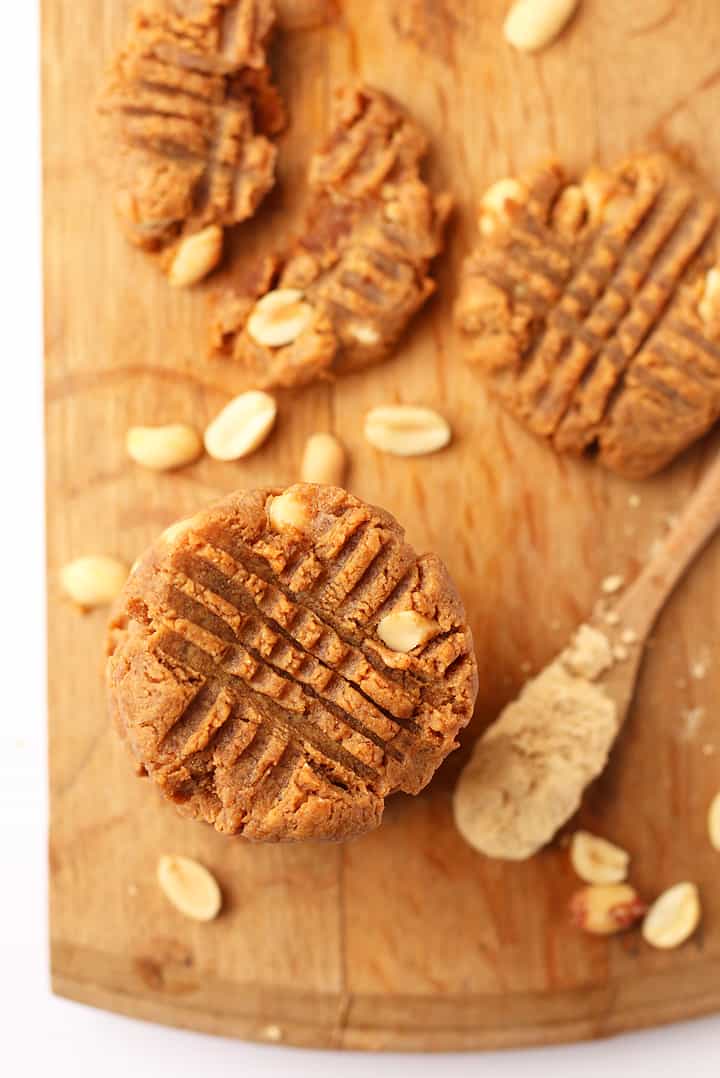 Enjoy these Flourless Peanut Butter Cookies for a vegan and gluten-free snack that is packed with proteins, healthy fats, and unbelievably good flavor.
Keyword:
Flourless Peanut Butter Cookies
Instructions
Preheat the oven to 350° F. Line a baking sheet with parchment paper and set aside.

In a bowl combine peanut butter, Naked PB protein powder, apple sauce, brown sugar, and maple syrup. Stir together until smooth. Alternatively, you can also use a stand up mixer with the paddle attachment.

Fold in peanuts until they are evenly dispersed.

Scoop out about 2 tbsp of dough and roll it into a ball. Place it on parchment paper. Repeat until all the dough is gone. Using a fork, press the cookies down in a criss-cross pattern.

Bake for 10-12 minutes, until sides are lightly brown. Remove from oven and let cool 10 minutes on the baking sheet before transferring to a cooling rack to cool completely.

Store in an airtight container at room temperature for up to 5 days.
Nutrition Facts
Flourless Peanut Butter Cookies
Amount Per Serving
Calories 154
Calories from Fat 90
% Daily Value*
Total Fat 10g 15%
Sodium 92mg 4%
Potassium 187mg 5%
Total Carbohydrates 10g 3%
Protein 9g 18%
* Percent Daily Values are based on a 2000 calorie diet.
If you give this recipe recipe a try, snap a photo and share it on Instagram. Make sure to tag
@mydarlingvegan
so I can see your creations!