11 of the best vegan pasta recipes all in one place! From Creamy Alfredo Pasta to Pasta Caprese, there is a recipe for everyone. Most recipes made in 30 minutes for quick and delicious weeknight meals.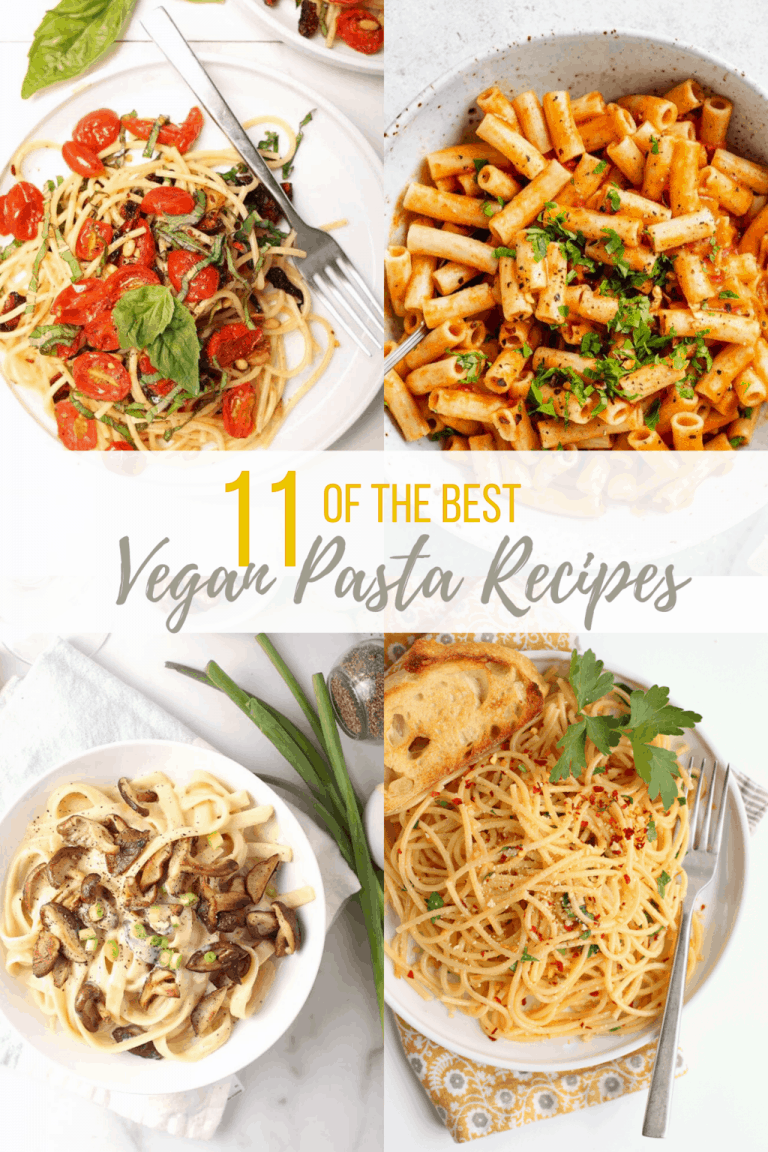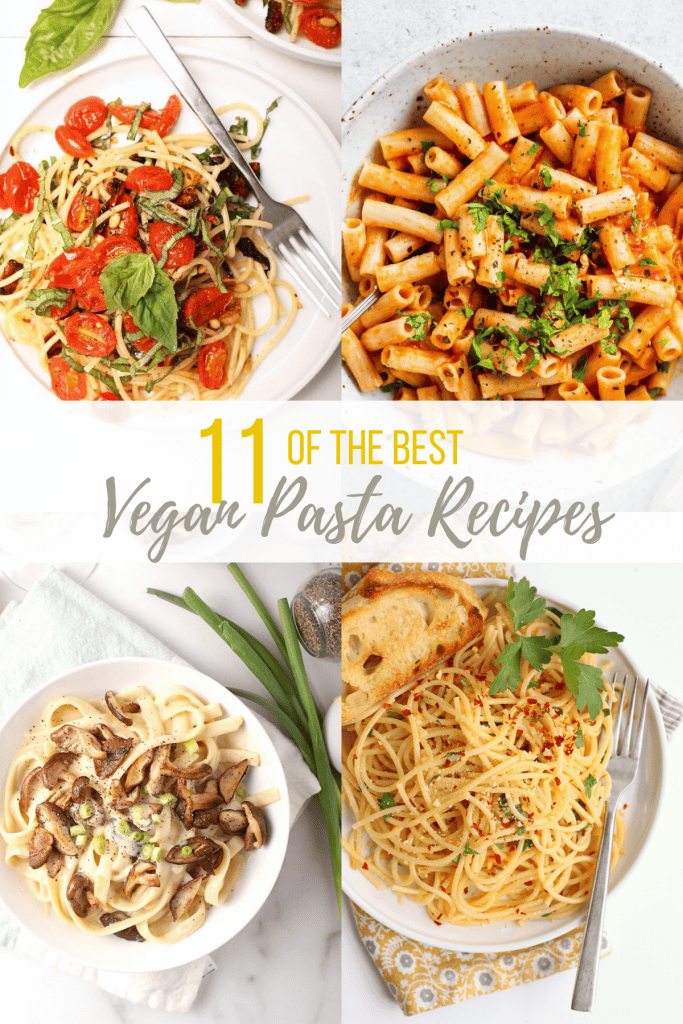 Disclosure: This post may contain affiliate links.
Who wants a big plate of pasta?
I do! I do!
Spring, summer, winter, and fall I will dig into all the pasta you give me. One of the reasons I love a good pasta dinner is because there are so many variations. From creamy sauces to hearty bolognese to tart and fresh tomato pasta, there is a recipe to fit your cravings any time of year.
Before we get the recipes, let's first talk about what you need to know to make the perfect vegan pasta dish.
---
Serving and Storing
Serving - Pasta is best served fresh and hot from the skillet. Serve it with crusty bread and a big Caesar Salad.
Storing - Typically, leftover pasta can be stored in an airtight container in the refrigerator for up to 3 days however some of these recipes may have slightly different storing times. To reheat, you can cover and place in the microwave until the pasta and veggies warm through. You could also toss it in a skillet with a little bit of extra olive oil over medium-low heat until the veggies are warmed through.
Make in Advance - You can cook your pasta noodles up to a day in advance. Cook them until they are al dente - avoid cooking them longer or they will get mushy. Toss them with a teaspoon of olive oil and let them cool completely before storing them in an airtight container in the refrigerator. Add them to your favorite sauce and veggies for a quick and easy meal.
Tips and Tricks
In most cases, you want to cook the pasta until it is al dente. That is slightly before soft. This gives the pasta texture and allows it to continue to soften when mixed with different oils and sauces.
Cook the pasta in salted water to give the pasta a bit of flavor.
When your pasta is done cooking, strain it through a colander and toss the pasta with a bit of olive oil. This prevents the noodles from clumping together as you prepare the rest of the meal.
---
Frequently Asked Questions
Is all pasta vegan?
Almost all packaged brands of dry pasta are vegan but it's always a good idea to check the ingredients. Fresh pasta, the kind you'd find in the refrigerated section, often contains eggs.
Is pasta gluten free?
Not typically but gluten-free pasta is everywhere! You can get pasta made with quinoa, brown rice and much more! (<<affiliate links) Gluten free pasta has different cooking times but is interchangeable with any type of wheat pasta.
Is pasta WFPB?
Yes! Whole grain pasta is considered part of the WFPB diet. Especially gluten free pasta made from quinoa, brown rice, and/or lentils.
---
Vegan Pasta Recipes
Here are 11 of my favorite vegan pasta recipes.
A few of these vegan pasta recipes are gluten-free, most of these recipes can be made in 30 minutes or less, and all of these recipes are delicious, hearty, and perfect for your weekend dinners.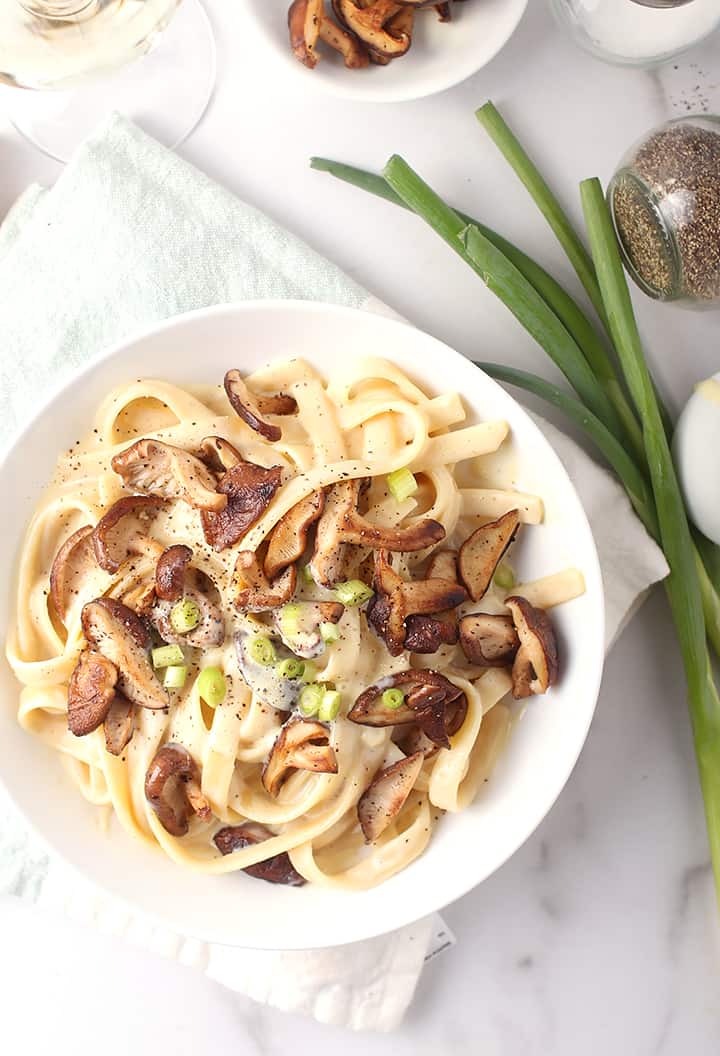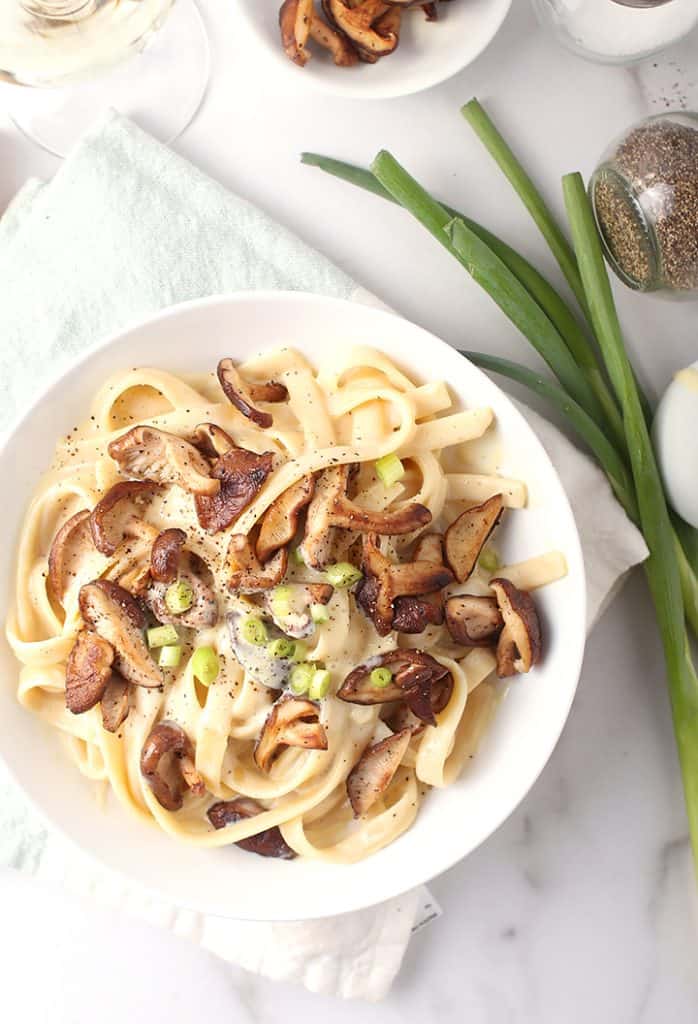 White Wine Vegan Alfredo Pasta
You're going to love this White Wine Vegan Alfredo Pasta. It's a creamy white sauce mixed with Fettucine pasta and sautéed shiitake mushrooms for a delicious and easy weeknight meal.
Recipe »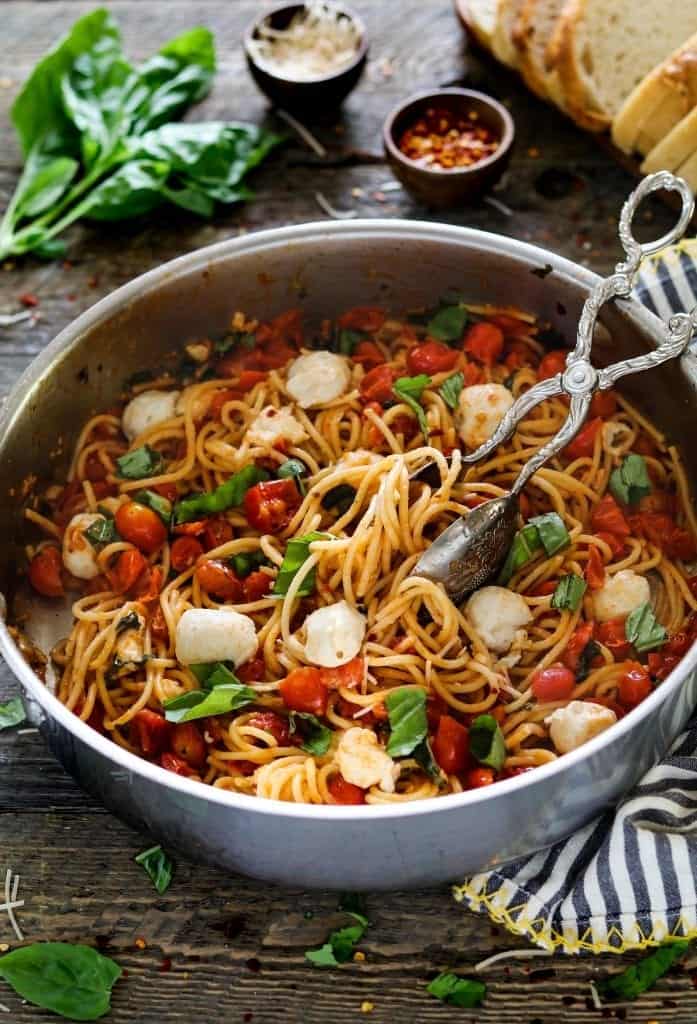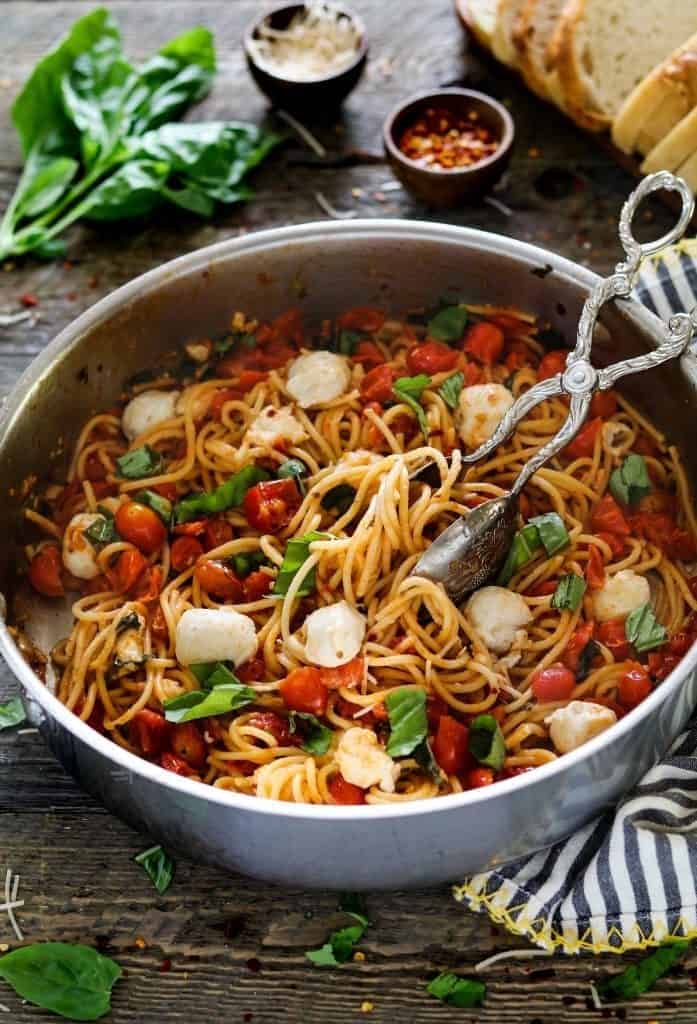 Vegan Pasta Caprese
Photo Credit: Vegan Huggs
It's Vegan Pasta Caprese! Made with cherry tomatoes, fresh basil, and homemade vegan mozzarella, this 30-minute meal has the taste of summer in every bite!


Recipe »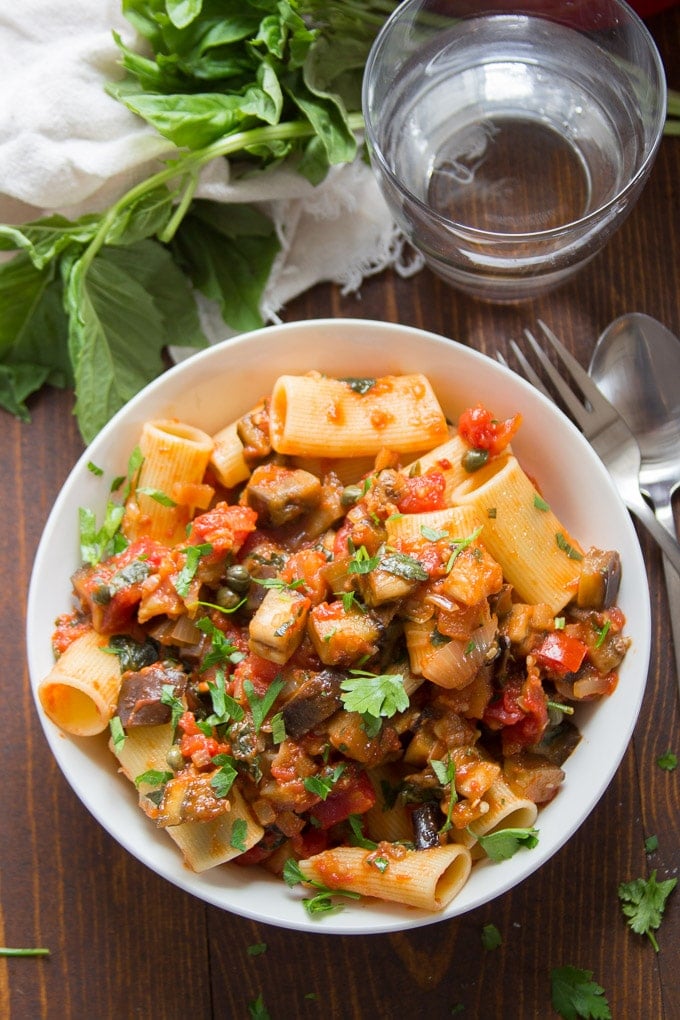 Spicy Eggplant Pasta
Photo Credit: Connoisseurus Veg
I can't get enough of this Spicy Eggplant Pasta from Connoisseurs Veg. It's a pasta packed with delicious spice, fresh herbs, and smoky tender eggplant. Hearty, wholesome, and delectable!
Recipe »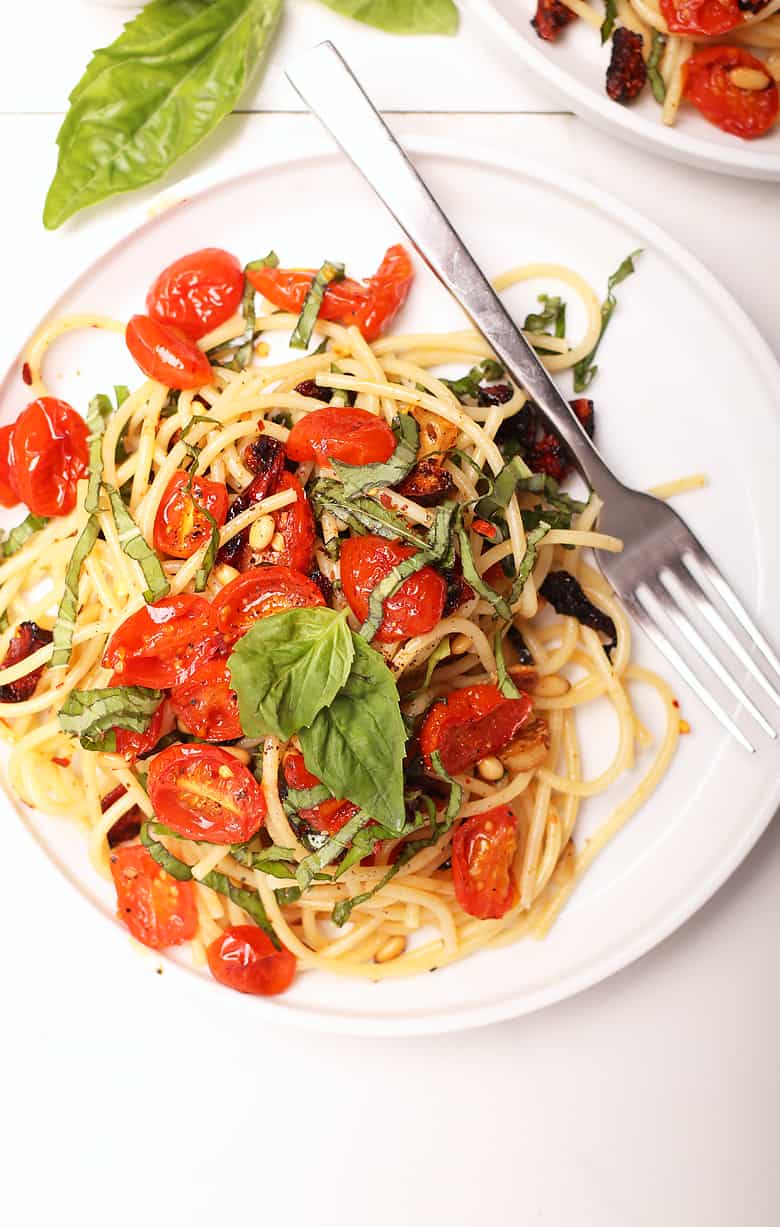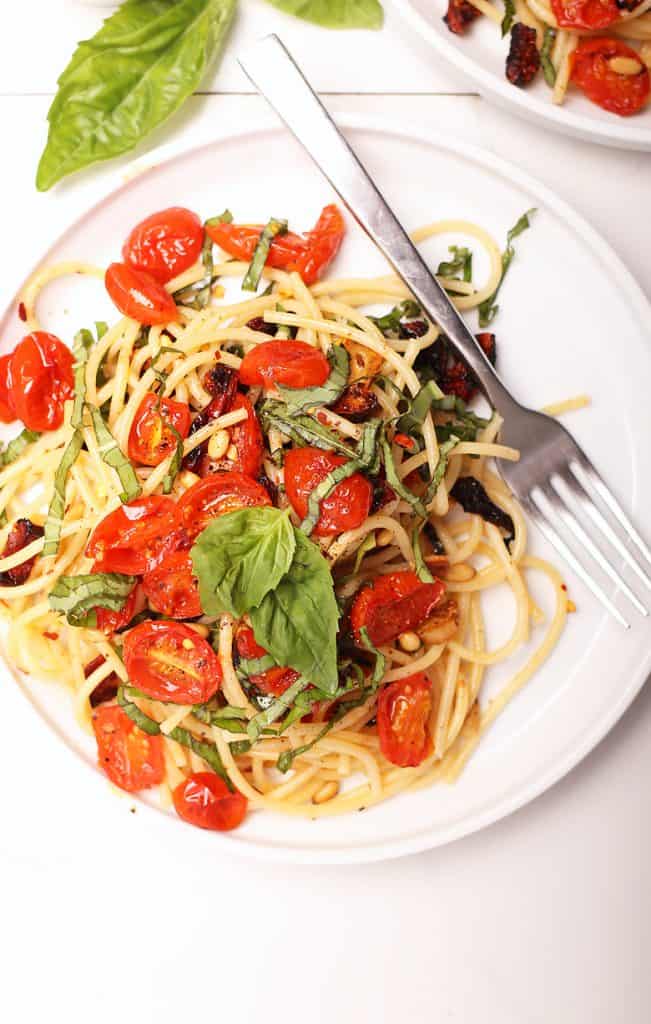 Vegan Pasta with Roasted Tomatoes and Basil
Enjoy the sweet and tart flavors of this vegan pasta with roasted cherry tomatoes and fresh basil. Tossed with toasted garlic and pinenuts, this vegan pasta is the perfect 30-minute weeknight meal.
Recipe »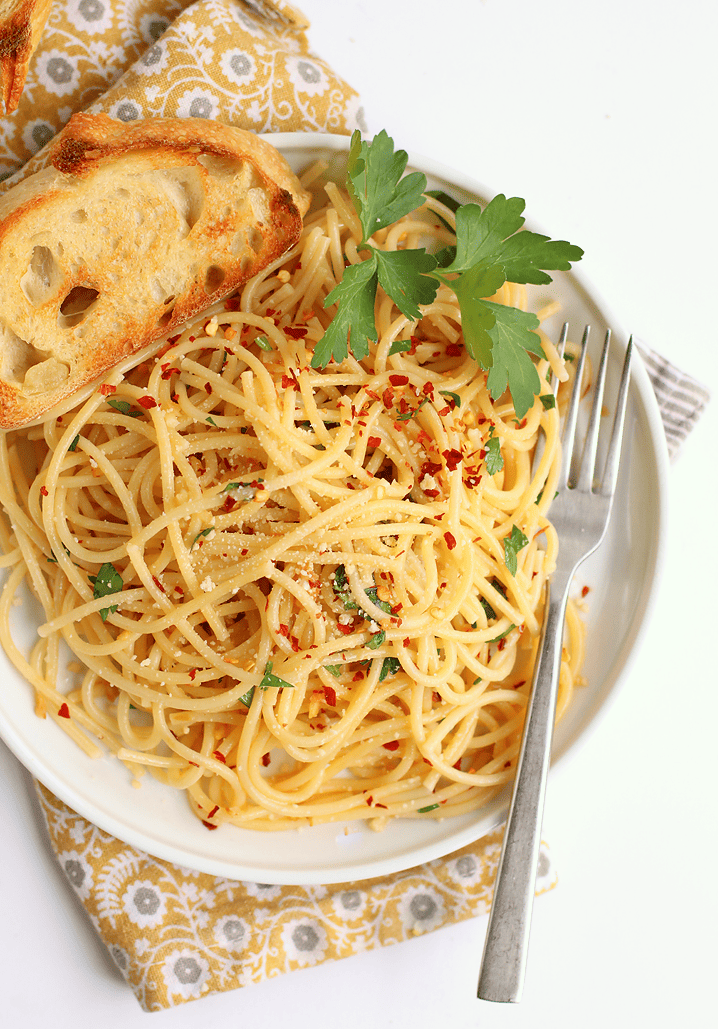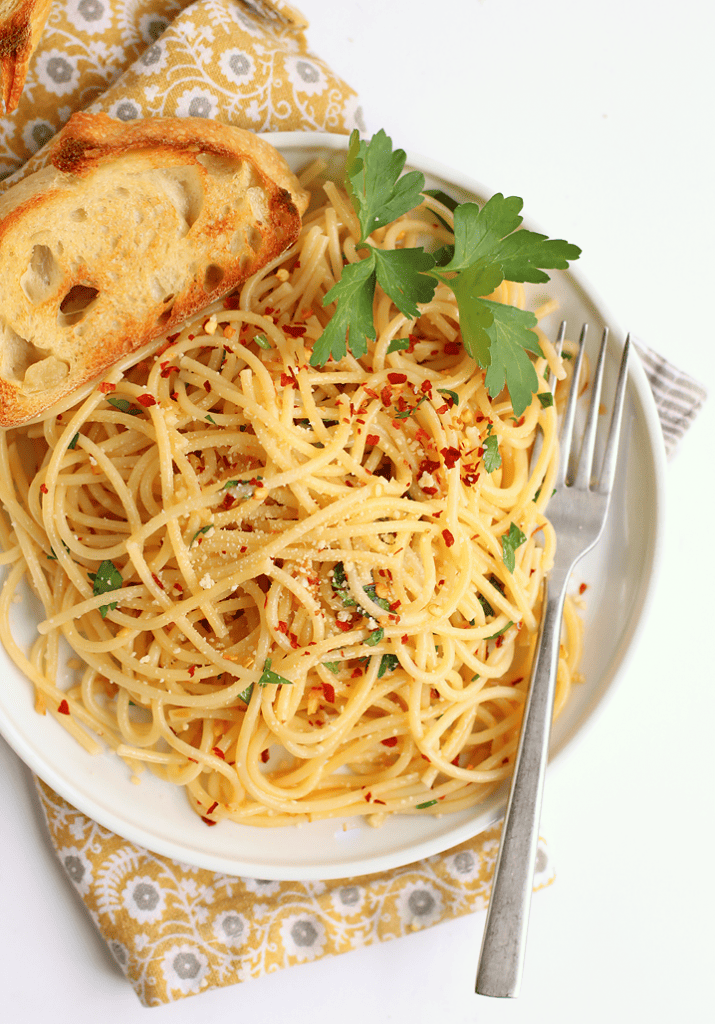 Spaghetti with Olive Oil and Garlic
A simple and delicious meal, this vegan Spaghetti with Olive Oil and Garlic makes the perfect weeknight or special occasion dinner.
Recipe »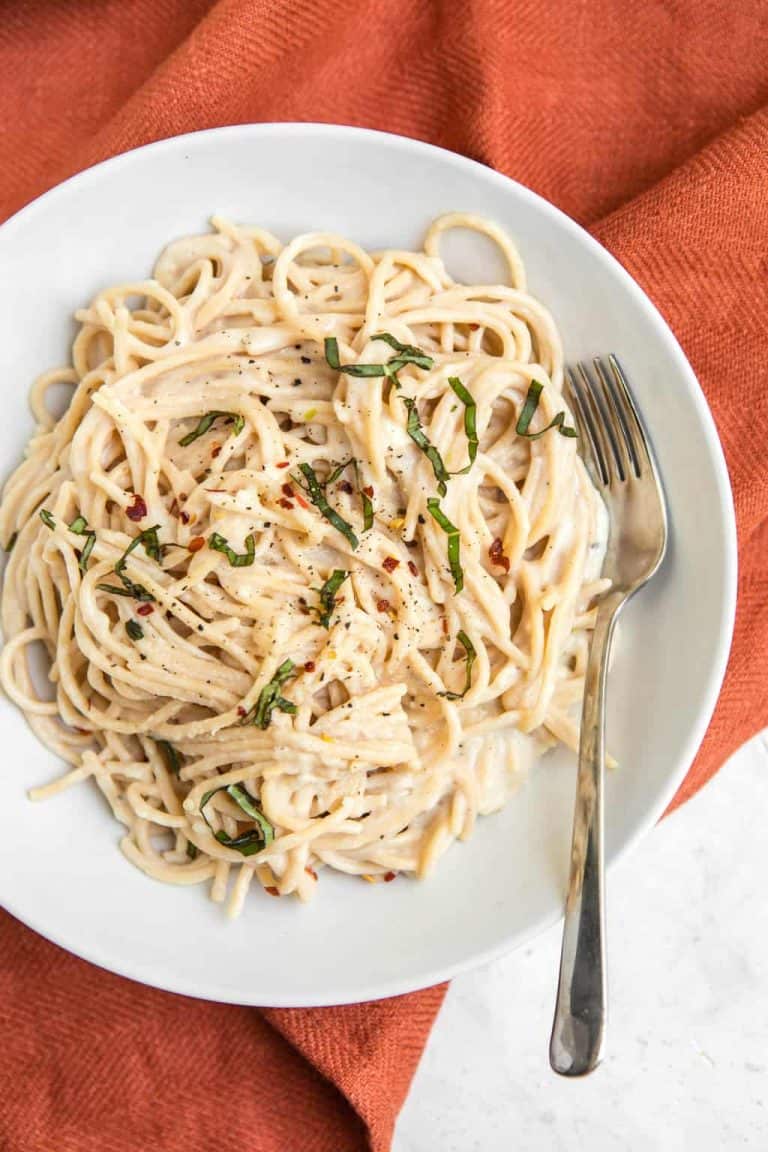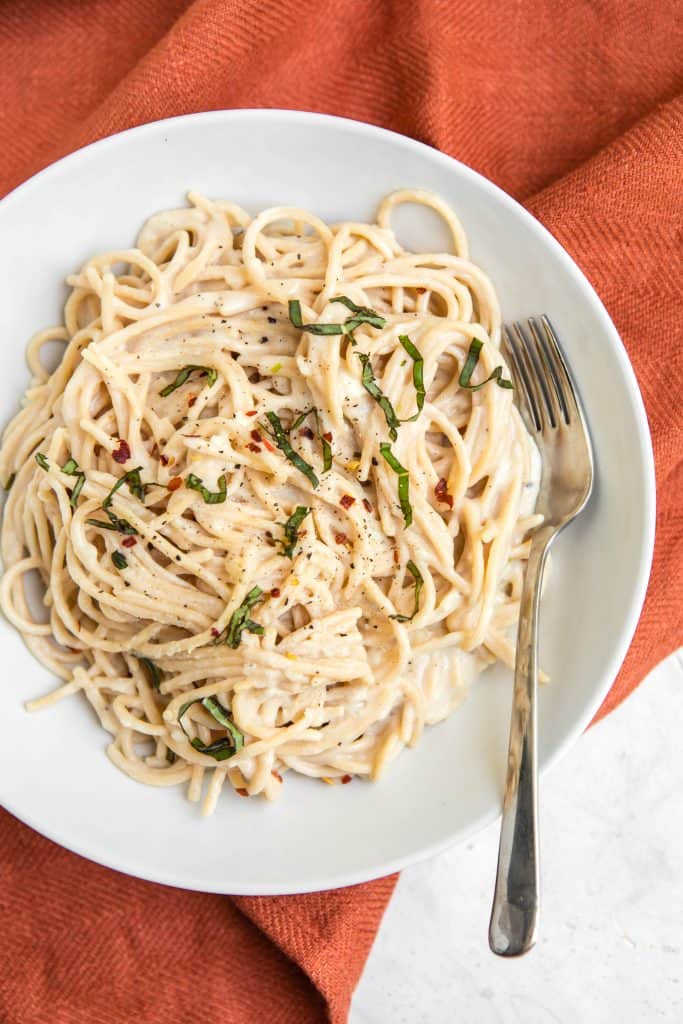 Garlic Cream Sauce Pasta
Photo Credit: From My Bowl
Take a look at this decadent Pasta with Garlic Cream Sauce from From My Bowl. Made with just 6 ingredients (plus spices) you won't believe this creamy and delicious pasta dish is dairy and gluten-free. It can all be yours in just 20 minutes!
Recipe »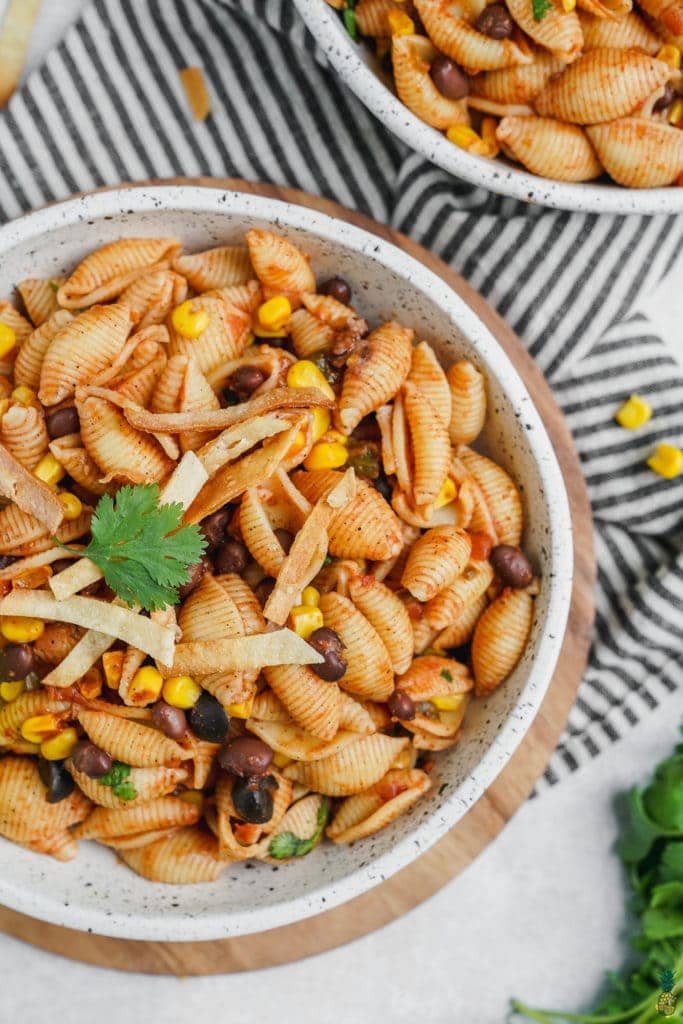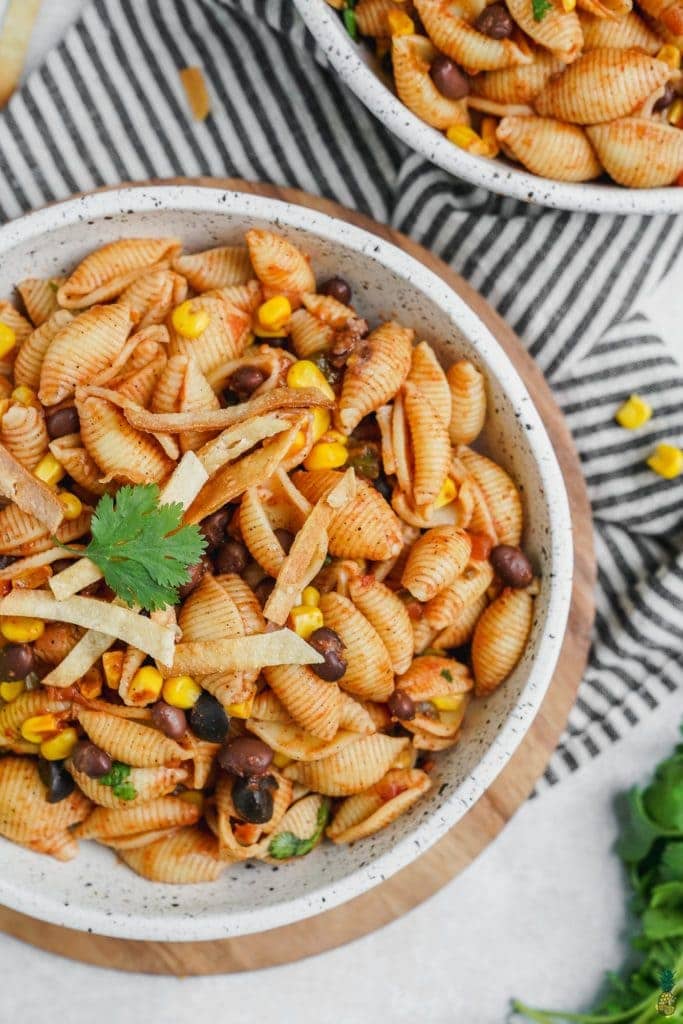 One Pot Taco Pasta
Photo Credit: Sweet Simple Vegan
Check out this One Pot Taco Pasta from Sweet Simple Vegan. It can be made with just 7 ingredients and for under $5. The result? A hearty and wholesome pasta meal that is ready in 15 minutes for the perfect weeknight meal!
Recipe »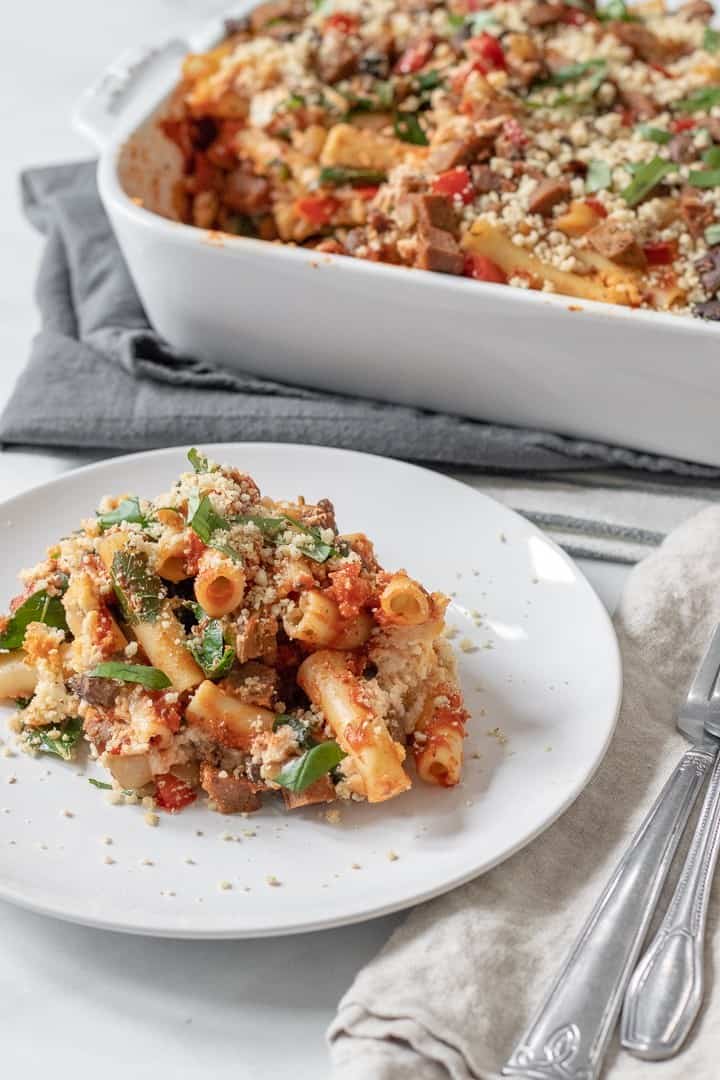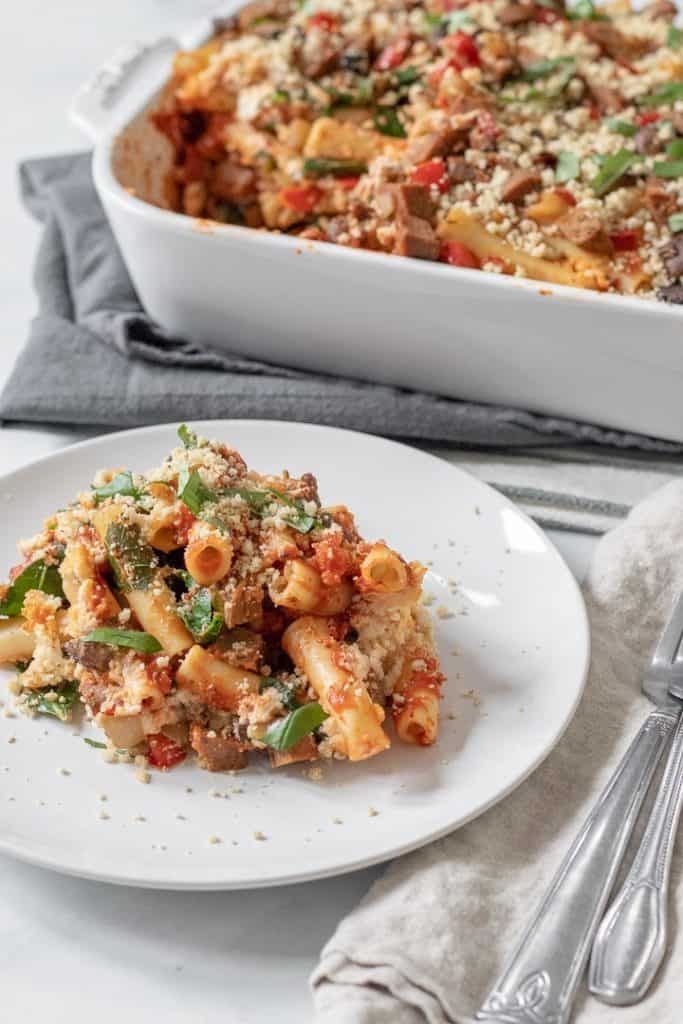 Vegan Baked Ziti with Vegetables
Photo Credit: My Quiet Kitchen
Baked Ziti is the ultimate comfort meal and I think you're going to love this variation from My Quiet Kitchen. Loaded with fresh veggies, homemade almond ricotta, and vegan sausage, this hearty meal is one that the whole family will love.
Recipe »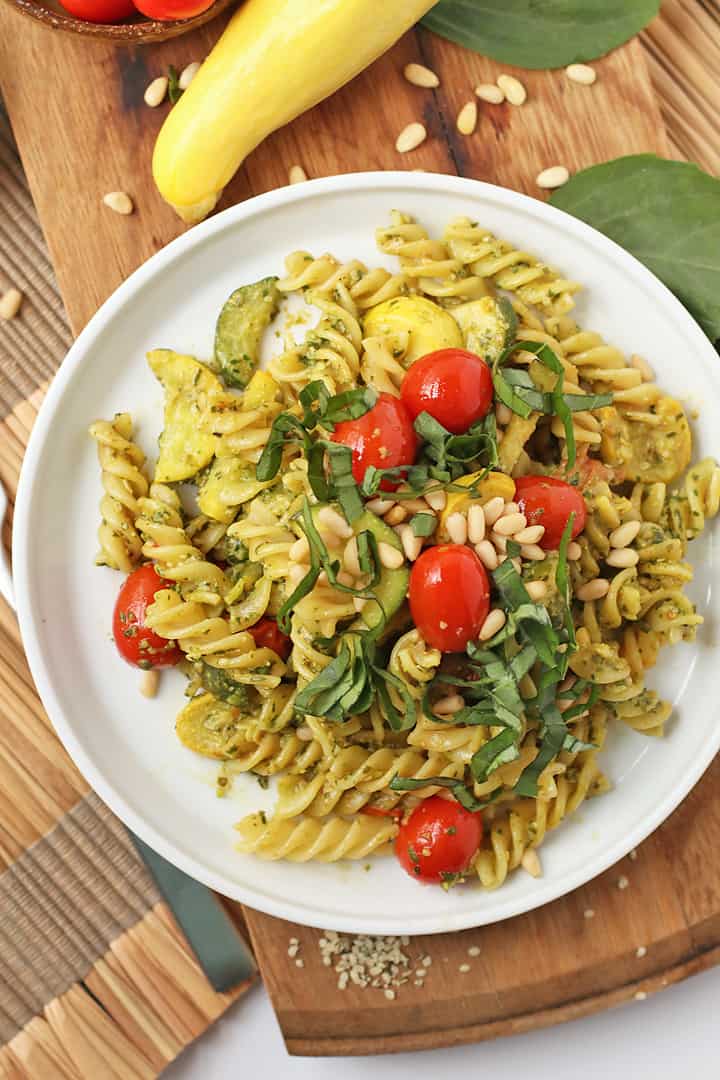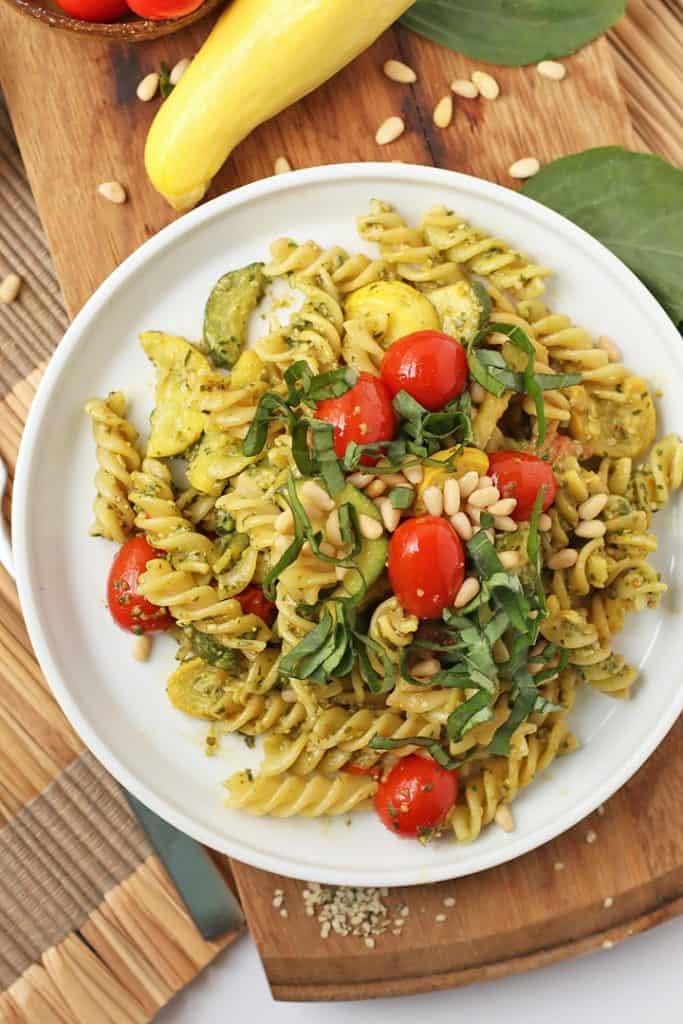 Vegan Pesto Pasta
This vegan Pesto Pasta is tossed with sautéed summer squash, zucchini, and cherry tomatoes for a light and refreshing dinner that can be enjoyed all summer long.
Recipe »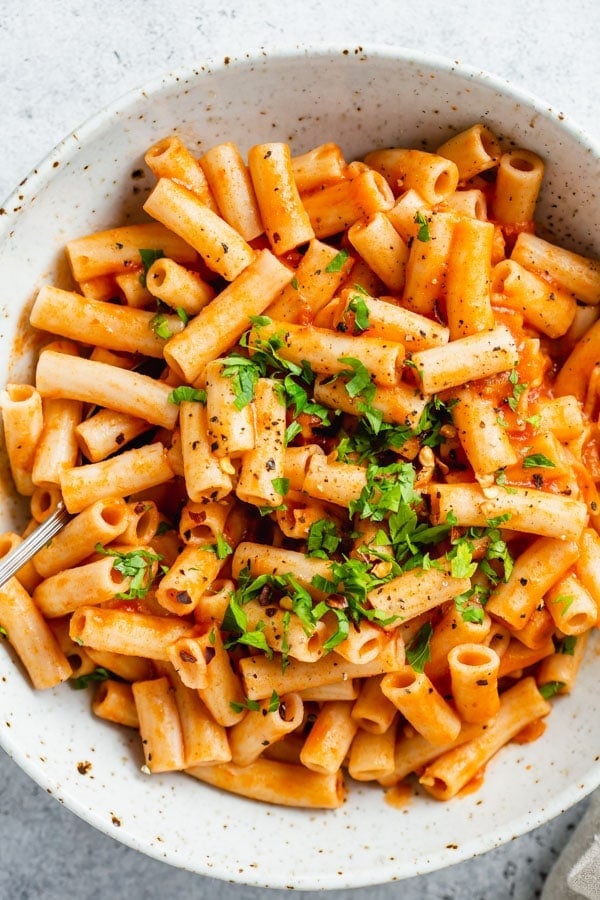 Creamy Roasted Red Pepper Pasta
Photo Credit: Choosing Chia
This creamy vegan roasted red pepper pasta is the answer to your healthy comfort food dreams! It's made with a homemade roasted red pepper sauce (from scratch!) mixed with noodles of your choice. Cozy up with a bowl of this warming dish.
Recipe »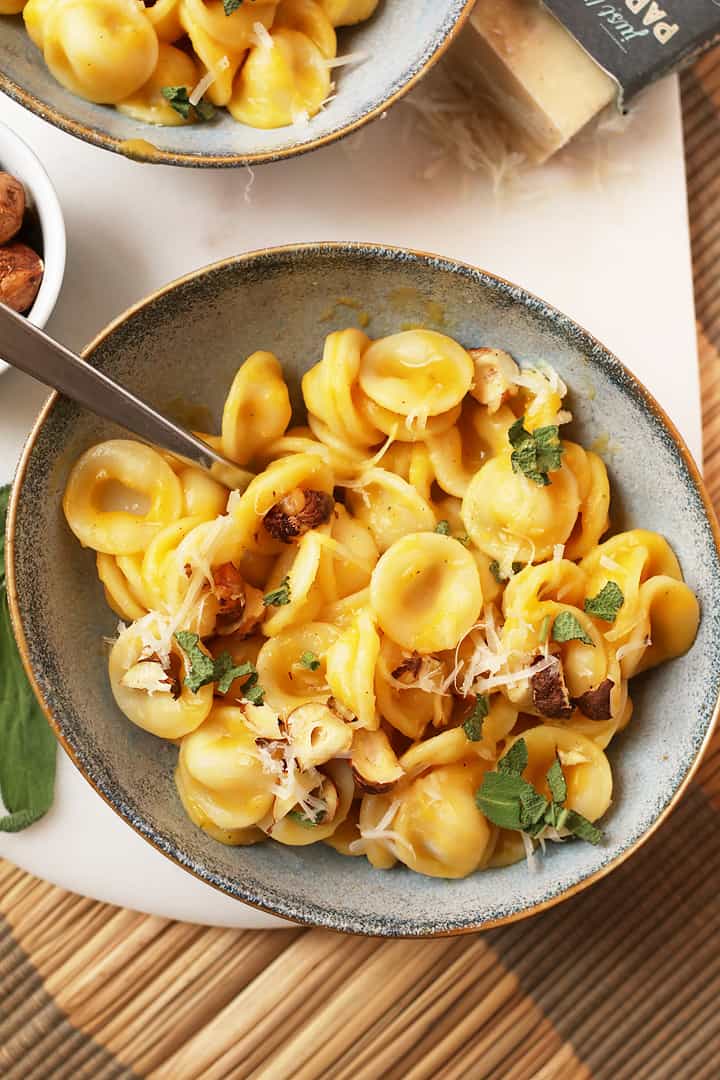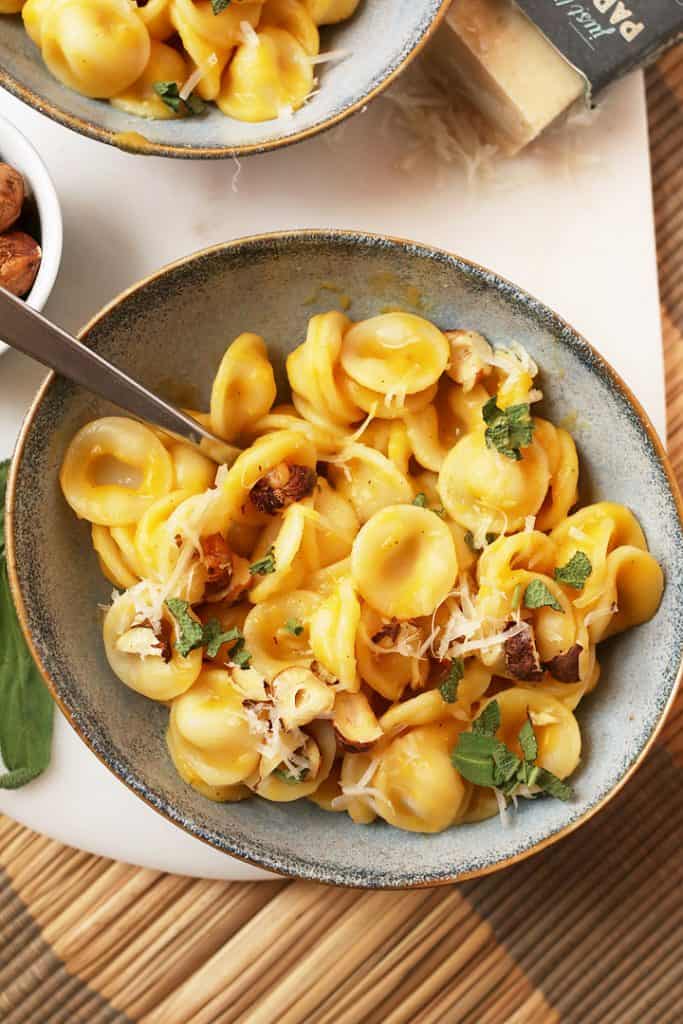 Creamy Butternut Squash Pasta with Sage and Hazelnuts
A butternut squash pasta made with roasted hazelnut and sautéed garlic and sage for the perfect fall meal. So creamy no one will believe it's vegan.
Recipe »
More Vegan Recipe Roundups
That's it! 11 incredible vegan pasta recipes. Now let's get cooking!
Written by Sarah McMinn
---
If you give one of these recipes recipe a try, snap a photo and share it on Instagram. Make sure to tag
@mydarlingvegan
so I can see your creations!