It's the essential kitchen tools that every home chef needs! Have you ever wondered what you need to have a well-stocked kitchen? Here is the ultimate list on the top essential kitchen gadgets and utensils.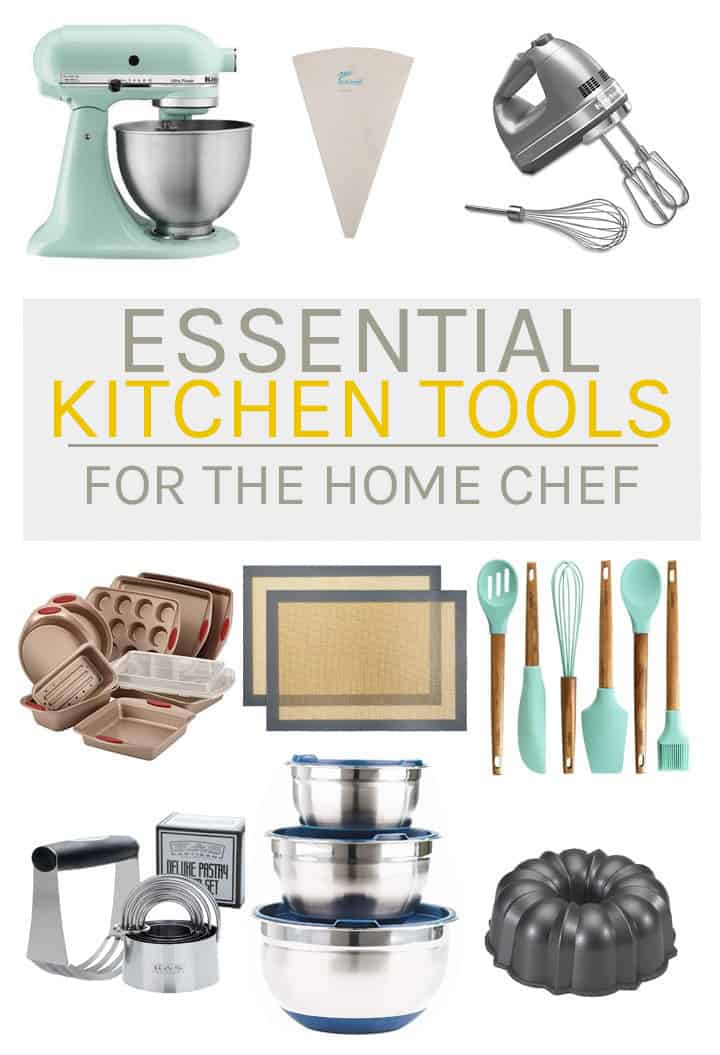 Disclosure: This post may contain affiliate links.
I have been a professional blogger for the past 7 years.
Before that, I worked in kitchens professionally for about 10 years. During most of my adult life, I have spent countless hours in the kitchen developing and redeveloping recipes. During that process, I have figured out what are the essential kitchen tools for all things food.
Because I am a minimalist with a very small kitchen, I have kept my list short and sweet. However, not everything on this list I would mark as "essential." I have marked the ones I believe as essential with an asterisk*. The others are simply nice to have.
Here are the MOST IMPORTANT kitchen tools that I believe every home chef and baker should have:
Note: The following list contains affiliate links. That means that I receive a small commission if you purchase a product through my link. It comes at no extra cost to you. For more information, please see my privacy policy.
---
Essential Cooking Tools
This is my number one tool because I use my Vita-Mix nearly every day. A high-powered blender like a Vita-mix creates the perfect smoothies, nut butter, creamy soups, and is essential for creating cashew-based custards and nut-cheeses.
For a cheaper option, I recommend the Blendtec. Either way, a high-powered blender gives you many more options with vegan cooking.
Spending a little extra on a quality chef's knife goes a long way. A few years ago I was gifted a nice chef's knife and it's now the only knife I use. It creates a cleaner, quicker, and safer cut for all those fruits and veggies you are eating on a plant-based diet.
Immersion blenders are great for making homemade chai lattes, pureeing soup, salsas, pestos, even smoothies when you want a quick cleanup option. It took me a while to buy myself an immersion blender but it was one of the best kitchen purchases I've made.
A food processor is another kitchen utensil I use nearly every day. Perfect for slicing, shredding, and pureeing. A high-quality food processor should last you several decades. It's the quickest way to make pesto, shred zucchini for zucchini fritters, and whip up a batch of hummus.
I love my Dutch Oven from Le Creuset for soups. Made from cast iron, they are perfect for slow cooking and simmering soups and stews. My Dutch Oven is one of the most useful and versatile kitchen tools I have and although it's a bit pricey, you will use it over and over again (for soups, stews, sides, bread, and even desserts!) and it will last you a lifetime.

I have several cast iron skillets that I use every day for sautéing, cooking, and baking. They heat evenly and hold in heat very well, making them perfect for things like Chocolate Chip Skillet Cookies and Vegan Skillet Enchiladas. I recently got a lid for my 12" which has made cooking in them so much better.
I recommend getting a smaller one (6" or 8") and a larger one (12")
If you've been reading along, then you already know that a spiralizer is one of my favorite kitchen gadgets. A spiralizer allows you to make beautiful vegetable spirals as well as zucchini noodles for a healthy, gluten-free alternative to pasta. Better yet, they don't take up a lot of room and they are super simple to master.
This is a new product for me that I've been loving. Rather than deep-frying, an air fryer fries with very hot air for a much healthier alternative to fries, doughnuts, onion rings, and all your favorite fried foods. While this is not in any way an essential kitchen item, it is certainly nice to have around.
Another newer gadget for me, the Instant Pot is a multi-cooker that does the work of several different kitchen appliances: slow cooker, pressure cooker, rice cooker, and even yogurt maker. I love to make chili in the Instant Pot. It is also great for mashed potatoes (or mashed cauliflower), soups, stews, curries, and so much more!
I love my mandoline for raw cooking especially. The mandoline allows me to make thin, uniform slices of fruits and vegetables. With the mandoline, I can make the perfect zucchini lasagna noodles, homemade potato chips, and much more. It's not something I use often, but I am so glad I have one.
---
Essential Baking Tools
I had to put first because I love my doughnut pan so much! I use this pan all fall and winter long and it never fails me. Doughnut pans offer a way to baked doughnuts (rather than fry them) which end up being way better for you and (in my opinion) equally as good. I probably make a batch of doughnuts a week during my baking season. I mean, what would fall be without some Apple Cider Doughnuts?
Unless you want to cream and whip everything by hand (which I certainly don't), a good stand up mixer is a necessity for any baker. Stand up mixers are both versatile and durable. They can come with several different attachments that allow you to cream (think: cookies) whisk (think: meringues) and kneed (think: bread) with far less strain on your arms. Stand up mixers can be pricey, but they are completely worth it! I have used mine consistently for 12 years and had never had a single issue.
If you are going to invest in one new kitchen gadget this year, I recommend a stand-up mixer.
A bundt cake pan in another one of my go-to favorites because it's a) very affordable and b) very useful. I make a lot of bundt cakes during the holiday season (like this Gingerbread Bundt Cake) and I don't know what I'd do without them! Bundt cake pans allow you to make any cake look immediately festive and fancy without any cake decorating skills. It's truly a win-win.
Having a good bakeware set is essential for any baker and this 10-piece one from Rachel Ray has everything you need. It contains my most used bakeware such as a muffin tin, 2 baking sheets, cake, and loaf pans, as the perfect square pan for those gooey vegan brownies I'm about to go make. This particular set of pans is non-stick and made with durable carbon steel for a long-lasting set that you can use over and over again for decades.
There are a few must-haves when it comes to baking utensils. You should have some high-quality silicone spatulas, a few pastry brushes, and a couple of whisks. I love silicone because it's flexible, non-scratch, and heat resistant, all of which are important for keeping your kitchen tools and equipment in great shape.
In addition to these silicone utensils, I recommending picking up a cookie spatula as well as an offset spatula for cake and tart decorating. With these utensils, you should have everything you need.
When it comes to biscuits, pie shells, and pastries, a good pastry cutter, as well as a set of biscuit cutters, is essential.
Pastry cutter helps you cut the butter into the dough without having to over mix it. This method gives you the perfectly crispy and buttery texture of crusts and pastries that we all love. In addition to the pastry cutter, I also use my circle cookie cutters often. They are great not only for biscuits but shortbread, sugar cookies, and homemade Thin Mints. While pastry and dough cutters are not an everyday tool, they are certainly worth the price.
Piping Bags and Tips
Having good high-quality reusable piping bags, as well as a set of stainless steel tips is important to have on hand.
Not only do I use my piping bags to decorate cakes and cupcakes, but I also use them to pipe my doughnut batter into doughnut pans (and we've already discussed how important doughnuts are), or to pipe chocolate or custards into pasties or tart shells. They are incredibly useful to have around and, as they are less than 10 dollars for a set, I'd say there's no reason not to add them to your kitchen this baking season.
My hand mixer is another kitchen tool that I've had for at least 12 years. It can sometimes be used in place of a stand-up mixer for creaming and whipping when working in smaller or lighter amounts. But I find my hand mixer most useful for making coconut whipped cream and whipped custards. With a hand mixer there is far less clean up than with a stand-up mixer, so whenever I can use it in its place, I will. That being said, a hand mixer and stand up mixer are not interchangeable.
Along with measuring cups, you'll want to have a nice set of mixing bowls.
I use a mixing bowl for nearly every baking project. I love my stack because it comes in 3 stackable sizes of stainless steel. These bowls have both lids, which are great for eliminating plastic wrap when you are chilling and/or rising your dough, batter, etc., and they come with a non-slip silicone bottom. No more chasing your mixing bowl around the kitchen counter. With these silicone bottoms, your bowl will stay put so you can do your job.
And finally, silicone baking mats. These are used in place of parchment paper when baking. They are reusable and have a non-stick bottom that makes it easy to remove your baked goods from the sheet pan while avoiding the burnt bottom problem. Beyond cookies, silicone baking mats are great for candy making such as truffles, brittle, and toffee.
When it comes to baking, I use my silicone baking mats for nearly everything.
It goes without saying that every baker needs a set of measuring cups and spoons. I love my set because they are made with high-quality stainless steel for a professional-grade measuring cups. This particular set also has a few extra measurements such as a ⅔ cup and ¾ teaspoon which I love!
However, any measuring cups and spoons will do. Just make sure you have a complete set because, as we all know, baking is an exact science.
---
Kitchen Odds and Ends
Beyond the kitchen tools and appliances listed above, there are also a few small gadgets everyone home chef should have in their drawers. These include:
Can opener*
Measuring spoons*
Liquid measuring cup*
Funnels
Potato masher
Slotted spoon
paring and serrated knife*
Cutting Boards*
Vegetable peeler*
Colander
Tongs*
Ladle
What am I missing? What are your favorite kitchen tools and appliances?
---
More Helpful Guides
And, if you want some help with your meal planning, make sure to pick up a copy of my 4-week meal plan to get you started!
If you give one of these recipes recipe a try, snap a photo and share it on Instagram. Make sure to tag
@mydarlingvegan
so I can see your creations!