The Easiest 5-Minute Vegan Pesto
This easy 5-minute vegan pesto is made with basil, garlic, lemon, and nutritional yeast for a pesto that is packed with flavor. Serve it with noodles, on bread, or in a salad for the perfect vegan condiment.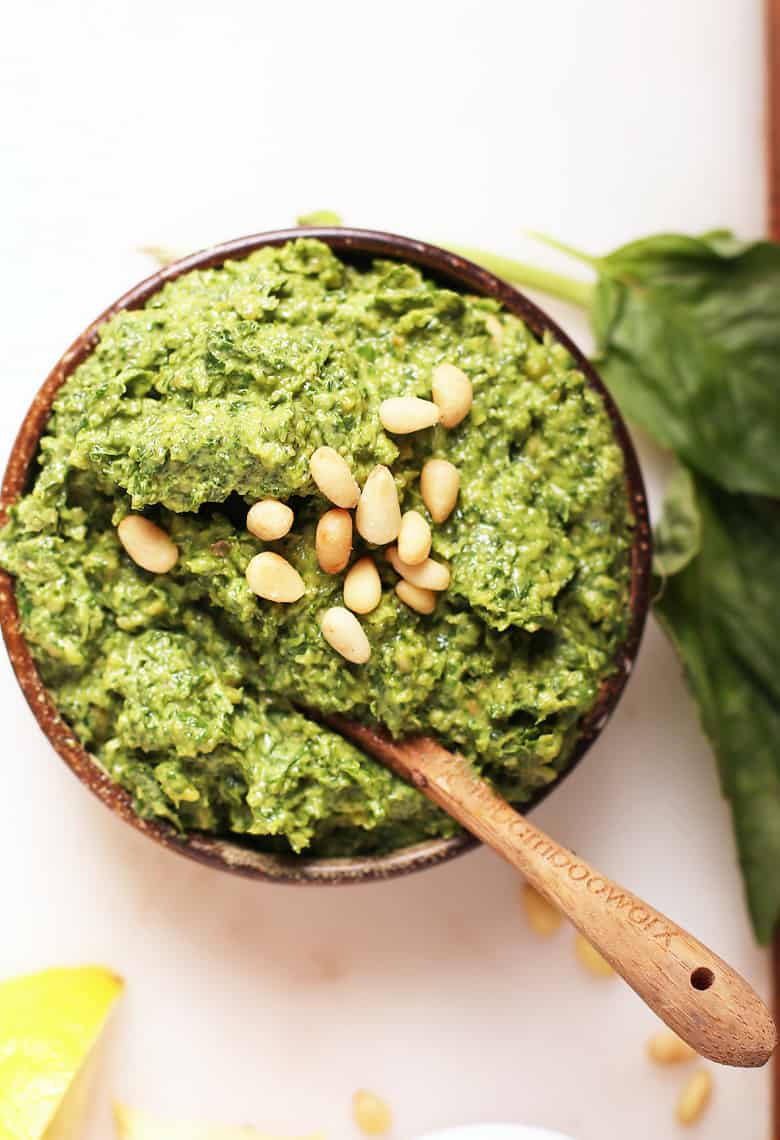 This post contains affiliate links. For more information, see my privacy policy.
If you know me at all, you know I am a mega pesto fanatic. There is something truly magical about that vibrantly green sauce.
Over the years, I've made many recipes that use vegan pesto. On this website, you'll find recipes like my vegan pesto pasta, green goddess pizza, and pesto stuffed mushrooms. For each recipe, I usually make a slight variation of my basic pesto recipe. But in all those years, I've never actually dedicated a post to my basic pesto recipe. And so, I figured it was time It is, after all, the most amazing condiment/sauce/topping/spread/etc. EVER.
So let's take a look at how to make the BEST vegan pesto recipe.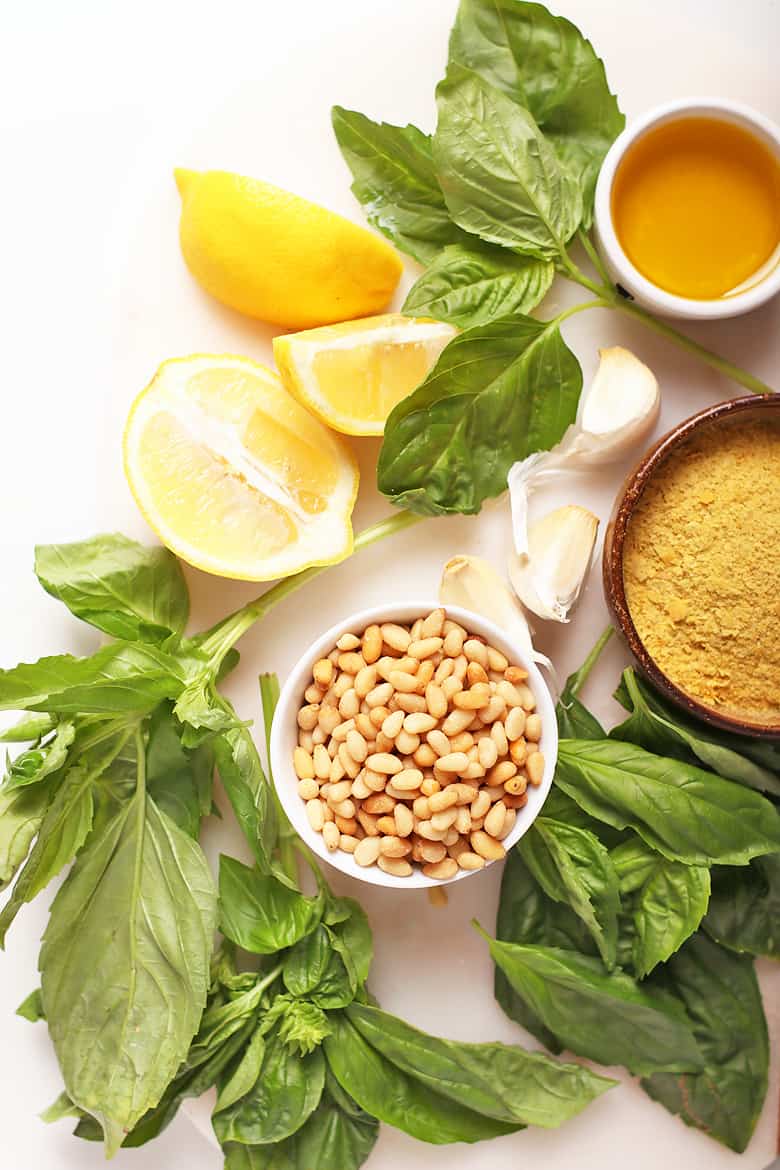 What is Pesto?
Pesto is a sauce or condiment that originated from Italy. At its base, pesto is made up of a few basic ingredients: basil, garlic, olive oil, and lemon juice. Commonly added ingredients are pine nuts (or other types of nuts such as macadamia nuts, cashews, or almonds), parmesan cheese, greens such as kale, arugula, or spinach, and sometimes added herbs such as parsley, mint, or cilantro.
This recipe is the base for all your pesto experimenting to unfold.
Ingredients for vegan pesto:
Because parmesan cheese is traditional in most pestos, I, too, like to add a cheesy creamy element to my vegan pesto. Typically I add either my homemade vegan parmesan cheese or a heaping spoonful of nutritional yeast.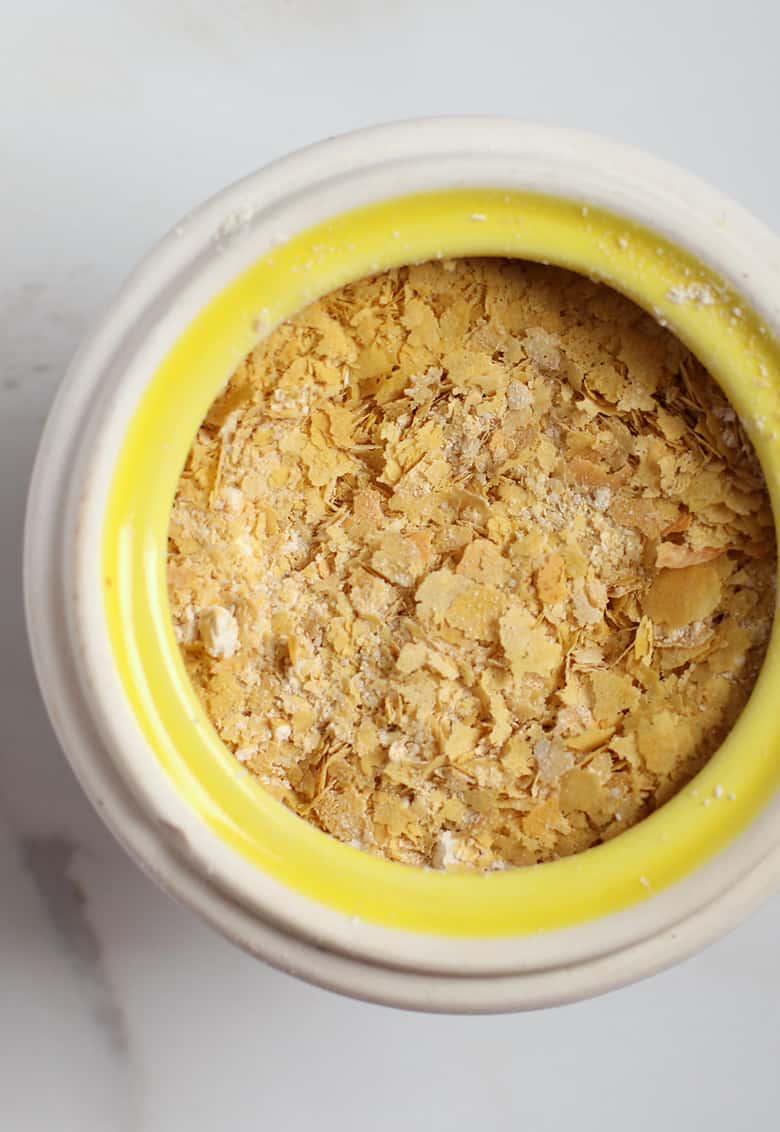 What is nutritional yeast?
Nutritional yeast is a food additive that is made from deactivated yeast. It's only yeast in that it comes from the same fungi family; it does not taste, look, or work like baker's or brewer's yeast. Rather, it is bold in color and flavor. It comes in yellow flakes (see picture above) and has a DELICIOUS nutty cheesy taste. But that's not all. It is also highly nutritious as it is full of B-vitamins, including the hard-to-get B12 vitamin.
Nutritional yeast is commonly added to foods to give it that nutty cheesy flavor such as popcorn, tofu pasta, cheese sauces, and nut-based cheeses.
For more information about nutritional yeast, here's a great article on it. And if you haven't tried it yet, I highly recommend picking some up and experimenting.
How to make homemade pesto:
Homemade pesto is super simple to make! All the ingredients, except the olive oil, get tossed inside a food processor and blended together. With the motor running, add the olive oil to the blender in a slow and steady stream. Once all the olive oil is incorporated, stop to scrape down the sides of the food processor with a spatula.
Process a little bit longer until you have a bright green, thick and creamy pesto. That's it!
How to use pesto
Homemade pesto is amazing because it tastes so good. But also, it's one of the most versatile condiments that make nearly any meal a little more special. There are so many ways to use pesto beyond pasta: Use your pesto
All tried and true pesto recommendations.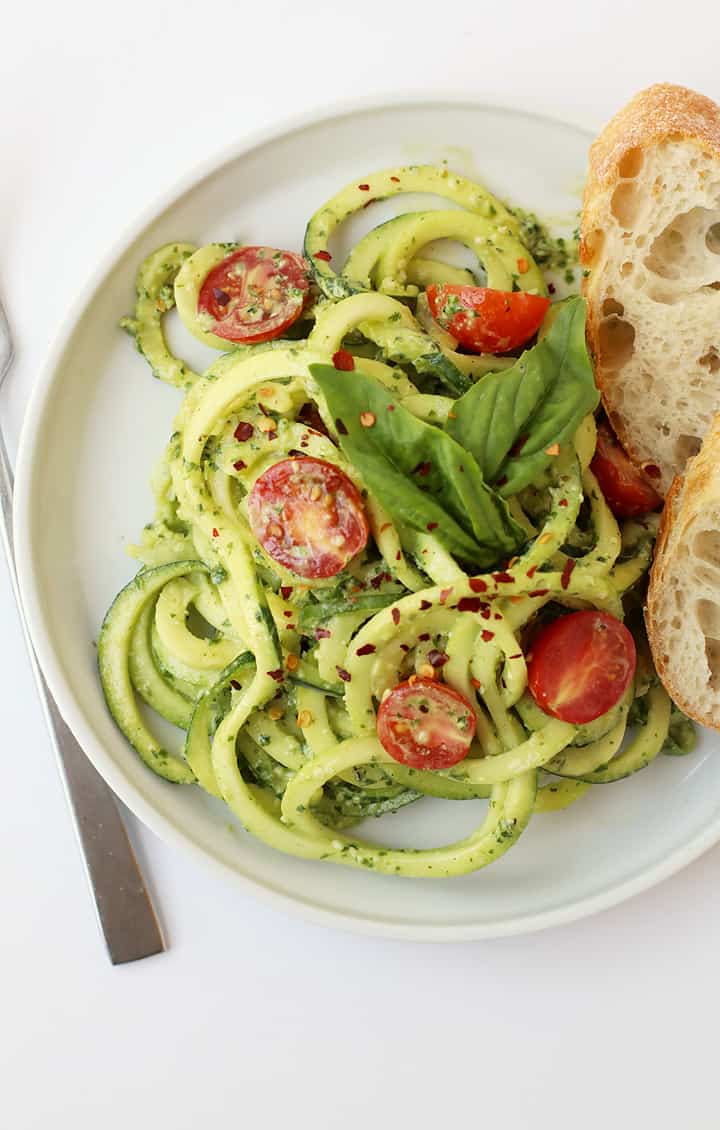 Serving and storing vegan pesto
Pesto can be stored in an airtight container in the refrigerator for up to one week. You can also freeze pesto for up to six months. To freeze pesto, freeze it in ice cube trays. Once the pesto is frozen solid, transfer the cubes to a ziplock bag. When ready to use, just add the pesto to your pasta or vegetables to heat.
I think that's all you need to know about vegan pesto. Let's take a look at the recipe card below.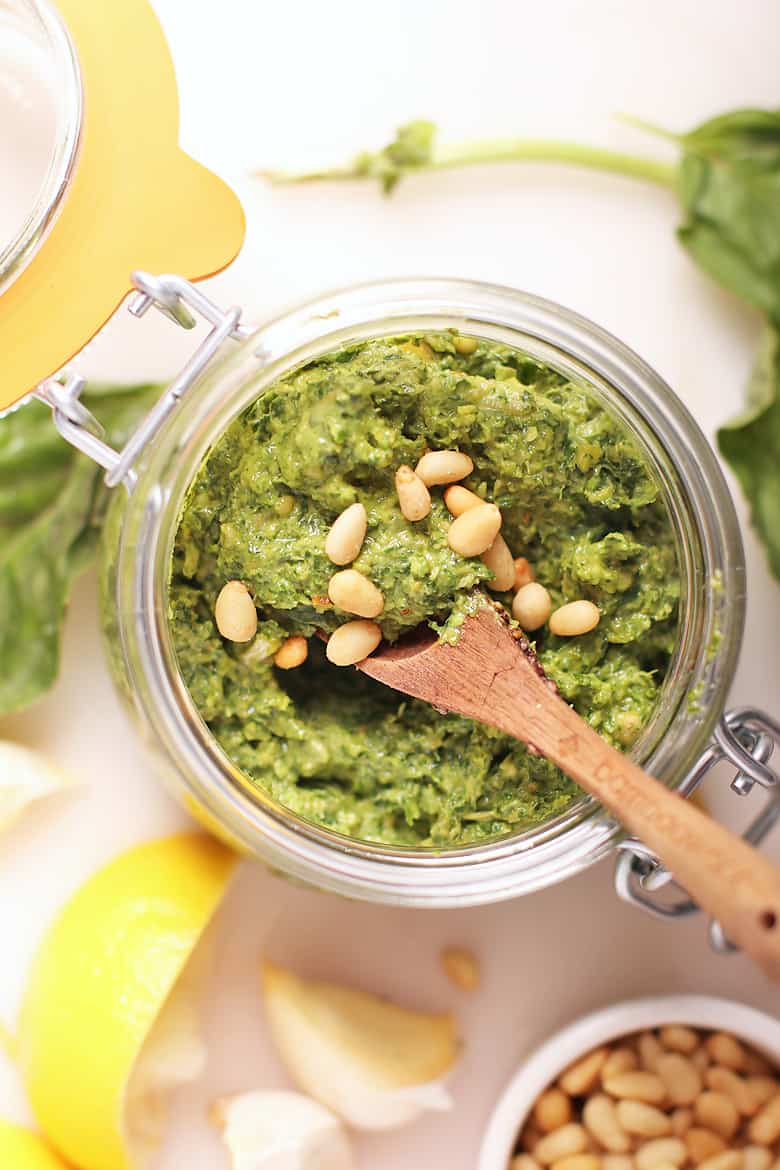 Classic 5-Minute Vegan Pesto
This easy 5-minute vegan pesto is made with basil, garlic, lemon, and nutritional yeast for a pesto that is packed with flavor. Serve it with noodles, on bread, or in a salad for the perfect vegan condiment.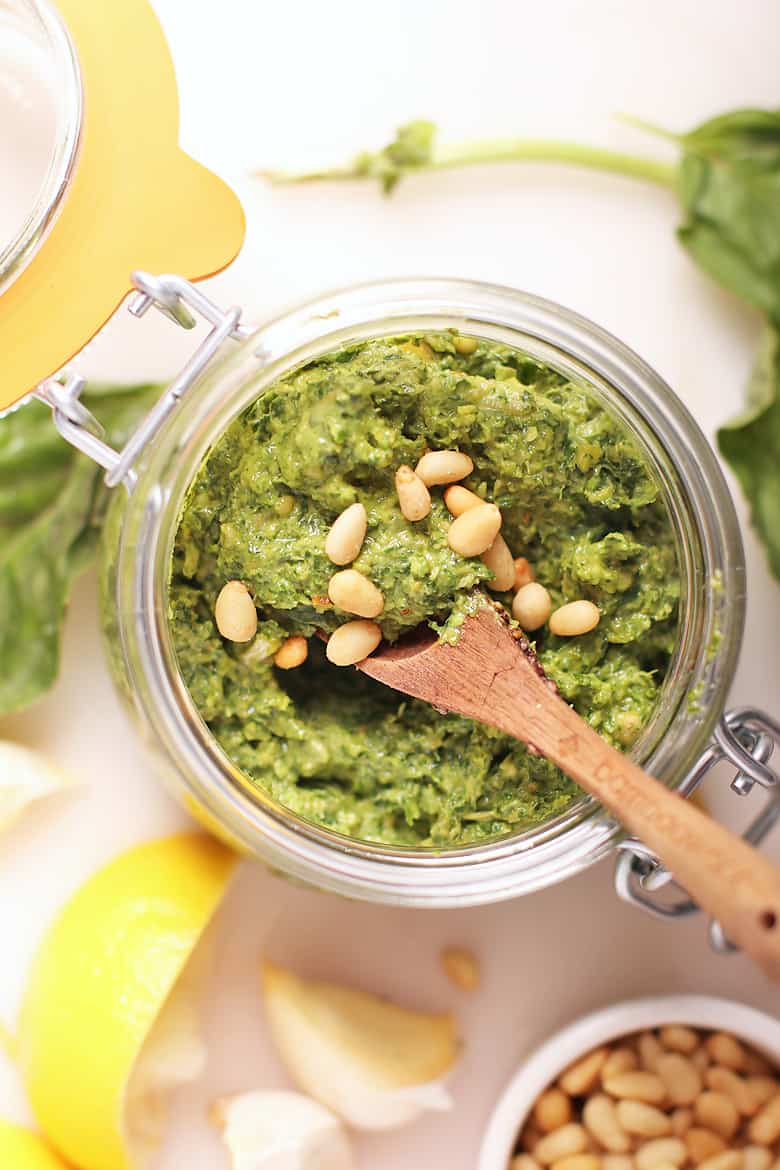 Course:
Condiments
Cuisine:
Vegan
Keyword:
Vegan Pesto
Servings
:
8
people
Calories
: 128 kcal
Author
:
Sarah McMinn
Ingredients
Instructions
Destem the basil and place it in a food processor along with pine nuts, nutritional yeast, garlic, lemon juice, and salt.


With motor running, slowly add olive oil until it is completely incorporated. Stop to scrape down the sides, if necessary, blending until the pesto is evenly mixed.
Nutrition Facts
Classic 5-Minute Vegan Pesto
Amount Per Serving
Calories 128
Calories from Fat 99
% Daily Value*
Fat 11g17%
Sodium 119mg5%
Potassium 174mg5%
Carbohydrates 3g1%
Protein 4g8%
Vitamin A 160IU3%
Vitamin C 0.9mg1%
Calcium 9mg1%
Iron 0.9mg5%
* Percent Daily Values are based on a 2000 calorie diet.
If you give this recipe recipe a try, snap a photo and share it on Instagram. Make sure to tag
@mydarlingvegan
so I can see your creations!