PERFECT Chewy Vegan Brownies
These fool-proof easy vegan brownies are unbelievably rich and fudgy on the inside with a beautifully cracked topped and a delightful bite for the perfect sweet treat everyone can enjoy.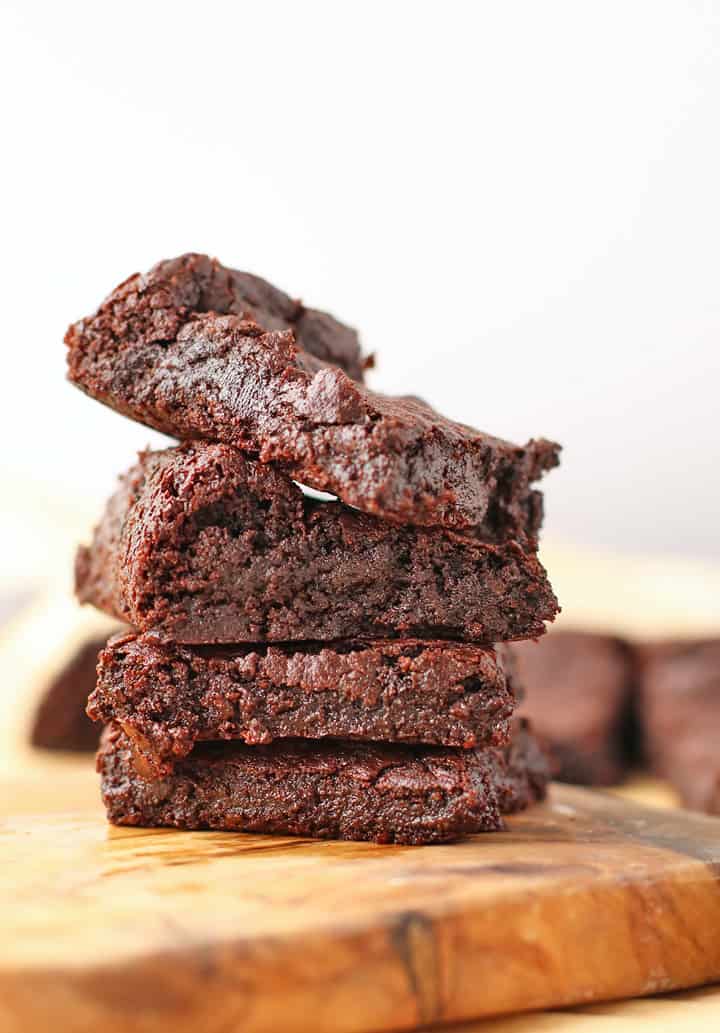 This post contains affiliate links. For more information, please see my privacy policy.
Have you ever wondered how to make the perfect vegan brownie?
I have. Many times.
In fact, that vegan brownie – rich and fudgy with the perfect crispy top – became so mysterious that it started to scare me. Finding that elusive texture that is somewhere in between chewy and gooey seems a task too great to take on.
A few years ago, however, I faced my fears and made my first brownie recipe for the blog. What I discovered was that brownies don't have to be scary! After a weekend of experimenting, I find the perfect egg replacer (yay flax seeds!) and the combination of sugars, flours, and chocolate and created my Peppermint Brownies, which have since become one of my most popular recipes.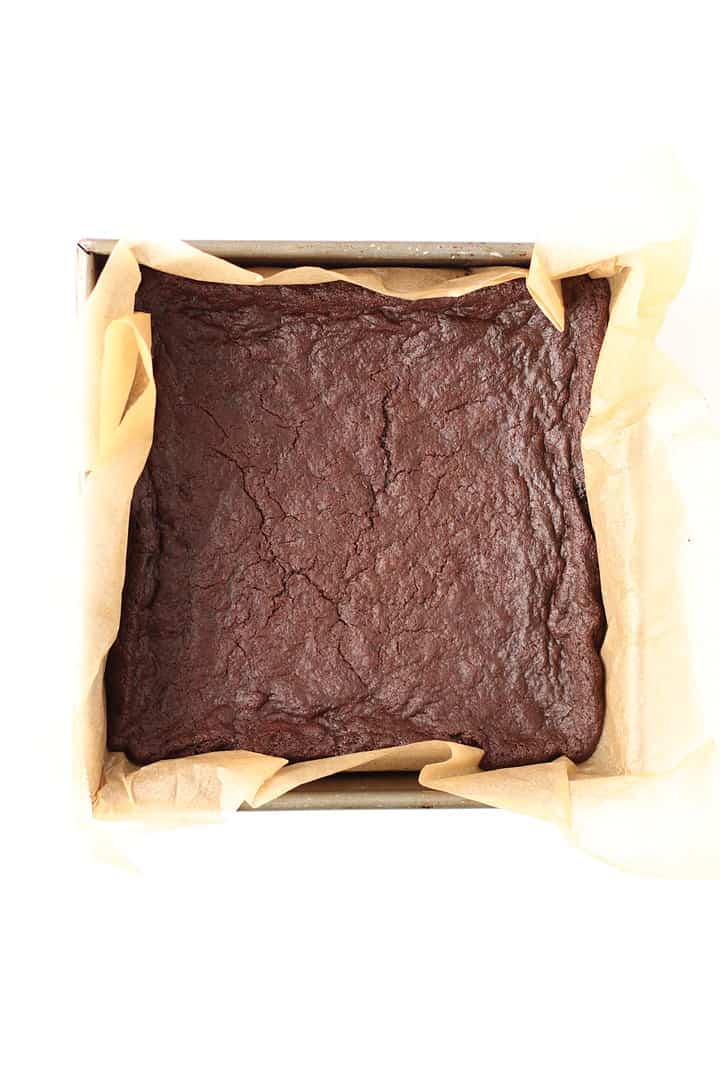 The peppermint brownies are great.
I make them every year at Christmas and they don't last long. But the thing about the peppermint brownies is they are safe. They get to stand behind the peppermint crunch and chocolate ganache topping – their own texture buffer if you will.  But the time had come to face my fears even more. Could I make a brownie that stood alone in it's gooey, fudgy, goodness? Or, in other words, could I strip the brownie of all its clothes and still find them beautiful?
I had to once again roll up my sleeve, face my fears, and create an easy vegan brownie that would rival the best non-vegan brownies around.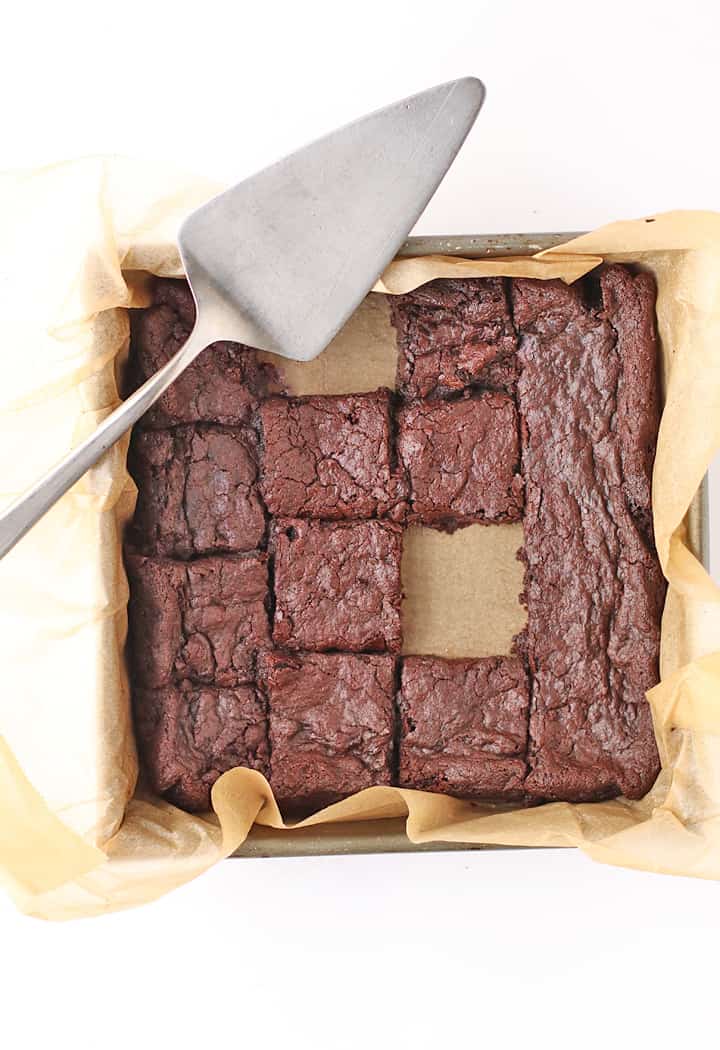 The ingredients in perfect chewy vegan brownies
These easy vegan brownies are made with just 8 ingredients (not counting salt) that you probably already have in your pantry and can be baking in the oven for just 20 minutes. The ingredients are:
Flax Seeds
Vegan Butter
White & Brown Sugar
Cocoa Powder
Vanilla Extract
All-purpose Flour
Baking Soda
and Salt
And best yet, they are fool-proof. The method combines heating up the sugars, butter, and cocoa powder gently in a double boiler until it's rich and fudgy and then slowly adding in your flax egg (the vegan alternative that gives the best rise, bind, and chew), and your flour and baking soda. You'll then bake at a lower temperature for 20-25 minutes until they are slightly underdone – a toothpick inserted in the middle should come out with a few moist crumbs – and then let cool until the crackly top forms.
Best egg replacer for vegan brownies
Traditionally eggs are a key element to making chewy and fudgy brownies with the perfect crackle on top. I'm tried many types of egg replacers for my vegan brownies over the years and I have found that flax eggs have given me the best results. Flax eggs provide the best binding while also giving it need moisture with no added taste or texture.
If you've never made a flax egg before, check out this step by step guide from Minimalist Baker.
Now that we've sorted out our ingredients, let's take a closer look at how to make these easy vegan brownies.
3 steps to the perfect vegan brownies.
Step One – Melt the butter, sugars, and cocoa powder
The sugar, butter, and cocoa powder should be gently heated in a double boiler until the butter is melted and the sugar has completely dissolved. This technique both gives you the smoothest batter while also being the base for your chewy and rich texture.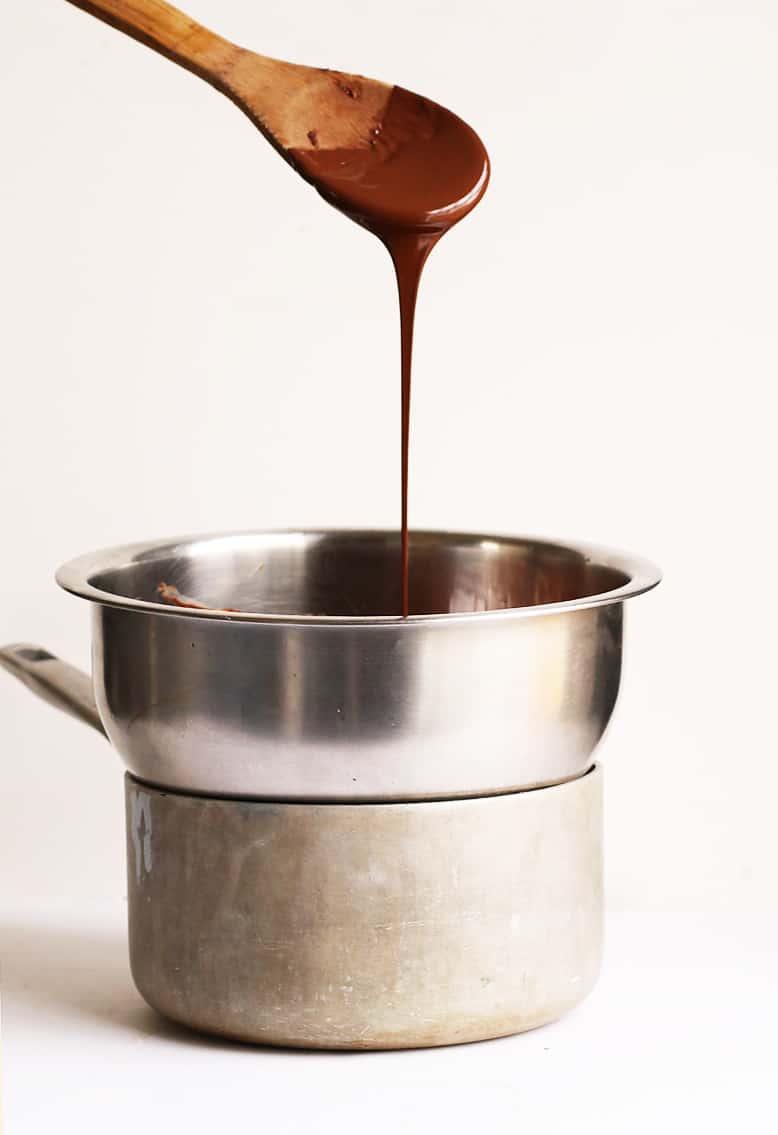 Step Two: Fold in flax eggs and flour
First, let's talk about how to make a flax egg. Flax eggs are simply ground up flax seeds that are mixed with water until you have a gooey, egg-like consistency.
With your flax egg made, you can slowly add it into your butter/sugar/cocoa powder mixture along with the flour. Fold the flour in gently and take care not to over-mix.
Step Three: Bake the brownies
I prefer chewy brownies and therefore baked them at a low temperature. This allows the whole brownie to bake inside and out.  For fudgy, gooey brownies, you can set your oven temperature a bit higher (between 375-400F) which will cook the outsides with that perfect crisp while keeping the inside underdone and chewy.
Regardless, you'll want to keep an eye on those brownies and pull them out when they are slightly underdone – a toothpick inserted in the middle should come out with a few moist crumbs – as they will continue to harden as they cool.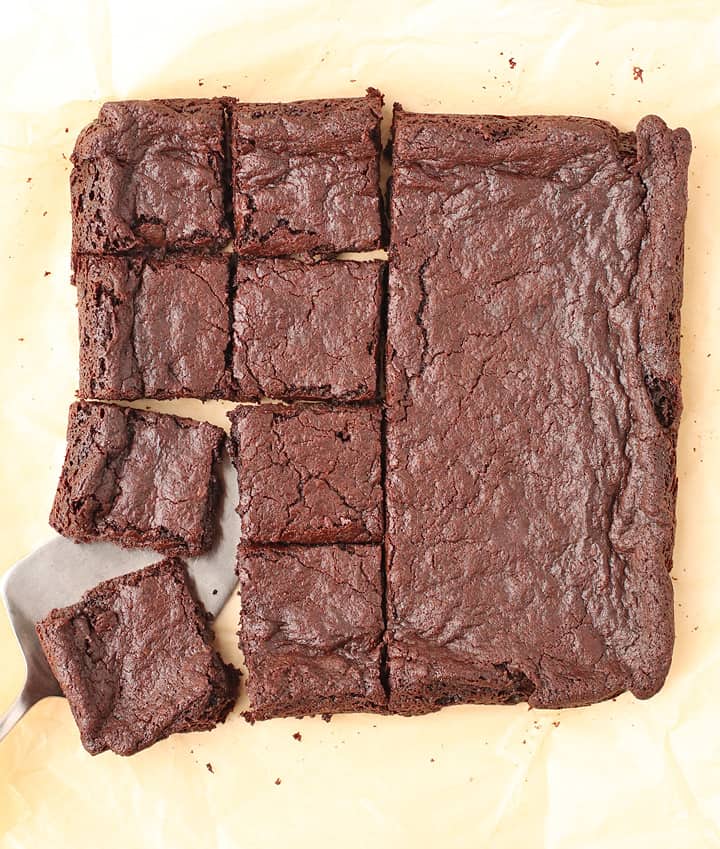 Tips and Tricks for making the perfect chewy brownies
If you can't find flax seeds at your local grocery store, you can pick some up online. They should be stored in the freezer and ground as you need them.
Be careful not to over-mix your batter. This will encourage the gluten to form making your bars gummy and dense.
Line your baking sheet with parchment paper so that brownies do not stick to the pan.
Make sure to let the brownies cool completely before removing them from the pan.
When your brownies are completely cool, you can slice them. Use a sharp knife and clean it off between each cut so that you can get clean, crisp edges
Serving and Storing vegan brownies
You can serve your brownies at room temperature or rewarm them and serve them with some coconut ice cream for a delicious dessert. So good!
Brownies should be stored in an airtight container at room temperature for up to 5 days. You can also wrap the brownies in plastic wrap and place them in the freezer to store for up to 2 months.
Other popular vegan cookies and bars.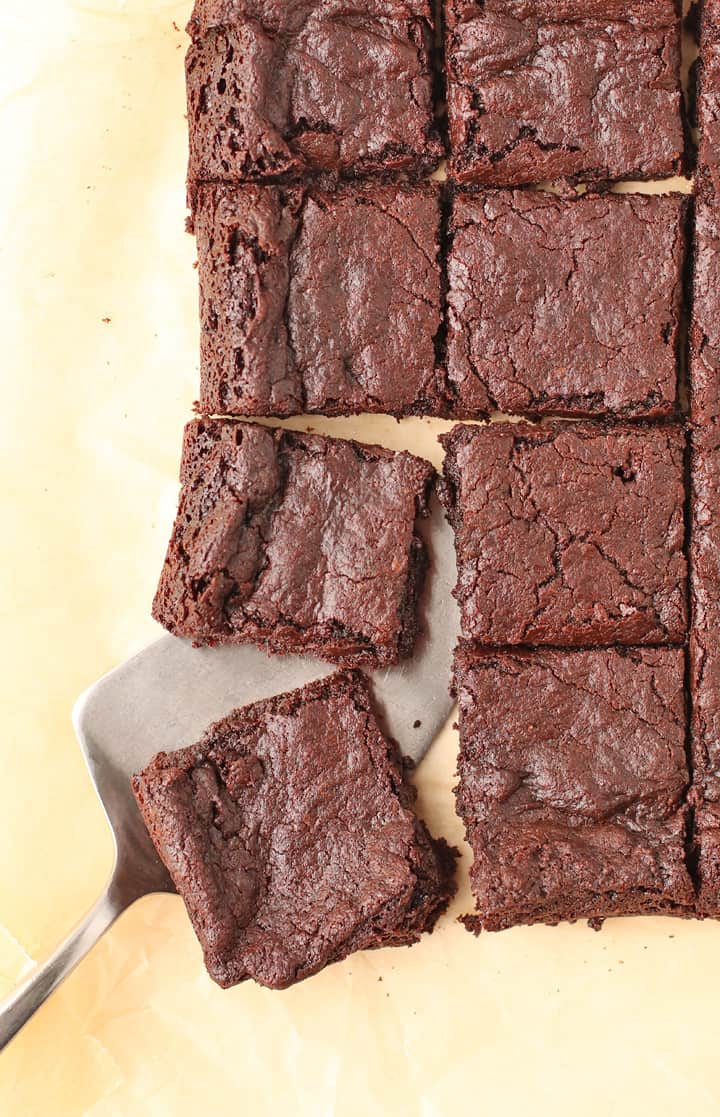 These perfect vegan brownies are everything you want in this classic chocolate treat.
Deep in flavors of chocolatey goodness and baked to perfection with a chewy outside and a gooey, ultra-fudgy middle. Enjoy the plain or try them with my chocolate ganache or homemade caramel sauce for a delicious sweet treat everyone will fall in love with.
Ready to whip up a batch today? Let's take a look at the recipe below.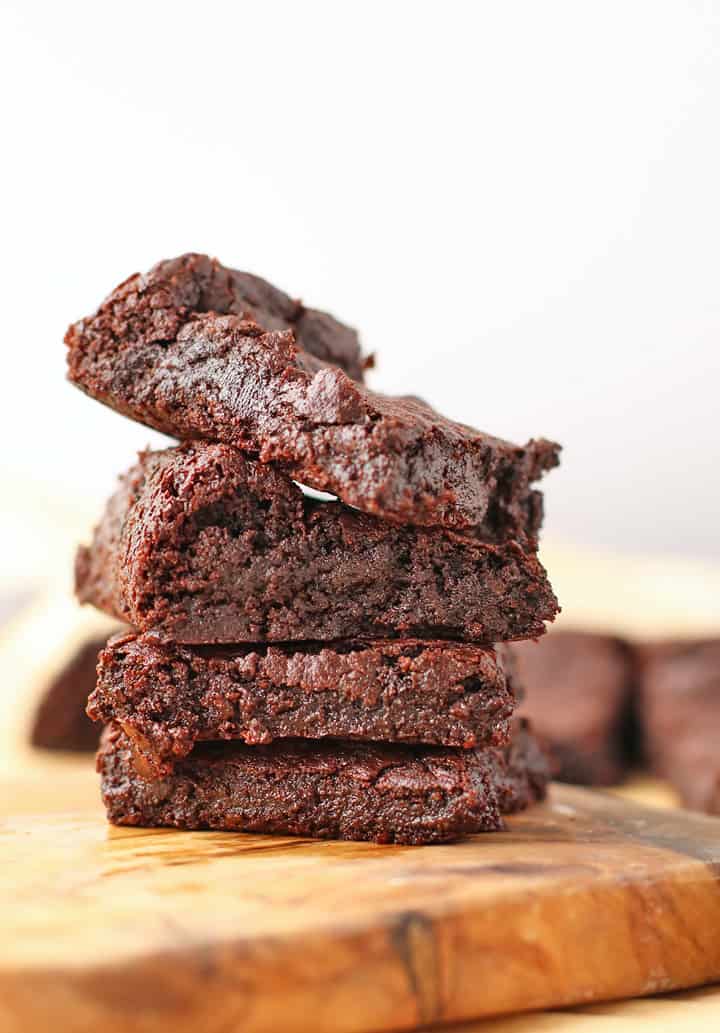 Easy Vegan Brownies
These fool-proof easy vegan brownies are unbelievably rich and fudgy on the inside with a beautifully cracked topped and a delightful bite for the perfect sweet treat everyone can enjoy.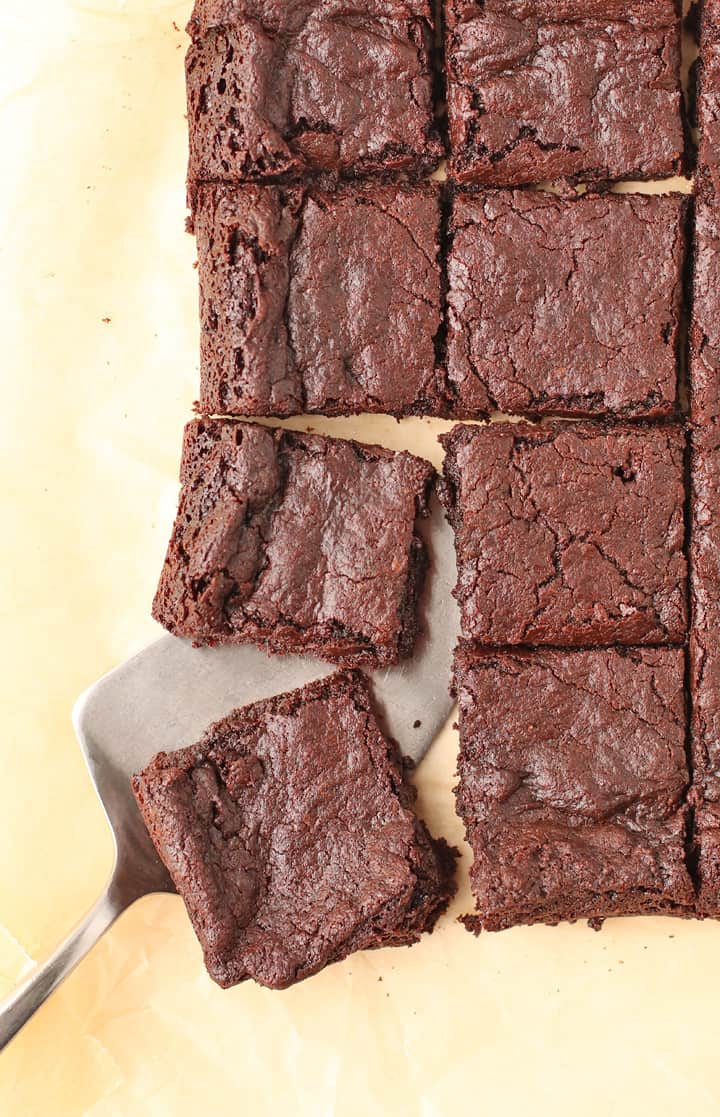 Course:
Dessert
Cuisine:
American
Keyword:
Easy Vegan Brownies
Servings
:
9
people
Calories
: 251 kcal
Author
:
Sarah McMinn
Ingredients
2

flax eggs

1/2

cup vegan butter

3/4

cup

white sugar

1/2

cup

brown sugar

3/4

cup

cocoa powder

1

tsp vanilla extract

3/4

cup

all-purpose flour

1/2

tsp baking soda

1/2

tsp salt
Instructions
Preheat the oven to 325 degrees F. Line an 8x8 baking pan with parchment paper, letting excess paper hang over the edges. Spray parchment paper with cooking oil.

Prepare the flax eggs and set aside.

Fill a pot with a couple inches of water and bring to a boil. In a medium heat-safe bowl combine vegan butter, sugars, cocoa powder, and salt. Place on top of the pot - the bottom of the bowl should not touch the water - and remove from heat. You can also use a double boiler. Stir butter/sugar mixture occasionally until the butter has melted completely. Meanwhile, mix together flour and baking soda and set aside.

Stir in vanilla extract and flax "eggs" to the butter/sugar mixture. Add the flour and baking soda and stir vigorously until well combined; the batter will be very thick. Once well combined, transfer into the prepared pan. Bake for 20-25 minutes, until mostly set. They should be slightly underdone.

Remove brownies from the oven and let cool for at least 30 minutes before slicing. Store in an airtight container at room temperature for up to 5 days or in the freezer for 4 weeks.
Nutrition Facts
Easy Vegan Brownies
Amount Per Serving
Calories 251
Calories from Fat 90
% Daily Value*
Fat 10g15%
Sodium 286mg12%
Potassium 154mg4%
Carbohydrates 41g14%
Protein 2g4%
Vitamin A 480IU10%
Calcium 27mg3%
Iron 1.7mg9%
* Percent Daily Values are based on a 2000 calorie diet.
If you give this recipe recipe a try, snap a photo and share it on Instagram. Make sure to tag
@mydarlingvegan
so I can see your creations!