These fool-proof easy vegan brownies are unbelievably rich and fudgy on the inside with a beautifully cracked topped and a delightful bite for the perfect sweet treat everyone can enjoy.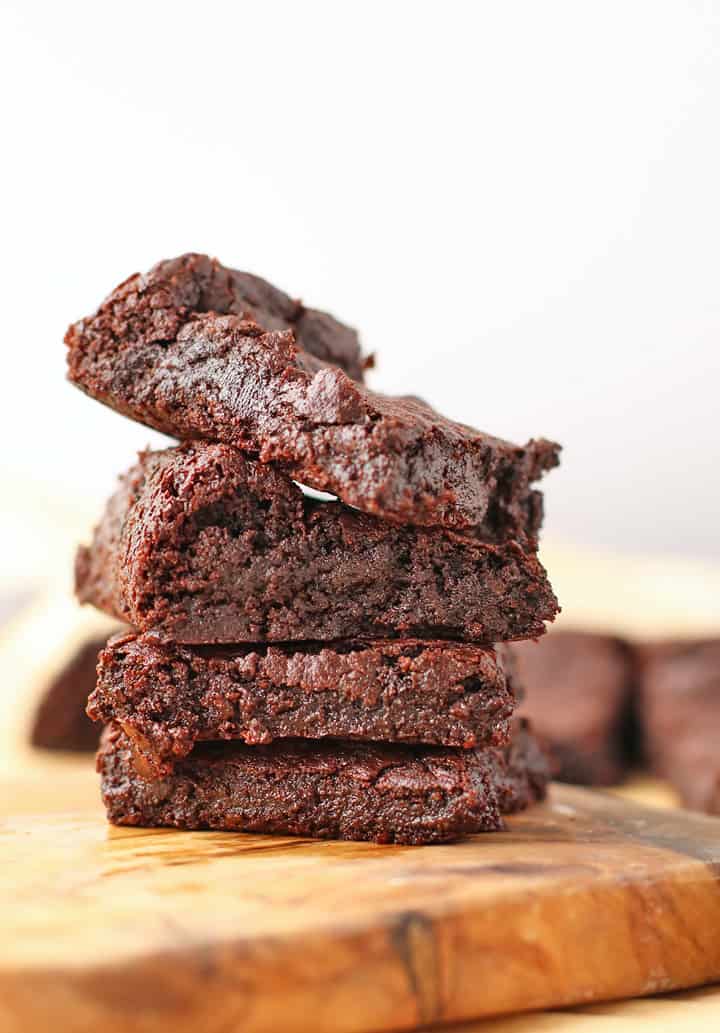 Vegan brownies scare me.
Not the way that mice or tsunami warnings scare me. They intimidate me, rather. Finding that elusive texture that is somewhere in between chewy and gooey seems a task too great to take on.
A few years ago, however, I faced my fears and made my first brownie recipe for the blog. What I discovered was that brownies don't have to be scary! After a weekend of experimenting, I find the perfect egg replacer (yay flax seeds!) and combination of sugars, flours, and chocolate and created my Peppermint Brownies, which have since becomes one of my most popular recipes.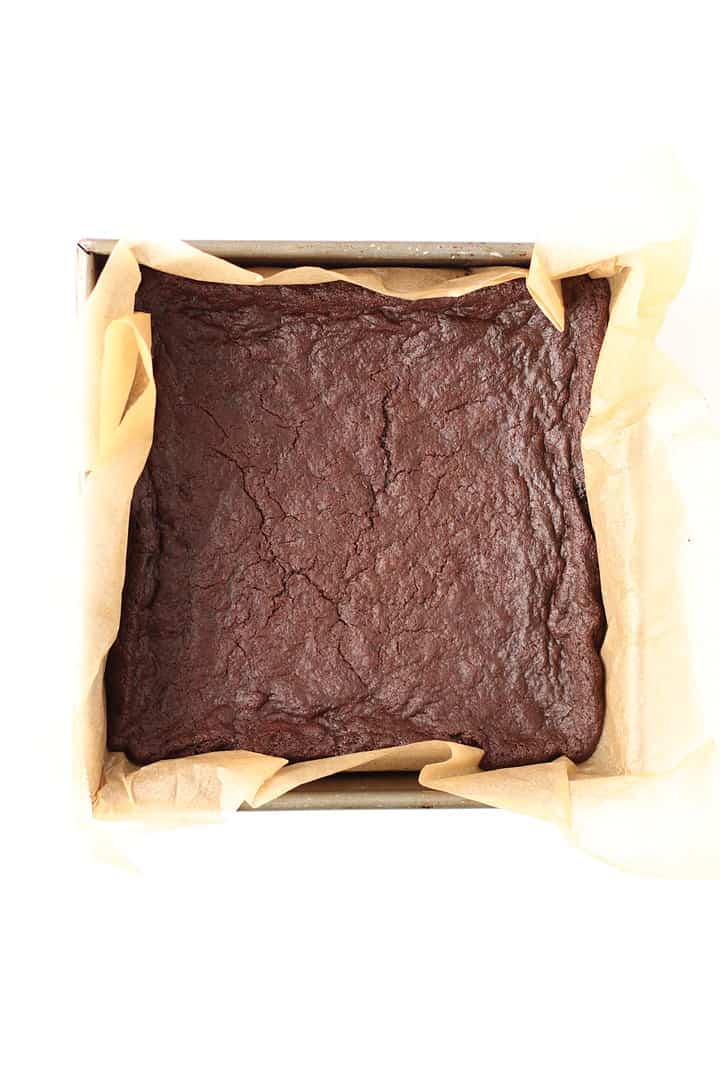 The peppermint brownies are great.
I make them every year at Christmas and they don't last long. But the thing about the peppermint brownies is they are safe. They get to stand behind the peppermint crunch and chocolate ganache topping – their own texture buffer, if you will.  But the time had come to face my fears even more. Could I make a brownie that stood alone in it's gooey, fudgy, goodness? Or, in other words, could I strip the brownie of all it's clothes and still find it beautiful?
I had to once again roll up my sleeve, face my fears, and create a easy vegan brownie that would rival the best non-vegan brownies around.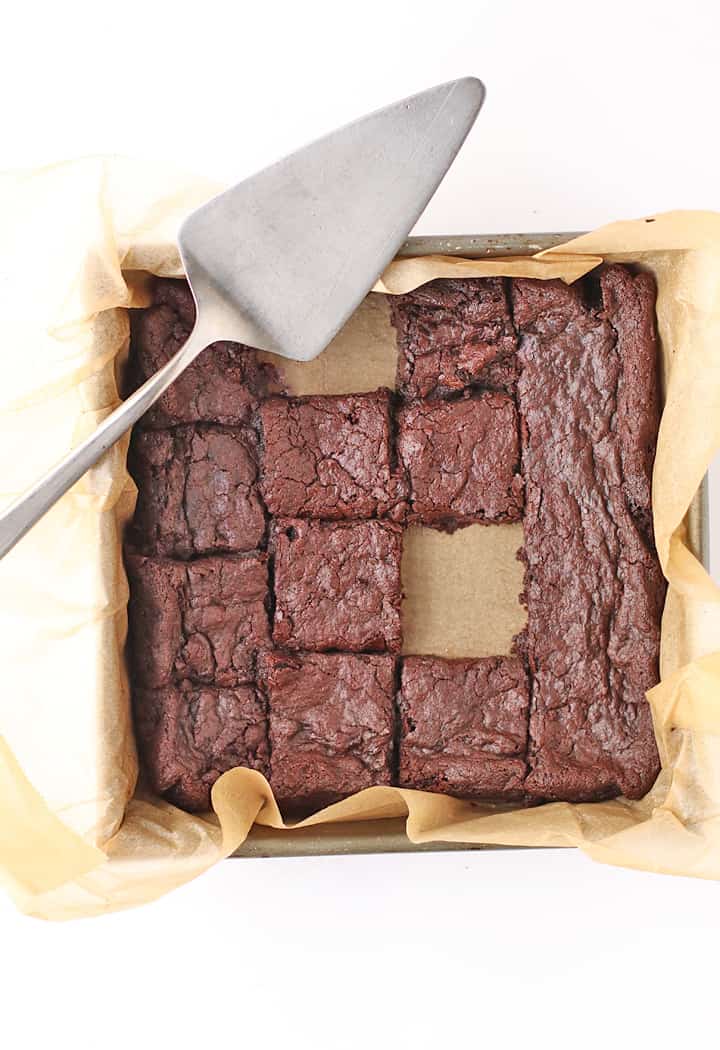 Friends, I think I did it!
These easy vegan brownies are made with just 8 ingredients (not counting salt) that you probably already have in your pantry and can be baking in the oven for just 20 minutes. And best yet, they are fool-proof. The method combines heating up the sugars, butter, and cocoa powder gently in a double boiler until it's rich and fudgy and then slowly adding in your flax egg (the vegan alternative that gives the best rise, bind, and chew), and your flour and baking soda. You'll then bake at a lower temperature for 20-25 minutes until they are slightly underdone – a toothpick inserted in the middle should come out with a few moist crumbs – and then let cool until the crackly top forms.
Got it? Let's review:
melt butter and sugars
fold in flax eggs and flour
bake gently until slightly underdone
let cool until you see that brownie crack
So simple!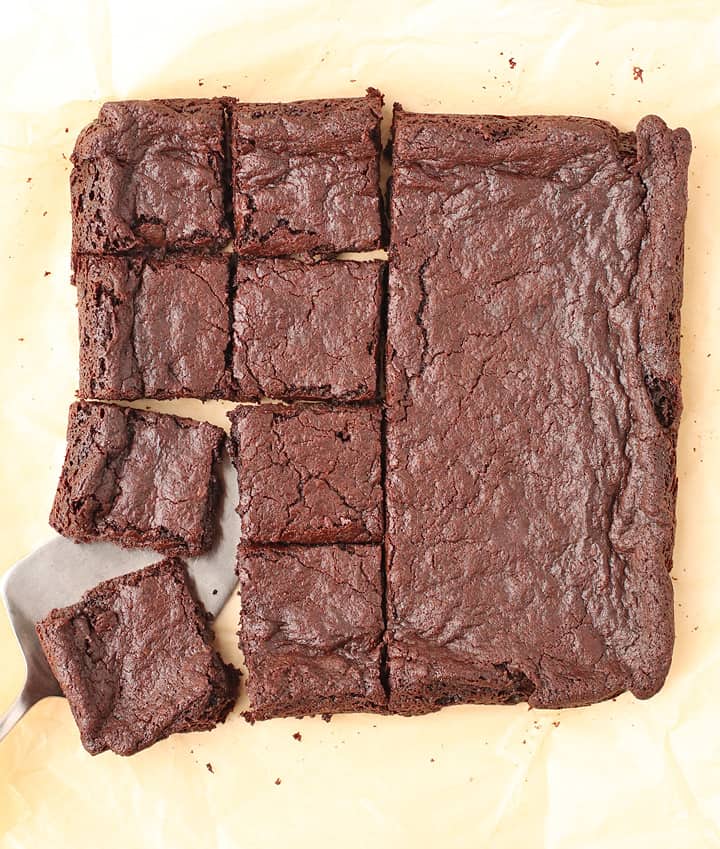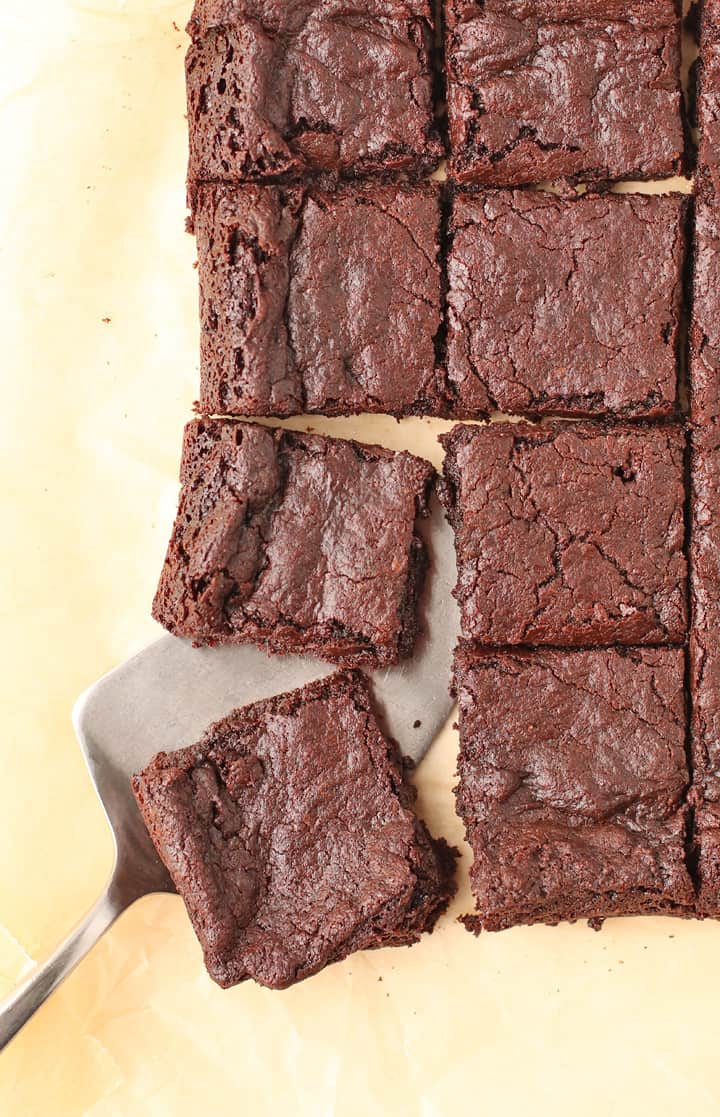 These easy vegan brownies are
 

everything

 

you want in this classic chocolate treat.

Deep in flavors of chocolatey goodness and baked to perfection with a chewy outsides and a gooey, ultra-fudgy middle. Enjoy the plain or try them with my chocolate ganache or homemade caramel sauce for a delicious sweet treat everyone will fall in love with.
So what do you say? Ready to whip up a batch today?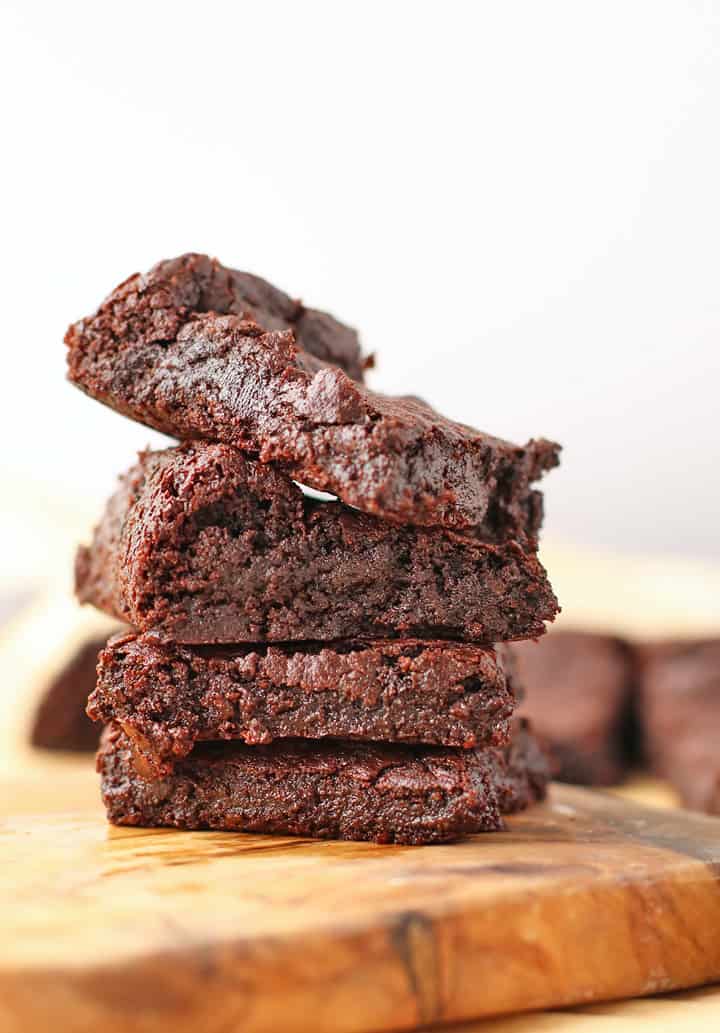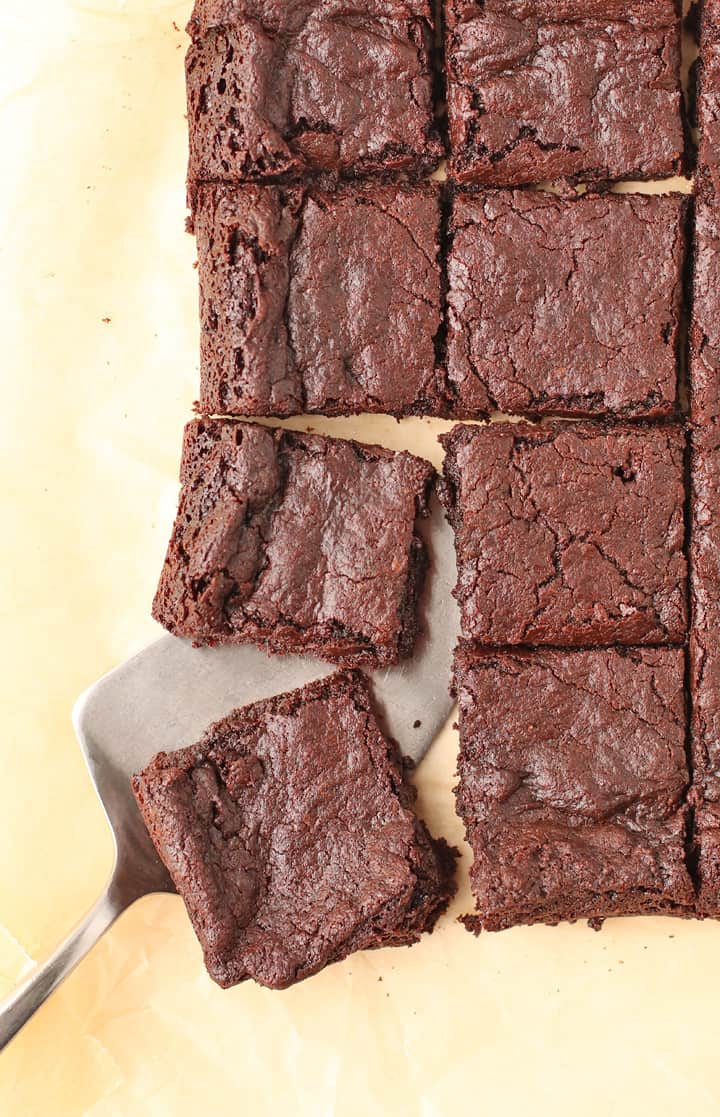 Easy Vegan Brownies
These fool-proof easy vegan brownies are unbelievably rich and fudgy on the inside with a beautifully cracked topped and a delightful bite for the perfect sweet treat everyone can enjoy.
Keyword:
Easy Vegan Brownies
Ingredients
2

flax eggs

1/2

cup

vegan butter

3/4

cup

white sugar

1/2

cup

brown sugar

3/4

cup

cocoa powder

1

tsp

vanilla extract

3/4

cup

all-purpose flour

1/2

tsp

baking soda

1/2

tsp

salt
Instructions
Preheat the oven to 325 degrees F. Line an 8x8 baking pan with parchment paper, letting excess paper hang over the edges. Spray parchment paper with cooking oil.

Fill a pot with a couple inches of water and bring to a boil. In a medium heat-safe bowl combine vegan butter, sugars, cocoa powder, and salt. Place on top of the pot - the bottom of the bowl should not touch the water - and remove from heat. You can also use a double boiler. Stir butter/sugar mixture occasionally until the butter has melted completely. Meanwhile, mix together flour and baking soda and set aside.

Stir in vanilla extract and flax "eggs" to the butter/sugar mixture. Add the flour and baking soda and stir vigorously until well combined; the batter will be very thick . Once well combined, transfer into the prepared pan. Bake for 20-25 minutes, until mostly set. They should be slightly underdone.

Remove brownies from the oven and let cool for at least 30 minutes before slicing. Store in an airtight container at room temperature for up to 5 days or in the freezer for 4 weeks.
Nutrition Facts
Easy Vegan Brownies
Amount Per Serving
Calories 251
Calories from Fat 90
% Daily Value*
Total Fat 10g 15%
Sodium 286mg 12%
Potassium 154mg 4%
Total Carbohydrates 41g 14%
Protein 2g 4%
* Percent Daily Values are based on a 2000 calorie diet.
This post contains affiliate links.