Portobello Vegan Pot Roast (Instant Pot)
Get cozy with this perfect weeknight stew. A vegan pot roast made with portobellos, carrots, and potatoes, all cooked inside an Instant Pot for the ultimate easy fall meal.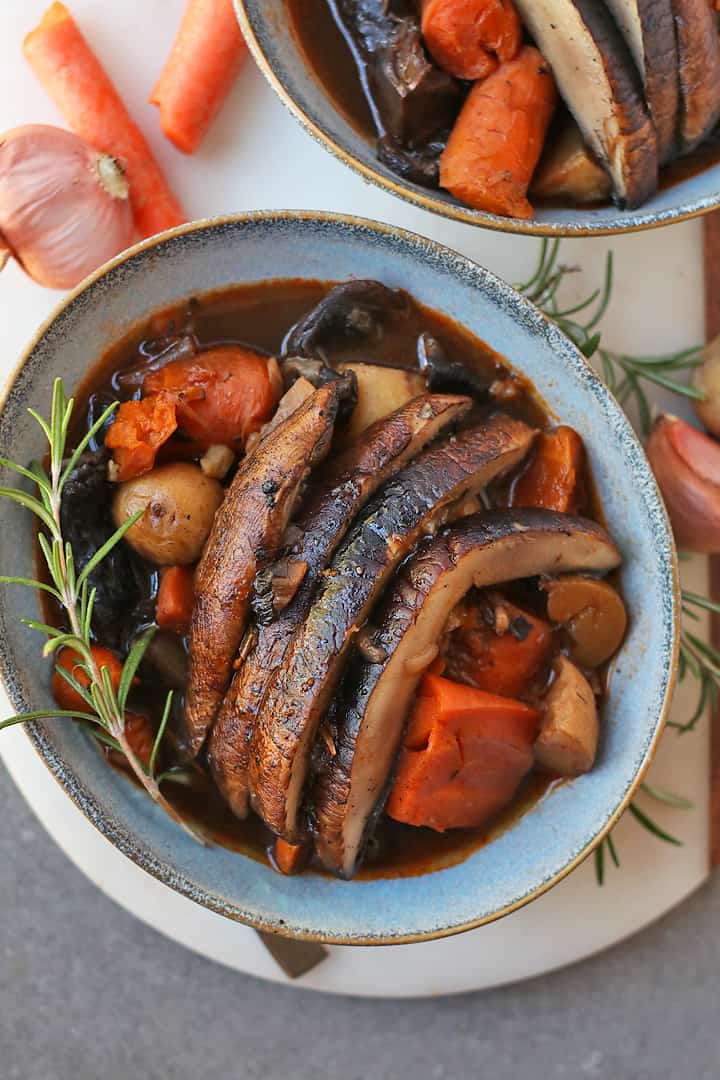 This post contains affiliate links. For more information please see my privacy policy. 
First off, Happy Halloween, friends!
This is the first Halloween that I won't have my kids with me. While I am sad not to take them trick-or-treating, I am looking forward to cozying up at home with some Alfred Hitchcock movies, a glass of red wine, and perhaps some Peanut Butter Caramel Popcorn.
With Halloween here, it means winter is fast approaching. Cold weather, short days, and, of course, cozy meals. As far as cozy meals go, I can't get enough of this vegan pot roast. All the meaty mushrooms and buttery potatoes for me, please!
I've been making variations of this Portobello Pot Roast for a few weeks now and I'm excited to finally be sharing it with you!
Let's take a look at this Vegan Pot Roast.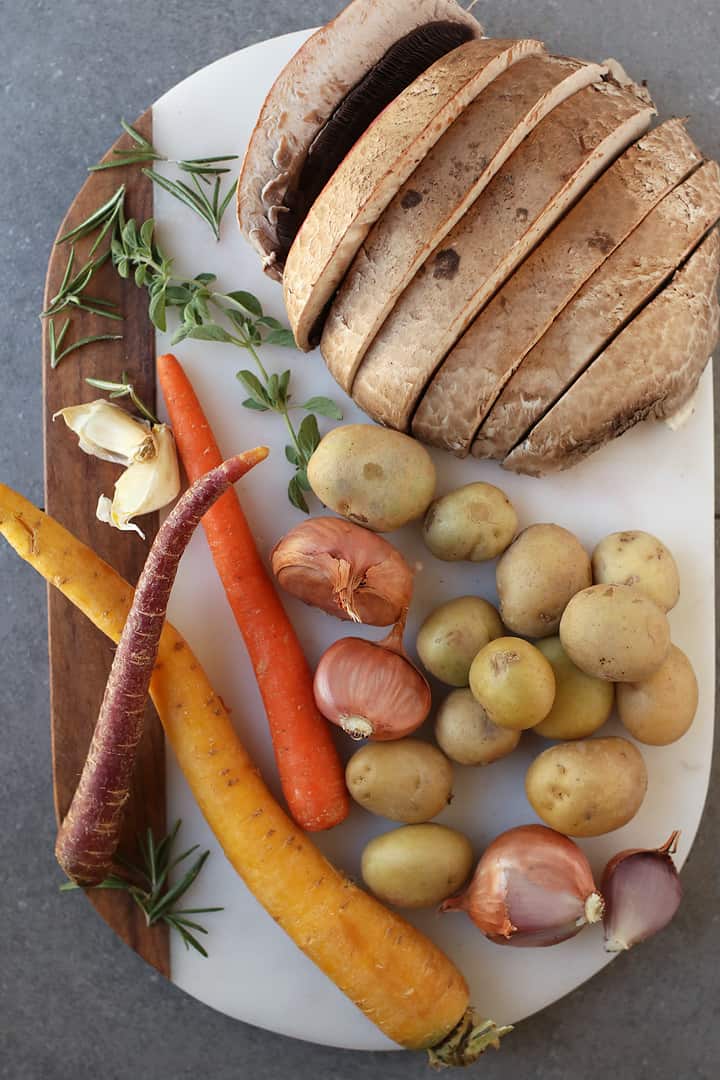 How to make a vegan Pot Roast
A pot roast has 4 key ingredients. They are:
Onions
Carrots
Potatoes
and (typically) beef
So how do we make the perfect vegan pot roast? Simple.
Best plant-based substitution for vegan pot roast
The first time I made this pot roast I used Beefless Tips from Gardein. I was actually pretty impressed with the flavor and texture and would recommend them as an alternative. But in an effort to eat less processed foods, I decided to look for whole food alternatives.
The answer was obvious.
Portobello is one of the best whole food meat substitutes you can find.
We already know it makes an amazing steak. and the perfect holiday entree. Portobellos have a rich juicy, deep meaty texture that, although will never be mistaken for meat, can be equally satisfying to vegans and omnivores alike.
How to make the portobello roast
Just like beef, the portobello gets rubbed with salt and pepper. After it is seasoned, it is chopped and sautéed in your instant pot to brown and crisp the edges. Once the portobello is browned, remove it from the instant pot and assemble the rest of your roast.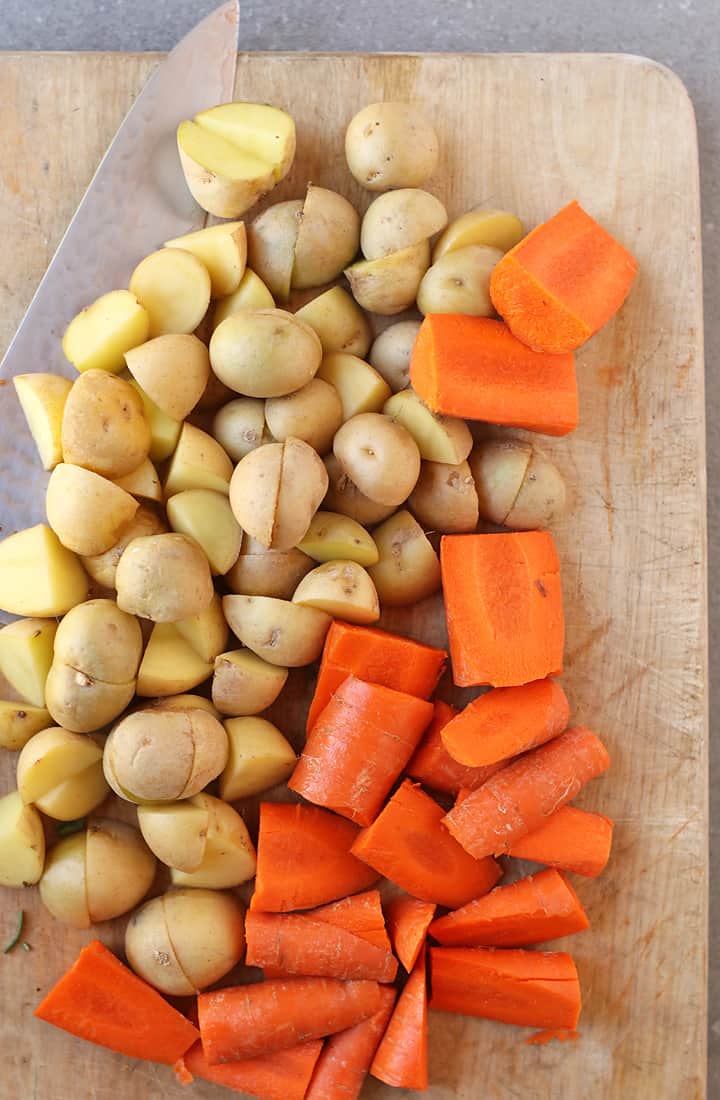 The rest of this pot roast is super easy.
How to cook a pot roast in an Instant Pot
First of all, let's talk about Instant Pots. For those of you who don't know, an Instant Pot is a multi-use kitchen gadget that does the work of a slow cooker, pressure cooker, rice cooker, sautéer, yogurt maker, steamer, and warmer. While I rarely buy kitchen gadgets that take up much room, this one made total sense. Having none of those gadgets already in my kitchen (other than a sauté pan) I decided it was worth the investment and I bought myself an Instant Pot.
This is the one I use.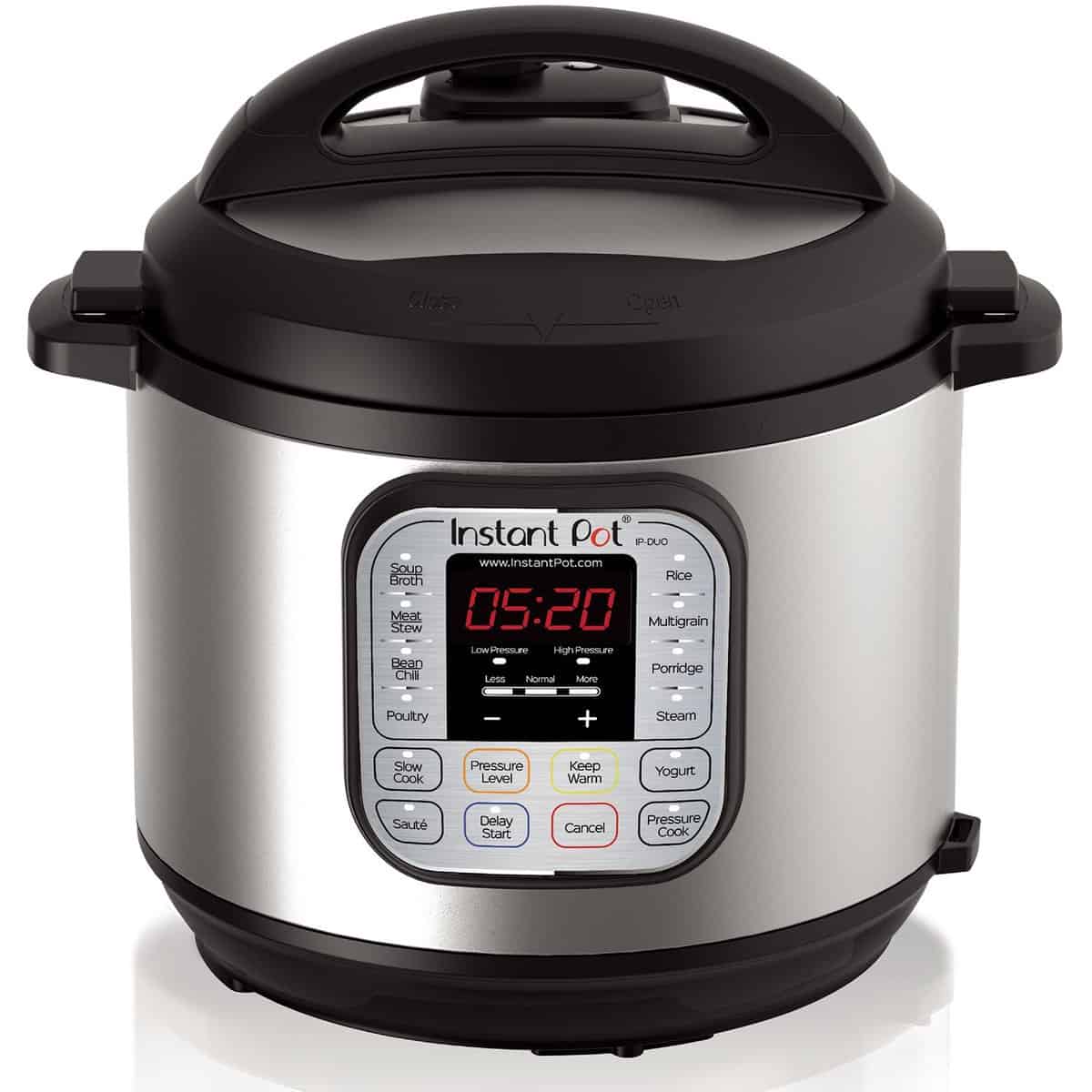 It's just about $90 on Amazon and with it, you get everything you need. It's very easy to use, not bulky, and for the price, I believe the best one on the market – perhaps something to add to your holiday list.
While it's ultra convenient as it is so multi-functional, the reason I absolutely love my Instant Pot is that it makes dinner so easy. After the portobello is cooked, the rest of the ingredients are thrown into the Instant Pot, the lid is sealed, and 30 minutes later, dinner is ready.
That easy!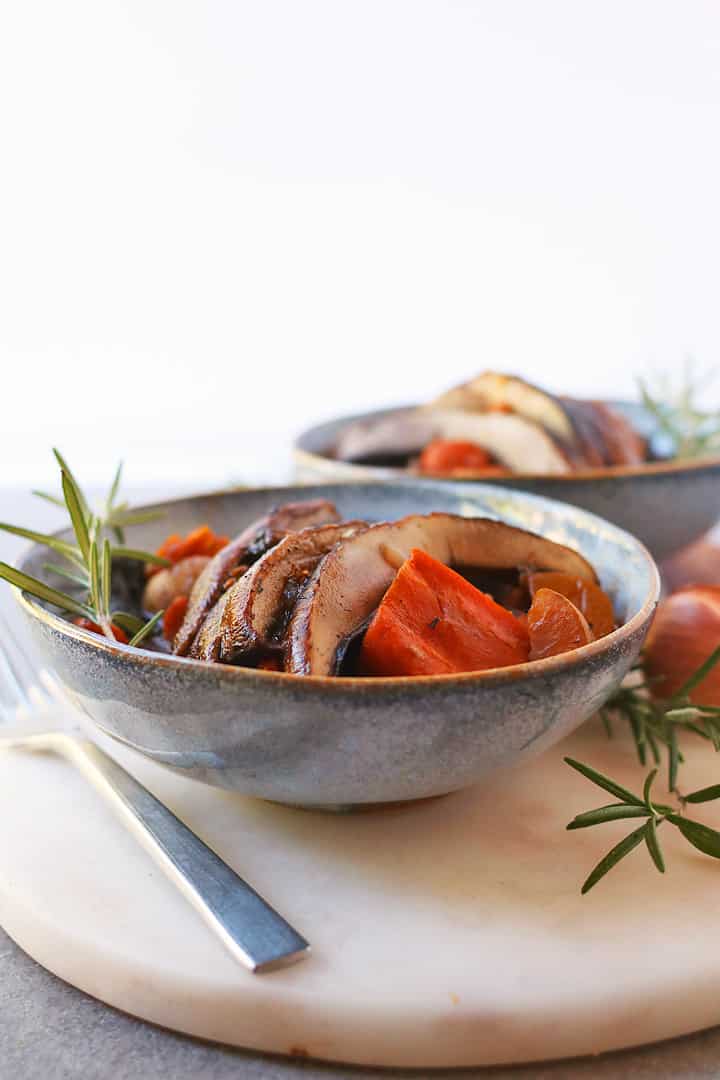 How to make the vegan pot roast on the stovetop
If you don't have an Instant Pot, no worries. This vegan pot roast can still be yours. Using a Dutch oven or cast iron soup pot, you can essentially follow the same instructions. Cook times will be a little longer, but, the nice thing about a Dutch oven is that you can check for doneness as often as you need.
It's also important to note that when I made this in my dutch oven, I added an extra 1/2 cup of vegetable broth because more of the broth will evaporate with this method.
Serving and Storing the pot roast
This Portobello Vegan Pot Roast should be served immediately. Because it's sitting in the juices of the vegetables and vegetable broth, the potatoes and carrots will eventually start to get soft and mushy. For that reason, this doesn't store very well and is best eaten the same day.
What to serve with your vegan pot roast
This pot roast makes a great winter meal or the perfect entrée for your holiday meals this year. Serve it with:
Are you ready to make this vegan pot roast? Let's check out the recipe below!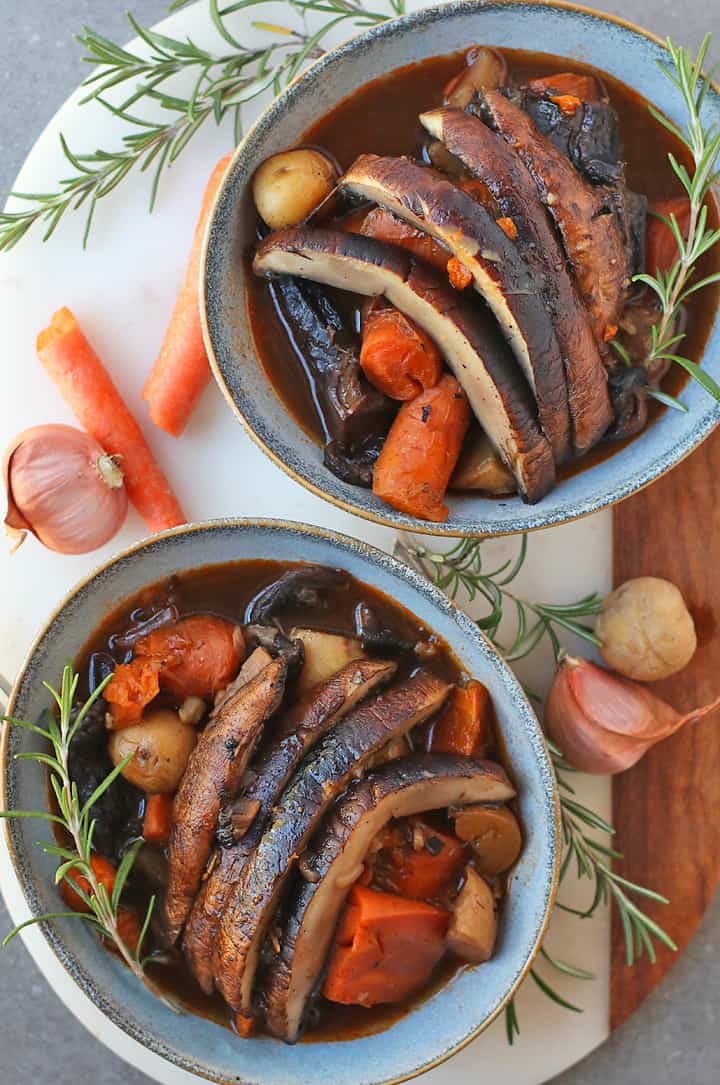 Instant Pot Vegan Pot Roast
Get cozy with this perfect weeknight stew. A vegan pot roast made with portobellos, carrots, and potatoes, all cooked inside an Instant Pot for the ultimate easy fall meal.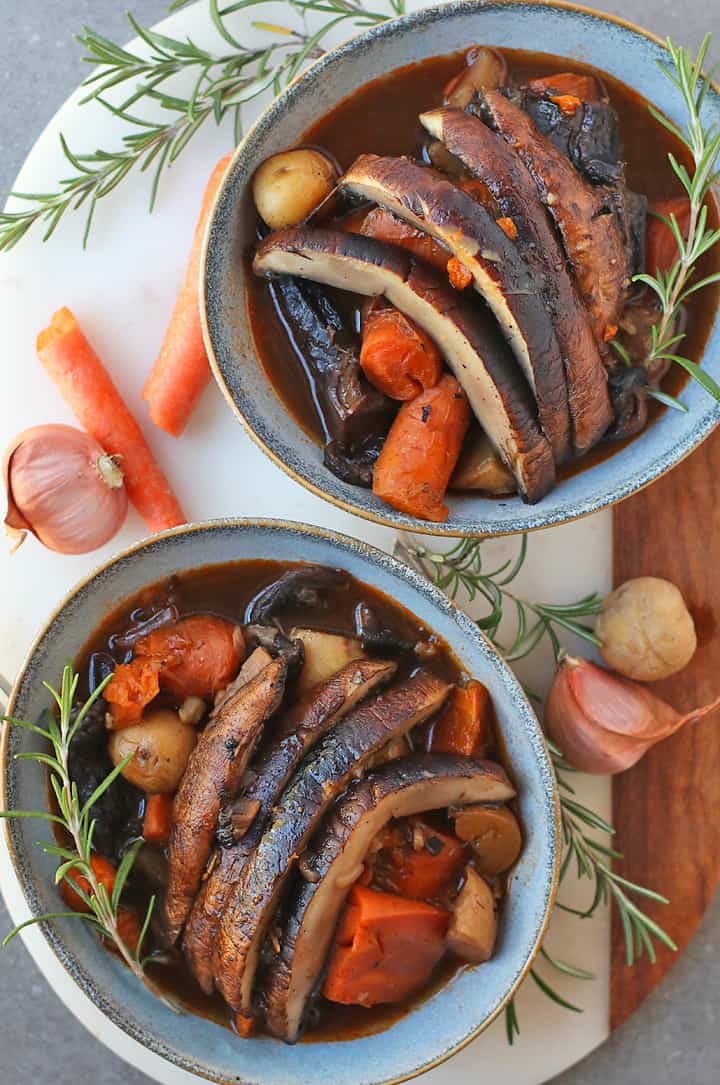 Course:
Main Course
Cuisine:
Vegan
Keyword:
Vegan Pot Roast
Servings
:
4
people
Calories
: 217 kcal
Author
:
Sarah McMinn
Ingredients
2

tbsp olive oil, divided

4

large portobellos

1

medium yellow onion, roughly chopped

3-4

cloves garlic, minced

4

large carrots, cut in half into 2-inch pieces

1

pound baby potatoes

1

sprig rosemary, destemmed

1

sprig oregano, destemmed

2

tbsp tomato paste

1/4

cup

dry red wine

1/2

cup

vegetable stock

2

teaspoons vegan Worcestershire sauce
salt and pepper, to taste
Instructions
Set your Instant Pot to the high sauté setting. Heat up 1 tablespoon of oil.

Remove the stems from the portobello. Generously rub them with salt and pepper and slice them into 1/2-inch strips. Sauté in the Instant Pot for 2-3 minutes, stirring often. Once it's evenly browned, remove the mushrooms from the Instant Pot and set aside.

Heat the remaining tablespoon of oil in your Instant Pot and add onions. Sauté for about 3-4 minutes until they are fragrant and translucent. Stir in garlic, carrots, and potatoes and sauté for 2-3 minutes until vegetables are slightly browned. ​

Add back the sautéed portobellos, tomato paste, red wine, vegetable stock, Worcestershire, rosemary, and oregano. As you do this, make sure to scrape up any browned vegetables from the bottom. Secure the lid on. Select the manual setting to high pressure and set for 30 minutes.

When finished, release the pressure according to manufacturer's instructions. Remove the lid and let the pot roast cool for 10 minutes.

With a slotted spoon, serve the pot roast between 4 bowls. Top with a spoonful of gravy and serve immediately.
Nutrition Facts
Instant Pot Vegan Pot Roast
Amount Per Serving
Calories 217
Calories from Fat 63
% Daily Value*
Fat 7g11%
Sodium 268mg12%
Potassium 862mg25%
Carbohydrates 33g11%
Protein 3g6%
Vitamin A 12215IU244%
Vitamin C 31.4mg38%
Calcium 62mg6%
Iron 1.7mg9%
* Percent Daily Values are based on a 2000 calorie diet.
If you give this recipe recipe a try, snap a photo and share it on Instagram. Make sure to tag
@mydarlingvegan
so I can see your creations!