Start your morning with this Golden Chai Latte made with black tea, whole spices, and a hint of turmeric for a sweet and spicy morning drink.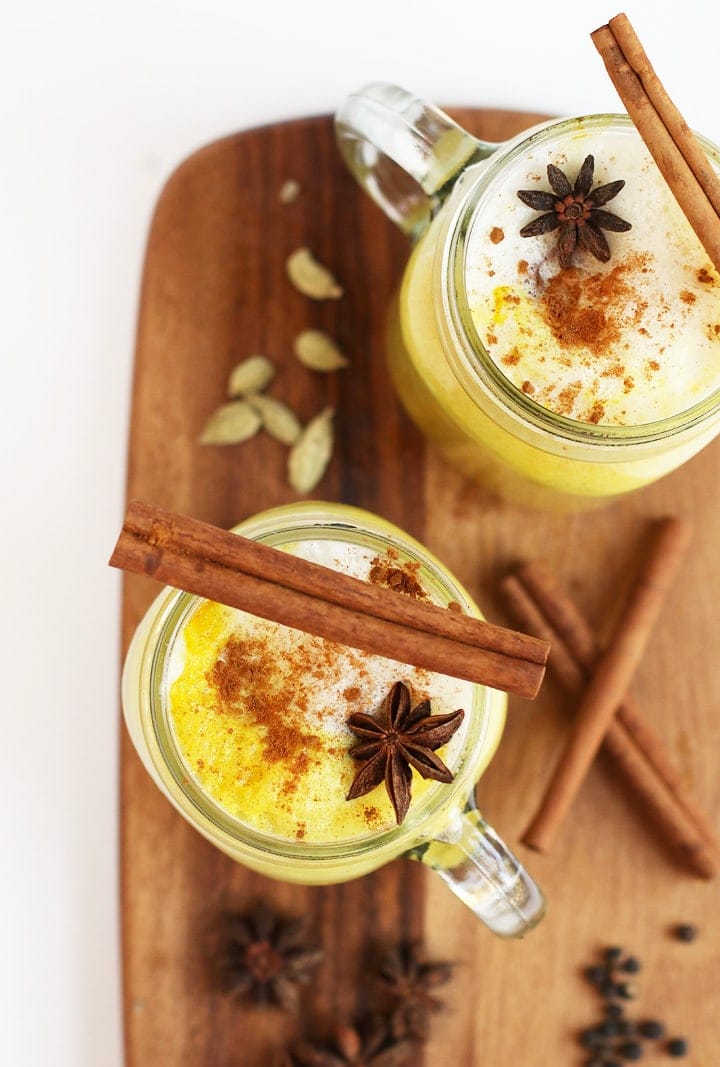 This post contains affiliate links. For more information please see my privacy policy. 
Remember a couple of months back I told you that I was off coffee as a health experiment? Well, two months in and I'm still going strong. Unfortunately, I can't report that my health concerns have completely cleared up, but I have seen significant improvement. However, that improvement is not what's kept me off coffee. I have stayed off coffee for these past two months because…
I feel so much better.
I am less anxious, less stress, less irritable. I sleep better, drink more water, and on top of all that, I've been saving A LOT of money that would have previously gone to coffee.
It's hard to argue with all that. As so, I started drinking decaf chai lattes in the morning.
Last week, I put a spin on my regular spicy chai latte and added a little gold in the form of turmeric. Honestly, now that I have my daily golden chai lattes, I crave coffee no more.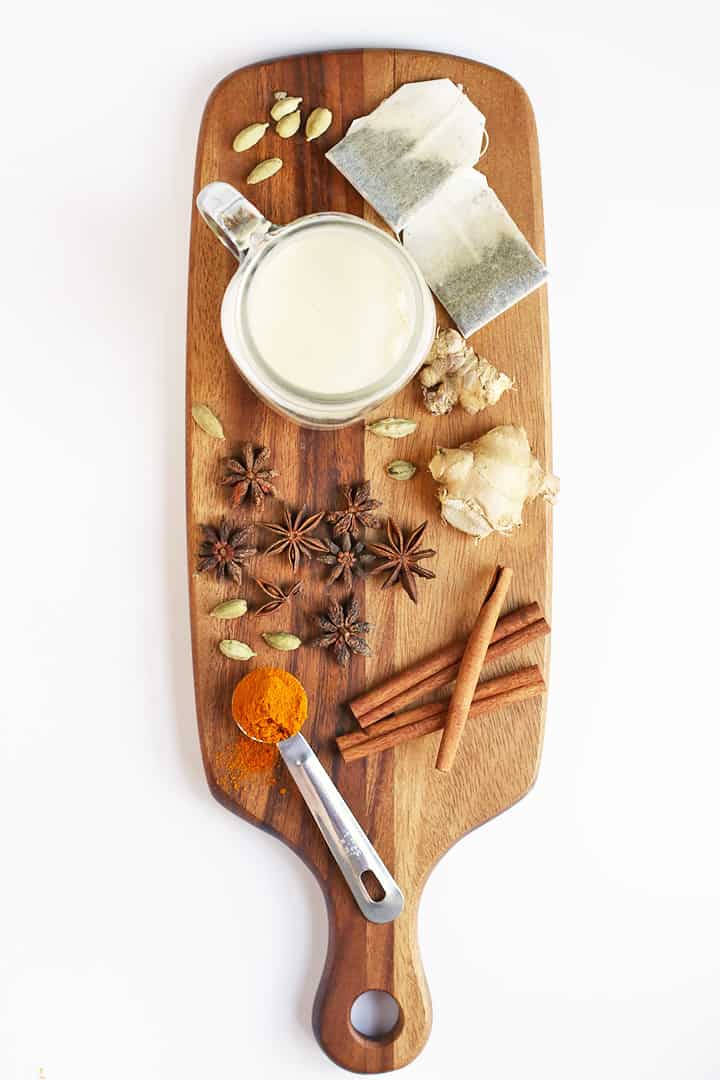 What is a Golden Chai Latte?
You've probably noticed golden milk and golden lattes popping up EVERYWHERE. Golden milk – milk infused with turmeric – has become widely popular in the past year.
Why are people doing this? Well, not only does it create a beverage that is divinely golden in color, turmeric has incredible health benefits. It is mostly known for its anti-inflammatory effect and powerful in antioxidants, but that's just the tip of the iceberg.
Health Benefits of Turmeric
Turmeric has been known to:
improve brain function
lower risk of heart disease
prevent (and perhaps treat) cancer
fights depression
delay aging
So, with its subtle flavor, beautiful color, and incredible benefits, why wouldn't you add a little gold to your milk?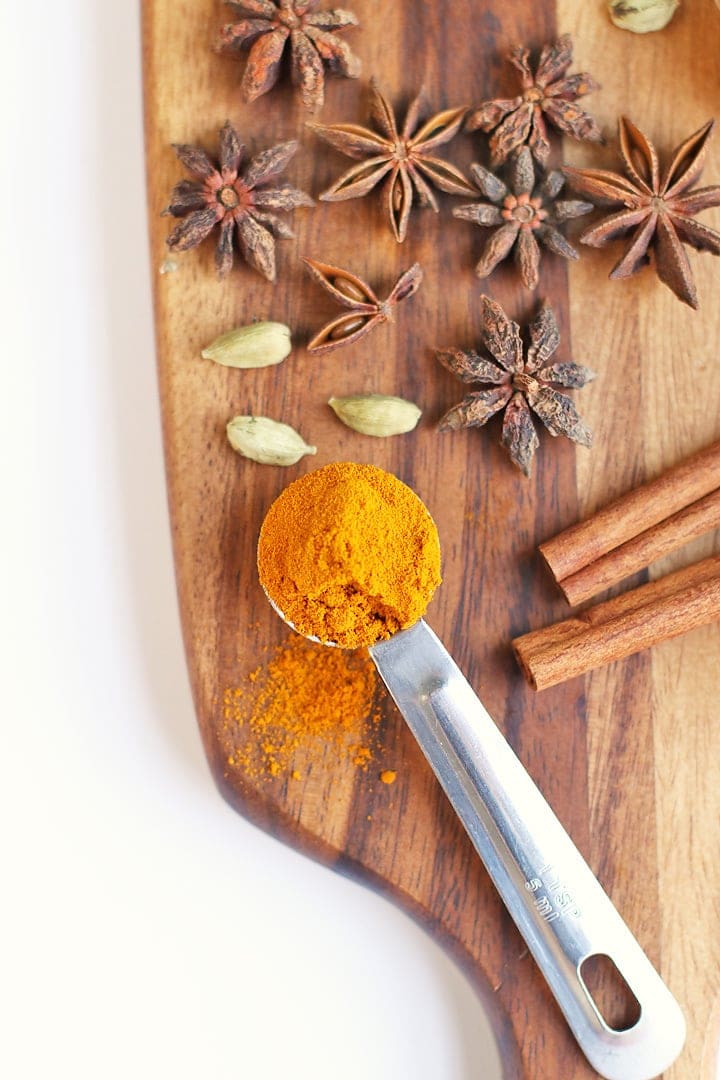 How to Make a Golden Chai Latte
There are several ways to make golden chai lattes. I have tried many over the years. Over time I have developed a tried and true chai tea latte that I think you will love!
Step One: Choose your spices
Once we've picked out our tea – it's an important decision, my friends – we can start making our chai tea latte. In addition to tea, I like to use whole spices that get steeped with tea for a full-flavored experience.
My go-to spices are:
Cinnamon
Cloves
Peppercorn
Turmeric
Freshly Ground Ginger
The spices are very flexible in this recipe, so mix and match as you please.
Step Two: Boil and Steep
With your tea and spices picked out, the next step is to boil and steep them in 1 cup of water. You are essentially making a chai tea concentrate. If you know you will be drinking a lot of chai teas this fall and want to be efficient, double or triple the batch and store your chai tea concentrate in the refrigerator for up to two weeks.
Once your tea and spices have steeped for 5 minutes, pour them through a fine-mesh strainer so that just the concentrate remains.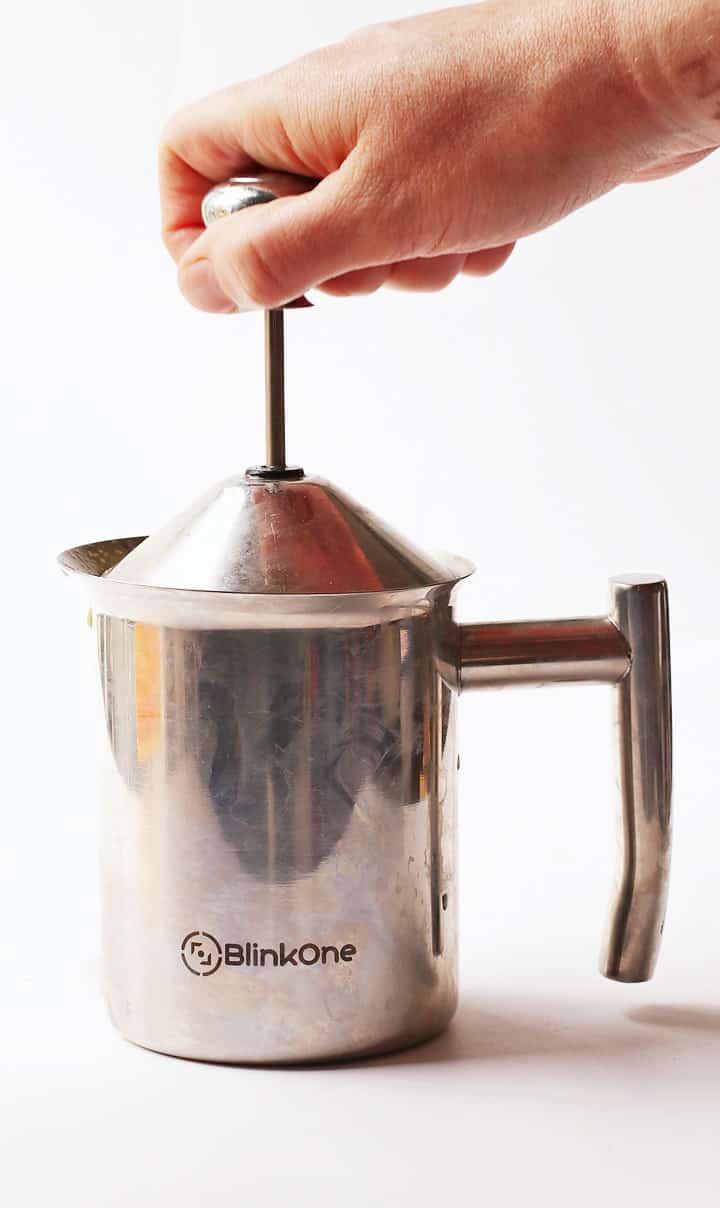 Step Three: Froth the Milk!
Again, it's time to make some decisions.
Best non-dairy milk for Golden Chai Latte
My preference is soy because the flavors blend well with the spices of chai. Additionally, soy milk is one of the best non-dairy milk for frothing. However, if you don't like soy my other recommendations are hemp, cashew, or oat both for flavor and texture.
To get a nice frothy foam on our milk, I heat it up to a scald, that's just before boiling point, then transfer the milk to my frother and give it a few pumps.
So easy!
If you're looking for a milk frother, this is the that I use. And it's less than $15 on Amazon!
The milk then gets poured over the concentrate, which mixes all up on its own. Sprinkle your lattes with a little cinnamon and top them with some star anise (because it's so pretty!) and go on an enjoy your beautiful fall day!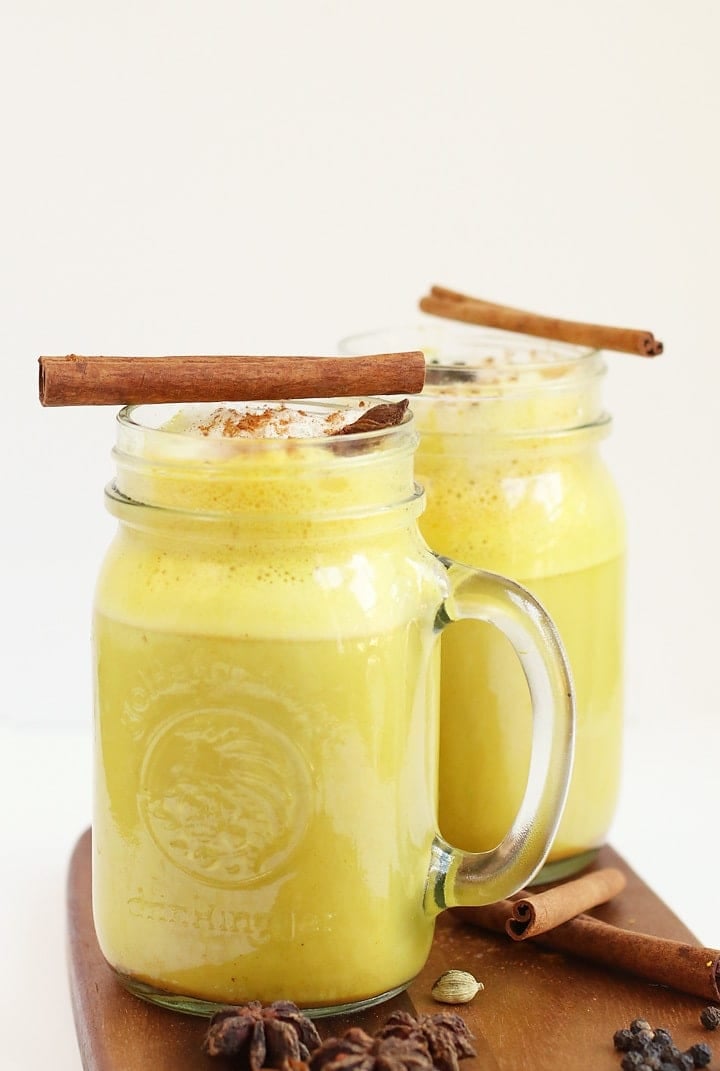 Tips and tricks the perfect Golden Chai Latte
A great chai latte is a balance of spices. Experiment with the spices in this recipe to find the perfect combination for you.
I highly recommend getting a milk frother. However, if you have a French press, those work great for frothing milk. Just pour your warm milk into the French press. Pump it up and down a few times and you'll have delicious latte-quality frothed milk!
Serve your Golden Chai Latte immediately with a vegan pumpkin muffin or oatmeal date scone. 
Top your vegan latte with some star anise and sprinkled cinnamon for a beautiful morning beverage.
Sound good? Let's take a look at the recipe card below.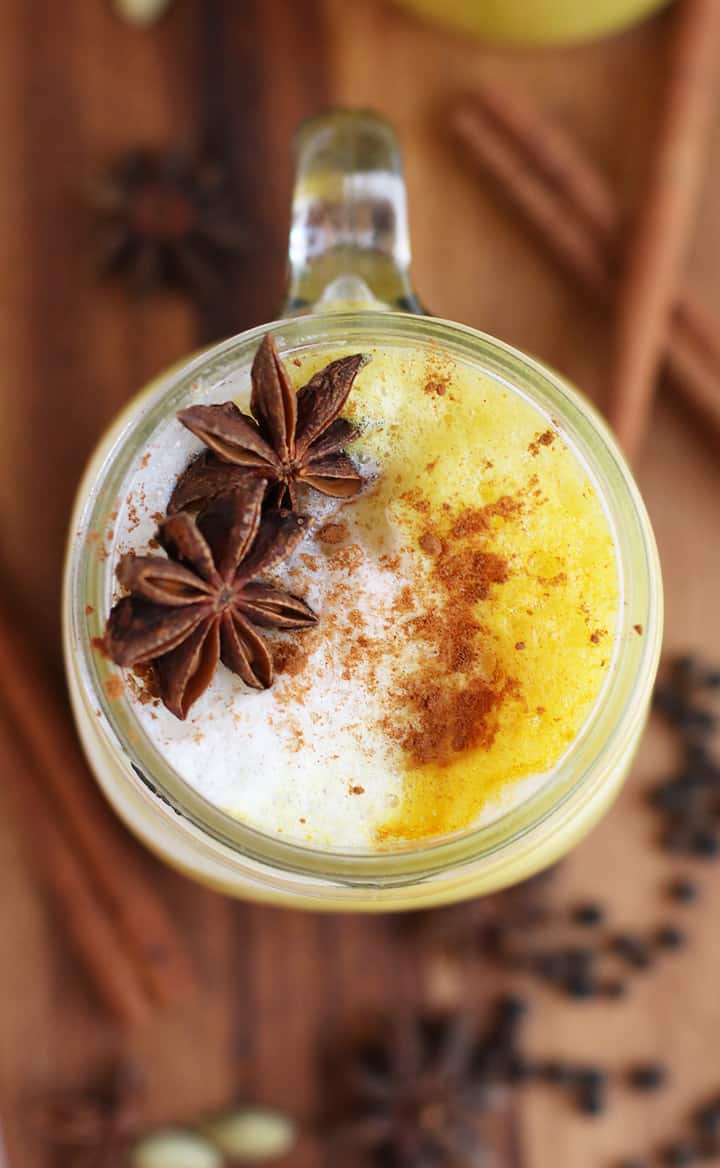 Golden Chai Latte
Start your morning with this Golden Chai Latte made with black tea, whole spices, and a hint of turmeric for a sweet and spicy morning drink.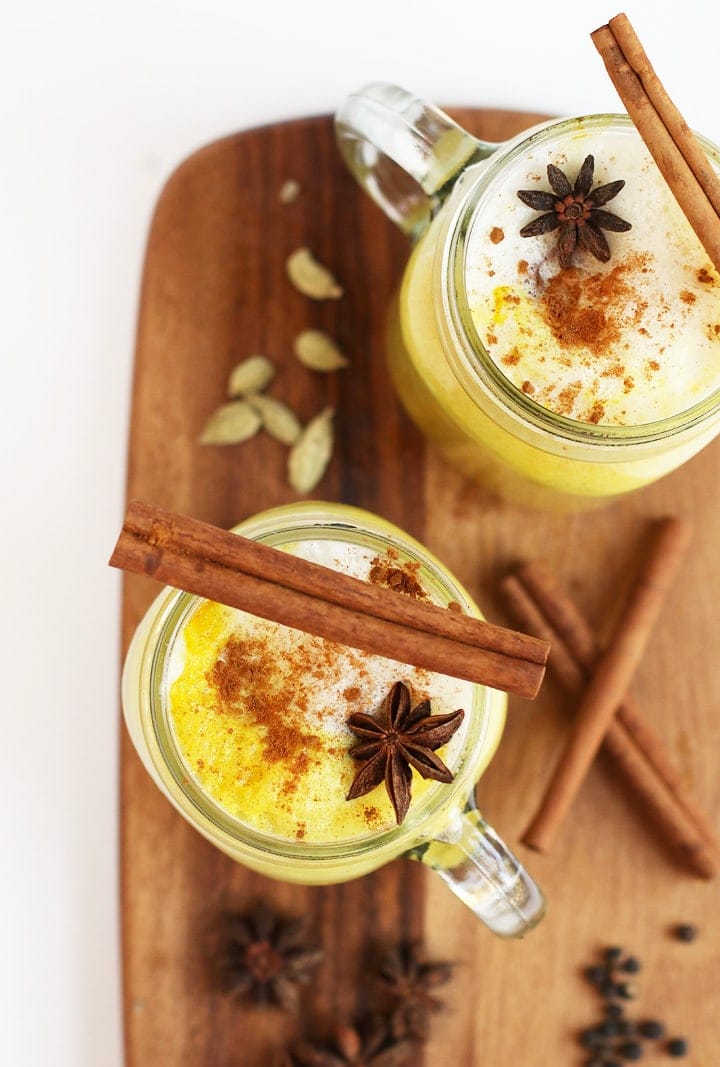 Course:
Drinks
Cuisine:
Indian, American
Keyword:
Golden Chai Latte
Servings
:
2
servings
Calories
: 197 kcal
Author
:
Sarah McMinn
Ingredients
Instructions
In a medium pot combine water with all the spices. Bring to a boil, cover, and reduce heat to a simmer. Simmer for 10 minutes.

Add tea bags, cover again, and remove from heat completely allowing the tea to steep for 5 minutes. Carefully pour hot water through a strainer, dividing it equally into two mugs so that just the tea concentrate remains.

In the same saucepan, bring heat milk to scald (just before boiling point) then remove from heat. Transfer milk to your milk frother and pump up and down a few times until your milk is light a frothy. Tap the frother a few times on the counter to let the milk settle a bit. 

Top off each mug with milk. Sprinkle with cinnamon, garnish with a couple star anise (optional) and enjoy immediately!
Nutrition Facts
Golden Chai Latte
Amount Per Serving
Calories 197
Calories from Fat 45
% Daily Value*
Fat 5g8%
Sodium 132mg6%
Potassium 460mg13%
Carbohydrates 29g10%
Protein 7g14%
Vitamin A 955IU19%
Vitamin C 18.4mg22%
Calcium 411mg41%
Iron 3mg17%
* Percent Daily Values are based on a 2000 calorie diet.
If you give this recipe recipe a try, snap a photo and share it on Instagram. Make sure to tag
@mydarlingvegan
so I can see your creations!