Healthy Pumpkin Pie Smoothie
Smooth and creamy this Vegan Pumpkin Pie Smoothie is filled with protein and delicious autumnal flavor for a quick and satisfying breakfast or any time of the day snack. Ready in 5 minutes!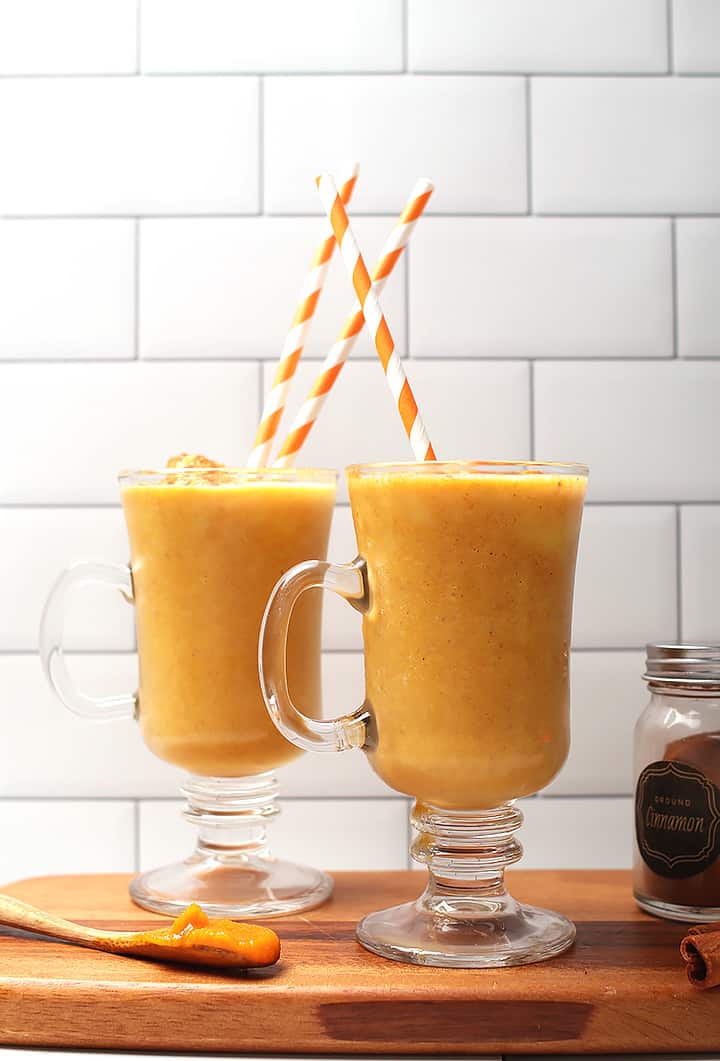 This post contains affiliate links. For more information please see my privacy policy.
This post was originally published on November 6, 2013. Last updated on October 21, 2019
OMG, you guys! I am just loving this fall.
I'm not sure what it is, but everything about it seems magical. After a full (and wonderful) summer filled with many trips, adventures, and a big move, it has been simply grand to spend this fall settling into our new home and do a little nesting. For me, nesting means setting up the house exactly how we love it, spending time cozying up on the couch during the rainstorms, and taking our time to make slow and well-intentioned meals.
Most mornings, I start off with a tofu scramble or simple avocado toast, but most recently, after coming home from my morning walk, I've been enjoying this Pumpkin Pie Smoothie. It's rich, creamy, filled with protein, and 100% satisfying on these mid-fall mornings.
Let's take a closer look!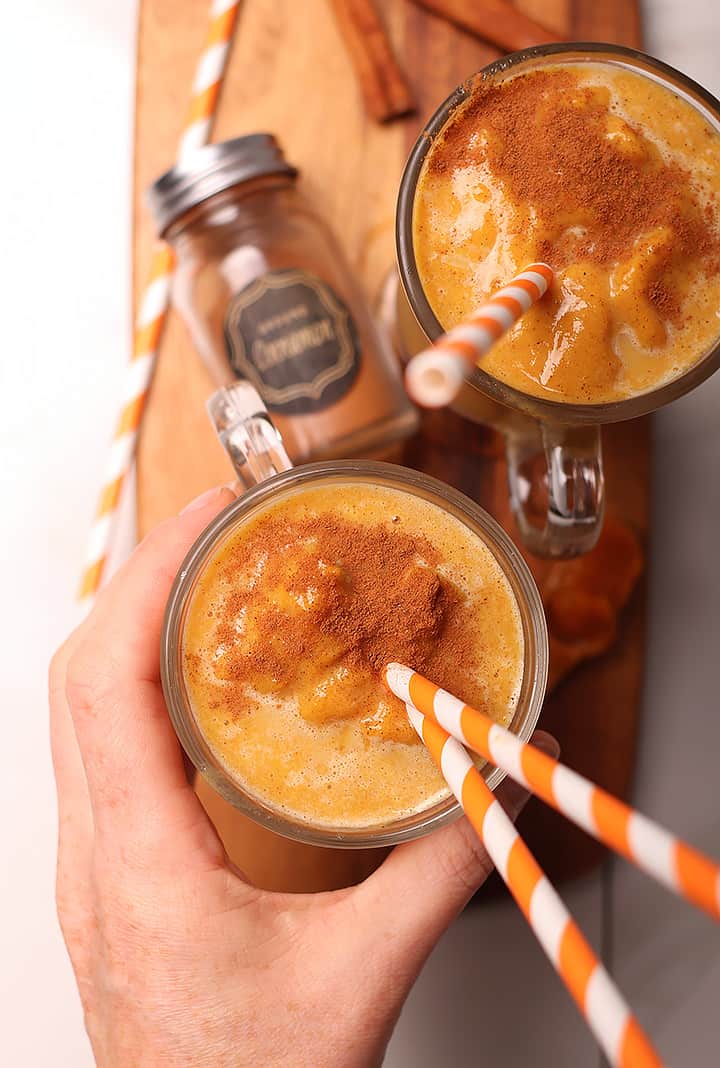 There are many pumpkin pie smoothie recipes out there but what makes this one special is that not only is this pumpkin smoothie totally delicious, rich, creamy, and perfectly seasonal but it's also healthy! It's packed with protein (with more add-in options available), low in fat, and filled with important vitamins and minerals making it the perfect quick breakfast or anytime-of-day-snack.
Ingredients for a healthy pumpkin smoothie
The ingredients for this vegan pumpkin smoothie are simple. You will need:
Pumpkin Puree
Non-dairy milk of choice (I use soy)
Maple Syrup
Vanilla Extract
Spices (cinnamon, ginger, nutmeg, and cloves)
For this recipe, you will want to freeze your tofu 24 hours in advance in order to get a chilled smoothie. Do do this, cut the tofu into 1″ cubes. Place the cubes in a single layer on a baking sheet and freeze until frozen solid. Transfer tofu cubes to a plastic bag and store in the freezer until ready to use.
What is silken tofu?
Every once in a while I get a reader who is unfamiliar with silken tofu. Unlike regular tofu, silken tofu has a creamy texture making it the perfect egg replacer for creamy pies such as Vegan Pumpkin Pie and Chocolate Cream Pie as well as custard-based desserts such as Lemon Bars and Classic Vegan Cheesecakes.
When blended, it incorporates completely with the other ingredients giving the recipes a thick and creamy (pudding-like) consistency without adding any strang tastes.
Do I have to use silken tofu?
Yes, for recipes that call for silken tofu, you do. Unfortunately, regular tofu just won't work. With regular tofu, you will end up with a grainy base with tofu chunks that just never break down. It's not good. Believe me, I've made this mistake.
Where to find silken tofu
Regular tofu is in the refrigerated section at your local grocery stores, but don't be fooled! Vacuum-packed silken tofu is shelf-stable so it is typically found on the shelf, often in the International aisle near the Asian foods. Look for a box that looks like this.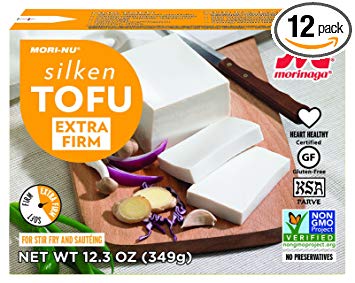 Make sure to buy firm or extra firm; this is important for getting the correct pudding-like texture. If you can't find it at your local grocery store, you can always pick some up online.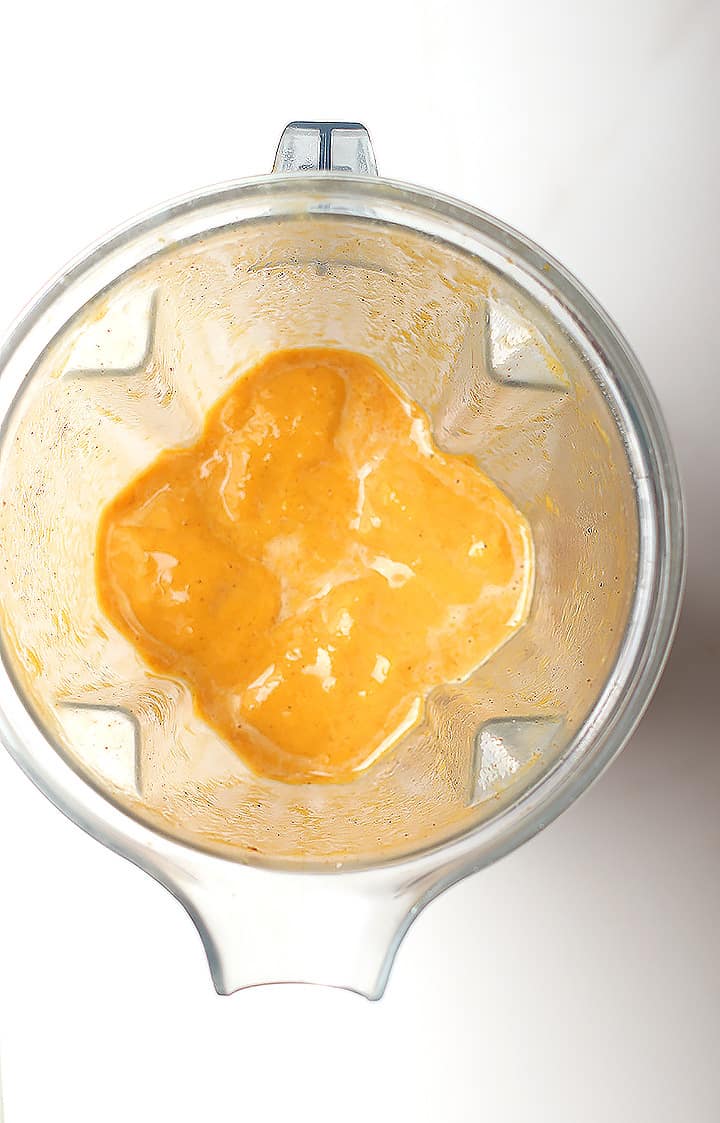 Superfood add-ins
To make this Pumpkin Pie Smoothie even better for you, feel free to add some of my favorite mixins:
These all have incredible benefits for your mood, energy, heart, and overall health. And they take this pumpkin smoothie to the next level!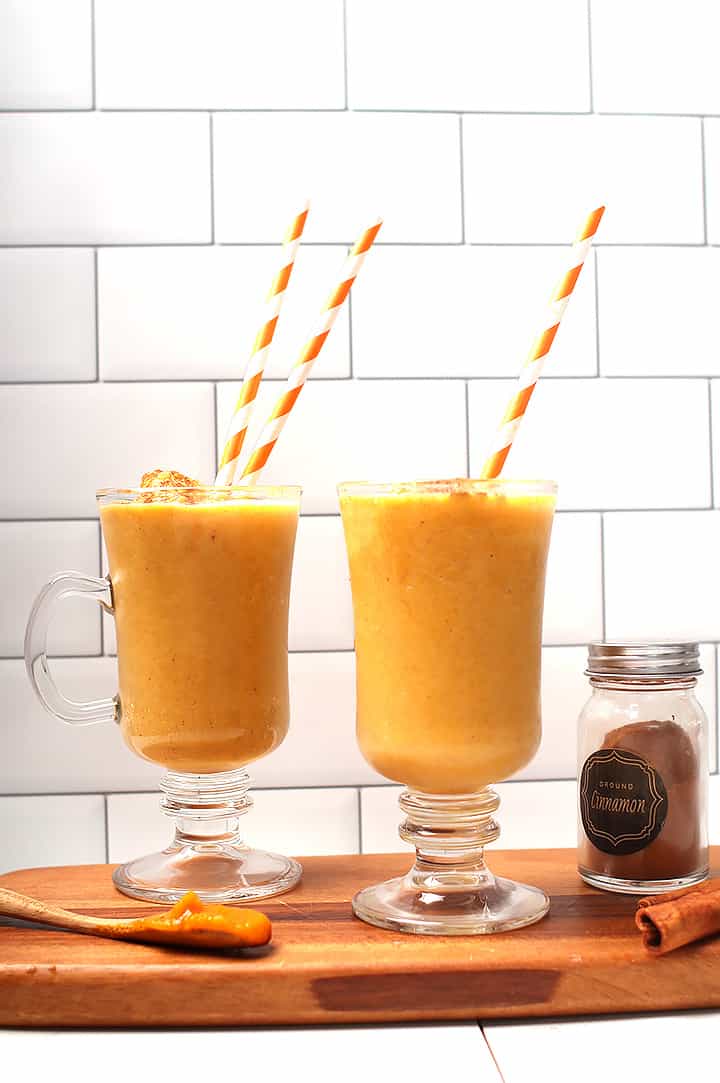 Tips and tricks for making the best Pumpkin Pie Smoothie
Make sure your tofu is completely frozen to ensure the right ice cream-like consistency. To freeze the tofu, chop the tofu into 1″ pieces. Freeze in a single layer on a baking sheet. When frozen all the way through transfer the tofu pieces to a ziplock bag. Return to the freezer and store for up to three months. When ready to use, just toss them in your blender with the rest of your smoothie ingredients.
Always use silken tofu. Regular tofu won't blend as well and you will end up with a grainy base with tofu chunks that just never break down. It's not good.
Blend your smoothie until it is completely smooth. The tofu may need a little bit of time to break down and you don't want tofu chunks in your smoothie.
This Pumpkin Pie Smoothie should be enjoyed immediately! Drink it for breakfast or a midday snack.
Variations and Frequently Asked Questions
This smoothie allows for a lot of variation. For more protein, add your favorite protein powder, chia seeds, or nut butter. Almond butter works well! You can also consider adding Maca Powder and Ashwagandha Powder for mood and energy-boosting properties.
Originally I had made this Pumpkin Pie Smoothie a Pumpkin Chai Smoothie. For a chai-tea taste, add 1/2 cup of strongly brewed chai tea and reduce the milk by equal amounts.
Can I use something other than tofu?
Yes! If you want a soy-free option or can't find silken tofu, you can substitute a very ripe frozen banana or, for a lighter option, 1 cup of ice cubes. The texture will be slightly less creamy but will still be deliciously good!
Does this store well?
Unfortunately, no. This vegan smoothie should be eaten enjoyed immediately.
More Vegan Pumpkin Recipes for Breakfast
But before you go, let's take a look at the recipe card below.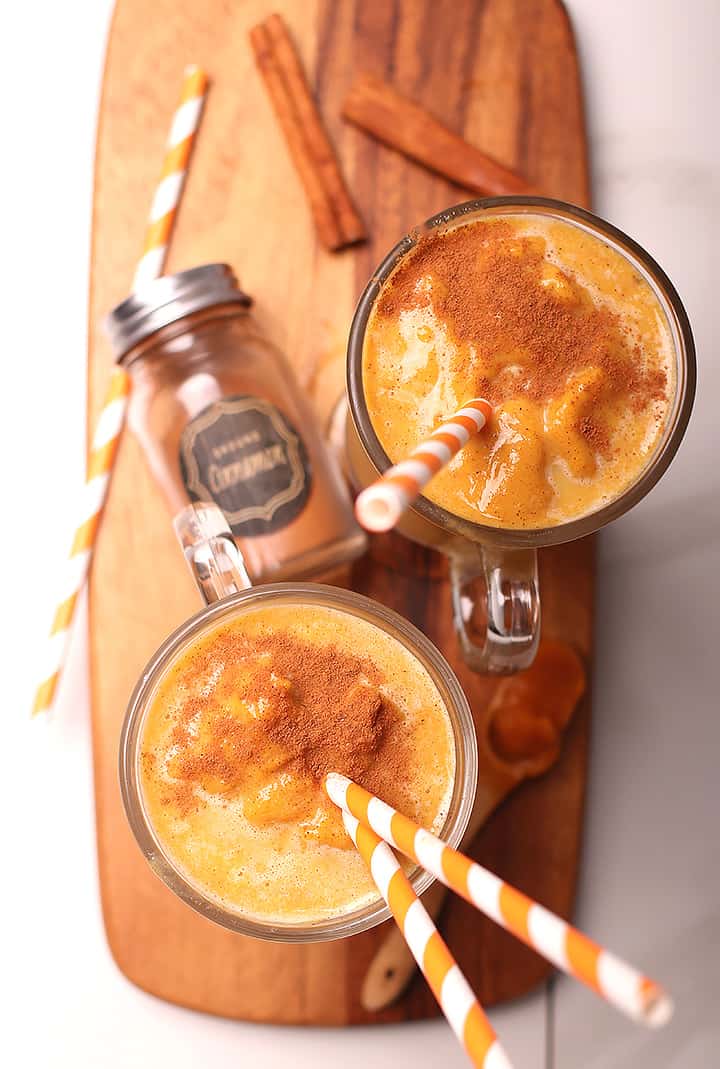 Vegan Pumpkin Pie Smoothie
Smooth and creamy this Vegan Pumpkin Pie Smoothie is filled with protein and delicious autumnal flavor for a quick and satisfying breakfast or any time of the day snack. Ready in 5 minutes!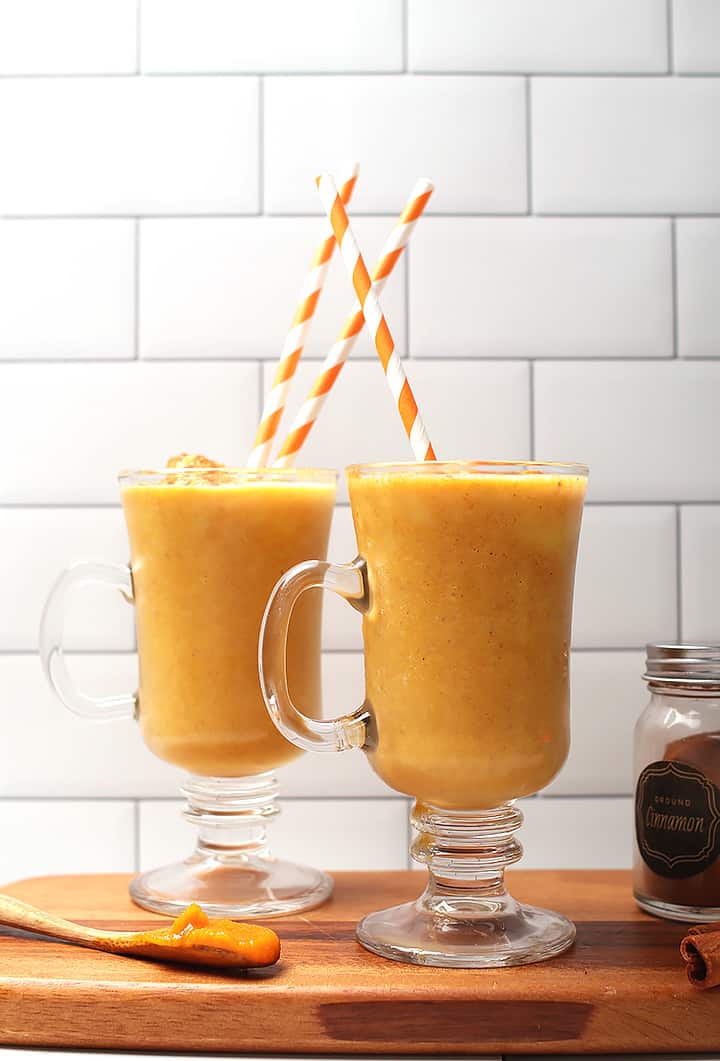 Course:
Breakfast
Cuisine:
Vegan
Keyword:
Pumpkin Pie Smoothie
Servings
:
2
serving
Calories
: 148 kcal
Author
:
Sarah McMinn
Ingredients
Instructions
Combine all the ingredients in a blender and process until completely smooth and well combined. If it is too thick, you can add a little extra milk or a few ice cubes.

Pour into two smoothie glasses and serve chilled. Serve with coconut whipped cream (optional) or a few sprinkles of cinnamon.
Recipe Notes
Want a soy-free option? Substitute 1 frozen ripe banana or 1 cup of ice cubes for a lighter option. 
Nutrition Facts
Vegan Pumpkin Pie Smoothie
Amount Per Serving
Calories 148
Calories from Fat 54
% Daily Value*
Fat 6g9%
Sodium 77mg3%
Potassium 208mg6%
Carbohydrates 13g4%
Protein 10g20%
Vitamin A 619IU12%
Vitamin C 11mg13%
Calcium 304mg30%
Iron 2mg11%
* Percent Daily Values are based on a 2000 calorie diet.
If you give this recipe recipe a try, snap a photo and share it on Instagram. Make sure to tag
@mydarlingvegan
so I can see your creations!