Keto Cauliflower Mashed Potatoes (Instant Pot)
These Keto Cauliflower Mashed Potatoes are made with cauliflower, garlic, and vegan parmesan for a delicious vegan and low-carb side at your next holiday meal. Made in under 10 minutes!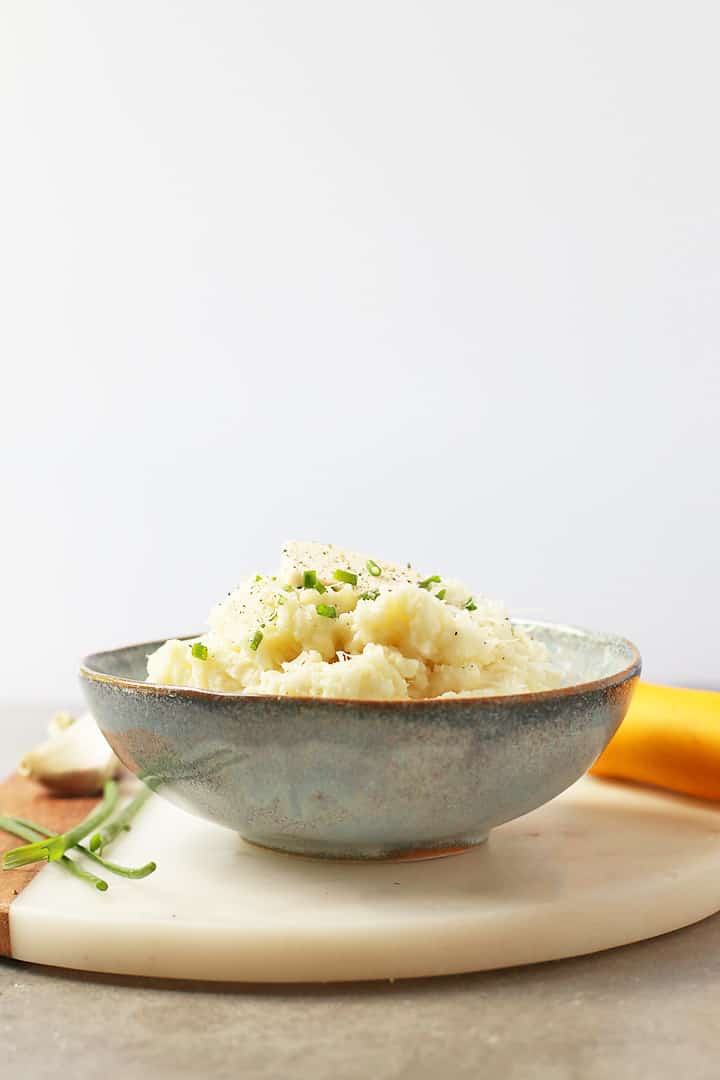 This post contains affiliate links. For more information read my privacy policy. 
Let's get one thing straight.
While I'm calling this recipe Cauliflower Mashed Potatoes, there are absolutely no potatoes in this recipe. These cauliflower mashed potatoes are, in fact, just cauliflower – a healthier, low-carb alternative to everyone's favorite Thanksgiving side dish.
Cauliflower – the miracle food.
Not only does it make amazing mashed potatoes (which we will get to in a minute), you can also use it as a low-carb alternative to rice, dairy-free alternative to cream sauces, and an AMAZING vegetarian option for chicken wings. Cauliflower can even be an egg replacer in baked goods and be the base for your grain-free pizza crusts.
So, we are all in agreement then that cauliflower is incredible?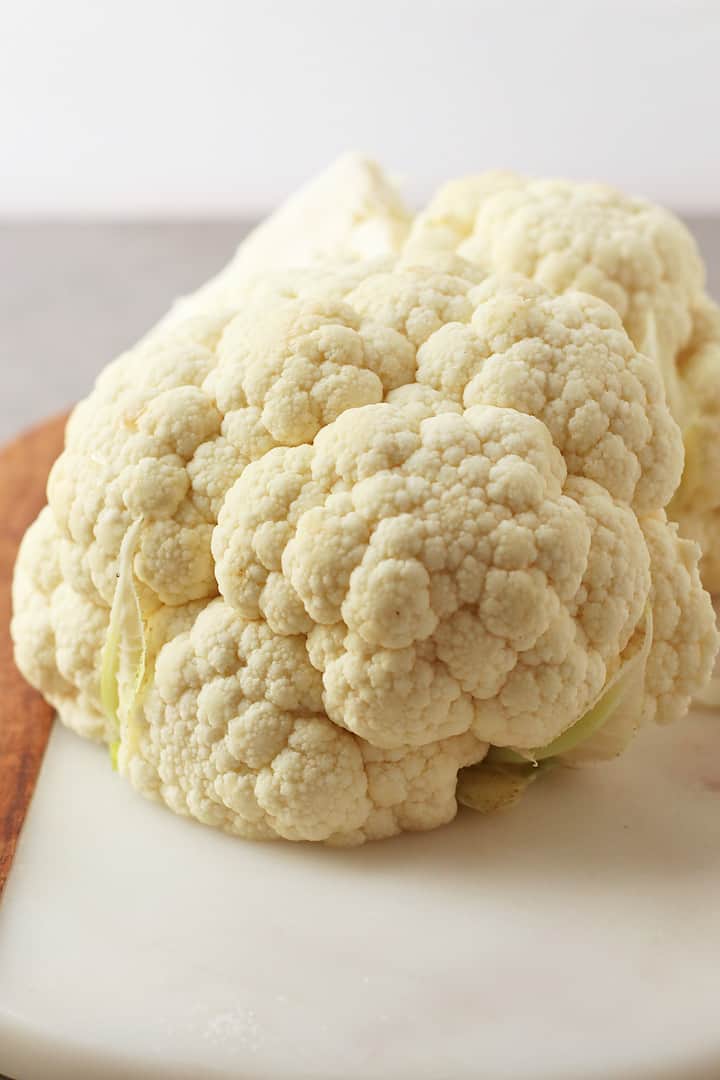 And I think you're going to absolutely love these cauliflower mashed potatoes.
They are rich, creamy, delicious, and taste very similar to mashed potatoes. I mean, think about it. Potatoes and cauliflower are not that different in texture, neither have much taste, and both absorb the flavors around it.
Cauliflower vs. Potatoes
Cauliflower is the low carb option. Potatoes have a glycemic index of over 75 making it a high-glycemic food. Cauliflower, on the other hand, ranks between 0-15 on the glycemic index. This is important to keep in mind for people with diabetes or are pre-diabetic. And I recommend all vegans consider low glycemic options as our diet typically tends to be high in carbs.
1 cup of potatoes is 115 calories compared to the 27 calories for cauliflower.
Don't get me wrong, I LOVE mashed potatoes. But as I get older, I do need to consider healthier alternatives and for that reason I am grateful for these cauliflower mashed potatoes.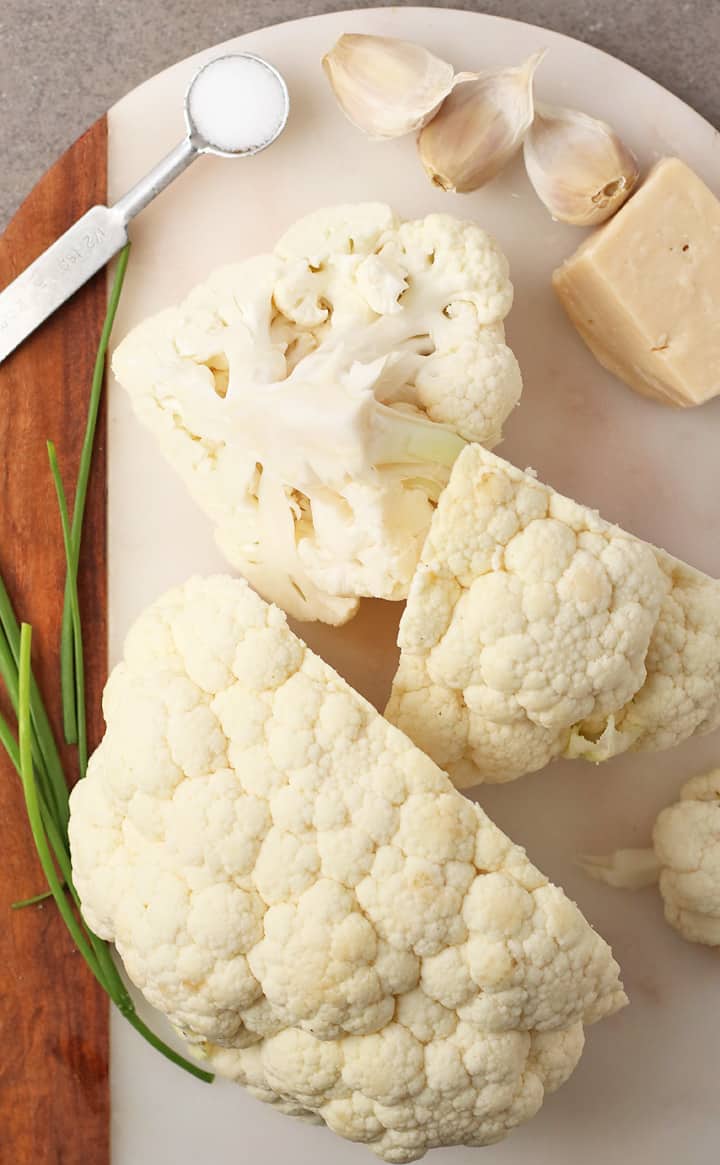 How to make cauliflower mashed potatoes
Step one – With an Instant Pot, cook the cauliflower and garlic.
For this recipe, we are pulling out my favorite kitchen gadget, the Instant Pot. For those of you who don't know, an Instant Pot is a multi-use kitchen gadget that does the work of a slow cooker, pressure cooker, rice cooker, sautéer, yogurt maker, steamer, and warmer. While I rarely buy kitchen gadgets that take up much room, this one made total sense. Having none of those gadgets already in my kitchen (other than a sauté pan) I decided it was worth the investment and I bought myself an Instant Pot.
This is the one I use.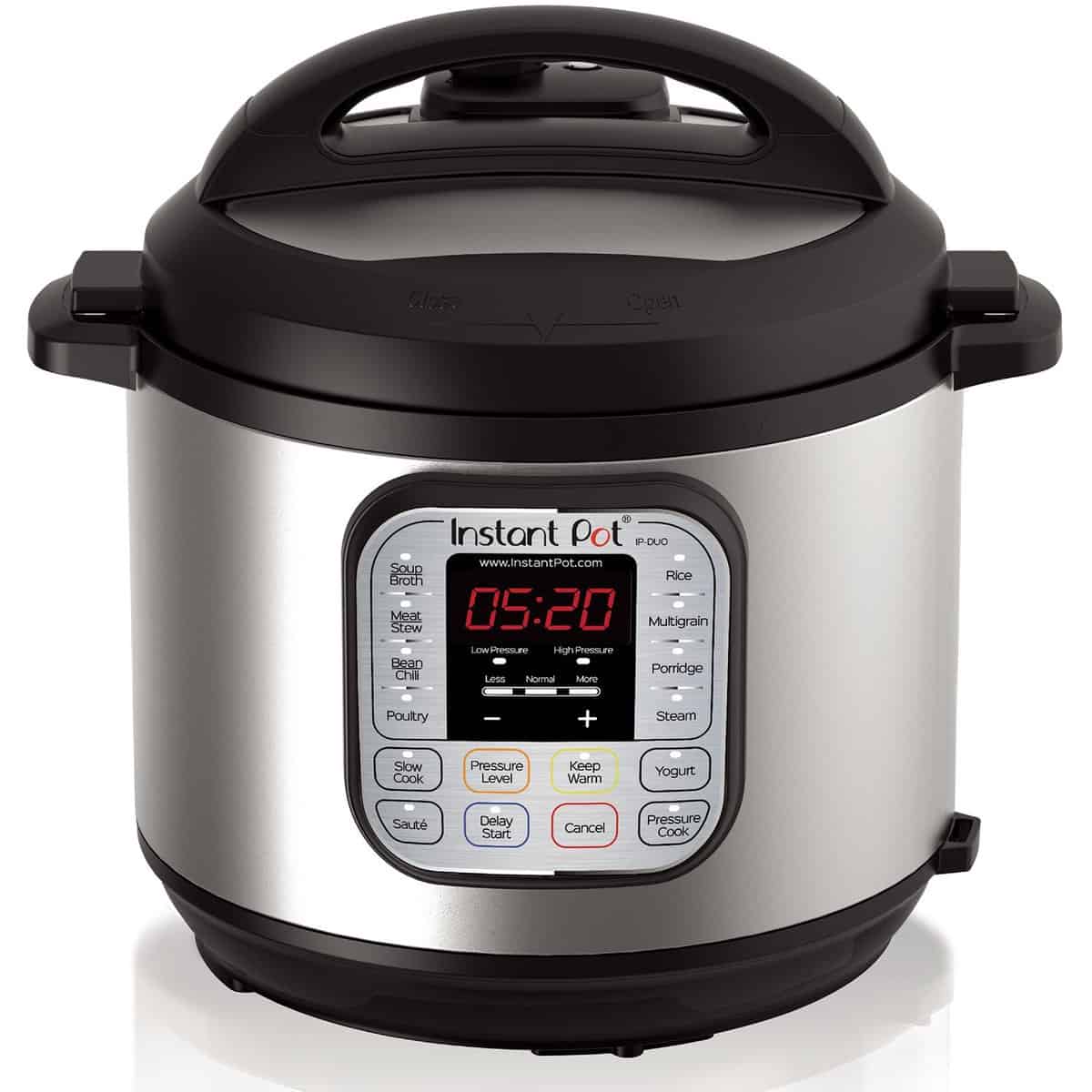 It's just about $90 on Amazon and with it, you get everything you would need. It's very easy to use, not bulky, and for the price, I believe the best one on the market – perhaps something to add to your holiday list.
While it's ultra convenient as it is so multi-functional, the reason I absolutely love my Instant Pot because it makes dinner so easy. The instant pot makes these cauliflower mashed potatoes ready in under 10 minutes!
Step Two – Purée the cooked cauliflower
Strain your cooked cauliflower through a colander then place it in your food processor with your remaining ingredients. You may, depending on the size of the cauliflower, need to add 1-2 tablespoons of non-dairy milk while you process. Add just about 1-2 teaspoons at a time until you get the right consistency.
Process your cauliflower until it resembles mashed potatoes, about 2 minutes.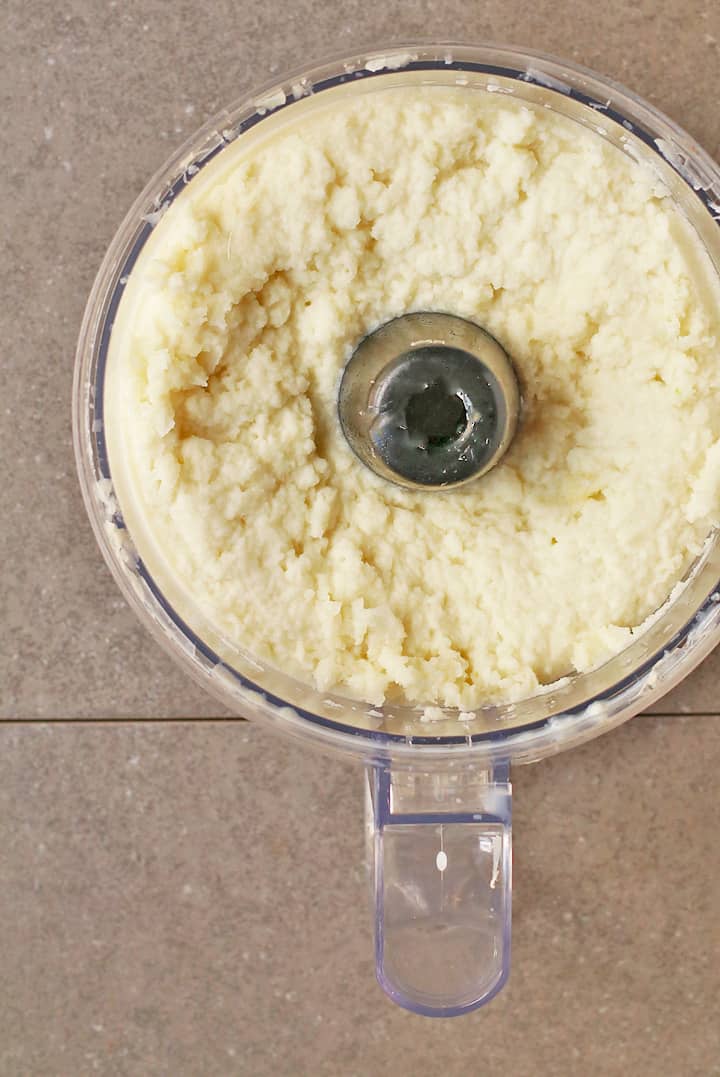 Step Three – Serve it up!
Once the mashed cauliflower is nice and creamy, it's time to serve it up. I like to serve mine with freshly ground pepper, butter, fresh chives, and some vegan parmesan.
The best vegan parmesan
As you already know, I'm a HUGE fan of Violife parmesan. This is not sponsored content, I just absolutely love this cheese and their parmesan makes this recipe so much better. I add about 1/4 cup of this parmesan to the cauliflower mash as well as on top it. It is creamy, melty, and tastes exactly how I remember parmesan to taste. I find their cheeses at Whole Foods but you can also check out this map to find Violife near you.
If you don't have access to Violife, you can make your own parmesan or omit it altogether.
Tips and Tricks for making the BEST vegan mashed cauliflower:
If you don't have an Instant Pot, you can make this recipe on the stovetop. Bring 2 quarts of water in a large saucepan to a boil and boil your cauliflower florets with the garlic for 10-12 minutes until soft and tender. From there, follow the rest of the recipe.
If you would prefer a chunkier mash (plus less mess!), you can use a potato masher rather than a food processor.
This mashed cauliflower is best when eaten the same day. If you have leftovers, you can store it in an airtight container in the refrigerator for 1-2 days.
Consider adding this to your holiday meal. Serve it with mushroom gravy.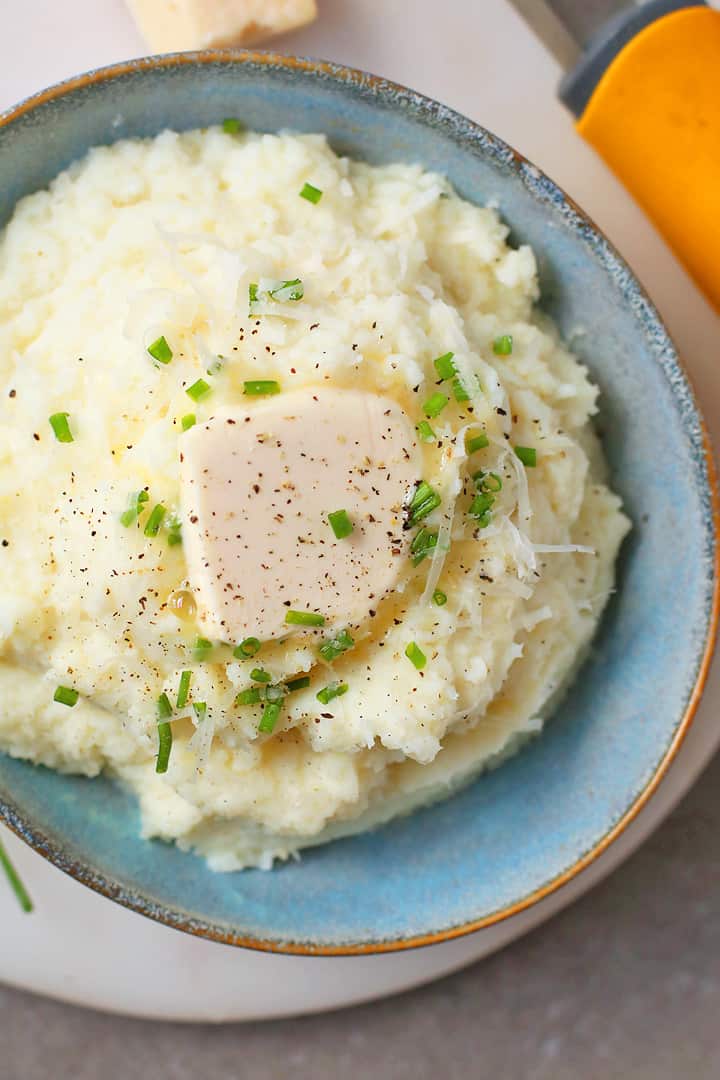 Instant Pot Cauliflower Mashed Potatoes
These Cauliflower Mashed Potatoes are made with cauliflower, garlic, and vegan parmesan for a delicious vegan and low-carb side at your next holiday meal. Made easy in an Instant Pot!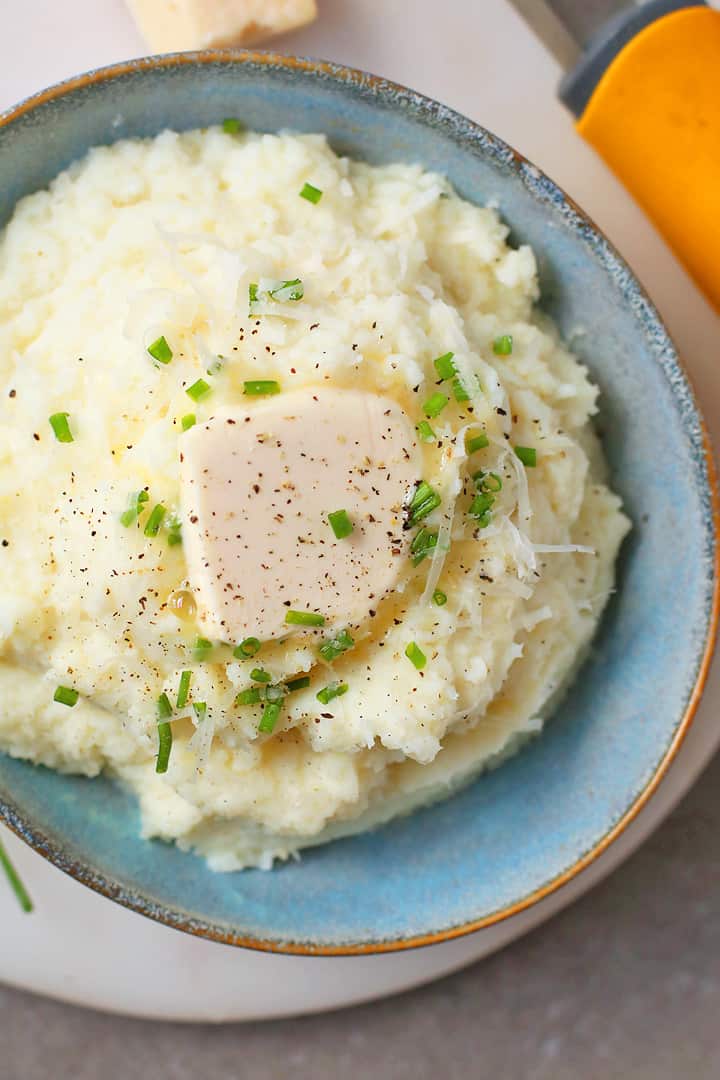 Course:
Side Dish
Cuisine:
Vegan
Keyword:
cauliflower mashed potatoes
Servings
:
4
servings
Calories
: 84 kcal
Author
:
Sarah McMinn
Ingredients
1

large head of cauliflower, cored and roughly chopped

4

cloves garlic, peeled

1

cup

vegetable broth

1/4

cup

vegan parmesan, optional

2

tbsp non-dairy butter, I recommend Earth Balance

1

tsp sea salt

1-2

tbsp unsweetened soy milk, if needed
pepper

2

small chives, chopped
Instructions
Place the trivet on the bottom of your instant pot. Add cauliflower, garlic, and vegetable broth to the Instant Pot. Close the lid and seal. Using the manual setting, set to high pressure for 5 minutes. Once ready, do a quick pressure release according to manufacturer's instructions.


Strain the cauliflower/garlic through a colander and transfer to a food processor. Add parmesan (if using), butter and salt. Process until mostly smooth so that it resembles mashed potatoes. Add soy milk, 1tbsp. at a time, if needed. Alternatively, you can mash the cauliflower with remaining ingredients using a potato masher.

Serve immediately with freshly cracked pepper, chives, and melted butter.
Recipe Notes
If you don't have an Instant Pot, you can cook the cauliflower and garlic in a large pot of boiling water for about 12 minutes, until easily pierce-able with a fork. The rest of the steps remain the same. 
Nutrition Facts
Instant Pot Cauliflower Mashed Potatoes
Amount Per Serving
Calories 84
Calories from Fat 63
% Daily Value*
Fat 7g11%
Cholesterol 5mg2%
Sodium 958mg42%
Potassium 12mg0%
Carbohydrates 2g1%
Protein 2g4%
Vitamin A 180IU4%
Vitamin C 0.9mg1%
Calcium 75mg8%
Iron 0.1mg1%
* Percent Daily Values are based on a 2000 calorie diet.
If you give this recipe recipe a try, snap a photo and share it on Instagram. Make sure to tag
@mydarlingvegan
so I can see your creations!