The BEST Vegan Zucchini Fritters
These warm and zesty vegan zucchini fritters!  Made in just 20 minutes, they make the perfect breakfast, lunch, or dinner. Top with vegan sour cream and fresh green onions for a simple and delicious meal.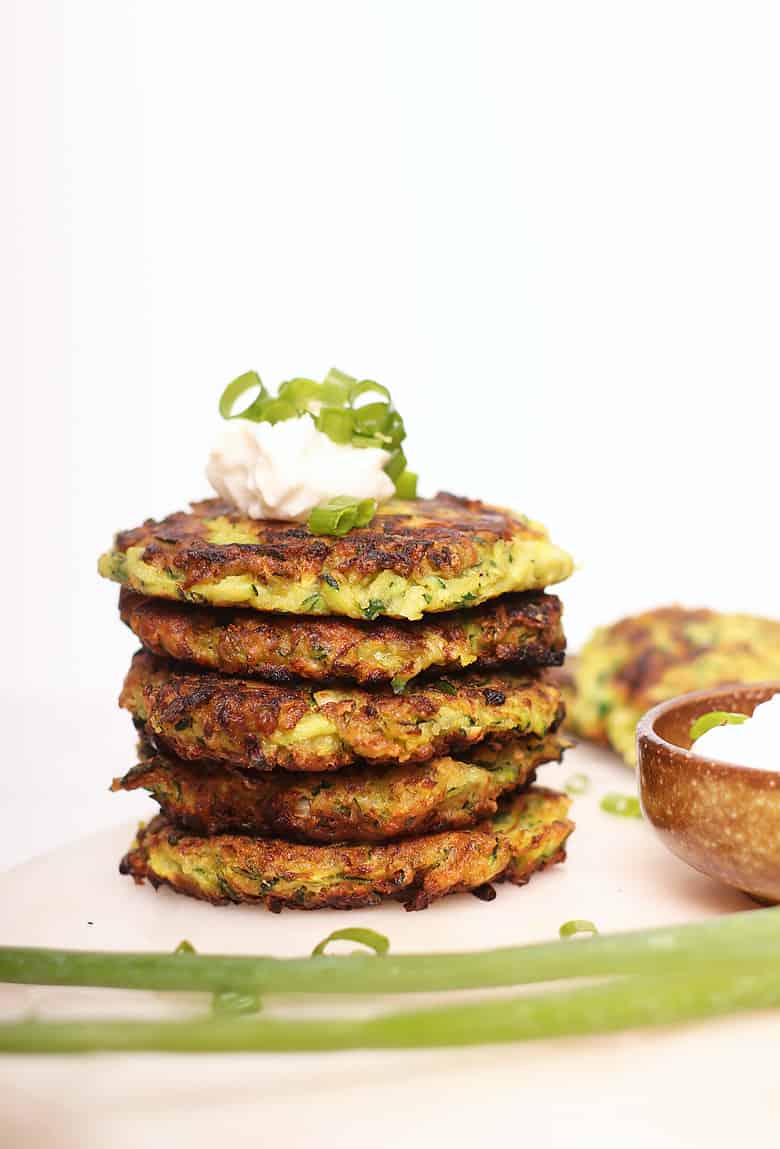 This is a sponsored post on behalf of Bari Olive Oil Co. All opinions are 100% mine.
This post contains affiliate links. For more information please see my privacy policy.
I'm pretty excited today, friends.
Next week, my partner and I take off for a 10 day trip to Italy. Italy has been high on my list for years and I can't believe that in a few short days I will be landing in Rome. After spending some time in Rome, we are taking the train up to Cinque Terre and hopefully stopping in Pisa on the way.
I can't wait to see all the things. And eat all the Italian food. It's going to be pasta, red wine, and olives for the next week and a half!
I will be stopping by here with a few posts along the way but before I go, I wanted to share with you this newest post on My Darling Vegan, these vegan zucchini fritters made with my FAVORITE olive oil named after a small city in – you guessed it – Italy!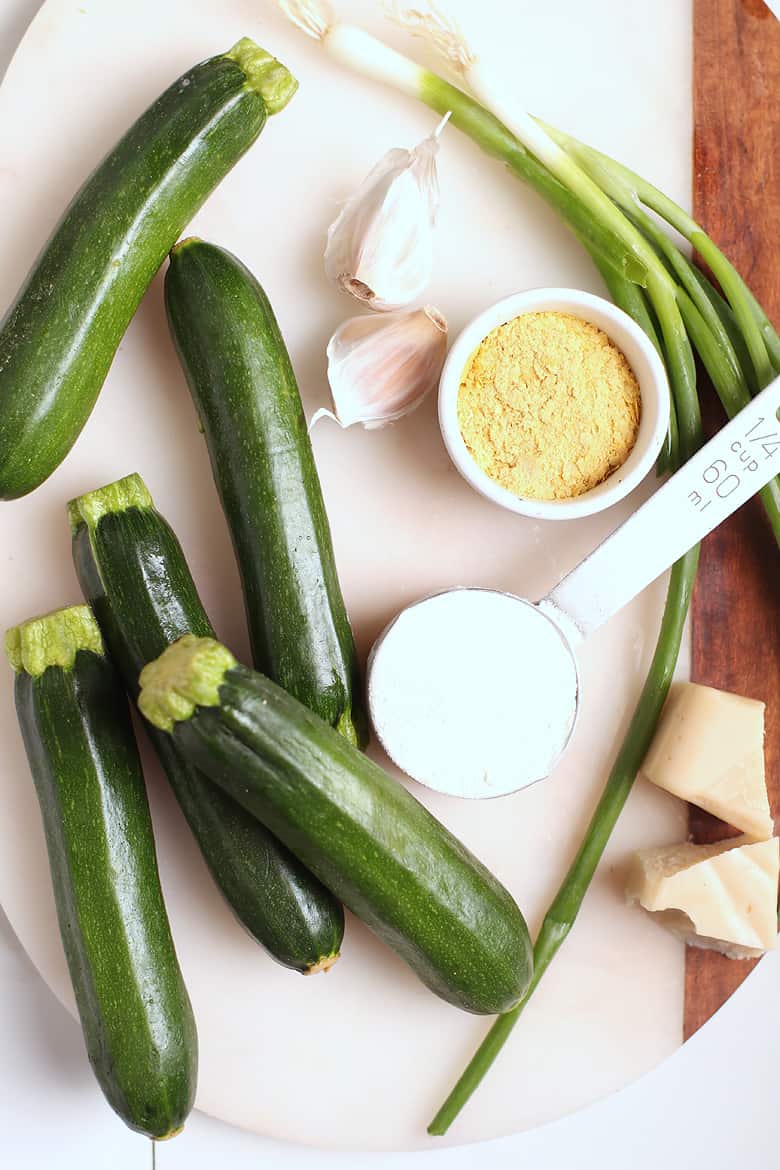 Ingredients for Vegan Zucchini Fritters
The ingredients you'll need for these zucchini fritters are pretty straight-forward. In fact, they are ingredients you probably already have on hand.
First of all, you'll (obviously) need some zucchini. Lucky for us we are now in the heart of the zucchini season. Zucchinis are everywhere! So head on out to the garden a pick out 3-4 medium-sized zucchinis.
In addition to zucchini you'll need:
All-purpose flour
Nutritional yeast
Baking powder
Garlic
Green onions
Best olive oil for vegan zucchini fritters
Because the flavor is so pronounced, you have to choose the best quality olive oil for these zucchini pancakes. For that reason, when choosing an olive oil to provide the foundation of this dish, I turn to Bari Olive Oil Co.
Bari Olive Oil Co. is a California-based company that has been making high-quality olive oil for over 80 years. They are a family run company that is dedicated to producing the highest-quality products available. All their olives are grown in California, supporting local growers and organic small-batch processing, ensuring that their promise of high-quality is never compromised. And it shows!
Bari's products are found throughout stores in California. But, fear not all you non-California dwelling readers. You can find all their incredible products online, too. So, go ahead and do a little shopping – perhaps some last-minute gifts for this Valentine's Day – and fill your cupboards with these beautiful, high-quality oils and vinegar.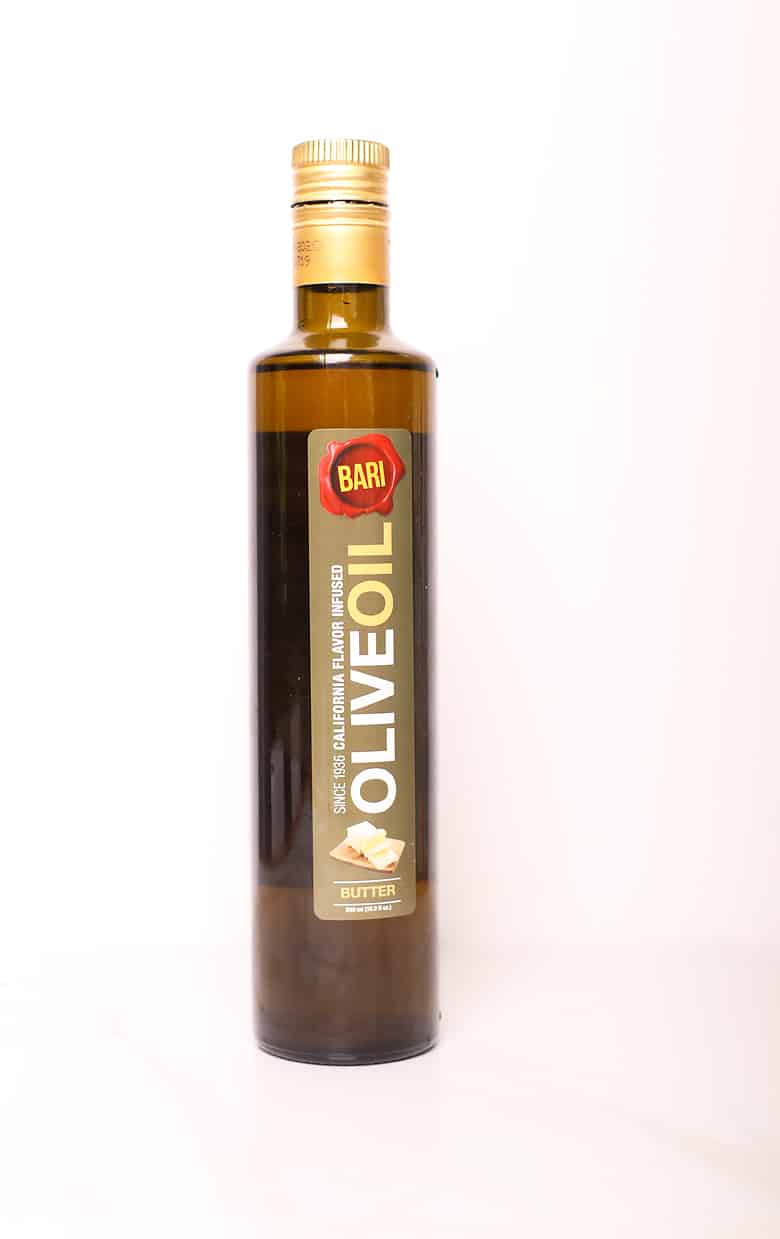 But wait, is butter infused olive oil vegan?
For this recipe, I use Bari's Butter Infused Olive Oil. This gives the zucchini fritters a DELICIOUS buttery flavor that you are going to love.
And yes, Bari's Butter Infused Olive Oil is 100% vegan. They use a plant-based butter flavoring that has all the taste of butter while offering the healthy fats that come from high-quality oil. I love this butter infused olive oil in this recipe but have also enjoyed it on popcorn and as a dipping sauce for garlic bread.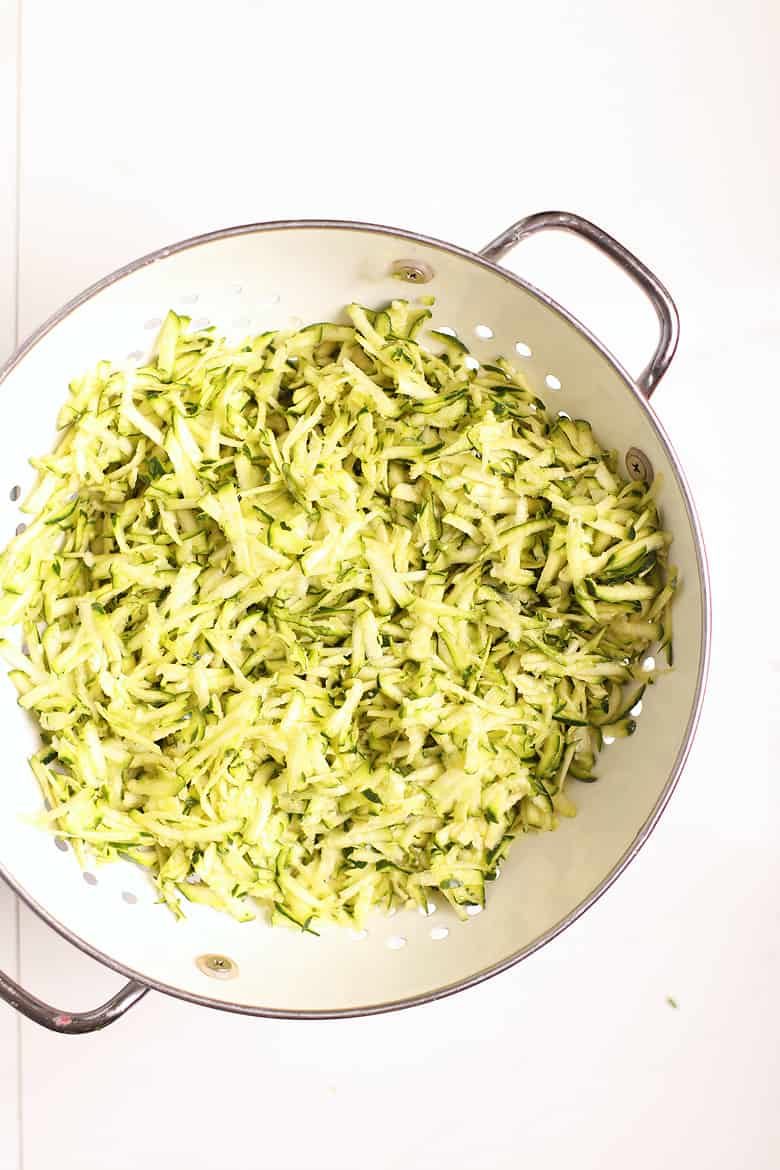 How to make Zucchini Fritters
So now that we have our olive oil sorted out, let's take a look at how to make these zucchini fritters.
Step one – Shred the zucchini
I highly recommend using a food processor with a shredding attachment. A food processor can shred the zucchini in under a minute and you don't have to worry about shaving off the tips of your fingers! But if you do not have a food processor, a handheld shredder will do.
Step two – Mix it all together
Combine all the ingredients (besides the cooking oil) in a large metal bowl. Stir it together with a wooden spoon or your hand until the batter is uniform.
Note that while traditional zucchini fritters use an egg to bind the batter together and give the fritters some rise, the olive oil and baking powder do the trick in this recipe.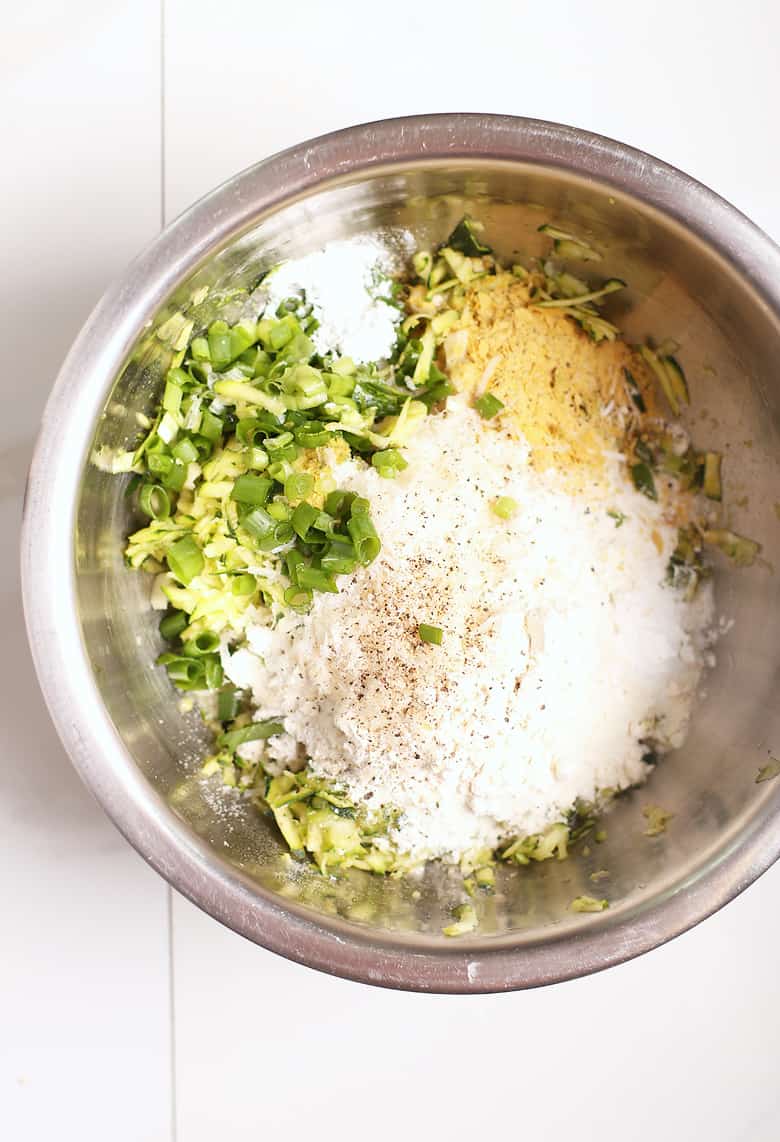 Step three – fry it up
Once the batter is made, heat 1 tablespoon of high-heat oil in a large non-stick skillet. Scoop 1/4 cup of the batter at a time and shape it into a patty that is 1/2 inch thick and about 3″ in diameter. Place the fritters on the hot oil and pan-fry them for about 3-4 minutes per side. Transfer the fritters onto a paper towel to absorb any excess oil.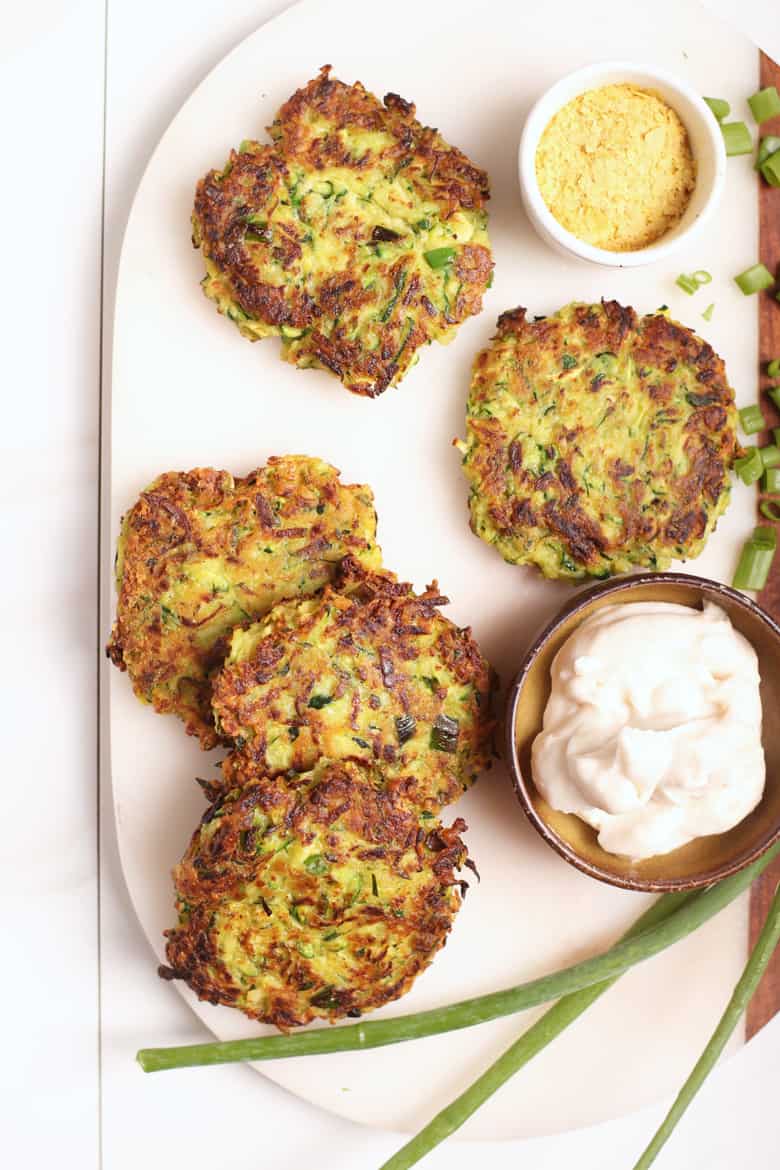 Tips for cooking vegan zucchini pancakes
A few things to keep in mind when pan-frying the zucchini fritters:
Make sure the oil is hot. The fritter batter should sizzle when it hits the pan.
Use a non-stick skillet with plenty of oil.
My favorite high heat oils for this recipe are avocado and coconut oil.
Flatten zucchini fritters to about 1/2 inch. If they are thicker, the inside won't cook properly.
Oil between batches to ensure the bottom of the pan does not burn.
Serving and storing vegan zucchini fritters
Serve these zucchini pancakes with vegan sour cream and green onions
These vegan fritters make a great breakfast, lunch, or even dinner. Serve with a side salad or bowl of soup.
Once cooked, zucchini fritters should be eaten immediately or they will get soggy. Any uncooked batter can be stored in an airtight container in the refrigerator for up to 3 days. When ready to serve, follow the cooking instructions below.

More vegan zucchini recipes
Before you check out the recipe, here are some of my other favorite vegan zucchini recipes to file away as the zucchini grows in your backyard:
More Bari Olive Oil Recipes
Check out my other recipes featuring Bari Olive Oil.
And make sure to find out more about my favorite olive oil here.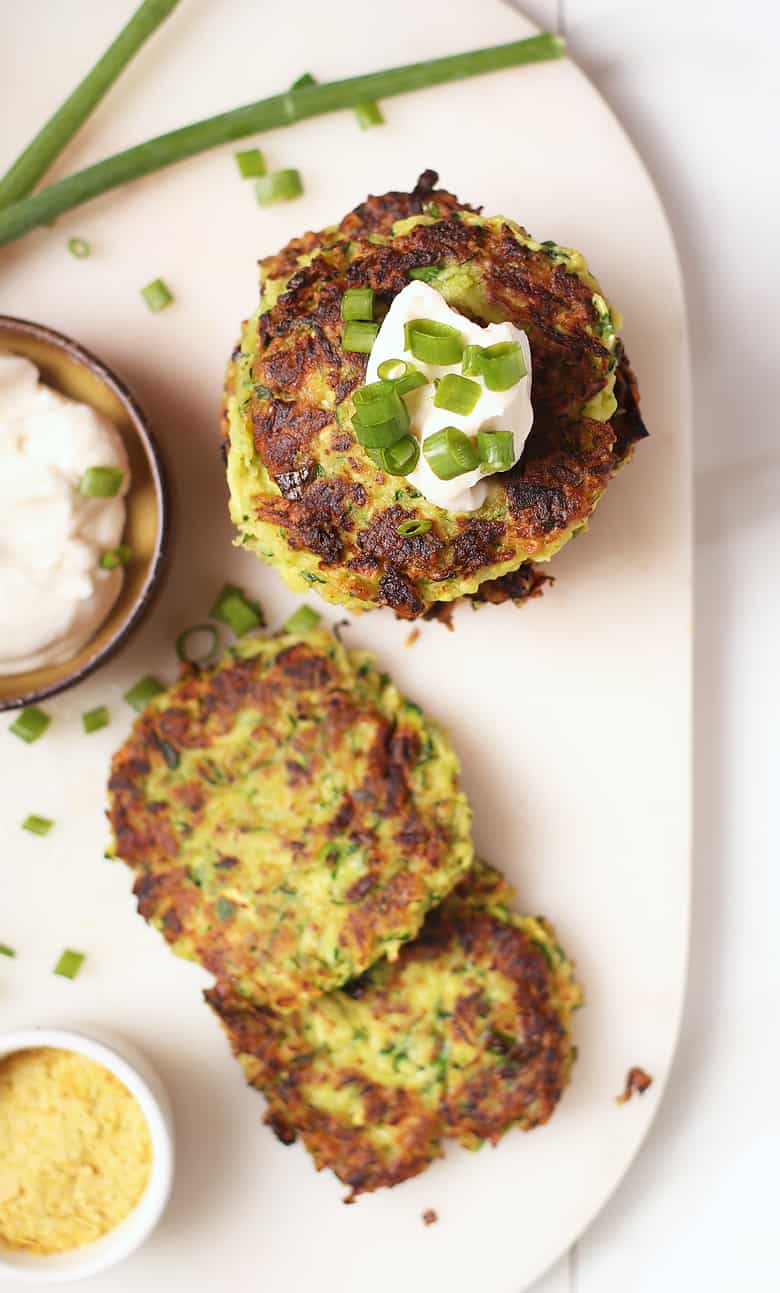 Vegan Zucchini Fritters
These warm and zesty vegan zucchini fritters!  Made in just 20 minutes, they make the perfect breakfast, lunch, or dinner. Top with vegan sour cream and fresh green onions for a simple and delicious meal.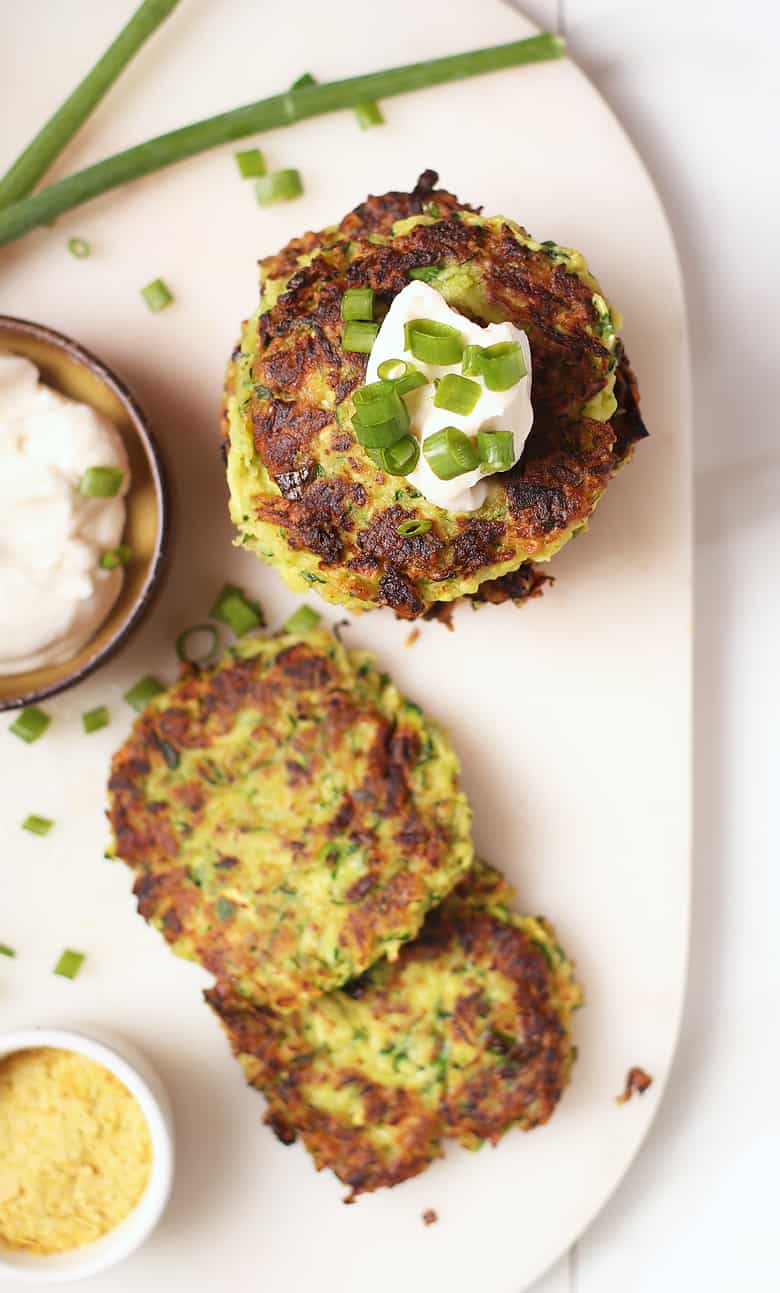 Course:
Breakfast, Appetizer, Lunch
Cuisine:
Vegan
Keyword:
Vegan Zucchini Fritters
Servings
:
10
fritters
Calories
: 136 kcal
Author
:
Sarah McMinn
Ingredients
Instructions
In a food processor with your shredder attachment, shred the zucchini. Alternatively, you can use a handheld shredder.

Transfer the zucchini into a large bowl and add the remaining ingredients EXCEPT the cooking oil. Mix together until you have a uniform batter. Set aside.

Heat oil over medium heat in a large nonstick sauté pan. Once the oil is hot, scoop fritter batter, 1/4 cup at a time, onto the hot oil and flatten into a fritter that is about 3" around. Sauté for 3-4 minutes per side, until edges are crispy brown and the zucchini is cooked all the way through. Repeat until all the batter is used.
Nutrition Facts
Vegan Zucchini Fritters
Amount Per Serving
Calories 136
Calories from Fat 90
% Daily Value*
Fat 10g15%
Cholesterol 3mg1%
Sodium 50mg2%
Potassium 225mg6%
Carbohydrates 10g3%
Protein 3g6%
Vitamin A 150IU3%
Vitamin C 9.6mg12%
Calcium 67mg7%
Iron 0.8mg4%
* Percent Daily Values are based on a 2000 calorie diet.
If you give this recipe recipe a try, snap a photo and share it on Instagram. Make sure to tag
@mydarlingvegan
so I can see your creations!