Old-Fashioned Homemade Vegan Peanut Brittle
Make your own classic vegan peanut brittle! It's sweet, salty, crunchy, and filled with caramel flavor for a wonderful holiday DIY gift or sweet treat to have around the Christmas tree.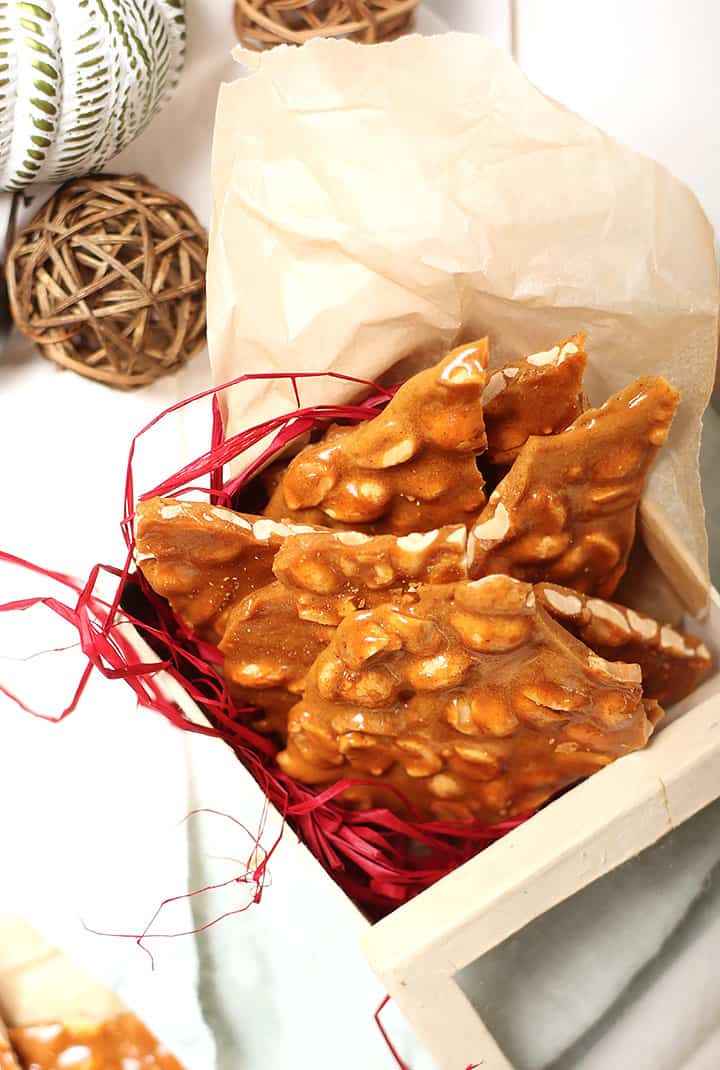 This post contains affiliate links. For more information, please see my privacy policy.
Originally published December 12, 2012. Last updated December 9, 2019
At Christmastime, I'm often reminded of the way Laura Ingalls Wilder writes about Christmas morning in her memoirs, Little House on the Prairie. She jumps out of bed and tears open her stocking to find six pieces of candy. Beautiful candy almost too pretty to eat. Almost. This is not a disappointing Christmas, her only gifts being 6 pieces of candy. Quite the opposite really; she is thrilled and grateful for this unexpected present.
I often wish Christmas was more like Laura's retelling. A focus on family and food and small reminders that it is a special time of year. For several years now I have backed away from traditional Christmas giving and enjoyed DIY gift-giving. Putting together baskets of food, sweets, and drinks or handmade knit and crochet gifts, the simple joy of that is overwhelming.
This Homemade Vegan Peanut Brittle is one of my go-to vegan food gifts. It is simple, delicious, and makes a ton, making it a great recipe to fill your gift baskets with this holiday season.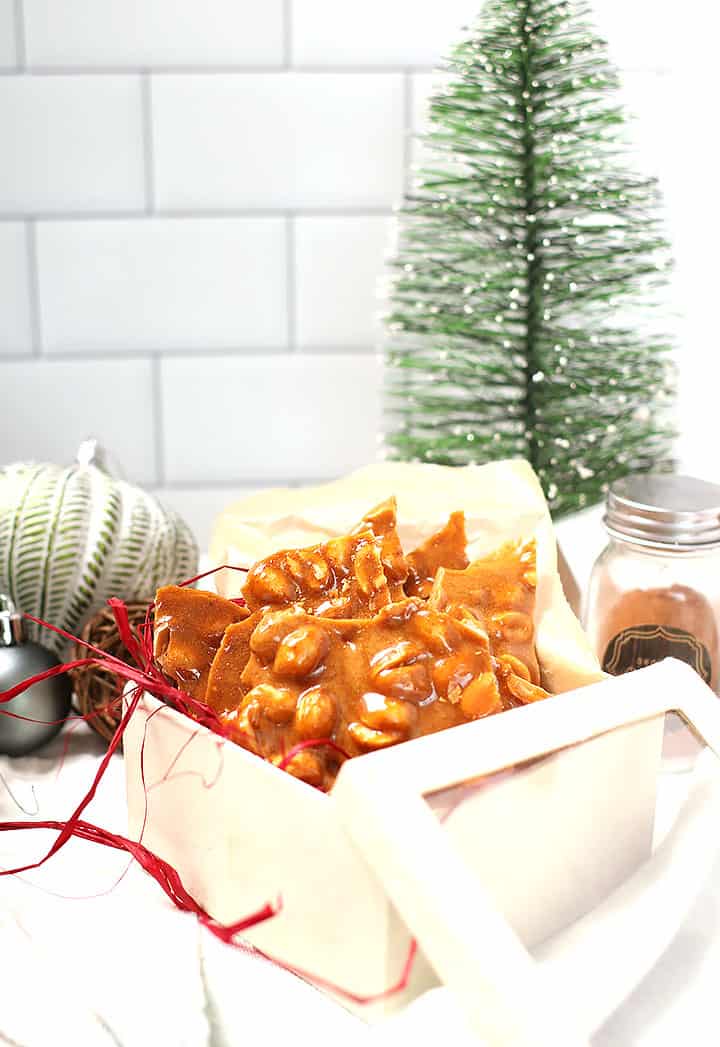 What You'll Need
The ingredients you will need for this old-fashioned vegan peanut brittle recipe are:
In addition to the ingredients, you will need a good candy thermometer for this old-fashioned peanut brittle. For that perfect brittle crunch and texture, it is important to heat up your sugar to the right degree and while very experienced pastry chefs can do this by watching the sugar closely, I recommend any home chef to try this recipe first with a candy thermometer.
This is the one I use and I highly recommend it.
Is Sugar Vegan
This is one of the most common questions I am asked as a vegan baker. The answer is yes, sometimes. To make sure you are using vegan sugar look for beet sugar, organic sugar, or unrefined sugar. For more detailed information about how sugar is made and how to ensure you find vegan sugar, check out this article.

Best Vegan Butter
As always, when working with such few ingredients, it's important that we use the highest quality. For that reason, I suggest using Miyoko's cultured vegan butter for this recipe. This award-winning vegan butter is truly the best vegan butter on the market. Its taste and texture are identical to dairy-based butter and will give you the complete melt-in-your-mouth feel of this brittle.
If you can't find Miyoko's butter at your local grocery stores, I would suggest Earth Balance as the next best alternative. Or you could just pick up a copy of her cookbook, and make your own incredible vegan butter.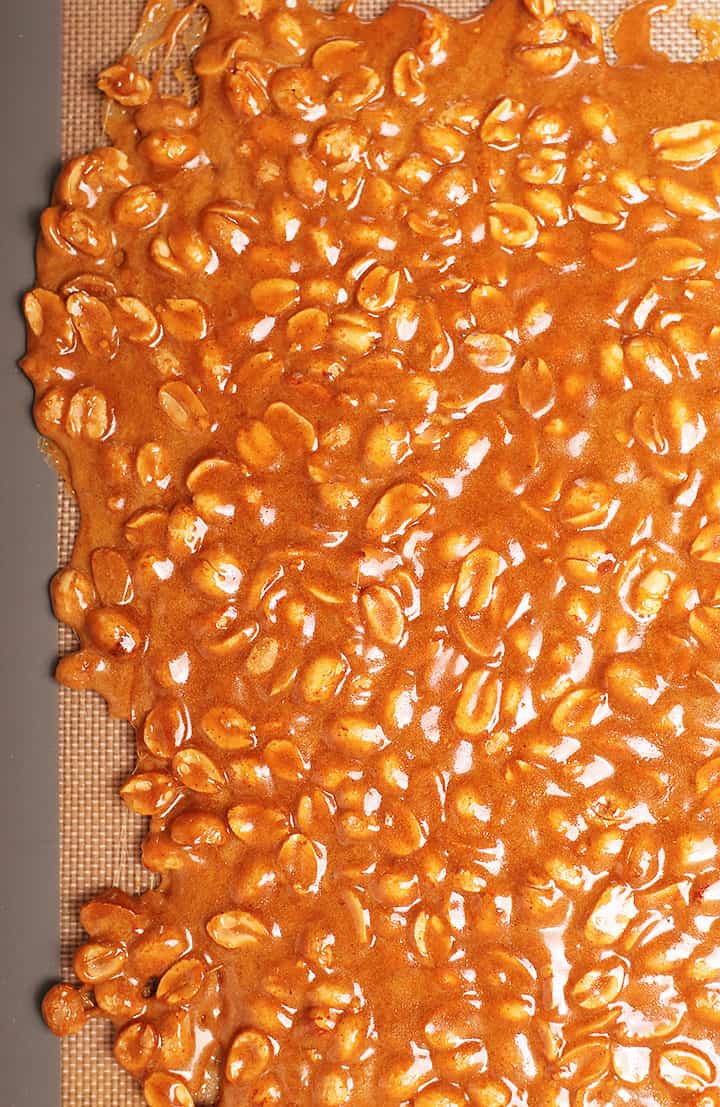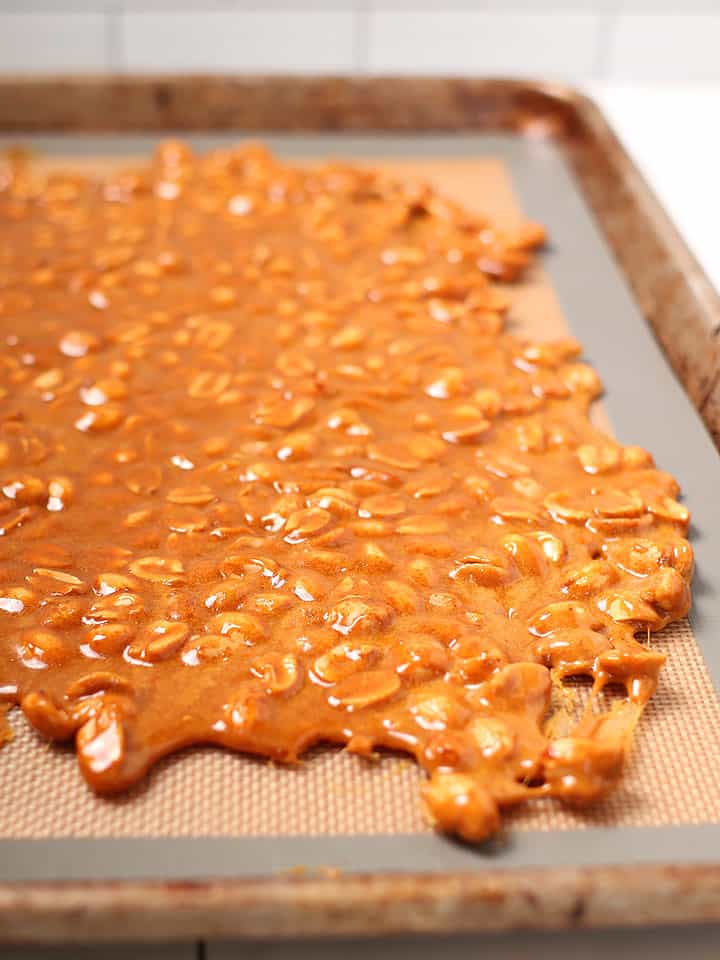 How to Make Vegan Peanut Brittle
Step one: Prepare the baking soda and spices
Combine baking soda with spices and 1 teaspoon of water. Mix together and set aside.
The baking soda is a key component. When it is added to the sugar syrup, it creates millions of minuscule air bubbles that give the candy a delicate texture making it easier to bite into, unlike hard candy.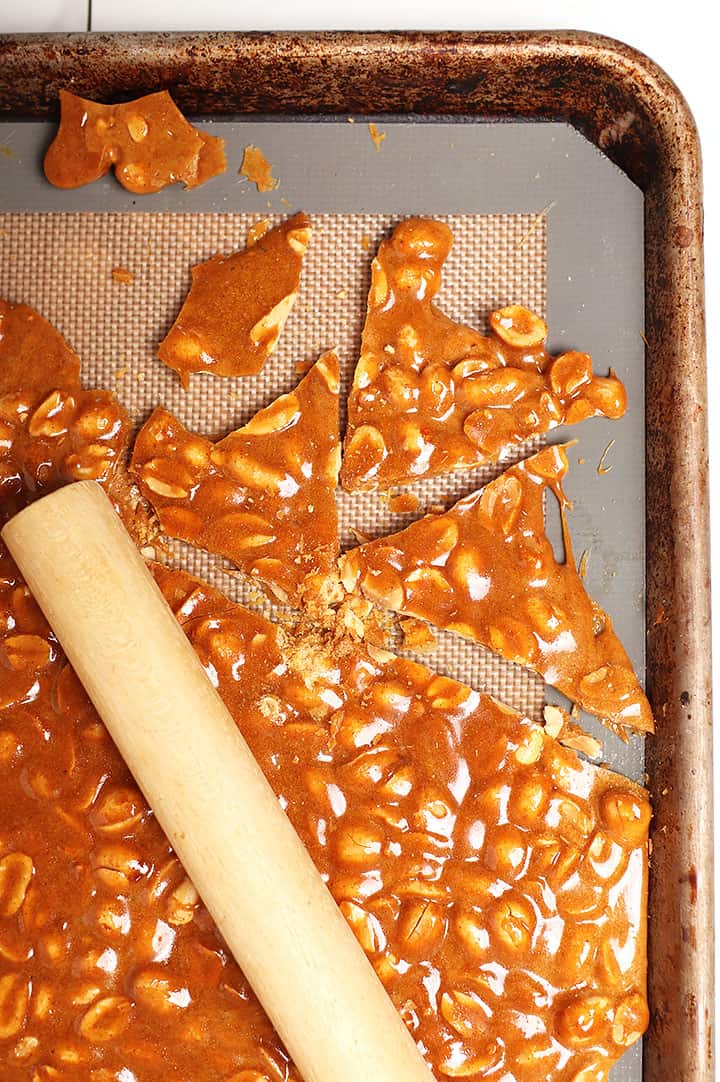 Step two – Make the sugar syrup
In a 4-quart saucepan (or larger) combine sugar with 1/2 cup water. There are a few things to keep in mind when making sugar syrup
Use very clean equipment. That means the spatula, saucepot, and anything else the sugar touches must be cleaned.
Don't over-agitate the sugar; this will cause crystallization. Gently hydrate the sugar with clean hands. Brush down the sides of the saucepot with water and cook.
Don't stir the sugar as it cooks. Place the candy thermometer in the pot and let the sugar do its thing. Bring the mixture to 240 before adding the remaining ingredients. You will be able to tell it's close when the liquid stops steaming and the bubbles shrink down as they cover the surface. If you don't have a candy thermometer, you can drop a small amount of liquid into a glass of cold water. Once it forms a softball, the sugar is ready.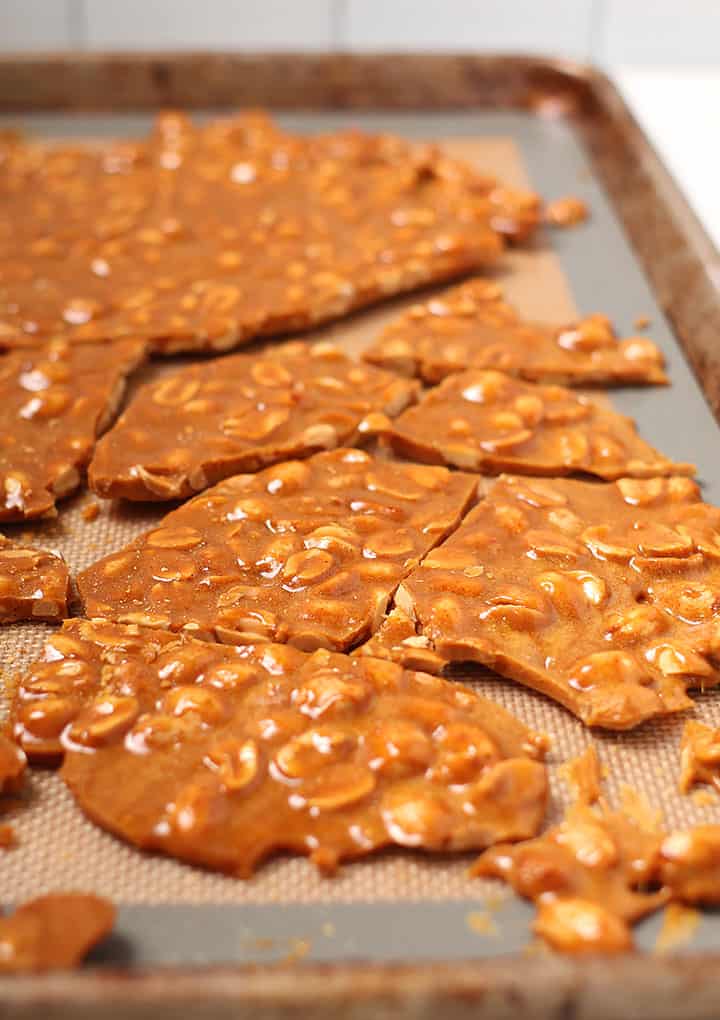 Step three- Add the remaining ingredients
Mix in the vegan butter and peanuts. Cook, stirring constantly until mixture has reached 300 degrees. Again, if you don't have a thermometer, test for doneness by dropping a small piece in cold water. It should break apart and turn into hard brittle. This can quickly go from 300 degrees to burnt, so watch carefully.
Butter is also a necessary component as it helps make the candy tender and easier to chew while giving the candy a rich buttery flavor. See my notes on choosing the best-quality vegan butter.
Step four – Pour and chill
Once your sugar is at 300, remove it from heat and stir in baking soda mixture until the peanut brittle is light and foamy. Pour it onto the prepared baking sheets, quickly spreading about 1/4 inch thick. It's important to spread it quickly as it will already begin to form as it cools.
Cool completely (at least one hour) before breaking into pieces and serving or storing.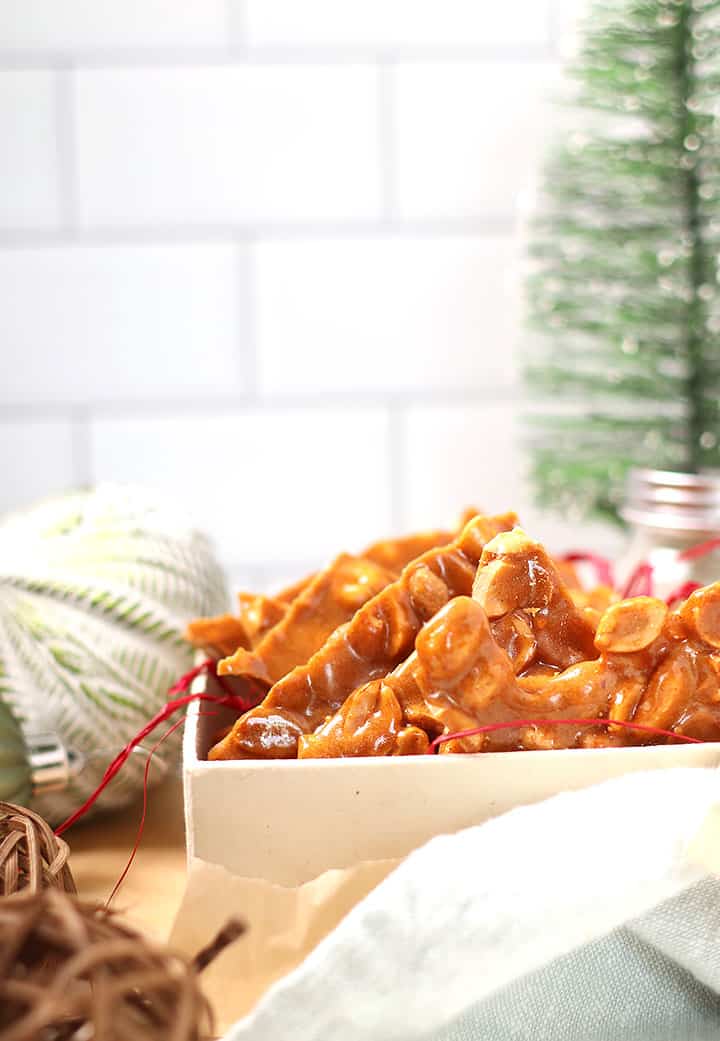 Tips and Tricks
Working with sugar can be a bit challenging. Here are a few tips to keep in mind when making your homemade peanut brittle:
Working with sugar can be dangerous. Make sure to take extra caution when working with these extreme heats.
It's important to heat your sugar to the temperature in the instructions. If you are new to sugar work, a candy thermometer is the best way to ensure your sugar is the right temperature.
Make sure you use at least a 4-quart saucepan. This allows the mixture to bubble up without bubbling over when the baking soda is added.
Store in an airtight container at room temperature for up to 14 days. Peanut brittle can be stored in the freezer for up to 2 months. Let thaw completely before serving.
More Vegan Candy Recipes
Let's celebrate this holiday season with all the sweet treats. Here are a few of my favorite homemade vegan candy recipes:
And get all my DIY Food Gifts here.
But before you go, let's take a look at this peanut brittle recipe below.