Tomatoes are the perfect late summer vegetable. They are sweet, tart, filled with nutrients, versatile, and oh so prolific. With so many delicious vegan tomato recipes to make, let's celebrate!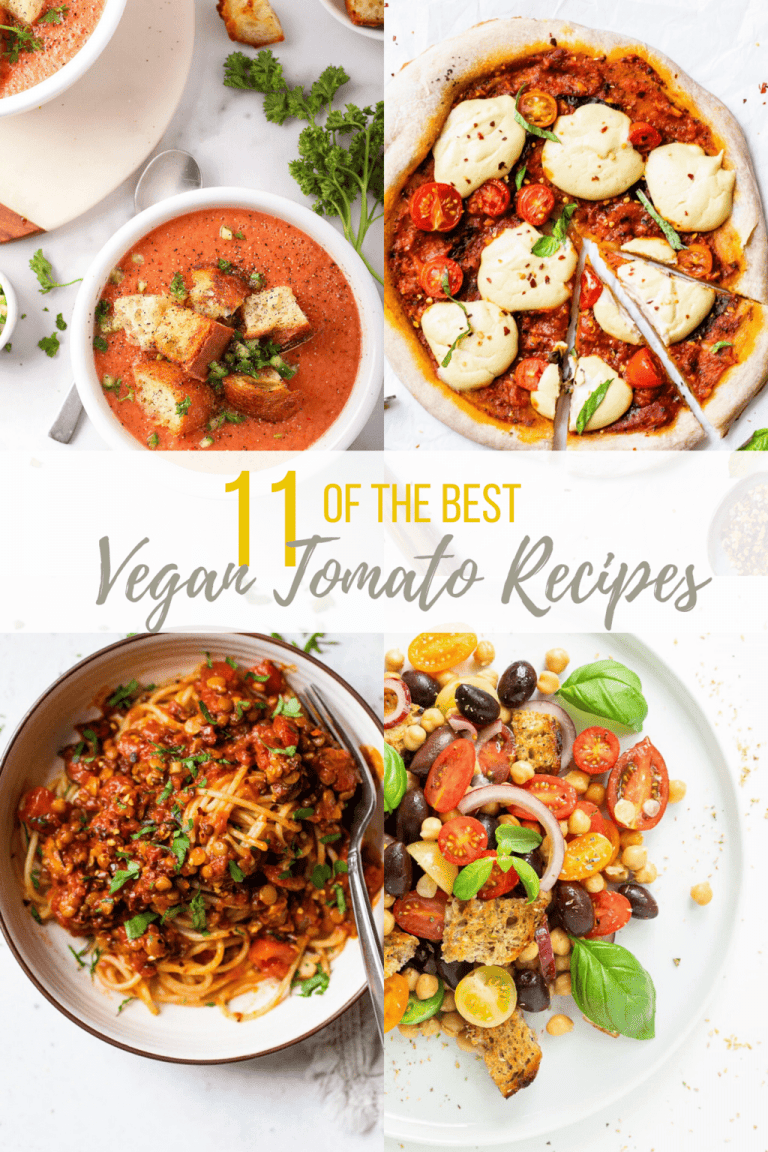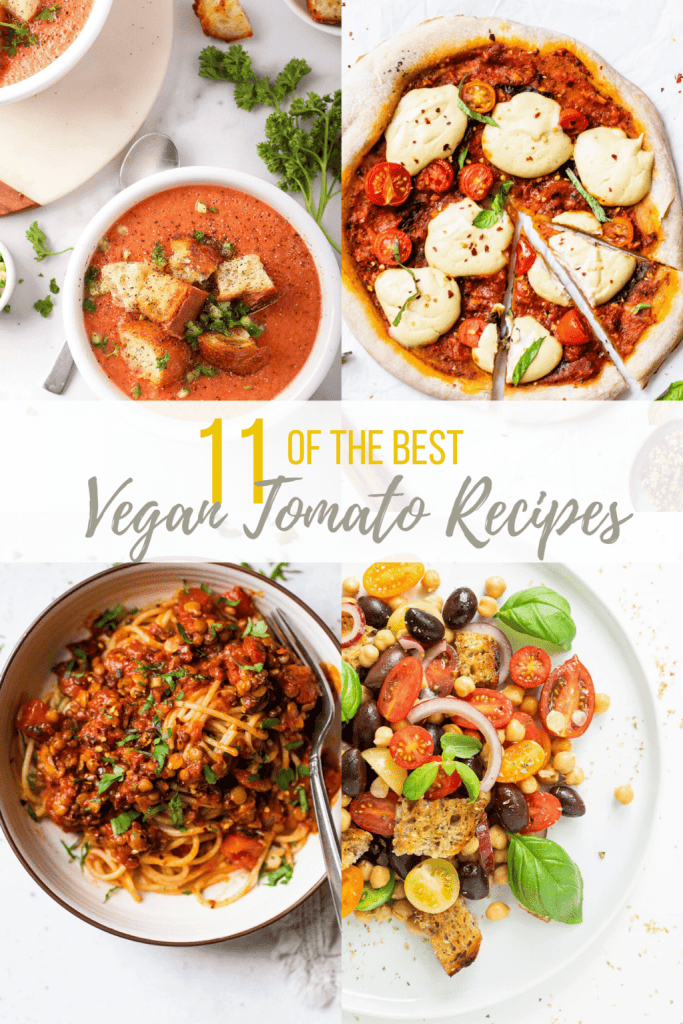 Disclosure: This post may contain affiliate links.
All summer long I have been loving the foods coming out of my own garden. We've been enjoy mixed berry cobblers with all our fresh berries, kale chips and salads, and all the zucchini and eggplant recipes.
Now that tomato season is in full force, it's time to turn our attention to that delicious red vegetable, I mean fruit, and make them the center of our dinners for a few short weeks.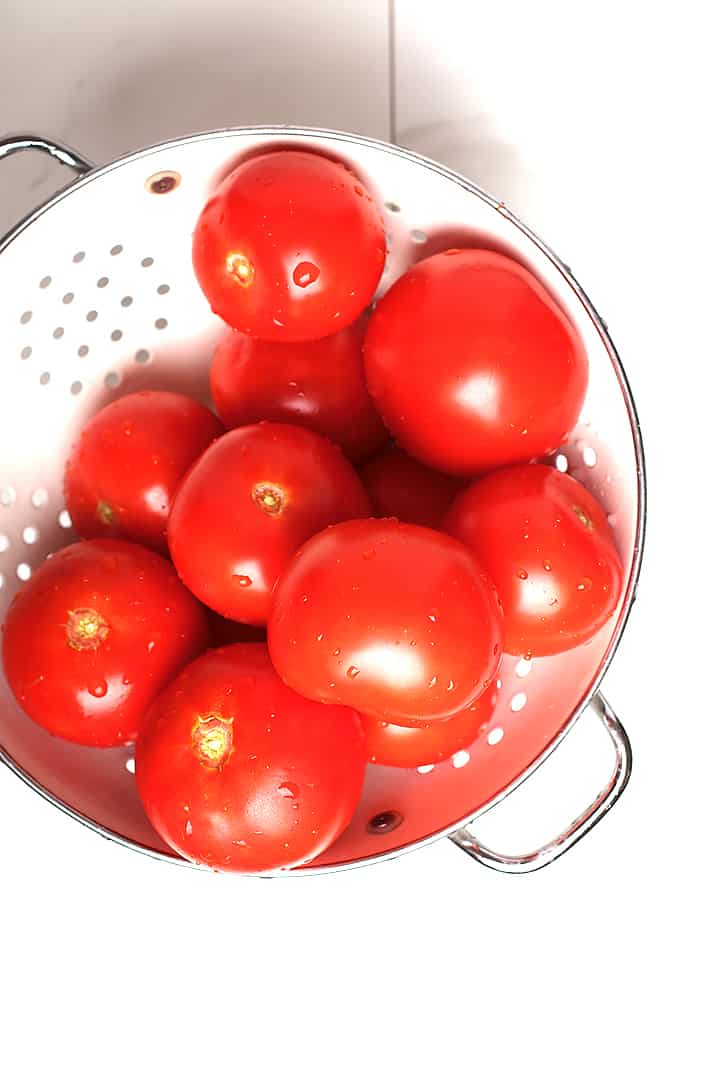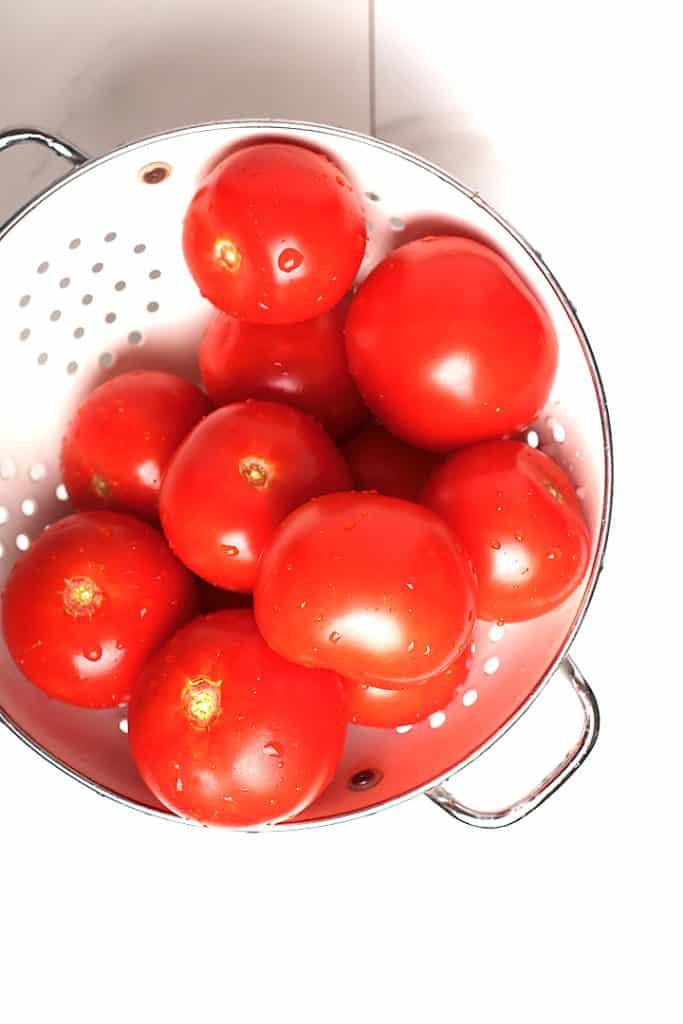 How to Pick Ripe Tomatoes
The difference between vine-riped tomatoes (those picked at the peak of harvest) and the tomatoes you get off-season at the grocery store is incredible. Off-season tomatoes are often bland, mealy, and disappointing. When it comes to growing your own, there are three ways to check when it's time to harvest your tomatoes.
Look - A ripe tomato should be a deep, bright red. Dull or pale tomatoes will be bland and tomatoes with any type of small black spots or bruises may be rotten inside.
Feel - Squeeze the tomato and test how it feels. A ripe tomato will be firm enough to resist pressure but still soft enough to gently squeeze. If it is too soft, it is no longer fresh and is close to becoming rotten.
Smell - Ripe tomatoes should have a strong, sweet, earthy smell. If you've ever had a ripe tomato, you know that scent. The more fragrant the tomato is, the more flavorful it will be.
These tricks also work when buying fresh tomatoes at the grocery store. Look for tomatoes that say they are vine-ripened and give them the look, feel, smell test.
---
How to Preserve Tomatoes
There are three main ways to preserve fresh tomatoes. At the bottom of this post you will find some of my favorite recipes for preserving tomatoes.
Canning - With a canner, you can make tomato sauce, tomato jam, salsa, bruschetta, and more.
Freezing - Cherry tomatoes are easiest to freeze. First, wash to tomatoes and pat them dry. Destem them and cut them in half. Lay them in a single layer on a baking sheet and let them freeze all the way through before transferring them to freezer bags. Frozen tomatoes are a great addition to pasta, quiches, and savory muffins.
Dehydrating - To dehydrate tomatoes, follow the cleaning steps outlined above. One they are cleaned and dry, place them in single layers on your dehydrator and dehydrate until the moisture has been pulled out, about 8 hours. Store the dehydrated tomatoes in an airtight container in a cool dark place. Dried tomatoes are great for pasta and baking.
---
Vegan Recipes with Tomatoes
Here are 11 of my favorite vegan tomato recipes.
From pasta, to salad, to pizza (and so much more!) there are many ways to eat and enjoy fresh tomatoes all season long.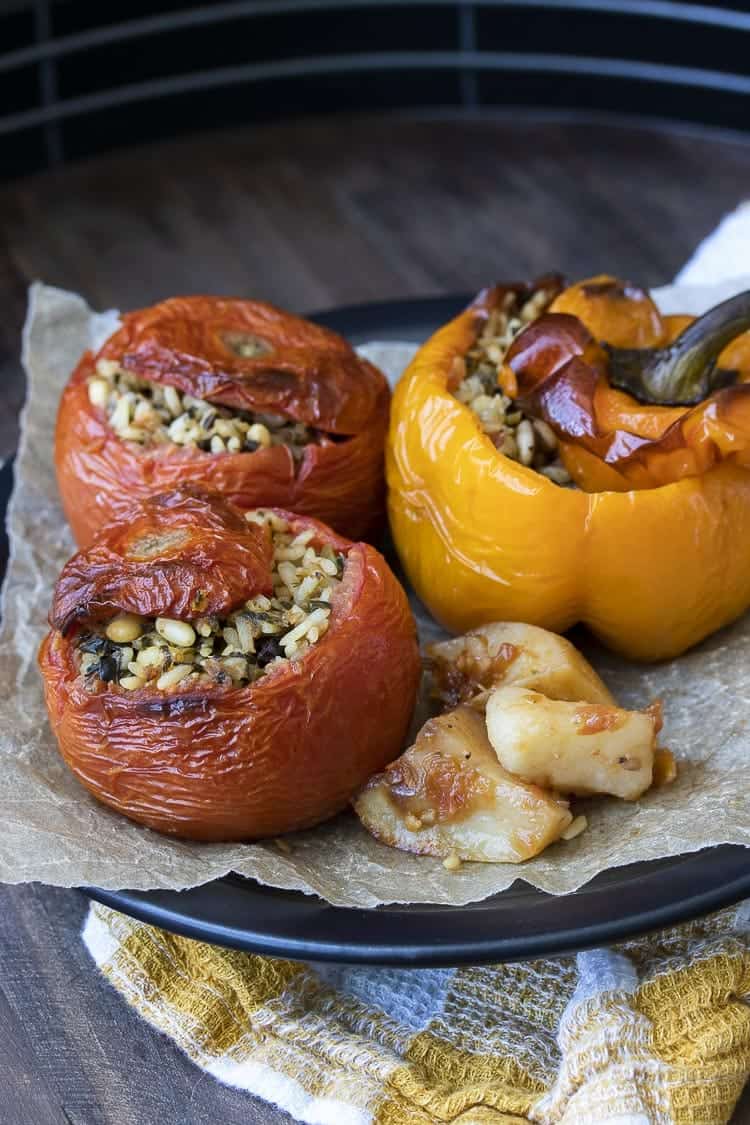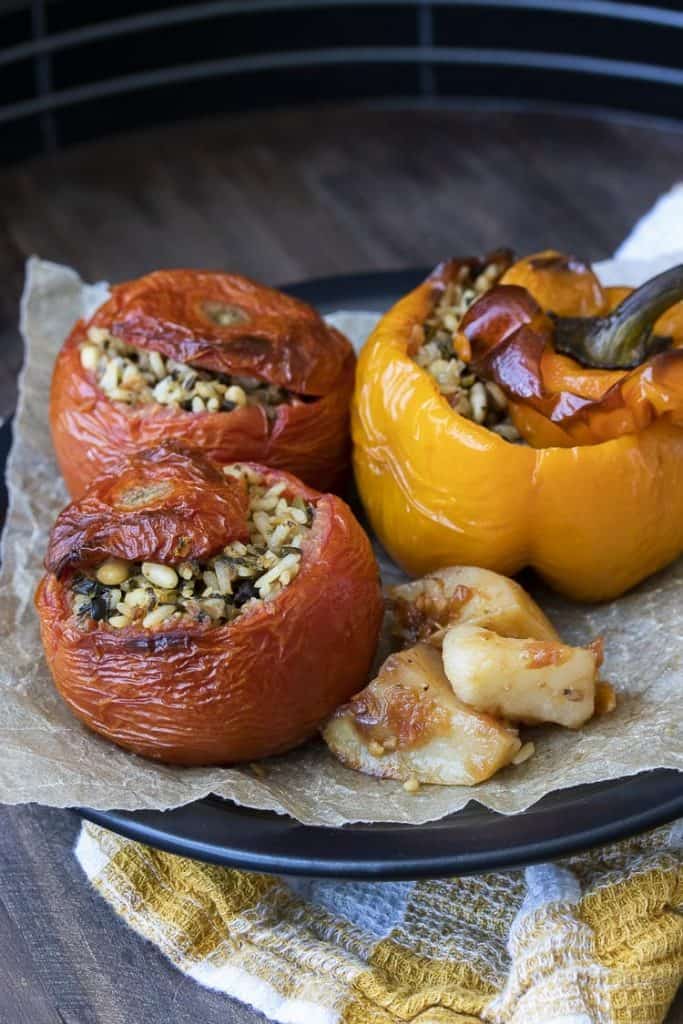 Vegan Greek Stuffed Tomatoes and Peppers
Photo Credit: Veggies Don't Bite
Taking tradition to the next level with these vegan Greek stuffed tomatoes and peppers. These Yemista are a healthy satisfying meal that screams the flavors of Greece!
Recipe »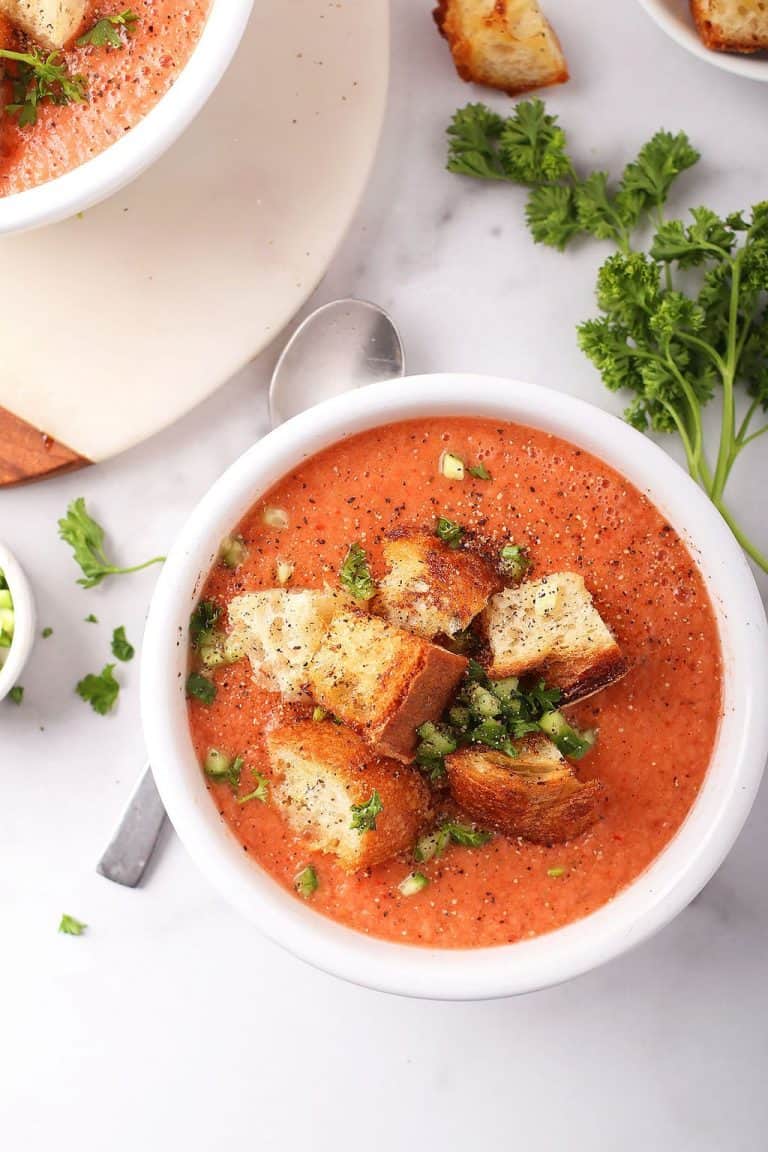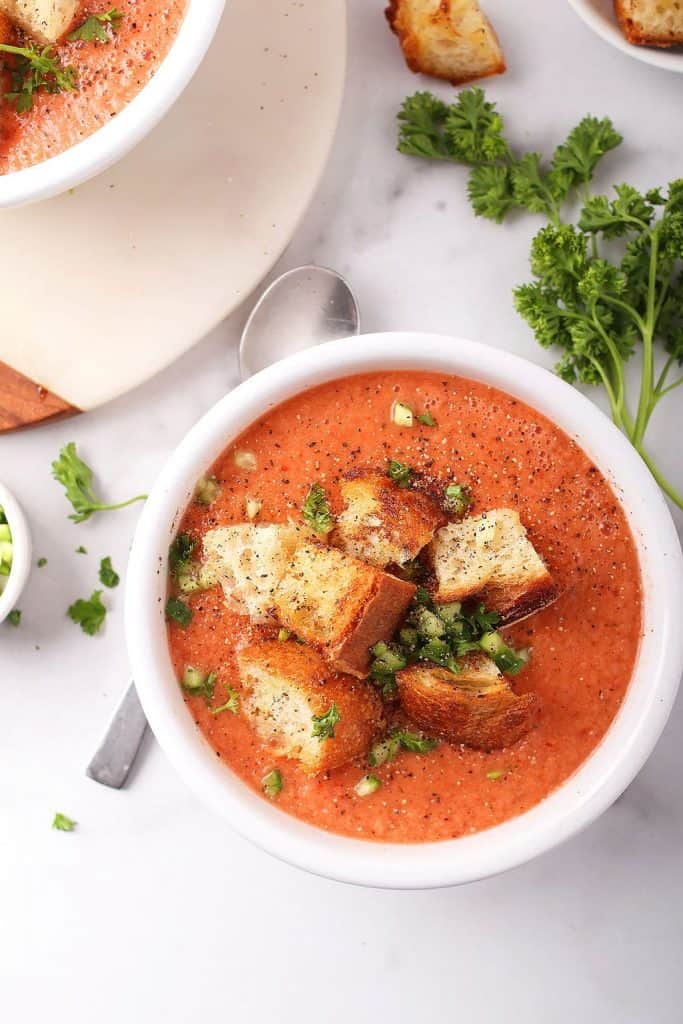 Traditional 10-Minute Gazpacho
Cool down with this traditional gazpacho. It's made with fresh vegetables and herbed and topped with homemade croutons for a light and refreshing meal. Made in under 10 minutes!
Recipe »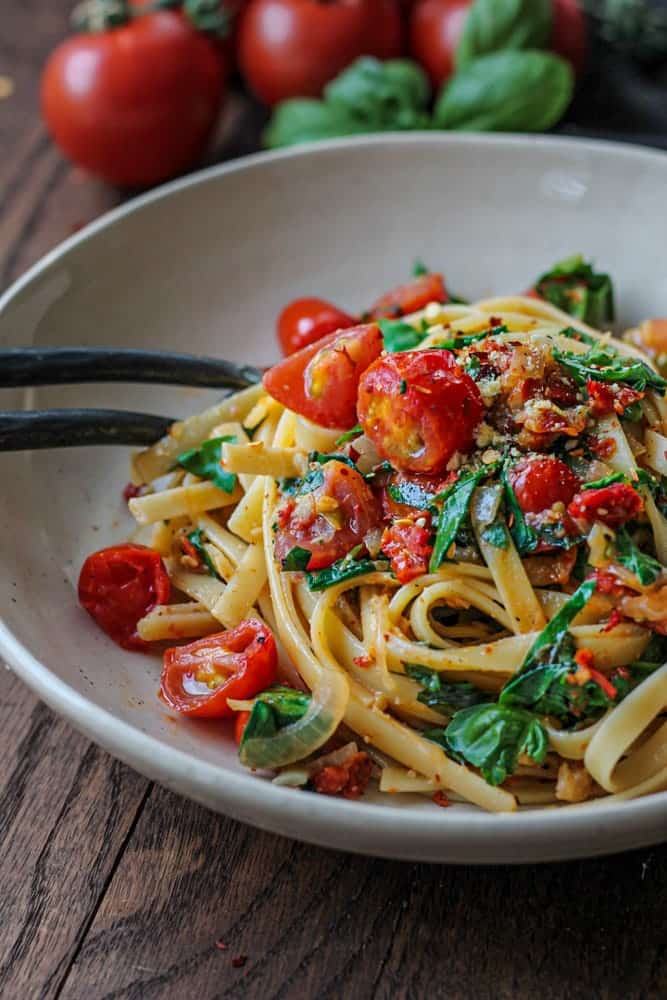 Tomato and Spinach Fettuccine
Photo Credit: Simply Ceecee
An ultimate comfort food, this tomato and spinach fettuccine is filled with fresh and sun-dried tomatoes, spinach, basil, and vegan feta. It's the perfect summer time meal.


Recipe »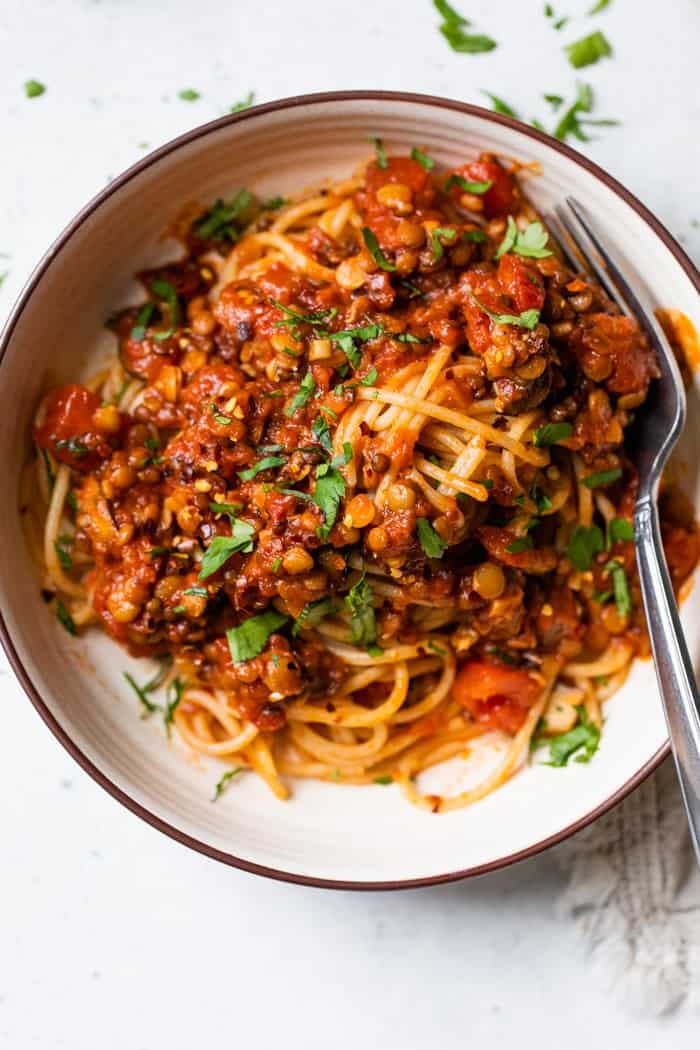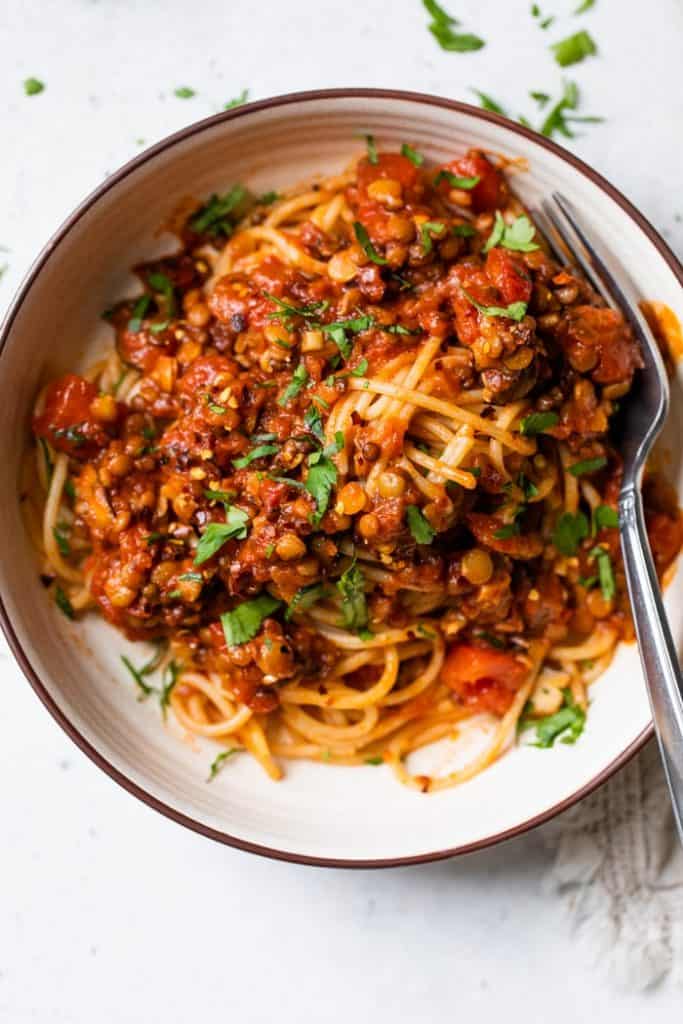 Lentil Bolognese Recipe
Photo Credit: The Almond Eater
This easy lentil bolognese recipe is a quick weeknight meal that just so happens to be vegan and gluten free. It's filled with flavor and a great way to switch up pasta, plus it comes together in under 30 minutes!


Recipe »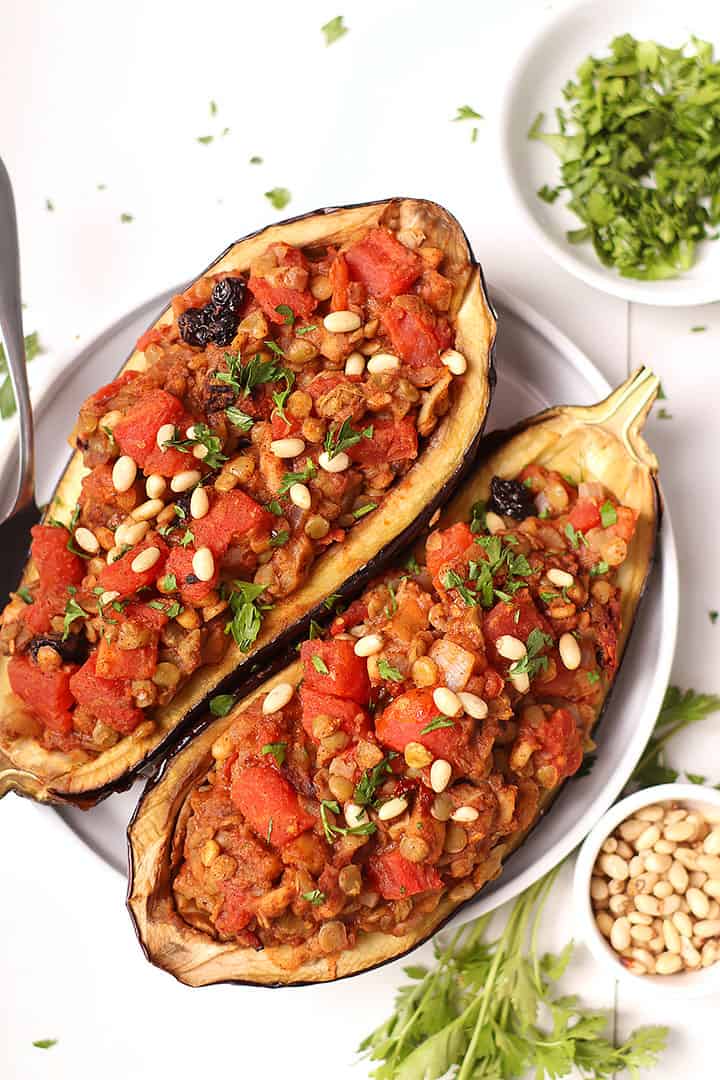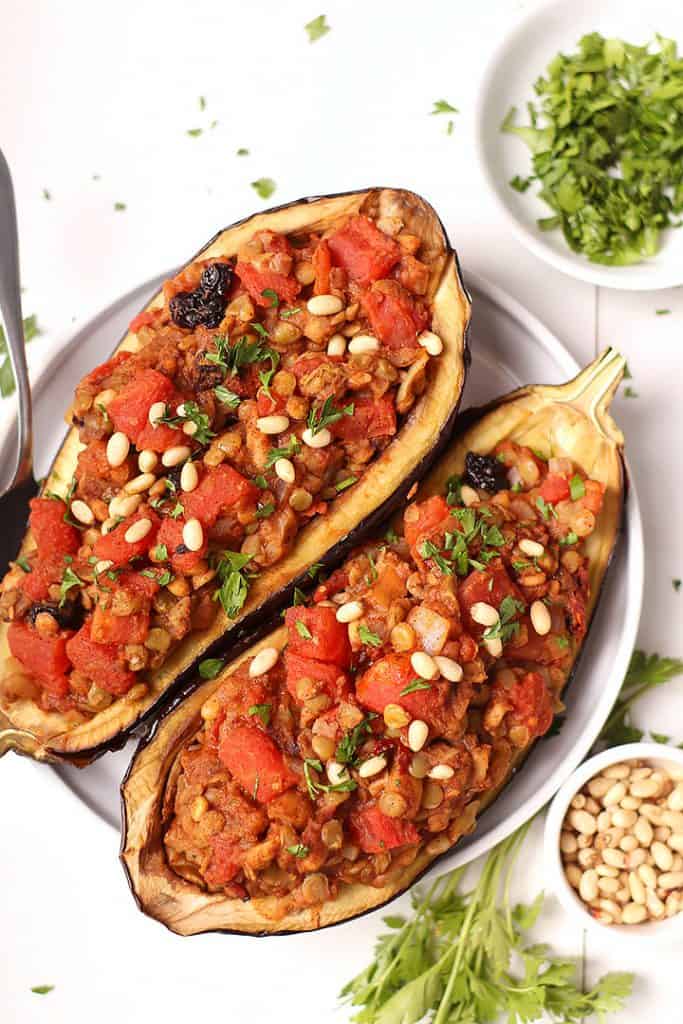 Moroccan Stuffed Eggplant
This Moroccan Stuffed Eggplant is bursting with flavor! Filled with lentils, tomatoes, and the perfect blend of spices, this is a vegan and gluten-free meal that elevates dinner to a whole new level.
Recipe »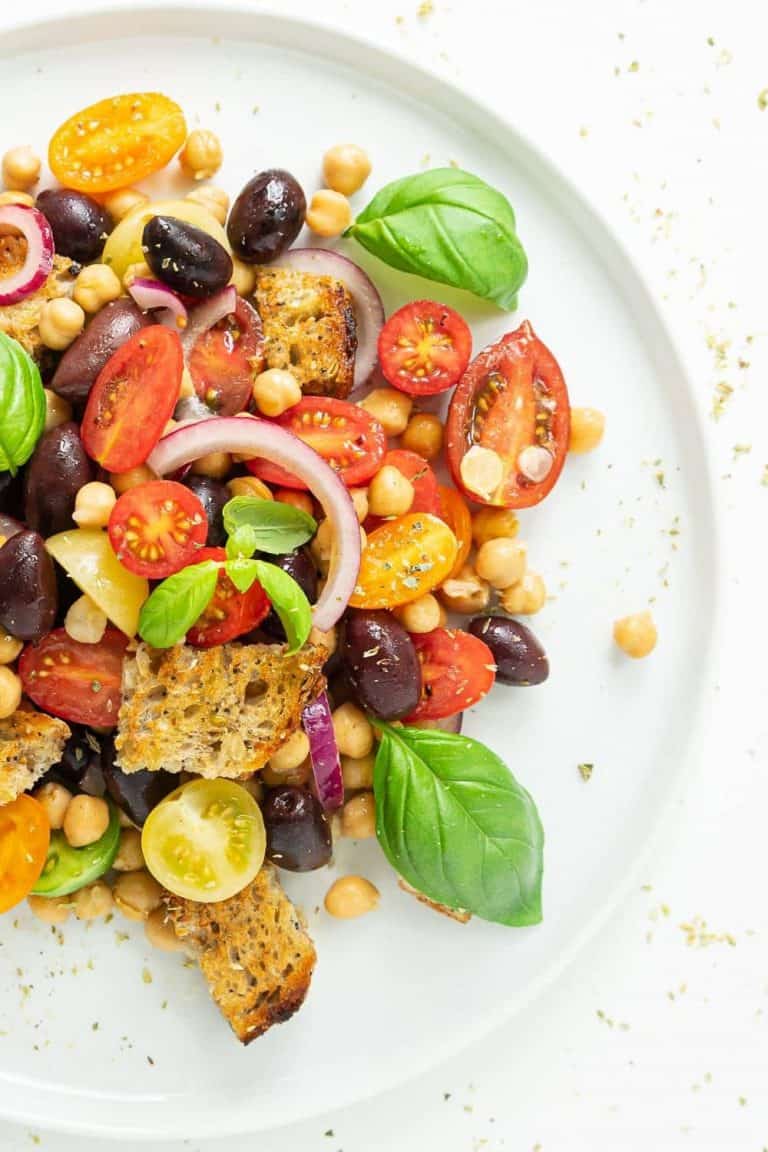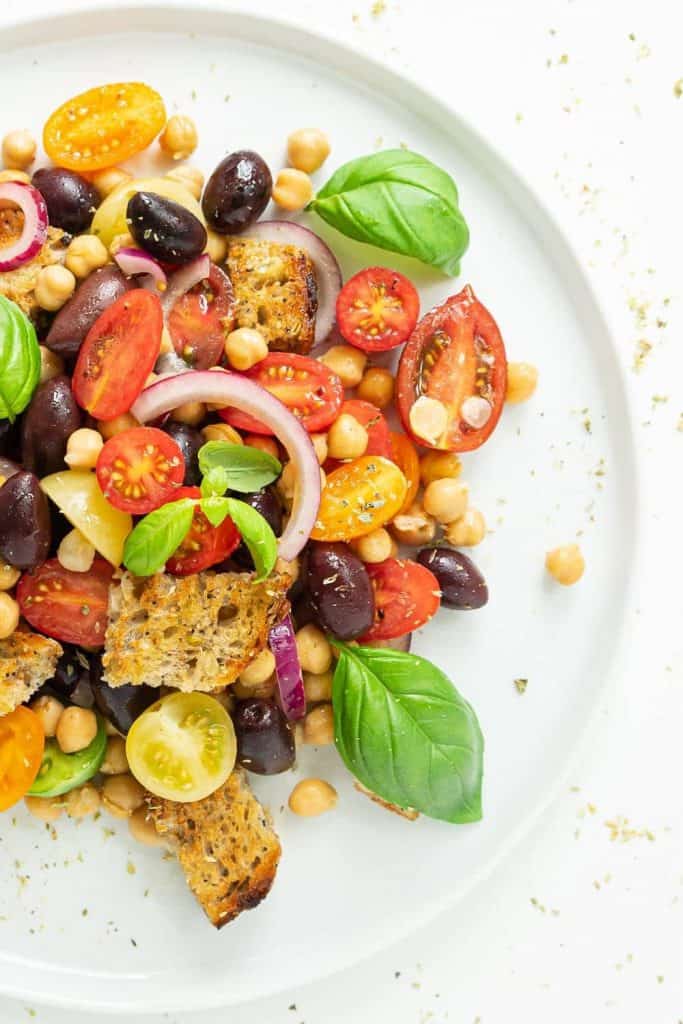 Panzanella (Tuscan-style salad)
Photo Credit: Gathering Dreams
Cool down with this light and refreshing Panzanella salad recipe. It is perfect for summer. This salad is filled with fresh cherry tomatoes, basil, cucumber, and toasted baguette. So good!
Recipe »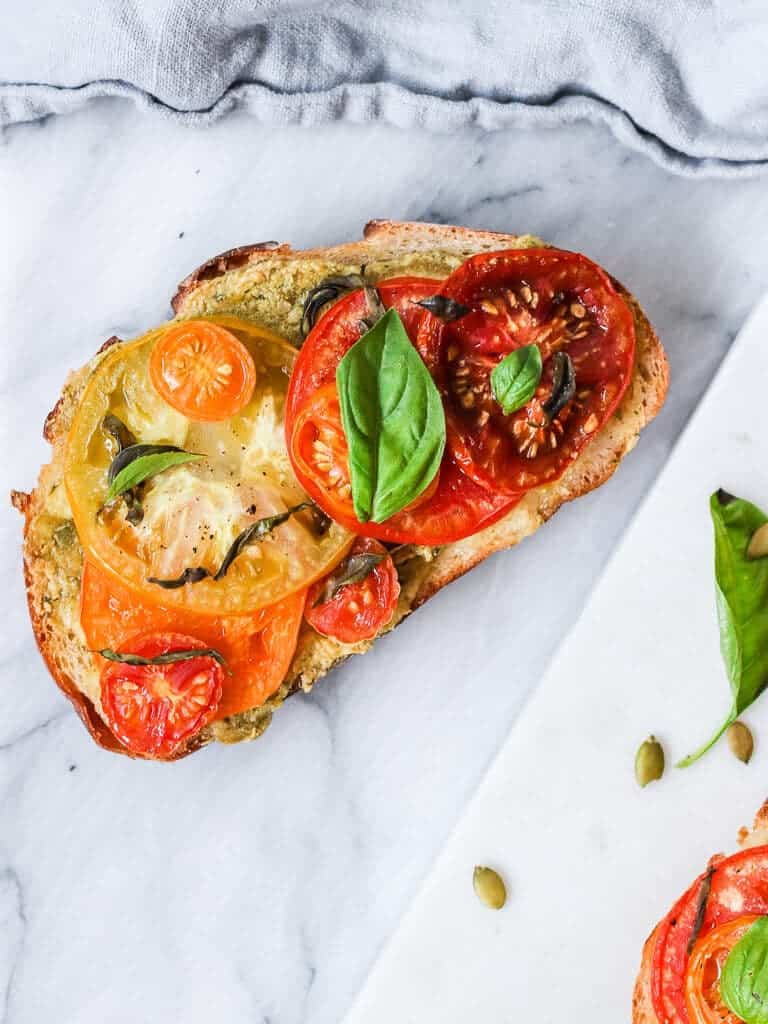 Roasted Tomato & Pumpkin Seed Pesto Toast
Photo Credit: Short Girl Tall Order
Is there anything that screams summer more than heirloom tomatoes?! Just add a little basil and you have the ultimate combination of summer flavors in these Roasted Tomato & Pumpkin Seed Pesto Toasts!
Recipe »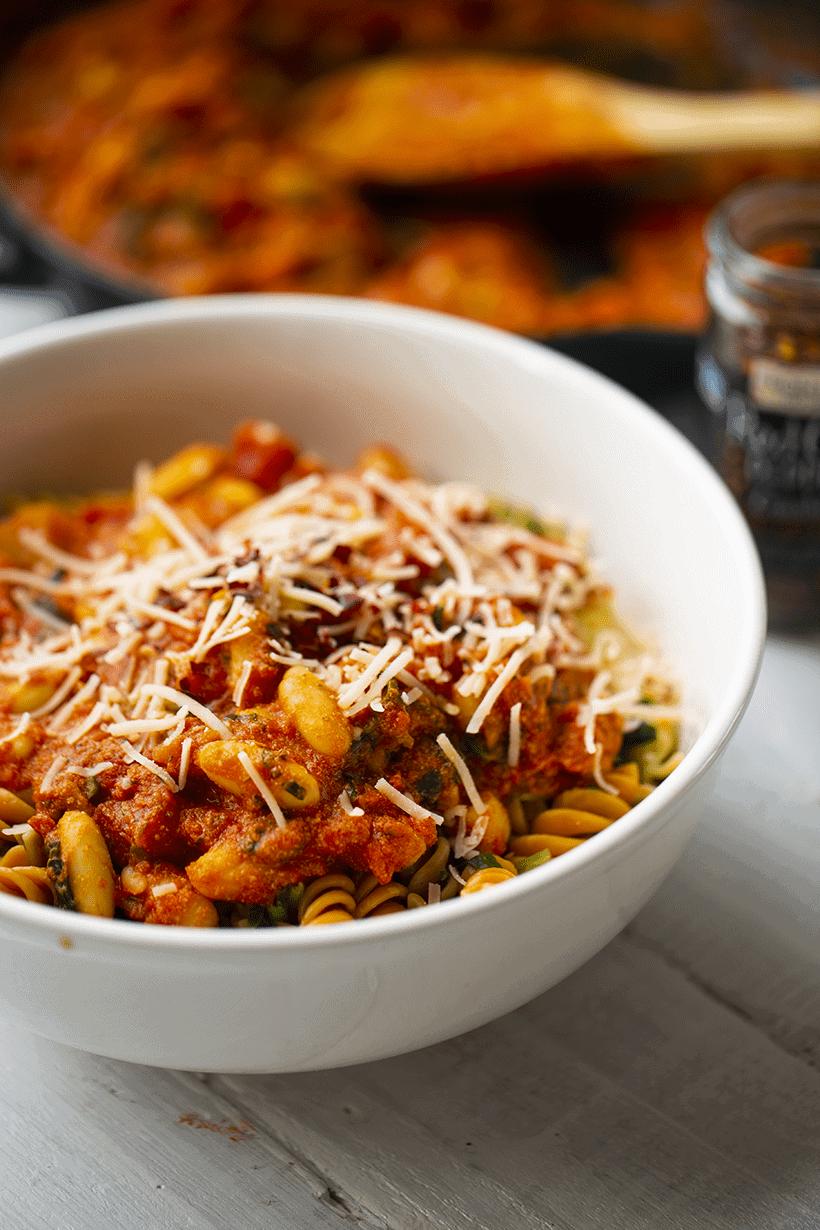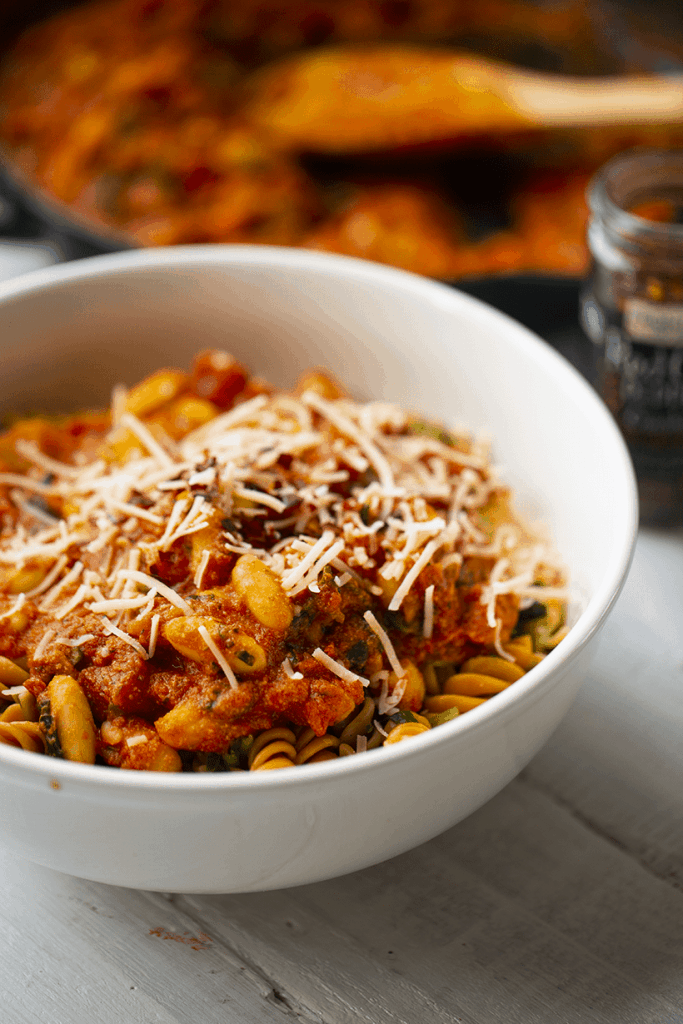 Rustic White Bean Tomato Sauce
Photo Credit: Healthy Happy Life
Use up your tomatoes with this hearty White Bean Tomato Sauce. It's a delicious combination of white beans, garlic, fresh tomatoes, and fresh herbs. Serve it over your favorite pasta for an easy summer meal.
Recipe »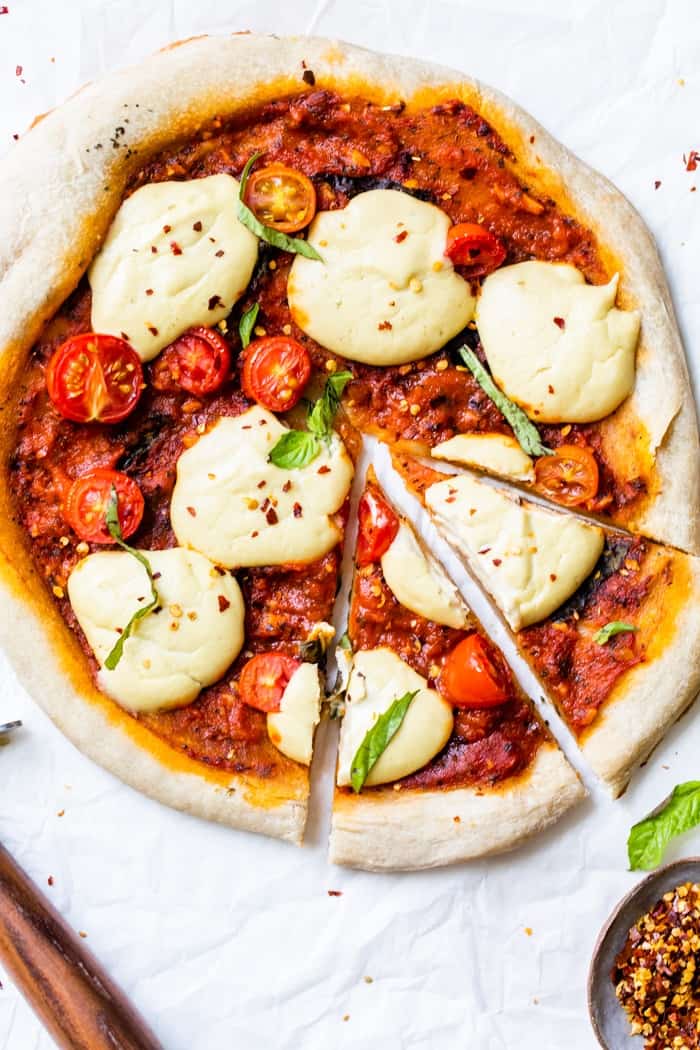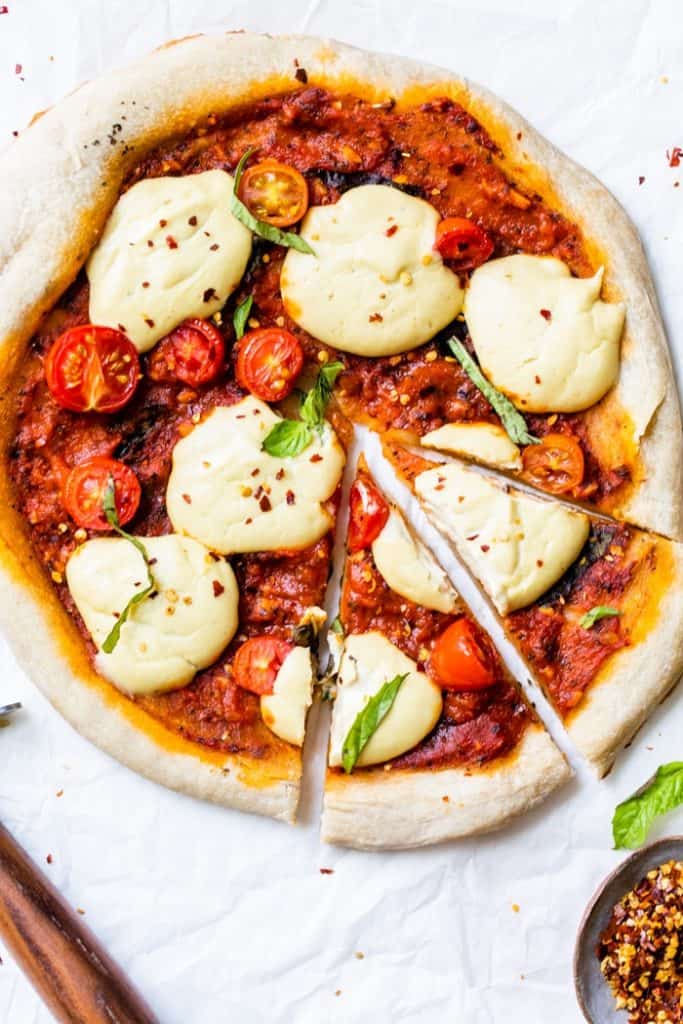 The BEST Vegan Pizza
Photo Credit: The Almond Eater
This vegan pizza is the BEST I've ever had. It's topped with simple ingredients like marinara, garlic and oregano, plus a little vegan mozzarella cheese which takes this pizza from good to amazing.
Recipe »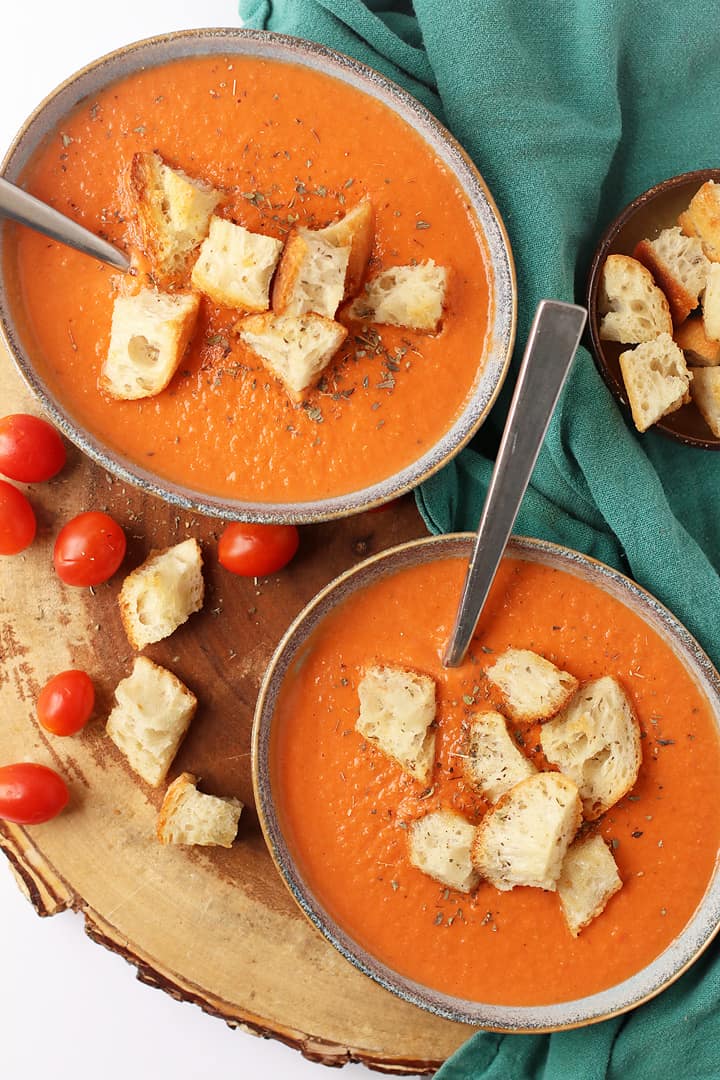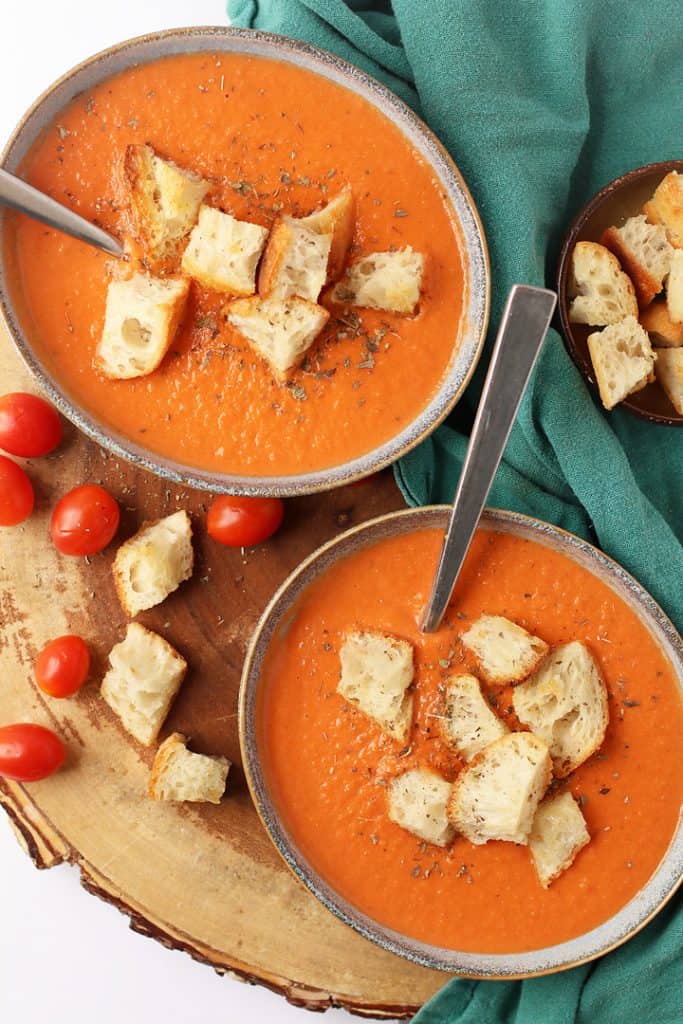 Vegan Tomato Soup with Cashew Cream
Warm up with this rich and creamy vegan tomato soup. A thick tomato base mixed with cashew cream for a satisfying fall soup. Made in 20 minutes.
Recipe »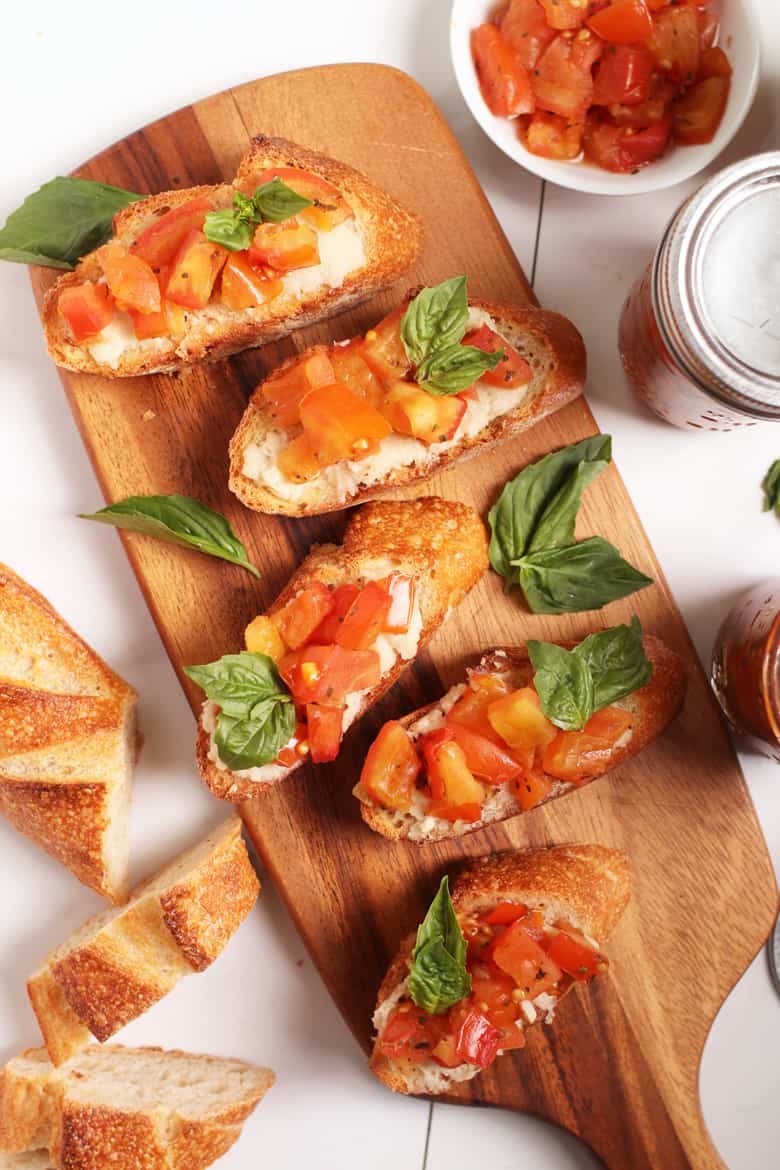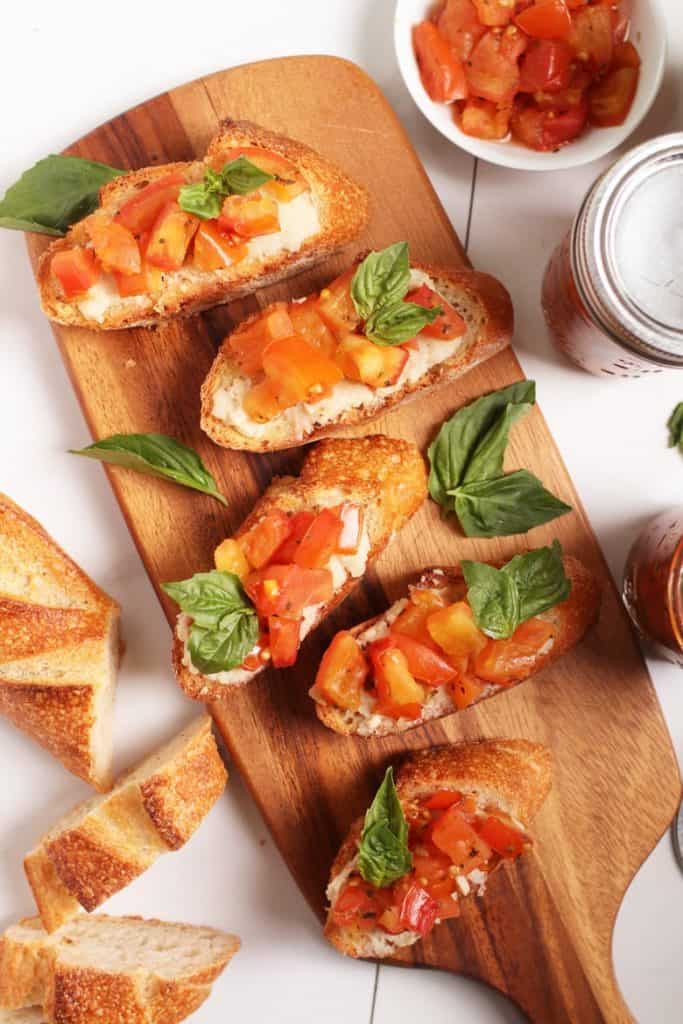 Baked Tomato Bruschetta
Tomato bruschetta in a jar! Served over soft vegan mozzarella cheese and a warm baguette for a sweet and tangy baked appetizer. Makes the perfect spread, filling, or homemade gift.
Recipe »
Recipes for Preserving Tomatoes
Tomatoes are wildly prolific and are best eaten at the peak of their season. Here are a few ways to capture all that goodness and store that flavor for weeks or months to come.
---
More Vegetable Roundups
Vegetables are amazing. They are versatile, delicious, and good for you! Do you need help with some of them? Here are a few of my other popular vegetable round-up articles.
That's it! 11+ vegan recipes with tomatoes. What is your favorite way to eat tomatoes? Tell me in the comments below.
Written by Sarah McMinn
If you give one of these recipes recipe a try, snap a photo and share it on Instagram. Make sure to tag
@mydarlingvegan
so I can see your creations!