15 Vegan Zucchini Recipes
Zucchinis are the perfect vegetable -filled with nutrients, versatile, and oh so prolific. With so many delicious vegan zucchini recipes to make, let's celebrate! From breakfast to dessert, you can eat zucchini all day long. 
This post contains affiliate links. For more information, please see my privacy policy.
There once was a time that I didn't love zucchini. I didn't even like warm, fresh-out-of-the-oven zucchini bread!
I know, I know. It's absolutely crazy. I thought the vegetable was soft and slimy and without flavor and all together gross. Turns out, I wasn't cooking it right! Once I started seeing all the vegan zucchini recipes out there, I realized that I was just doing zucchini wrong. For the past several years, I've been making up for that by planting lots of this magical green vegetable in my garden and finding new and inventive ways to use it up all summer long. If you want to enjoy zucchini all summer with me, I've got a handful of suggestions and then a whole lotta recipe.
Let's take a look!
Tips and Tricks for making DELICIOUS zucchini recipes
Now, let's take a look at the recipes below.
15 Vegan Zucchini Recipes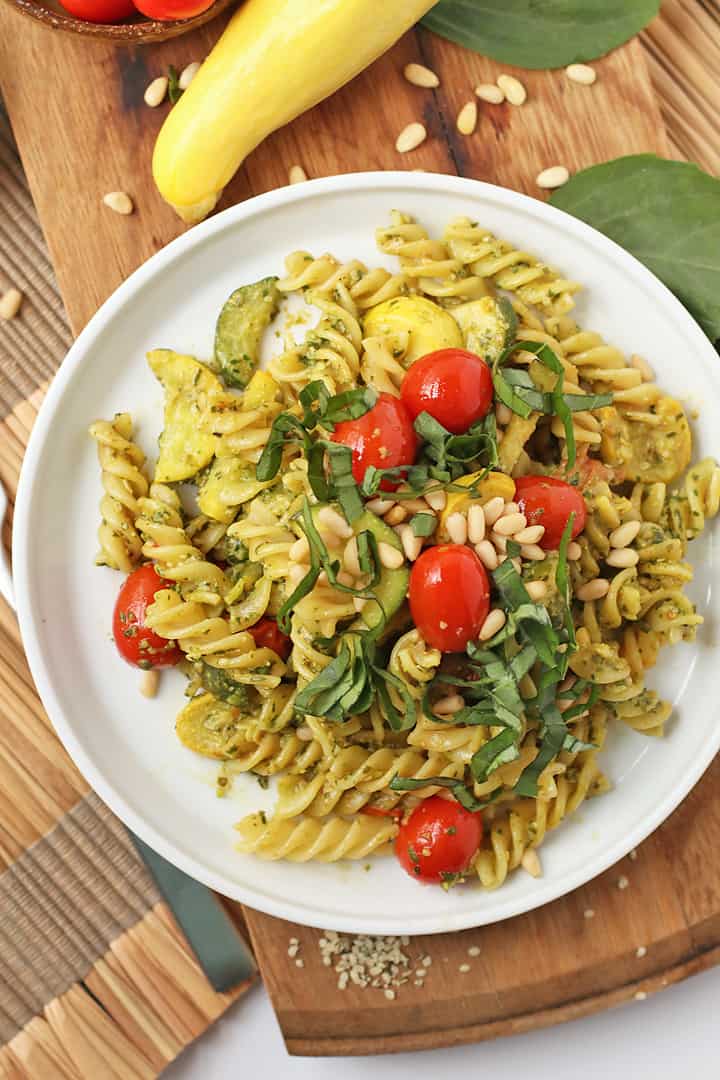 Vegan Pesto Pasta with Zucchini and Summer Squash
Enjoy your zucchini in this Vegan Pesto Pasta with Zucchini and Summer Squash. Lightly sautéed vegetables over pasta noodles that are smothered in creamy vegan pesto, this pasta requires only 10 ingredients and can be made in just 30 minutes for a quick and delicious summertime meal.
Peanut Zoodles with Tofu
I love the combination of peanut sauce, maple tofu, and thinly spiralized zucchini in this Peanut Zoodles with Tofu from Happy Healthy Life. Filled with flavor, packed with protein, and vegetables, and made in just 25 minutes, this is a meal we should all be adding to our weeknight rotations.
Strawberry Lime Cheesecake
Can you believe that this Strawberry Lime Cheesecake is made with zucchini? Pretty Pies makes this low-carb cheesecake that is free of all major allergens (that's gluten, soy, dairy, eggs, and refined sugar, friends!) and is packed full of healthful foods such as cashews, spinach, strawberries, and of course, zucchini!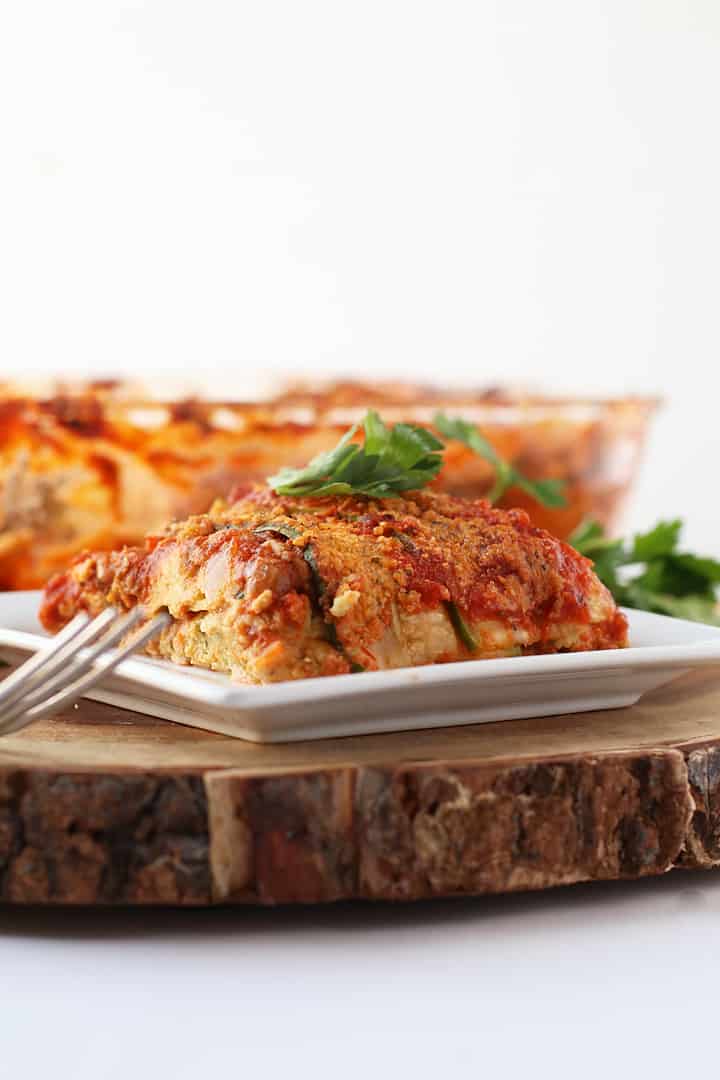 Zucchini Noodle Lasagna
This Vegan Zucchini Noodle Lasagna is one of my favorite meals to make when I'm having guests. Filled with homemade cashew herbed ricotta and tempeh "beef", then smoothened in marinara sauce, this gluten-free and vegan lasagna is a dinner that everyone can (and will) enjoy.
Vegan Zucchini Fritters
I'm drooling over these simple Zucchini Fritters from The Vegan 8. Made with just 8 ingredients and filled with all good things such as zucchini, corn, almond butter, and all sorts of spices, these Zucchini Fritters are topped with a Creamy Lemon Pepper Sauce. Wanna know the best part? They are 100% oil-free!
Vegan Zucchini Ravioli
Looking for a low-carb ravioli? Look no further. Veggies Don't Bite has you covered with this Vegan Ravioli recipe. Thinly sliced zucchinis filled with cashew ricotta and topped with marinara and creamy Alfredo sauce, this is another perfect vegan and gluten-free meal to serve at your next dinner party.
Wild Rice Mason Jar Salads
Remember how I love to grill my zucchini? This Wild Rice Mason Jar Salad is the best way to use up any leftover grilled zucchini for a quick grab-n-go lunch the next day. Layered with late summer vegetables, topped with wild rice, and served with basil pesto dressing, this is a salad that celebrates summer's best.
Zucchini Matcha Oatmeal
Zucchini with your oatmeal?! You had me at matcha. Feasting on Fruit combines fresh zucchini, matcha, oats, spices, and dates for this  Zucchini Matcha Oatmeal, healing, naturally sweetened breakfast that will fill you up all morning long. That's a breakfast worth waking up for.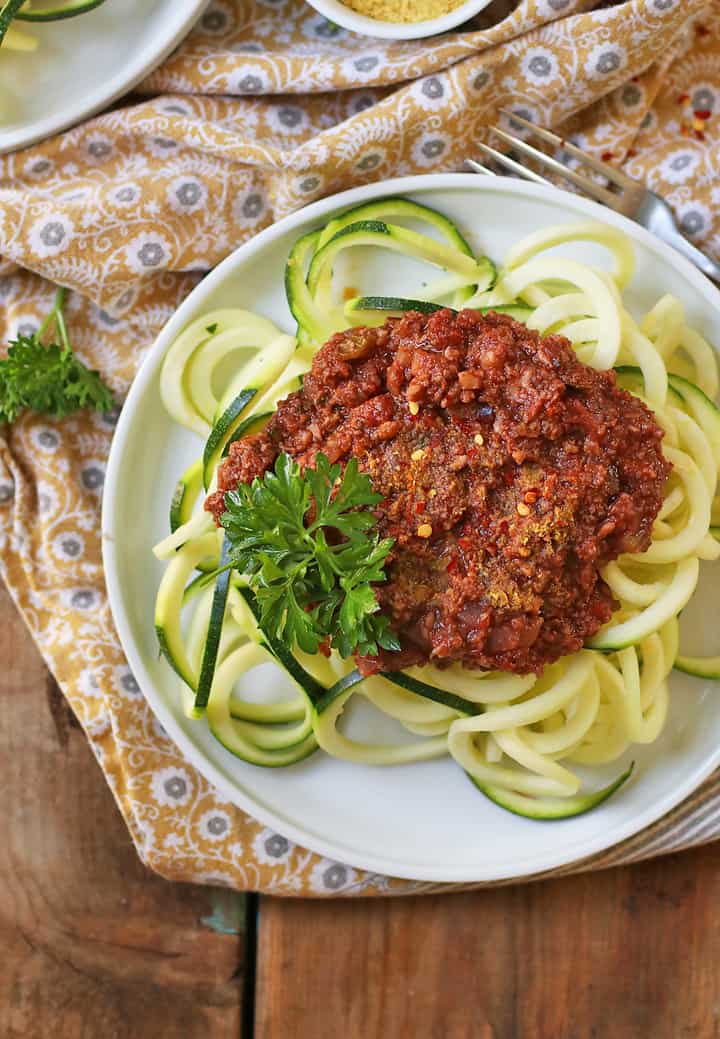 Mushroom Bolognese with Zucchini Noodles
This Mushroom Bolognese is packed with protein, fiber, and healthy fats, making zucchini noodles the perfect accompaniment for this dish. You'll love the combination of the meaty mushrooms and walnuts Bolognese with the refreshing and light zucchini noodles.
Basil Alfredo Zoodles
Another way to enjoy spiralized zucchini is with these Basil Alfredo Zoodles from Rainbow Nourishments. This recipe is made with less than 10 ingredients in just 10 minutes! It doesn't get more simple (or delicious) than that. If you're going to start spiralizing, I suggest starting with this fool-proof, mouth-watering recipe.
Zucchini Corn Cakes
You are going to love these Zucchini Corn Cakes from Vegan Yack Attack. These savory pancakes are topped with green tomato relish and sunflower sour cream for a delightful breakfast that celebrates all those summer vegetables growing in your backyard. I can't think of a better way to start a summer day!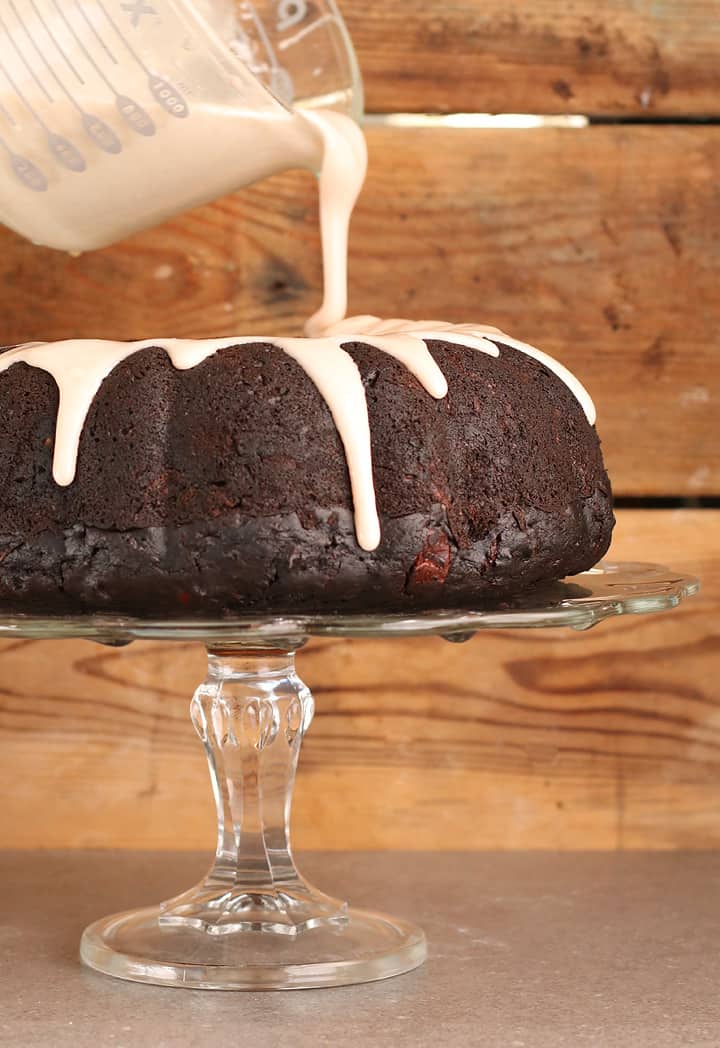 Chocolate Zucchini Cake
Zucchini is so good in desserts because it adds extra moistness for a tender crumb that melts in your mouth. And this Chocolate Zucchini Cake is no exception. Rich and moist and filled with chocolate and hazelnuts then topped with a warm cinnamon glaze, this is one of the best ways to use up extra summer zucchini.
Chocolate Zucchini Muffins
Or give these Chocolate Zucchini Muffins from Yummy Mummy Kitchen a try. Filled with wholesome ingredients such as coconut sugar, zucchini, and flax, with these muffins you are having your cake and eating it too! Made in just 25 minutes for a decadent and simple sweet treat.
Gluten-Free Zucchini Bread
Vegan Richa is one of the best when it comes to vegan/gluten-free baking and I have no doubt this Gluten-Free Zucchini Bread is amazing. Loaded with whole, good foods and baked to perfection, this moist and tender zucchini bread recipe is one to keep on hand this summer.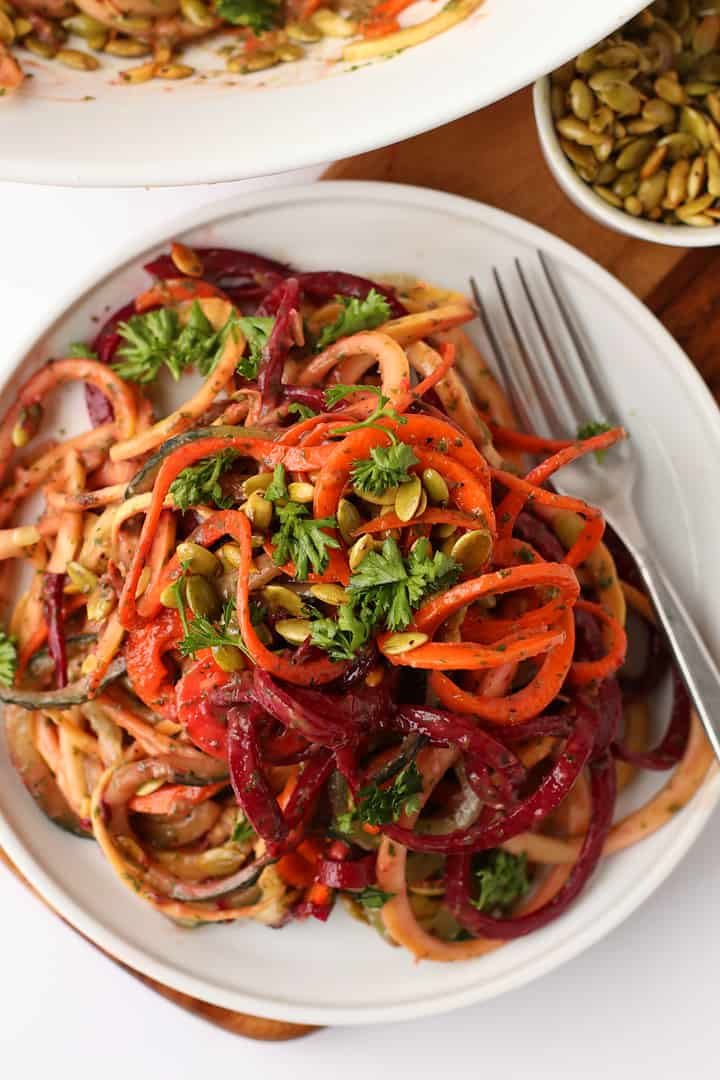 Spiralized Vegetable Noodle Salad
This quick Spiralized Vegetable Noodle Salad uses all your vegetables growing in your garden. A mixture of summer squash, carrots, zucchini, and beets, these beautiful spiralized vegetables get tossed in a homemade Green Goddess Dressing for a light and refreshing summer salad.
Written by My Darling Vegan
If you give one of these recipes recipe a try, snap a photo and share it on Instagram. Make sure to tag
@mydarlingvegan
so I can see your creations!