15 Vegan Zucchini Recipes
Zucchinis are the perfect vegetable -filled with nutrients, versatile, and oh so prolific. With so many delicious vegan zucchini recipes to make, let's celebrate! From breakfast to dessert, you can eat zucchini all day long.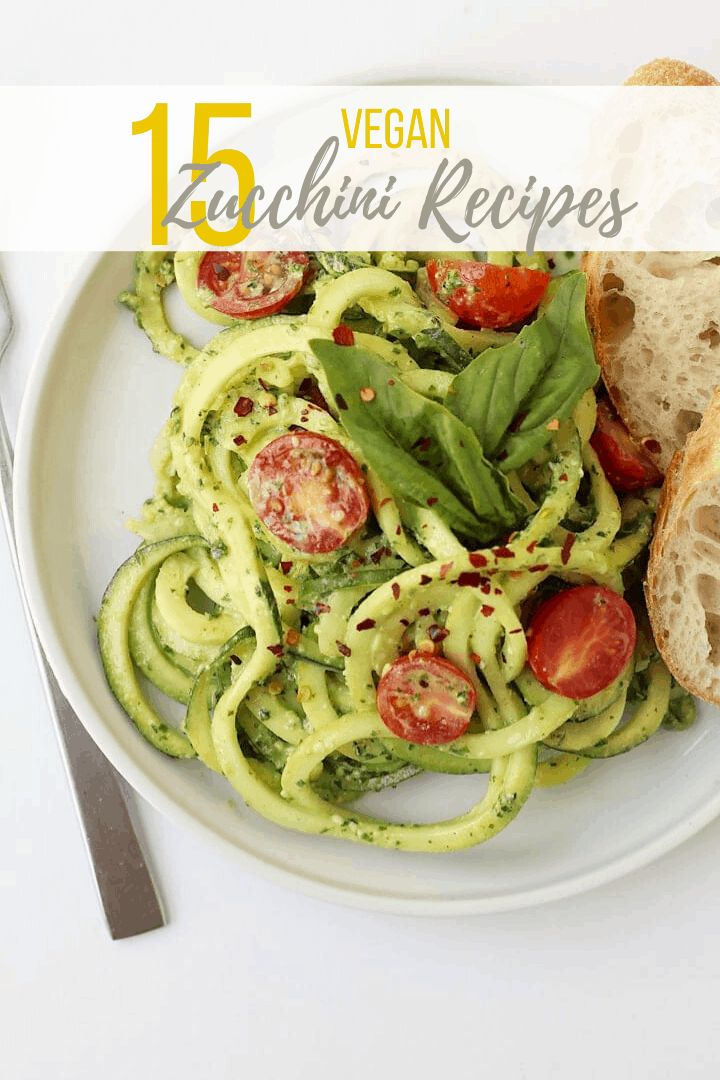 This post contains affiliate links. For more information, please see my privacy policy.
There once was a time that I didn't love zucchini. I didn't even like warm, fresh-out-of-the-oven zucchini bread!
I know, I know. It's absolutely crazy.
But I thought the vegetable was soft and slimy and without flavor and altogether gross.
Turns out, I just wasn't cooking it right!  Once I started seeing all the vegan zucchini recipes out there, I realized that I was just doing zucchini wrong.
For the past several years, I've been making up for that by planting lots of this magical green vegetable in my garden and finding new and inventive ways to use it up all summer long. If you want to enjoy zucchini all summer with me, I've got a handful of suggestions and then a whole lotta recipe.
Let's take a look at these amazing Vegan Zucchini Recipes.
Tips and Tricks for Cooking with Zucchini
Here are a few helpful tips I've learned over the years while cooking with zucchini.
Now, let's take a look at the Vegan Zucchini Recipes below.
15 Vegan Zucchini Recipes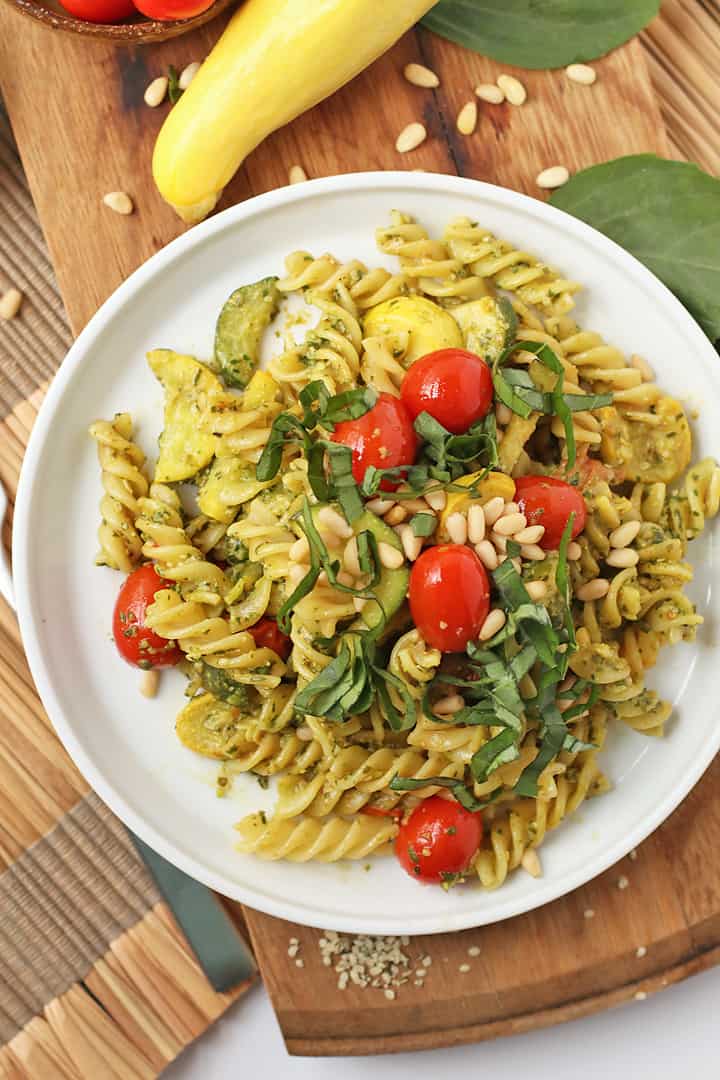 Vegan Pesto Pasta with Zucchini and Summer Squash
Enjoy your zucchini in this Vegan Pesto Pasta with Zucchini and Summer Squash. Lightly sautéed vegetables over pasta noodles that are smothered in creamy vegan pesto, this pasta requires only 10 ingredients and can be made in just 30 minutes for a quick and delicious summertime meal.
Get the recipe here.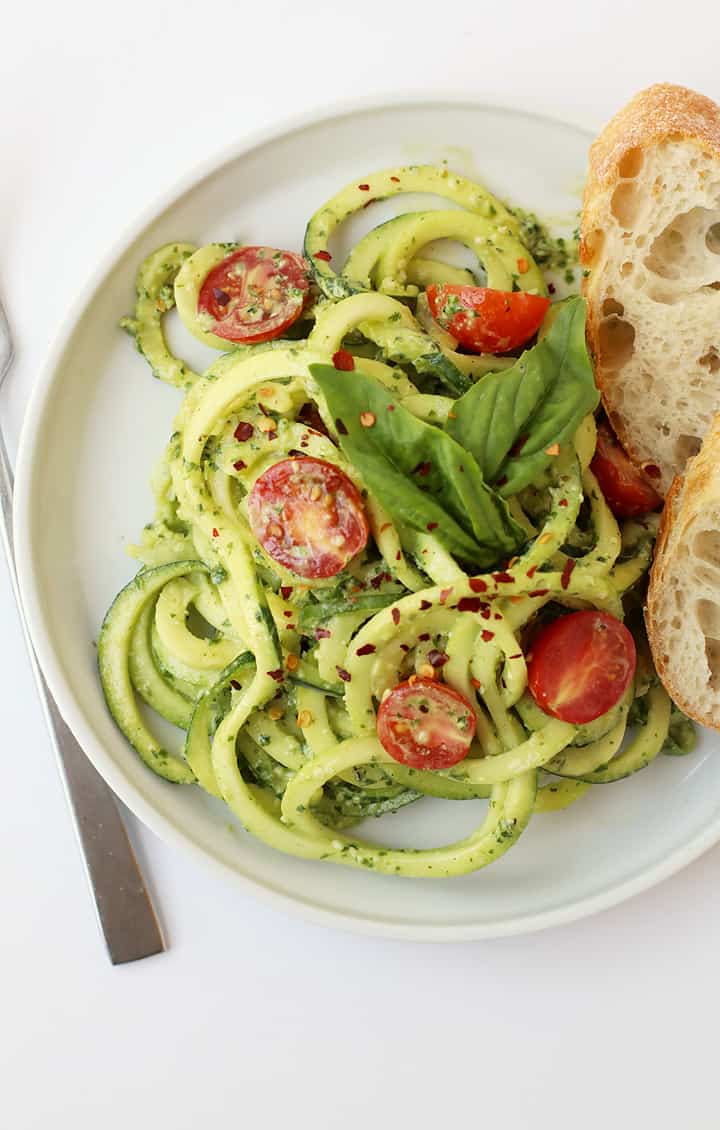 Lighten up with this Zucchini Noodles with Pesto Salad. Perfectly spiralized zucchini noodles tossed in homemade pesto and cherry tomatoes for a quick 10-minute meal that is vegan, gluten-free, and keto-friendly. It's the perfect summertime dinner!
Get the recipe here.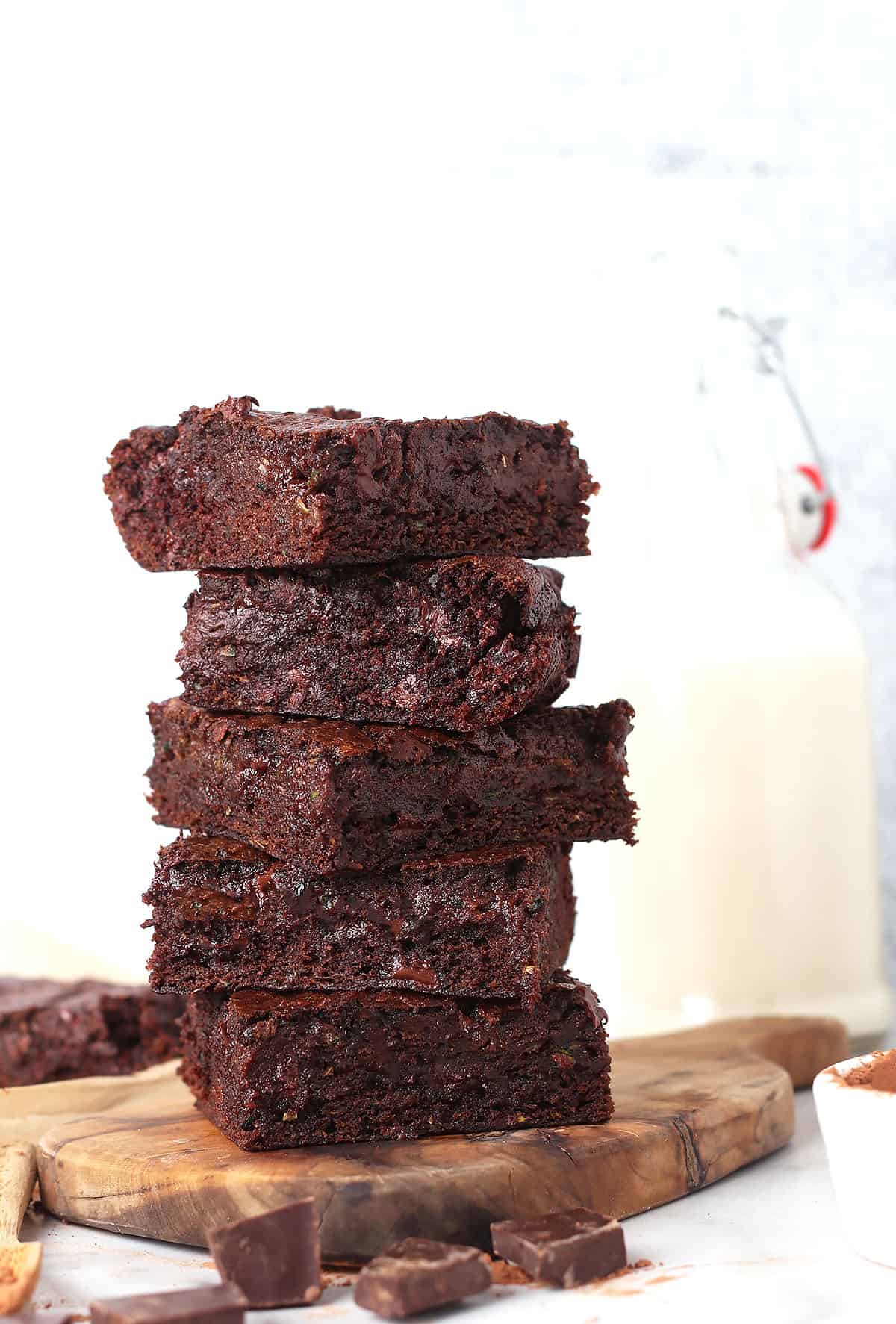 OMG! These Vegan Zucchini Brownies are so incredibly rich and gooey. They are a decadent chocolate dessert bar with hidden fruits and vegetables for added moisture plus healthy benefits! It's the perfect way to use up your zucchini this summer!
Get the recipe here.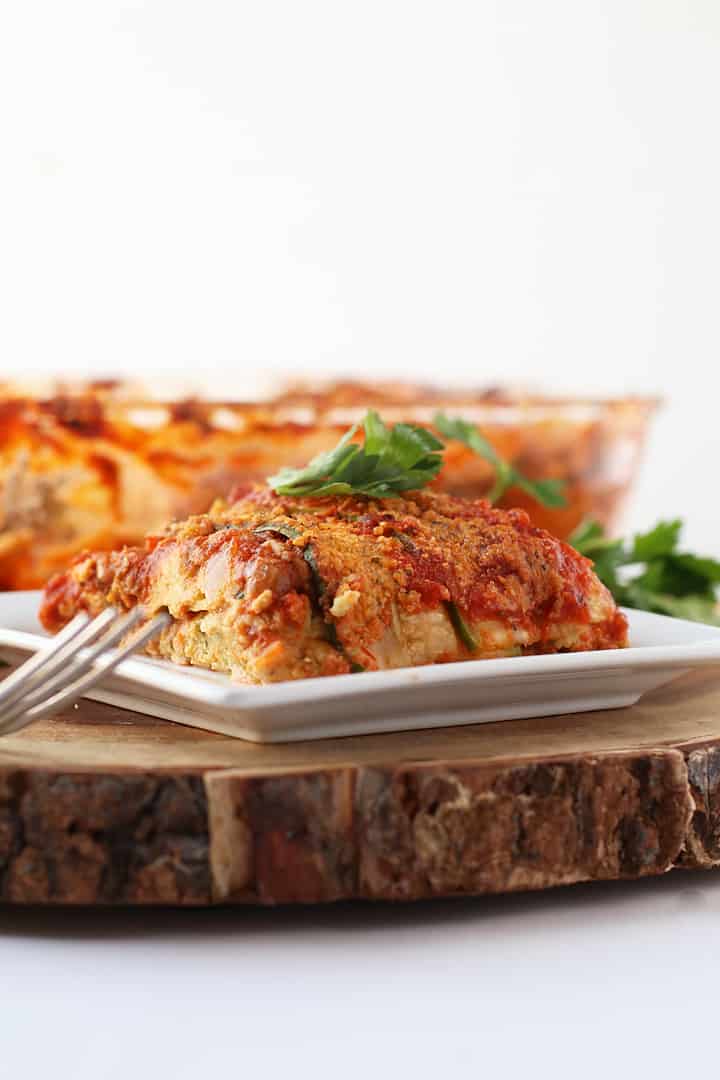 This Vegan Zucchini Noodle Lasagna is one of my favorite meals to make when I'm having guests. Filled with homemade cashew herbed ricotta and tempeh "beef", then smoothened in marinara sauce, this gluten-free and vegan lasagna is a dinner that everyone can (and will) enjoy.
Get the recipe here.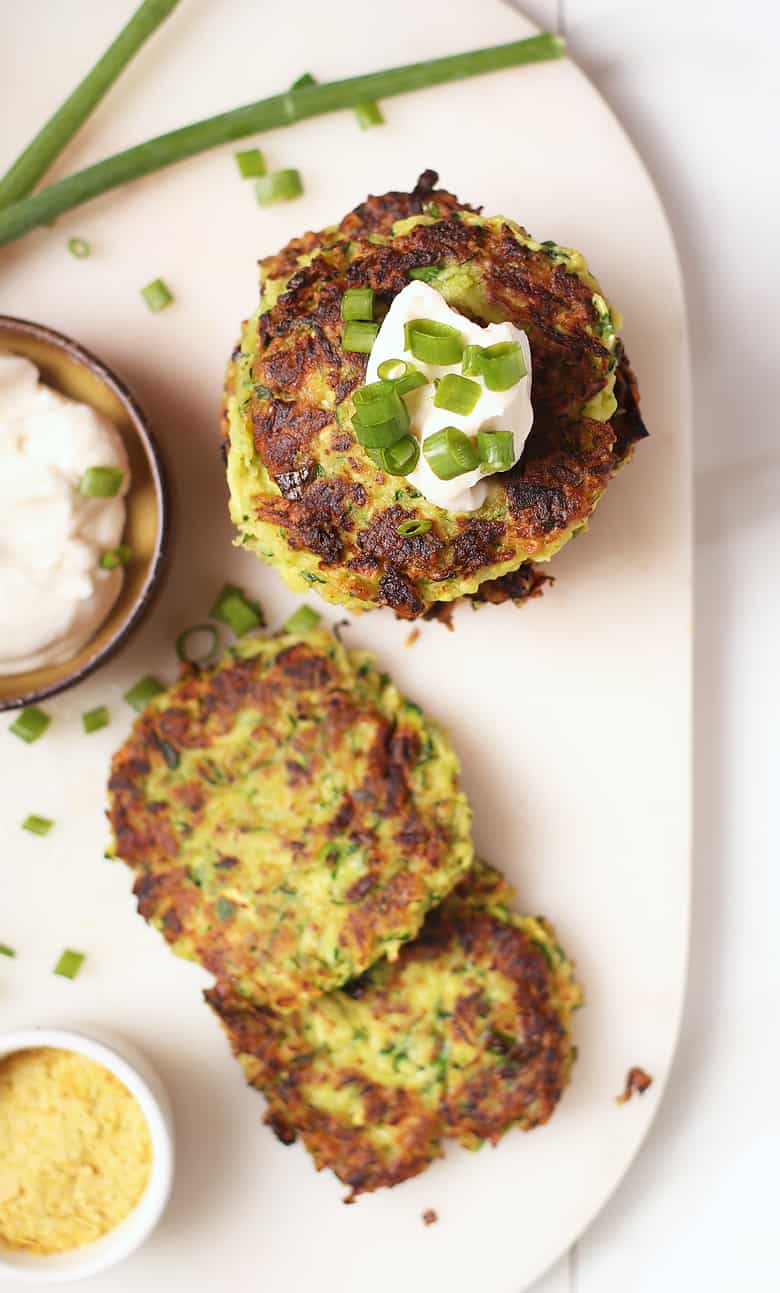 These warm and zesty Zucchini Fritters are so good! They are made in just 20 minutes for an anytime-of-day-snack. Try them for breakfast, lunch, or dinner. Topped with vegan sour cream and fresh green onions for a simple and delicious meal.
Get the recipe here.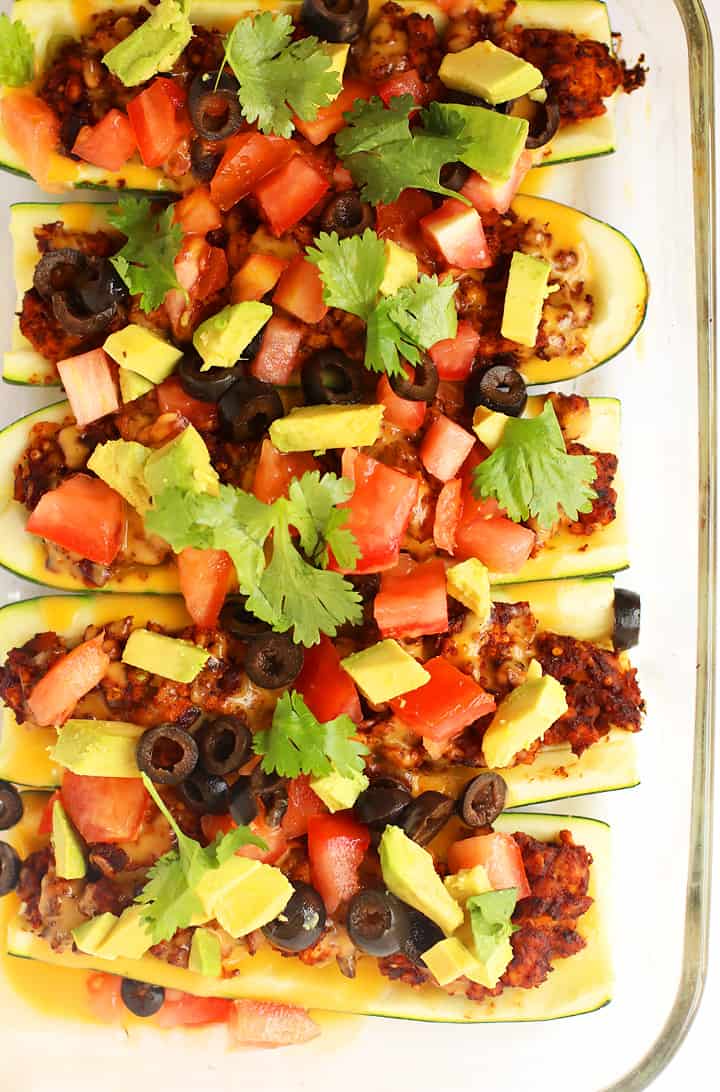 These Mexican-Style Stuffed Zucchini Boats are made with a taco-spiced tempeh filling and topped with fresh tomatoes and avocado. So good! Whip up a batch for a family-friendly, easy, weeknight dinner. Vegan & gluten-free!
Get the recipe here.
Remember how I love to grill my zucchini? This Wild Rice Mason Jar Salad is the best way to use up any leftover grilled zucchini for a quick grab-n-go lunch the next day. Layered with late summer vegetables, topped with wild rice, and served with basil pesto dressing, this is a salad that celebrates summer's best.
Get the recipe here.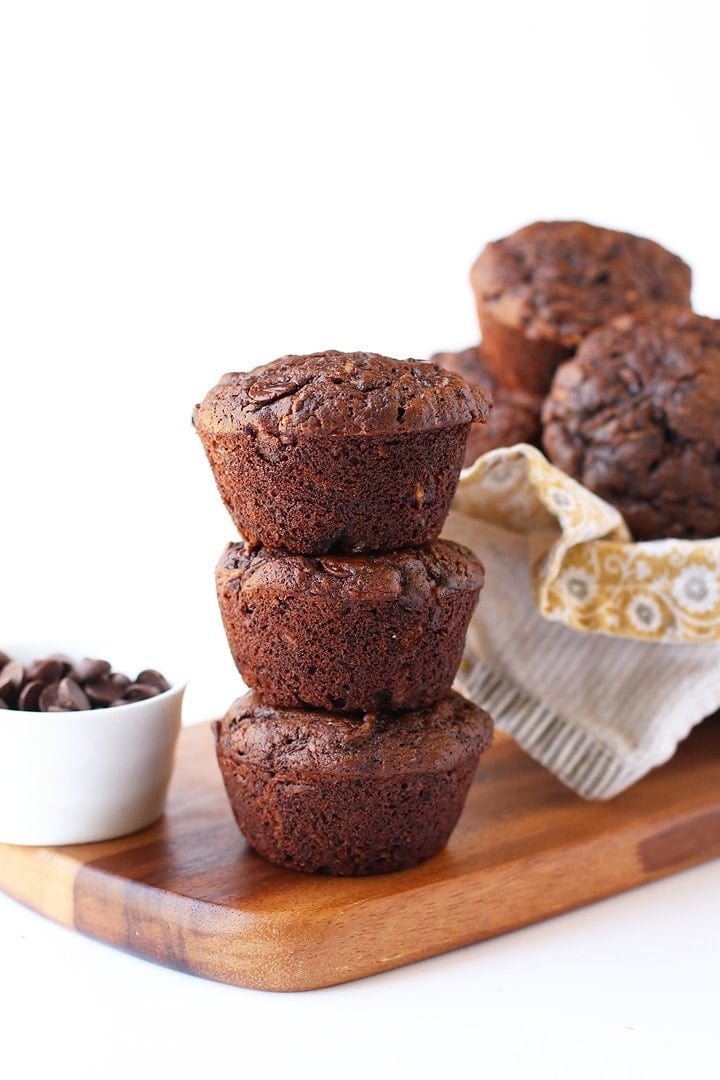 Everyone loves these delicious and indulgent Double Chocolate Zucchini Muffins. These easy muffins can be made in just 35 minutes for a chocolate-filled, zucchini-packed, dairy and egg-free sweet treat. Yum!
Get the recipe here.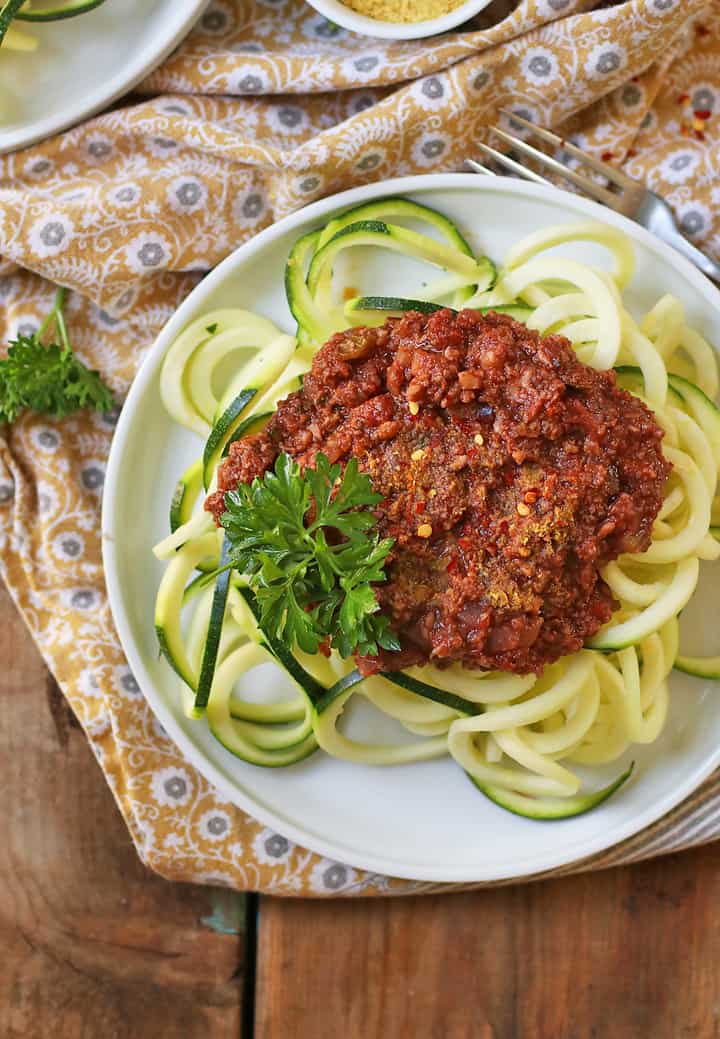 This Mushroom Bolognese is packed with protein, fiber, and healthy fats, making zucchini noodles the perfect accompaniment for this dish. You'll love the combination of the meaty mushrooms and walnuts Bolognese with the refreshing and light zucchini noodles.
Get the recipe here.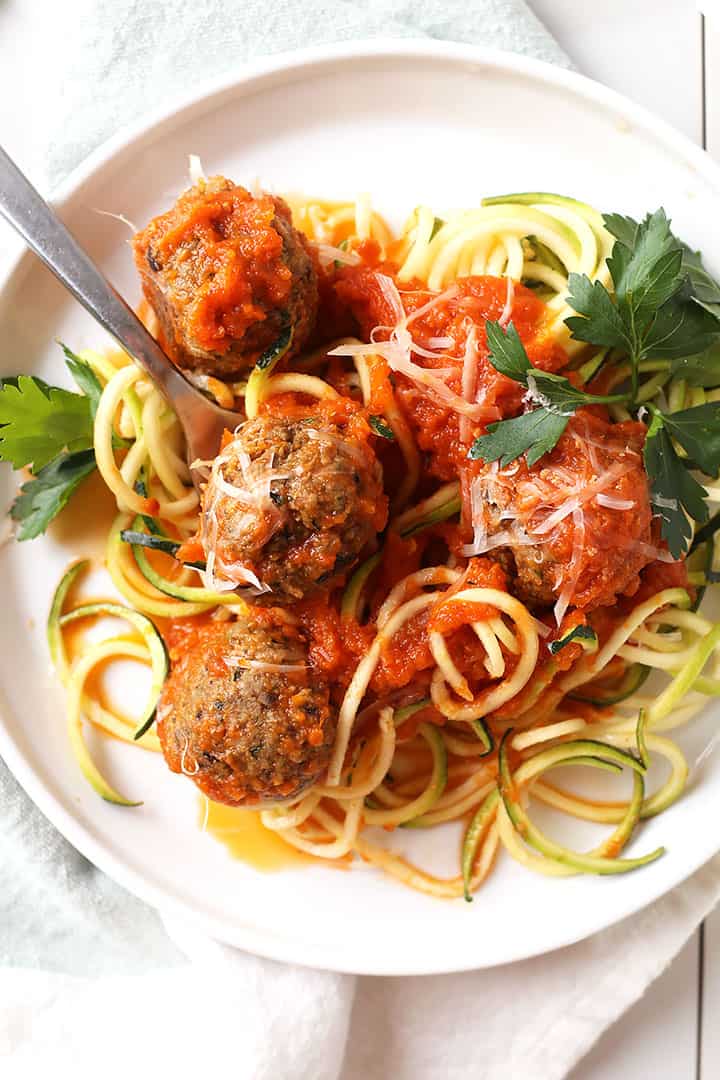 Want more zoodle ideas? You're going to love these wholesome and flavor-packed Vegan Eggplant Meatballs baked to perfection and served with homemade marinara and zucchini noodles. It's a delicious and low-carb vegan meal the whole family will love.
Get the recipe here.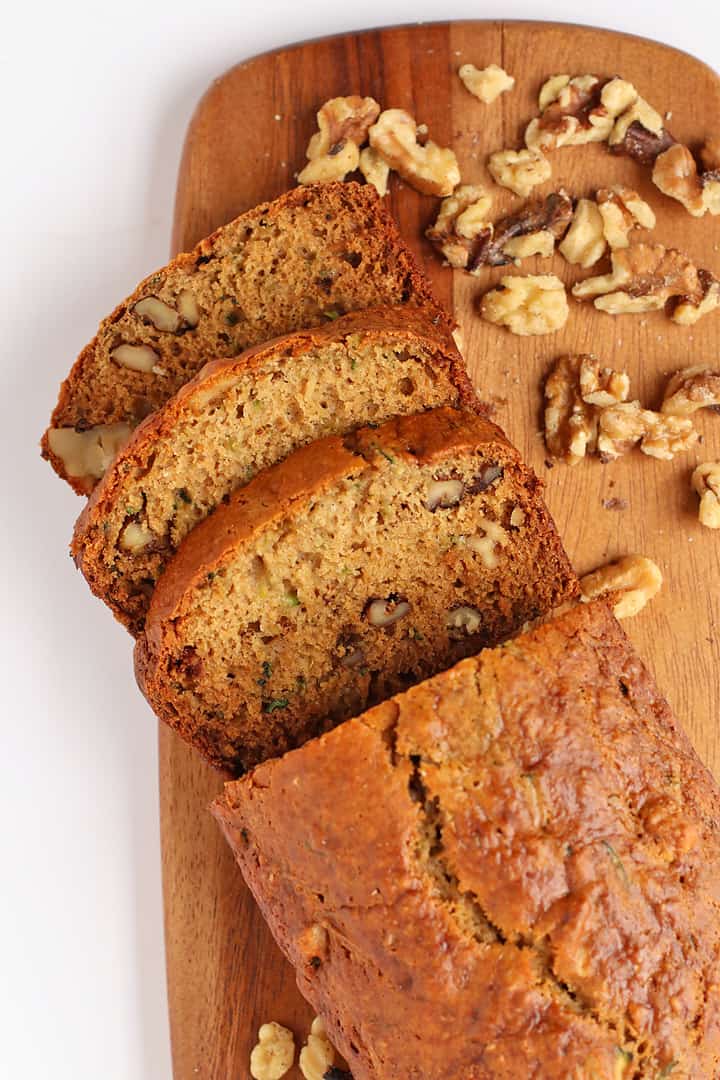 Best ever Vegan Zucchini Bread! This simple and delicious quickbread is filled with zucchini and walnuts in every bite. Spiced with cinnamon, nutmeg, and cardamom, you're going to love the flavors in this classic bread.
Get the recipe here.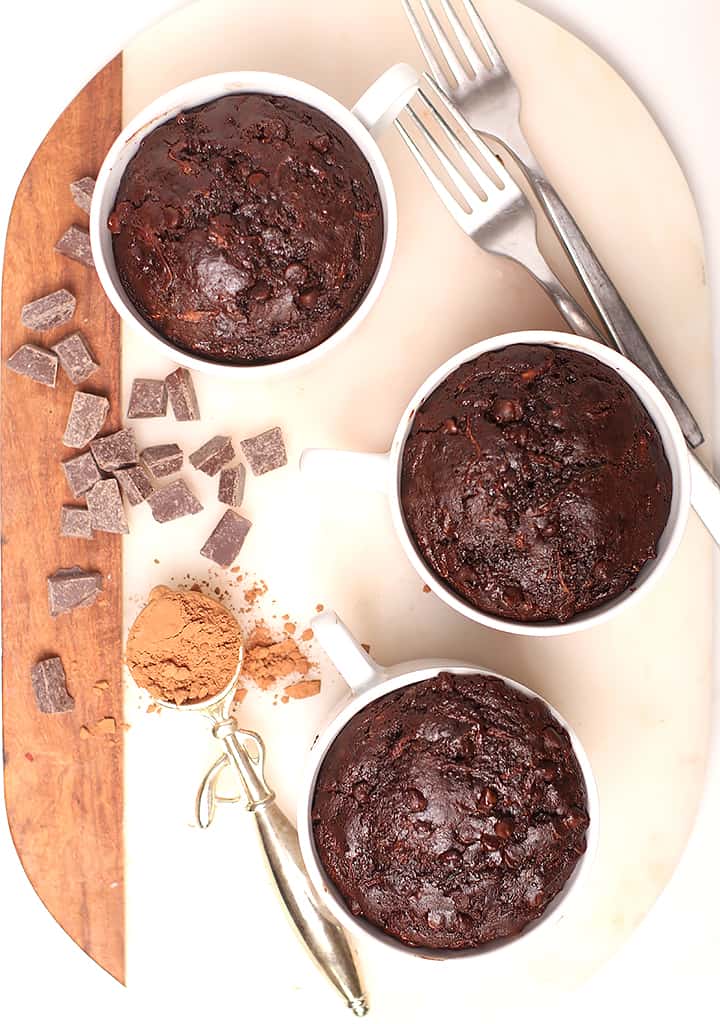 Moist and chocolatey, this Vegan Chocolate Espresso Cake is incredibly moist and bursting with flavor! Bake it either as individual cakes or as a loaf. This recipe can be made in under an hour for a delicious sweet treat.
Get the recipe here.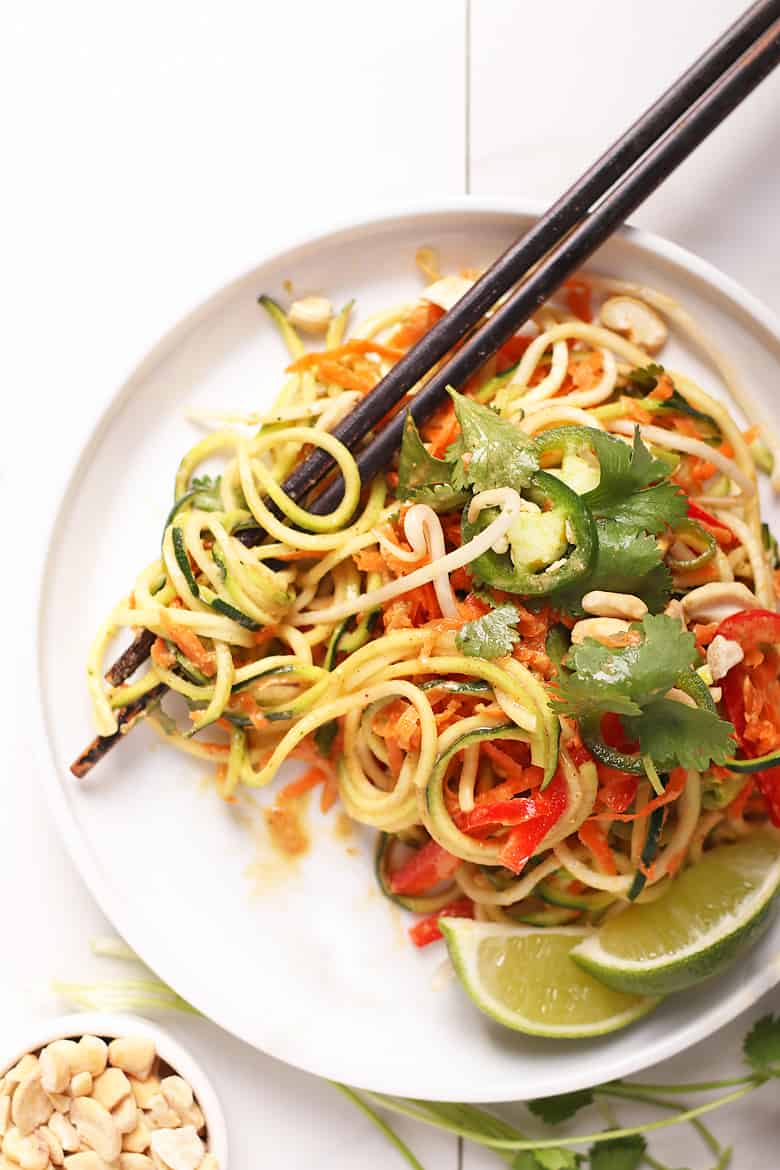 A healthy and refreshing salad, this Raw Pad Thai is made with zucchini noodles, carrots, bell peppers, and fresh herbs. All topped with a homemade jalapeño almond sauce for a delicious and hearty meal. Made in under 30 minutes for a perfect summer meal.
Get the recipe here.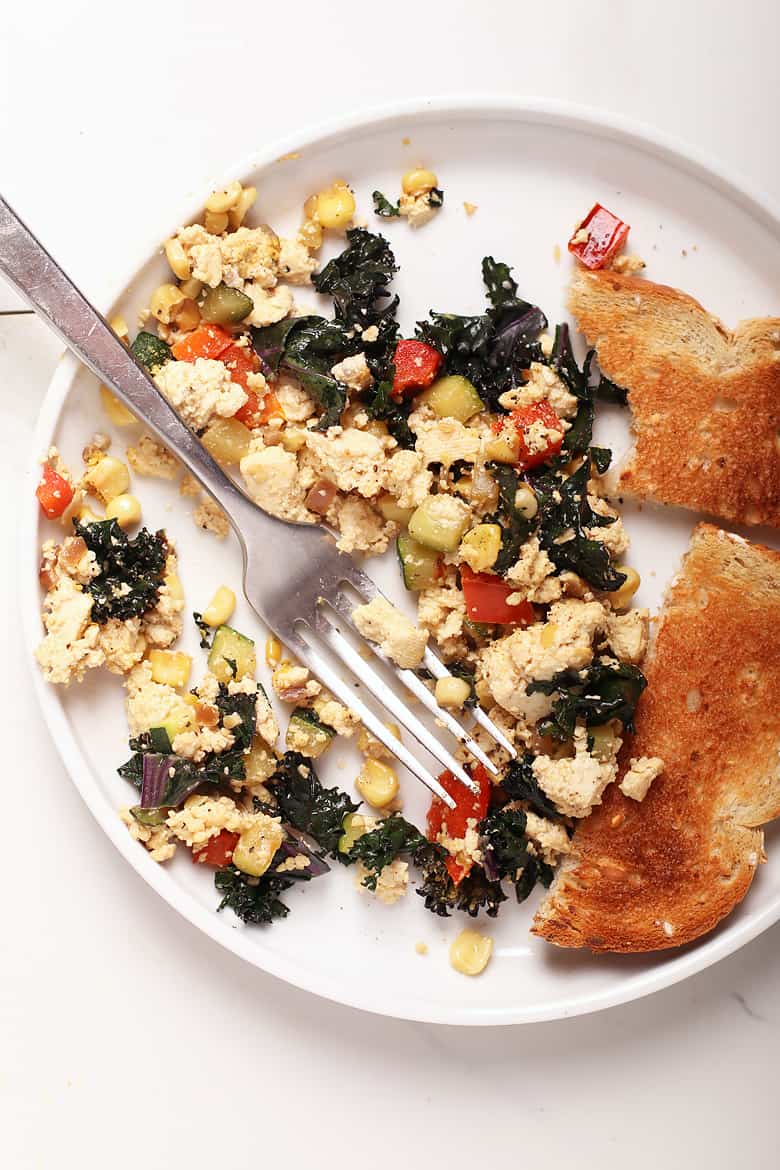 My go-to Summer Tofu Scramble. A hearty vegan and gluten-free breakfast made with tofu, zucchini, corn, and kale. You can make this breakfast in just 10 minutes for a quick and wholesome morning meal.
Get the recipe here.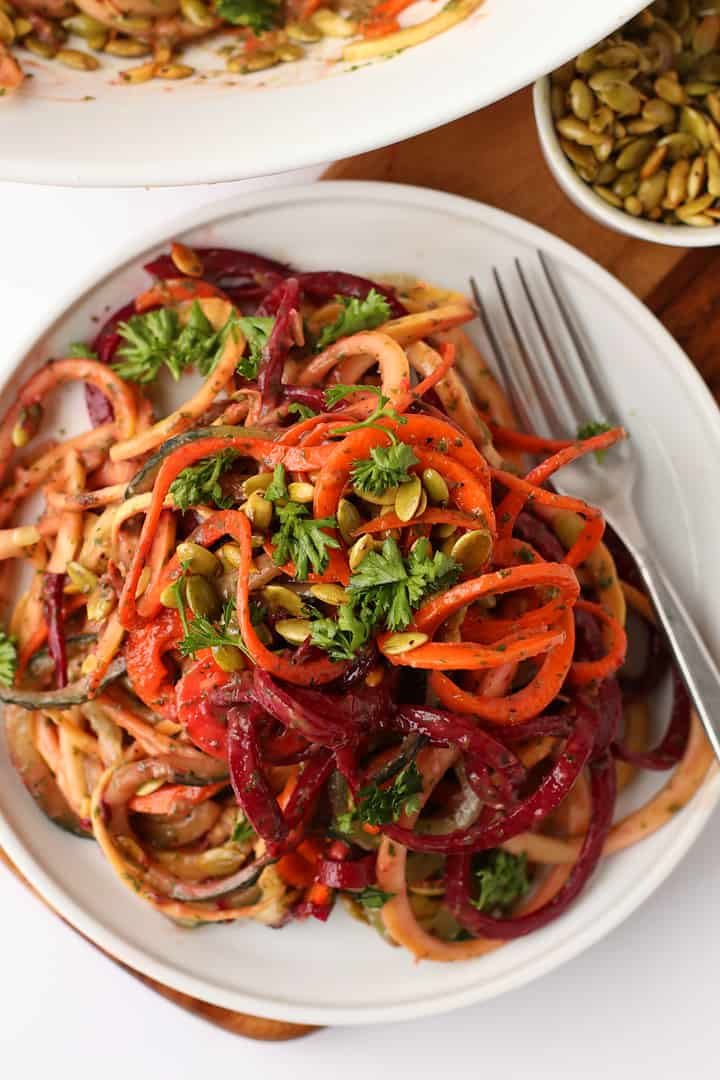 This quick Spiralized Vegetable Noodle Salad uses all your vegetables growing in your garden. A mixture of summer squash, carrots, zucchini, and beets, these beautiful spiralized vegetables get tossed in a homemade Green Goddess Dressing for a light and refreshing summer salad.
Get the recipe here.
More Vegetable Roundups
Vegetables are amazing. They are versatile, delicious, and good for you! Do you need help with some of them? Here are a few of my other popular vegetable round-up articles.
That's it! 15 DELICIOUS ways to use zucchini. What is your favorite way to eat zucchini? Tell me in the comments below.
Written by Sarah McMinn
If you give one of these recipes recipe a try, snap a photo and share it on Instagram. Make sure to tag
@mydarlingvegan
so I can see your creations!