This mixed berry cobbler is an easy and delicious dessert for your backyard barbecues this summer. Serve it with homemade ice cream for a creamy and refreshing sweet treat.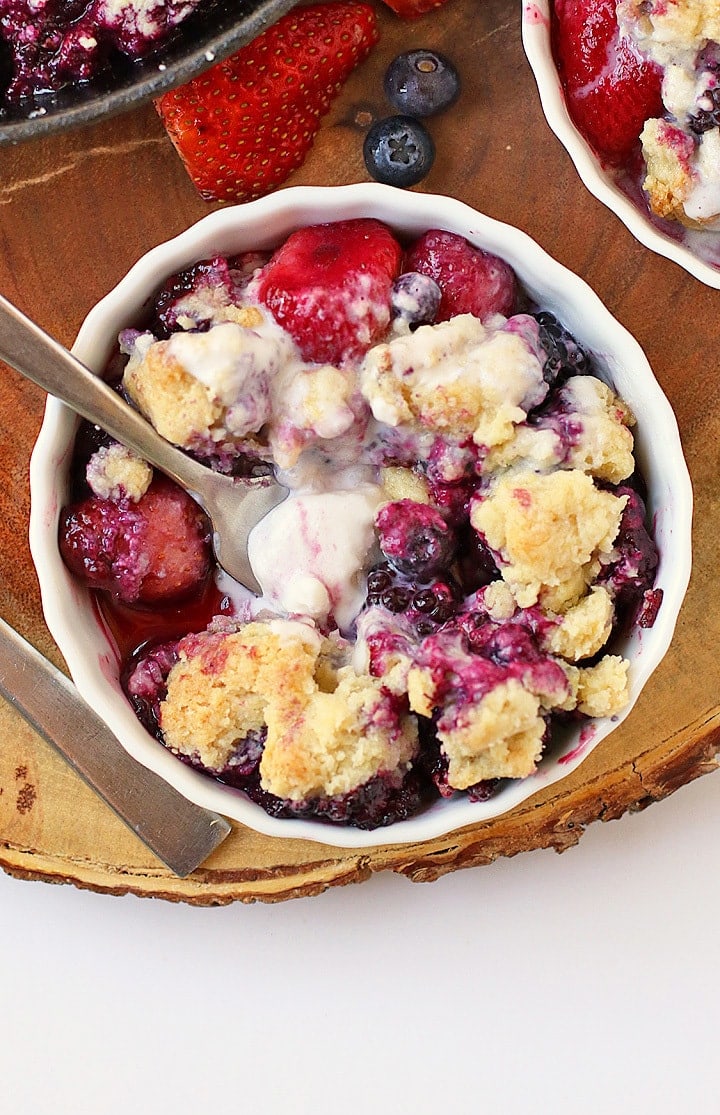 This post contains affiliate links. For more information please read my privacy policy.
My friends, can you believe it? It's almost 4th of July.
This year, more than any other, has just continued to shock me as it flies by. We are now entering the best parts of summer. Hot days, short nights, camping trips, and backyard barbecues. And today, I've got just the treat for your July 4th potlucks. A refreshing and zesty mixed berry cobbler. Filled with blackberries, raspberries, and strawberries and topped with a sweet cobbler crust, this dessert is one of the best ways to celebrate the heart of summer.
Have you ever wondered the difference between cobbler, crisps, and crumbles?
A few years ago I thought the words were largely synonymous with each other; perhaps just regional variations of one another. But, as I culinary school graduate, professional baker, and food blogger, people expect you to know things about food and after saying, "I don't know" a few too many times, I decided it was time to do a little internet pastry research.
This is what I found out –
All three desserts are similar – a dessert containing fresh fruit, sugared and baked, then topped with a type of pastry. Like pie, all three desserts bake until the juices of the fruit begin to bubble up and create the thick, syrupy fruit filling we are all familiar with.
Sounds about right. So what's the difference?
The difference, my friends, is in the toppings.
Crisp and Crumbles: may be interchangeable depending on the region but it seems like there is one simple difference: crisps are topped with a streusel that contains oats whereas crumble's streusel does not contain oats.
Cobbler: topped with sweet drop biscuit that rises when cooked, creating the look of a cobbled road.
Now we know where the name comes from!
This Mixed Berry Cobbler is one of my favorites. AND it's so easy to make!
The frozen berries are mixed with cornstarch and sugar. The sugar allows the liquids to be drawn out of the berries and the cornstarch thickens it up during the baking to create the thick syrupy texture we know and love about about cobblers, crisps, and crumbles.
While the berries are macerating, a sweet biscuit is made. Since it is made with so few ingredients, it's important to use the best quality. For that reason, I recommend using Miyoko's cultured vegan butter for this recipe. This is truly the best vegan butter on the market and will give the pastry the flaky sweet creaminess that we expect from butter. The biscuit gets dropped on the frozen berries, baked to golden brown. And 30 minutes later:
A delicious and refreshing mixed berry cobbler.
So let's celebrate this 4th of July with friends, food, fireworks, and definitely this mixed berry cobbler. Easy to throw together, sweet and buttery, and celebrating the flavors of the season, let's bake.
Happy July 4th weekend, friends!
Mixed Berry Cobbler
This mixed berry cobbler is an easy and delicious dessert for your backyard barbecues this summer. Serve it with homemade ice cream for a creamy and refreshing sweet treat.
Ingredients
20

ounces

frozen mixed berries

1/4 + 2 tbsp

cup

granulated sugar,

divided

1

tbsp.

cornstarch

juice of 1

small lemon

3/4

cup

all-purpose flour

1/2

tsp.

baking powder

1/4

tsp.

baking soda

1/4

tsp.

salt

1/4

cup

vegan butter,

(I use Miyoko's)

2

tbsp

non-dairy milk,

I use macadamia nut milk but any non-dairy milk will do
Instructions
In a small bowl, combine frozen berries, 1/4 cup granulated sugar, cornstarch, and lemon juice. Stir together and set aside while making the dough.

In a separate mixing bowl, combine flour, remaining 2 tablespoons sugar, baking powder, baking soda, and salt. Add the butter in small cubes and mix it in with the dough using your fingers until small pea-sized pieces have formed. Add non-dairy milk and stir together until a stiff dough has formed. You may need to add a little more milk. If so, add it 1-2 teaspoons at a time.

Transfer frozen berry mixture to prepared skillet. Drop pieces of dough onto the berry mixer so that it is mostly covered with large piece of dough.

Bake for 30 minutes, uncovered, until the berries are bubbling up and the dough is golden brown. Remove from oven and let set for 20 minutes before serving.

Serve with non-dairy ice cream of your choice.
Nutrition Facts
Mixed Berry Cobbler
Amount Per Serving
Calories 223
Calories from Fat 54
% Daily Value*
Total Fat 6g 9%
Sodium 201mg 8%
Potassium 116mg 3%
Total Carbohydrates 39g 13%
Protein 2g 4%
* Percent Daily Values are based on a 2000 calorie diet.
If you give this recipe a try, let us know what you think in the comments below. Or snap a photo and share it on Instagram. Make sure to tag @mydarlingvegan so I can see your creations!