Moroccan Stuffed Eggplant
This Moroccan Stuffed Eggplant is bursting with flavor! Filled with lentils, tomatoes, and the perfect blend of spices, this is a vegan and gluten-free meal that elevates dinner to a whole new level.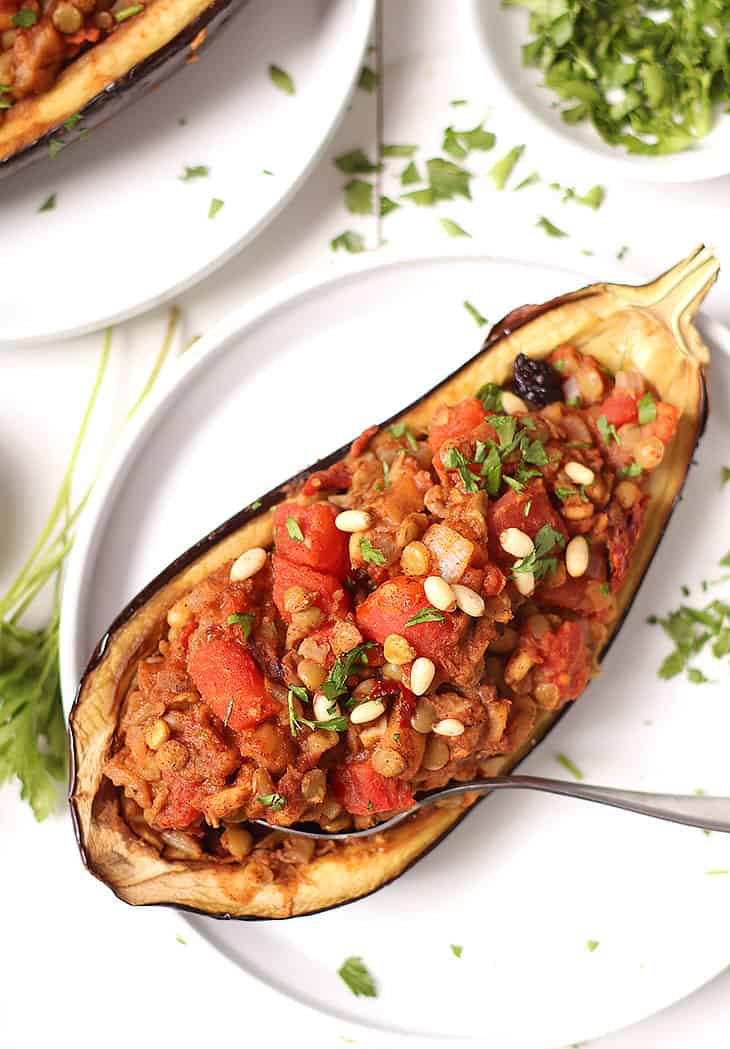 Ahhh, it's eggplant season. The most delicious time of year!
You know, there was a time I didn't like eggplant. I know, I know. It's absolutely crazy. But I thought the vegetable was soft and slimy, generally without flavor, and altogether gross. Turns out, the problem wasn't eggplant. The problem was me; I wasn't cooking it right! Once I started seeing all the vegan eggplant recipes out there, I realized that I was just doing eggplant wrong.
Now that eggplants are finally starting to pop up in our summer gardens, I figured it was time to celebrate this wonderful purple vegetable with a new eggplant recipe. And I think you're going to love it.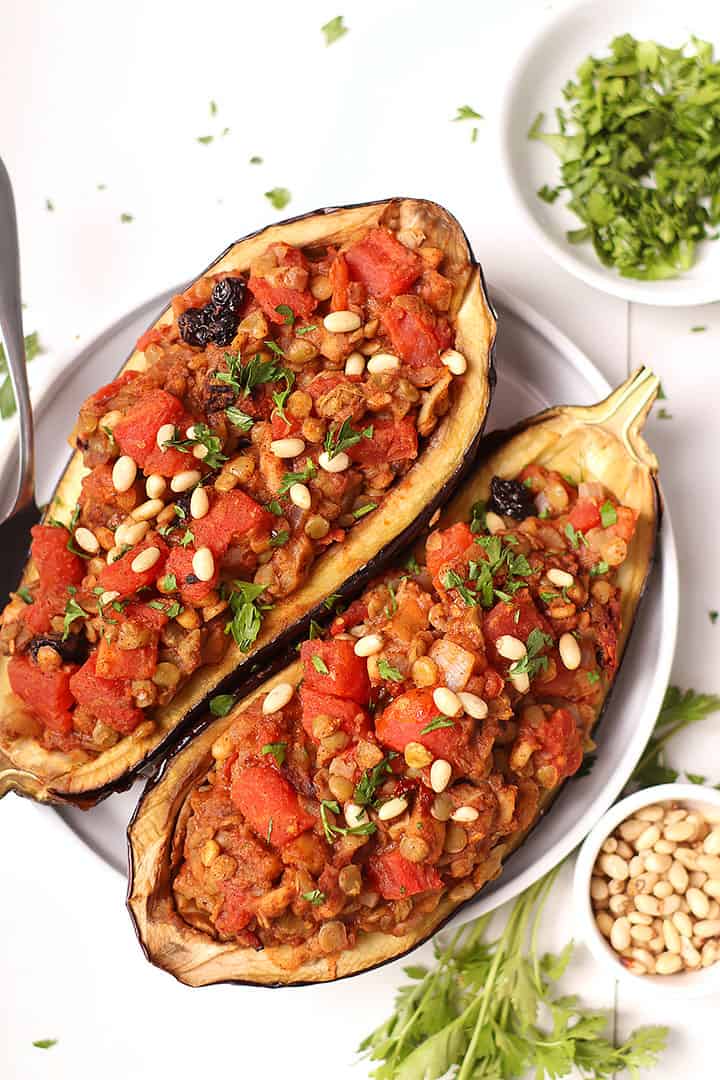 Tips on Cooking with Eggplant
Eggplant can be a tricky vegetable to work with. As I mentioned earlier, when not cooked properly, eggplant can be unpleasant. Here are a few things to keep in mind when cooking with eggplant:
I recommend a mandoline. With a mandoline, you can slice eggplant into super-thin lasagna or ravioli noodles. Since making my first eggplant noodle lasagna last year, my mandoline has become a go-to kitchen tool.
Cook eggplant with the right amount of fat. This is an important part of getting a nice skin on the eggplant which gives it that pleasant chewy texture.  Don't skimp on the amount of oil the recipe calls for and be ready to transfer it to the oven or frying pan right away.
Don't drown it in the sauce. Eggplant is a delicious vegetable. Often people are tempted to slather it in a sauce but this can make the eggplant soggy as well as take away from the smoky natural flavors of the eggplant.
Try grilling it! I love grilling sliced eggplant along with my portobello steaks and veggie burgers. Brush a little oil on it and place it on the hot grill for a delicious and simple eggplant side dish.
How to make stuffed eggplant
Stuffed eggplant is an easy and satisfying meal. If you're new to stuffing vegetables, I promise you, it's much simpler than it looks. Let's take a step by step look at how to make this Moroccan stuffed eggplant recipe.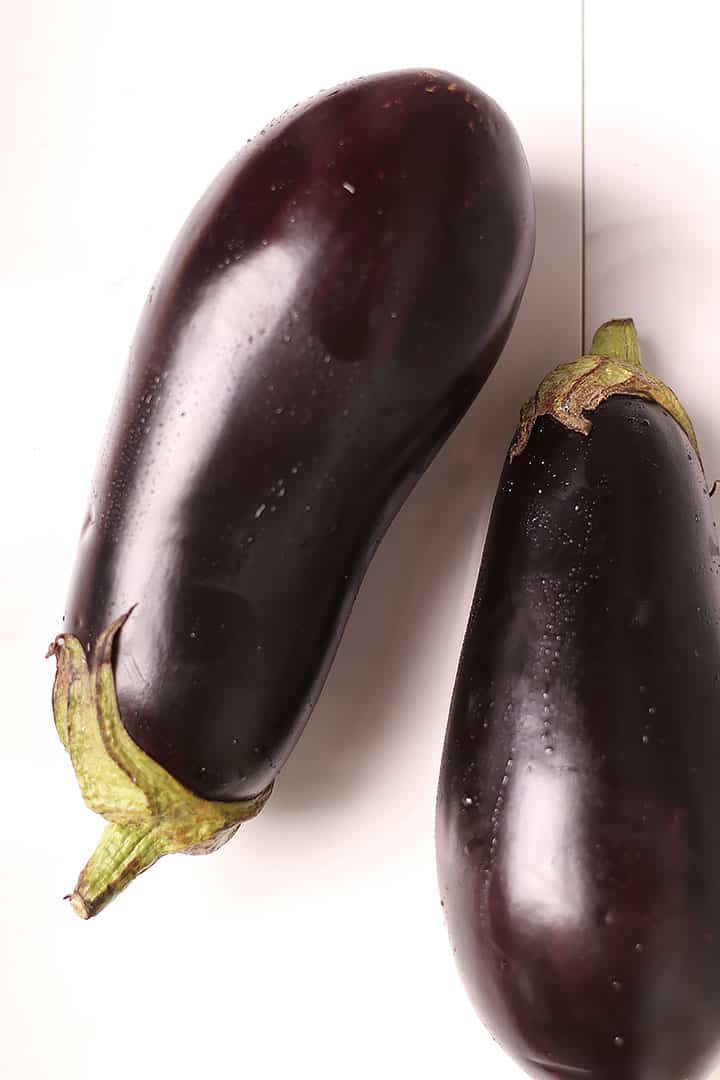 Step 1: Prepare your eggplant
Slice your eggplant lengthwise and scoop out the fleshy middle. You may need to use a paring knife to score the flesh before removing it with a spoon. As you scoop out the middle, keep about 1/2 inch of eggplant around all sides to give it the support it needs for the fillings and toppings. Make sure to reserve the removed eggplant. This will get added to our filling.
Once the eggplant flesh is scooped out, lightly brush the eggplant with 1 tablespoon of olive oil and bake at 400F for 20 minutes until golden brown and tender.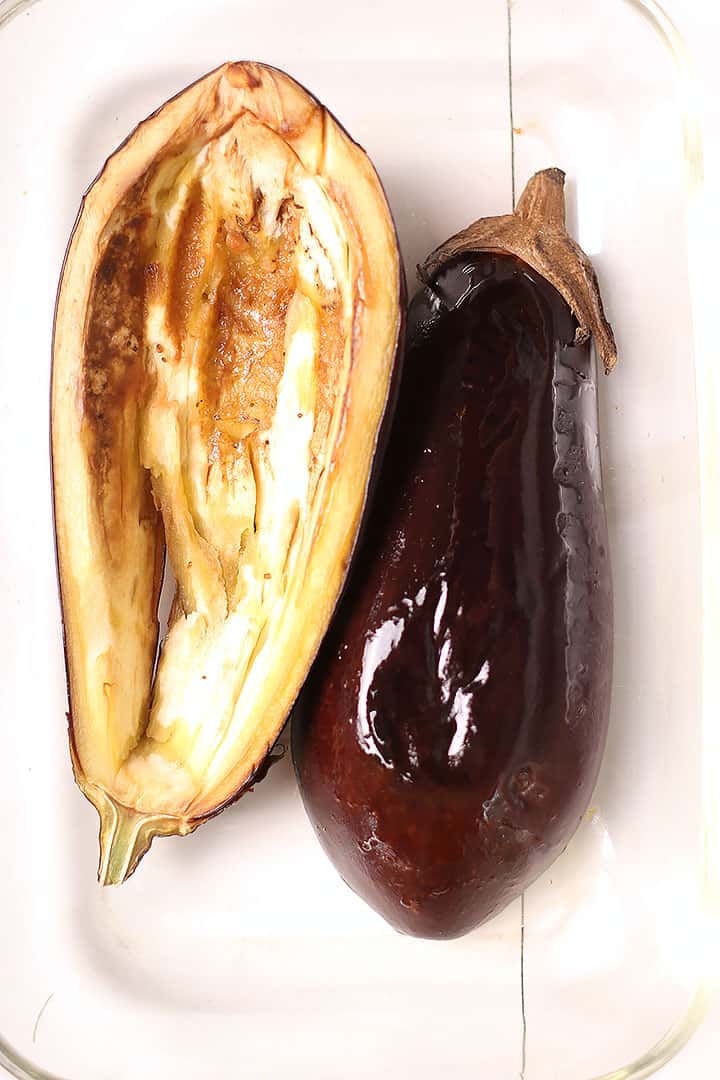 Step 2: Prepare the filling
For these Moroccan Stuffed eggplants, I made a lentil-based filling that is stuffed with tomatoes, pinenuts, raisins, fresh herbs, and the perfect spice blend.
To make the filling, first, sauté the onions and garlic. Once the onions are translucent and fragrant, add the pinenuts and cook until they are lightly toasted. Add the remaining ingredients except for the raisins and parsley, and cook for 3-5 minutes until the filling is heated all the way through. Taste and adjust seasonings.
Now, remove the filling from heat and add the raisins and parsley.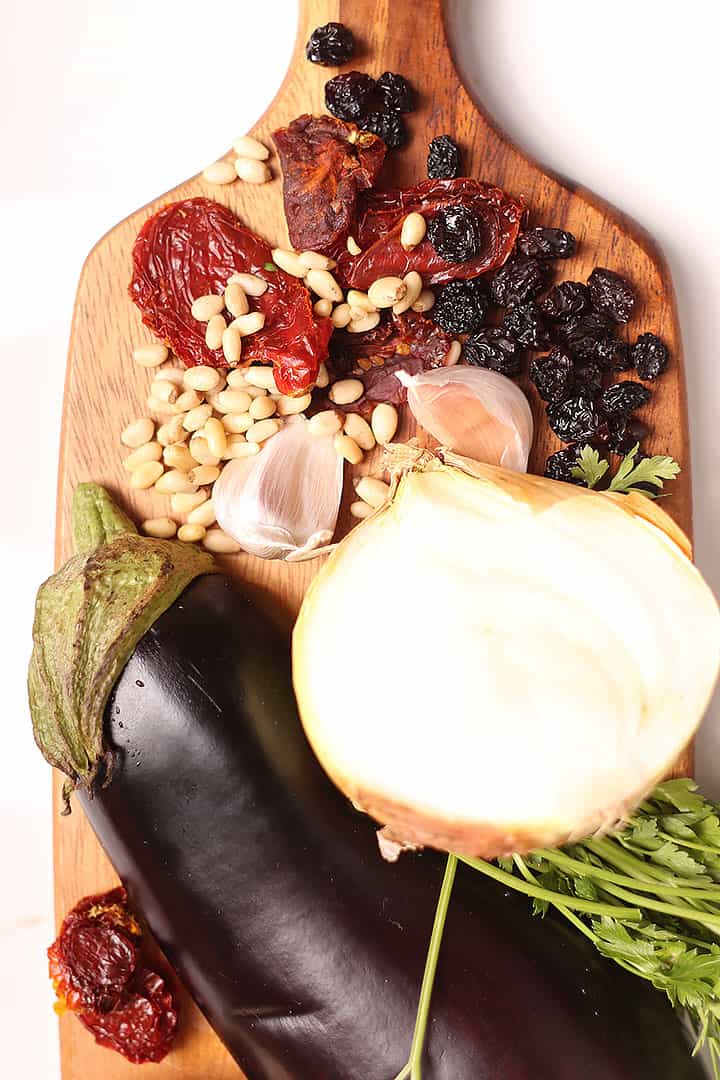 Step 3: Assemble and bake
To assemble the vegan stuffed eggplant, evenly scoop the spiced lentil filling into your prepared eggplant, packing it down as much as possible and rounding up the top. As the filling bakes, it will release water, making the filling shrink. That is why you want to pack the eggplants as much as possible in order to finish with beautifully full eggplant.
Bake the stuffed eggplant for 10 additional minutes. Remove from the oven, top with fresh parsley, and serve.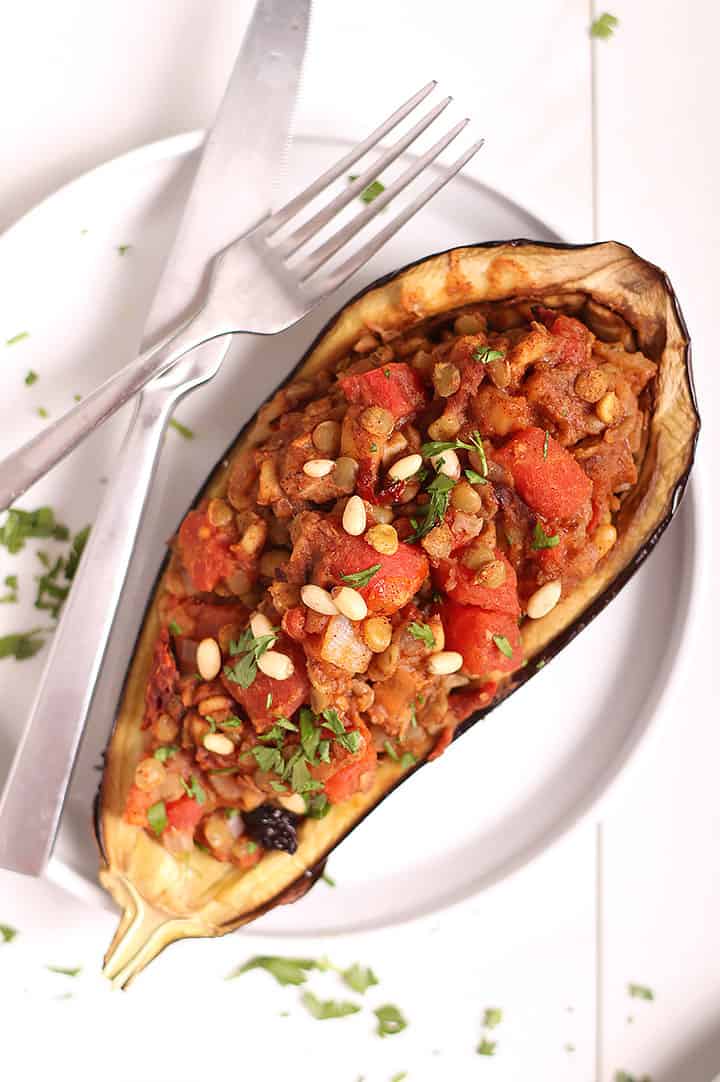 Storing Vegan Stuffed Eggplant
Unfortunately, this stuffed eggplant recipe does not store well. You will want to eat them within an hour of baking. If you are preparing for a larger event and want to work ahead, you can make your filling and place it in the refrigerator for up to 3 days until you are ready to assemble your eggplant. Once you are ready, prepare the eggplant and bake according to the instructions below.
More Vegan Eggplant Recipes
These Moroccan Stuffed Eggplant are good but don't stop there! Here are some of my other favorite eggplant recipes:
And make sure to check out even more vegan eggplant recipes here.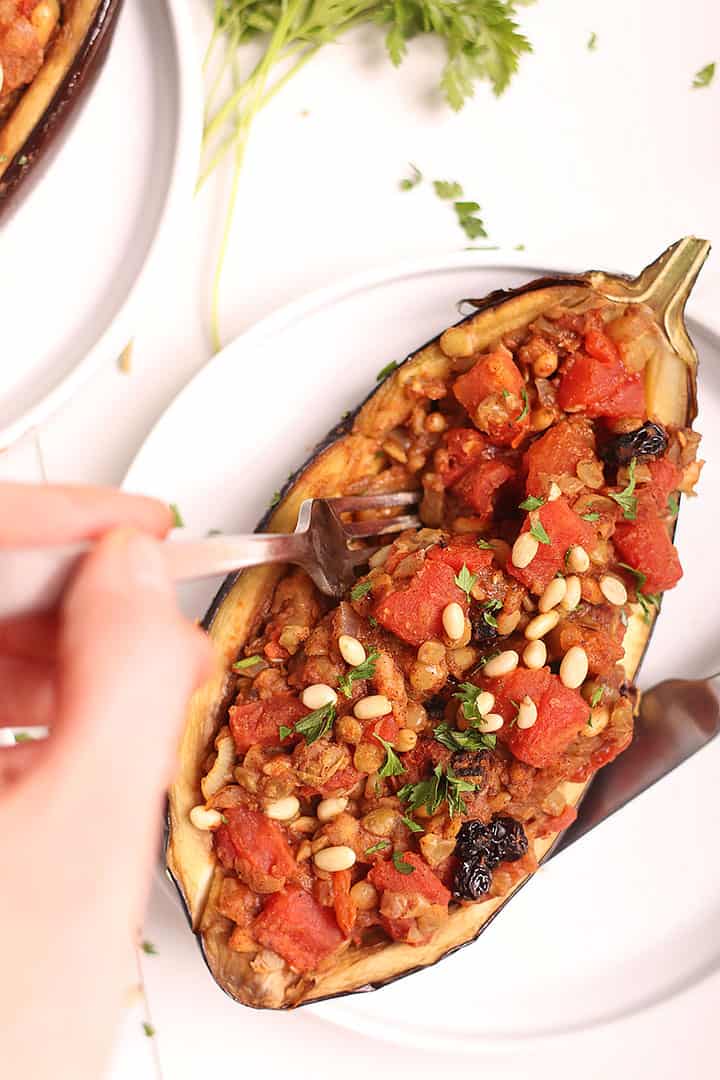 Moroccan Stuffed Eggplant
These Moroccan Stuffed Eggplant are bursting with flavor! Filled with lentils, tomatoes, and the perfect blend of spices, this is a vegan and gluten-free meal that elevates dinner to a whole new level.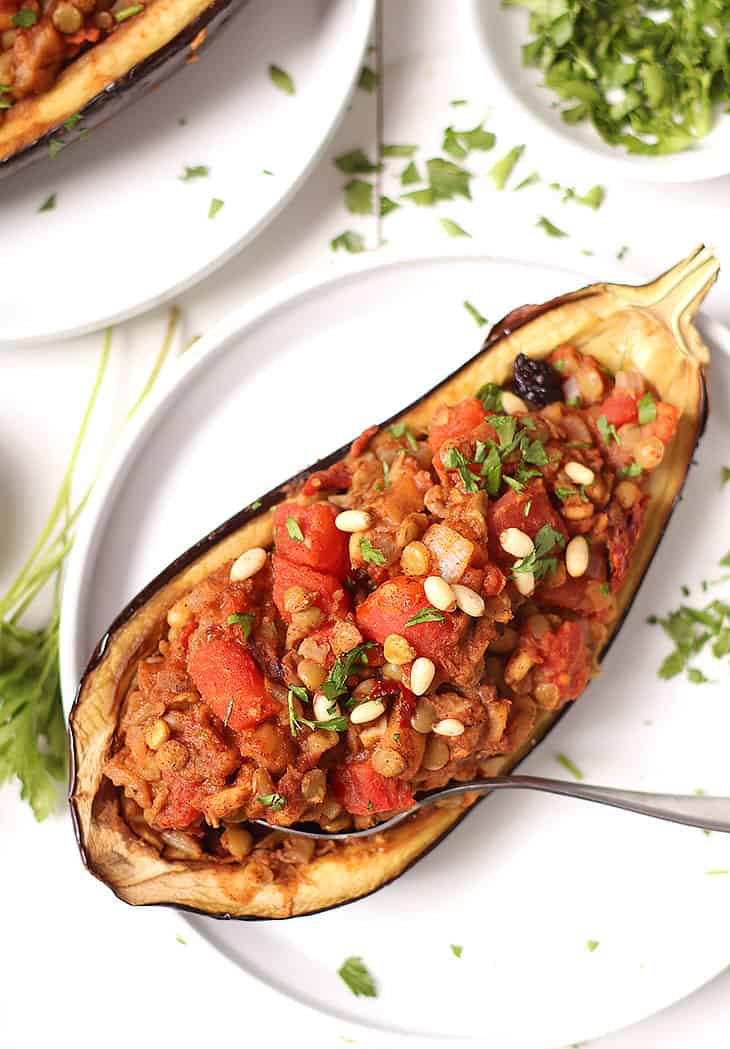 Course:
Main Dish
Cuisine:
Vegan
Keyword:
Stuffed Eggplant
Servings
:
4
people
Calories
: 318 kcal
Author
:
Sarah McMinn
Ingredients
Instructions
In a small pot, bring 1 cup of water to a boil over medium heat. Add lentils, reduce heat to a simmer, and cover. Cook for 20-30 minutes until all the water has absorbed and the lentils are tender.

Preheat the oven to 400F. Line a baking sheet with parchment paper and set aside.

Slice the eggplant in half. Scoop out the fleshy middle, leaving a 1/2" shell, and reserve. Brush the inside with 2 tablespoons of olive oil and bake, face-up, for 20 minutes. Chop the eggplant flesh into small cubes and set aside.

In a large sauté pan, heat the remaining oil. Add onions and garlic and sauté for 5 minutes, until onions are translucent and fragrant. Add spices, sun-dried tomatoes, and pinenuts. Once the pinenuts are toasted, stir in lentils, diced eggplant, canned tomatoes, and maple syrup.

Remove from heat and add raisins and parsley. Evenly divide filling between 4 eggplants, rounding off the tops, and return to the oven for 10 minutes. Remove from oven, top with fresh parsley, and serve.
Nutrition Facts
Moroccan Stuffed Eggplant
Amount Per Serving
Calories 318
Calories from Fat 162
% Daily Value*
Fat 18g28%
Sodium 619mg27%
Potassium 1083mg31%
Carbohydrates 39g13%
Protein 6g12%
Vitamin A 476IU10%
Vitamin C 17mg21%
Calcium 91mg9%
Iron 5mg28%
* Percent Daily Values are based on a 2000 calorie diet.
If you give this recipe recipe a try, snap a photo and share it on Instagram. Make sure to tag
@mydarlingvegan
so I can see your creations!