Who doesn't love sweet potatoes? They are rich, sweet, and so versatile! Get these 11 vegan sweet potato recipes to make your family dinners even more special. Plus tips on how to pick, store, and save!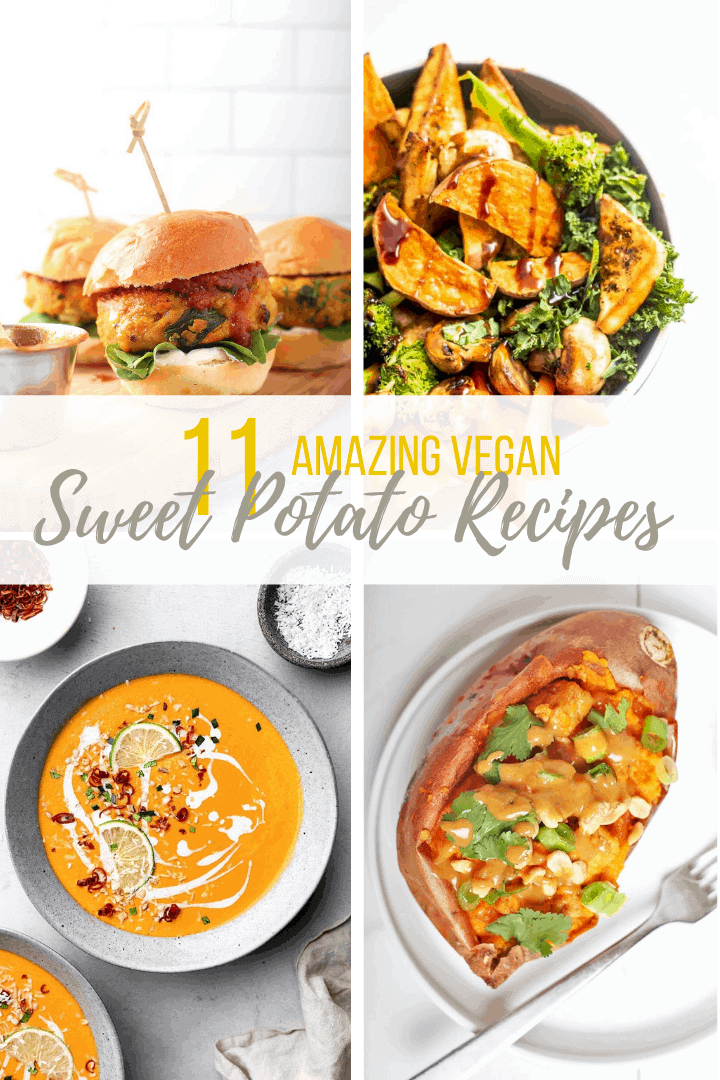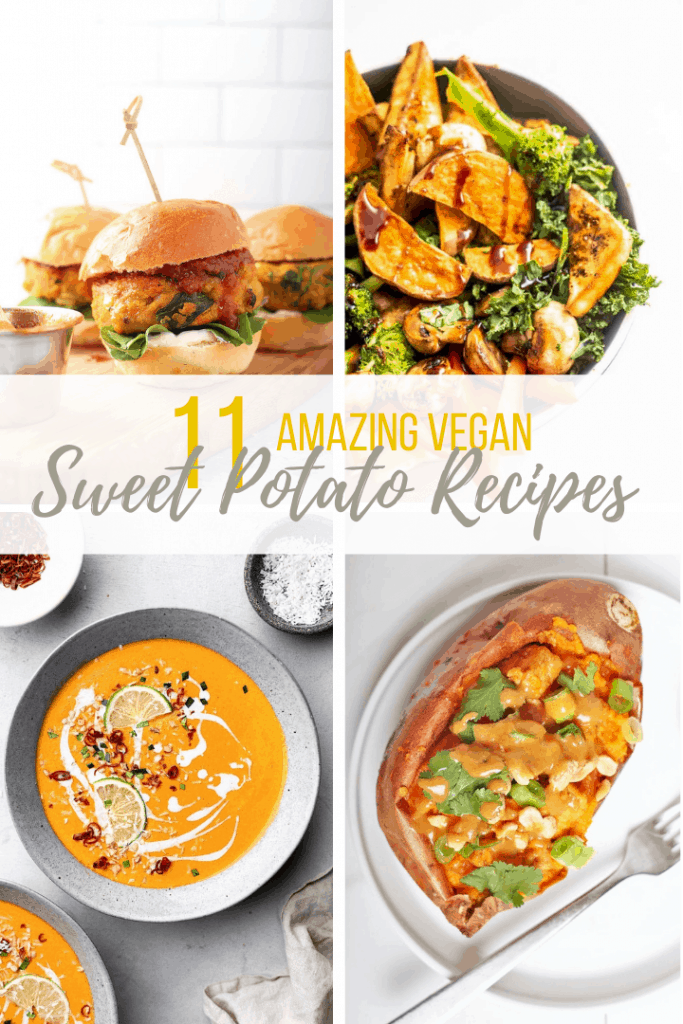 Disclosure: This post may contain affiliate links.
Do you love sweet potatoes?
I do! I do! If you've been following along for a while, this is probably something you already know. Some of my most loved recipes on this blog are vegan sweet potato recipes such as this Sweet Potato Curry, Spiralized Sweet Potato Salad, and of course, the ever so popular Vegan Sweet Potato Casserole.
Sweet potatoes are not only an incredible base for your vegan dinner recipes, but they are also a food that is good for you!
This guide will teach you how to pick, use, store, and preserve sweet potatoes as well as give you 11 AMAZING vegan recipes to try at home.
Let's dig in!
---
What are Sweet Potatoes?
Sweet potatoes are an incredibly versatile root vegetable. They are filled with vitamins, minerals, and fiber, making them an excellent choice for a healthy entree or side dish.
Sweet potatoes contain:
potassium
vitamin B
Vitamin A
Manganese
Protein
Fiber
Starch
How you prepare them and what you add to them makes a huge difference in flavor. You can make savory treats, like sweet potato fries and soups or you could add sweet potatoes in a decadent desserts.
---
How to Choose the Perfect Sweet Potato
Picking the right sweet potato can be overwhelming if you aren't familiar with the vegetable. Follow these tips for finding the best sweet potato.
Look for small to medium-sized potatoes. Larger potatoes are starchier and have less flavor.
Avoid sweet potatoes with obvious blemishes, cracks, or bruises.
Pick ones that where the skin is firm and smooth. Avoid potatoes with wrinkled skin, these are past their prime.
Be mindful if picking out canned or frozen sweet potatoes. They may contain additives and preservatives that you don't want.
---
How to Store Sweet Potatoes
Store your potatoes on your countertops for about 1 week. If you want to store them for longer, you will need to place them in a cool, dark, and dry area where the temperature is about 55 degrees. In these conditions, a potato may last for about 4 weeks before going bad.
When storing sweet potatoes, keep them separated from other fruits and vegetables. When root vegetables are stored together, they will more quickly rot. If you have to store them with other produce, separate the potatoes using a newspaper or a paper bag to prevent them from touching. This will help stop the produce from affecting each other's ripening.
Pro Tip: Never place your raw sweet potatoes in the fridge! They will become hard in the center and develop a bad flavor throughout.
---
How to Preserve Sweet Potatoes
Cube and Freeze
One of the easiest ways to preserve sweet potatoes is to freeze steamed potatoes. To do this, follow these steps:
Thoroughly wash and peel the potatoes. Cut the potatoes into 1" cubes. Try to be consistent in their size.
Use a steamer or a basket over a pot of boiling water to steam the potato cubes until they are cooked through. Alternatively, you can roast the potatoes for 45 minutes at 375 degrees F.
Place the potatoes on a baking sheet in a single layer and flash freeze them.
Place the frozen cubes in freezer-safe bags or containers and freeze for up to 12 months.
Puree and Freeze
Lastly, you can puree your sweet potato and use it for recipes that call for puréed sweet potato or even puréed pumpkin. To do this follow these steps.
Thoroughly wash and peel the potatoes. Cut the potatoes into 1" cubes. Try to be consistent in their size.
Use a steamer or a basket over a pot of boiling water to steam the potato cubes until they are cooked through.
Drain and rinse the potatoes. Once they have cooled slightly, transfer them to a food processor, and blend until completely smooth. Let cool completely.
Transfer the purée to freezer containers and freeze for up to 12 months. When ready to use, let your purée thaw in the refigerator the night before.
---
11 Vegan Sweet Potato Recipes
Here are 11 of my favorite recipes for your sweet potatoes.
These recipes are easy and wholesome ways to add nutrients and flavor to your favorite dinner recipes. Never let a sweet potato go bad again!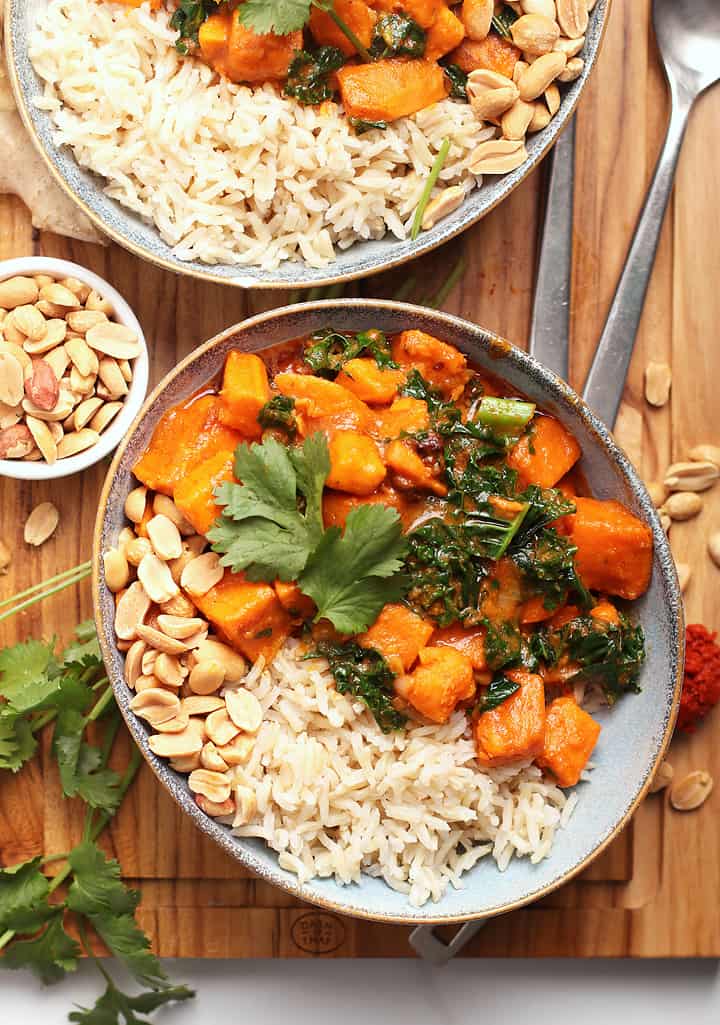 Sweet Potato Curry with Kale
Enjoy this creamy Thai-style Sweet Potato Curry with Kale tonight! Made in just one pot in under 30 minutes, everyone will love this vegan and gluten-free dinner; a healthy and delicious weeknight meal.
Recipe »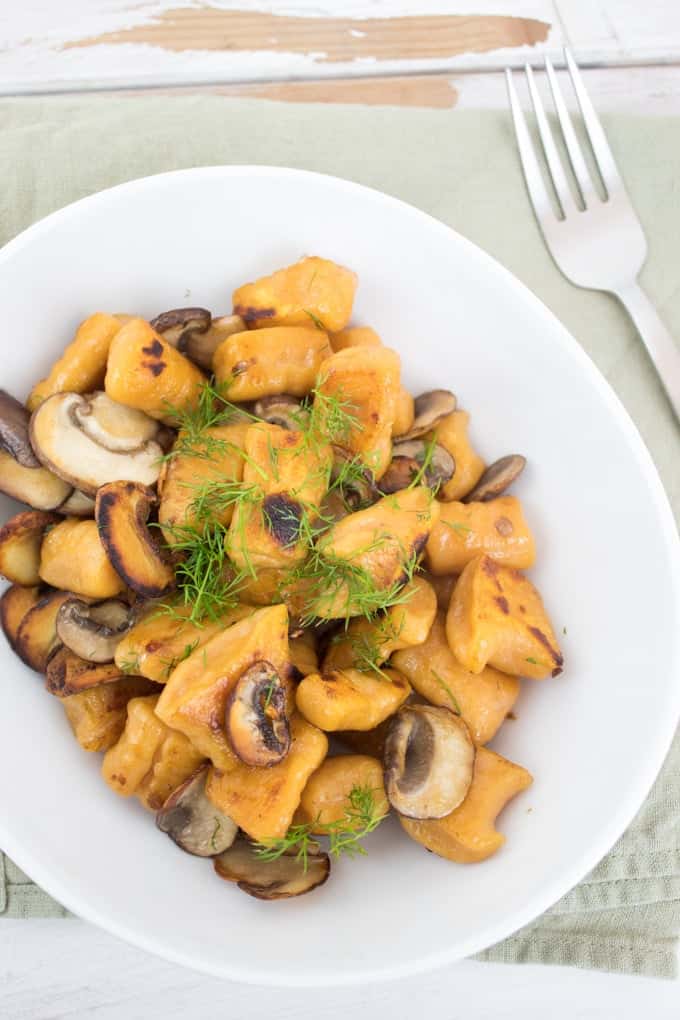 Sweet Potato Gnocchi
Recipe Credit: Elephantastic Vegan
Make your sweet potato stand out with this incredible 2-ingredient Sweet Potato Gnocchi – just sweet potatoes and flour! I recommend starting with this no-kneading-required super simple recipe that looks truly divine.
Recipe »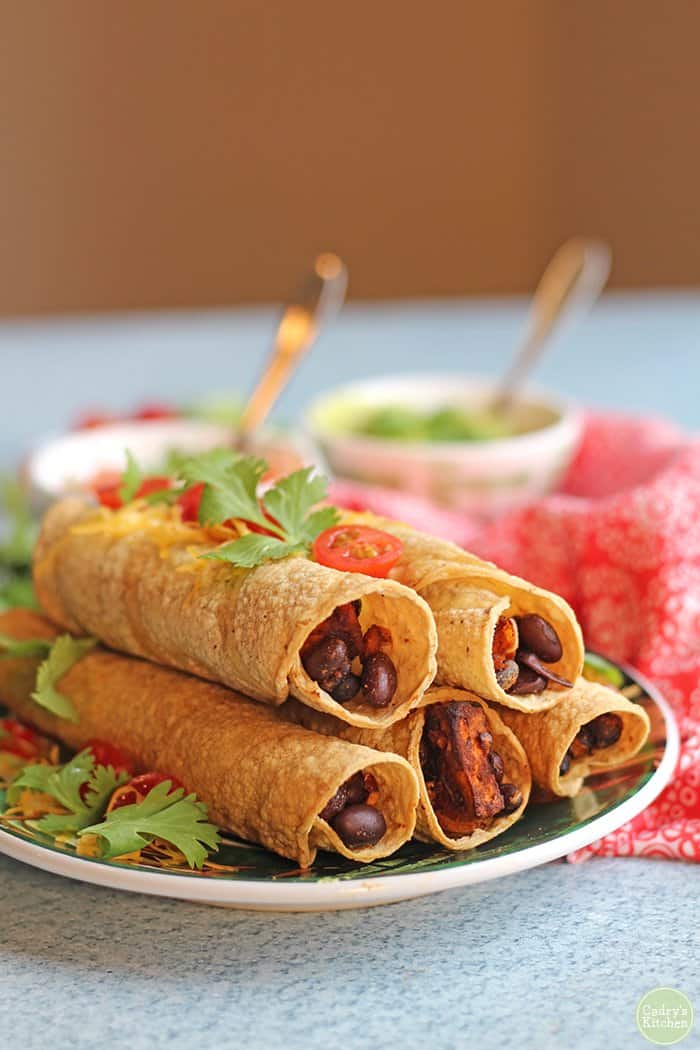 Baked Chipotle Black Bean and Sweet Potato Taquitos
Photo Credit: Cadry's Kitchen
I love the combination of sweet potatoes and chipotle black beans and that's why this recipe is always a huge hit. These taquitos can be made in an air fryer or the oven for a delicious meal of crunchy corn tortilla filled with a sweet and smoky center.
Recipe »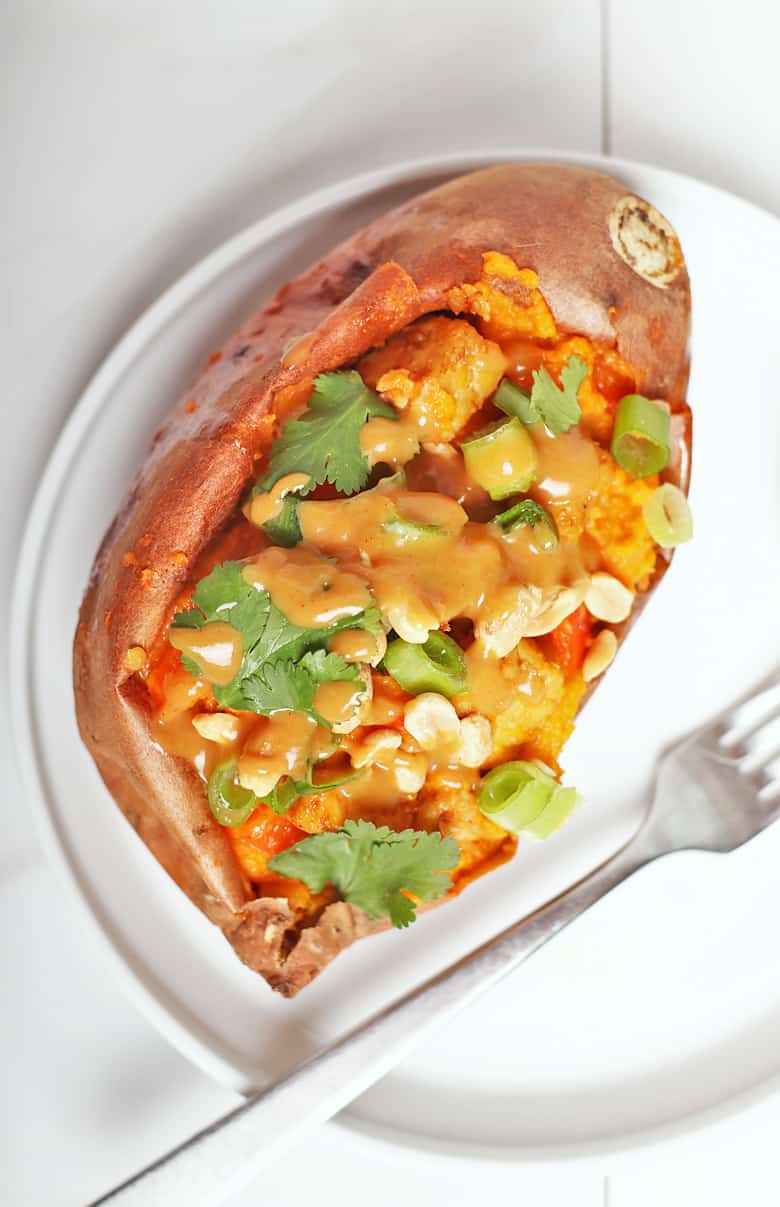 Stuffed Sweet Potatoes with Peanut-Ginger Tempeh
These Thai-Style Stuffed Sweet Potatoes are filled with Peanut-Ginger Tempeh, sautéed garlic and ginger, cilantro, and red bell peppers. All topped with a Thai Peanut Sauce for a delicious vegan and gluten-free meal.
Recipe »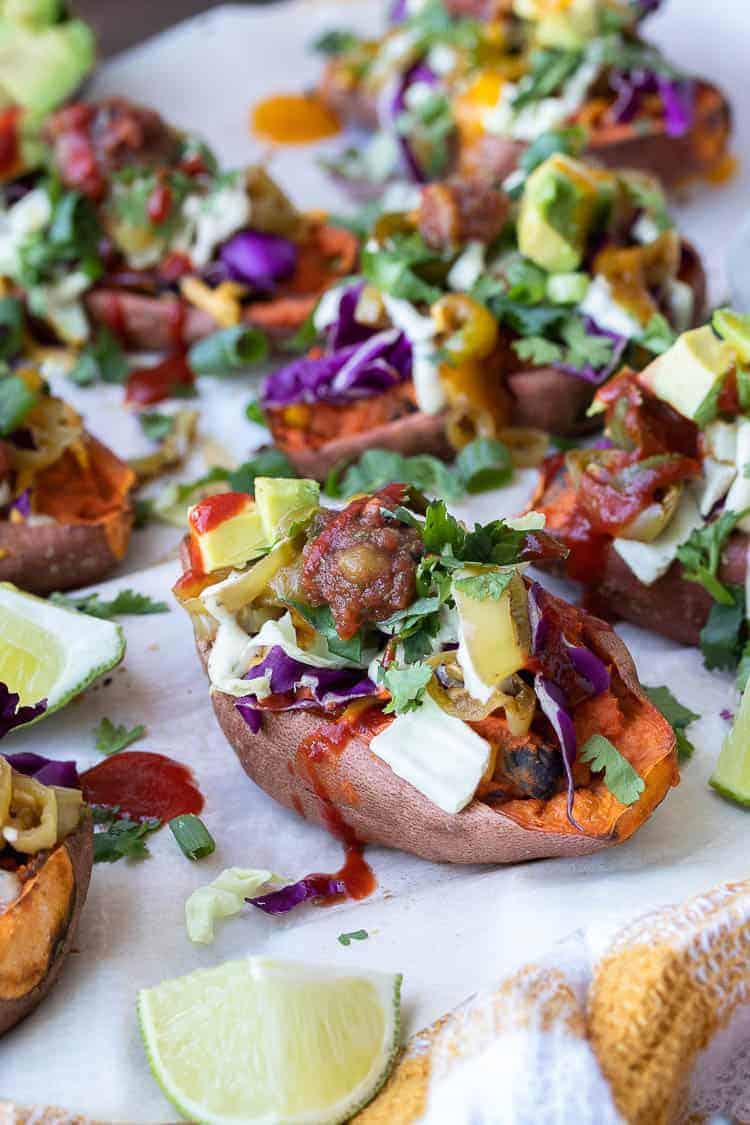 Twice Baked Sweet Potato Skins
Photo Credit: Veggies Don't Bite
Not only are these mouth-watering Twice Baked Sweet Potato Skins incredible tasting, but they are also good for you! Made with whole, flavorful ingredients and topped with creamy avocado and homemade vegan cheese sauce, these sweet potatoes make the perfect quick and easy weeknight meal.
Recipe »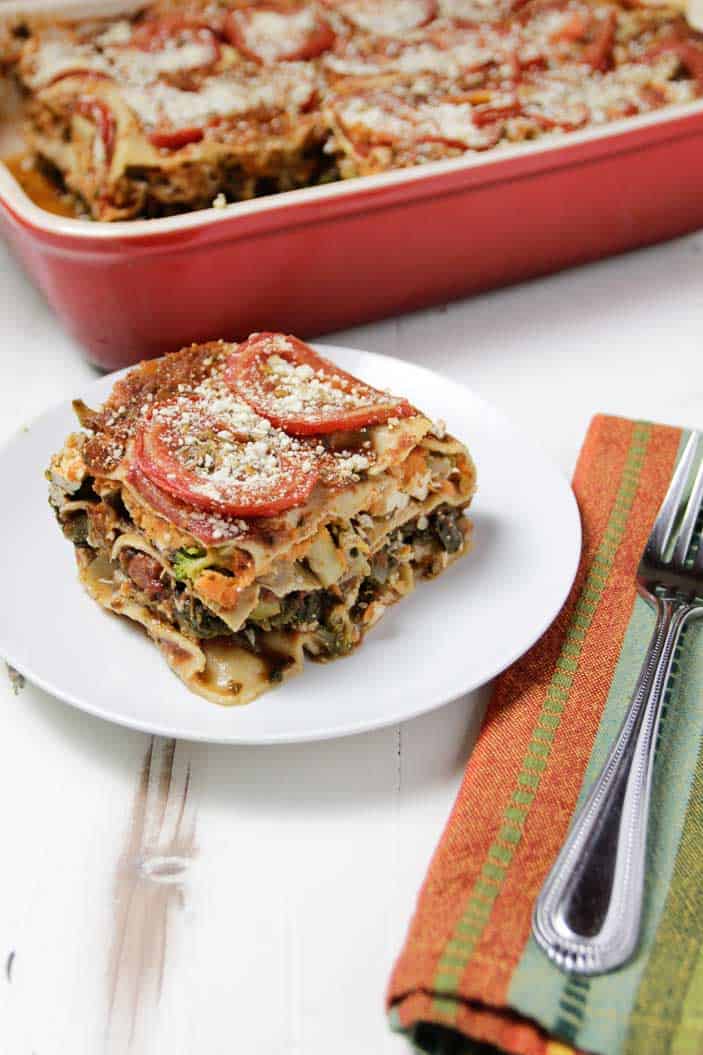 Sweet Potato Veggie Lasagna
Photo Credit: Plant Based Cooking
It's a delicious layered lasagna filled with mushrooms, spinach, broccoli, and, of course, sweet potatoes. All topped with homemade vegan ricotta for a meal to get excited about. Share this impressive meal with your next dinner guests.
Recipe »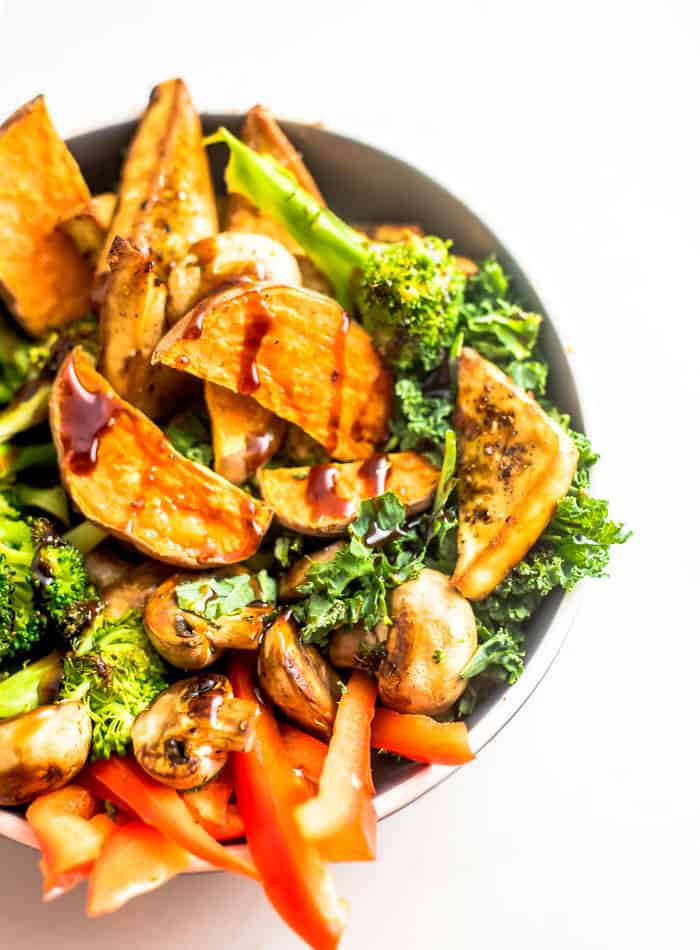 Sweet Potato and Tofu Bowls
Photo Credit: Running on Real Food
Made with just 6 whole food ingredients, including broccoli, mushrooms, and red pepper, these easy-to-make bowls are a quick meal that is not only vegan and gluten-free but also high in protein and fiber and totally delicious!
Recipe »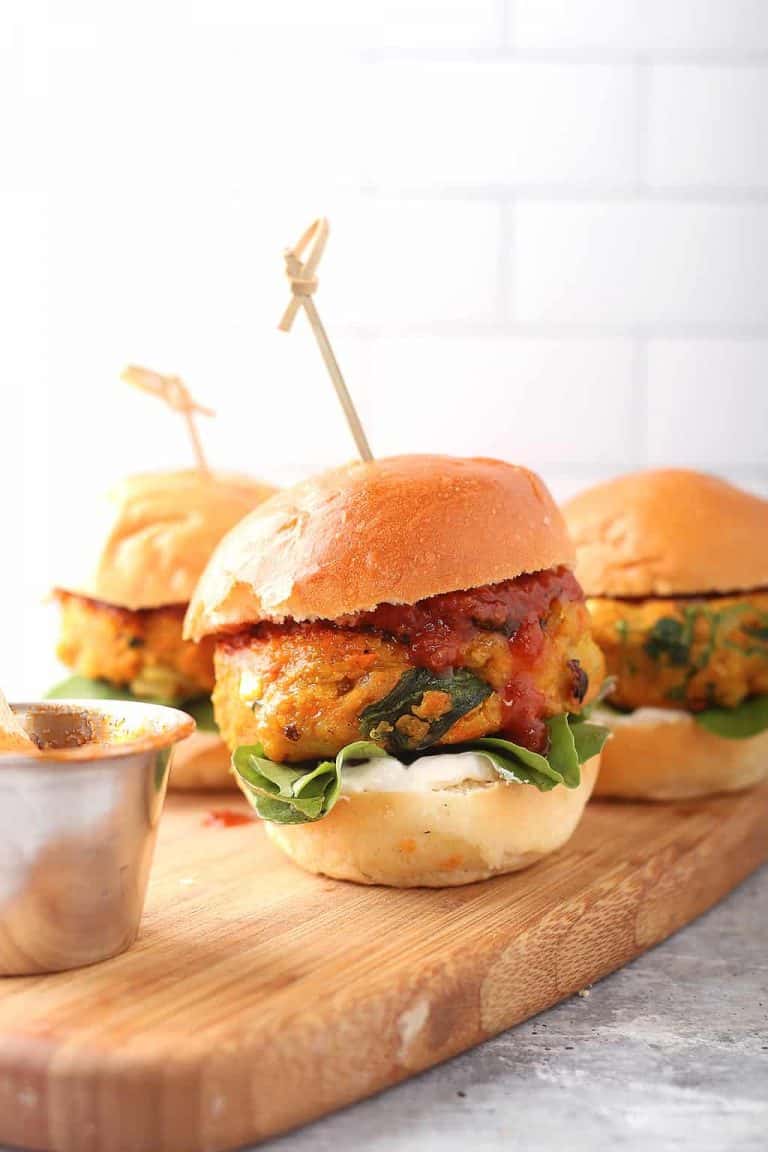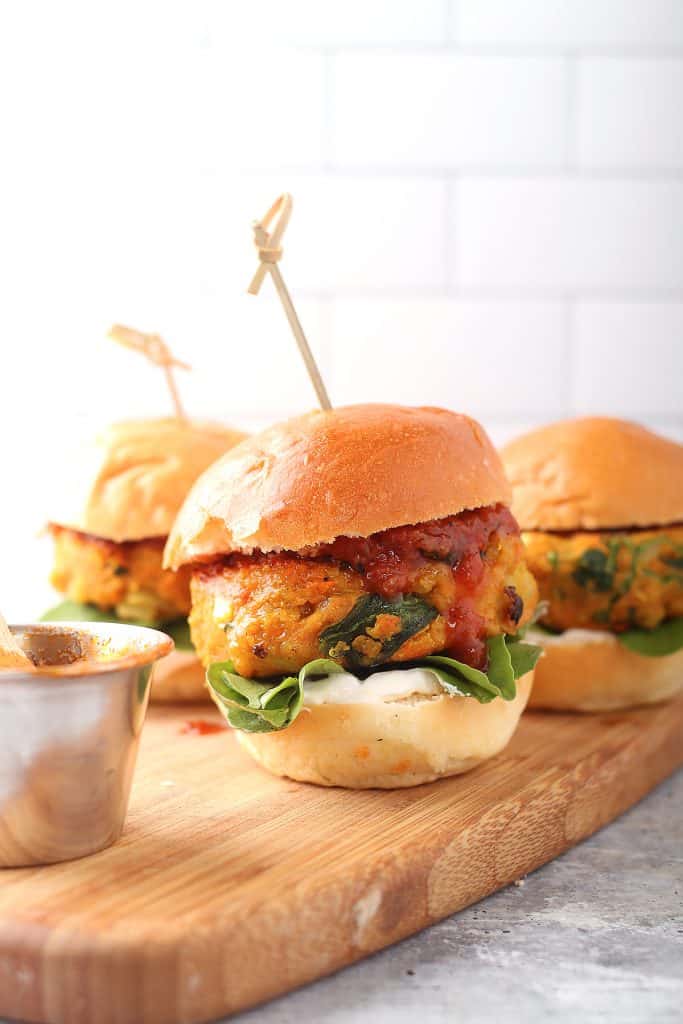 Vegan Sweet Potato Burger
You're going to love these Vegan Sweet Potato Burgers. They are made with a curried spiced sweet potato patty that is filled with veggies and herbs. The patty is served with cilantro aioli and tomato chutney for a hearty and healthy burger.
Recipe »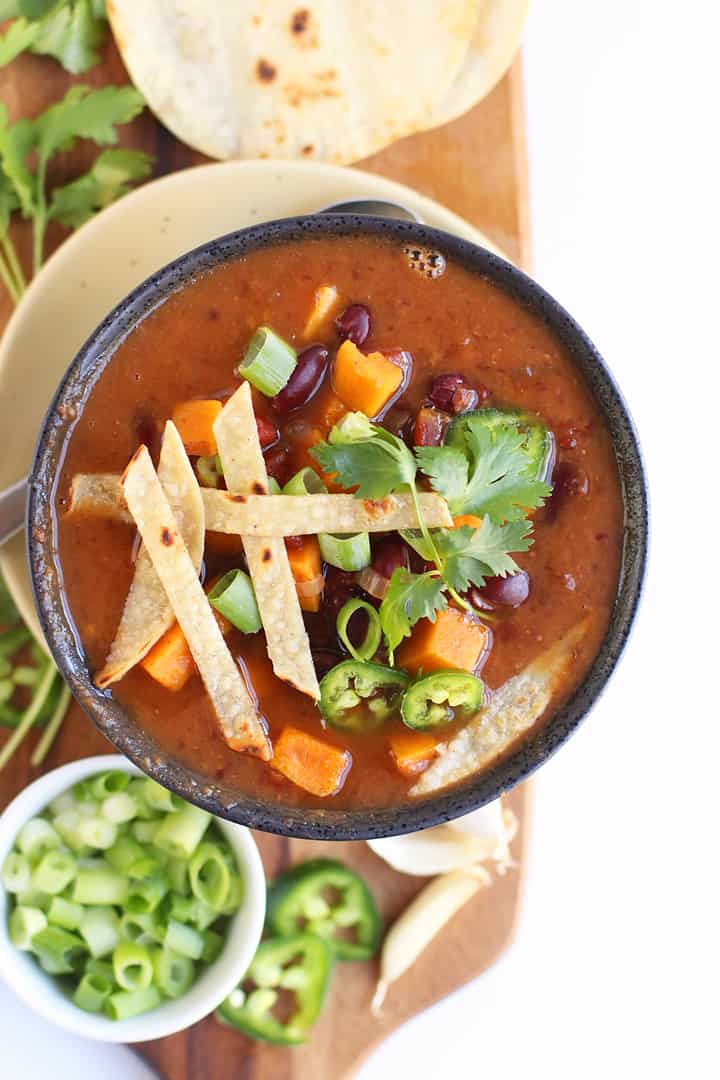 Maple Bourbon Instant Pot Chili
A sweet and spicy soup with a kick, this Maple Bourbon Sweet Potato Instant Pot Chili is the perfect autumnal vegan and gluten-free family meal.
Recipe »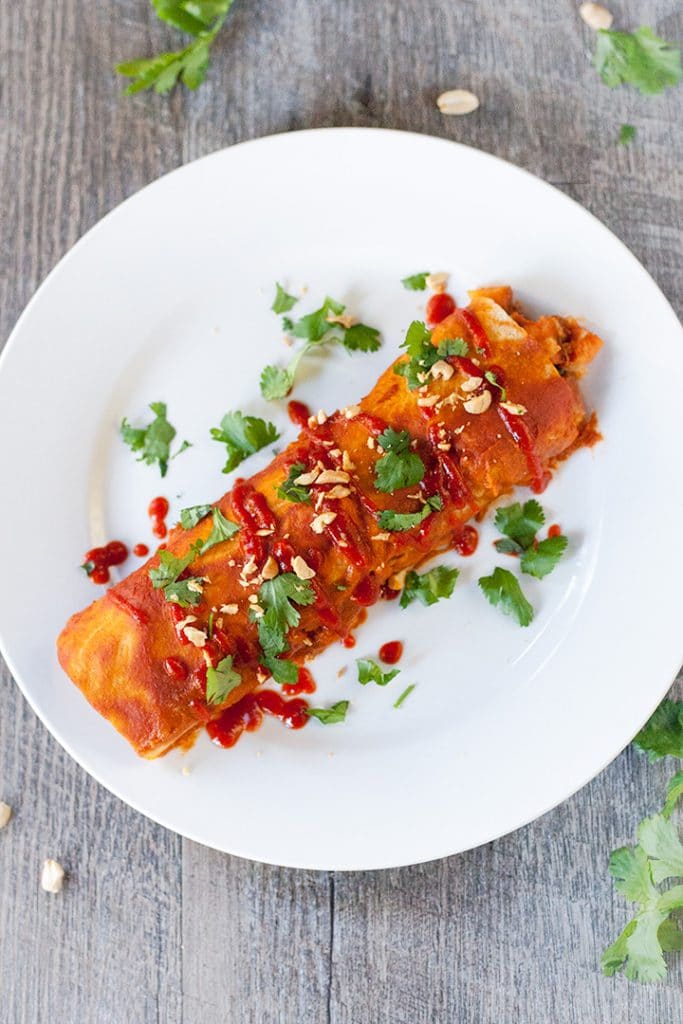 Vegan Sweet Potato and Peanut Enchiladas
Photo Credit: Bear Plate
These Sweet Potato and Peanut Enchiladas are definitely a good place to start! It may seem like a strange combination but I promise you peanut butter, sweet potatoes, and tomato enchilada sauce are a match made in heaven.
Recipe »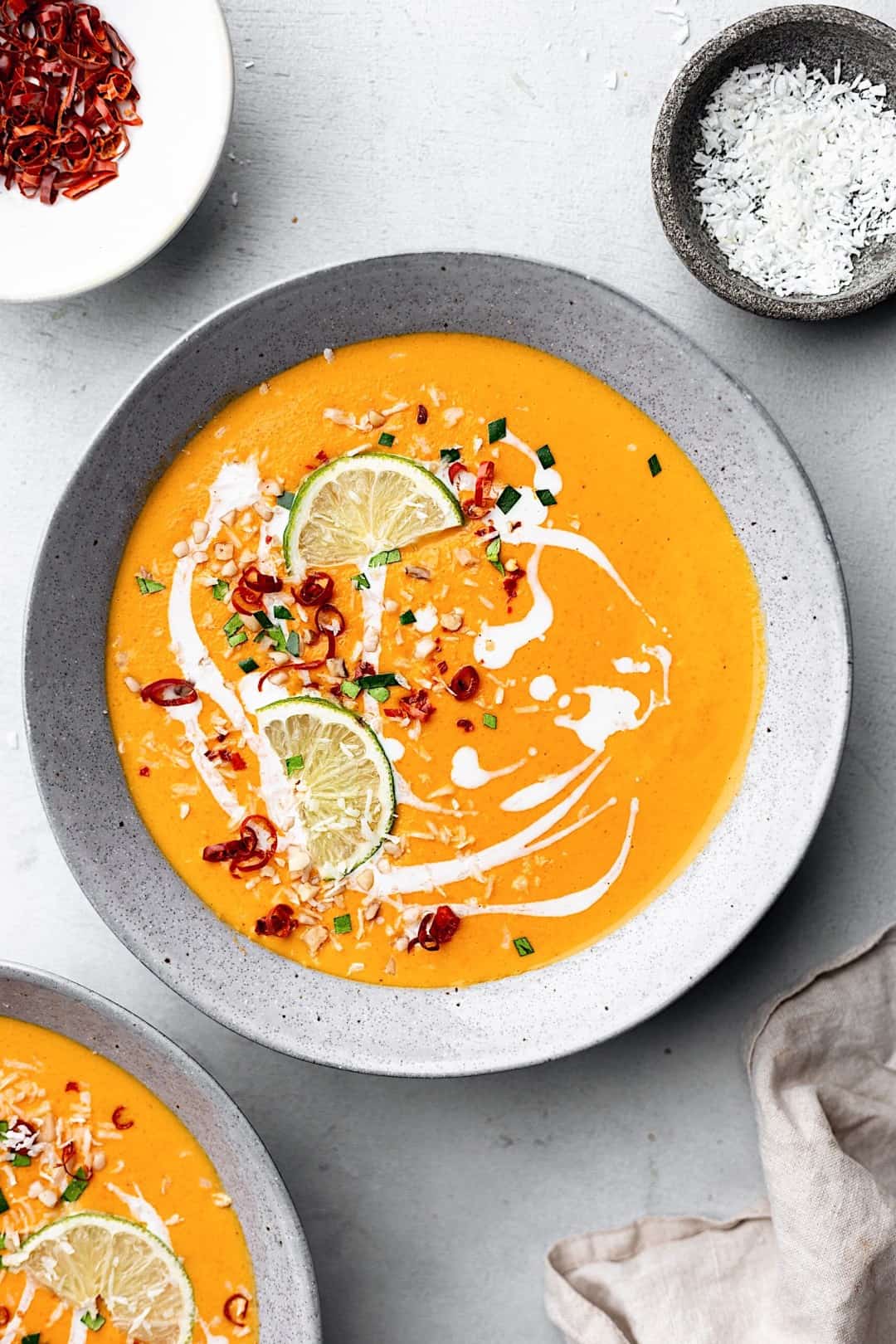 Thai Sweet Potato and Carrot Soup
Photo Credit: Cupful of Kale
Look at this beautiful Thai Sweet Potato and Carrot Soup. I love the vibrant colors! Better yet, this colorful soup requires only a handful of ingredients and tastes so so good! This sweet potato soup can be made ahead of time for an easy meal prep solution.
Recipe »
More Vegetable Roundups
Vegetables are amazing. They are versatile, delicious, and good for you! Do you need help with some of them? Here are a few of my other popular vegetable round-up articles.
That's it! 11 DELICIOUS ways to use sweet potatoes. What is your favorite way to eat sweet potates? Tell me in the comments below.
Written by Sarah McMinn
If you give one of these recipes recipe a try, snap a photo and share it on Instagram. Make sure to tag
@mydarlingvegan
so I can see your creations!