What is a detox food and how do you use it in your daily diet? Learn all about the powers of these 9 AMAZING detox foods that will help you natural detox, increase your energy, and make you feel better!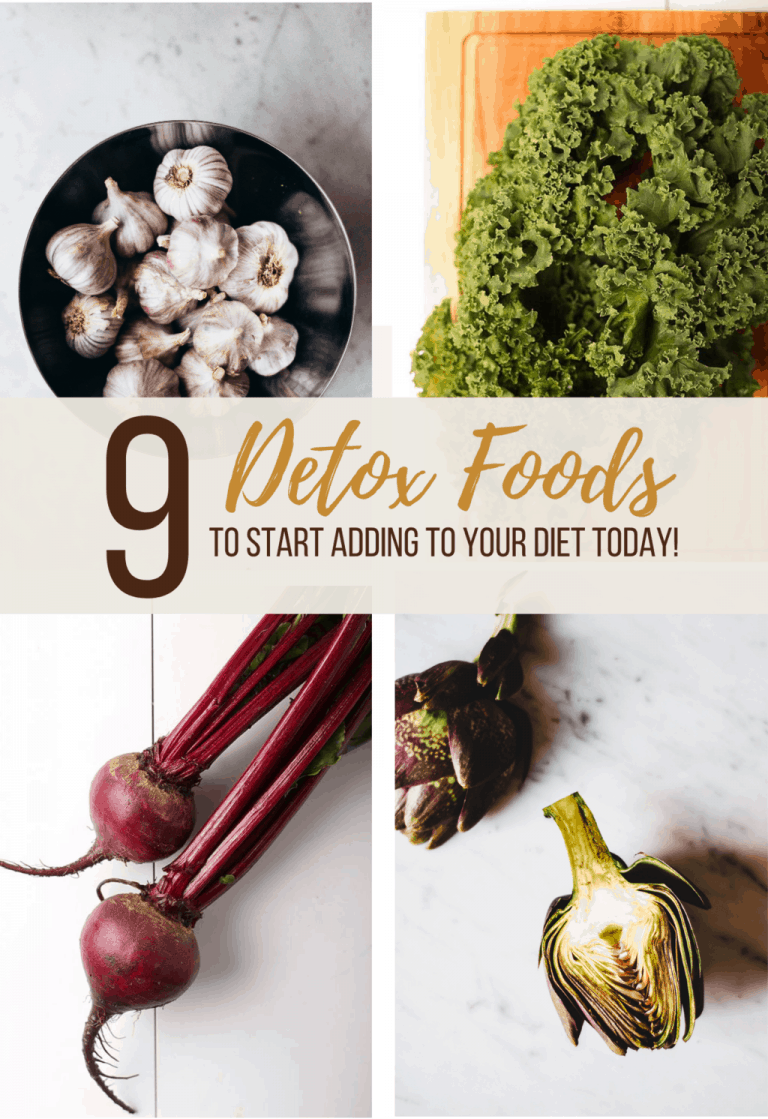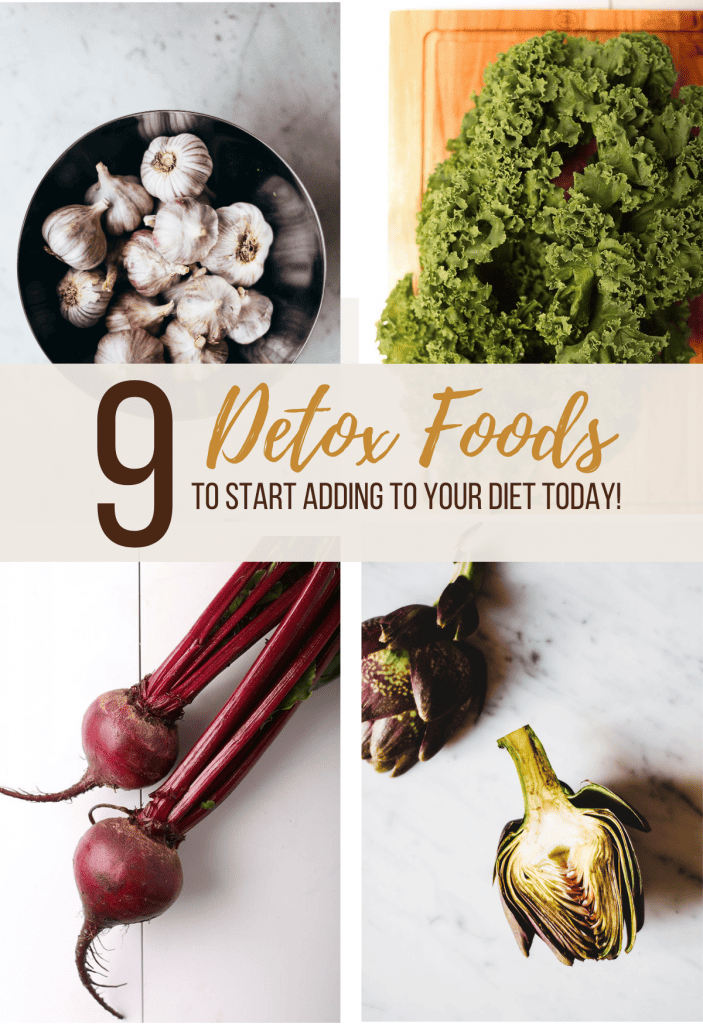 Disclosure: This post may contain affiliate links.
Every year, I start it off with a 30 Day Cleanse. This cleanse gives me a chance to clean out my system through detoxing by following a few clean eating guidelines. Basically, it means filling my body with a whole lotta detoxifying foods while sticking to a whole food, plant based diet. (That means eliminating refined sugars, alcohol, gluten, and processed foods.)
Join along and get my Clean Eating Shopping list + FREE Clean Eating eBook!
Being healthy is a key component to overall happiness. Cleansing our bodies gives us more energy, promotes weight loss, allows us better sleep, makes us focus better, reduces anxiety, and gives us that healthy glow!
Why wouldn't you want to detox?
---
What is a Detox Food?
Detox foods work to rid the body of harmful toxins that have accumulated in the body. These foods have many powerful qualities to help the body do what it naturally is equipped to do to keep you healthy and energetic.
Detox foods have been known to:
Assist the liver so that it functions more effectively.
Clean out the digestive tract through gut health
Protect the cells against free radicals
Boost your immune system
Provide important nutrients to boost energy and focus
Food is medicine and caring for our bodies will have endless benefits. Here are 9 of the best detoxifying foods AND how to use them in your day to day life.
---
Top 9 Detox Foods
1. Dark Leafy Greens
Dark leafy greens, such as kale, spinach, and collard greens are all great foods for a natural detox. These vegetables are loaded with antioxidants that protect your cells against free radicals. Free radicals are common toxins that play a role in heart disease, cancer, and other diseases.
Try it out - For a healthy dose of dark leafy greens, add spinach or kale to the base of your favorite salad. Try this Detox Kale Salad for a complete detox meal. Make a batch of kale chips for healthy snacking, or sneak in those leafy greens in a Tropical Green Smoothie.
2. Beets
Beets are one of the best detox foods around! They literally push toxins out of your body and support an important phase 2 detox of the liver. A healthy liver is essential for a clean body as its function is to detoxify chemicals and toxins more effectively. A healthy liver cleanses the body and leads to better hormone balance, lower cholesterol, and higher energy levels.
Try it out - Adding beets to your diet is colorful and tasty. Try spiralizing your beets into noodles for a hearty salad or pasta base. We also recommend this delicious Borscht soup. If you're on the fence about beets, this soup will change your mind!
3. Ginger
Ginger is medicine for your digestive system. It works to move those toxins efficiently through your body, fighting bloating and reducing gas. In addition, ginger is high in antioxidant (which we know protect your cells against free radicals) AND it boosts the immune system...basically one of the best superfoods.
Try it out - Add some extra ginger to your diet with this Ginger Peanut Tempeh. So good! And add this Lemon Ginger Dressing to your salads for a healthy helping of ginger. You will also get amazing benefits from ginger tea.
4. Garlic
Garlic has been used for hundreds of years as medicine and a method of detoxing the body. It contains high amounts of vitamin C and antioxidants which support your immune system, lower cholesterol, and fight the free radicals in your bloodstream.
Try it out - There are many ways to add some extra garlic to your diet. Try this Roasted Garlic Hummus for a healthy snack to have on hand. Get a full detox meal with this Turmeric and Garlic Detox Soup. Or enjoy a cup of Chinese Garlic Tea as a morning detox ritual.
5. Artichokes
Artichokes are great at cleaning the liver and kidneys and purifying the blood. They contain two important nutrients (1) cynarin, an antioxidant that helps the liver produce bile, digest fat, and expel toxins, and (2) silymarin which protects the liver cells and cell membranes allowing the liver to do its job and protect against liver toxicity.
Try it out - Most people are familiar with canned artichokes but have you ever tried a fresh one? They are so delicious, buttery, and fun to eat! Learn how to prepare a fresh artichoke and try this Roasted Artichoke recipe for yourself!
6. Fresh Fruit
Fresh fruit is full of fiber which is key for healthy digestion. When your digestive tract is healthy, your body is eliminating toxins regularly and effectively. Fruit is also packed with important vitamins and minerals as well as tons of antioxidants, all of which help aid in healthy digestion.
Try it out - Add fresh fruit to your morning granola or chia pudding. You can also get a lot of fruit with a morning smoothie or smoothie bowl. Plus fresh fruit makes a great snake to have on hand any time of day.
7. Turmeric
Turmeric is one of the best-known anti-inflammatories that help kill free radicals and improve overall health. It's filled with antioxidants, good for the heart, skin, and brain, and is believed to even help battle depression. Turmeric is also a natural antibacterial, antifungal, and antiviral.
Try it out - You can use turmeric in everything rom smoothies to salad! Make sure to try out this Mango Ginger Detox Smoothie as well as the ULTIMATE Detox Salad (you're going to love the Ginger Turmeric Salad Dressing.
8. Broccoli
Broccoli, along with other cruciferous vegetables such as cabbage, cauliflower, and Brussels sprouts are the perfect food for ultimate liver support. They work fast to remove toxins and free radicals from the liver in a 2 step process of detoxification and support.
Try it out - Broccoli is easy to throw into any meal. Try it in your favorite tofu stir fry recipe or Teriyaki rice dish. Broccoli also makes a great side to a simple tofu or portobello steak.
9. Almonds
Almonds are considered by many the most healthy nut for their dense nutritional values. They are high in fiber, protein, and calcium and work to stablelize blood sugar and remove toxins. They may even support weight loss as their high protein content keeps you feeling full longer.
Try it out - Add almonds to your salads, chia pudding, granola bars, and breakfast cookies. Or, they are a great snack to have on hand for a quick pick me up in the middle of the day.
---
Healthy Habits to Support Your Cleanse
Eating the right foods is the first step in a full body cleanse. But there is more you can do! It's not just about adding the right stuff but also eliminating the bad stuff. When you're ready to reboot with a cleanse, it's best to cut out the following things.
Alcohol and caffeine
Refined sugars
Processed foods
Gluten
And REDUCE sodium intake
In addition, drink lots of water to help your body flush out the toxins, make sure to stay active to sweat out the toxins, take a high quality probiotic supplement to support gut health, and make sure you are getting at least 7 hours of sleep to let your body restore. For a full detox, I recommend starting with a 3-day juice fast and joining the 30 day vegan cleanse with me.
You will be amazed with the energy and vibrancy you feel when after a body detox. When our physical bodies are dragging, it's nearly impossible for our spirits to reach full potential. Unlock all that happiness by taking care of your body.
Psss...if you are looking for a full detox, I recommend starting this new year with a 3-day juice fast. LEMONKIND HAS a variety of different programs specific to your goals such as weight loss, improved energy, gut health, and more. Their reset cleanses truly get this new year off on the right foot. (<<affiliate link)
If you give one of these recipes recipe a try, snap a photo and share it on Instagram. Make sure to tag
@mydarlingvegan
so I can see your creations!