Vegan Thai Red Curry with Tofu
This Thai Red Curry is made with crispy tofu, sautéd red peppers and bok choy, and rice noodles, all covered in a creamy coconut red curry sauce for a delicious vegan and gluten-free weeknight meal.  

This post contains affiliate links. For more information please see my privacy policy.
I have a lot to be grateful for.
In fact, I practice gratitude daily. Each night before I fall asleep I list, out loud, the pieces of my life that bring me joy. Today at the top of my list is that after work I am headed out of town to spend the weekend with some friends who I have known and loved for many years. These women walked with me during the hardest season of my life and my love and gratitude for each of them overwhelms me.
Surrounding myself with friends is the best medicine for my aching heart.
You know what else makes the top of that list? You!
Every day when I list my gratitudes, my job is at the top of the list.  And it's because of you, my readers, that I am able to do what I love. Many of you have been following along since the early days, way back when this blog was called The Sweet Life and I didn't know anything about food photography. Shudder. Through my 15 month absence as I was going through my divorce, many of you continued to reach out to me to make sure I was okay. And since I've been back, I have felt your support more than ever. Every comment, share, and like you contribute means the world to me. Thank you that after 5 years, with some unexpected turbulence, you have helped me continue doing what I love. Thank you for being my people.
In fact, I have a little gift for one of you today. But we will get to that in a minute…
First, I've got one more gratitude to share.
My dad.
With Father's Day just over a week away, it's good time to reflect and think about how lucky I got when it comes to dads. As I pause and reflect I am flooded with memories. Hours upon hours of backyard catch with the softball. A drive from Chicago to St. Louis to watch the Cubs beat the Cardinals and secure a spot in the postseason. Many helpful hands on 100 year old house projects. And a calm and supportive presence that has helped me weather every storm.
I am truly lucky. In fact, writing this brings tears to my eyes.
To celebrate fathers everywhere, I made this Vegan Thai Red Curry with Tofu.
About 10 years ago I was able to change my dad's mind about tofu, a food he had previously put in the same uneatable category as SPAM, with a similar tofu noodle stir fry. Now, 10 years later, and my dad and tofu are still going strong! So today, I bring you a variation – a sweet and spicy red curry coconut sauce mixed with crispy tofu and lightly sautéed vegetables – for a meal that everyone will enjoy.
For this recipe I used A Taste of Thai's, Red Curry Paste. I love this red curry paste; it is my favorite store-bought curry paste because of flavor and convenience. Better yet, grabbing it from the store makes this dish super simple to throw together. I also used A Taste of Thai's Rice Noodles for this dish, which have been my go-to rice noodle for all my stir fries and noodle bowls for as long as I've been cooking. Paired together, they make this Vegan Thai Red Curry a delicious and simple meal that even tofu-skeptics will love. You will be thrilled to know that 95% of A Taste of Thai products are vegan and gluten free!  Find their products online or in the international aisle of major supermarket chains across the country. 
In celebration of all this gratitude, I have a gift for one of you!
A Taste of Thai wants to fill YOUR cabinets with their incredible and versatile foods. They are giving away one A Taste of Thai Sample Pack to one of you, my darling readers.
Enter below for a chance to win!  


Vegan Thai Red Curry with Tofu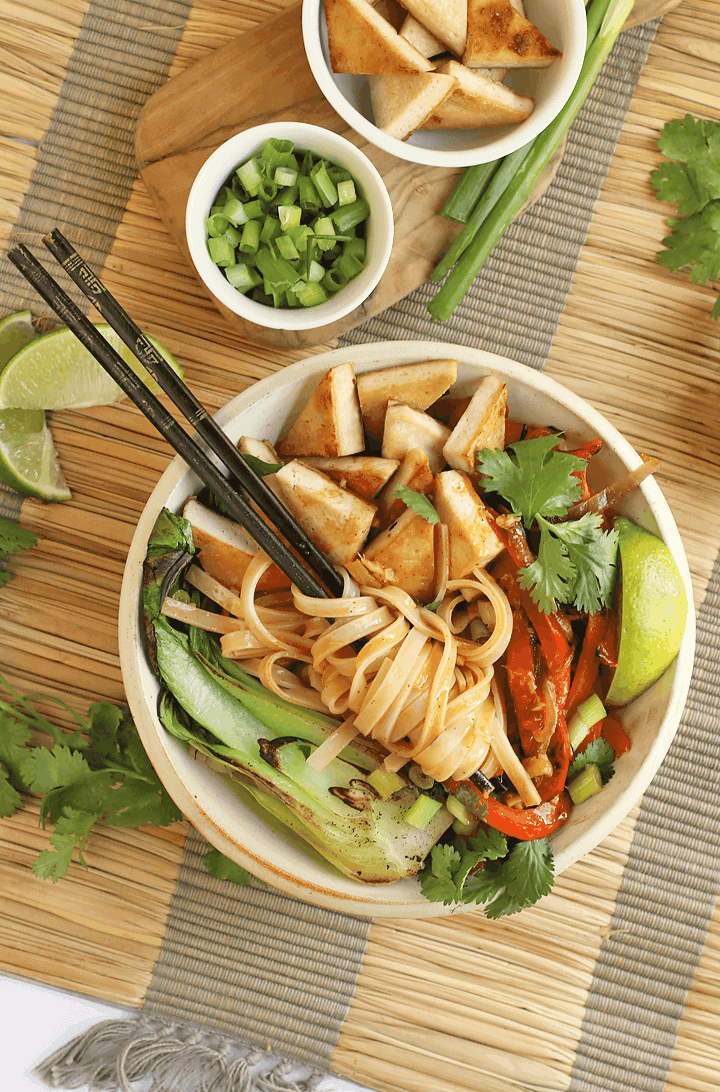 This Vegan Thai Red Curry is made with crispy tofu, sautéd red peppers and bok choy, and rice noodles, all covered in a creamy coconut red curry sauce.
Course:
Main Course, Main Dish
Cuisine:
Thai
Keyword:
Vegan Thai Red Curry
Servings
:
4
servings
Calories
: 602 kcal
Author
:
Sarah McMinn
Ingredients
Crispy Tofu
1

tablespoon coconut oil

10

ounces extra firm tofu

1/4

teaspoon salt
Everything Else
1

tablespoon coconut oil

1/2

red onion thinly sliced

1

red bell pepper thinly sliced

2

baby Bok choy cut in half

8

ounces A Taste of Thai's Straight Cut Rice Noodles
small handful cilantro chopped

2

green onions chopped
Instructions
Bring 2 quarts of salted water to a boil. Add rice noodles, stirring to separate. Cook for 4-6 minutes, until noodles are al dente. Drain and rinse noodles under cold water and set aside.
Meanwhile, make the Coconut Red Curry Sauce. Heat the coconut oil in a cast iron skillet over medium heat. Add ginger and garlic and sauté for 3 minutes until lightly brown and fragrant. Stir in the red curry paste. Add the remaining sauce ingredients and bring to a low simmer. Simmer for 10 minutes while preparing the tofu and vegetables to allow sauce to thicken slightly.
In a separate skillet, heat 1 tablespoon coconut oil over medium-high. Cut tofu in 1" X 1/2" pieces then cut diagonally to create triangles. Add tofu to the hot oil and sauté for about 7 minutes, flipping once, until tofu is crispy and brown on both sides. Transfer to a paper towel to let excess oil absorb.
In the same skillet, add the remaining tablespoon of coconut oil. Add onions and peppers and sauté for 5 minutes, stirring occasionally. Once tender, move vegetables to one side of the skillet and place halved baby Bok choy on the other side. Cook Bok choy for 5 minutes, until tender.
To assemble the bowls, stir together 1/2 cup of coconut sauce and cooked rice noodles. Divide noodles evenly among 4 bowls and top with vegetables, tofu, and remaining sauce.
Serve immediately with fresh cilantro and green onions.
Nutrition Facts
Vegan Thai Red Curry with Tofu
Amount Per Serving
Calories 602
Calories from Fat 315
% Daily Value*
Fat 35g54%
Sodium 889mg39%
Potassium 527mg15%
Carbohydrates 61g20%
Protein 11g22%
Vitamin A 4125IU83%
Vitamin C 67.7mg82%
Calcium 136mg14%
Iron 5.6mg31%
* Percent Daily Values are based on a 2000 calorie diet.
This giveaway is open to U.S. residents.
If you give this recipe recipe a try, snap a photo and share it on Instagram. Make sure to tag
@mydarlingvegan
so I can see your creations!