Spiralized Vegetable Salad with Green Goddess Dressing
Kick off this year with this healthy vegan and gluten-free Spiralized Vegetable Salad tossed with homemade Green Goddess Dressing and roasted pumpkin seeds.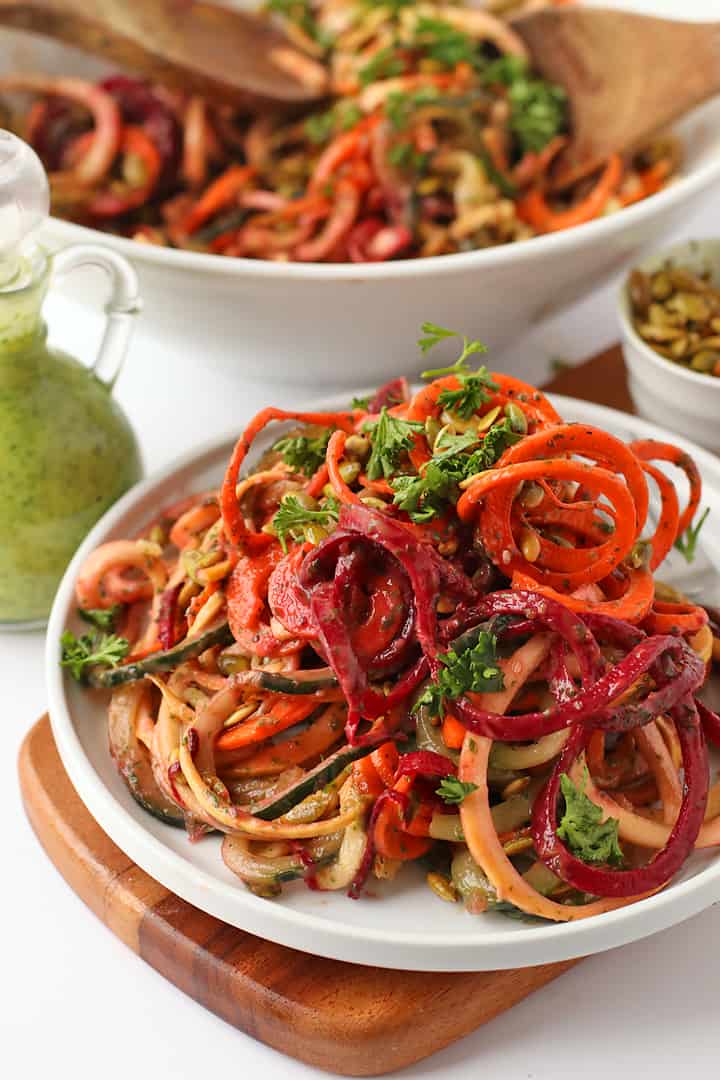 This post contains affiliate links. For more information, check out my privacy policy. 
Remember that Green Goddess Dressing from the other day?
I told you it would be back! In fact, this is the first of 2 recipes THIS week that feature my new favorite magical green sauce. Come back later for my Green Goddess Buddha Bowl. But let's not get too ahead of ourselves. First, we're going to take a look at what I have for you today. This Spiralized Vegetable Salad is a quick and simple meal that will fill you up and satisfy your taste buds while keeping you healthy and happy in this new year.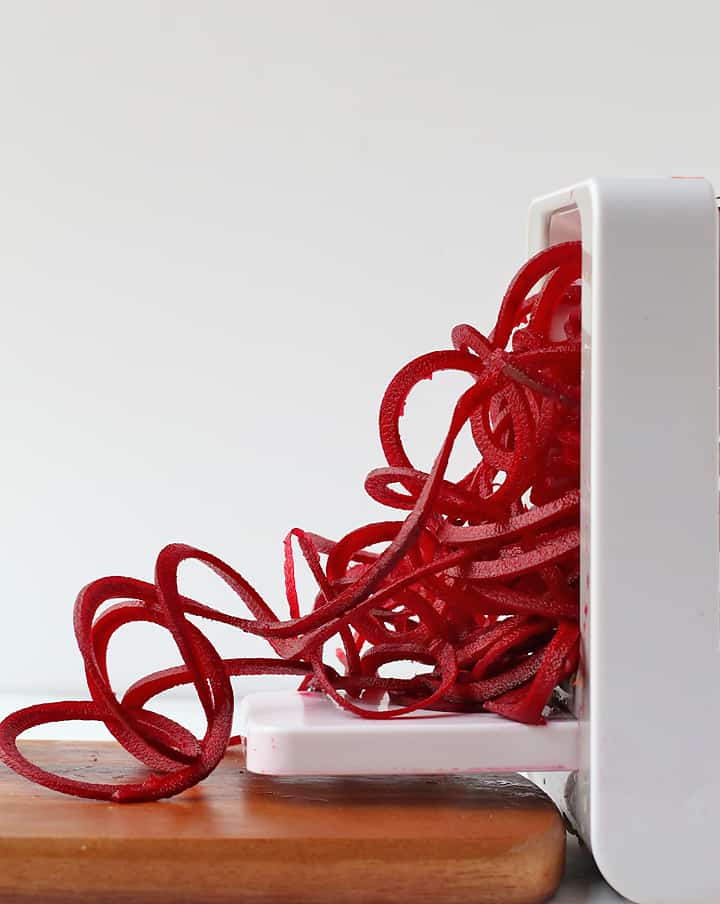 My favorite Spiralizer
As you might have noticed, I've been really into spiralizing lately.
A few weeks ago I shared these Zucchini Noodles with Pesto and I've been chowing down on them ever since. But with zucchini season slowly winding down (don't worry, if you still have zucchini growing in your garden, I have plenty of recipes for you) it's time to get creative with new vegetables that need to be spiralized.
With the 30 day cleanse underway (a third of the way through, friends!), I felt that it was a great time to pull out the old spiralizer and make some vegetable noodles. I shouldn't say old. My spiralizer is still quite new; it wasn't until last fall that I finally bought one. I'm not sure why it took me so long, as they aren't expensive and they are small enough to store easily but per usual, I was late to the game. When I finally did buy my spiralizer, I started to understand what all the fuss was about.
Spiralizers are a simple, easy to use, easy to store appliance that will turn almost any vegetable into a beautiful ribbon or noodle. I have been loving pasta sauce with zucchini noodles this month as zucchini is a gluten-free, whole food alternative to wheat pasta. Beyond vegetable noodles, the spiralizer makes some of the most beautiful salads.
For instance, this Spiralized Vegetable Salad
Ribbons of zucchini, yellow squash, carrots, and beets make up the bulk of this salad for a delicious blend of spiralized vegetables.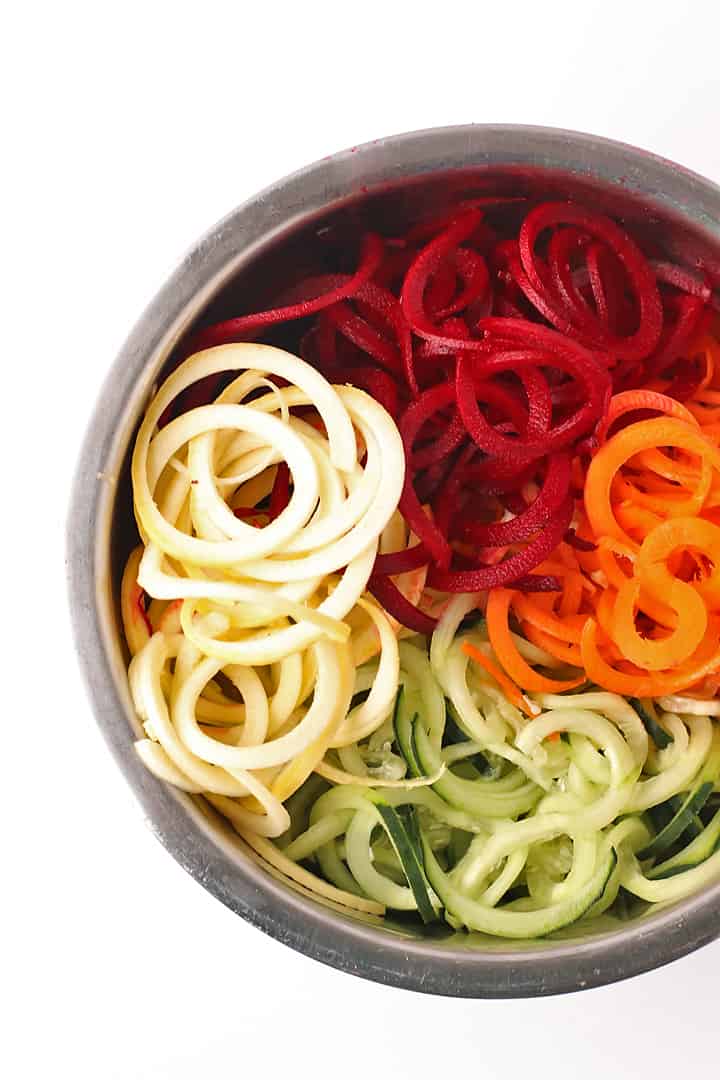 Additional Salad Ingredients
For a bit of texture, added taste, protein, and all the other wonderful benefits, I added some roasted pumpkin seeds to the salad. These roasted pumpkin seeds are easy to make and, as an added bonus, are great to have on hand for a quick snack or salad/soup topper, especially during a cleanse.
For that reason, I recommend doubling or tripling the pumpkin seeds in the recipe below.
Green Goddess Dressing
With your vegetables spiralized and your pumpkin seeds toasted, the last thing you need to do is take some of that Green Goddess Dressing, toss it with your vegetables, sprinkle a few pumpkin seeds and fresh parsley over top, and you have yourself a wonderful healthy and satisfying salad for a light lunch that can be enjoyed throughout the week.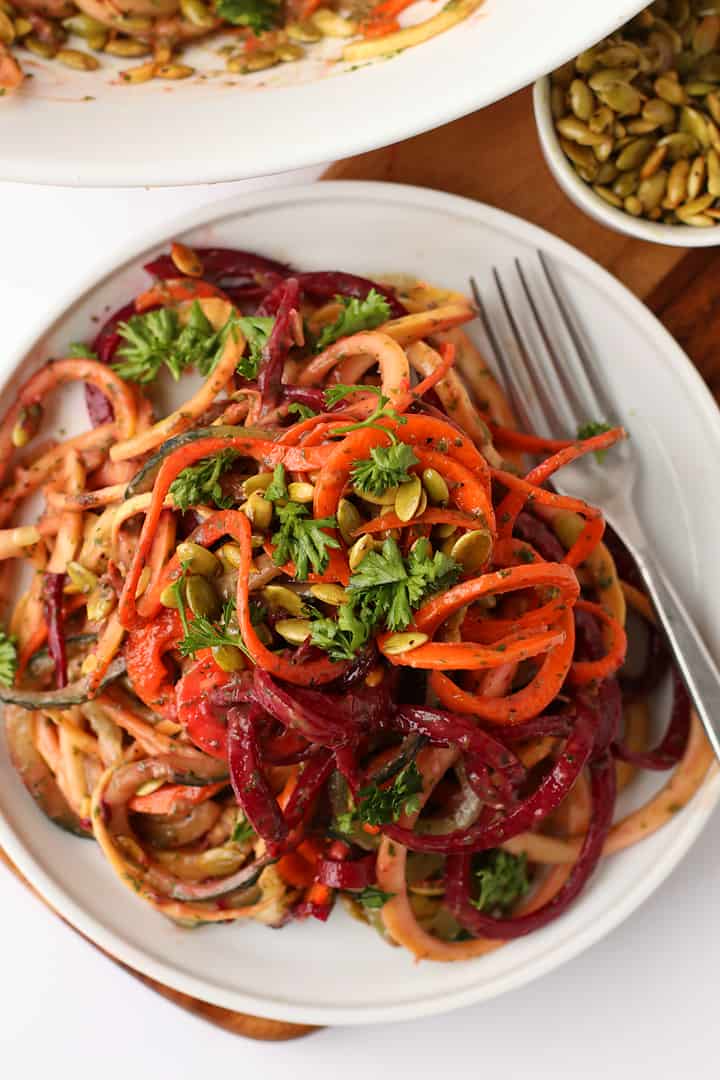 Spiralized Vegetable Salad with Green Goddess Dressing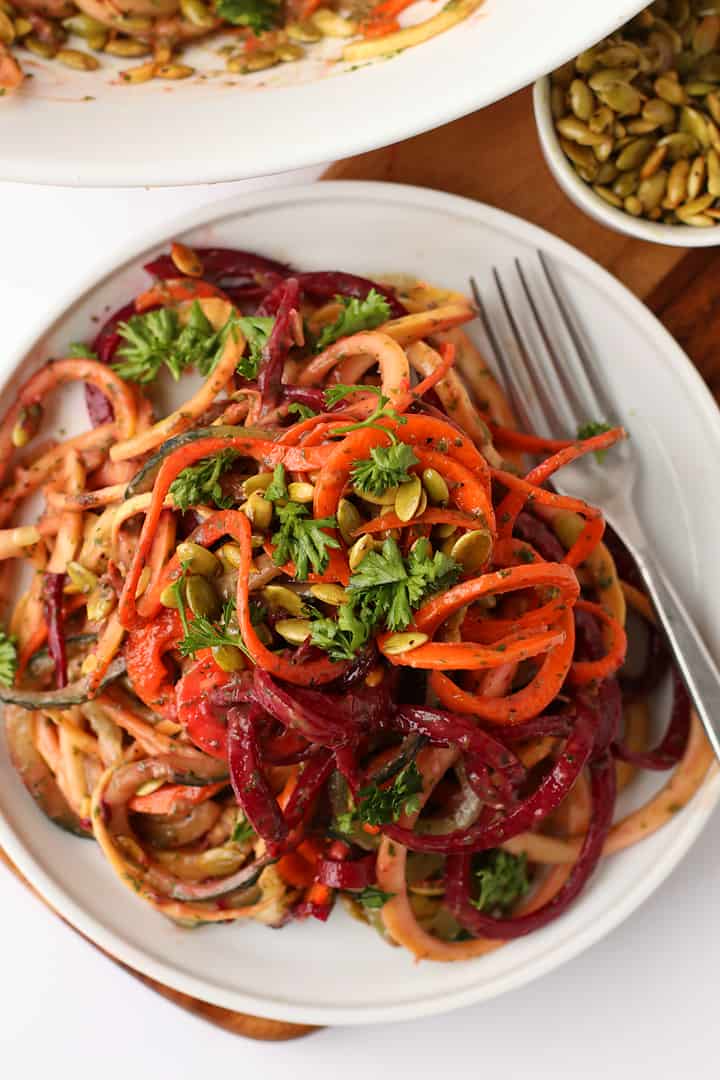 Kick off this year with this healthy vegan and gluten-free Spiralized Vegetable Salad tossed with homemade Green Goddess Dressing and roasted pumpkin seeds.
Course:
Salad, Side Dish
Cuisine:
American
Keyword:
Spiralized Vegetable Salad
Servings
:
4
people
Calories
: 100 kcal
Author
:
Sarah McMinn
Ingredients
Instructions
Preheat oven to 350 degrees F. Line a baking sheet with parchment paper and set aside.

Toss pumpkin seeds with olive oil and salt and pepper. Spread evenly on prepared baking sheet and bake for 12-15 minutes, stirring occasionally, until pumpkin seeds are lightly brown and toasted. Set aside to cool.

Prepare Green Goddess Dressing according to these instructions.

To prepare the vegetables, cut off 1/2"-1" on either side of the zucchini and yellow squash. Gently scrub the carrot and beet, but do not peel. After washing, cut off 1/2" ends for the carrot and beet as well.

Using a vegetable spiralizer, spiralize the zucchini, yellow squash, beet, and carrots according to the spiralizer's instructions.

In a big bowl combine the spiralized noodles. Top with 1/4 - 1/2 cup of Green Goddess Dressing. The amount will depends on the size of vegetables and your preference. Divide onto 4 plates and top with toasted pumpkin seeds and fresh parsley.

Serve immediately or store in an airtight container in the refrigerator for up to 3 days.
Recipe Notes
If you don't have a spiralizer yet, I highly recommend getting one. This is the one I use and have loved it so far.  
All vegetables in this recipe should be uncooked (raw). 
Nutrition Facts
Spiralized Vegetable Salad with Green Goddess Dressing
Amount Per Serving
Calories 100
Calories from Fat 63
% Daily Value*
Fat 7g11%
Sodium 19mg1%
Potassium 389mg11%
Carbohydrates 5g2%
Protein 3g6%
Vitamin A 3365IU67%
Vitamin C 20.7mg25%
Calcium 27mg3%
Iron 1.2mg7%
* Percent Daily Values are based on a 2000 calorie diet.
If you give this recipe recipe a try, snap a photo and share it on Instagram. Make sure to tag
@mydarlingvegan
so I can see your creations!