ULTIMATE Detox Salad w/ Lemon Ginger Dressing
Start your year off with the Ultimate Detox Salad. It's filled with detoxifying vegetables and tossed with a lemon ginger turmeric salad dressing. Made in 10 minutes for a delicious, hearty, and healthy meal.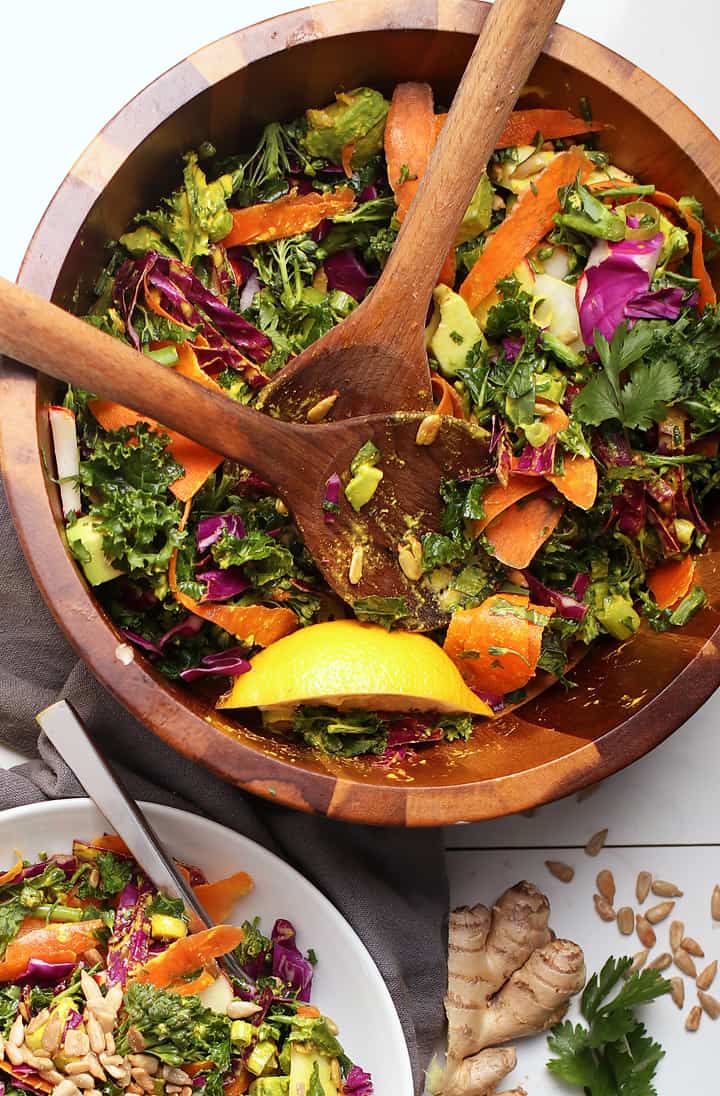 This post contains affiliate links. For more information please see my privacy policy.
Welcome to the ANNUAL My Darling Vegan 30 day cleanse!
As I mentioned a couple of days ago, I kick off every year with a 30-day health challenge as a way to cleanse my body and mind while creating a wholesome and healthy habit in the new year. And, I think you should join me.
All month I'll be creating delicious plant-based, gluten-free, no refined sugar recipes to help you on your way towards a healthy 2019. And if you need a little extra help, make grab a copy of my FREE Clean Eating Vegan ebook by signing up for the MDV Newsletter below.
So let's the started! We are kicking off the 2019 30-day cleanse with a bang. Why, it's the ULTIMATE DETOX SALAD, my friends. Made with all the best detoxifying foods, all tossed with a Ginger Lemon Turmeric dressing, this Detox Salad will get you started on the right foot this year.
Let's take a closer look at this beast of a salad.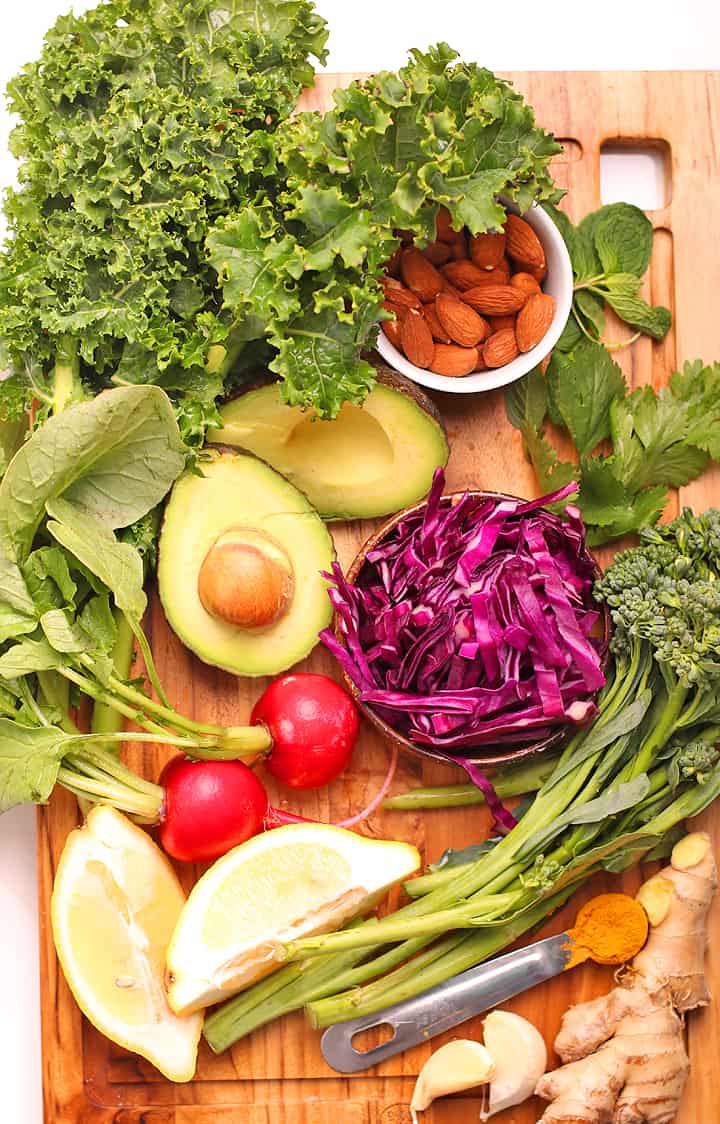 What is a detox salad?
A detox salad combines all of the best foods – these are foods that are rich in antioxidants, vitamins, minerals, etc. while having purifying qualities that flush the body of harmful toxins and free radicals – and puts them into one giant bowl.
Common detox foods are:
Kale 
Beets
Lemon
Garlic
Turmeric
Ginger
Broccoli
Cabbage
Sunflower Seeds
Almonds
And that's just the tip of the iceberg! For a more complete list, check out this Ultimate Detox Diet Food List; it's one of my go-to resources. Detox foods play a variety of roles in cleaning out the body and eliminating toxins while being some of the most nutrient-rich foods around.
This detox salad has 15 detoxifying foods that may leave you feeling refreshed and energetic, thus making it the ULTIMATE Detox Salad.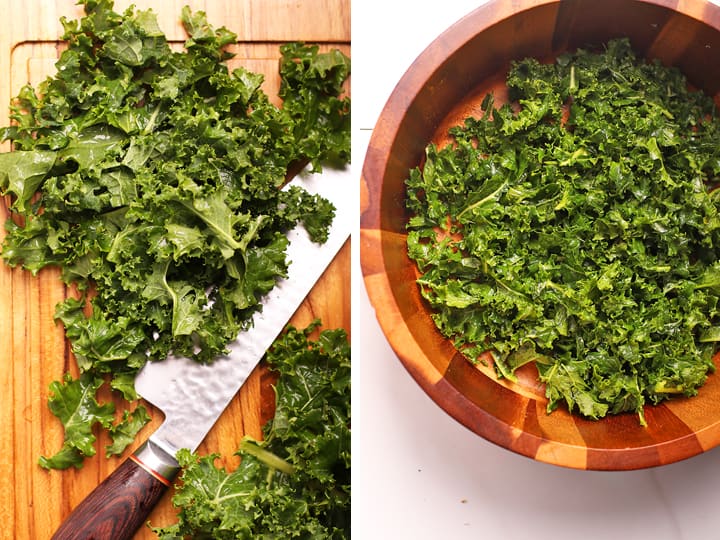 How to make the Ultimate Detox Salad
Not only is this salad packed with nutrient-dense foods that will leave you feeling great, but this salad is also SUPER EASY to make. It can be made in just about 10 minutes for a wholesome and hearty midday meal.
Step one – Massage the kale
This salad starts with a base of kale.
Kale is considered one of the best detox foods. It is:
High in fiber
Help neutralize inflammation
Loaded with immunity-boosting vitamins
and filled with antioxidants
To eat raw kale, it's important that we give it a gentle massage. A simple massage helps to break down the toughness and bitterness while releasing sweetness and tenderness into the leaves, greatly enhancing the flavor and texture.
How to massage the kale
Fortunately,  massaging kale is really easy. First, you'll want to chop the kale finely and place it in a large bowl. Next, drizzle it with a little olive oil and salt. I like adding lemon here as well for extra flavor, but that's not necessary. The oil and salt help break down the leaf's toughness allowing it to tenderize even more.
As you massage the kale you will notice the leaves get more vibrantly green with a bit of silky shine. The kale will also shrink in volume as the leaves tenderize. (See pictures above)
Step Two – Toss in the remaining ingredients
Add the remaining ingredients. That's all the vegetables, sunflower seeds, and fresh herbs.
Feel free to get creative here. Feel free to swap vegetables and herbs for alternatives. Just reference your Detox Diet Food List for alternatives.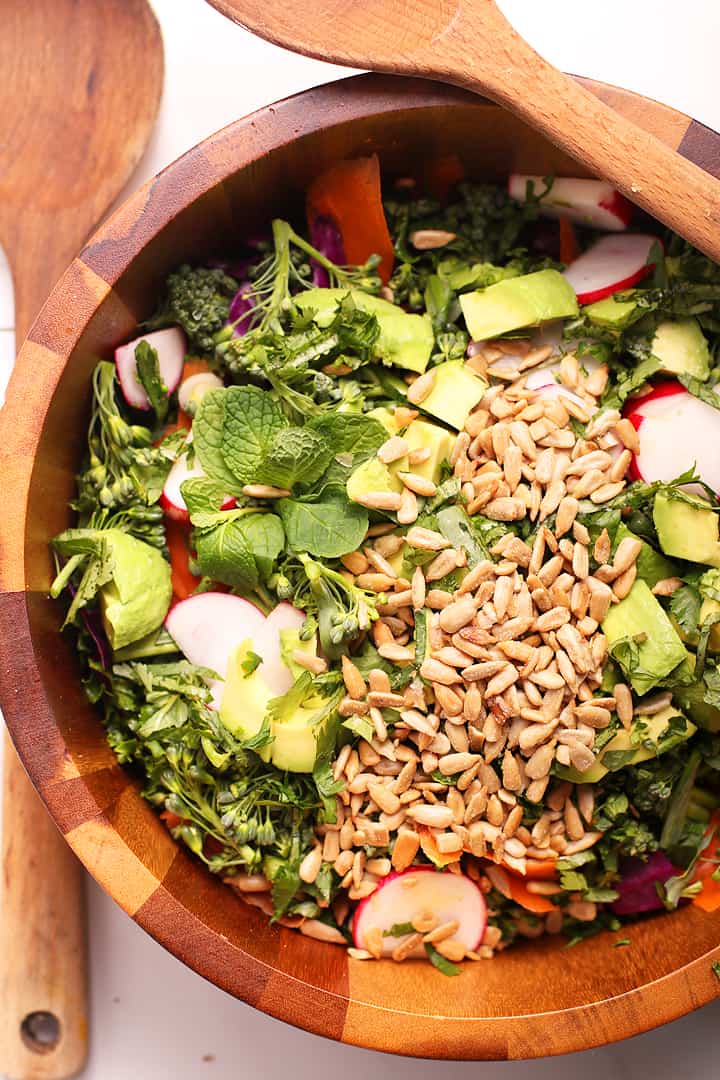 Step 3 – Add the Lemon Ginger Dressing.
Now let's talk a moment about this salad dressing. The salad dressing has 3 IMPORTANT detoxifying ingredients – that's the ginger, lemon, and turmeric – making it one of the BEST detox salad dressings. Here are a few benefits of these incredible foods:
Ginger – Ginger is filled with antioxidants, stimulates digestion and circulation, cleanses the body of toxins and free radicals, has mega anti-inflammatory properties, lowers blood sugar, and cholesterol.
Lemon – Lemon is filled with Vitamin C for a powerful immunity booster, improves digestive health, aids in digestion, and helps to control weight.
Turmeric – Turmeric is one of best-known anti-inflammatories which helps kill free radicals and improve overall health, it's filled with antioxidants, good for the heart, skin, and brain, and is believed to even help battle depression.
With these three detoxifiers, you've got yourself one powerful salad dressing.  Make the salad dressing by blending the ingredients together until you have a smooth, creamy, pourable dressing. Once blended, add it to the salad and toss everything together.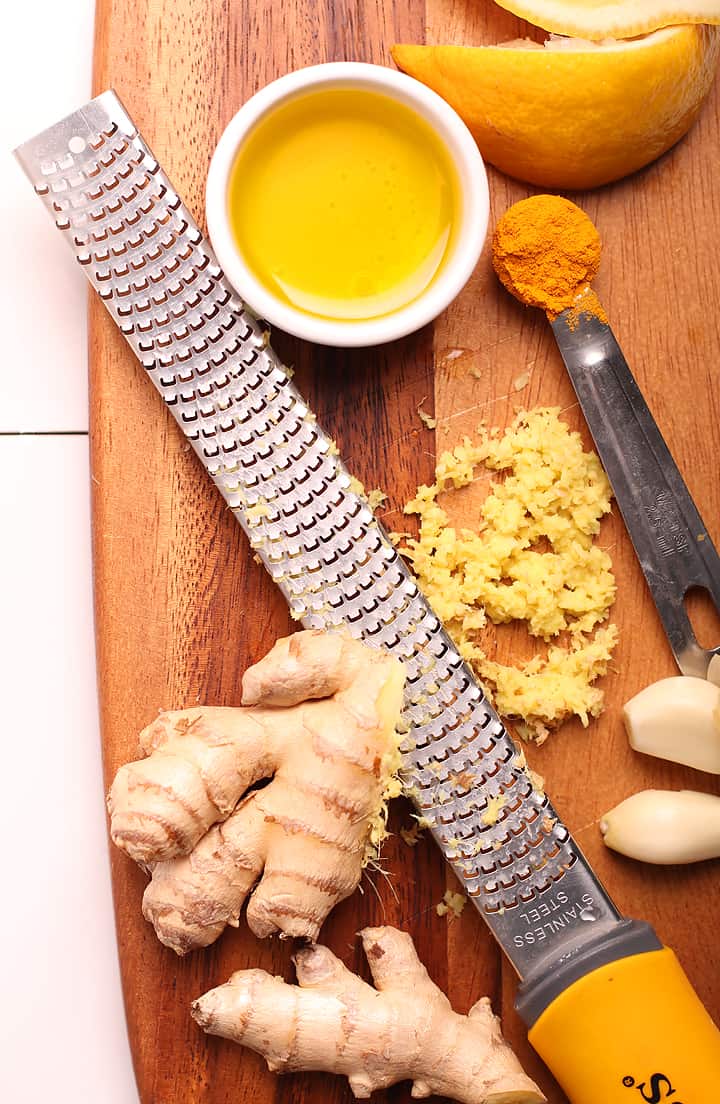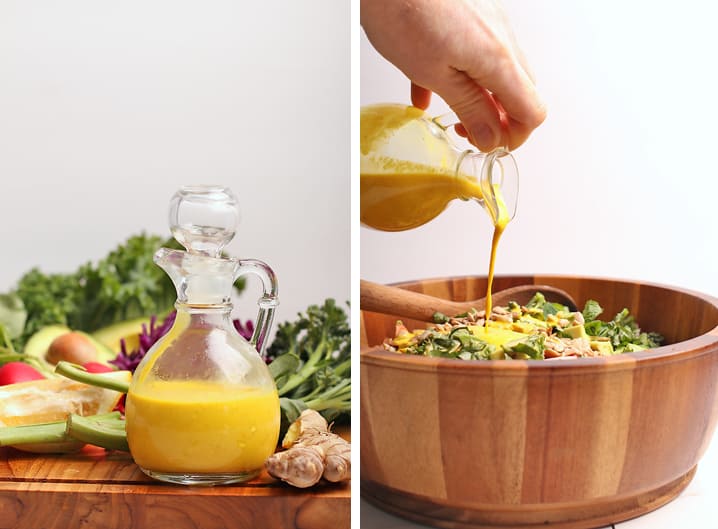 Serving and Storing
This is a big salad. On its own, it is enough for 2 servings. It will serve 4 if you're serving it as part of a larger meal.
Feel free to swap out different vegetables and nuts. A few suggestions to consider adding: pickled beets, almonds, and cauliflower.
Store leftover salad in the refrigerator for up to 1 day. Store salad dressing separating for up to 2 weeks.
Sound delicious? Let's kick off this new year with a bang and whip up this ULTIMATE detox salad today.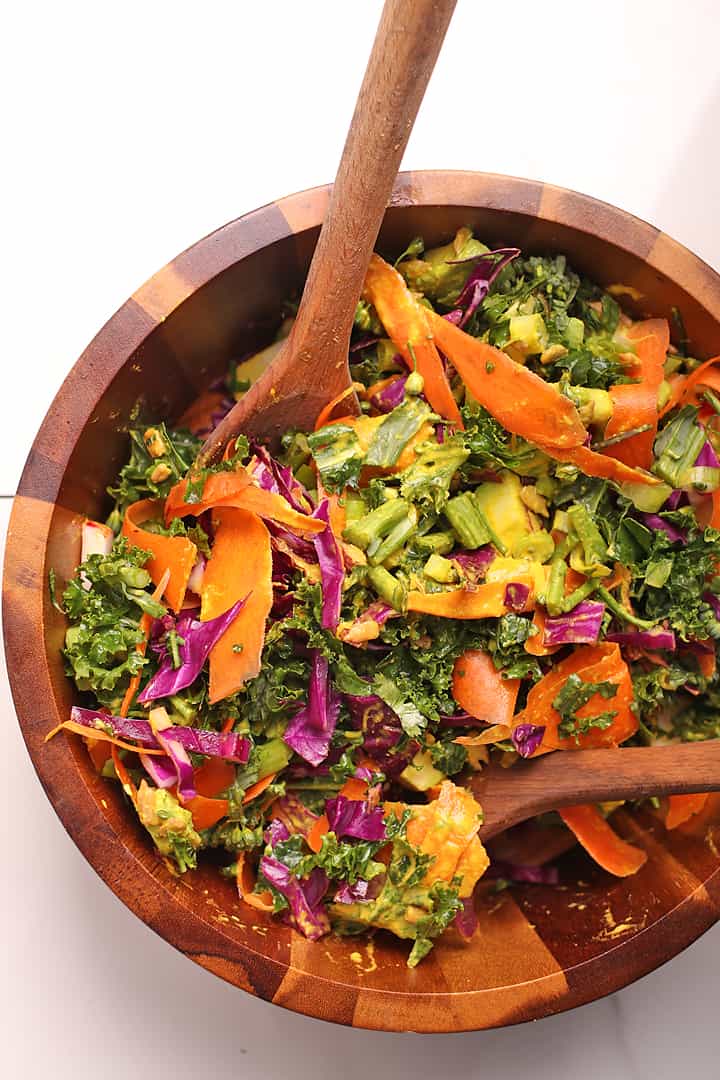 The Ultimate Detox Salad with Lemon Ginger Dressing
Start your year off with the Ultimate Detox Salad filled with detoxifying vegetables and tossed with a lemon ginger turmeric salad dressing. Made in 10 minutes for a delicious, hearty, and healthy meal.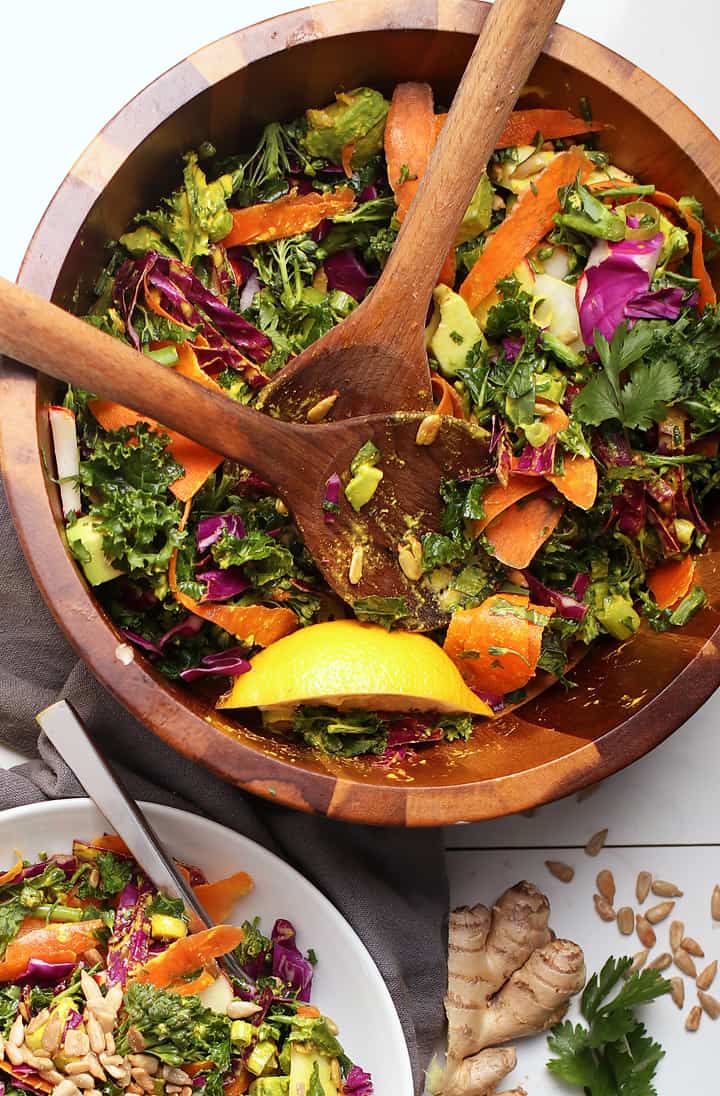 Course:
Salad
Cuisine:
Vegan
Keyword:
Detox Salad
Servings
:
2
people
Calories
: 428 kcal
Author
:
Sarah McMinn
Ingredients
Detox Salad
4

large leaves curly kale, de-stemmed

1

tsp. olive oil
pinch of salt

2

cups

red cabbage, thinly chopped

1

medium carrot, peeled into thin strips

2

green onions, chopped

1

rounded cup broccolini, chopped

2

radishes, thinly sliced

1

small avocado, cubed

1/4

cup roasted sesame seeds

2

tbsp fresh mint, minced

2

tbsp fresh cilantro, minced
Instructions
Blend together the ingredients for the dressing in a small blender and set aside. ​


Finely chop kale and place it in a large salad bowl along with 1 teaspoon olive oil and salt. Gently massage the kale between your fingers for 2-3 minutes until the kale is darker, tender, and shiny.

Add the remaining salad ingredients and toss together with the Lemon Ginger Dressing.

Serve immediately or store in an airtight container in the refrigerator for up 2 days.
Recipe Notes
Salad dressing can be stored in an airtight container in the refrigerator for up to 2 weeks.
This salad is meant to be a meal so it's a large serving size. If you choose to serve it as a side, this would serve 4 people.  
Nutrition Facts
The Ultimate Detox Salad with Lemon Ginger Dressing
Amount Per Serving
Calories 428
Calories from Fat 333
% Daily Value*
Fat 37g57%
Sodium 346mg15%
Potassium 493mg14%
Carbohydrates 21g7%
Protein 5g10%
Vitamin A 6505IU130%
Vitamin C 60.6mg73%
Calcium 247mg25%
Iron 4.3mg24%
* Percent Daily Values are based on a 2000 calorie diet.
If you give this recipe recipe a try, snap a photo and share it on Instagram. Make sure to tag
@mydarlingvegan
so I can see your creations!