Wild Rice Mason Jar Salad with Basil Pesto
Make lunch easy with these wild rice Mason jar salads, made with late summer vegetables, wild rice, and basil pesto for a delicious and healthy meal.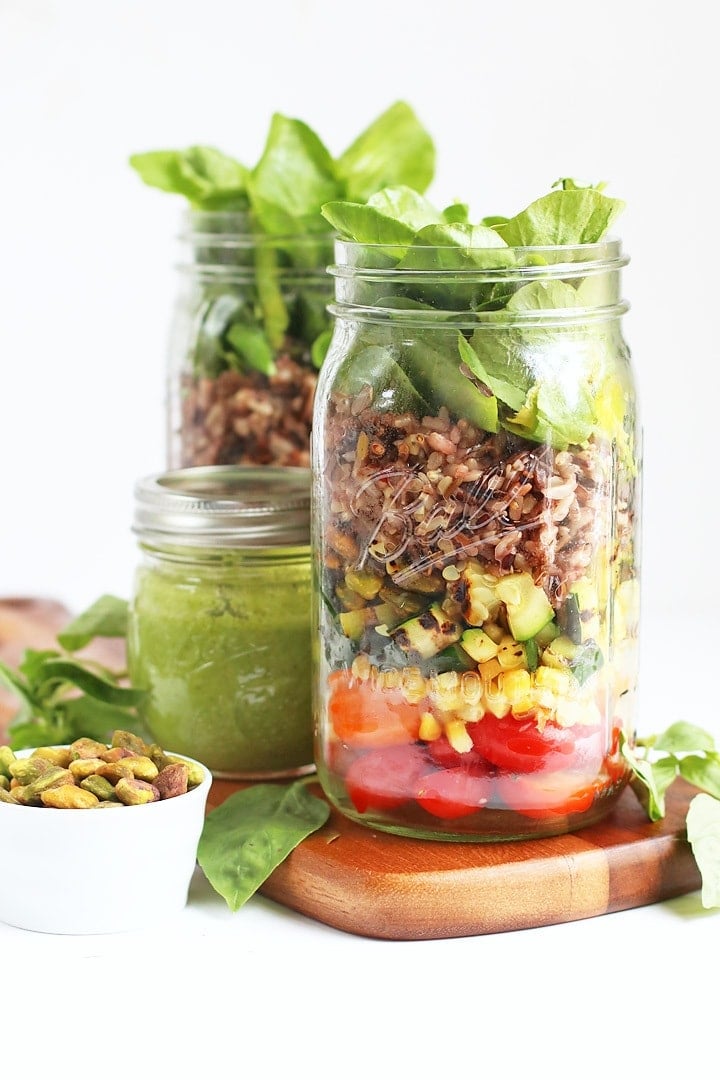 This post contains affiliate links. For more information please see my privacy policy.
This post is sponsored by Lundberg Family Farms. All opinions are 100% mine.
Fall is coming.
I feel it moving in with the crisp morning air, the shorter days, and the longer nights. And while I LOVE fall, I'm not quite ready to say goodbye to summer. So I'm going to pause, taking a moment to reflect on the past three months.
My summer started with a broken heart; a pain I don't remember feeling so strongly before. I busied myself with work to escape but I lacked creativity in the midst of the pain; my work suffered and became laborious. All I could see was darkness in those early days of summer. A darkness that I had to walk through, despite lacking direction or sense of how long it might be. Then June turned into July and a new feeling joined the sadness – hope. I started practicing gratitude daily in a gratitude journal, my creativity starting finding its way back to me, and exciting new opportunities were popping up with work – work that I love so much and is rich in meaning.
Over the course of the month, I began to embrace my singleness. Then, as I lived into it, I became grateful for my singleness. And as the month progressed, hope eclipsed the sadnesses. Summer was filled with many trips: camping, nights away on the coast, a trip to Chicago, another to Michigan, and a family vacation in the Puget Sound.
As summer wraps up I feel full. Full of life, gratitude, love, hope, excitement, and energy.
I am utterly amazed at the change one season can bring.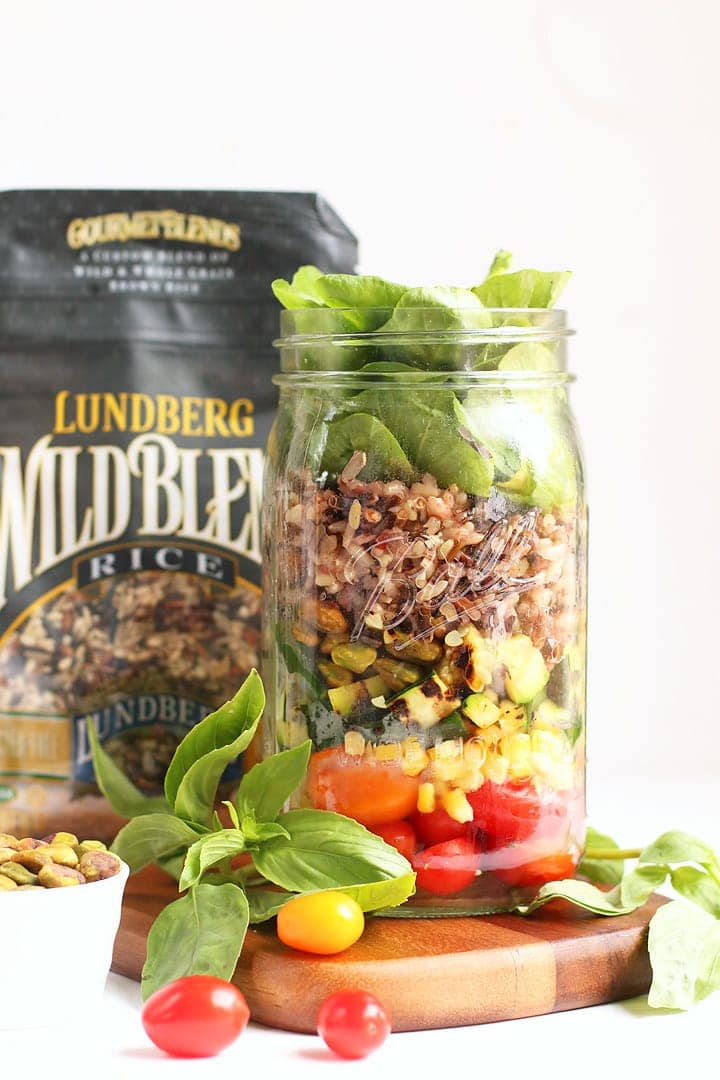 With the fullness of spirit, I plan to celebrate these last couple weeks of summer as best I can.
That means lots of music and movies in the park, nighttime rendezvous, river fun, and picnics. I want to do it all! And because of the many activities I hope to fit in by the end of summer, I'm going to need a lot of convenient grab-n-go meals to join me on my adventures.
So today I'm sharing a recipe for a Wild Rice Mason Jar Salad; the perfect prepare-ahead-salad for all of your late summer activities.
What is a Mason Jar Salad?
Mason jar salads are delicious grab-n-go layered salads built inside a Mason Jar. I prefer these wide-mouth Mason Jars for easy packing and unpacking.
Because the salad is layered, you have the freshest lettuce when you're ready to eat. By putting all the juicy vegetables and salad dressings on the bottom of the jar, and topping it with your greens, the salad feels freshly made all day long.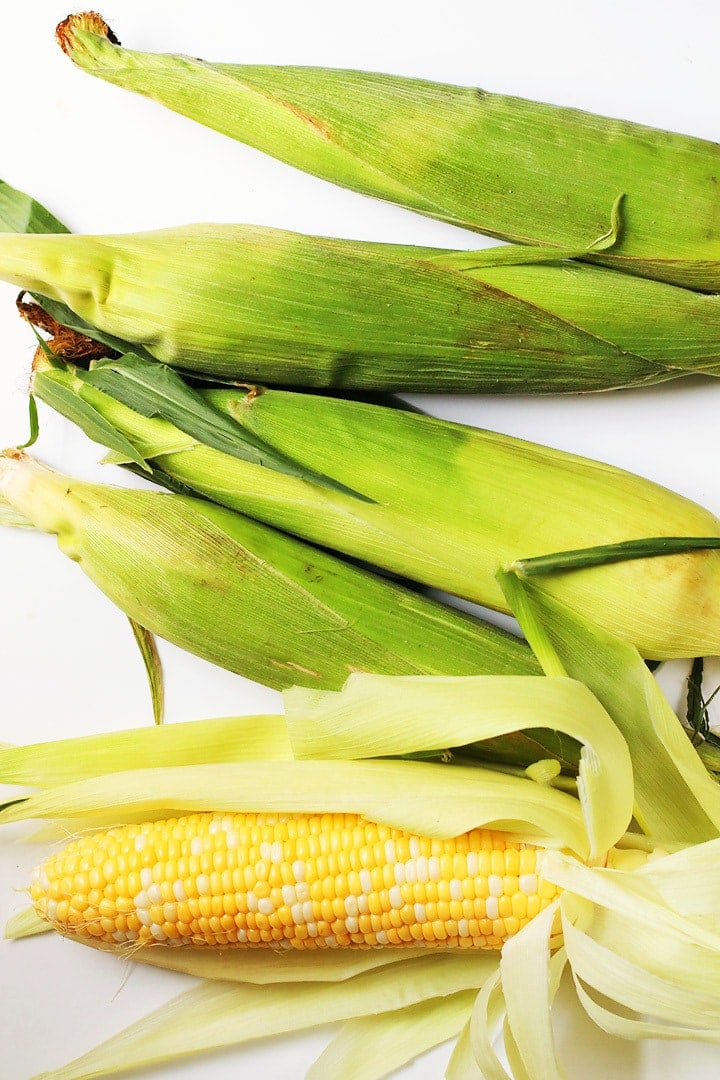 Ingredients for Wild Rice Mason Jar Salads
These layered Mason jar salads celebrate the best of late summer vegetables. For this salad recipe you will need:
 Wild Rice Rice
Cherry Tomatoes
Corn on the Cob
Zucchinis
Watercress
Pistachios
Basil Pesto Dressing
At the base of this hearty salad is the perfect wild rice making this a filling salad for lunch or dinner.
Best Wild Rice For Vegan Mason Jar Salad
For this Wild Rice Mason Jar Salad, I used Lundberg Family Farms Organic WildBlend Rice.
I chose this WildBlend Rice because Lundberg is a company I stand behind. Committed to sustainability and quality, they believe it is our responsibility to leave the earth better than how we found it. For that reason, most their products are organic, non-GMO, and eco-farmed. Their sustainability practices include renewable energy, energy conservation, and waste reduction. I believe strongly in everything they stand for, which is why I support Lundberg Family Farms whenever I can.
I combined this Wild Blend Rice with all the late summer vegetables – grilled zucchini and corn, heirloom cherry tomatoes, and fresh basil. Turns out, these late summer vegetables know how to make a salad!
Wanna see the recipe in action?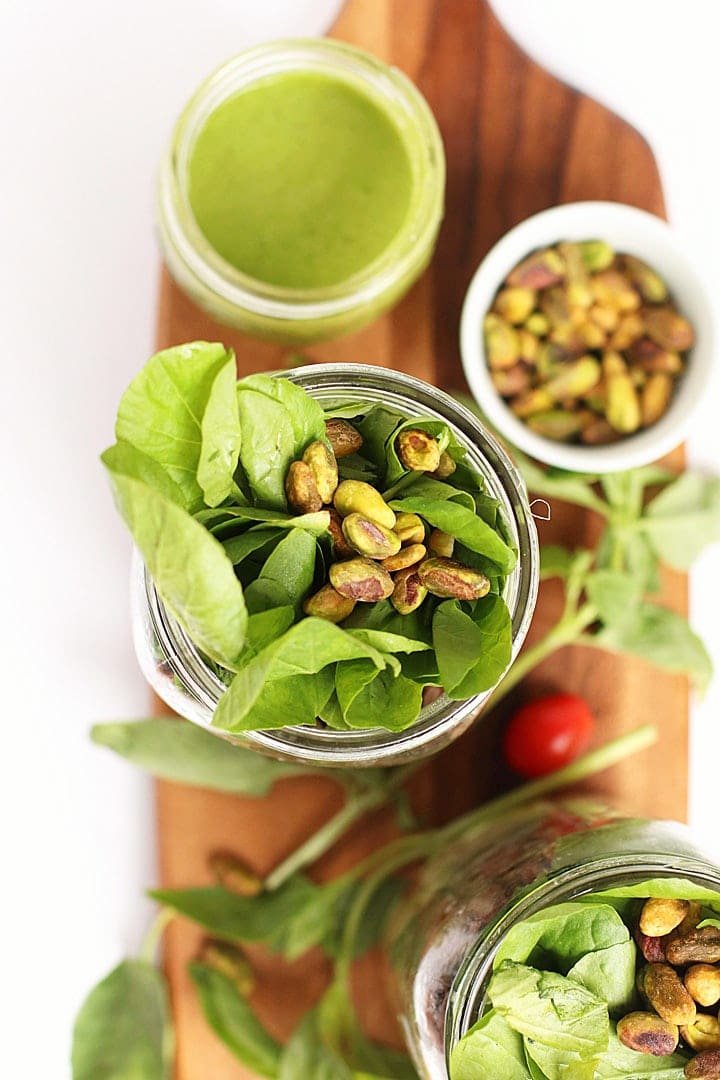 Tips for making the BEST vegan Mason Jar salad
Here are a few tips and tricks I've learned along the way to perfect your layered mason jar salad:
For best results, store the salad dressing in a separate container.
Layer the salad with the wettest vegetables on the bottom. I layer my salad: tomato, corn, zucchini, wild rice, watercress, and pistachios
Let the wild rice cool completely before layering it into the salad.
Store salad in the refrigerator until ready to eat.
When ready to eat, dump the salad into a bowl and top it with basil pesto dressing. Leftover salad can be stored in the mason jar for up to 2 days.
More Vegan Salad Recipes
Want some more ideas for quick grab and go salads? Here are a few of my favorites:
But before you go, let's take a look at this incredible layered salad below.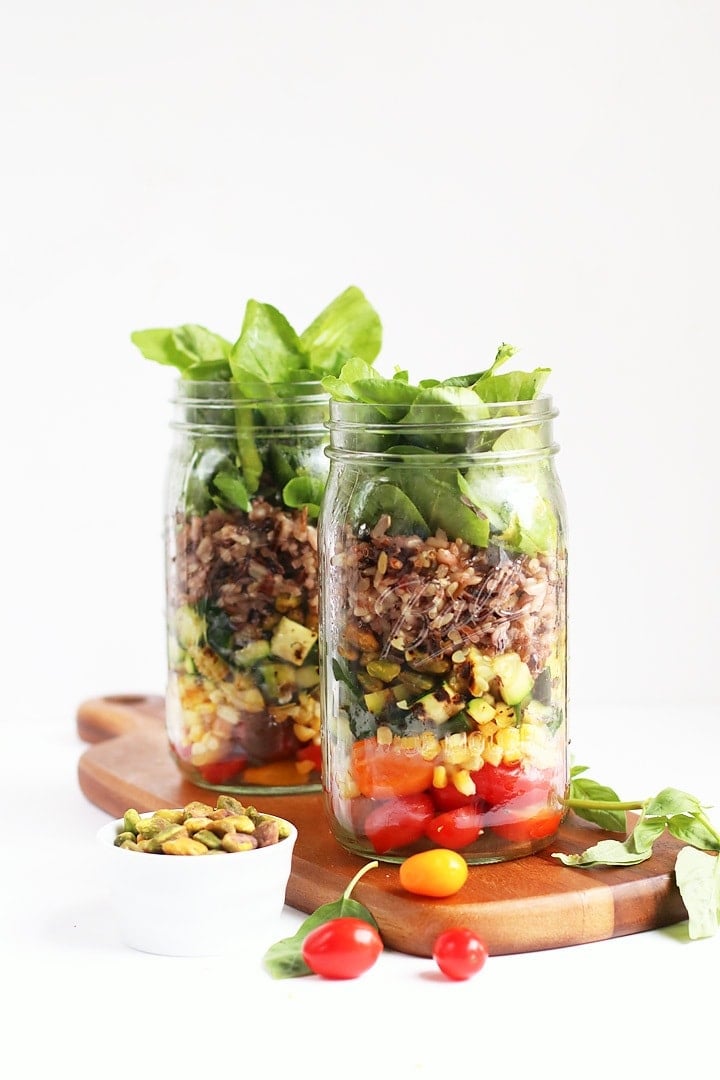 Wild Rice Mason Jar Salad with Basil Pesto
Make lunch easy with these wild rice Mason jar salads, made with late summer vegetables, wild rice, and basil pesto for a delicious and healthy meal.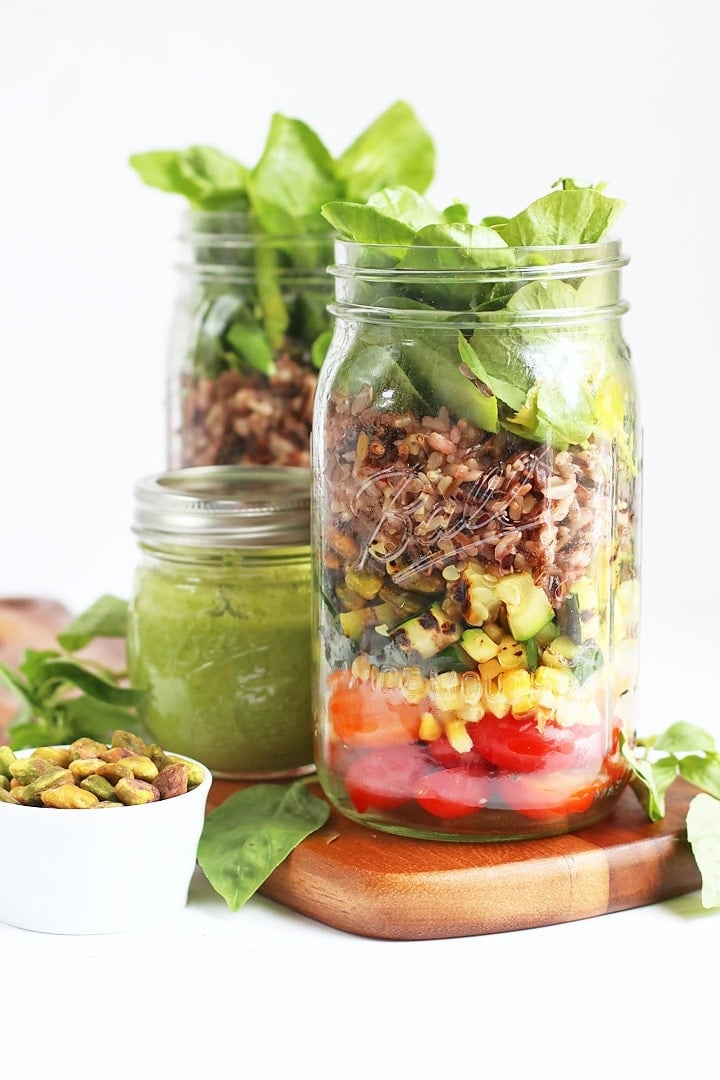 Course:
Salad
Cuisine:
American
Keyword:
Mason Jar Salad
Servings
:
4
Calories
: 439 kcal
Author
:
Sarah McMinn
Ingredients
Wild Rice Salad
1

cup

uncooked Lundberg Farms Organic WildBlend Rice

1

cup

cherry tomatoes, halved

2

tablespoons olive oil

2

corn cobs, husked

2

medium zucchini, cut into 1/2" strips

2

cups

watercress

1/4

cup

shelled pistachios
Instructions
In a 4 quart pot combine 1 3/4 cup water with 1 cup wild rice. Cover and bring to boil. Once boiling, reduce heat to a simmer and simmer for 45 minutes or until all the water has evaporated. Remove from heat, fluff with a fork, and let cool.
While rice is cooking, preheat oven to broil and move your baking rack to the top. Brush corn cobs and zucchini slices with olive oil.
Broil corn for about 15 minutes, rotating often. Once cooked, remove from oven and let cool.
Heat a griddle over medium-high heat and pan-fried zucchini until it has dark grill marks and is cooked all the way through.*

When cool enough to handle, chop zucchini in 1/4" cubes and cut corn off husks.

While corn and zucchini cook, combine the ingredients for the basil pesto in a blender and set aside.

To assemble the mason jar salads, place a layer of pistachios at the bottom of (2) one-quart mason jars or (4) 1/2 quart jars. Top with tomatoes, corn, zucchini, wild rice, and watercress, in that order.

Refrigerate until ready to go.
Serve with basil pesto.
Recipe Notes
The corn and zucchini could also be grilled outdoors.
Nutrition Facts
Wild Rice Mason Jar Salad with Basil Pesto
Amount Per Serving
Calories 439
Calories from Fat 369
% Daily Value*
Fat 41g63%
Sodium 172mg7%
Potassium 635mg18%
Carbohydrates 16g5%
Protein 5g10%
Vitamin A 1195IU24%
Vitamin C 38.1mg46%
Calcium 58mg6%
Iron 1.6mg9%
* Percent Daily Values are based on a 2000 calorie diet.
If you give this recipe recipe a try, snap a photo and share it on Instagram. Make sure to tag
@mydarlingvegan
so I can see your creations!