This is my go-to easy vegan matcha latte. Made with a mixture of macadamia and soy milk and flavored with a bit of maple syrup and vanilla for a sweet and calming morning beverage.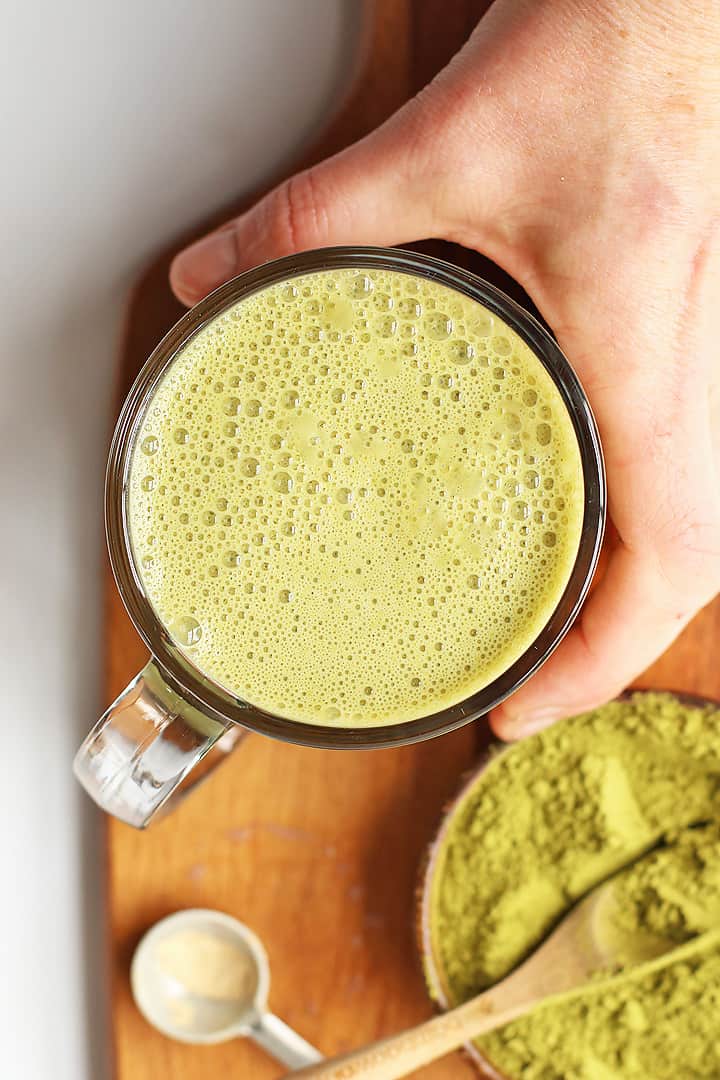 This post contains affiliate links. For more information see my privacy policy. 
About a year ago I had to give up coffee.
It was with a broken heart that I made the decision after a realization that coffee was inducing stress (something I am always working hard to reduce in my life), resulting in negative health side effects. For a couple months I would test the boundaries of my no coffee lifestyle, drinking decaf or one-shot lattes but every time I tried, my heart would start racing, my body would get the jitters, and my anxiety would peak.
Eventually, I accepted my fate and started living a life COMPLETELY without coffee.
And you wanna know what happened? I got over my addiction, my sleep improved, my stress improved, my digestion improved, my skin improved,
AND, I discovered the wonders of a matcha latte.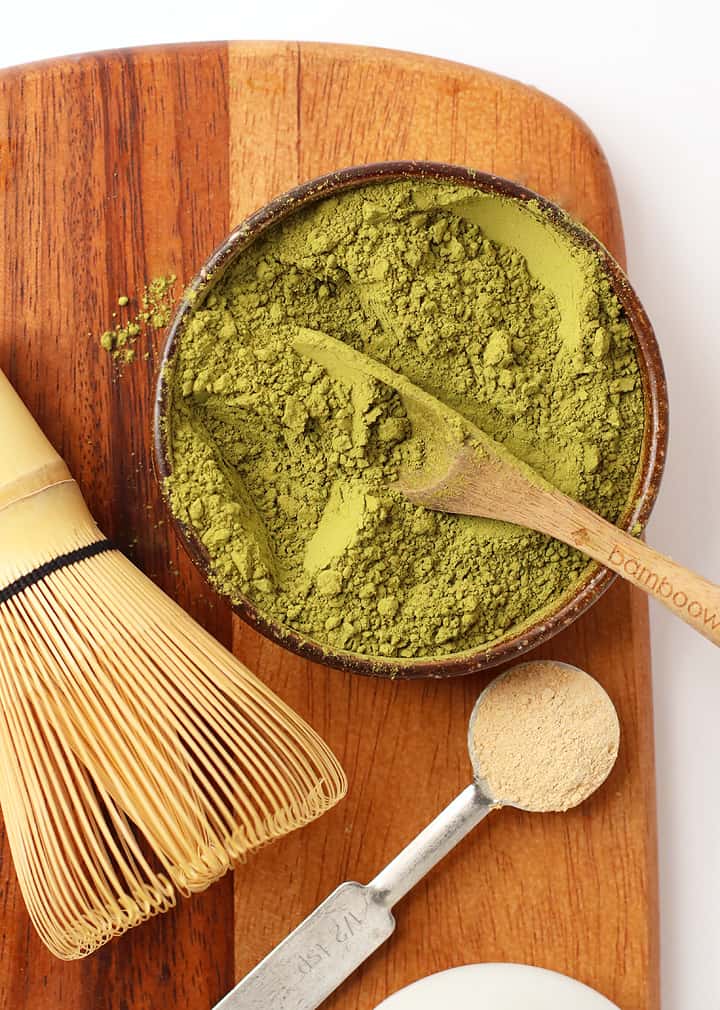 What is a Matcha Green Tea?
Matcha green tea originated in Japan. It is made from specially grown green tea leaves that are ground into a fine powder. The tea plants for matcha are shade-grown which allows the plant to produce a tea with more caffeine than traditional green tea plants.
I started drinking matcha lattes as a way to replace my coffee addition. I had read that, unlike coffee, matcha has a calming effect. But still having plenty of caffeine, matcha helped me make the transition. Now I wake up in the morning with a boost of calm enhancing, clean energy rather than the heart pumping, jittery energy from before. Beyond the nice calming effect, I found that there were so many other benefits to a daily matcha latte.
Benefits of Matcha Green Tea
Not only is matcha delicious, but matcha green tea is one of the most beneficial superfoods ever. It
is super high in antioxidants 
detoxifies the body
boosts metabolism and burns calories
is rich in fiber, vitamin C, and other important minerals 
strengthens the immune system
Now, perhaps, you're beginning to see why it is one of my favorite superfoods. And that's why I don't just drink matcha. I sneak matcha into my food every way I can. Be it oatmeal, chia pudding, or chocolates, I love my matcha powder.
So now, instead of brewing a pot of coffee every morning, I wake up to a matcha latte.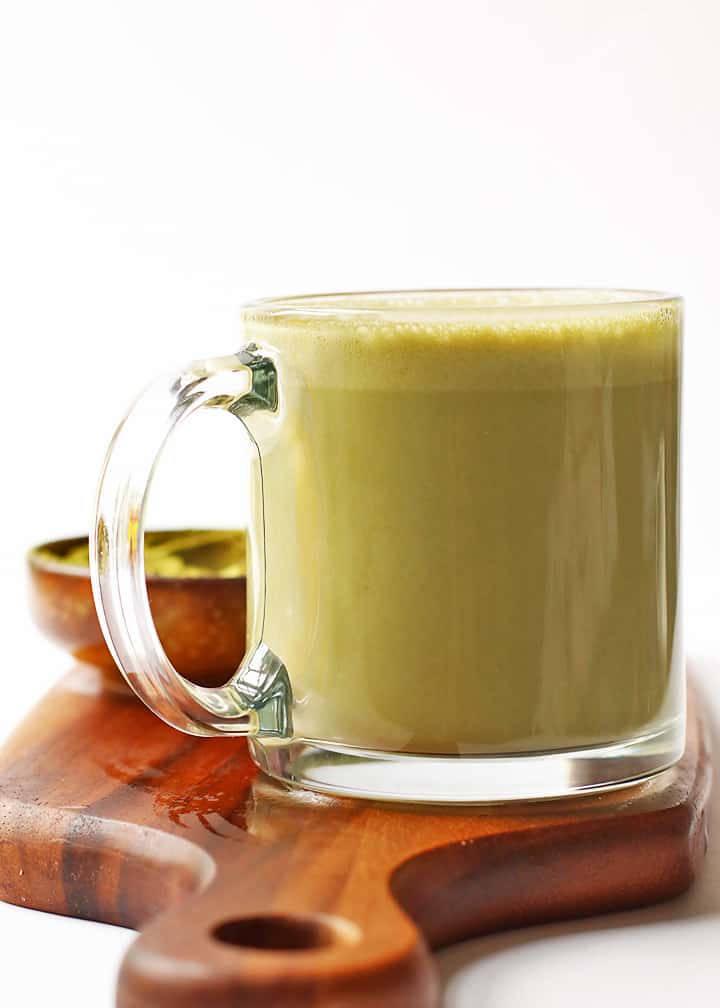 How to make a matcha latte at home
My matcha kick started by picking up matcha lattes at nearby coffee shops, but when I realized that my new habit was going to make me go broke, I invested in my own matcha powder, a matcha starter kit, and a simple milk frother. The technique to the perfect matcha latte is simple.
Step One – Heat the milk to a scald
My preference for milk in this homemade latte is a combination of macadamia nut and soy milk. The macadamia flavor pairs deliciously with the matcha green tea. I add soy milk to give the latte extra body. This helps create the latte foam we all know and love.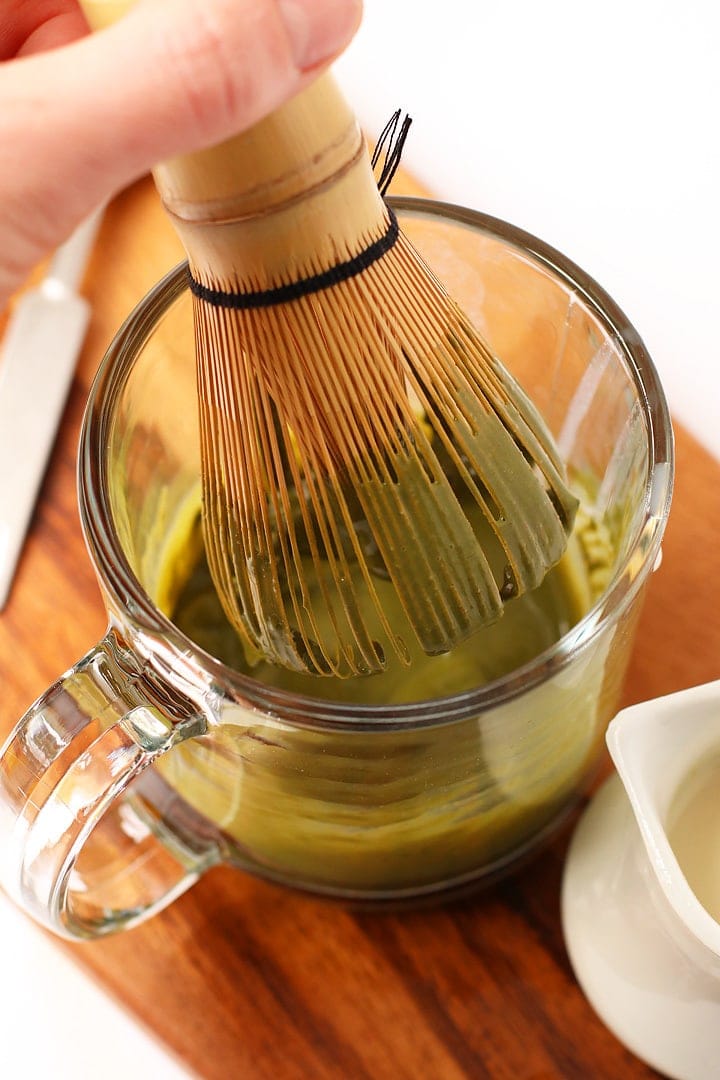 Step two – prepare the matcha powder
While the milk is heating, use about a tablespoon of milk to mix with the matcha powder, maple syrup, and vanilla bean paste. Creating a paste prevents chunks of matcha floating around in your latte (which is never pleasant). I highly recommend using a matcha whisk when creating your paste to ensure the creamiest matcha latte possible.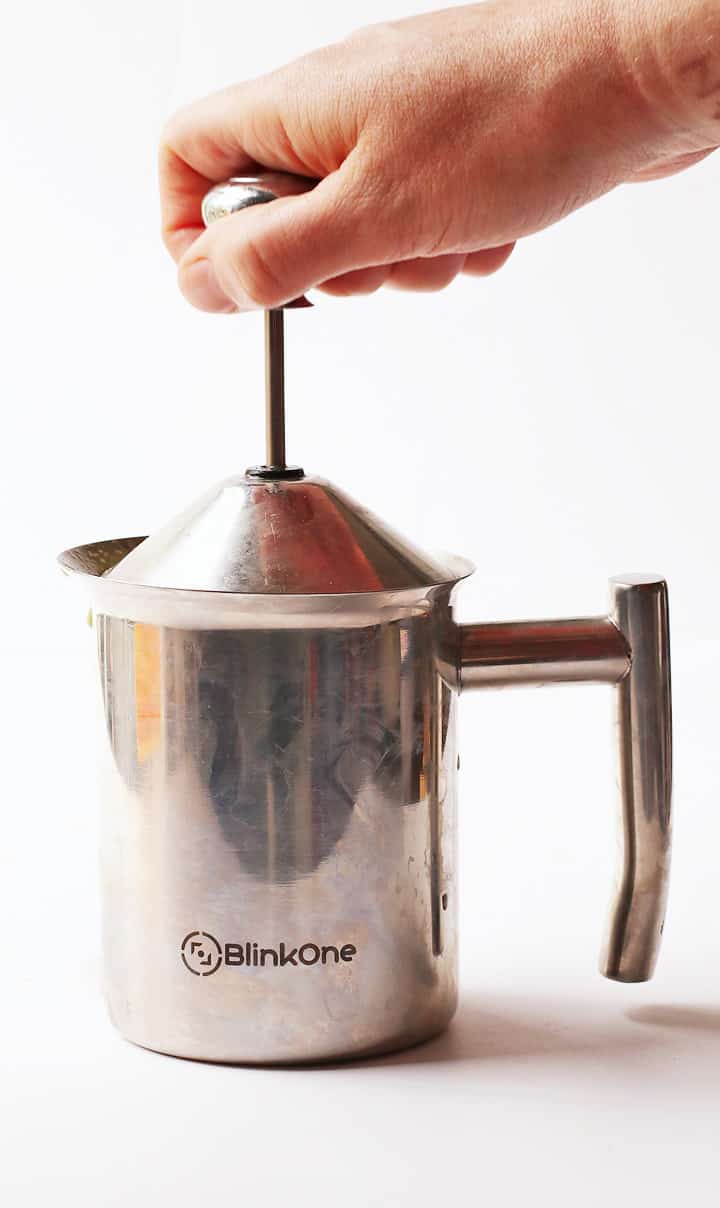 Step three – Mix and froth the latte
Add the scalded milk and whisk together until the paste is evenly dispersed. Then transfer the matcha/milk mixture into a milk frother, give it a few pumps, and voila!
A sweet and earthy matcha latte ready in minutes! Enjoy it with a morning muffin or scone.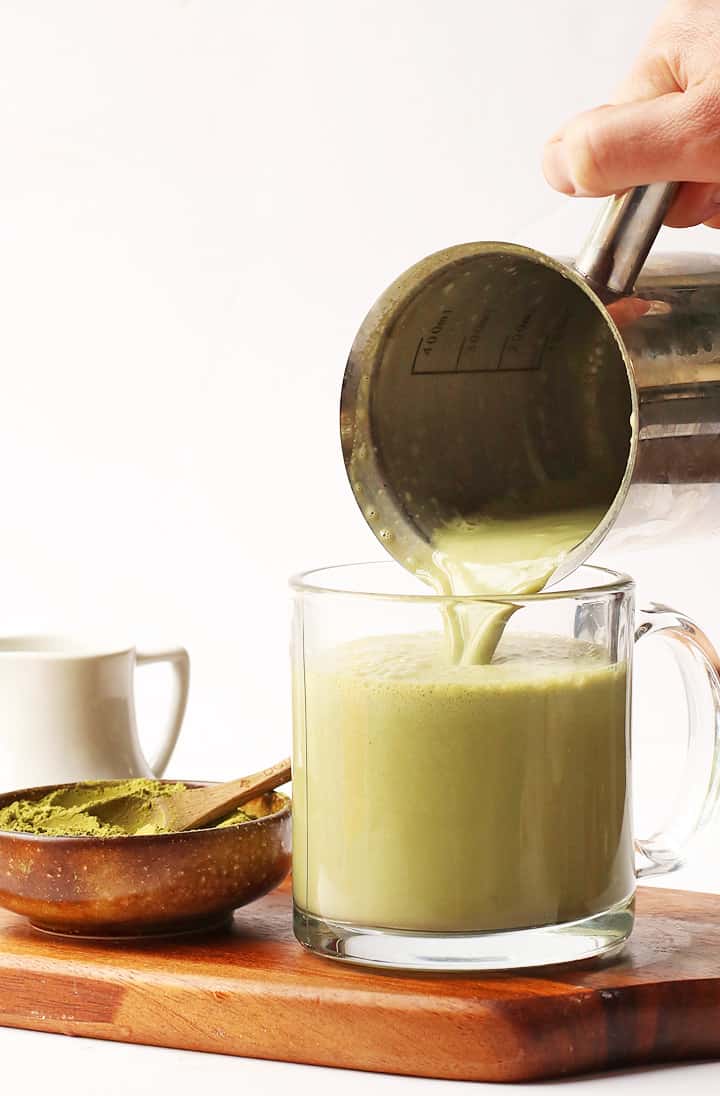 Tips and tricks for making the BEST homemade matcha latte
There you have it! I think you're all set to make homemade matcha lattes today.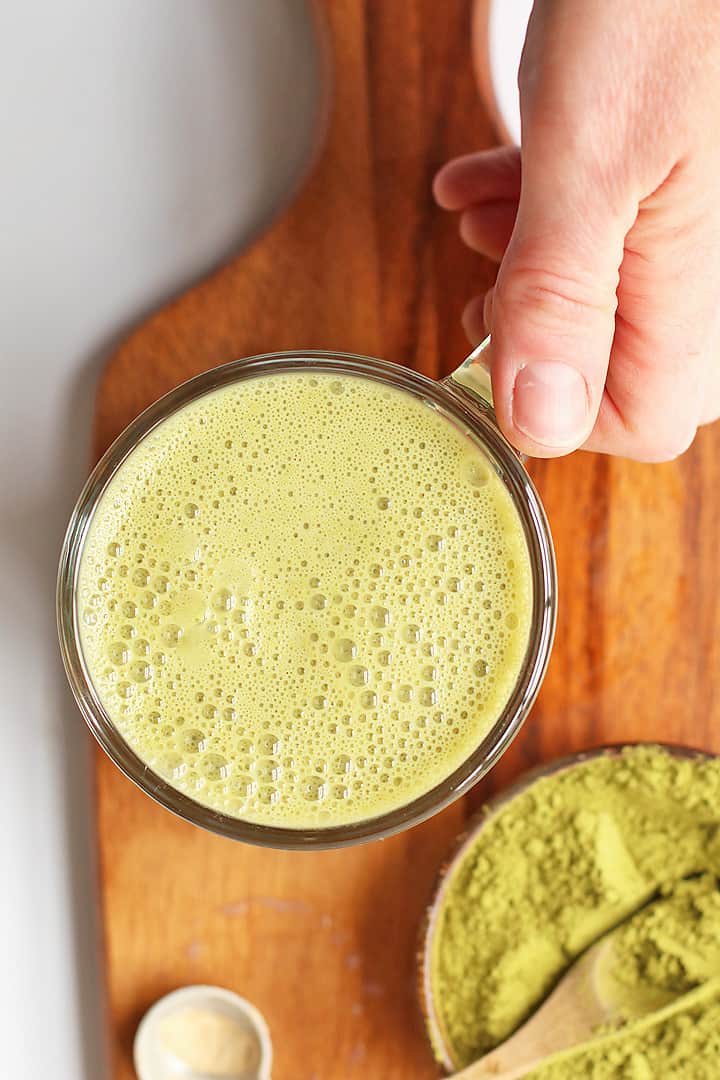 Dairy-Free Matcha Latte
This is my go-to easy vegan matcha latte. Made with a mixture of macadamia and soy milk and flavored with a bit of maple syrup and vanilla for a sweet and calming morning beverage.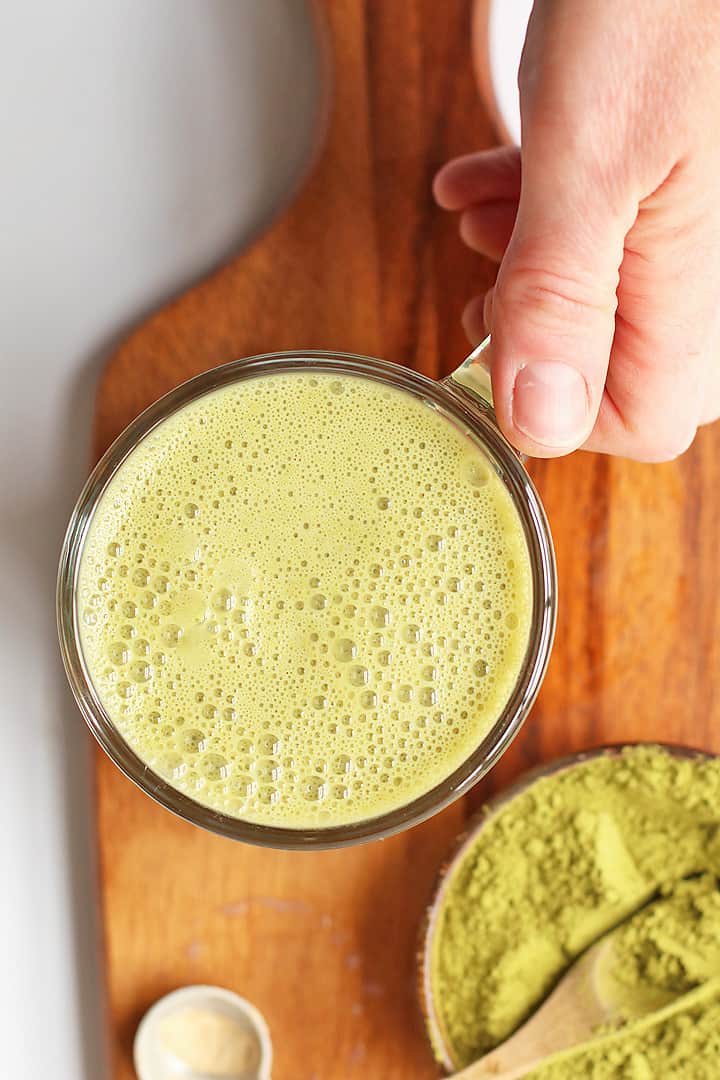 Course:
Drinks
Cuisine:
Vegan
Keyword:
Matcha Latte
Servings
:
1
people
Calories
: 133 kcal
Author
:
Sarah McMinn
Ingredients
Instructions
In a small saucepan over medium heat, heat up both milks, bringing them to a scald ( just before boiling point). It should be steaming and hot to the touch.

While milk heats, place matcha powder, maple syrup, and vanilla bean paste (if using) in the bottom of the mug. Add 1 tbsp of milk (it do not have to be hot) and whisk together using a matcha whisk until a thick, uniform paste has formed.

Once the milk is hot, pour it into your mug and whisk again until the paste is completely and evenly dispersed into the milk.

Transfer latte into a milk frother, and froth for 10 seconds. Return the latte to mug and enjoy!
Nutrition Facts
Dairy-Free Matcha Latte
Amount Per Serving
Calories 133
Calories from Fat 36
% Daily Value*
Fat 4g6%
Sodium 121mg5%
Potassium 342mg10%
Carbohydrates 8g3%
Protein 11g22%
Vitamin A 1355IU27%
Vitamin C 17.5mg21%
Calcium 340mg34%
Iron 2.6mg14%
* Percent Daily Values are based on a 2000 calorie diet.
If you give this recipe recipe a try, snap a photo and share it on Instagram. Make sure to tag
@mydarlingvegan
so I can see your creations!