Chewy Vegan Oatmeal Cookies with the perfect crispy outside and melt-in-your-mouth caramel-y center. Ready in just 20 minutes for a quick and delicious sweet treat.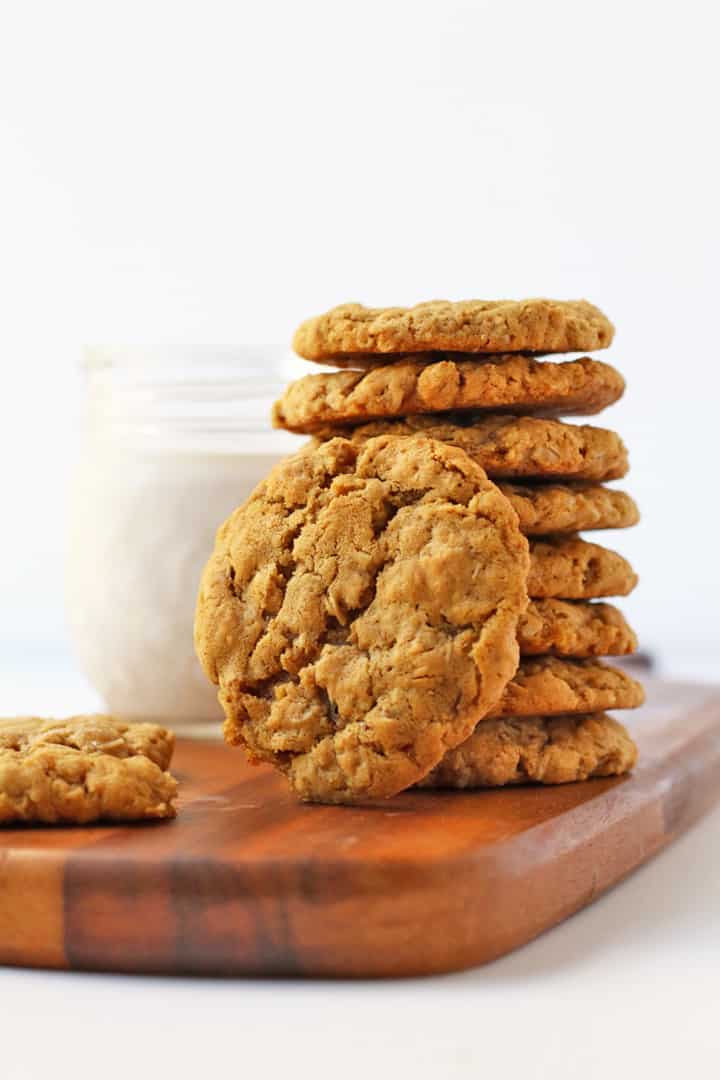 This post contains affiliate links. For more information see my privacy policy.
I haven't told you yet but this week I'm taking a trip.
In fact, it's my first international trip in a decade! On Wednesday, I'm packing up and leaving for England where I will spend 9 glorious days hiking around the English countryside, siping drinks in nearby pubs, and learning what it's like to drive (ride) on the left side of the road. I'm also, for the first time ever, going to be without my kids for longer than a week. So it's with a mixture of excitement and apprehension that I take off. But don't worry, the excitement is strong.
My trip means the next time you're going to hear from me (Wednesday) I'll be flying over the Atlantic Ocean. But again, don't worry. While I'm gone I'll still be popping up to share new recipes with you, like always. And before even all that, I have a new recipe for you today.
Vegan Oatmeal Cookies!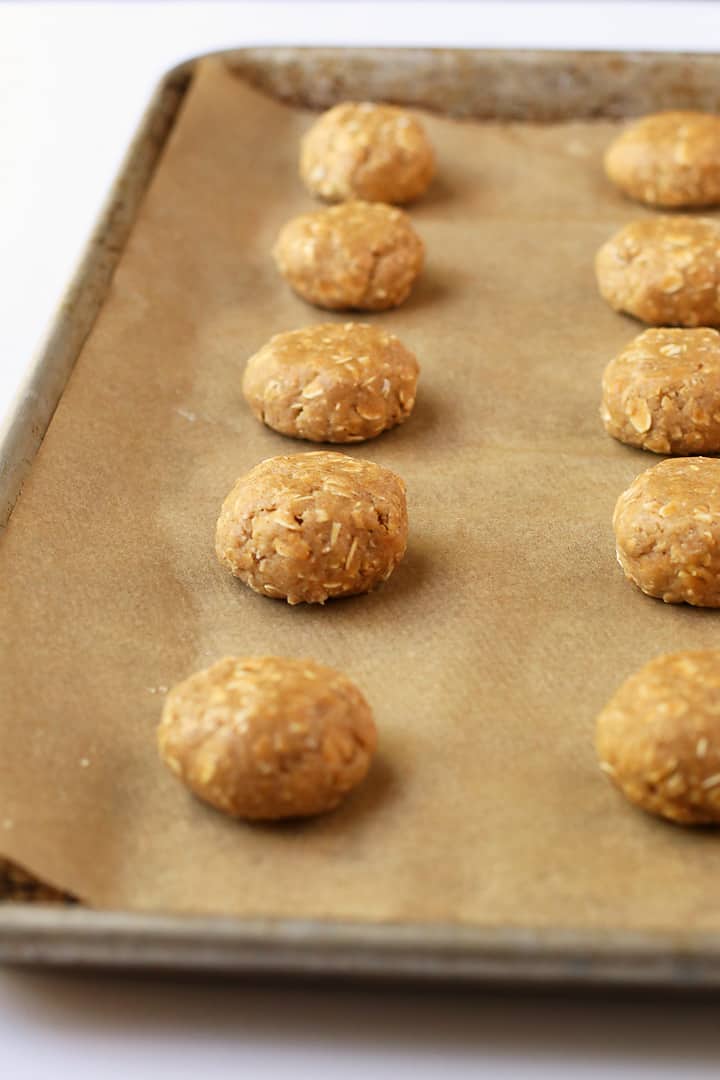 I don't know about you, but I STRONGLY prefer cookies, oatmeal or not, that are soft and chewy in the middle with a crispy outside. The great thing is that the texture of the cookie is all in the bakers control. After a culinary degree and a decade (plus) of professional baking, I learned a few tricks to get the perfect texture every time.
Wanna know more?
Tips for making the best vegan Oatmeal Cookies:
Chill the dough before baking
Use high-protein flour like bread flour
Add extra liquid or reduce the flour
Use all brown sugar
Bake at a higher temperature (375 F)
Remove from oven when slightly underdone
Some might say, there is a time and place for cakey and crispy cookies, too. If you're interested in understanding more how to adjust the texture of cookies, check out my cakey v. chewy v. crispy guide here.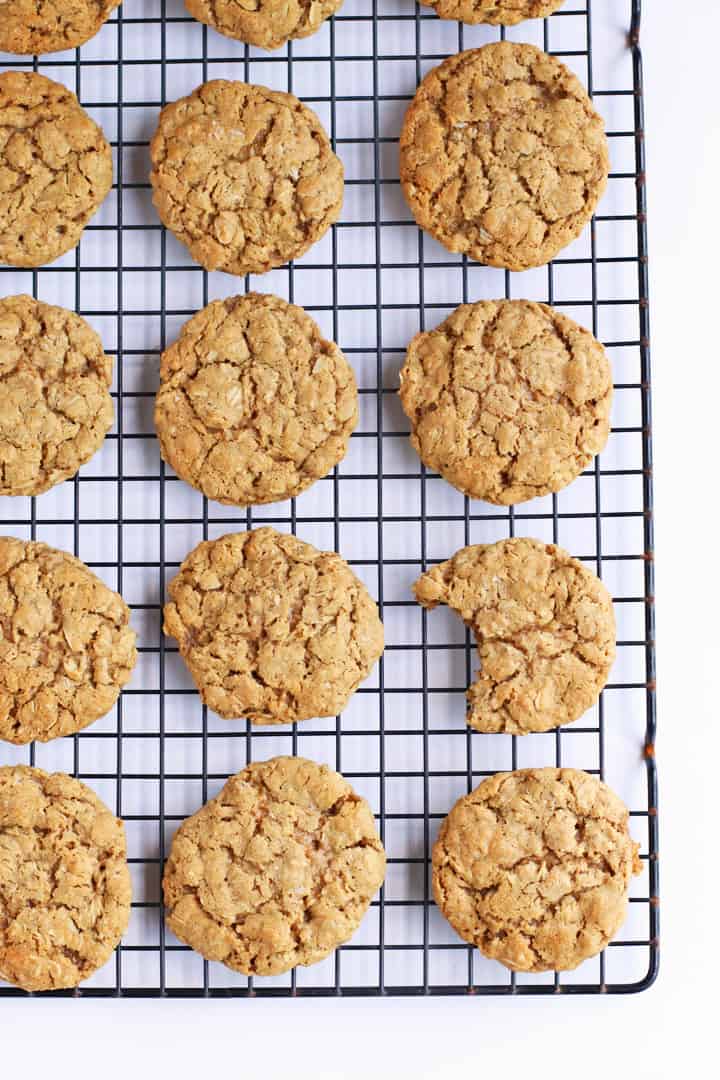 Beyond being versatile with texture, these vegan oatmeal cookies are also easily adaptable with mix-ins. Add raisins, peanuts, chocolate chips, pumpkin seeds, you name it, for a different cookie every time.
But, honestly, I recommend these vegan oatmeal cookies just the way they are.
There is something to be said about the classic taste of a simple oatmeal cookie filled with caramel flavors and sweet oats that are baked to perfection with a chewy crisp in every bite. With that combination, you can never go wrong.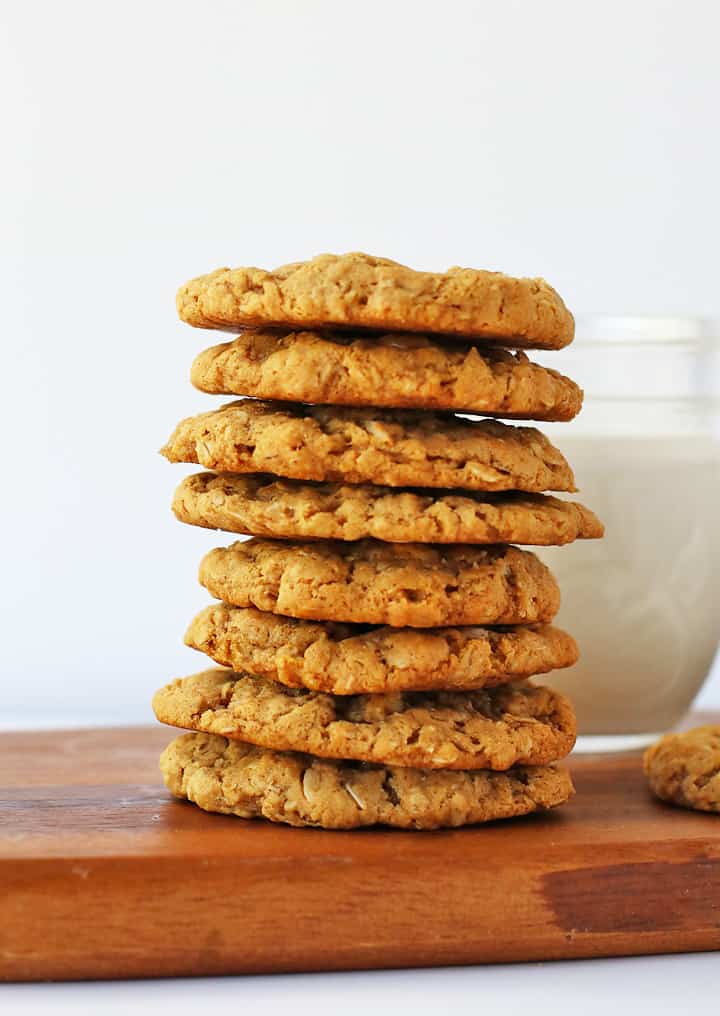 While I prepare for my trip, you should prepare yourself some of these vegan Oatmeal Cookies.
They can be made in just 20 minutes with 9 ingredients that you probably already have on hand. Simple and delicious. If you give these cookies a try, let me know what you think by leaving a comment below. Or snap a photo and share it on Instagram so that I can see your creations. I absolutely love your feedback!
A few of my other favorite vegan cookie recipes
Vegan Oatmeal Cookies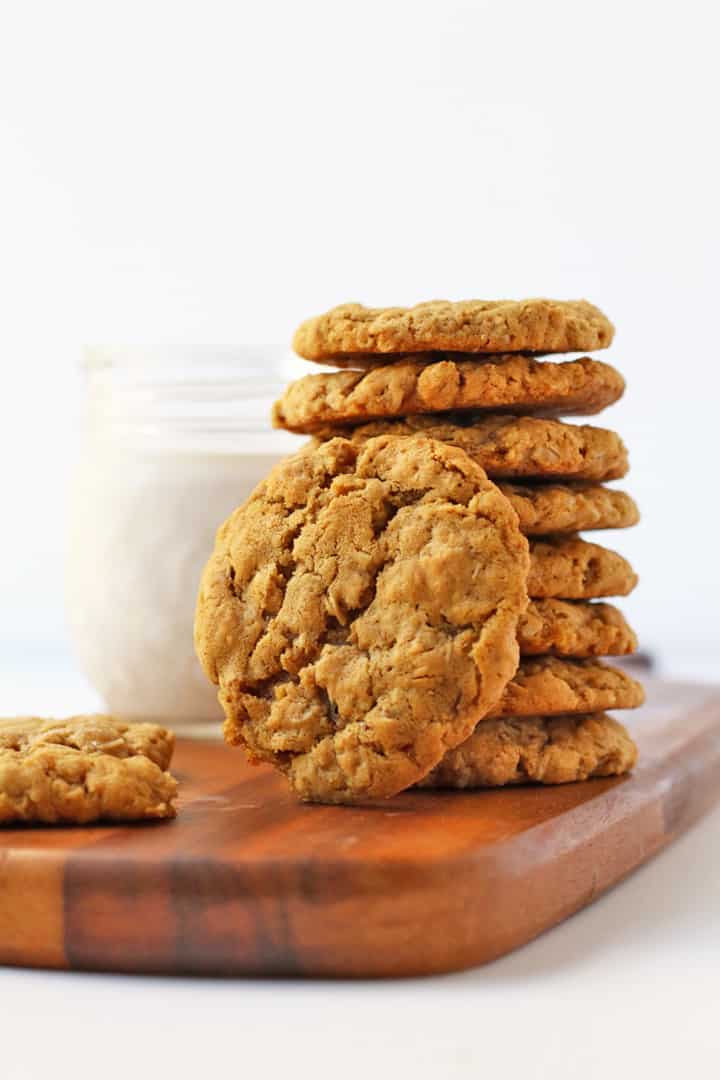 Chewy Vegan Oatmeal Cookies with the perfect crispy outside and melt-in-your-mouth caramel center. Ready in just 20 minutes for a quick and delicious sweet treat.
Keyword:
Vegan Oatmeal Cookies
Ingredients
3/4

cup

vegan butter

3/4

cup

granulated sugar

3/4

cup

brown sugar

1/3

cup

unsweetened apple sauce

1 1/2

tsp

vanilla extract

2 1/4

cup

old fashioned oats

1 1/2

cup

all-purpose flour

1 1/2

tsp.

baking soda

1

tsp.

cinnamon

1

tsp.

salt
Instructions
In a stand up mixer, with the paddle attachment, cream together the vegan butter with brown and granulated sugars until thick and creamy, scraping down the sides as necessary.

Add applesauce and vanilla extract and beat to combine. The dough may look curdled at this point.

In a large bowl combine oats, flour, baking soda, cinnamon, and salt. With the mixer on low, add the dry ingredients to the butter/sugar mixer in 3 batches, scraping down the sides of the bowl between each batch. Mix until a uniform dough has formed.

Wrap bowl in plastic wrap and place in the refrigerator to chill for 30 minutes before baking.

Once chilled, scoop out 2 tablespoons of dough at a time and round them between your hands. Place rounded cookies on prepared baking sheet, about 3 inches apart from one another. Repeat until both cookie sheets are filled up. You will likely have extra dough for a 3rd sheet.

Press each cookie down slightly with the palm of you hand and bake for 9-10 minutes. Remove from oven and let cool on the baking sheet for 5 minutes before transferring cookies to a wire cooling rack to cool completely. They will appear slightly underdone when you pull them out of the oven but will continue cooking on the baking sheet.

Store in an airtight container at room temperature for up to 5 days. The uncooked dough can be stored in the freezer for up to 2 months.
Recipe Notes
For a crisper cookie, bake cookies for 12 minutes. 
Nutrition Facts
Vegan Oatmeal Cookies
Amount Per Serving
Calories 100
Calories from Fat 27
% Daily Value*
Total Fat 3g 5%
Sodium 141mg 6%
Potassium 32mg 1%
Total Carbohydrates 16g 5%
Protein 1g 2%
* Percent Daily Values are based on a 2000 calorie diet.
If you give this recipe a try, let us know what you think in the comments below. Or snap a photo and share it on Instagram. Make sure to tag @mydarlingvegan so I can see your creations!