This rich and dense vegan Flourless Chocolate Cake is also gluten-free for a decadent dessert nearly everyone can enjoy. Made with just 7 simple ingredients for a quick and easy sweet treat.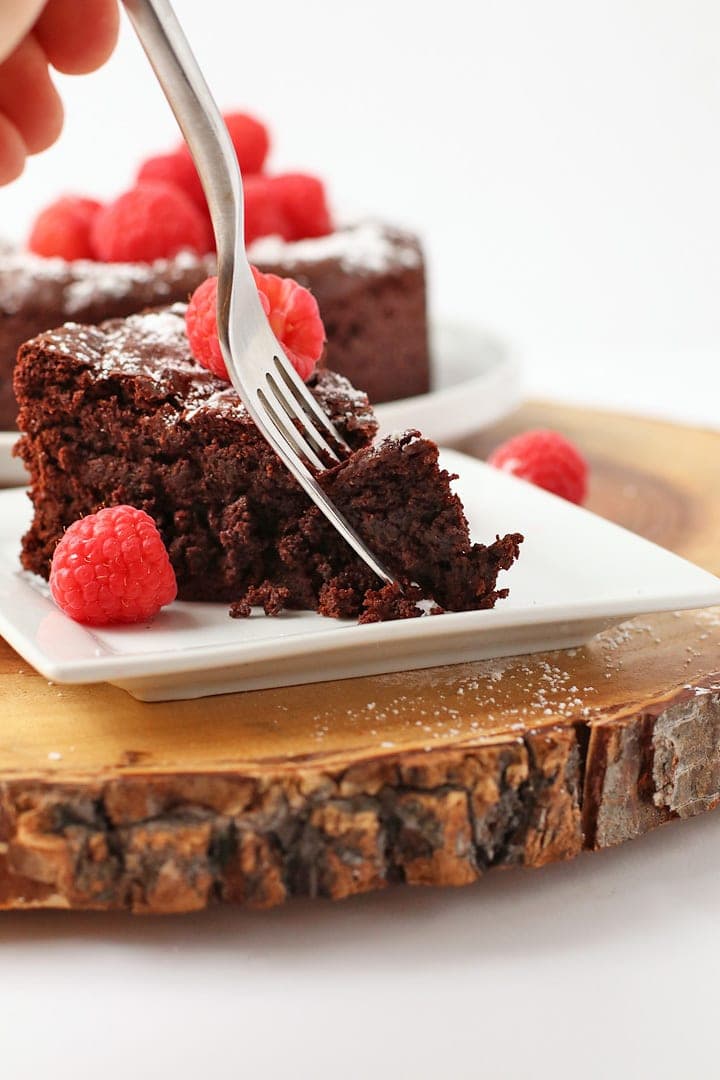 This post contains affiliate links. For more information see my privacy policy.
Before my blogging days, I spent many years as a baker.
Among my most notable jobs, was the cake maker at a popular dessert restaurant here in Portland. There I learned how to make the perfect meringues, chiffon cakes, Italian buttercreams, and French gateaus. These recipes were all traditional (non-vegan, that is) and so I spent a lot of time justifying my decision to work in an environment that was at complete odds with my deepest values.
I told myself that someday, after I understood the technique (and had enough financial freedom to be a bit choosey about where I worked), I would take everything I learned from my time in the food service industry and veganize it.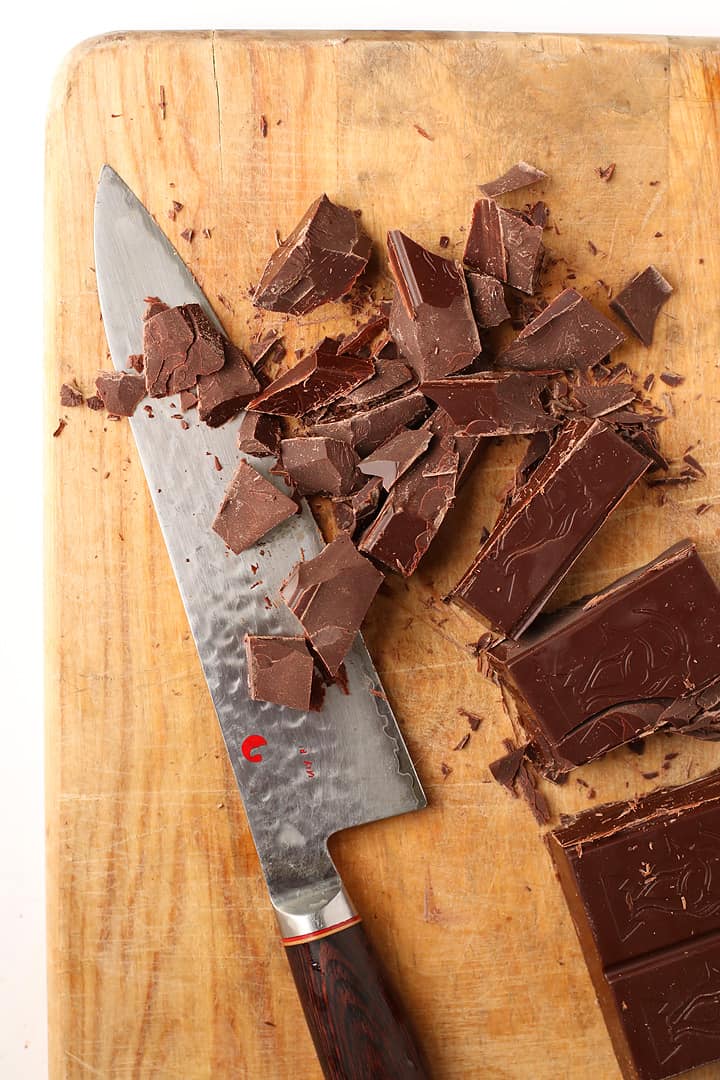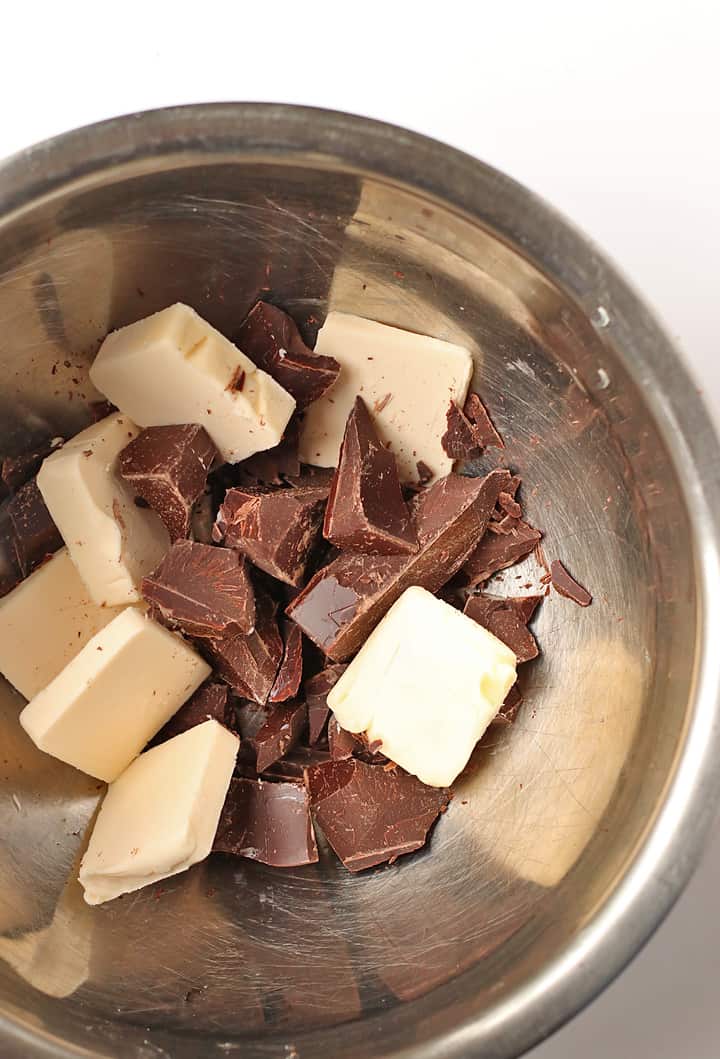 I've worked on on this goal over the past 6 years of blogging, veganizing desserts such as creme brûlées, pots de creme, baccone dolces, and so much more. Every time I perfect one of these delicate desserts that rely so much on eggs, I feel immense satisfaction that I am making dreams come true.
But I'm not done veganizing.
And so today I bring you this vegan flourless chocolate cake.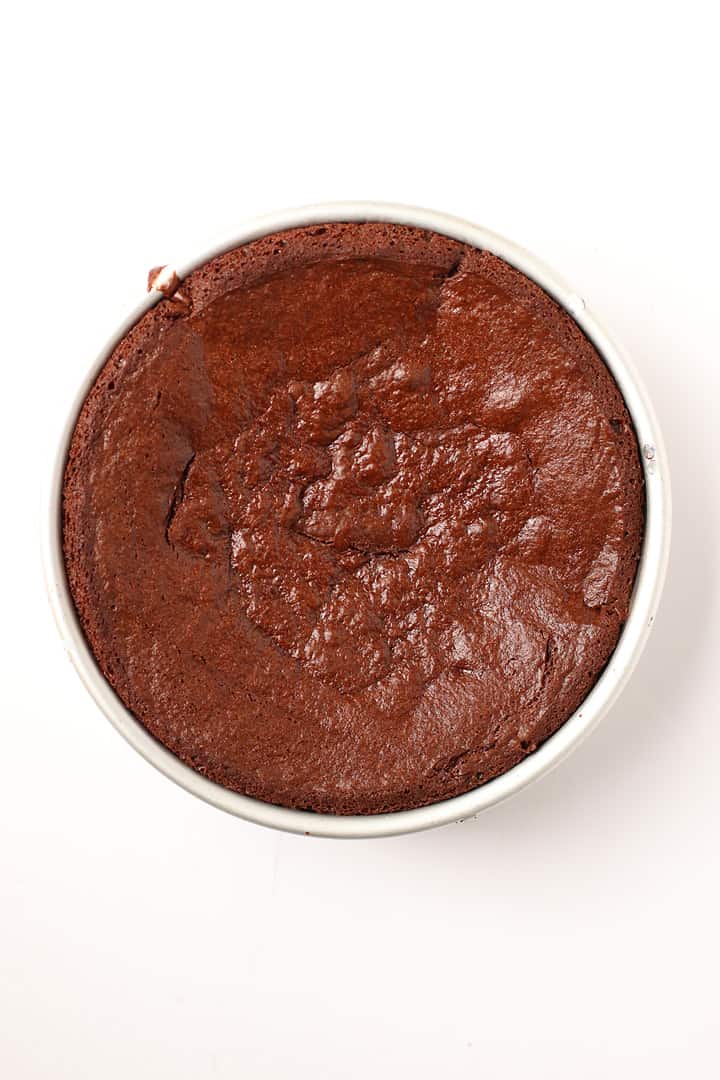 This flourless chocolate cake is another classic dessert I made a lot in the various bakeries I worked in. Traditionally, rather than relying on flour for the structure, this cake relies on eggs. This technique gives the cake a delicate structure that is incredibly rich and decadent, more similar to a brownie than a cake.
This vegan flourless chocolate cake took some experimenting.
5 attempts later, I discovered the perfect egg replacer (the chickpea eggs) and the perfect ratio of liquid to chickpea flour. I love the chickpea flour because it has serious binding powder, similar to that of eggs which gives the cake it's structure. It also is completely flavorless* meaning it won't affect the taste of the cake itself (unlike some other vegan egg replacers). And, lastly, it's super simple to work with. There is no grinding, blending, whipping, or crossing your fingers that everything will come out okay.
*IMPORTANT – while cooked chickpea flour is completely flavorless, raw chickpea flour has a potently unpleasant taste. That means you won't want to be licking the spatula for this recipe.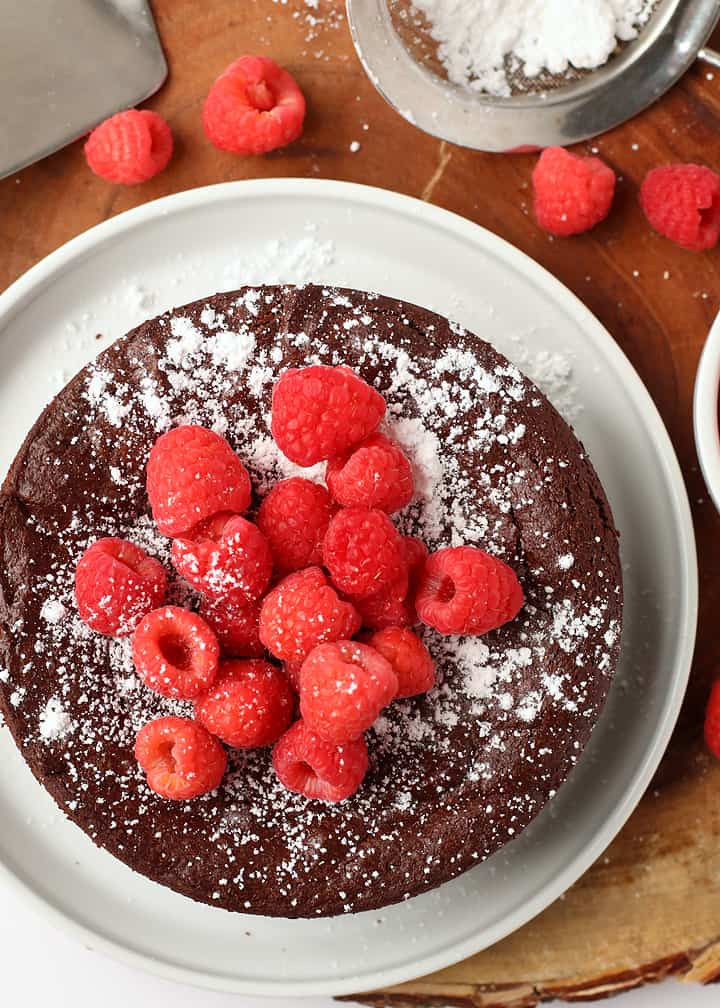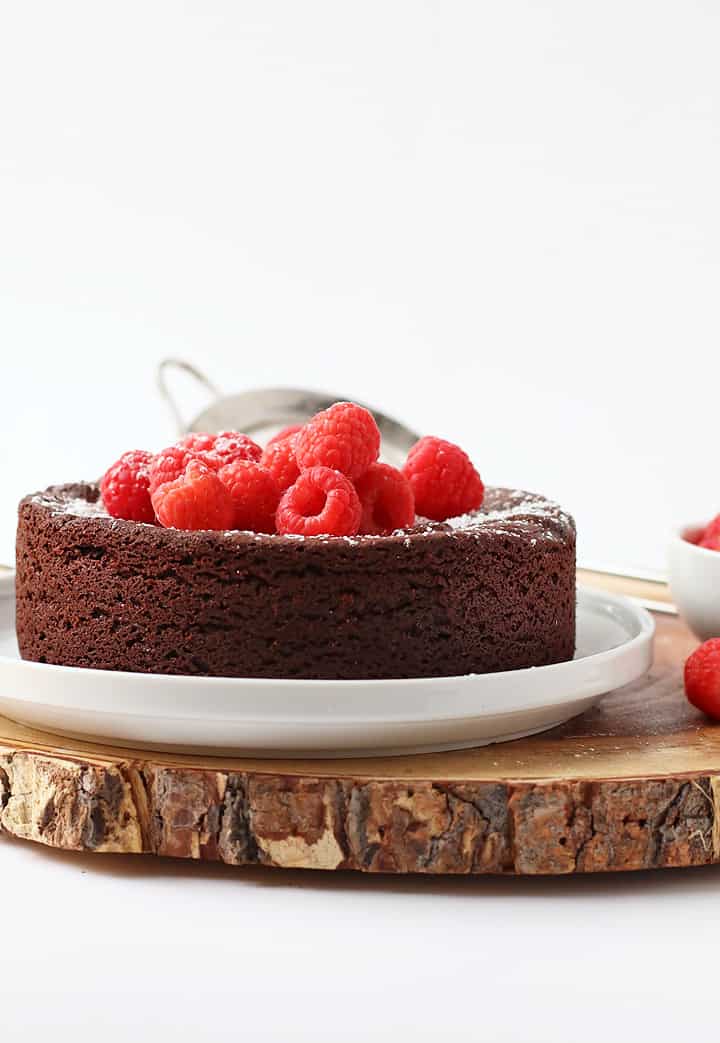 This cake requires a bit of technique:
GENTLY melt your chocolate and butter. This can be done in a double boiler or with a metal bowl placed over a pot of steaming water that has been removed from the heat. Stir the chocolate butter mixture with a spatula, taking careful effort not to over mix.
Make sure to completely hydrate the chickpea flour and soy milk. This can be done with careful stirring or you could blend it up in a small blender.
Fold in your cocoa powder. Again you want to be careful not to agitate the chocolate by over-mixing. Gently fold in the cocoa powder until the batter is evenly hydrated.
Bake gently. You want to bake this at 325 F. Do not open the oven door before 35 minutes of baking or the cake will fall. Check the cake at 35 minutes and give it a gentle shake. To know the cake is ready, the cake should not be wobbly and a thin top crust will have formed.
Let the cake set up in the pan for at least 30 minutes before removing. Because this cake lacks the same structure that flour gives cake, it could fall apart if removed to early from pan.
That's it! I think you've got it. Ready to make some vegan flourless chocolate cake with me?
Let's go!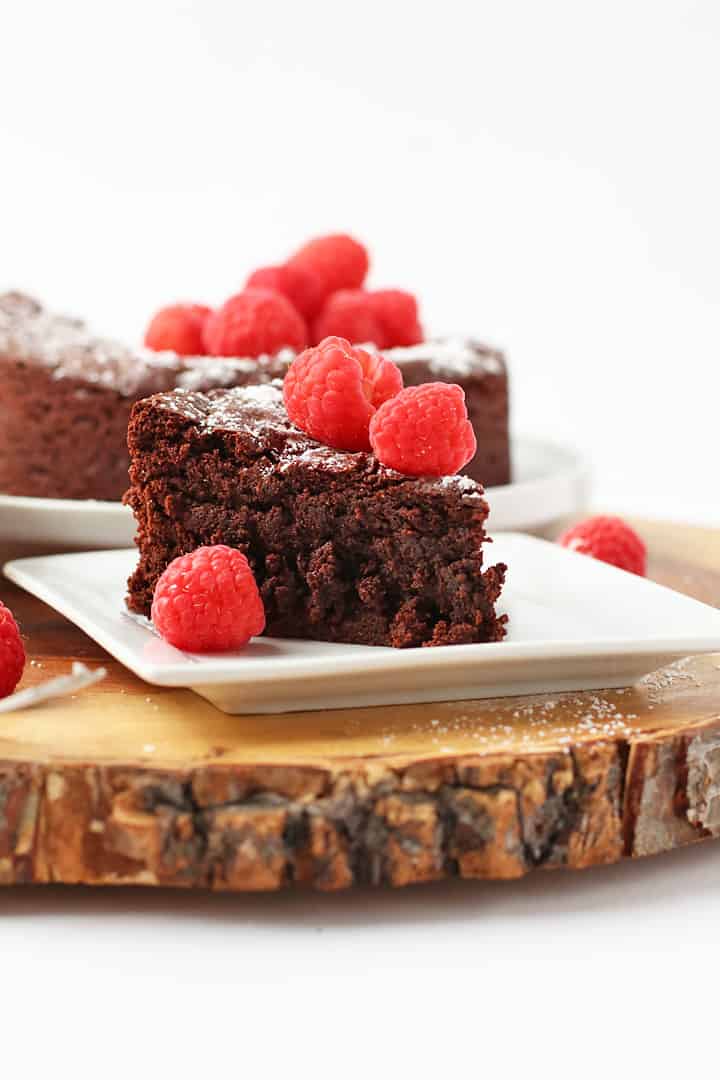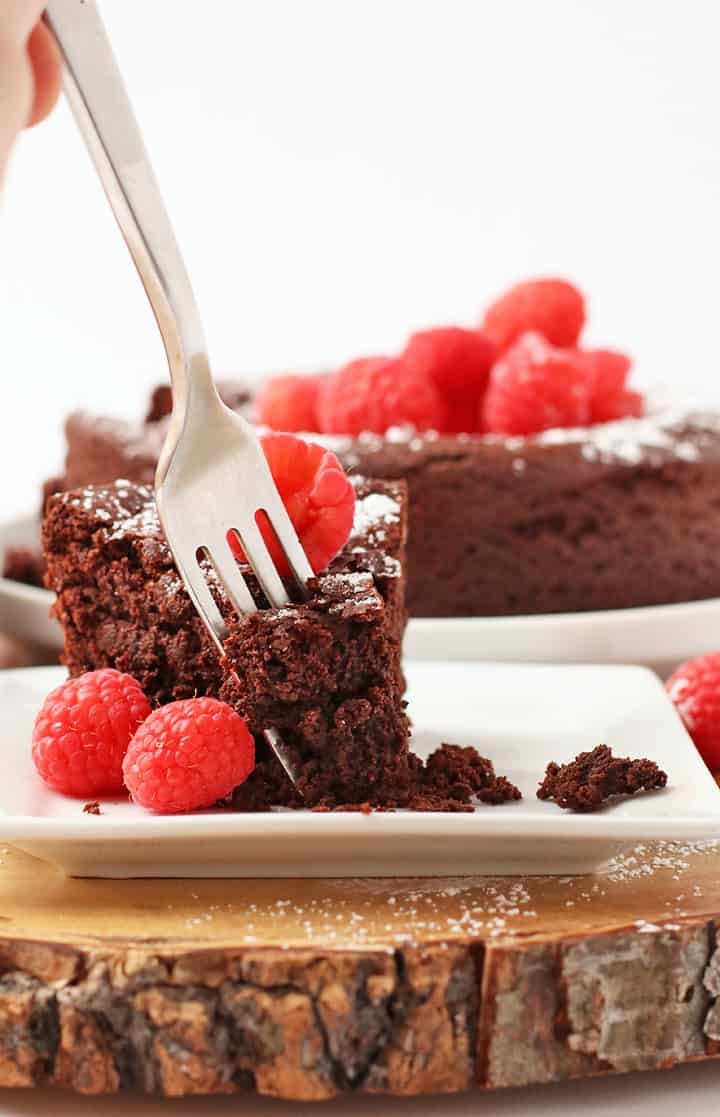 Vegan Flourless Chocolate Cake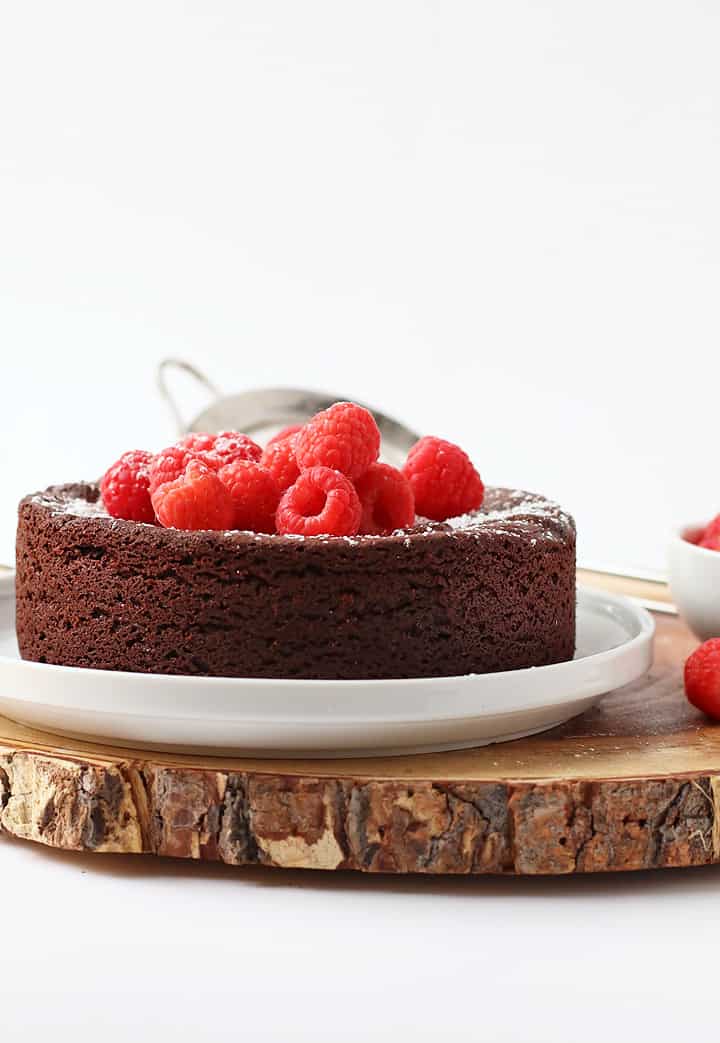 This rich and dense vegan Flourless Chocolate Cake is also gluten-free for a decadent dessert nearly everyone can enjoy. Made with just 7 simple ingredients for a quick and easy sweet treat.
Keyword:
Vegan Flourless Chocolate Cake
Ingredients
4

ounces

vegan dark chocolate,

chopped

6

tbsp

vegan butter

2/3

cup

granulated sugar

1/2 cup + 2

tbsp

chickpea flour

1/2

cup

soy or cashew milk

1/2

cup

cocoa powder

1/4

tsp

baking soda

1/2-3/4

cup

fresh raspberries

powdered sugar,

for dusting
Instructions
Preheat the oven to 325 F. Generously spray a 6" cake pan and set aside.

In a double boiler, gently melt the chocolate and butter together, stirring occasionally.

While chocolate melts, whisk together chickpea flour and soy milk until a thick gooey paste has formed. Make sure chickpea mixture is evenly hydrated throughout.

Once the chocolate and butter are melted, stir in sugar until it is dissolved. Add chickpea/milk mixture, stirring with a spatula to combine. Fold in cocoa powder and baking soda until a uniform batter is achieved.

Transfer batter to prepared cake pan and bake for 35-40 minutes, until a thin crust has formed and cake doesn't wobble when gently shaken.

Remove from oven and let set up in pan for 30 minutes before transferring to a wire cooling rack to cool completely.

Refrigerate until ready to serve. Dust with powdered sugar and fresh raspberries to serve.
Recipe Notes
Do not eat this batter raw. Chickpea flour has a very potent taste when consumed raw. This is completely disappear once baked. 
Nutrition Facts
Vegan Flourless Chocolate Cake
Amount Per Serving
Calories 293
Calories from Fat 126
% Daily Value*
Total Fat 14g 22%
Cholesterol 2mg 1%
Sodium 167mg 7%
Potassium 152mg 4%
Total Carbohydrates 41g 14%
Protein 3g 6%
* Percent Daily Values are based on a 2000 calorie diet.
If you give this recipe a try, let us know what you think in the comments below. Or snap a photo and share it on Instagram. Make sure to tag @mydarlingvegan so I can see your creations!