Is Sugar Vegan? This is one of the most commonly asked questions in the vegan community. What makes sugar NOT vegan-friendly and how do we find vegan sugar? Here is the break down of sugar that every vegan should know.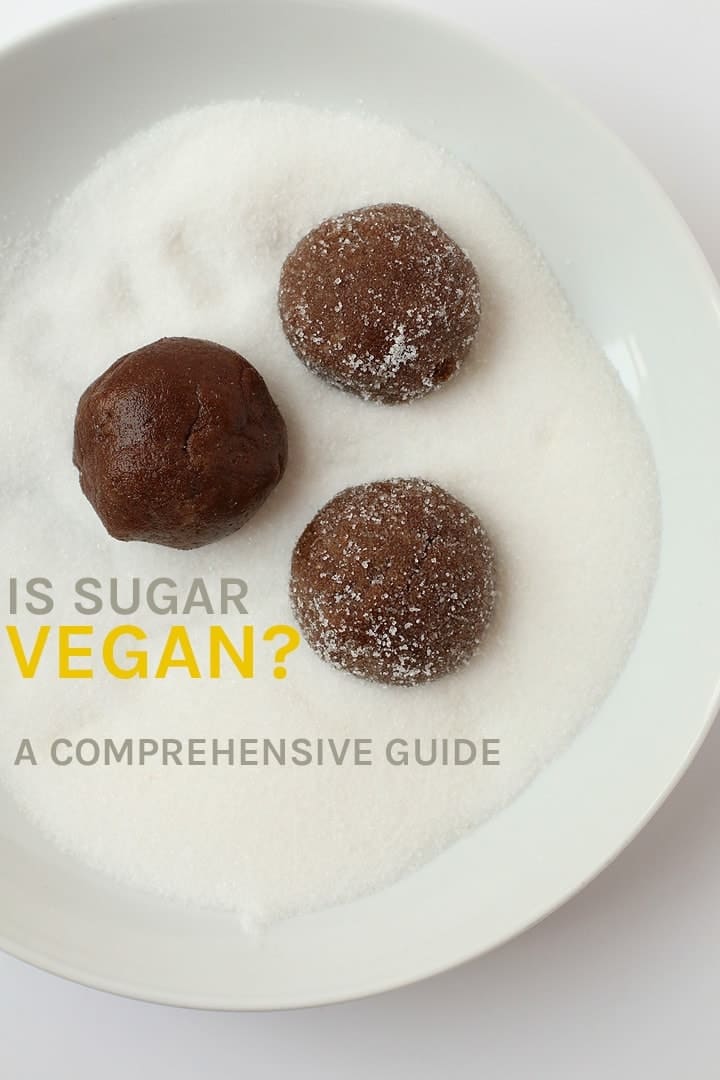 Disclosure: This post may contain affiliate links.
Inevitably, after posting a flourless chocolate cake or chewy vegan brownies, my inbox gets peppered with a few emails asking about sugar.
Is sugar vegan?!
The answer is yes, but not always. Because it's complicated, and not necessarily something you can figure out easily, I decided it was time to put together a comprehensive guide that answers the question once and for all.
---
Different Types of Sugar
When we are talking about whether sugar is vegan or not, we are specifically talking about refined sugar, aka, table sugar. That is the sugar we most commonly used in baking. White, brown, and powdered sugar all can classify as refined sugar. Refined sugar comes from two sources: sugarcane and beets.
While the two sugars are very similar in taste and texture, the refining process from these sources is very different. The good news is that beet sugar is ALWAYS vegan. The process of making sugar from beets simply does not require the same level of processing.
Hooray!
However, cane sugar, traditionally the more common option, is where things get a little tricky. When asking about refined cane sugar, the answer would be, "sometimes."
---
What makes sugar not vegan?
Let's start with why some sugars are not considered vegan. To make refined sugar from sugarcane, the sugar cane stalks are crushed to separate the juice from the pulp. The juice is then processed, filtered, and bleached with bone char. That pure white color we associate with sugar - yeah, that comes from the bone char.
Now it's important to note that this type of sugar does not actually CONTAIN bone char. But because it is part of the process, most vegans would not eat this kind of refined sugar.
Now I've got more good news. Not all refined sugars practice this unnecessary bone char process. Yes, my friends, vegan sugar is everywhere!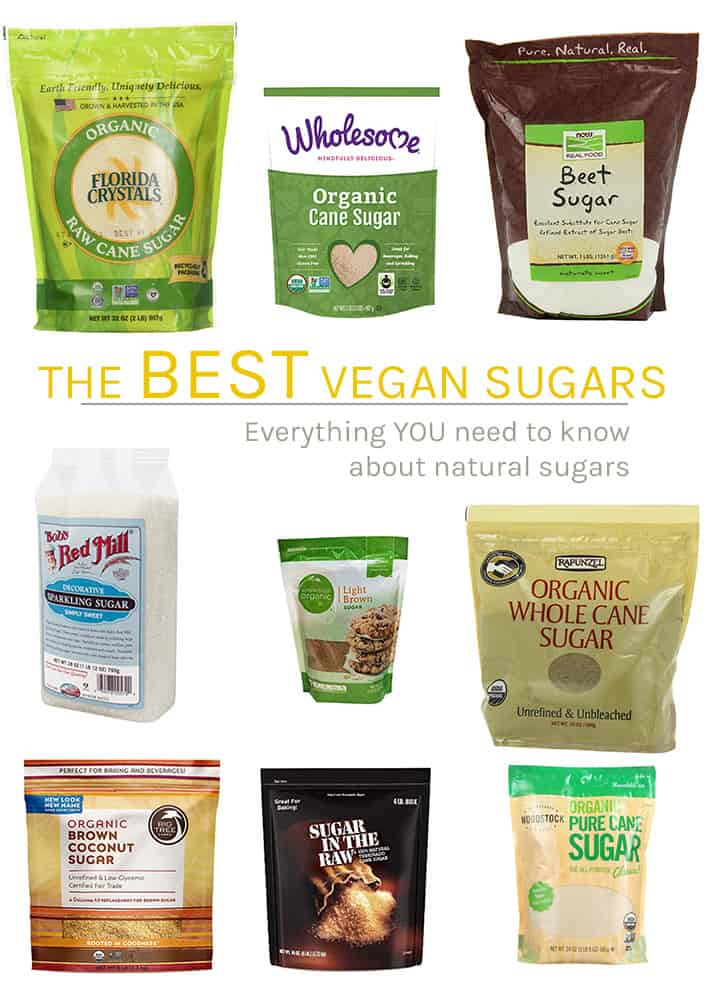 How to Tell if Sugar is Vegan
Sugar that comes from sugar beets is considered vegan; the process does not involve bone char. The brand of beet sugar I often use is this one from Now. (<<affiliate links) Beet sugar has virtually the same taste and texture as cane sugar; the difference between the two is negligible.
If you want to stick with cane sugar, sometimes you'll find brands that will actually say vegan but most are not certified vegan and therefore, cannot advertise that.
Here are a few other words that you can look for to feel confident that your sugar is, indeed, vegan:
Organic
Unrefined
Natural
Raw
When a label uses any of these adjectives, you can rest assured that it has not been filtered with bone char. In the organic practice, the sugar cane juices are boiled, spun in a centrifuge, and dried into sugar crystals. These sugars are not as pure white but can be substituted in any recipe.
---
Best Vegan Sugar Brands
The following links contain affiliate links. That means I get a small commission if you purchase through my link at no extra cost to you. For more information please see my privacy policy.

There are many options for vegan sugar. This is my favorite brand. Not only is it vegan but it's GMO-free and fair trade. (Fair Trade is incredibly important in the sugar industry. I'm not going to get into that here, but you can read all about it here.)
Wholesome! products bake and cook exactly as one would expect sugar to and they also carry brown sugar and powdered sugar, too!
A few other vegan sugar brands to look out for: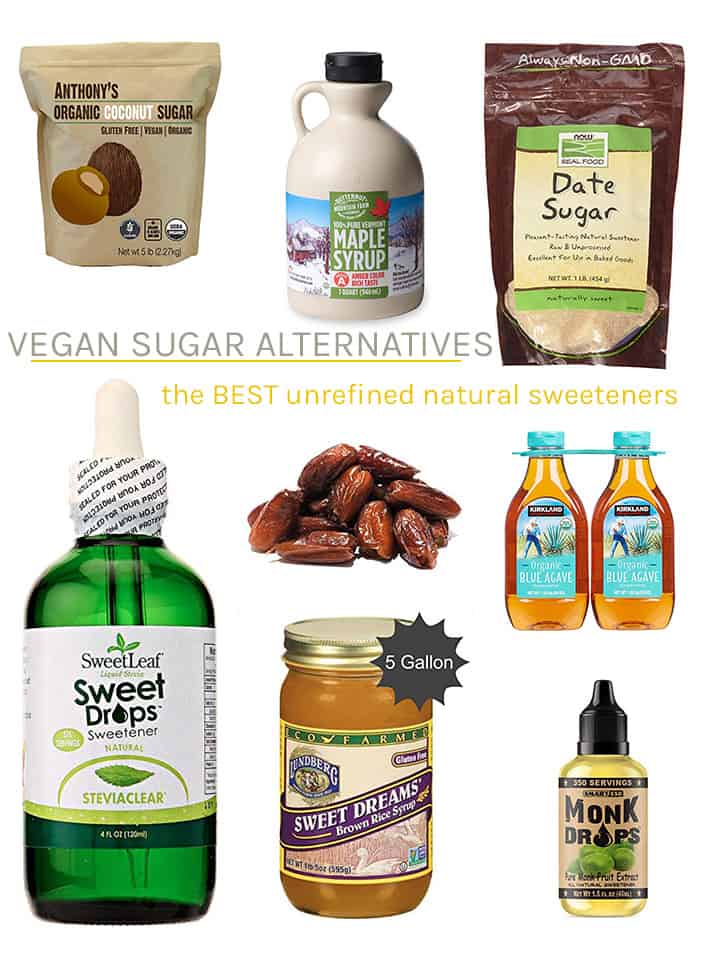 Healthier Sugar Alternatives
Many people choose to avoid refined sugar for health reasons. I believe in the benefit of avoiding refined sugar and respect those who do. For those of you who want to avoid refined sugar altogether, here are some sweetener alternatives.
Date Sugar - To replace white sugar with date sugar, substitute with a 1:1 ratio
Maple Syrup -To replace white or brown sugar, substitute ¾ cup of maple syrup for each cup of white or brown sugar. Reduce liquids by 3 tablespoons for every cup of maple syrup.
Dates - To replace make a date paste by puréeing dates in hot water to form a thick paste. Substitute 1 cup date paste for 1 cup of sugar.
Coconut Sugar - To replace brown sugar with coconut sugar, substitute with a 1:1 ratio
Stevia -In baking, substitute ½ teaspoon of undiluted stevia powder or 1 teaspoon of a liquid stevia extract for each cup of sugar.
Monk Fruit - In baking, substitute 1 teaspoon monk fruit sweetener for each cup of sugar.
Brown Rice Syrup - Substitute 1 ⅓ part Brown Rice Syrup for brown or white sugar. Reduce liquid 3 tablespoon per cup of sugar.
Agave Nectar -Substitute ⅔rd cup agave for every 1 cup of sugar. Reduce the liquid in the recipe by 3 tablespoons per cup of sugar.
Please note, these are merely guidelines. When replacing sugar with natural sweeteners, the recipe will likely require additional tweaking.
---
TLDR; Is sugar vegan?
Beet sugar is always vegan
Cane sugar, when labeled organic, natural, raw, or unrefined is also vegan
Avoid granulated refined sugars that do not mention any of the above adjectives
When avoiding refined sugar altogether, there are many sugar alternatives.
---
Vegan Desserts to Try
Now that we've established that sugar can be vegan, we can start baking! Let's take a look at some vegan desserts worth trying.
Get all my vegan dessert recipes here.
Written by Sarah McMinn
If you give one of these recipes recipe a try, snap a photo and share it on Instagram. Make sure to tag
@mydarlingvegan
so I can see your creations!