Get energized with this Matcha Chia Pudding filled with the best protein-rich superfoods like chia seeds, goji berries, and matcha green tea.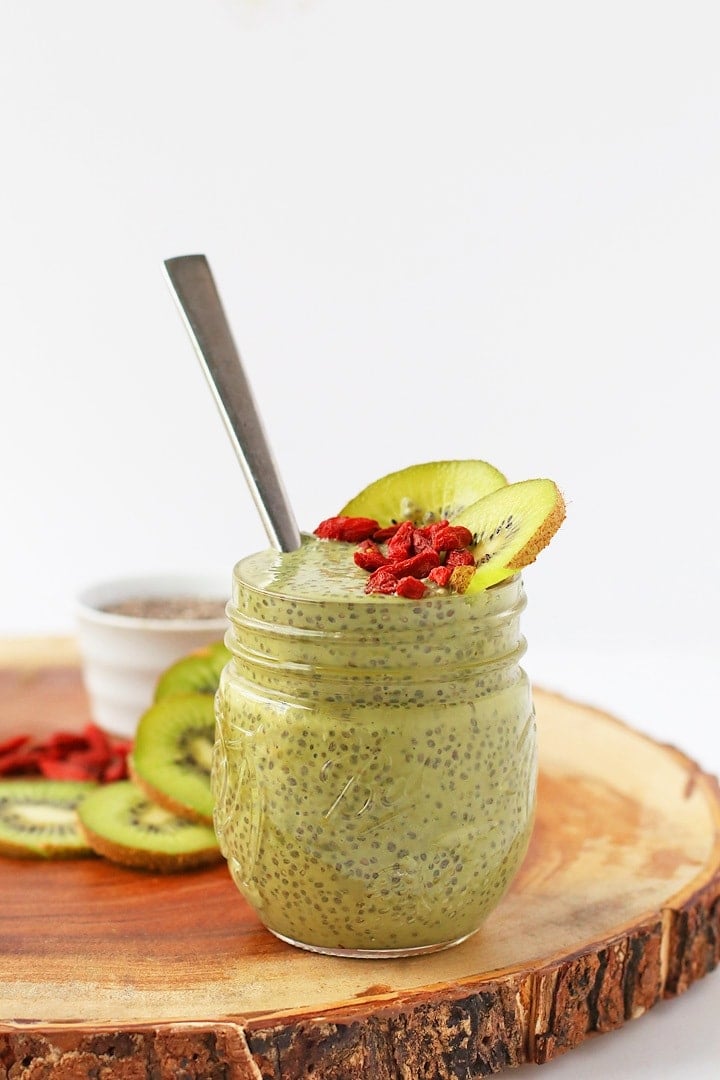 Last May I quite coffee.
At the time, it was a heartbreaking realization that my body and coffee did not get along. For a few months, I resisted, switching to decaf soy lattes rather than the 4 cups of regular black coffee I was used to drinking, but within 4 months it became apparent that coffee and I were never going to be friends.
It was not easy to let go of coffee. The habit was strong and I loved the taste but more than anything, I needed something to look forward to every morning when my two darling children woke me up way too early.
Then I discovered matcha.
What is a Matcha Green Tea?
Matcha green tea originated in Japan. It is made from specially grown green tea leaves that are ground into a fine powder. The tea plants for matcha are shade-grown which allows the plant to produce tea with more caffeine than traditional green tea plants.
I started drinking matcha lattes as a way to replace my coffee addition. I had read that, unlike coffee, matcha has a calming effect. But still having plenty of caffeine, matcha helped me make the transition. Now I wake up in the morning with a boost of calm enhancing, clean energy rather than the heart pumping, jittery energy from before. Beyond the nice calming effect, I found that there were so many other benefits to a daily matcha latte.
---
Benefits of Matcha Green Tea
Not only is matcha delicious, but matcha green tea is one of the most beneficial superfoods ever. It
is super high in antioxidants
detoxifies the body
boosts metabolism and burns calories
is rich in fiber, vitamin C, and other important minerals
strengthens the immune system
Now, perhaps, you're beginning to see why it is one of my favorite superfoods. And that's why I don't just drink matcha. I sneak matcha into my food every way I can. Be it oatmeal, lattes, or chocolates, I love my matcha powder.
So now, instead of brewing a pot of coffee every morning, I wake up to a matcha latte. Many months later, I once again have something to look forward to in those early hours before the sun rises.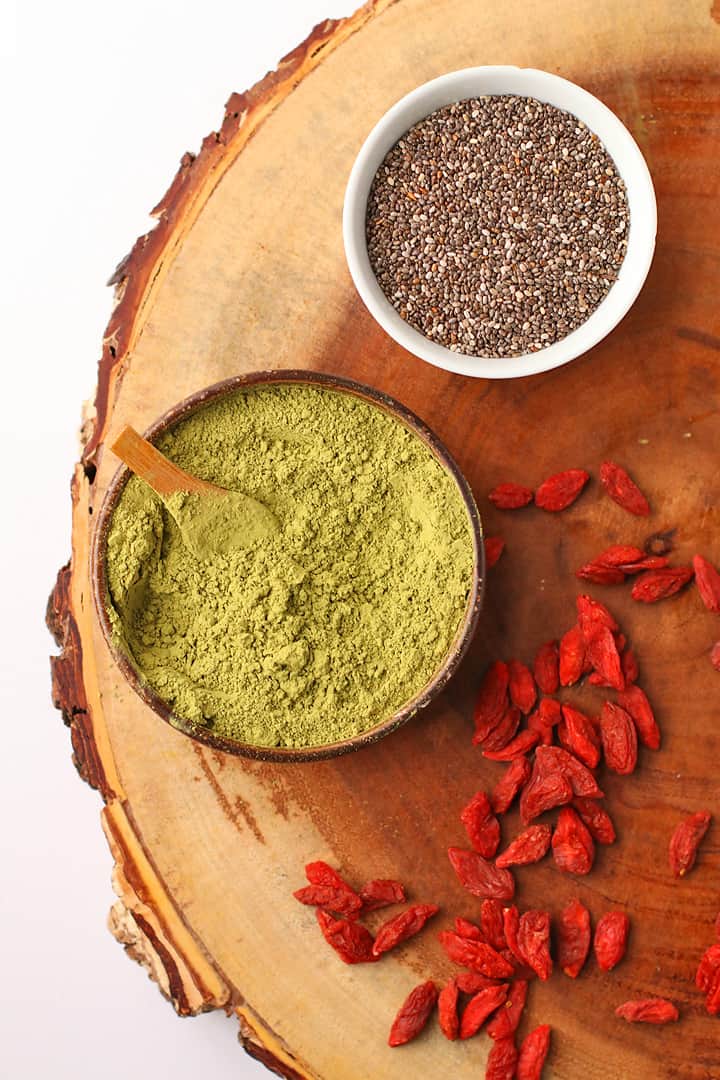 But you're not here for a matcha latte recipe (although, I highly recommend this one if you're looking for one). You're here for Matcha Chia Pudding!
This recipe takes everything that I love about my matcha lattes (matcha powder + macadamia nut milk), adds a few more superfoods, and turns them into a refreshing and energizing pudding to enjoy for a light breakfast or throughout the day for a pick-me-up snack. This pudding is filled with some of my favorite superfoods such as chia seeds, goji berries, matcha powder, and cacao nibs.
---
What is Chia Pudding?
Chia pudding is a treat that is decadent enough for dessert and yet wholesome enough for breakfast. It is made by combining chia seeds with milk, a sweetener, and your choice of flavors. The chia seeds can either be blended in with the pudding for a creamy custard-like pudding or whisked together by hand for a pudding that is similar in texture to tapioca pudding (such as this Peanut Butter Chia Pudding).
When combined with liquid, chia seeds become gelatinous—creating a natural custard-like texture. This is why, over the years, chia pudding has become wildly popular.
---
Benefits of Matcha Chia Pudding
Chia pudding is delicious and easy to make! It is filled with some of the best superfoods such as chia seeds and matcha powder for a dessert that is high in fiber, protein, omega-3s, and more.
Now that's a good deal!
Chia pudding can be eaten for breakfast, a midday snack, or a wholesome dessert. Because this recipe is vegan, gluten-, refined sugar-, nut-, and soy-free, it's one that nearly everyone, despite food allergies, can enjoy.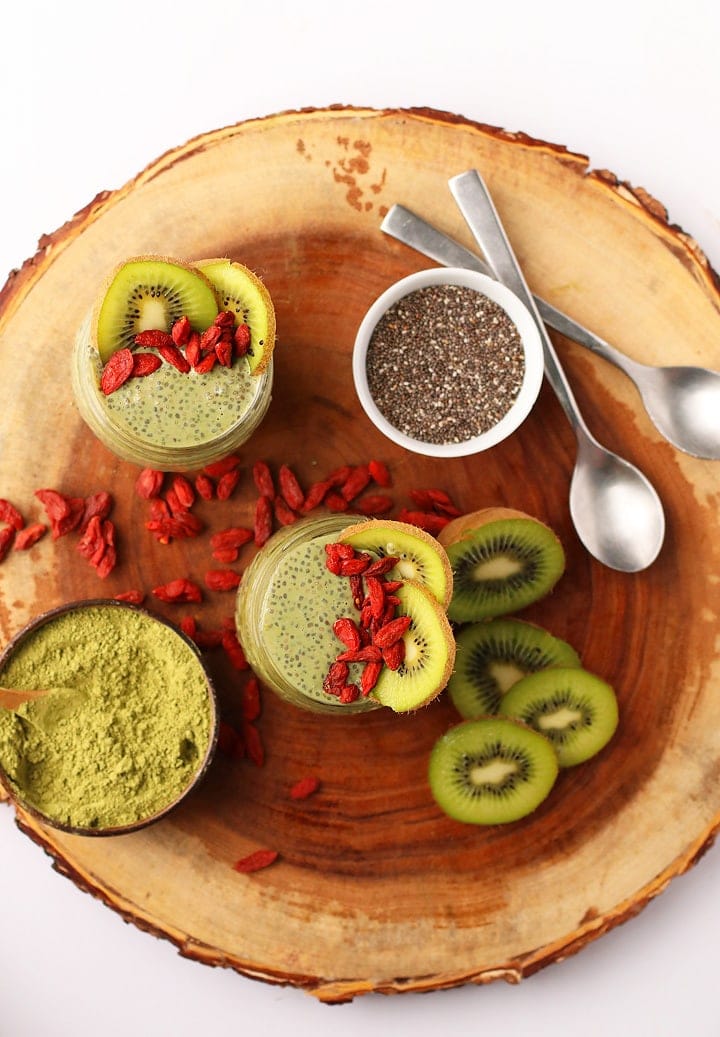 Tips and tricks for making the perfect chia pudding
When making chia pudding, remember this ratio: 4 tablespoons of chia seeds per cup of non-dairy milk. While this can be adjusted slightly if you like a thicker pudding, I have found this ratio works best for me.
The chia pudding needs at least 2 hours to set up in the refrigerator. For best results, let chia pudding set up overnight.
Serve the chia pudding for breakfast, a midday snack, or dessert with fresh berries, kiwi, cacao nibs, and goji berries.
Chia pudding is highly versatile. Consider the variations below for a different pudding every time.
Uneaten chia pudding can be stored in an airtight container in the refrigerator for up to 5 days.
---
Chia Pudding Varieties
Chia pudding is an empty canvas. With the basics down (milk, chia seeds, and sweetener), you can mix and match flavors as you please. Here are a few variations on Chia Pudding:
I think that's all you need to know about chia pudding. Let's take a look at the recipe card below.
Ready to get started? Let's take a look at the recipe card below.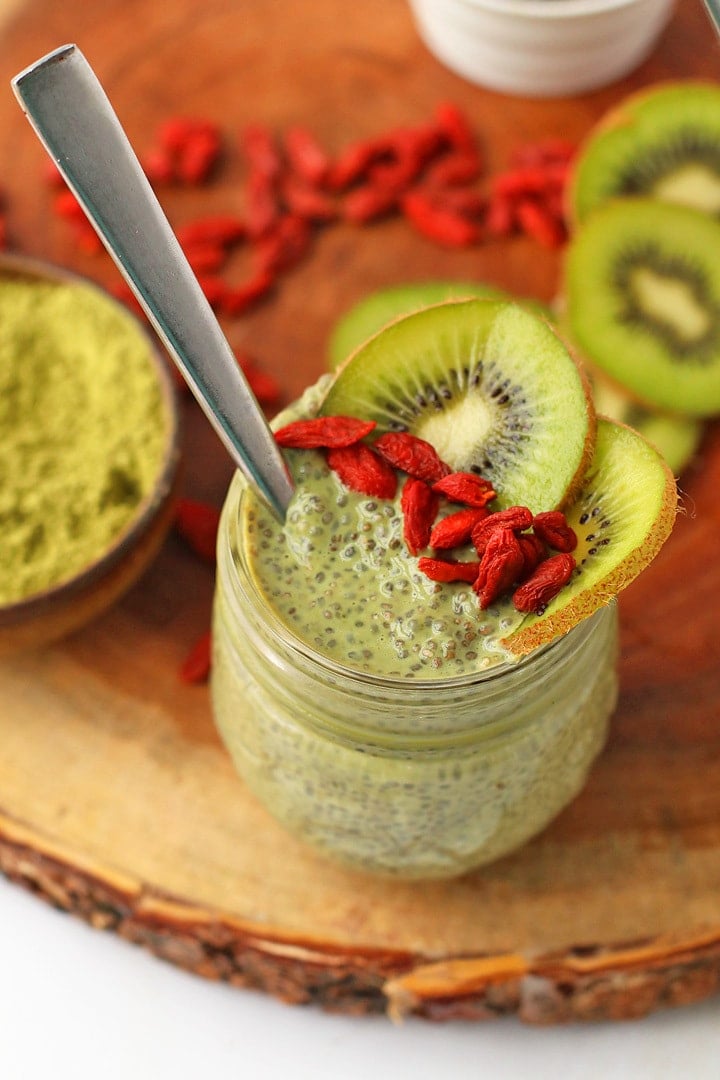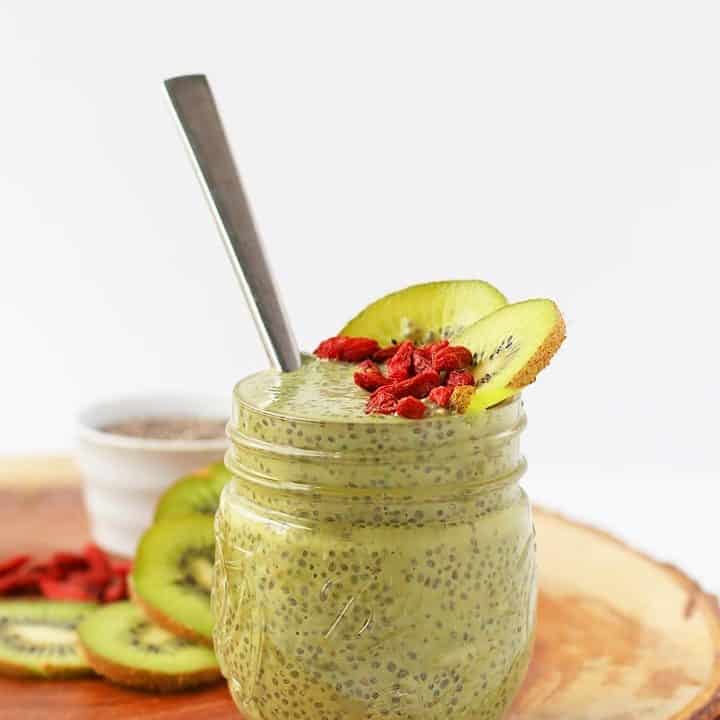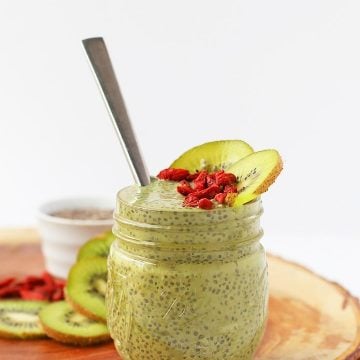 Matcha Chia Pudding
Get energized with this Matcha Chia Pudding filled with the best protein-rich superfoods like chia seeds, goji berries, and matcha green tea.
Print
Pin
Rate
Ingredients
Toppings (optional)
1

kiwi,

peeled and sliced

2-3

tablespoon

goji berries

2

tablespoon

cacao nibs
Instructions
In a small bowl combine all the ingredients for the matcha green tea pudding.

Pour into four 4-ounce mason jars. Securely fasten the lids and refrigerate for at least 4 hours.

After 4 hours, the chia pudding will be thick and creamy. Serve with desired toppings or store in the refrigerator for up to 3 days.
Notes
Prep time is only 10 minutes but the pudding will take another 4 hours to set.
Nutrition
Calories:
231
kcal
|
Carbohydrates:
21
g
|
Protein:
9
g
|
Fat:
11
g
|
Saturated Fat:
2
g
|
Sodium:
80
mg
|
Potassium:
382
mg
|
Fiber:
9
g
|
Sugar:
9
g
|
Vitamin A:
740
IU
|
Vitamin C:
32.3
mg
|
Calcium:
360
mg
|
Iron:
2.9
mg
If you give this recipe recipe a try, snap a photo and share it on Instagram. Make sure to tag
@mydarlingvegan
so I can see your creations!