50 AMAZING Vegan Soup Recipes
There is nothing quite like a warm and comforting bowl of vegan soup. You are going to LOVE these 50 vegan soup recipes. Taken from around the internet, this is the most delicious and cozy soup recipe roundup ever! Let's get cooking.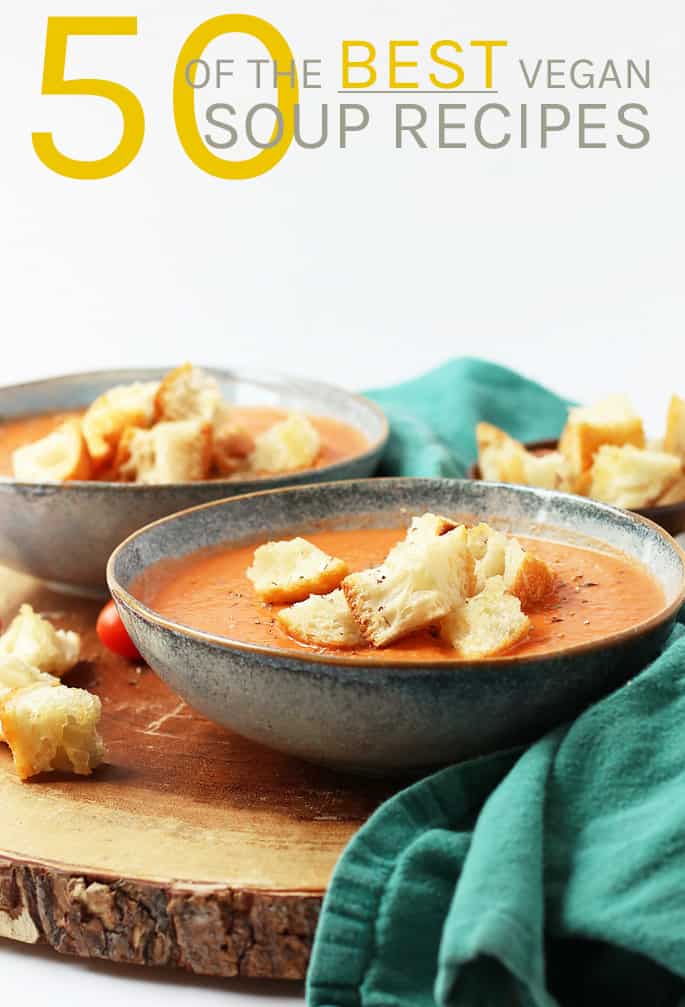 This post contains affiliate links. For more information please see my privacy policy.
This post was originally published on 9/22/2016. Last updated on 11/01/2019
With October over, we head into the winter months. As we begin to hibernate into the coziness of our homes, I'm getting this winter started by warming up my kitchens with steaming pots of vegan soup.
Winter is not my favorite, but what I DO love about this time of year are the endless soups, stews, and chilis. The options and variations of a warm pot of soup are endless, making soup a comfort food that never gets old.
I love vegan soup because:
Most soups are easy to make. They are often one-pot, 30 minutes meals for ultimate comfort and convenience.
You can make a ton! I like to make a batch of soup on Sunday and enjoy it throughout the week for an easy grab-and-go lunch.
Vegan soup is highly versatile, wildly flavorful, and packed with vegetables and protein for a complete and satisfying meal.
What you'll need to make vegan soup
Because most soup is a one-pot meal, you don't need much to make perfectly delicious vegan soups. Puréed soups usually require an immersion blender. Other than that, a sharp knife and wooden spoon will do.
And then, of course, an awesome soup pot.
I love my Dutch Oven from Le Creuset for soups. Made from cast iron, they are perfect for slow cooking and simmering soups and stews. My Dutch Oven is one of the most useful and versatile kitchen tools I have and although it's a bit pricey, you will use this one over and over again (for soups, stews, sides, bread, and even desserts!) and it will last you a lifetime.
While any soup pot will do, when I have loved and trusted kitchen items, I like to share them with you.  As a minimalist, I prefer few, high-quality, multi-functional products and I know many of you share that value. Besides, the holidays are upon us and I know some of you are thinking about gifts for your loved ones already.
Vegan Soup Recipes

Vegan Noodle Soup
I love love love noodle soups. Whether they are Italian-inspired or Asian-inspired, pasta, rice, vermicelli, and soba noodles are all welcome in my soup pot! Noodles provide substance and weight to vegan soups making them a filling and delicious any-time-of-day meal. And with so many options, you never get bored.
Here are some of my favorite vegan noodle soup recipes: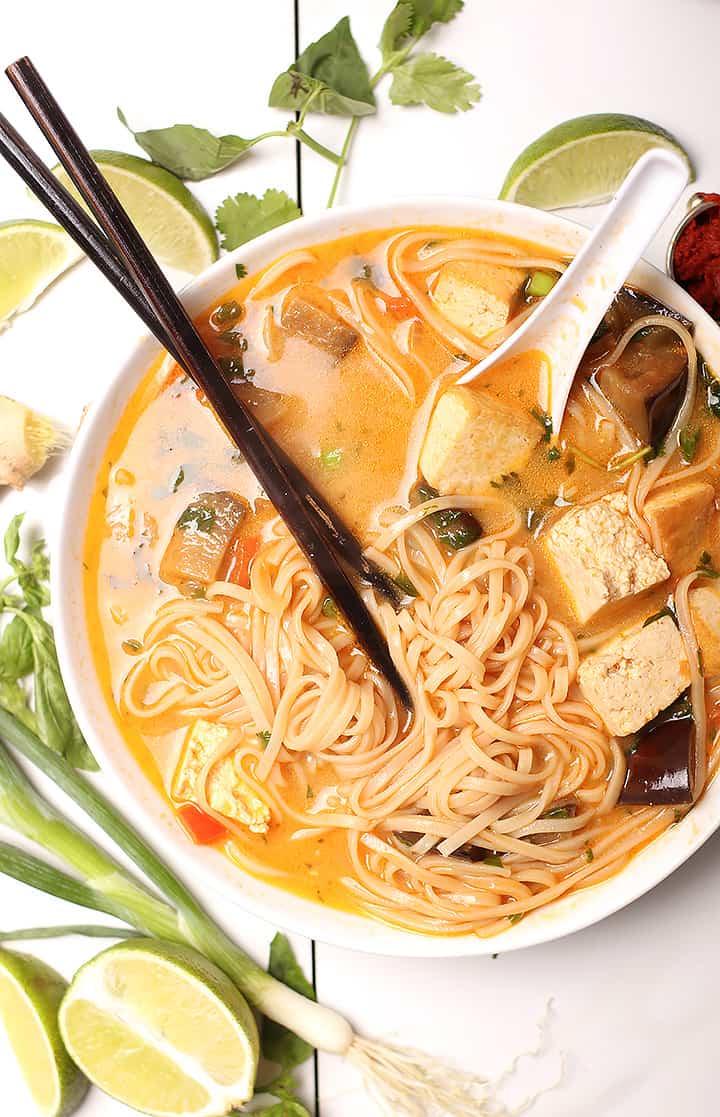 Curries and Curry Soup
If you know me at all, then you know my favorite food is curry. Oh, I love the blend of spices, the rich creaminess, and the hearty vegetables and proteins mixed in with curry flavors. Curries can be served on their own or with bread, rice, or noodles. The options are endless.
It was hard to narrow down, but here are some of my favorite: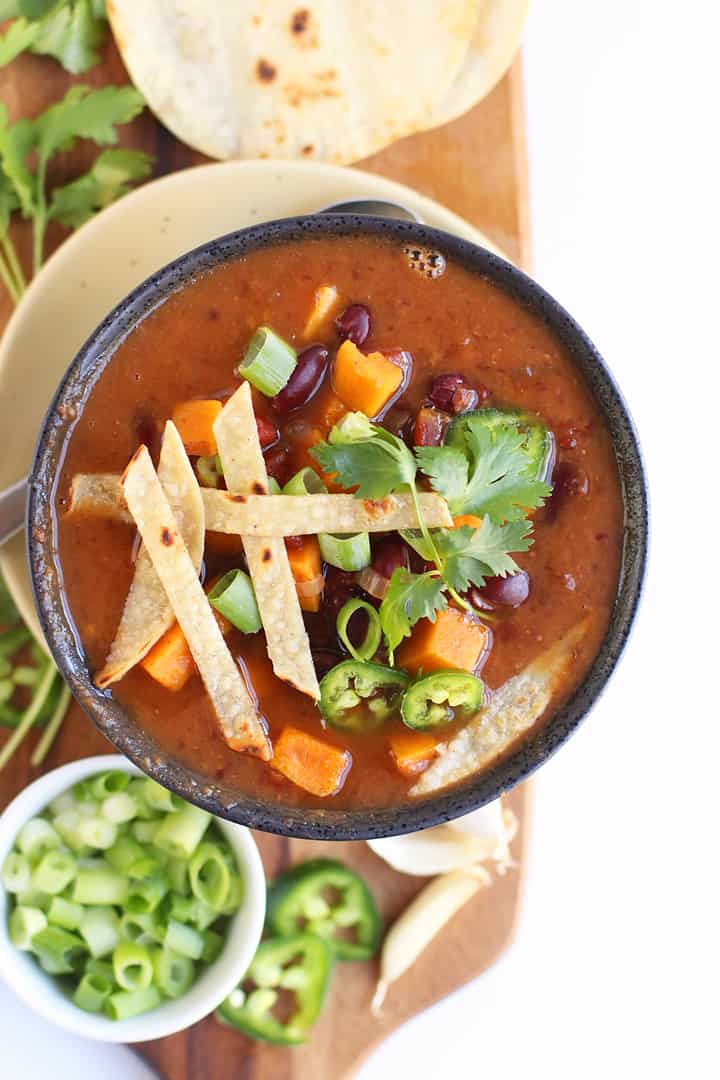 Vegan Chili Recipes
Ah, vegan chili. It was the first meal I learned to make from scratch and so it has a special place in my heart. Chilis are a combination of spices, tomatoes, beans, and vegetables. But don't be fooled – there are so many variations on vegan chili. Pumpkin, tempeh, sweet potato, coffee, and chocolate are a few of my favorite chili-add ins.
Here are some of my go-to chili recipes:

Vegan Stews and Chowders
Stews and chowders are not the same kinds of soup but they are both hearty soups with vegetables and protein and creamy gravy. I love both stews and chowders on cold winter days. They are the perfect slow cooker meal. They are also great in the Instant Pot.  Either way, they are the kind of soup you can prepare and forget about while it stews.
My favorite stews and chowders are: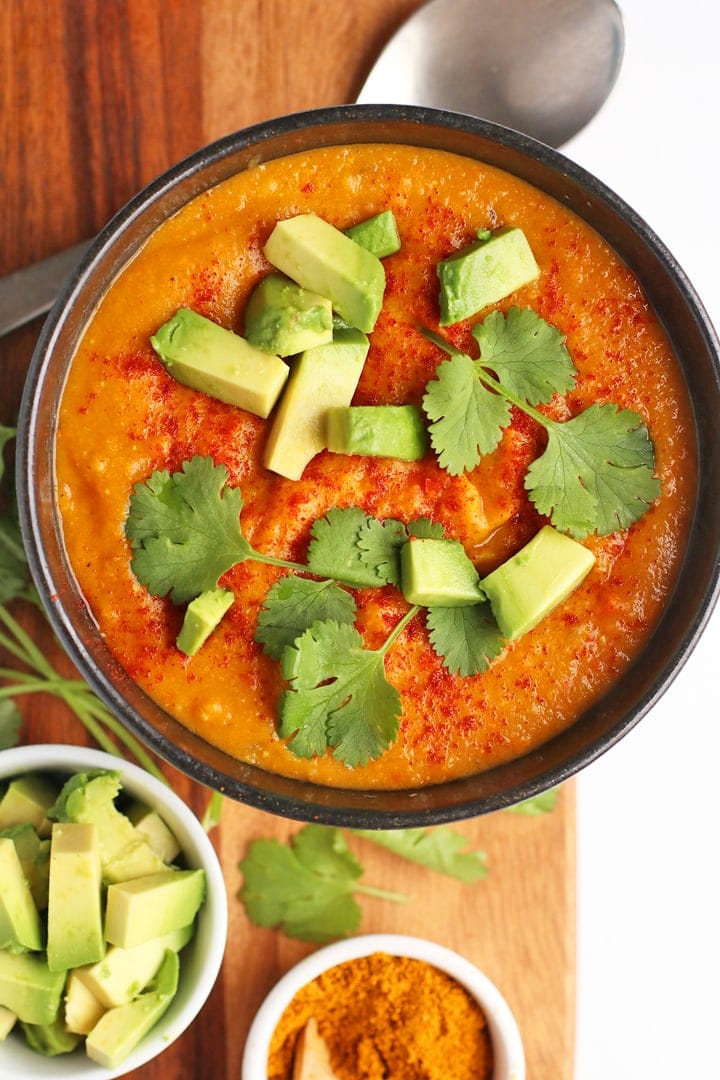 Lentil and Pea Soups
I love a good lentil or split-pea soup. They are warm and comforting all winter long. You can make lentil soup out of green, brown, or red lentils. Each has wildly different flavors and textures for a different soup every time.
Here are some of my favorite lentil soup recipes:

Vegetable Puréed Soups
I love a good vegetable puréed soup. These soups are rich, creamy, and filled to the brim with vegetables. Classic cream soups use heavy creamer or half & half. Vegan cream soups are more creative! They get their creaminess from creamy vegetables (I'm looking at you, cauliflower), non-dairy milk, coconut milk, and cashew cream.
Here are a few of my tried-and-true favorite vegan cream soups: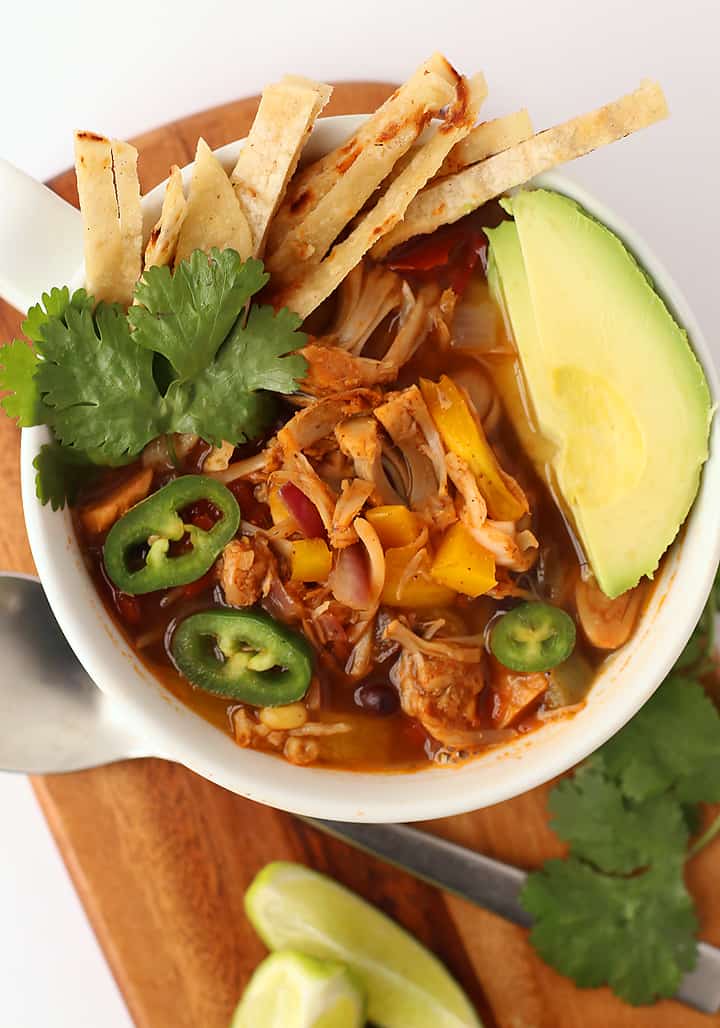 Classic Vegan Soups
These classic vegan soups are the ones you have grown to love that are now veganized. A few other soups that are in other categories that should also be mentioned are Creamy Tomato Soup, Classic Corn Chowder, and Italian Minestrone Soup.
I believe you will also love:
There you have it. 50 INCREDIBLE vegan soups. What's your favorite soup recipe?
Written by Sarah McMinn
If you give one of these recipes recipe a try, snap a photo and share it on Instagram. Make sure to tag
@mydarlingvegan
so I can see your creations!