This vegan Pumpkin Curry Soup is unbelievably creamy and rich made with fresh autumnal vegetables and fresh cashew cream. A delicious fall dinner.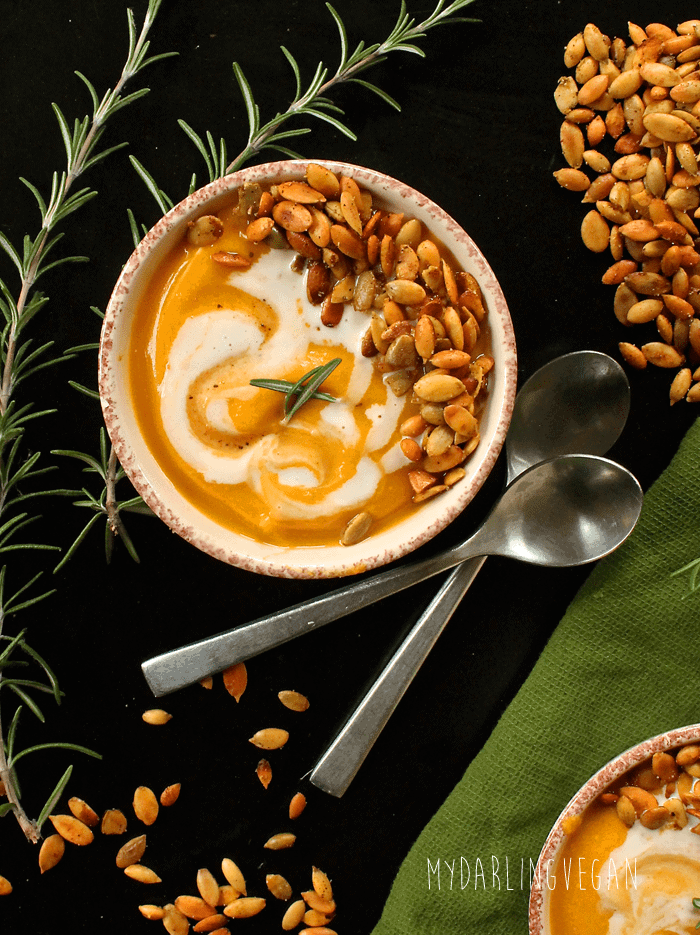 Disclosure: This post may contain affiliate links.
There's no question about it - it's Fall. With the wind and rain blustering around outside our little house, we have found ourselves hunkering down. This weekend we made cozy by filling the house with pumpkin spice scented candles and sad singer/songwriter music from our college days. The laughter of the kids as they chased each other in circles around the inside of the house still fills my heart as I write in the silent evening. The kettle now whistles and in a minute I'm going to get up, pour myself a cup of tea, and watch the wind storm from the window while I let the leftover soup cool enough so I can put it away. All is quiet. All is still.
This, my friends, is the most wonderful time of the year.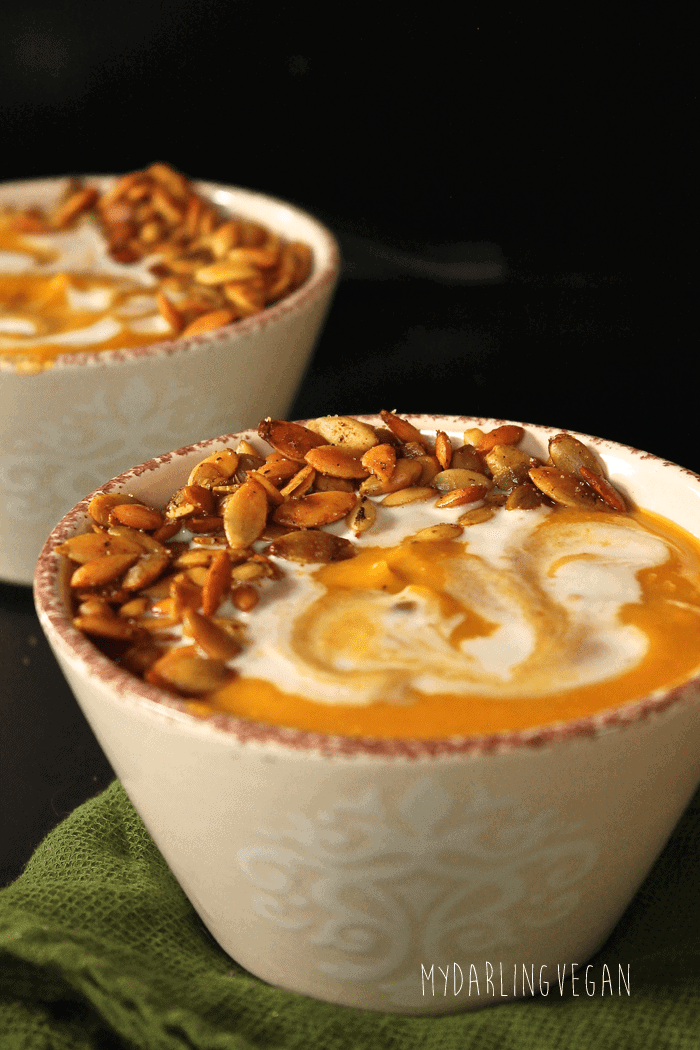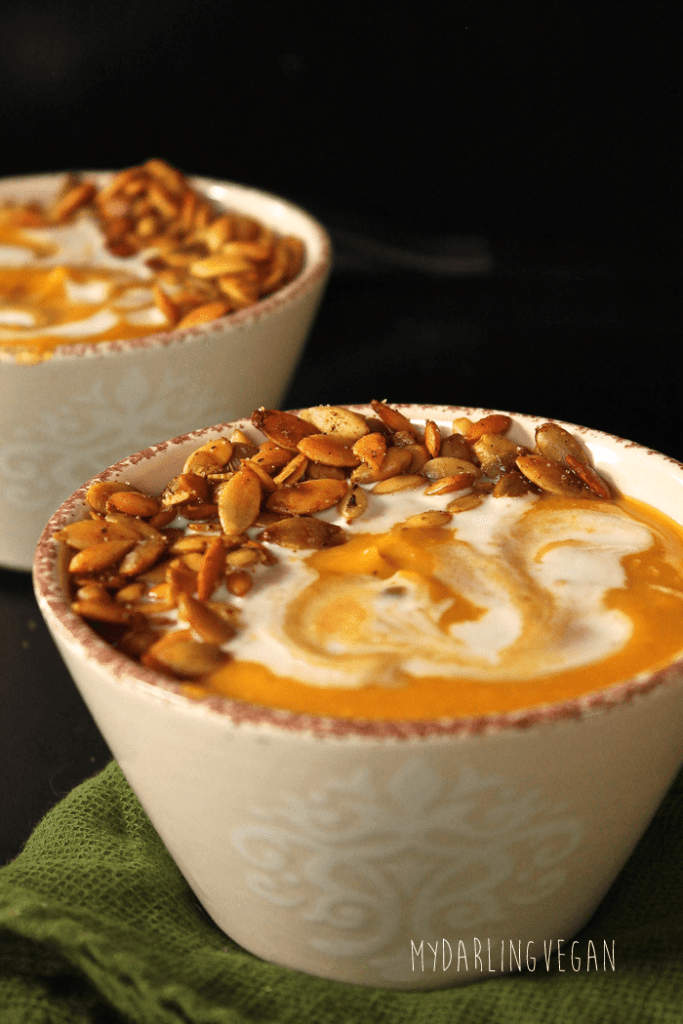 So much of my life is spent catching up or speeding ahead. Too much time is spent wanting something more. Or different. I live too often in the future, counting down the days before my kids gain a little more independence and I, autonomy. In the same day I am aching to return to the past - back to the days with cuddly infants who need nothing more than a mama's touch. Or further yet, the days of little responsibility and endless freedom. I spend most of my time drifting between the past and the future, rarely stopping to catch my breath in the very moment in which I am living.
I mean it's totally crazy. I'll be sitting in the room with my kids, watching them interact with the world while peeking at my phone in search of some sort of distraction. Then it hits me. This is my life. This is all I know. And I'm looking for distraction from the only thing that is real - this very moment.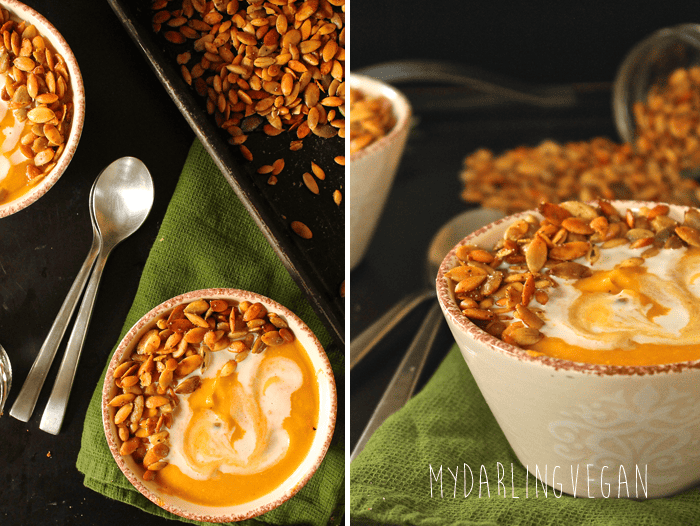 I've recently learned that when I catch myself doing this, I can bring myself back to the present through taking a few deep breathes and intentionally listening, feeling, smelling, and touching.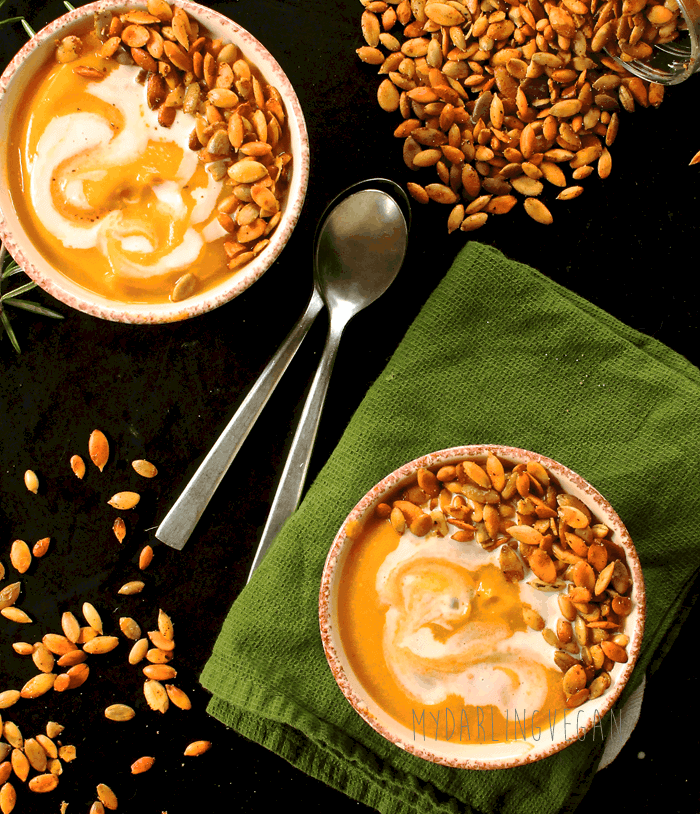 And I think through this I have figured out why I love Fall so incredibly much. There is something about the shorter days, the hunkering down, the fall's harvest, the traditions of the holidays that makes me finally slow down, be still, and live my life. I fall into it so entirely and absolutely that for this season in time I forget about all else and just experience.
This Pumpkin Curry Soup epitomizes everything I love about Fall in it's warm pumpkin-y goodness. And there's nothing like it that keeps me grounded in the present moment because I don't want to miss even one creamy bite.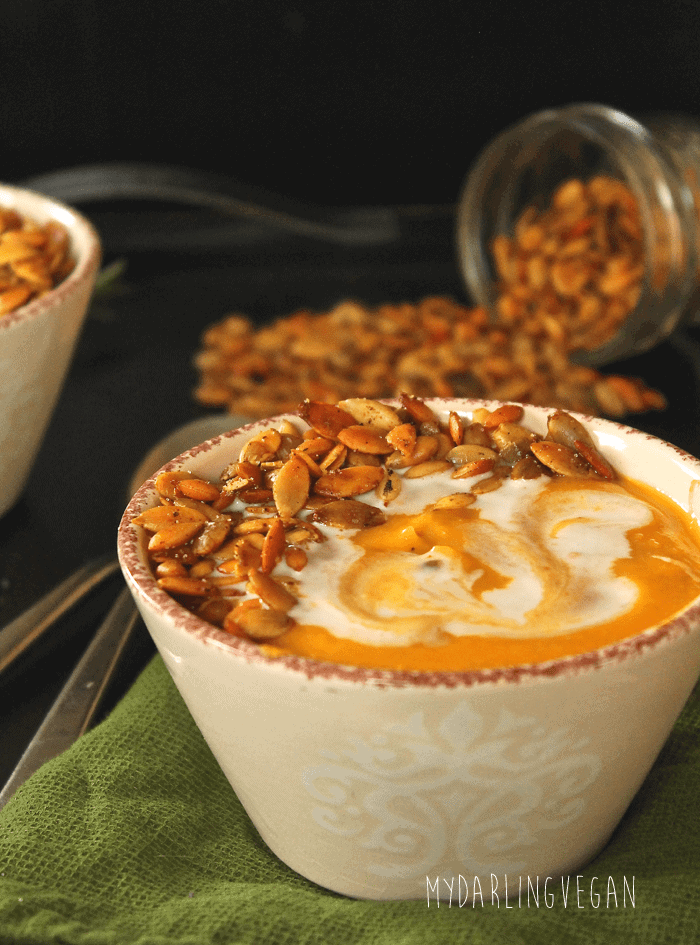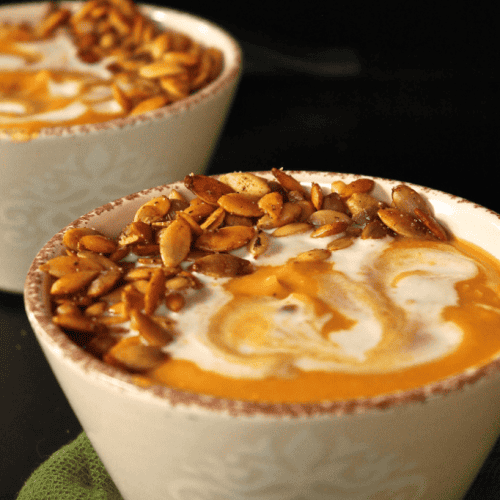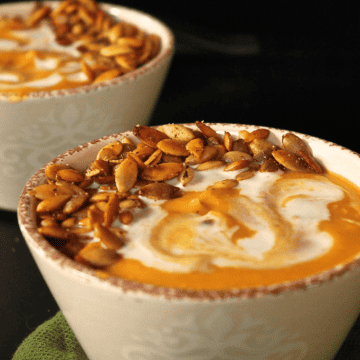 Pumpkin Curry Soup with cashew creme
This vegan Pumpkin Curry Soup is unbelievably creamy and rich made with fresh autumnal vegetables and fresh cashew cream.
Print
Pin
Rate
Ingredients
Instructions
In a

large pot

heat oil over medium-high heat. Add onions and sauté for 5-7 minutes, until onions are translucent.

Add minced garlic and ginger and sauté for another minute until fragrant.

Stir in pumpkin, carrots, curry and cumin.

Add vegetable broth. Bring to a boil then reduce heat, cover, and simmer for 20 minutes or until vegetables are tender.

Remove from heat and allow soup to cool.

Meanwhile combine all the ingredients for the cashew creme in a

high-powered blender

and puree until completely smooth. Set aside.

Once the soup has cooled, blend in a food processor or blender until smooth (you may need to do this in two batches). Return the soup pot. Stir in half the cashew creme and season with salt and pepper. Gently reheat to desired temperature. Garnish with remaining cashew creme and curried pumpkin seeds (recipe follows)


Preheat the oven to 350F. Line a baking sheet with parchment paper and set aside.

In a small bowl toss pumpkin seeds with oil and spices. Spread in a single layer over baking sheet and bake for 8-10 minutes, stirring occasionally, until brown and fragrant.
Nutrition
Calories:
160
kcal
|
Carbohydrates:
17
g
|
Protein:
4
g
|
Fat:
9
g
|
Saturated Fat:
1
g
|
Sodium:
642
mg
|
Potassium:
545
mg
|
Fiber:
2
g
|
Sugar:
6
g
|
Vitamin A:
13010
IU
|
Vitamin C:
11.1
mg
|
Calcium:
46
mg
|
Iron:
2.4
mg
This post contains affiliate links.

If you give this recipe recipe a try, snap a photo and share it on Instagram. Make sure to tag
@mydarlingvegan
so I can see your creations!