11 of the BEST Vegan Pizza Recipes
Just because you're vegan, doesn't mean you have to miss out on a good pizza! Here are some of my favorite vegan pizza recipes. From classics like Margarita Pizza to new favorites like Chicken Alfredo pizza, there is something for everyone.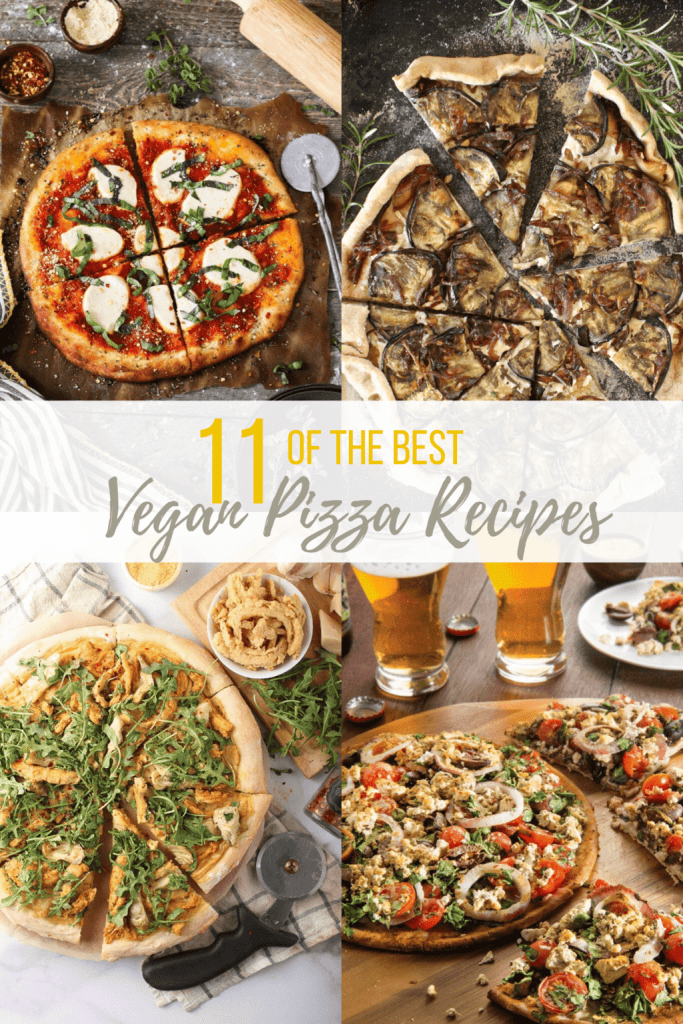 Who loves vegan pizza?
I do! I do!
Spring, summer, winter, and fall, it's one of the best comfort foods around. One of the reasons I love a good pizza is because there are so many variations. From classic favorites like Margarita Pizza to new favorites like Banh mi pizza, there is a recipe to fit your cravings at any time of year.
Before we get the recipes, let's first talk about what you need to know to make the perfect vegan pizza.
---
Recommended Equipment
For most pizza recipes you will need basic kitchen equipment such as mixing bowls, kitchen utensils, and a good chef's knife.
You should also have a pizza stone. A pizza stone allows you to get that perfect crispy crust that won't stick on the bottom. A pizza spatula and pizza cutter are also nice to have. (<<affiliate links)
Check out the full list of my recommended kitchen tools and gadgets.
Tips And Tricks
To save on time, consider buying pre-made pizza dough or a pre-baked pizza crust. My preference is pre-made pizza dough which can be found in the refrigerated section of most well-stocked grocery stores. When baked, it tastes as fresh as if made in your kitchen while eliminating a time-consuming step in homemade pizza.
Generously flour the surface of your pizza stone or baking pan to prevent the crust from sticking to the bottom.
Cooking times on these recipes will vary. Bake pizzas until the crust is golden brown and sounds hollow when tapped.
Looking for gluten-free? I recommend using a 1:1 baking flour blend or finding a premade gluten-free pizza crust at your local grocery store.
Vegan Cheese Alternatives
Many of my favorite pizza recipes skip the cheese altogether by supplementing with a deliciously creamy sauce. You will also find recipes that use homemade cheese or cheese sauce. See the Easy Pizza Margarita recipe below.
If you want to add vegan cheese to any of these recipes or are looking for ways to veganize your own favorite recipes, I recommend using either Follow Your Heart or Violife shreds. These are two of the best pizza cheeses on the market. They are melty, stretchy, and tasty.
---
Vegan Pizza Recipes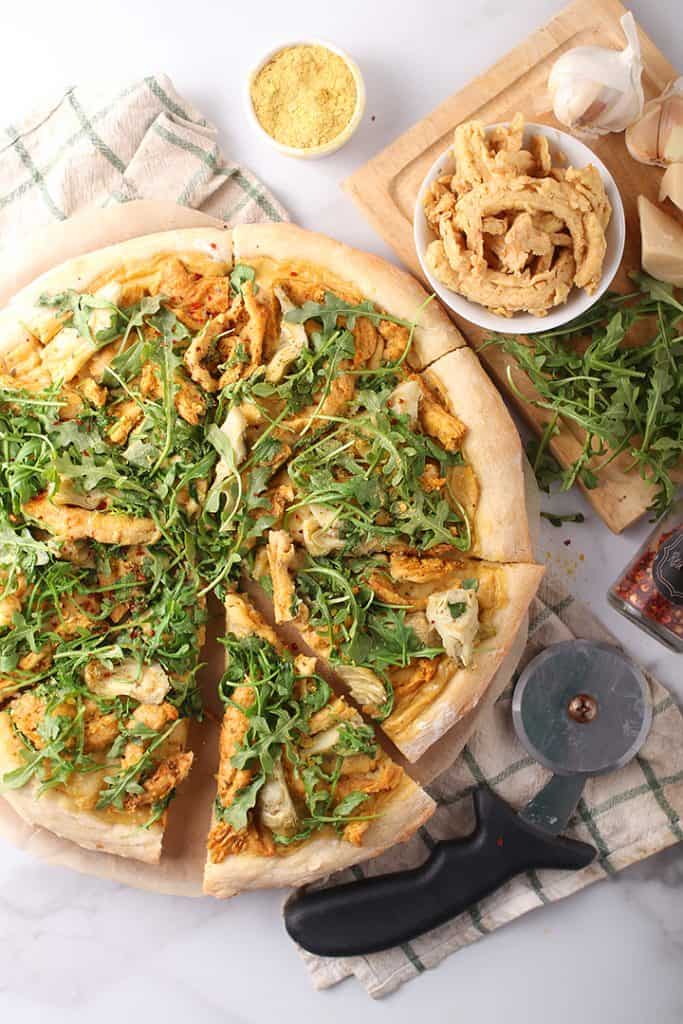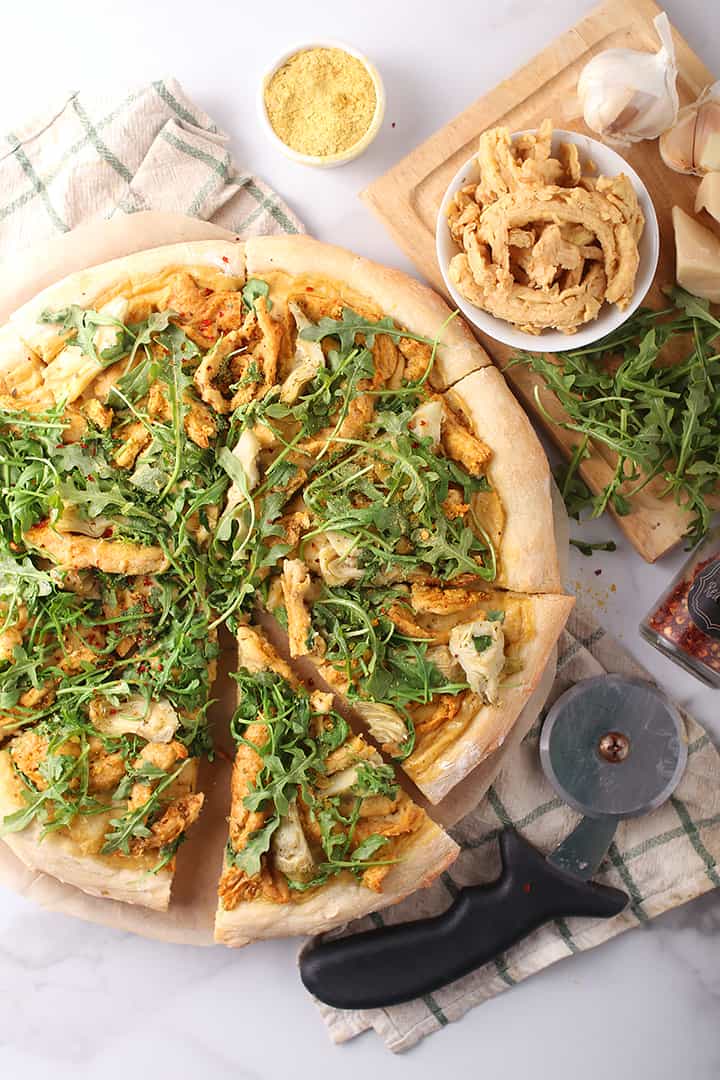 Vegan Chicken Alfredo Pizza
Photo Credit: My Darling Vegan
This Vegan Chicken Alfredo Pizza is a game changer! It's topped with creamy Alfredo sauce, artichoke hearts, arugula, and soy curls "chicken" for a delicious plant-based meal the whole family will love.
Recipe »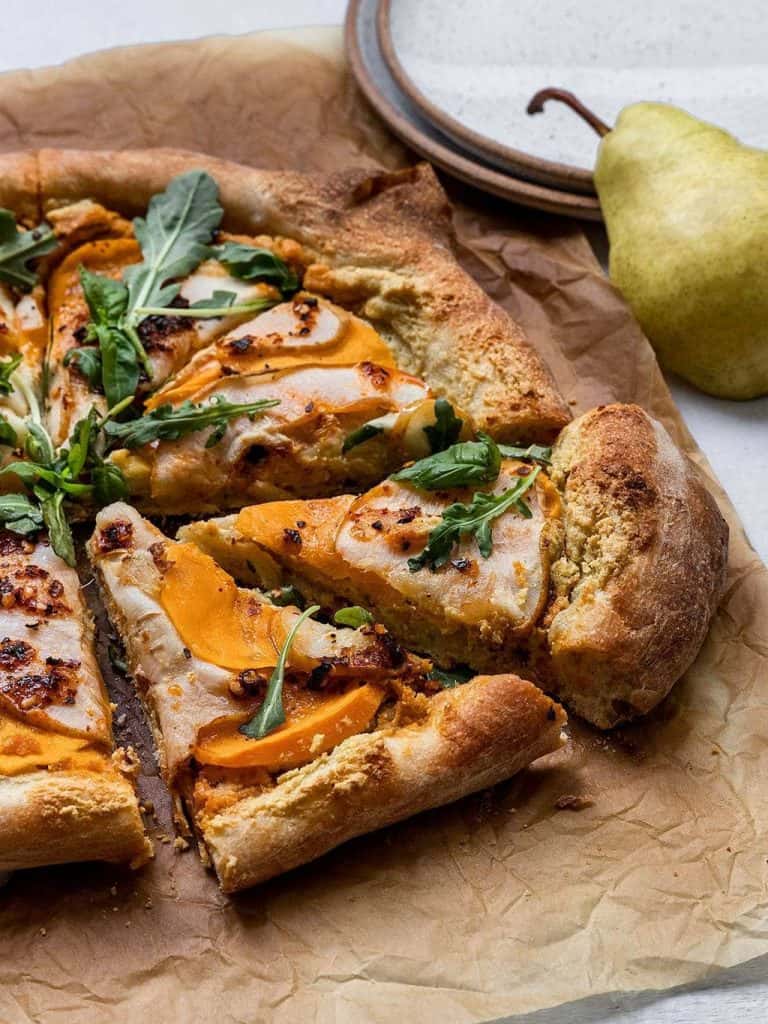 Butternut Squash, Pear, and Chili Oil Pizza
Photo Credit: Short Girl Tall Order
This pizza starts with a creamy vegan garlic cashew sauce. Then it is topped with sweet bartlett pears, butternut squash, arugula, and a drizzle of spicy chili oil. This pizza truly is the perfect mix of sweet and spicy!


Recipe »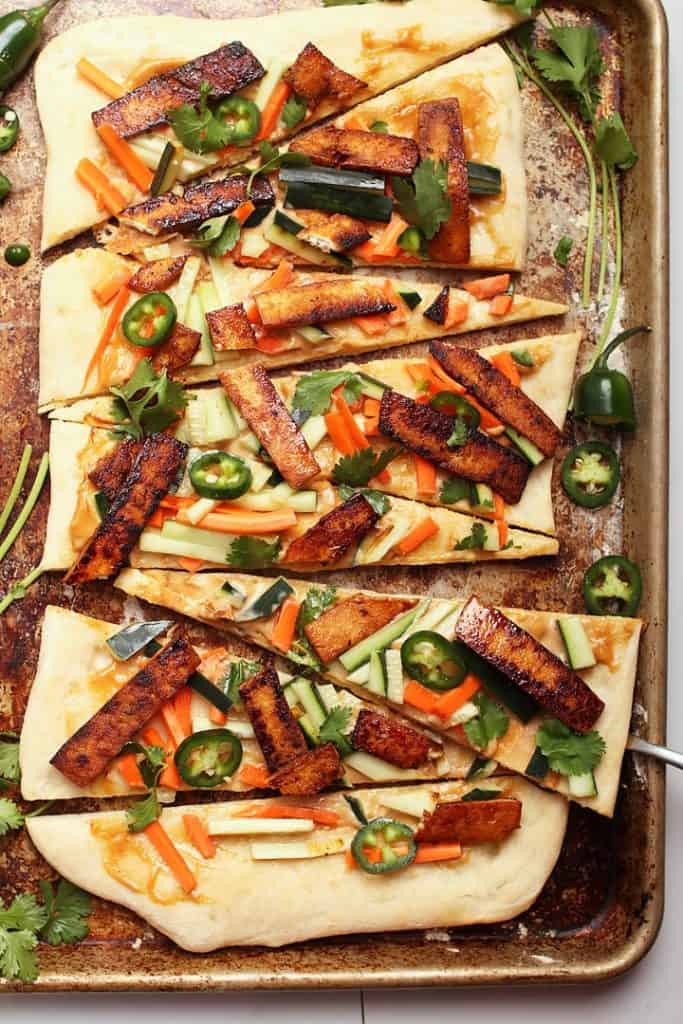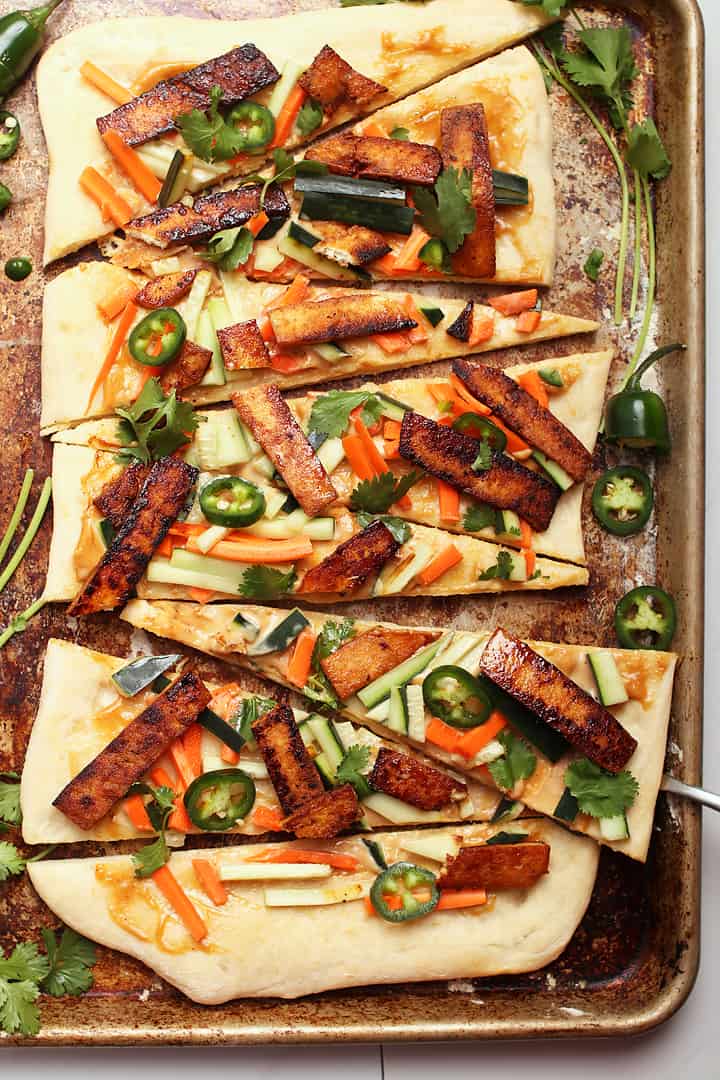 Vegan Banh Mi Pizza
Photo Credit: My Darling Vegan
A culinary fusion of Italian and Vietnamese classics, this vegan Banh Mi Pizza is made with quick pickled cucumbers and carrots and seasoned tofu.
Recipe »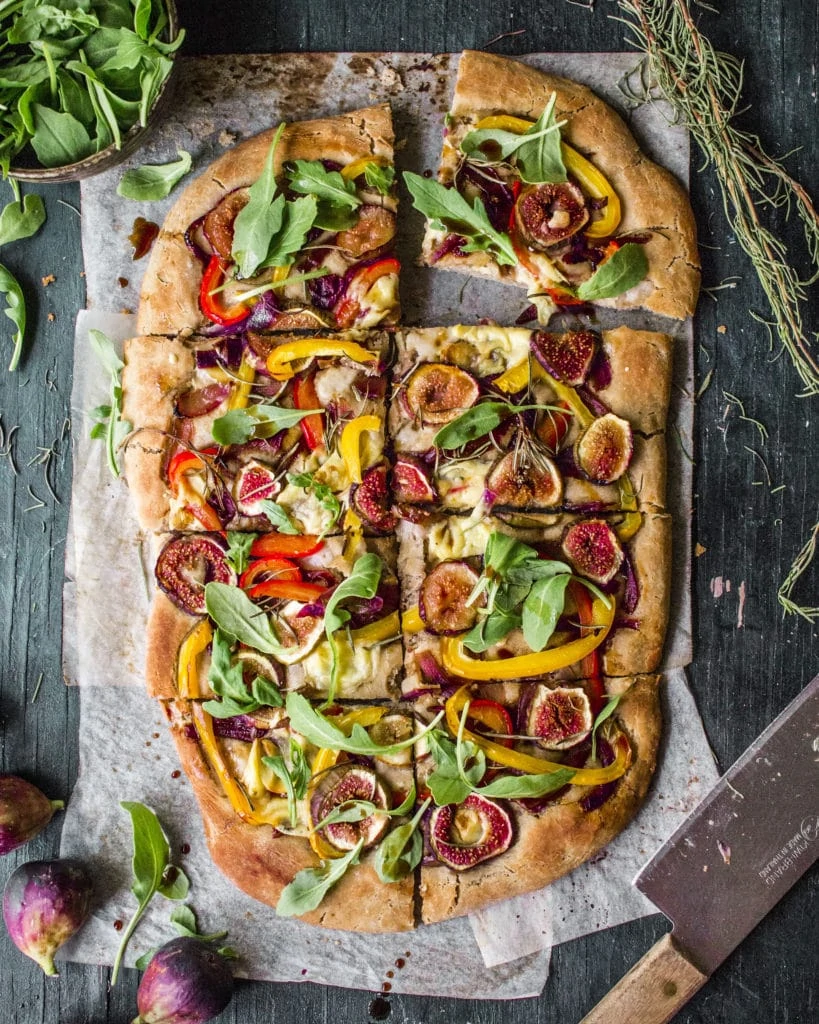 Fig and Caramelized Onion Pizza
Photo Credit: Rainbow Nourishment
A sweet and savory pizza with delicate figs, juicy caramelized onions, and a wholesome crust made with buckwheat and spelt flour! Colorful and delicious!
Recipe »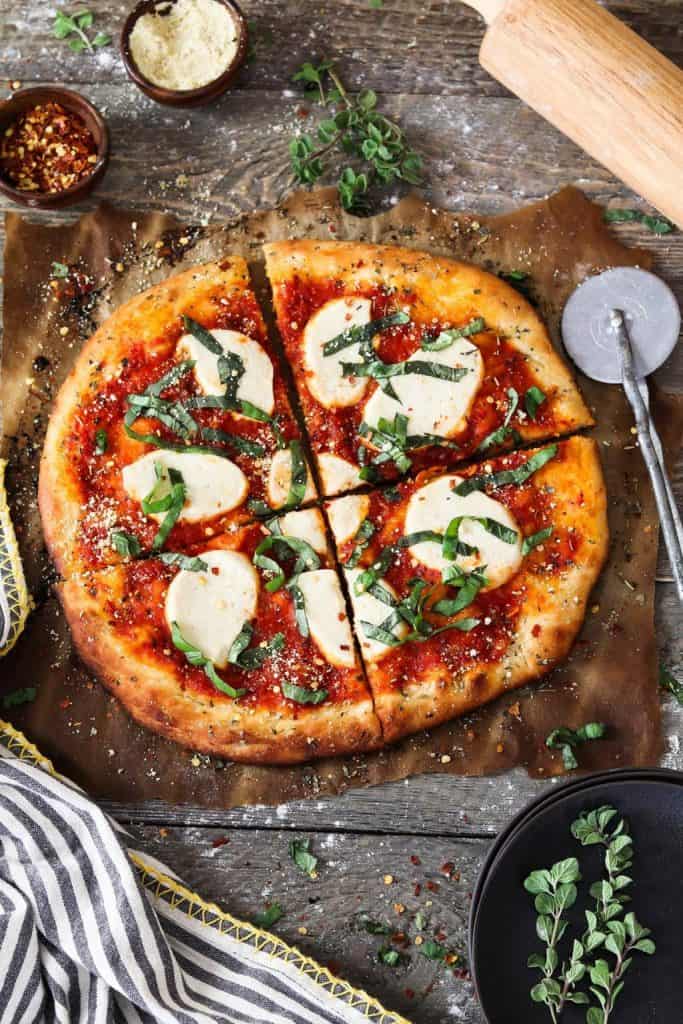 Easy Margarita Pizza
Photo Credit: Vegan Huggs
Try out this restaurant-style Vegan Pizza Recipe in the comfort of your own home. It's easy to make and delivers the most delicious crust. It's crispy on the outside and fluffy on the inside.
Recipe »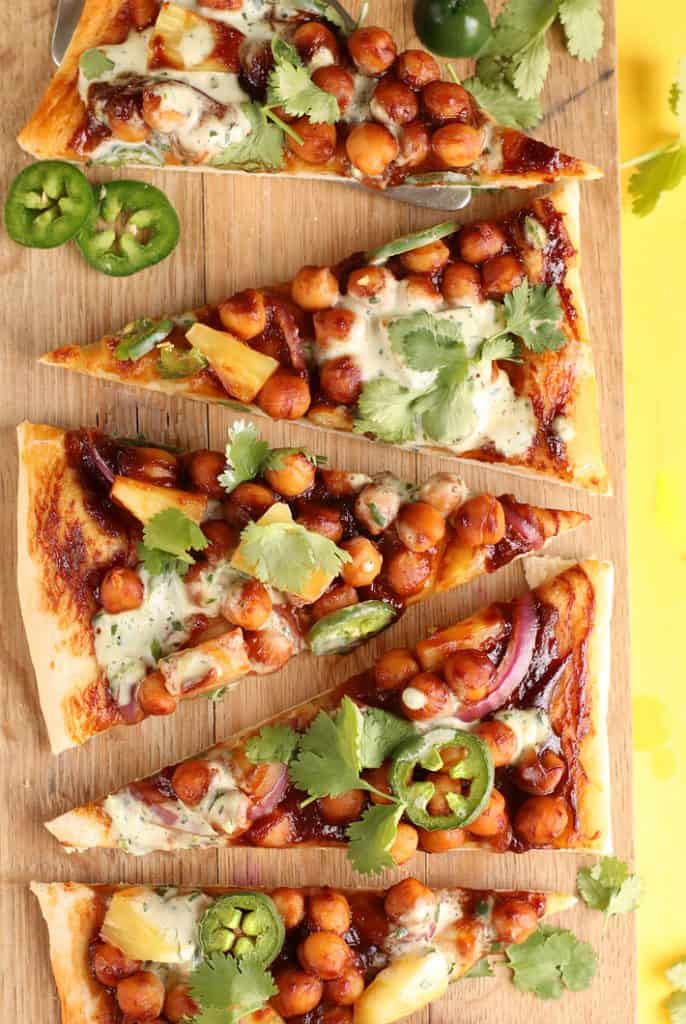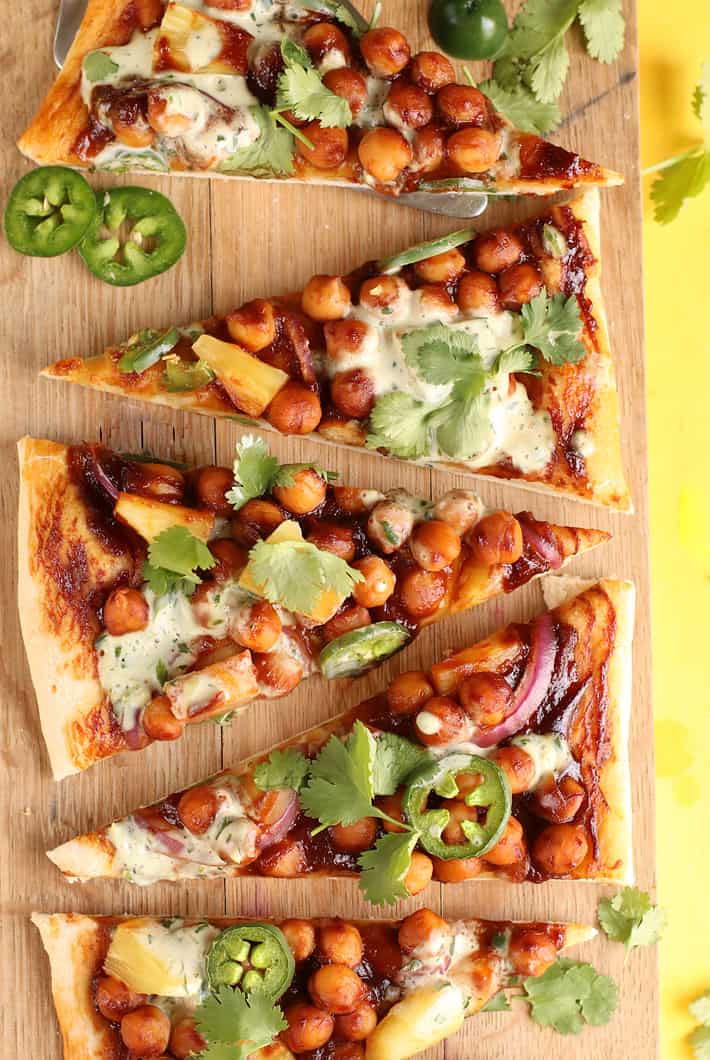 BBQ Chickpeas Pizza with Vegan Ranch
Photo Credit: My Darling Vegan
This BBQ Chickpeas Pizza is made with homemade BBQ sauce, fresh pineapples and jalapeños and covered in ranch dressing for a delicious vegan pizza.
Recipe »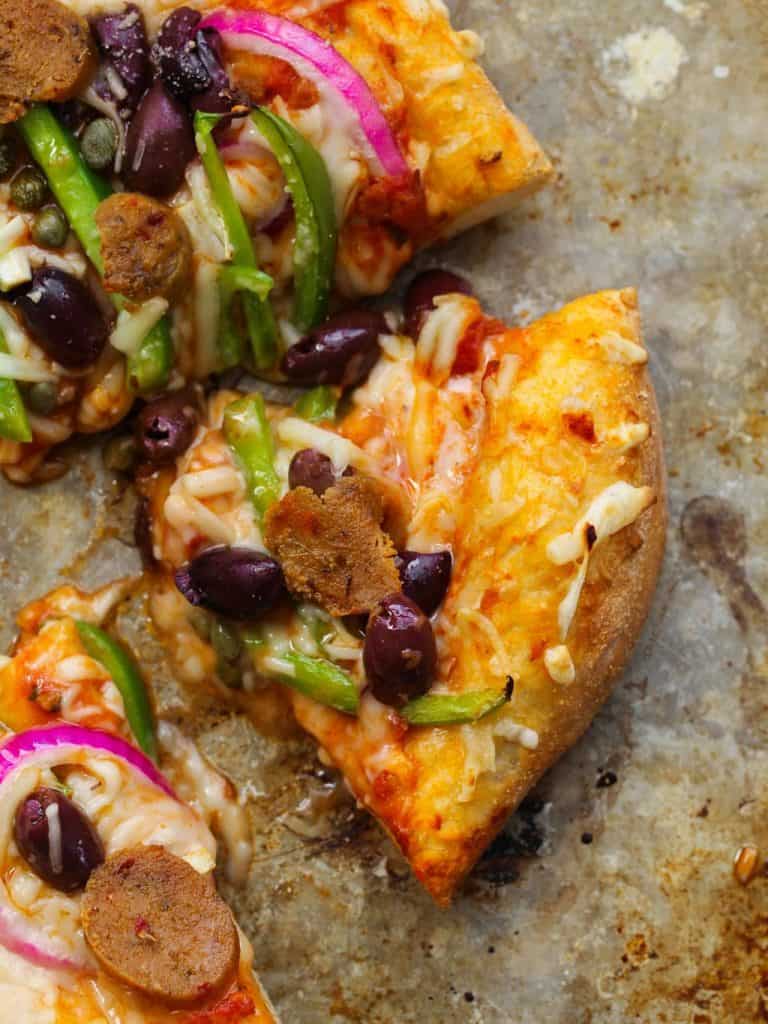 Vegan Pizza Supreme
Photo Credit: Healthy Happy Life
This homemade pizza recipe has it all! Green bell peppers, red onions, capers, olives, and melty vegan cheese all over a homemade pizza crust.

Recipe »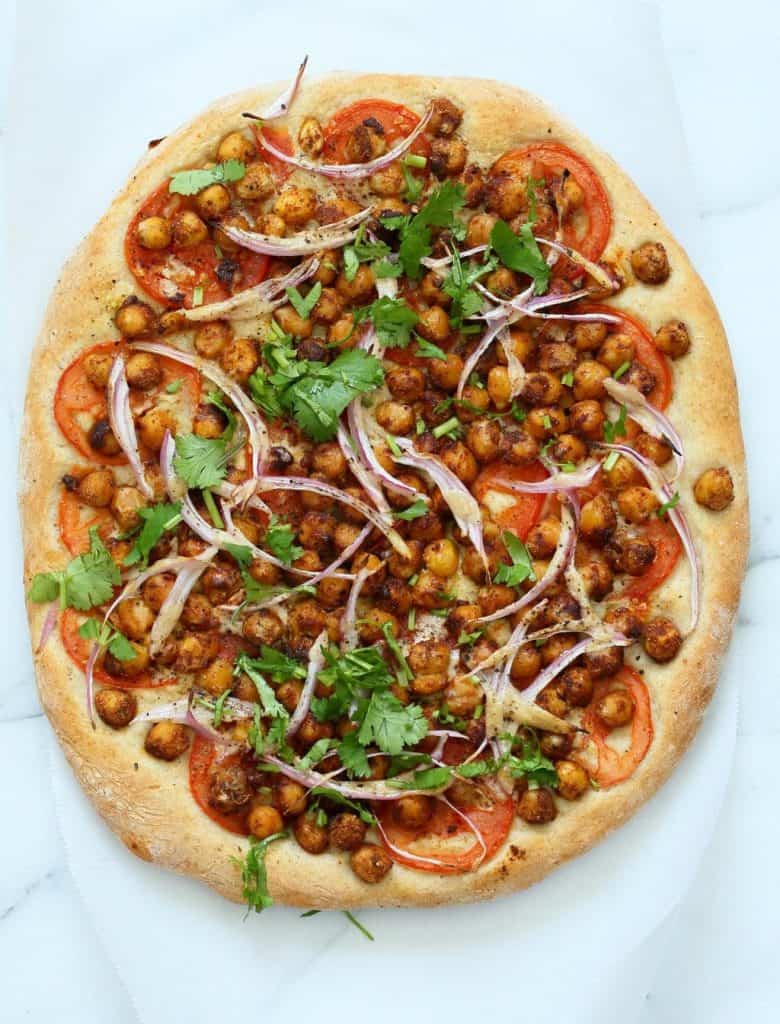 Ethiopian Berbere Chickpea Pizza
Photo Credit: Vegan Richa
Ethiopian Berbere Chickpea Pizza Recipe with Tahini Garlic Dressing. Amazingly flavorful pizza. Dress with tahini dressing, vegan ranch, or other creamy dressing.
Recipe »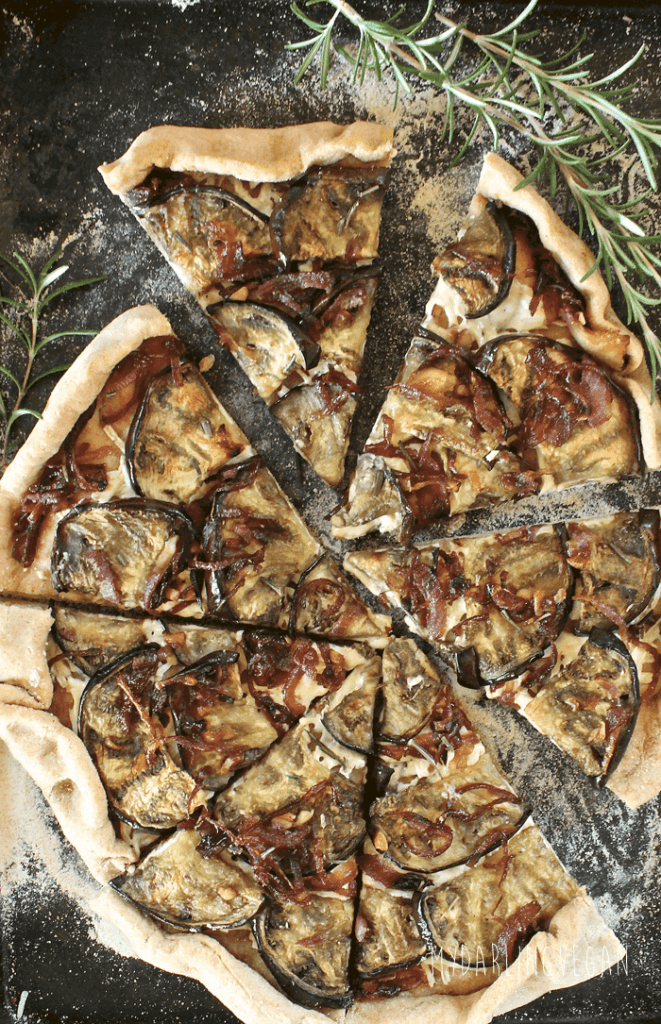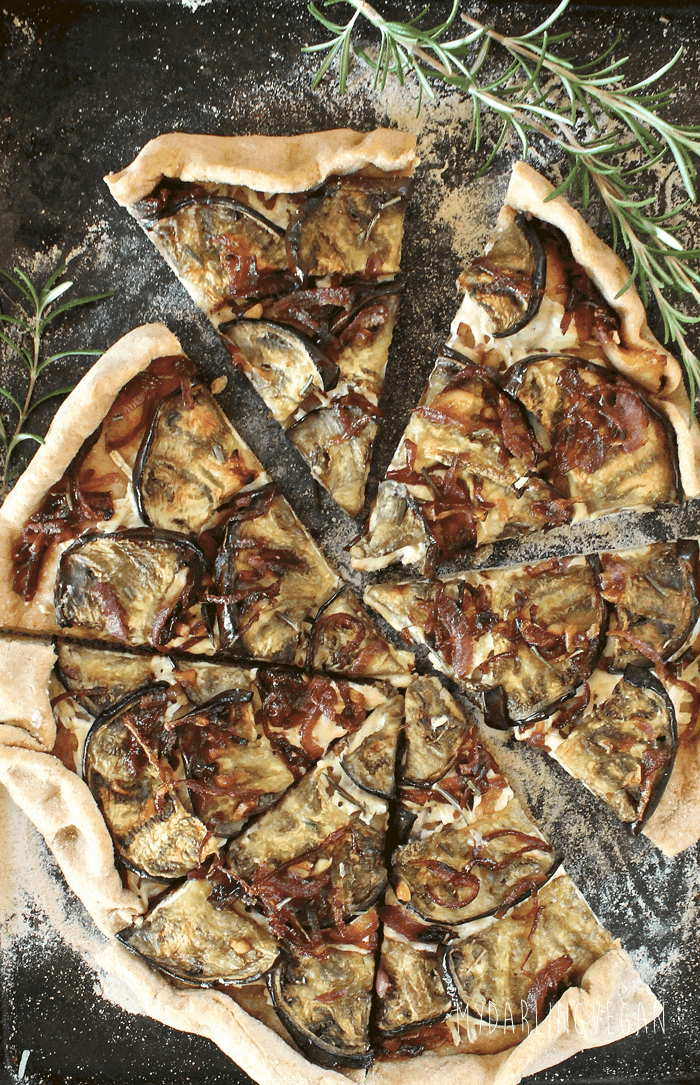 Eggplant Pizza with Caramelized Onion
Photo Credit: My Darling Vegan
This hearty and delicious Eggplant Pizza with caramelized onions is a meal that vegans and meat-eaters alike will enjoy.
Recipe »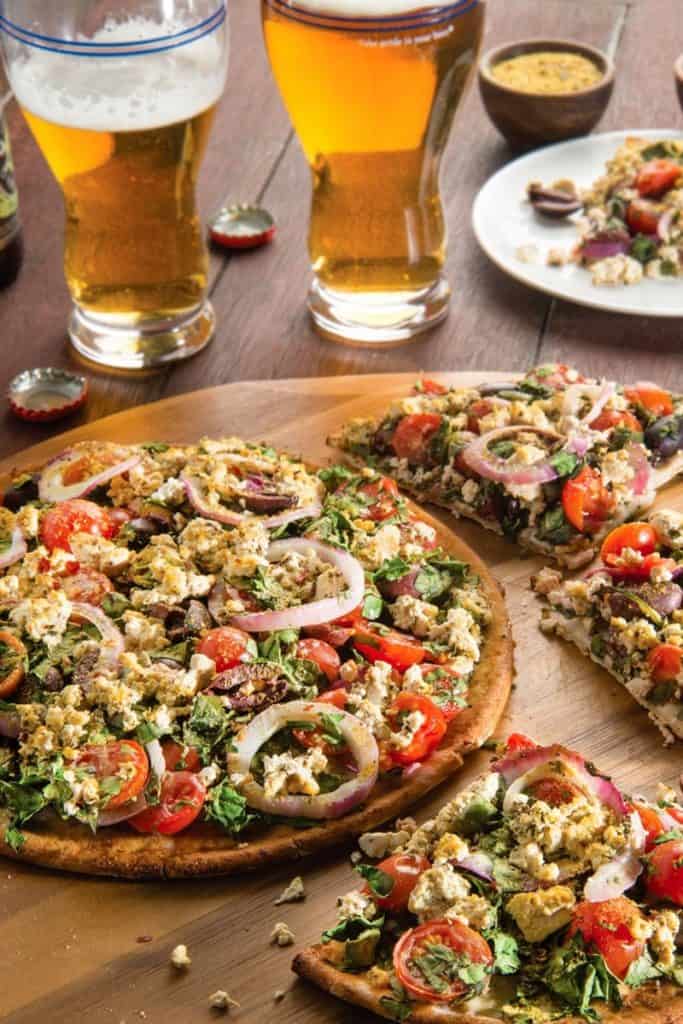 Greek Style Vegan Pizza
Photo Credit: Go Dairy Freeh
Big Fat Greek Pizza! This pizza has everything – olives, onions, spinach, tofu feta, and cherry tomatoes. Topped with zesty spices and herbs for a delicious pizza the whole family will love.
Recipe »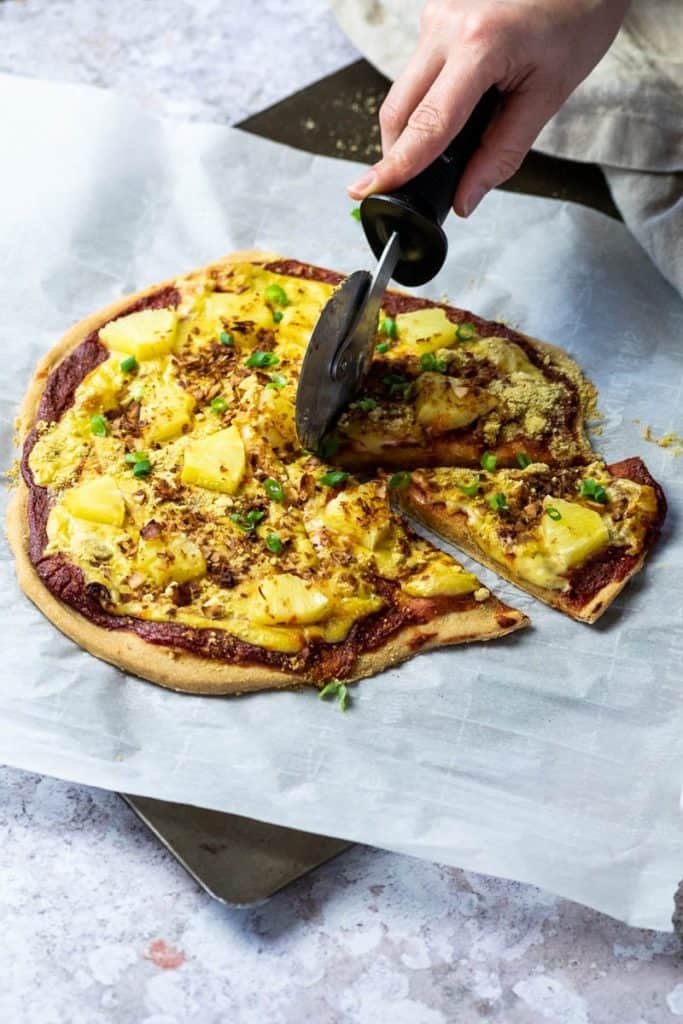 Vegan Hawaiian Pizza
Photo Credit: Ve Eat Cook Bak
An amazing Hawaiian style pizza made with homemade pizza sauce, vegan cheese sauce, sweet, pineapple pieces, and smoky coconut bacon. The ultimate vegan pizza.
Recipe »
---
More Vegan Recipe Roundups
That's it! 11 incredible vegan pizza recipes. Now let's get cooking!
Written by Sarah McMinn
If you give one of these recipes recipe a try, snap a photo and share it on Instagram. Make sure to tag
@mydarlingvegan
so I can see your creations!