This vegan Tortilla Soup is made with seasoned jackfruit, black beans, corn, and crispy corn tortillas for an easy and delicious soup that can be made in just 30 minutes.
This post contains affiliate links. For more information, please see my privacy policy.
Today I have 2 fun things to share with you.
First, I've got a new recipe – vegan tortilla soup with jackfruit – but before we get to that, I want to talk about something new that's happening here on My Darling Vegan. If you're not interested, no worries. Just scroll on down to the recipe; I'll be none the wiser.
If you're still with me, let's talk.
Today I'm introducing the My Darling Vegan community page. One of the goals with MDV is to create a space that encourages conversation around veganism. For the past several years, I have tried different ways to make that happen. Last fall I tried that through my short-lived podcast (which unfortunately quickly became unsustainable). I've since worked on creating conversation through my Facebook group, Bringing Veganism into the Mainstream, which you are more than welcome to join, but with Facebook's algorithms most posts are hidden from it's followers. My new attempt to create genuine vegan conversation and community is by creating a space on this website for it.
Right now I have 6 different forums that I'm hoping you, yes YOU, will participate in.
This will be an evolving project based on the conversations so, please do check it out and be part of the My Darling Vegan community at it's roots.
Okay, now onto this vegan tortilla soup with jackfruit.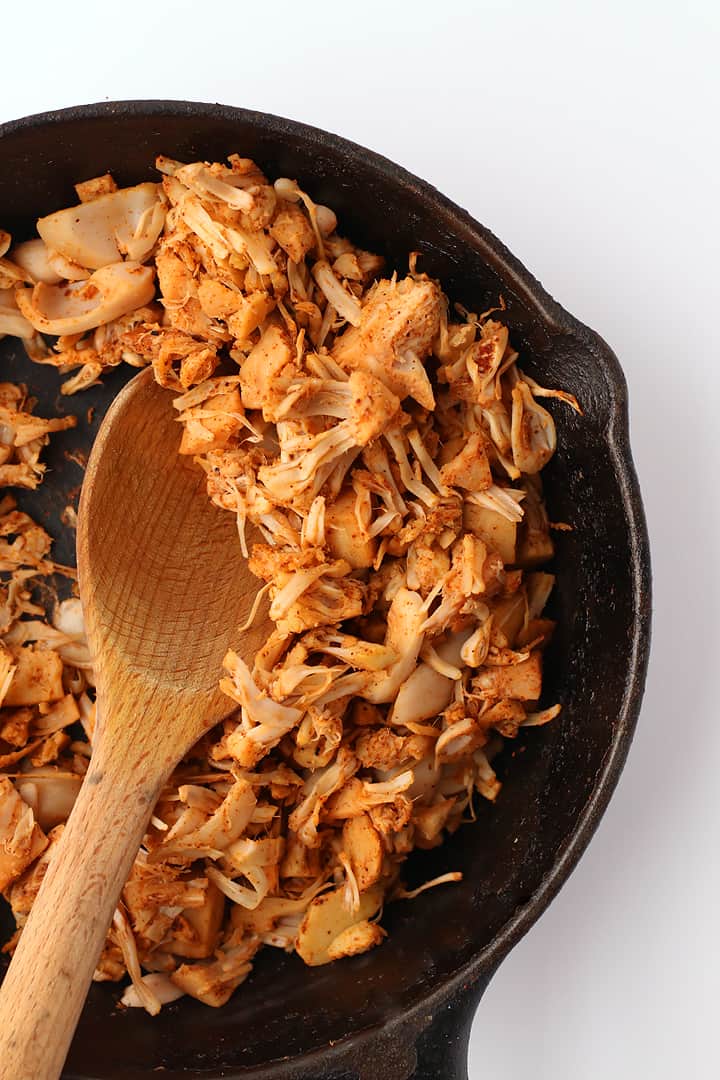 Have you cooked with jackfruit yet?
Every time that I do I have a renewed appreciating for this exotic fruit. For those of you who are unfamiliar, jackfruit is a large green tropical fruit that, when green, has very little flavor. The stringy texture, however, is similar to that of chicken or pulled pork, making it one of the most popular whole food vegan meat substitutes.
While some people buy jackfruit whole, I find getting it canned is the most convenient way to introduce jackfruit into your recipes.
To prepared canned jackfruit, you:
Drain and rinse the fruit.
Pat in dry with a kitchen towel.
Shred the jackfruit.
When buying in a can, jackfruit comes in small triangles. At the base of the triangle you'll find a thick core. To shred it, hold the core between your thumb and forefinger and gently press up while pressing into the fruit with your thumb. The tops will easily shred into what you see below.
Watch this video to see it for yourself.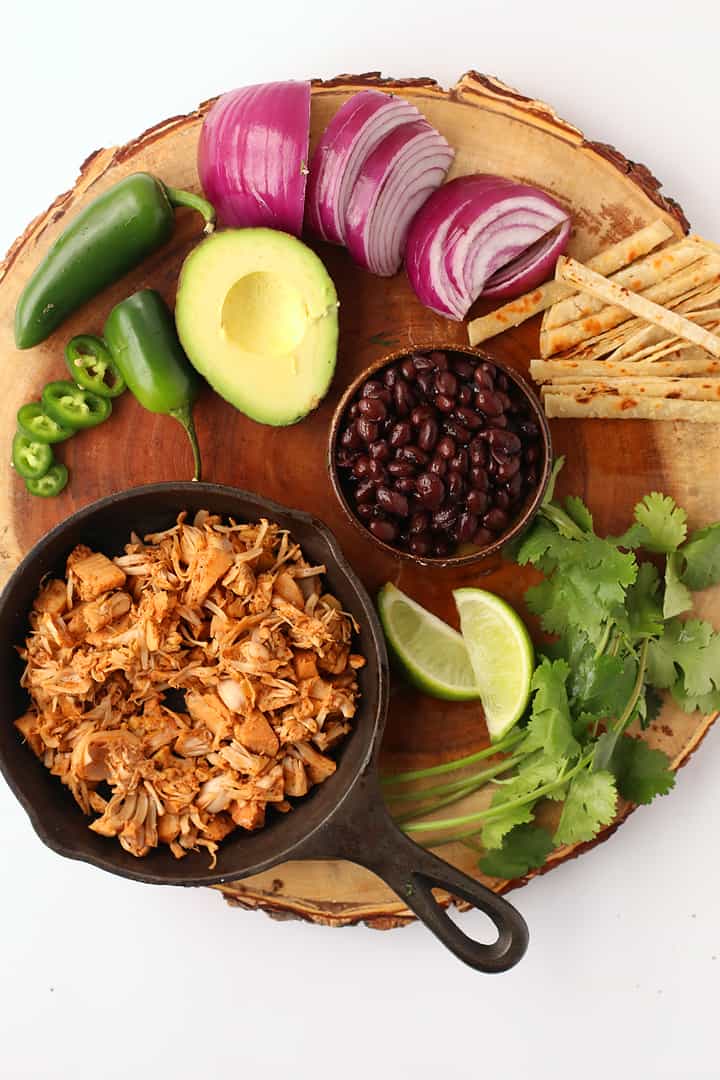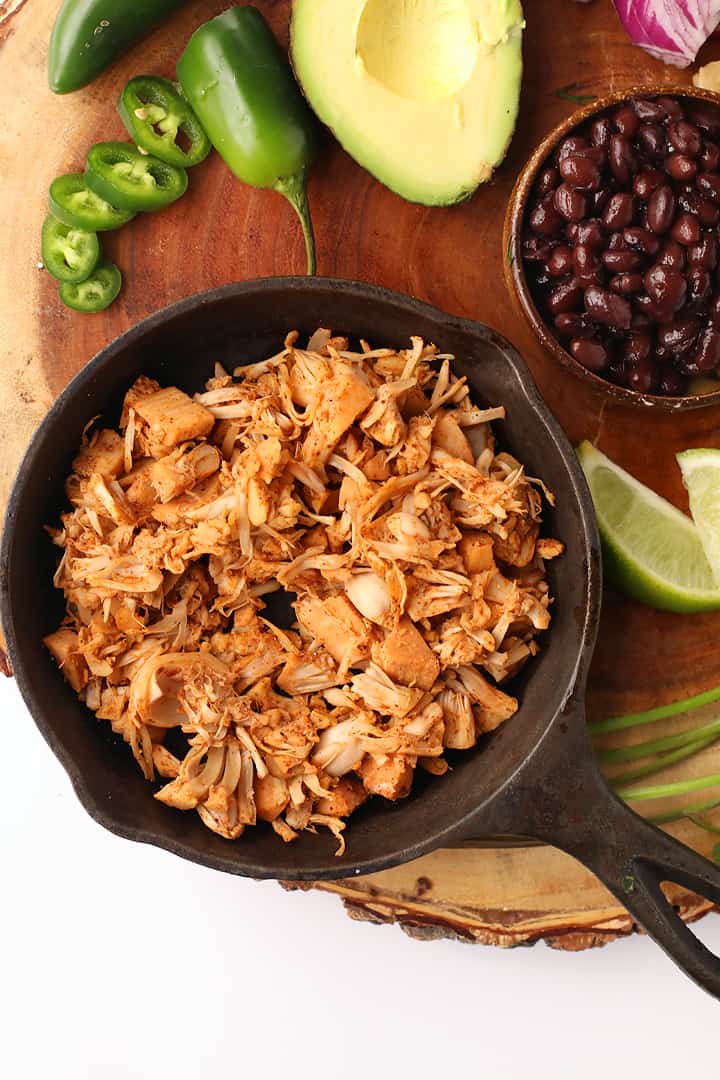 This seasoned jackfruit is perfect for my vegan tortilla soup. Seasoned with cumin and chili powder and resembling the texture of chicken, it is my favorite whole food meat substitute for this recipe.
Once the jackfruit is shredded, it gets browned with a little bit of olive oil and salt. It is then added to a large soup pot with sautéed onions and garlic and topped with corn, black beans, tomatoes, and vegetable broth for a simple and hearty soup I think you're going to love.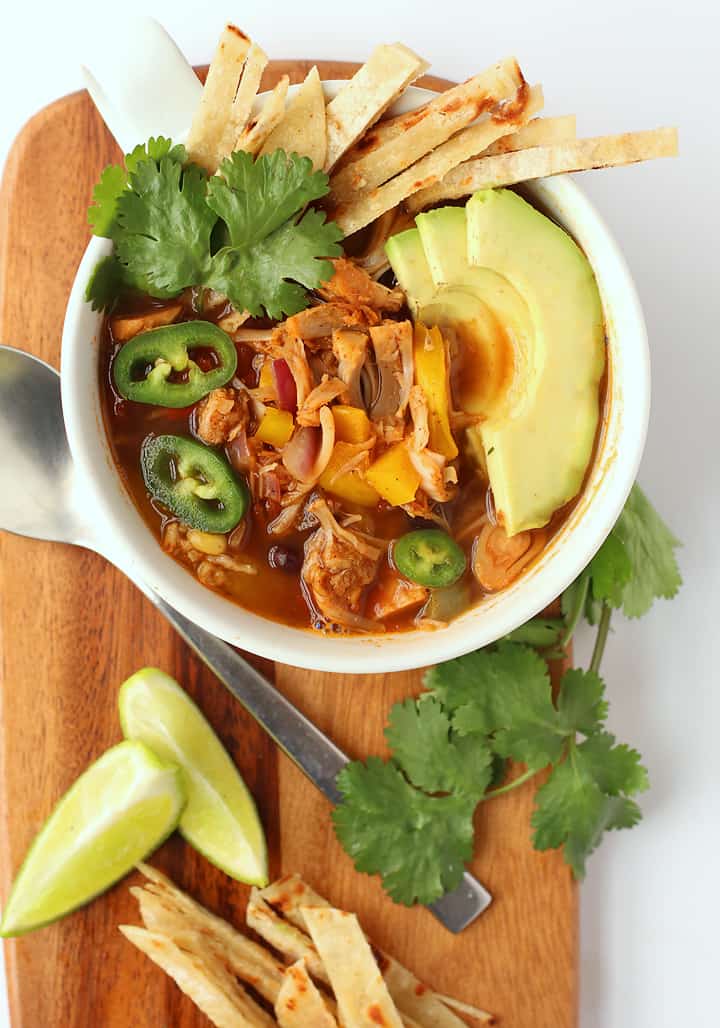 Vegan Tortilla Soup with Jackfruit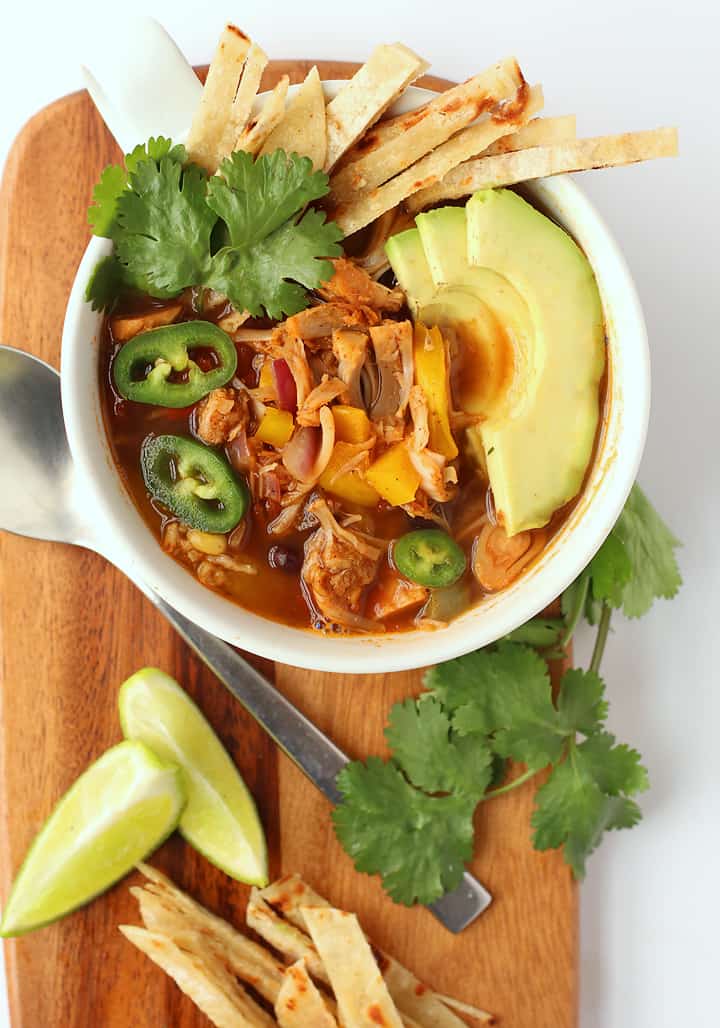 This vegan Tortilla Soup is made with seasoned jackfruit, black beans, corn, and crispy corn tortillas for an easy and delicious soup that can be made in just 30 minutes.
Keyword:
Vegan Tortilla Soup
Ingredients
Tortilla Soup
3

tbsp

cooking oil,

divided

1

(20 oz) can

green jackfruit

1

small

red onion,

diced

2

cloves

garlic,

minced

1

jalapeño,

minced

1

red or

yellow pepper,

diced

2

tsp

chili powder

1 1/2

tsp

cumin

1/4

tsp

cayenne

4

cups

vegetable broth

1

(14 oz) can

fired roasted diced tomatoes

1

(14 oz) can

black beans

1

cup

frozen corn
Toppings
1

ripe

avocado,

sliced

1

small

jalapeño,

seeded and sliced thin

4

small

corn tortillas,

fried and cut into strips

a

few

springs of cilantro
Instructions
Drain and rinse the jackfruit. Lay on a paper towel and pat dry. Using your fingers, press the jackfruit chunks and the base to fan out, pushing it into large shreds. See this video for a visual. Set aside.

Heat 1 tbsp of oil to a large cast iron skillet over medium heat. Add jackfruit and sauté until lightly brown, stirring frequently.

In a large soup pot, add one more tbsp of oil. Once hot, add onions and garlic and sauté until translucent and fragrant, about 5 minutes. Add bell peppers and jalapeño and sauté for another 3 minutes until bell pepper is tender.

Stir in browned jackfruit and spices to the soup pot, stirring until spices have coated the jackfruit and onion/pepper mixture.

Pour in vegetable broth, tomatoes, corn, and black beans. Bring to boil. Once boiling, reduce heat to low. Cover with a lid and simmer for 20 minutes.

While soup is simmering, heat the remaining tbsp of oil in your cast iron skillet over medium-high heat. Once very hot, add corn tortillas and pan-fry for 2 minutes per side until golden brown and crisp. Transfer to a paper towel and let cool before cutting them into thin slices.

Once soup is ready serve with corn tortillas, avocado, jalapeño, and cilantro.

Store leftover soup in an airtight container in the refrigerator for up to 5 days.
Nutrition Facts
Vegan Tortilla Soup with Jackfruit
Amount Per Serving
Calories 105
Calories from Fat 63
% Daily Value*
Total Fat 7g 11%
Sodium 644mg 27%
Potassium 107mg 3%
Total Carbohydrates 10g 3%
Protein 1g 2%
* Percent Daily Values are based on a 2000 calorie diet.
If you give this recipe a try, let us know what you think in the comments below. Or snap a photo and share it on Instagram. Make sure to tag @mydarlingvegan so I can see your creations!