Creamy Carrot and Orange Soup
This recipe uses simple ingredients to make a delicious vegan soup on a cool day. It's filled with carrots, fennel, and freshly squeeze orange juice and topped with cashew cream for a hearty, healthy, and cozy weeknight meal. Made in under 30 minutes!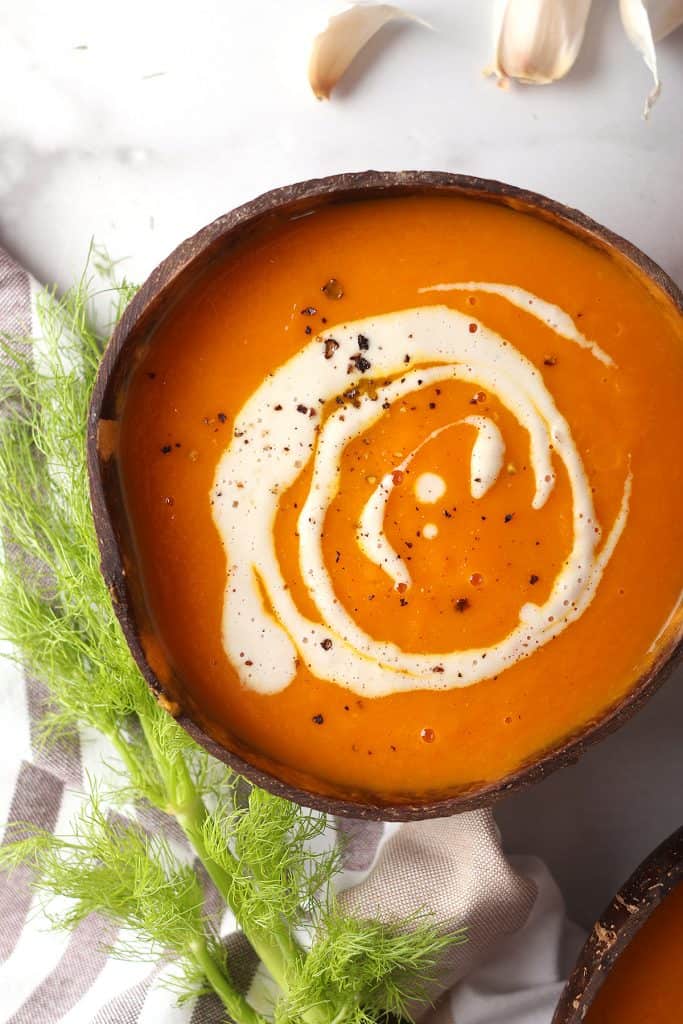 Vegan carrot soup is a cozy fall soup that is just so comforting. It's creamy and has a bright orange flavor in the background that is so warming. I love digging into a big bowl and mopping up every last drop with a roll.
Sometimes I like to serve this carrot orange soup with a salad or even as a side to this butternut squash pasta. It's also so good to dunk a vegan grilled cheese into.
Plus it's fantastic for using up your produce from CSA or from services like Imperfect Produce. The soup gets pureed prior to serving so there's no need to worry about any less than pretty veggies.
Best of all? Not only is it vegan and so full of flavor, but it is also naturally gluten free. It's a soup you'll enjoy serving and eating since you'll know it's not only yummy but wholesome and good for you too.
---
Ingredients & Substitutions
My vegan carrot soup only uses a few fresh ingredients. You don't need much to make this savory-sweet delight.
Here is everything you need.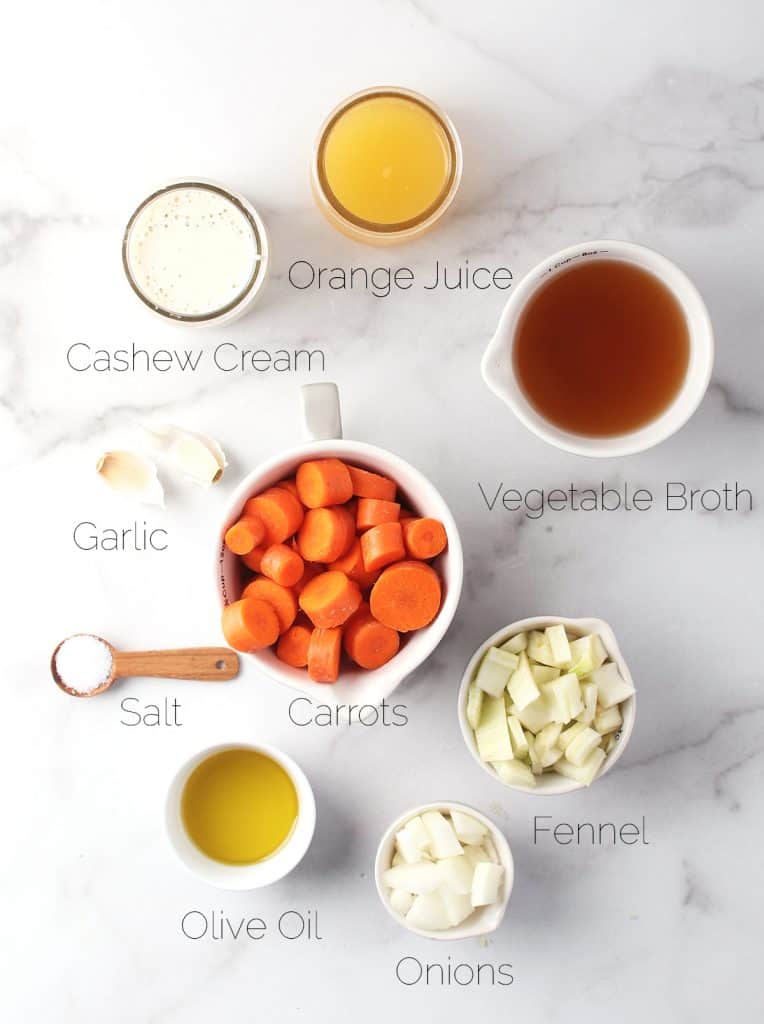 Ingredient Notes
Oil – I use olive oil, but you could substitute water for the oil if you want to reduce the calories and fat of the soup
Carrots – When selecting your carrots, you want to look for bright orange ones that are about medium sized and taper towards the end. Thicker carrots tend to be tougher. Avoid carrots with black spots near the tip or that do not have a mostly smooth skin.
Fennel – When you look for fennel, find bulbs that are white, feel heavy, and are firm. Their leaves should be green and not limp. Avoid fennel that has wet spots, is mushy, or appears dried out and shriveled.
Onion
Vegetable broth
Garlic
Salt
Orange juice – Fresh squeezed works really well.
Cashews
Water
Apple cider vinegar – I look for organic, raw apple cider vinegar that still contains the "mother," which is the cloudy substance floating in the vinegar. If you can't find this variety, you can use regular apple cider vinegar instead.
Lemon juice
---
How to Make Carrot Fennel Soup
Step One – Prepare the veggies and soak the cashews
Before starting, place the cashews in a bowl of water to soak. They need to soak for a minimum of 30 minutes, so making this the first step gives them just about enough time before they are needed.
With the cashews soaking, wash and peel the carrots. When they are peeled, slice off the ends about ¼ to ½ inch from the tips. Slice the carrot into roughly equal width circles and set aside.
Slice both ends off the onion. Place the onion on the flat bottom that you just sliced. Cut the onion in half. Remove the outer one to layers until the firm, white flesh of the onion is exposed. Place the onion on the cutting board so the flat side is facing down. Slice thin, roughly equal width slices following the grain of the onion and then repeat for the other half.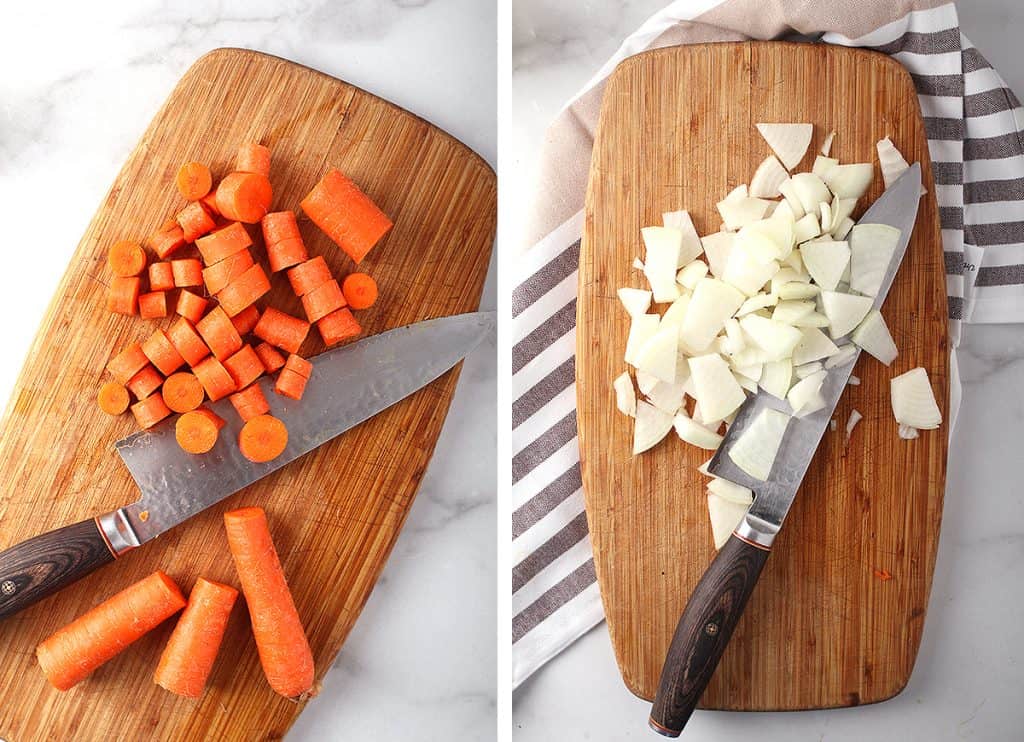 For the fennel, start by cutting off the bottom roots and the green leaf stalks on the top. Peel away the outer, tougher layer to expose the white flesh beneath. Cut the fennel bulb in half lengthwise and then cut it again in half lengthwise. This leaves four roughly equal parts. Towards the bottom of the bulb, cut away the tough inner circle on each quarter. Finally, slice the fennel into thin stripes following the length of the onion.
Step Two – Cook the soup
In a large stock or soup pot, heat the olive oil over medium heat. When the oil is hot, add in the fennel slices and onion. Cook them, stirring frequently, until they are soft and have turned a golden color. Next, add in the carrots and garlic and cook for an additional 2 minutes or until the garlic becomes fragrant.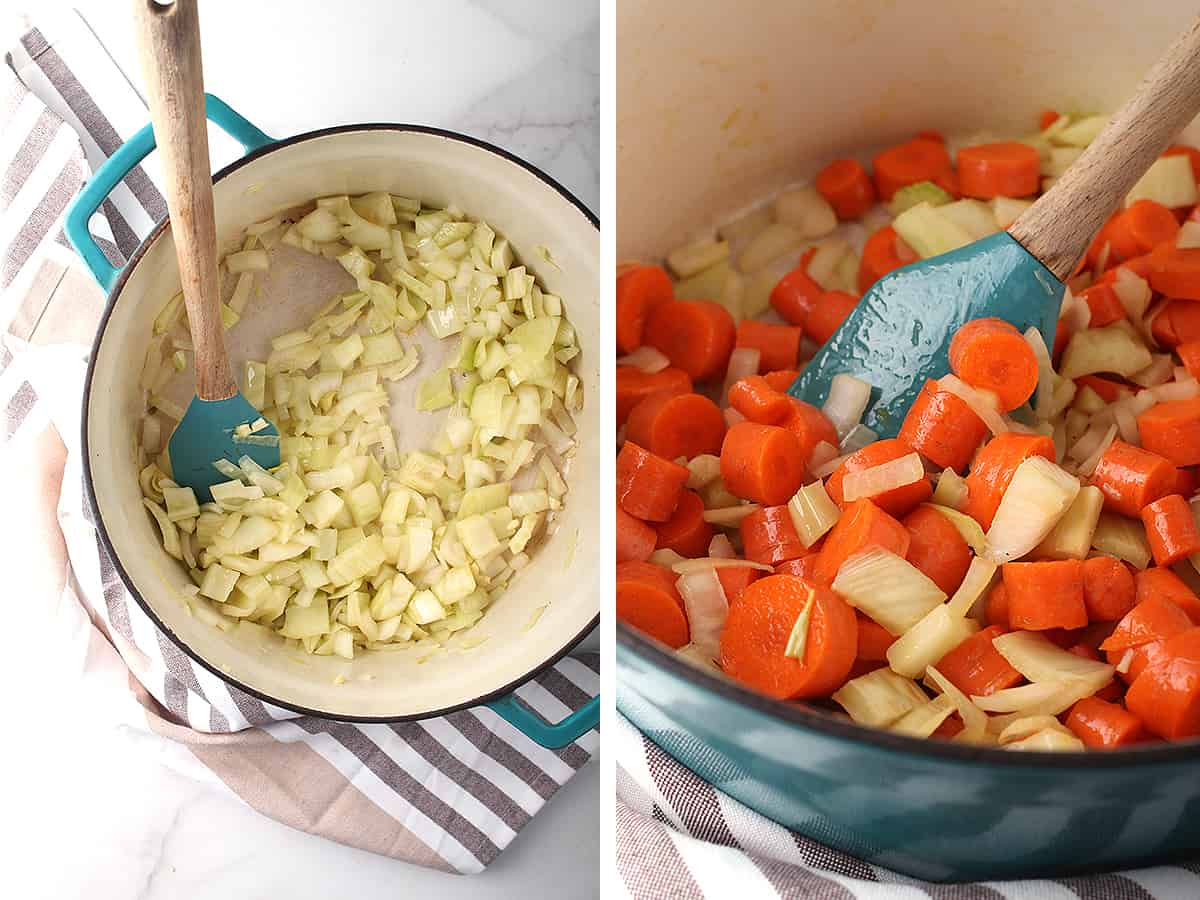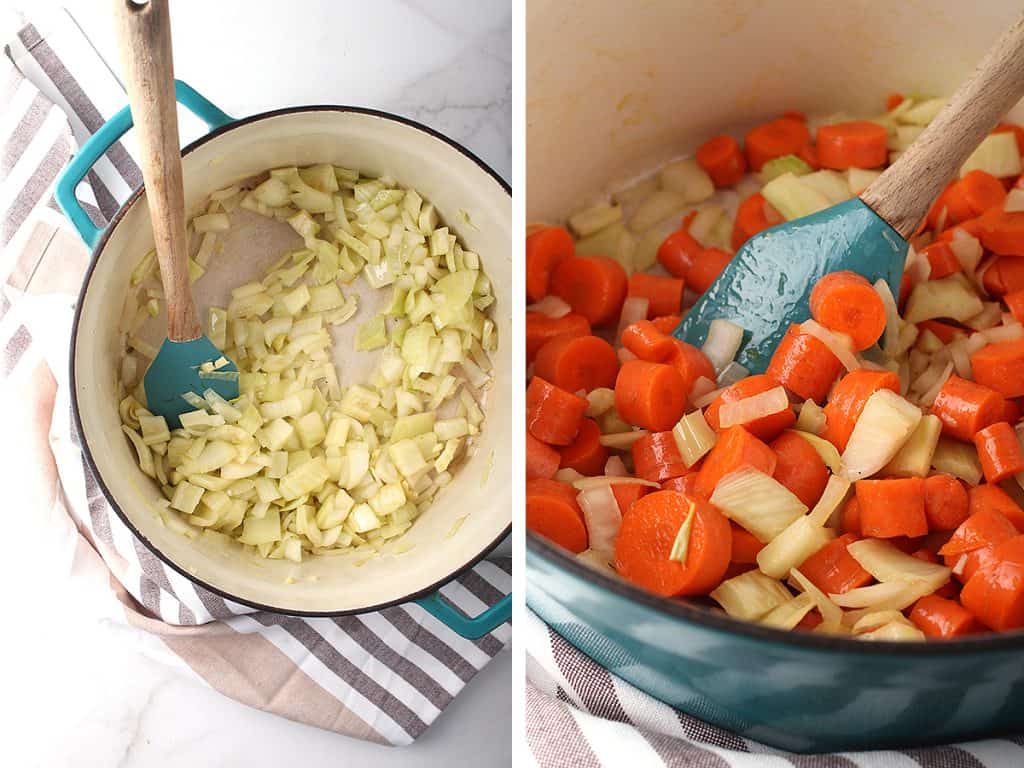 Pour in the vegetable broth and stir the contents. Bring the soup to a boil and then reduce to a simmer. Cover the pot and simmer the soup for about 20 minutes or until the carrots are tender.
Remove the pot from the heat and stir in salt and orange juice. At this point, taste the soup and add additional seasonings if needed.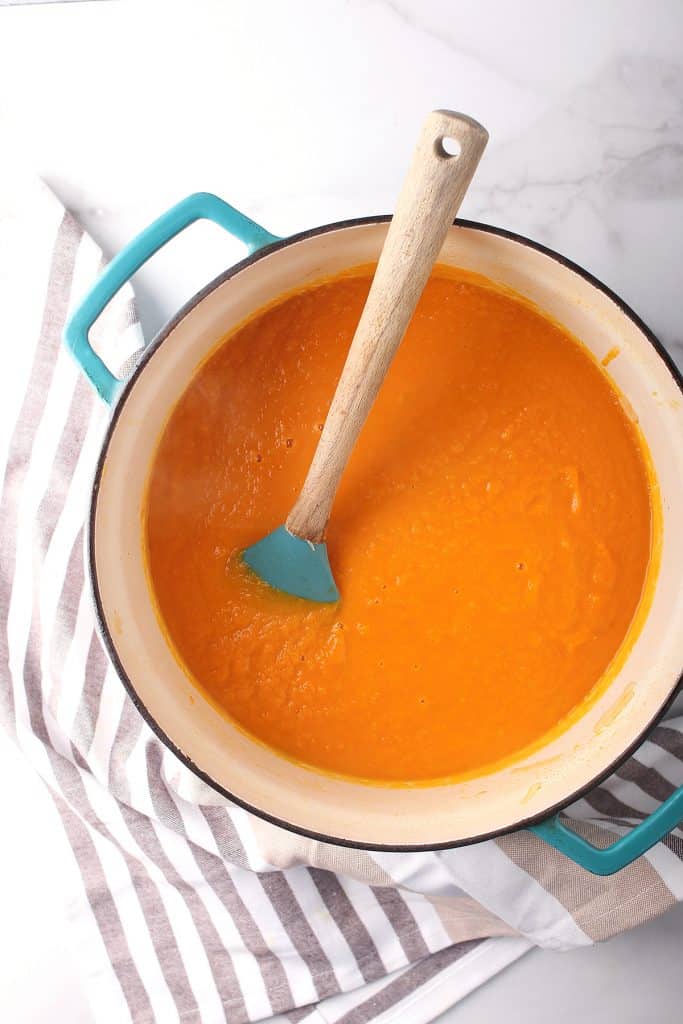 Step Three – Blend the soup
Allow the soup to cool slightly. Carefully pour the soup into your blender. Be sure not to fill it past half full or you could end up making a mess. This means you may need to blend the soup in batches. Blend the soup until it is a smooth consistency.
Step Four – Make the cashew cream and serve
Drain and rinse the cashews. Place the cashews and the rest of the ingredients for the cream in your high power blender. Blend the ingredients until a smooth cream forms.
Pour the soup into individual bowls and add a dollop of cashew cream. For some added heat, crack some fresh black pepper on top.
Serve and enjoy!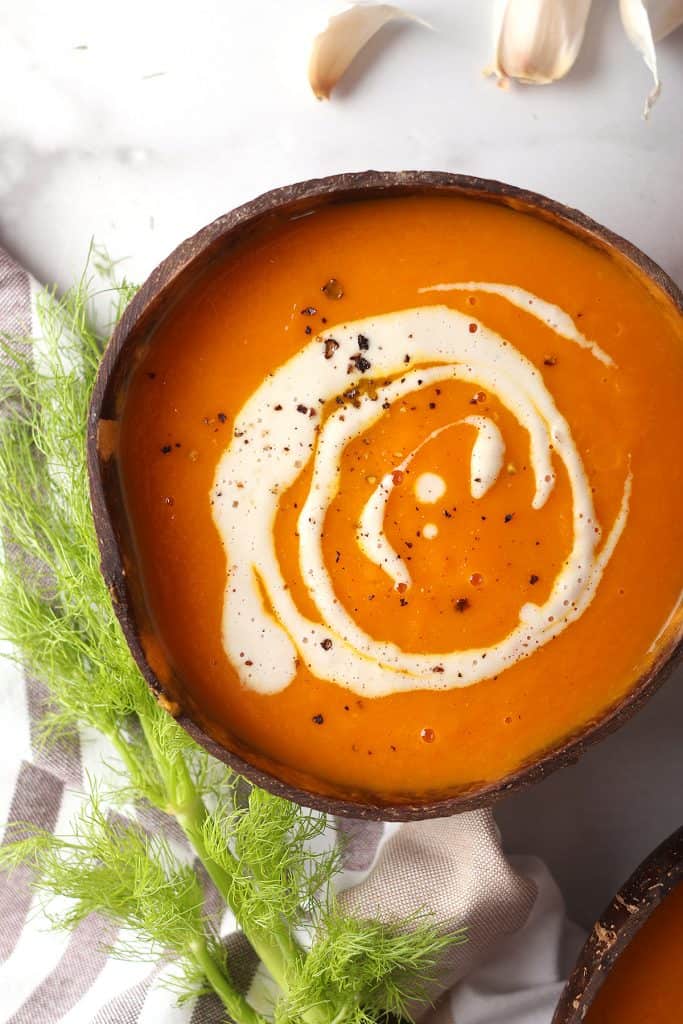 Serving and Storing
Serving –
Like any soup, this soup is best served hot and fresh when made. You can serve it with a fall-themed side salad and bread. You could also serve it with sandwiches. Or you could just eat it on its own.
Storing –
You can store the soup in the refrigerator for about 3 to 4 days. To store it, place it in an airtight container when it has cooled down.
If you want to freeze the soup, allow the soup to cool to room temperature. Place the soup in a freezer safe container and place in the freezer for up to 6 months. When you are ready to serve it, allow it to thaw in the refrigerator.
To reheat, you can either place the soup in the microwave for a few minutes to warm it through. You could also pour it into a pot and reheat over medium-low heat until the soup has warmed through.
Make in Advance –
You can make this soup in advance for an easy lunch or to bring to a get together the next day. If you are making it for a lunch, I recommend placing it in individual containers for easy grab options in the morning.
Tips and Tricks
Use fresh carrots for the recipe. Frozen carrots are often softened from the freezing process and don't taste as fresh or good as ones you can find in the produce aisle.
Keep an eye on the onions and fennel when they cook. They are easy to burn on the stovetop and can make the soup taste acrid if they burn. Stir frequently to avoid this.
To reduce sodium use a low-sodium vegetable broth. They taste almost identical but often contain a fraction of the amount of salt.
Frequently Asked Questions
How do you cut fennel?
Fennel is similar to onion. You need to start by removing the top leafy, green section and the bottom roots. Next, remove the outer layer from the bulb to reveal the white flesh of the bulb underneath.
Once the outer layer is removed, slice the fennel bulb in half lengthwise. Take each half and slice them both in half lengthwise again.

Turn the fennel bulb onto its outside layer. Towards the bottom, you should see a hard white area. Cut the hard part away and then thinly slice the quarter of the fennel ball lengthwise.
Do I need to add cashew cream?
The cashew cream adds a tasty, creaminess to the soup. If you prefer to not add it or are allergic to cashews, you can skip this step.
---
More Vegan Soup Recipes
Carrot and Orange Soup
The Carrot and Orange Soup is a rich and creamy autumn meal made with fresh harvest vegetables, fennel, and dairy-free cashew cream.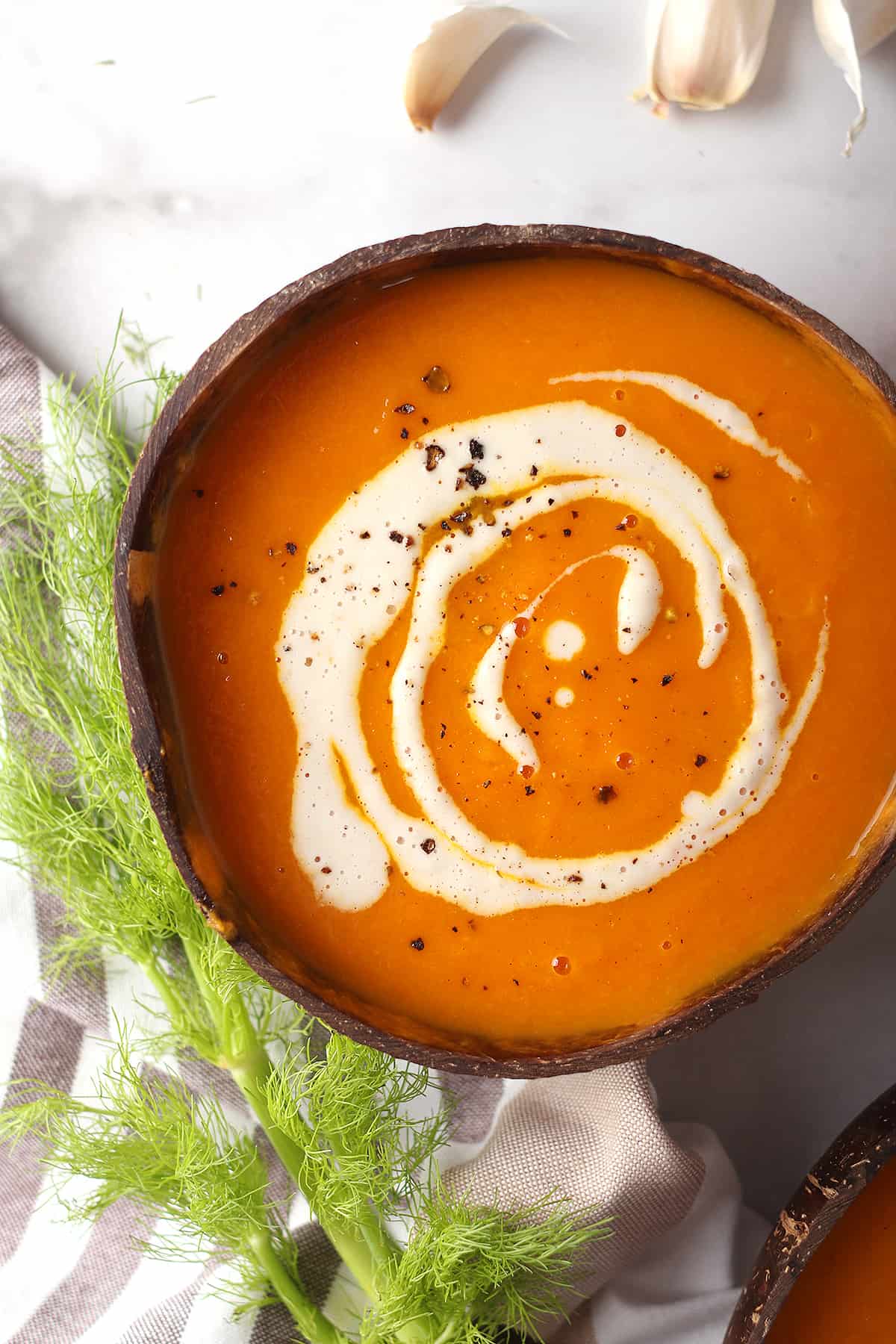 Course:
Soup
Cuisine:
Vegan, Gluten-Free
Servings
:
4
people
Calories
: 244 kcal
Author
:
Sarah McMinn
Ingredients
Carrot Fennel Soup
1

tbsp. olive oil

1

medium fennel bulb, thinly sliced

1

small yellow onion, thinly sliced

2-3

cloves garlic, minced

4

cups

carrots, peeled and sliced

4

cups

vegetable broth

1

tsp salt

1/2

cup

freshly squeezed orange juice
Cashew Creme
1/4

cup

cashews, soaked 30 minutes

1/4

cup

warm water

1

tbsp. fresh lemon juice

1/2

tsp. apple cider vinegar

1/4

tsp. salt
Instructions
Heat the oil in a soup pot over medium heat. Add the sliced fennel and onion and cook, stirring often, until soft and golden. Add carrots and garlic and cook for 2 more minutes.

Stir in the vegetable broth. Bring to boil then reduce heat to simmer. Cover and cook 20 minutes until carrots are tender. Remove from the heat and stir in orange juice and salt. Taste and adjust seasonions.

Let the soup cool slightly. Then transfer it to a blender and blend until completely smooth. You may have to do this in batches. Do not fill your blender more than halfway or it may leak out.

Drain and rinse the cashews. Combine all the ingredients for the cashew cream in a high powered blender, like a VitaMix and blend until completely smooth.

Serve the soup warm with a dollop of cashew cream and freshly ground pepper.
Nutrition Facts
Calories Per Serving:
244
% Daily Value
If you give this recipe recipe a try, snap a photo and share it on Instagram. Make sure to tag
@mydarlingvegan
so I can see your creations!