Spicy Buffalo Cauliflower Wings (Baked!)
Get your snack on with these spicy buffalo cauliflower wings – coated, breaded and baked, these cauliflower wings are then dipped in spicy homemade buffalo sauce. Served with vegan ranch dressing for an incredible plant-based snack.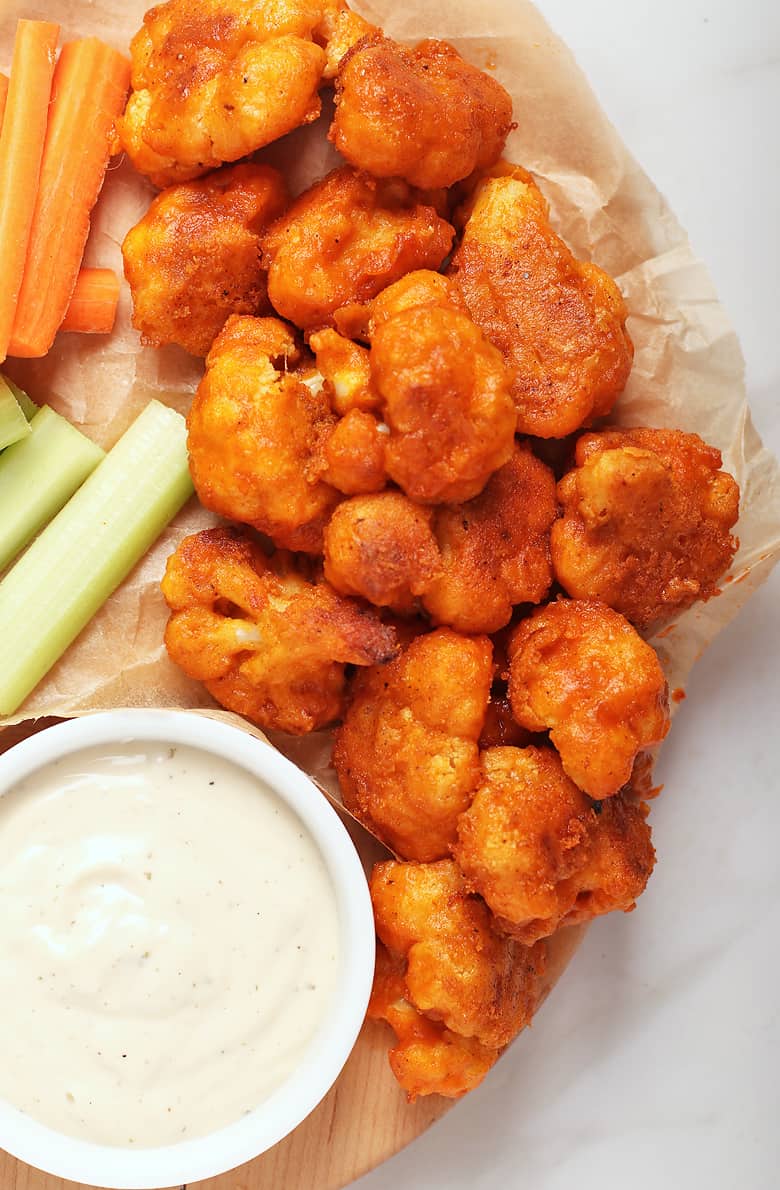 This post contains affiliate links. For more information please see my privacy policy.
Last year I started experimenting with cauliflower as a chicken substitute. I first made this Sticky Sesame Cauliflower, which quickly became a fan favorite, so I followed it up with my Chinese-Style Orange Cauliflower recipe. Well, friends, it's been nearly nine months since my last crispy cauliflower recipe, and with the super bowl just around the corner, I thought I'd give you something to get excited about.
Why it's buffalo cauliflower wings!
These crispy buffalo cauliflower wings are coated in cumin and paprika spiced breading, baked nice and crispy, and slathered with homemade spicy Buffalo Sauce. I serve them with my homemade ranch dressing for the most incredible appetizer.
Let's take a closer look!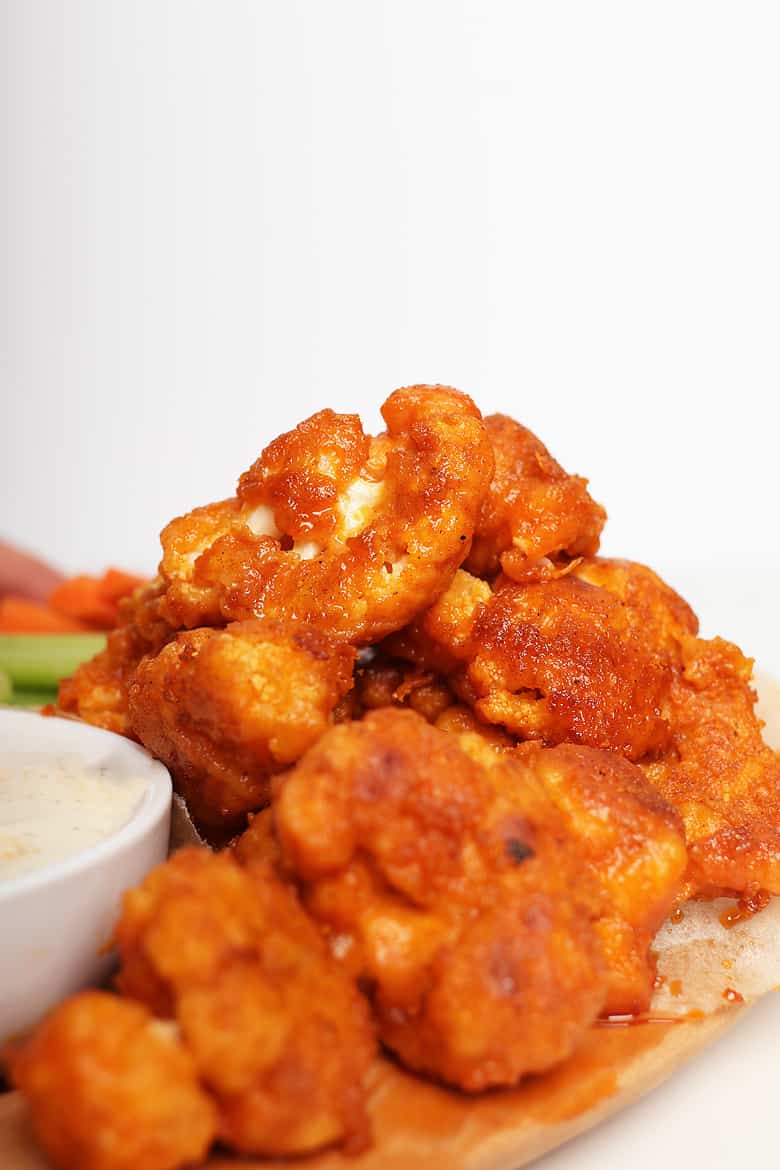 What makes cauliflower the ideal chicken replacement?
Crispy cauliflower has now been buzzing around for a handful of years. Replacing soy, it's becoming a popular vegan alternative to chicken wings and fried chicken dishes.
Not only does cauliflower provide healthier, whole food options for these common comfort foods, it also absorbs any flavor you give it. Let your imagination run wild! Beyond that, the texture is out of this world. With crispy battered skin and a melt-in-your-mouth buttery inside, crispy cauliflower is a game-changer.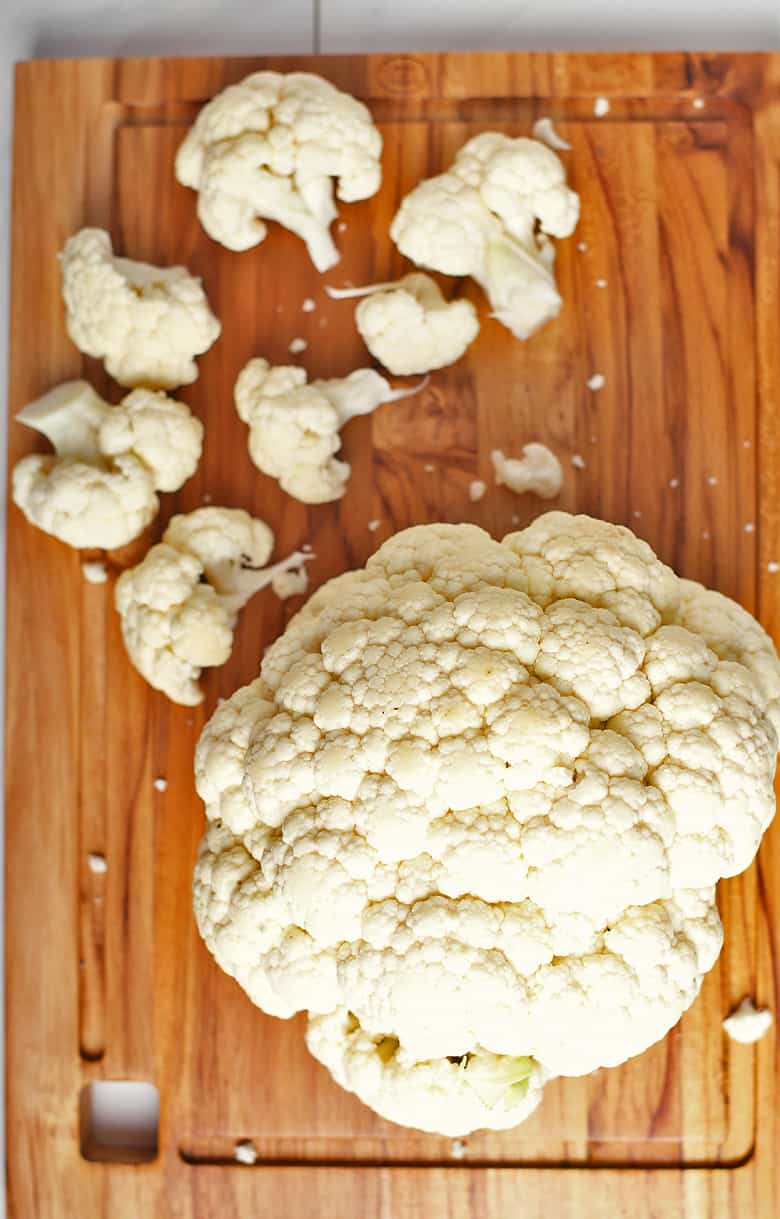 How to make Cauliflower Wings
Cauliflower wings are quite simple to make. To begin, we start by making a batter.
The batter for these cauliflower wings is broken down into two parts. First, we need an egg-like custard to coat the cauliflower in a thick gooey layer. This first step allows the flour mixture to better adhere to the cauliflower which creates the crispy skin.
What is the best Egg Replacer for breading?
Through trial and error, I have found that equal parts water and chickpea flour make the best custard for these buffalo cauliflower wings. The custard is similar in texture to eggs and because it is high in protein, binds the flour to the florets thoroughly and evenly.
Once your chickpea flour/water mixture is made, the florets get completely submerged into the custard. The next step is coating the wings in the flour mixture. Transfer your flour mixture to a large ziplock bag and fill it with 4-5 florets a time. Zip it closed and shake it up until the cauliflower wings are completely coated in that deliciously spiced flour.
Now we have our skin!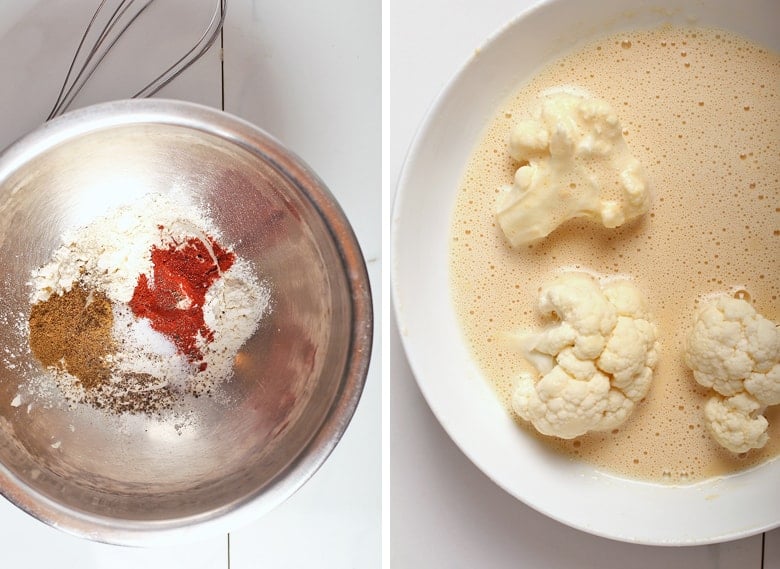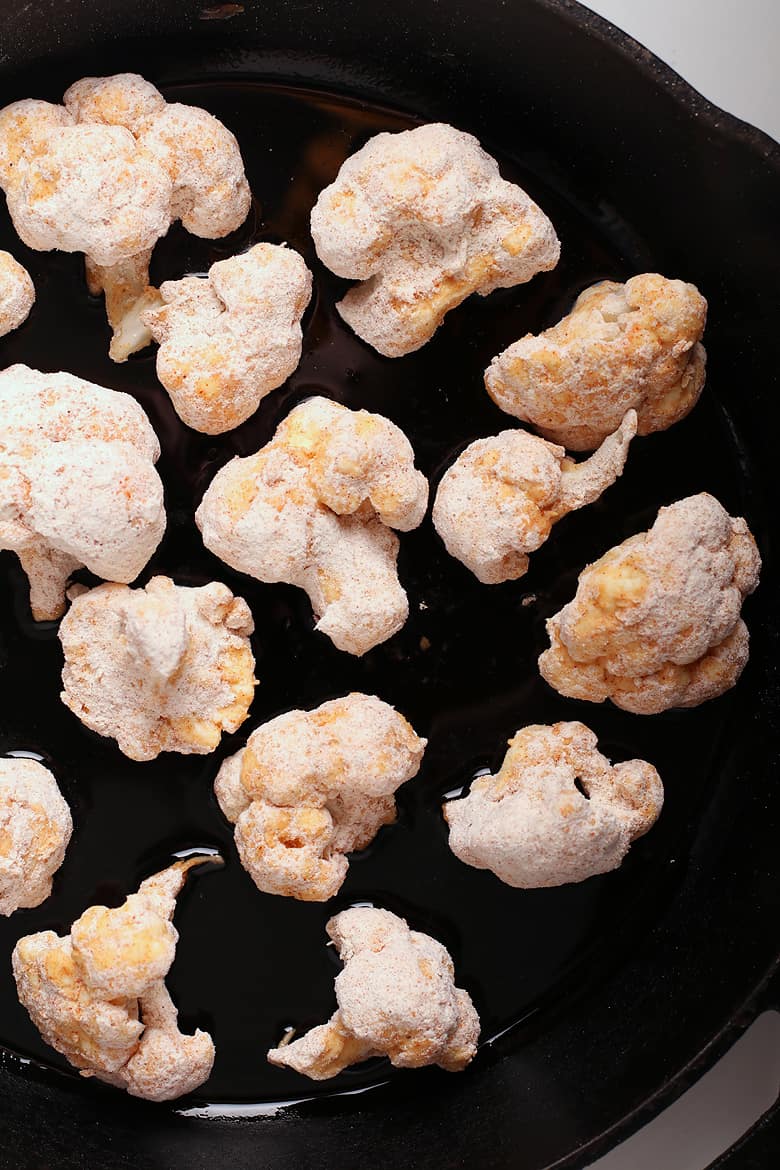 How to bake the cauliflower wings.
To get a crispy outside, cauliflower wings are best baked in a heavy bottoms pan or cast iron skillet. Fill the bottom of the pan with a thin layer (2-3 tablespoons) of high-heat oil, such as avocado oil. Place the skillet in the oven while it preheats so that the oil gets hot and sizzling. This is an important step. If you put the florets into cold oil, the oil will absorb into the cauliflower making them soggy rather than crispy. 
Once the florets are breaded they can be added to the skillet and baked for about 20 minutes, flipping halfway through, until they are golden brown and crispy.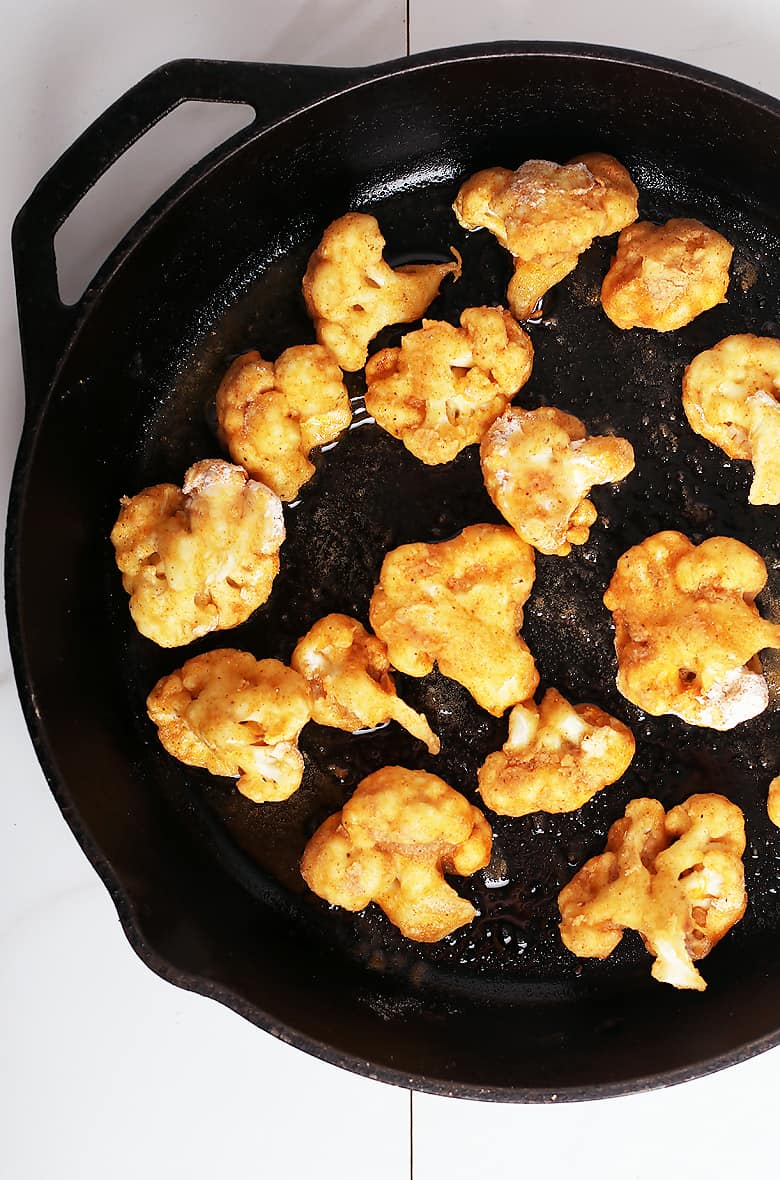 While our cauliflower wings are baking, let's talk Buffalo Sauce
What is Buffalo Sauce?
Buffalo sauce is a specific kind of hot sauce that is smoother and richer than typical hot sauces because of the addition of butter or oil. Vinegar and Worcestershire Sauce are commonly added to it as well for a more complex flavor. However, vegan Worcestershire sauce can be hard to find and is optional in this recipe.
How to make Buffalo Sauce:
The good news is Buffalo Sauce is super easy to make! It starts with a base of hot sauce; Frank's Red Hot is most people's go-to hot sauce of choice. Gently heat the hot sauce with the other sauce ingredients over low heat until the butter has melted. Once it's melted, you should have a silky smooth, vibrantly red, spicy hot Buffalo sauce.
Remove it from the heat and let it cool about 5 minutes while the cauliflower florets continue to bake. Once they are done, it's time to toss it all together for one last crispy bake.
That's it! So easy.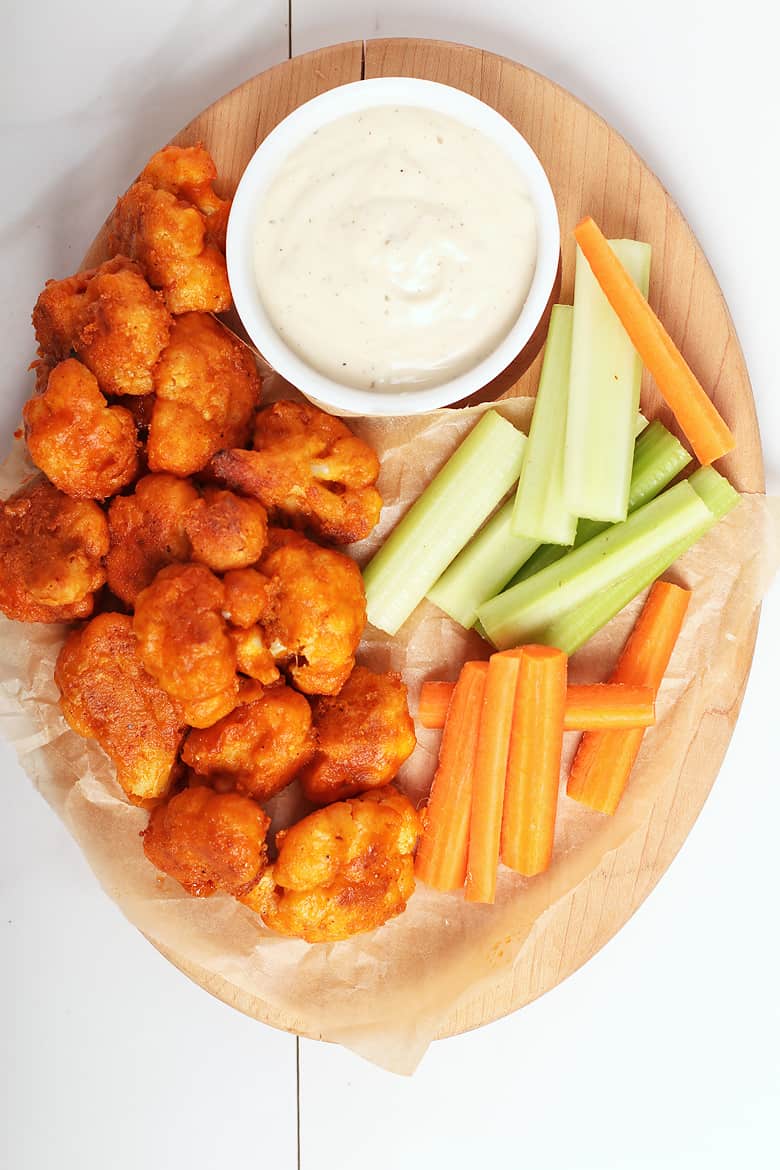 How to serve Buffalo Cauliflower Wings
Cauliflower wings are traditionally served with blue cheese or ranch dressing as well as celery and carrots.
Let the cauliflower wings cool about 10 minutes and then serve immediately. They will eventually lose their crispiness if you let them sit too long.
You can enjoy cauliflower wings on there own, as part of a spread for the big game, in a sandwich, or tossed with Romaine lettuce for a delicious salad.
Unfortunately, these cauliflower wings do not store well. They should be eaten the same day
That's it! I think you're ready to give these Buffalo Cauliflower Wings a try for yourself.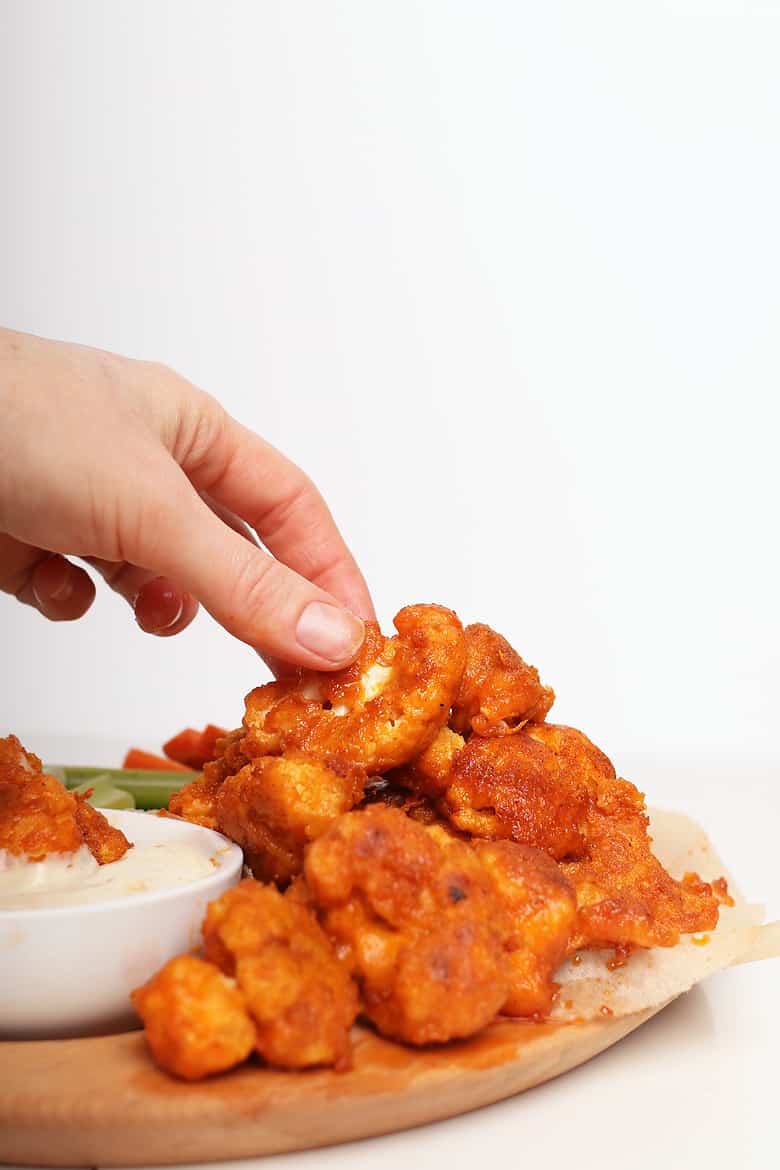 Buffalo Cauliflower Wings
Get your snack on with these spicy buffalo cauliflower wings - coated, breaded, baked, and dipped in homemade buffalo sauce. Served with homemade vegan ranch dressing for an incredible plant-based snack.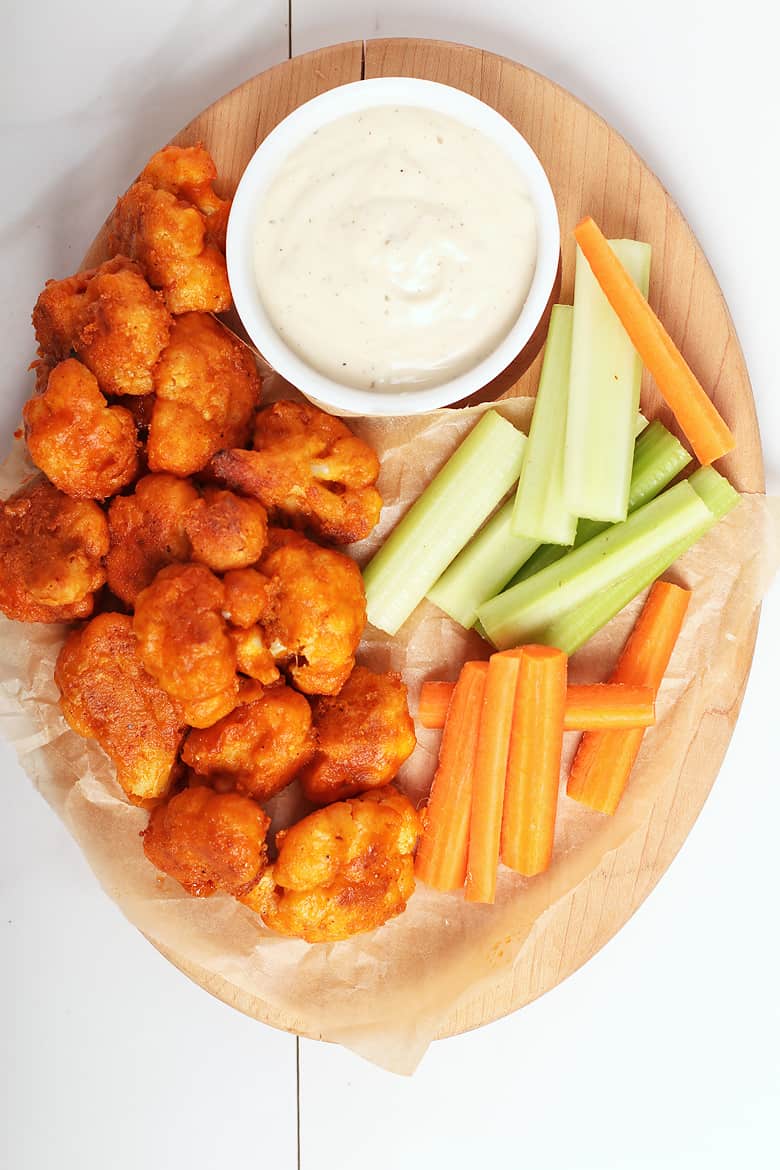 Course:
Appetizer
Keyword:
Buffalo Cauliflower Wings
Servings
:
4
people
Calories
: 257 kcal
Author
:
Sarah McMinn
Ingredients
Instructions
Preheat oven to 450 F. Pour 2-3 tablespoons of avocado oil into a heavy bottom baking dish or large cast iron skillet and place it in the oven while it preheats.​

In a shallow mixing bowl, combine chickpea flour and water, whisking together until thick and gooey. This will act as your binder between the cauliflower and flour mixture. In a large ziplock bag mix together flour, spices, salt, and pepper.

Dip each floret into the chickpea flour mixture until completely submerged. Once coated, place 4-5 florets at a time in the flour mixture. Seal the ziplock bag and shake until florets are completely coated. Place the battered cauliflower in the baking dish and repeat until all the cauliflower is covered.

Bake for 10 minutes. Pull out of the oven, flip cauliflower over and return to the oven for an additional 10 minutes.

While cauliflower is baking, make your sauce. Place all the ingredients in a small saucepan and cook over medium-low heat until the butter has melted. Remove from heat and set aside to let cool.

Once cauliflower is ready, remove from oven. Coat cauliflower with Buffalo Sauce completely and return to oven for an addition 10 minutes until cauliflower is crispy on the outside.

Remove from oven and let cool 10 minutes before serving with homemade ranch dressing, carrots, and celery.
Nutrition Facts
Buffalo Cauliflower Wings
Amount Per Serving
Calories 257
Calories from Fat 135
% Daily Value*
Fat 15g23%
Sodium 1265mg55%
Potassium 374mg11%
Carbohydrates 23g8%
Protein 5g10%
Vitamin A 740IU15%
Vitamin C 34.7mg42%
Calcium 32mg3%
Iron 2.6mg14%
* Percent Daily Values are based on a 2000 calorie diet.
If you give this recipe recipe a try, snap a photo and share it on Instagram. Make sure to tag
@mydarlingvegan
so I can see your creations!